Jalapeno Mezcal Margarita
Jalapeno Mezcal Margarita: A smoky mezcal is infused with fresh jalapeno for a bold and spicy cocktail, all in a chili salt rimmed glass!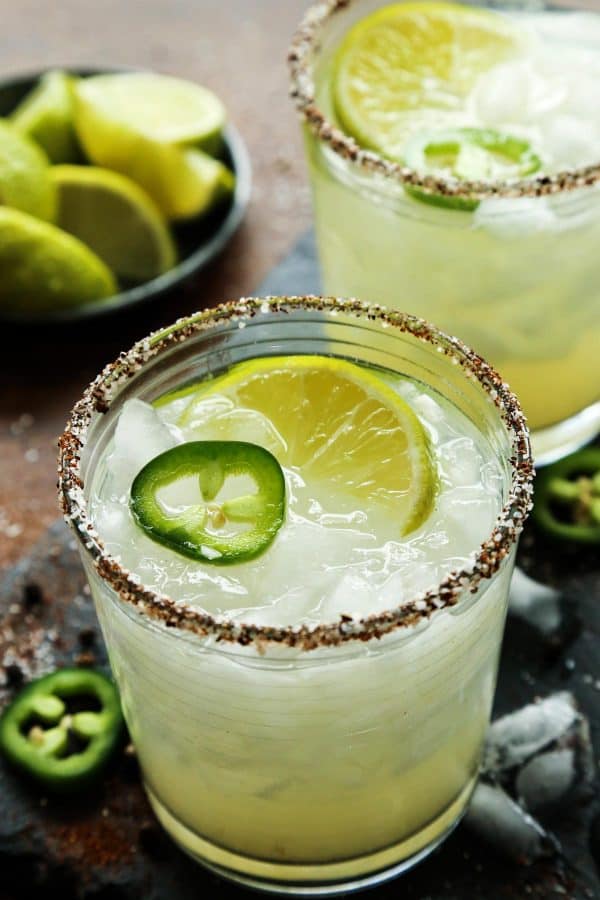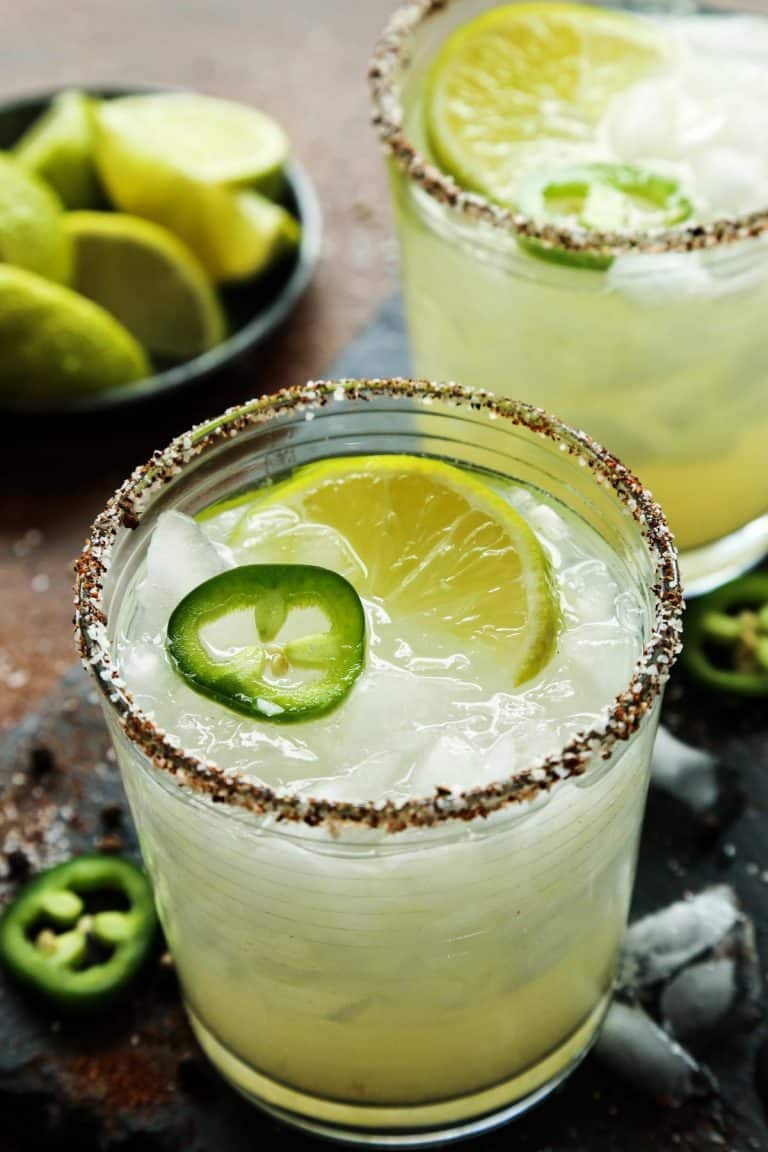 Anybody who knows me well knows how I appreciate a good margarita. No cloying mixes (although I'd never turn one down if I were, say, stranded on a deserted island…) or fake flavorings. Just give me pure lime juice, fresh and tart, alongside the unique flavor of tequila.
This Jalapeno Mezcal Margarita is not a cocktail for the faint of heart or even occasional margarita drinker. If you prefer your margaritas on the weak side, super sweet, or blended, this may not be the choice for you. Just being super candid here.
But if you enjoy challenging your taste buds every now and then, and are up for a new and exciting experience, I beg you to give this margarita a try.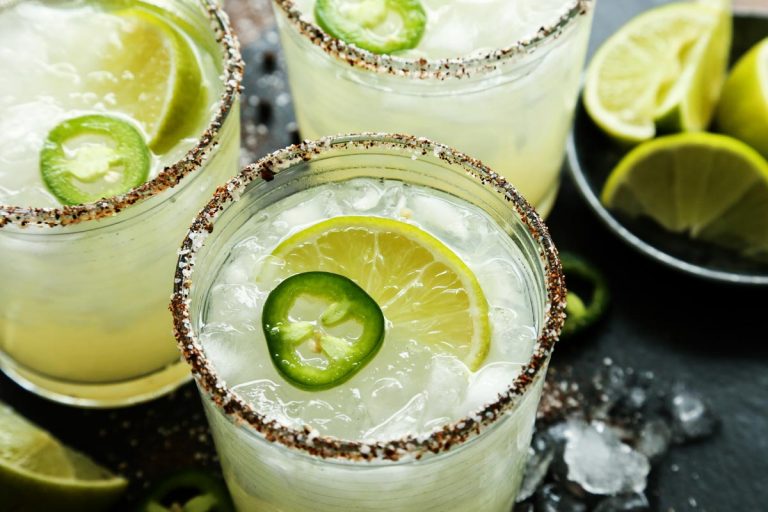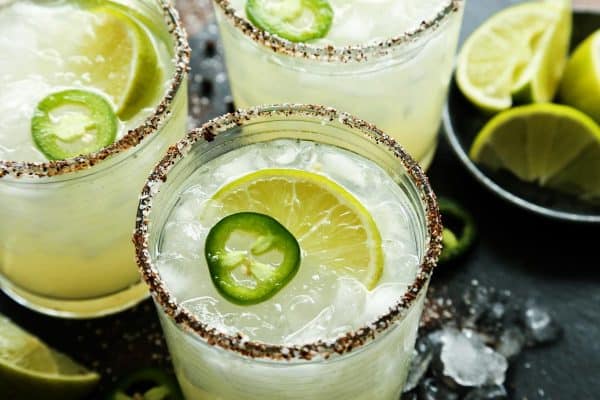 The Jalapeno Mezcal Margarita is bold
This jalapeno mezcal margarita is spicy.
It is smoky.
And it is bold.
When I'm looking to enjoy a single capture-my-attention kind of cocktail, this is it.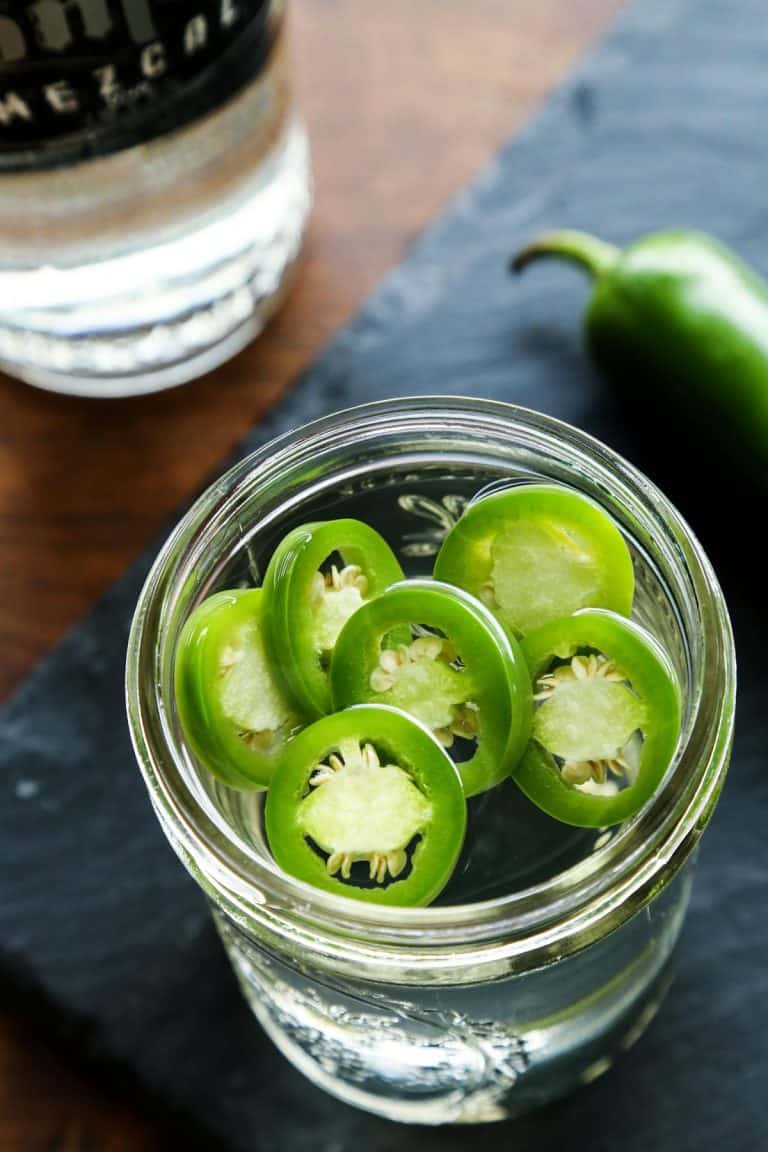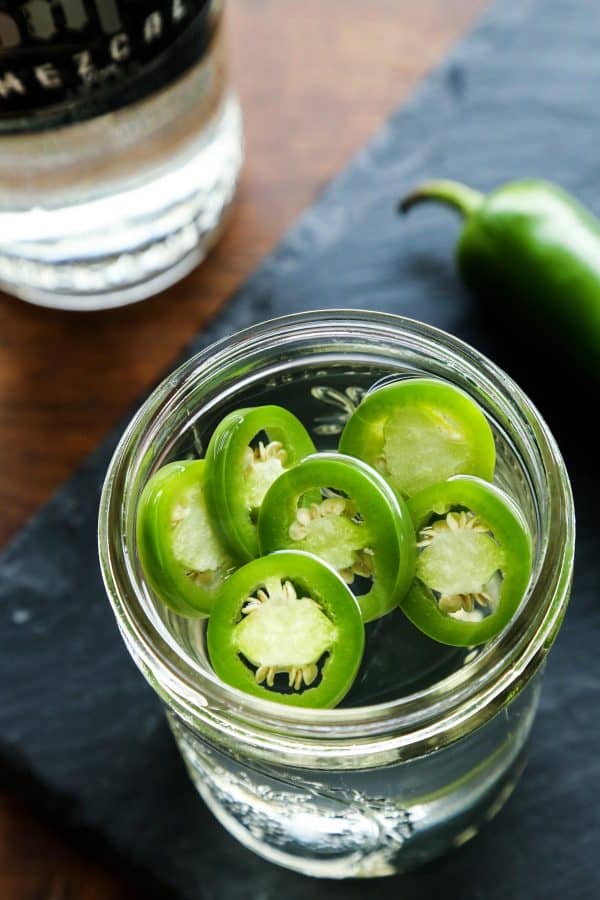 This spicy margarita starts with fresh jalapeno
This kicked-up cocktail experience starts by infusing mezcal with fresh jalapeno. I simply pour two cups of mezcal into a wide mouth pint jar, add a few slices of fresh jalapeno, and let it infuse overnight in the refrigerator. Super easy.
But maybe we need to back up just a bit and talk about mezcal?
If you're not familiar with mezcal, it is an agave-based liquor, like tequila. Both are Mexican spirits.
The saying goes, "All tequilas are mezcals, but not all mezcals are tequilas." In other words…all mezcals come from any variety of agave, but tequila must come from only the blue agave plant and must be made in specific regions of Mexico.
Another difference between tequila and mezcal is in how they are distilled. Tequila is typically produced by steaming the agave inside industrial ovens, and is then distilled two to three times in copper pots. To obtain that signature smokiness in a mezcal, the agave is cooked inside earthen pits lined with lava rocks and filled with wood and charcoal, and then distilled in clay pots.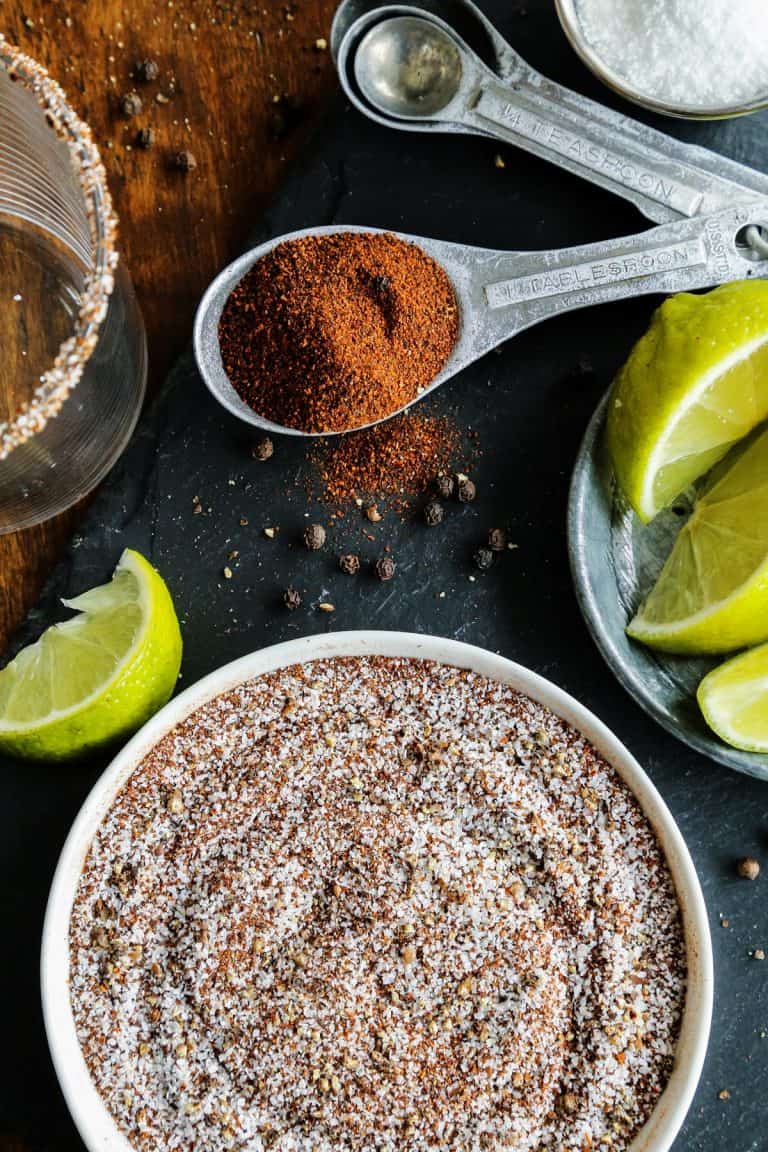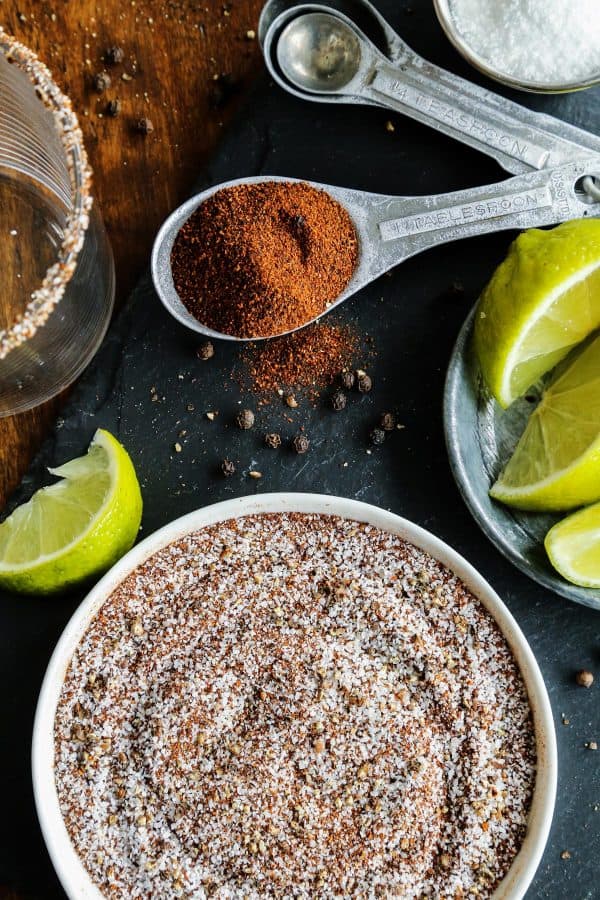 Create a chili salt rim for your Jalapeno Mezcal Margarita
I like to create a special chili salt rim for the glass of this drink. It's a course, flavor-forward mixture of kosher salt, chili powder, chipotle powder, and black pepper. I hope it's obvious how this rim adds even more boldness to this beverage.
A simple, traditional rim of coarse salt would be just fine for this margarita as well. (But pleeeeease try this chili salt rim!!)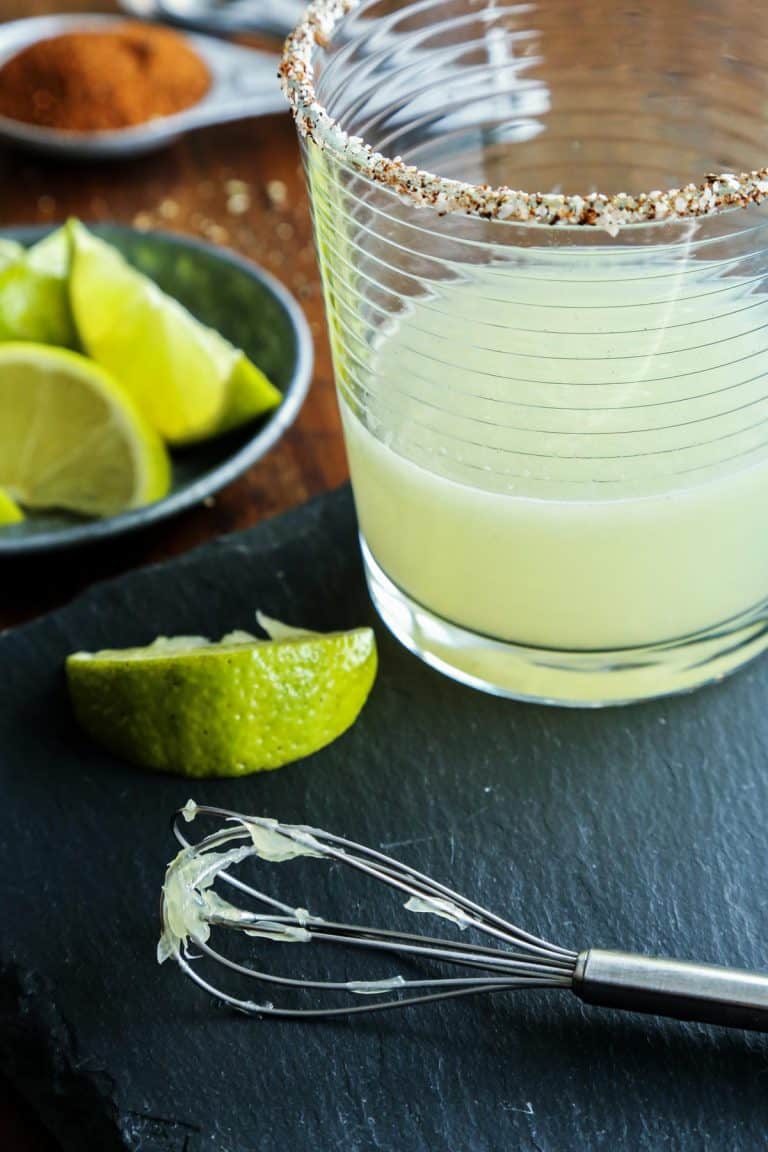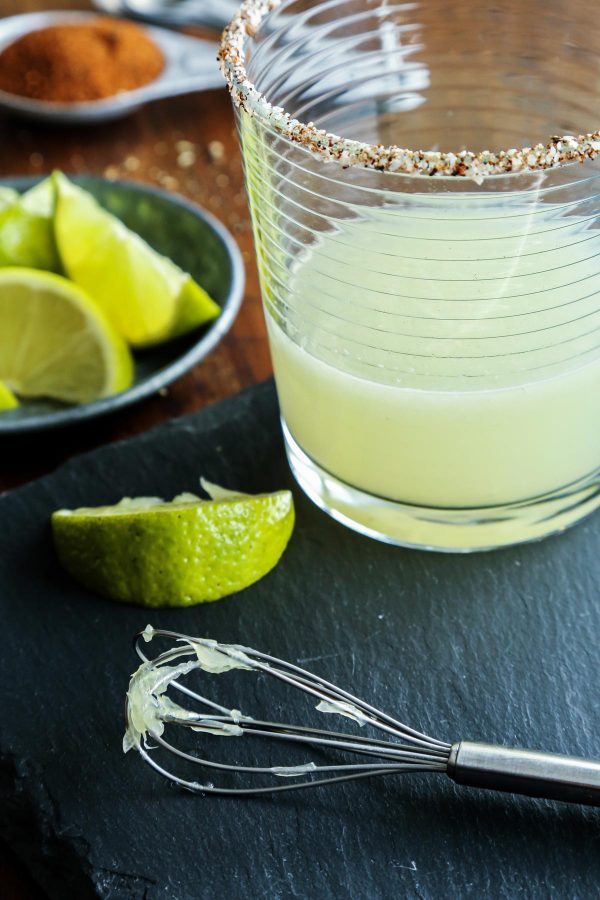 Add a bit of honey to sweeten this jalapeno margarita
Then it's simply a matter of measuring out the jalapeno-infused mezcal, freshly squeezed lime juice, and a few other ingredients into your prepared glass.
For just a touch of sweetness, I prefer honey over my usual simple syrup mixture (equal parts sugar dissolved in equal parts water) in this particular margarita. I think the honey goes so nicely with the smokiness of the mezcal.
But the thickened quality of honey takes just a bit more effort to incorporate fully into the rest of the liquids. That's where this mini whisk comes in super handy. (It's also great for whisking vinaigrettes and so many other concoctions!)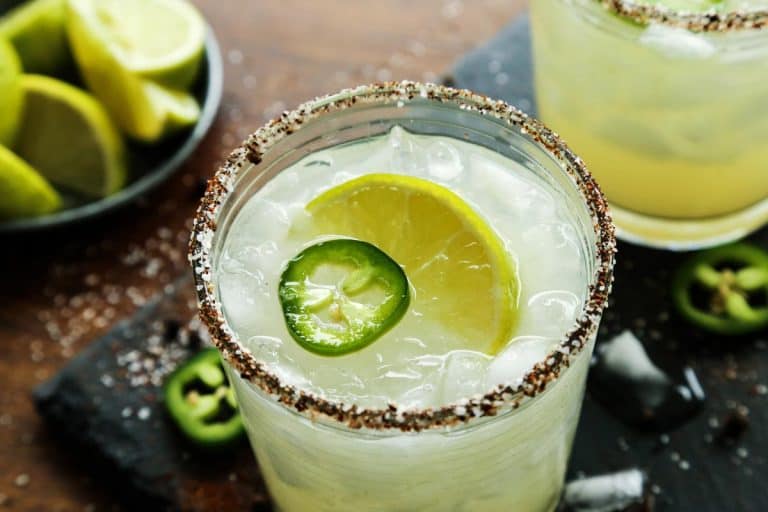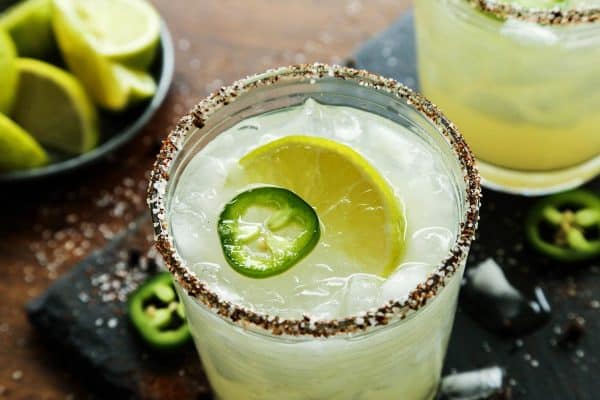 For a more adventurous smoky flavor in your margarita, I recommend seeking out the Sombra brand of mezcal. I purchased a different brand that was recommended to me first, and while I liked it, it wasn't delivering the audacious smokiness I was craving.
So I did some more research.
And many roads led me to Sombra. For this particular margarita, it is the only brand I will use. If you have a favorite mezcal, please share it with me in the comments.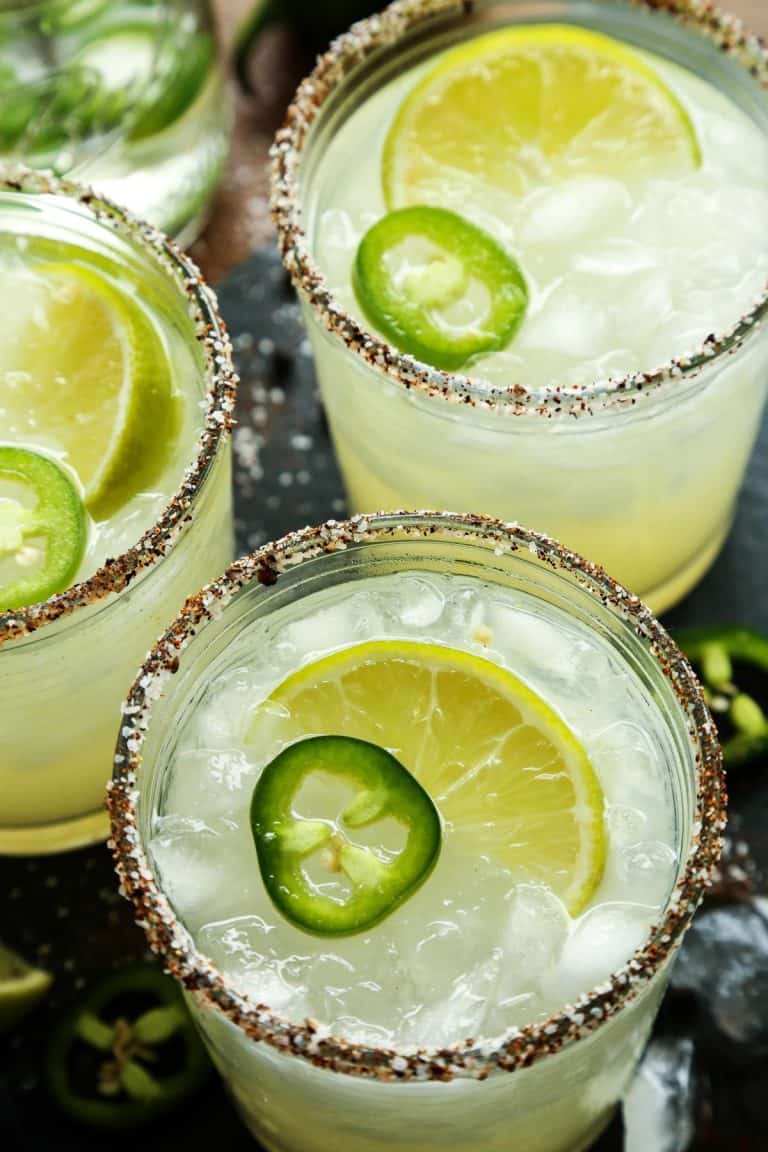 I am so excited for you to give this margarita a try, and curious to know your thoughts on it. Please do get back to me if you stir one up!
And if you're looking for a less bold margarita, yet still margarita-delicious, I have a few more standard flavored margarita recipes to share with you:
Enjoy!!
Like this spicy margarita? Pin it!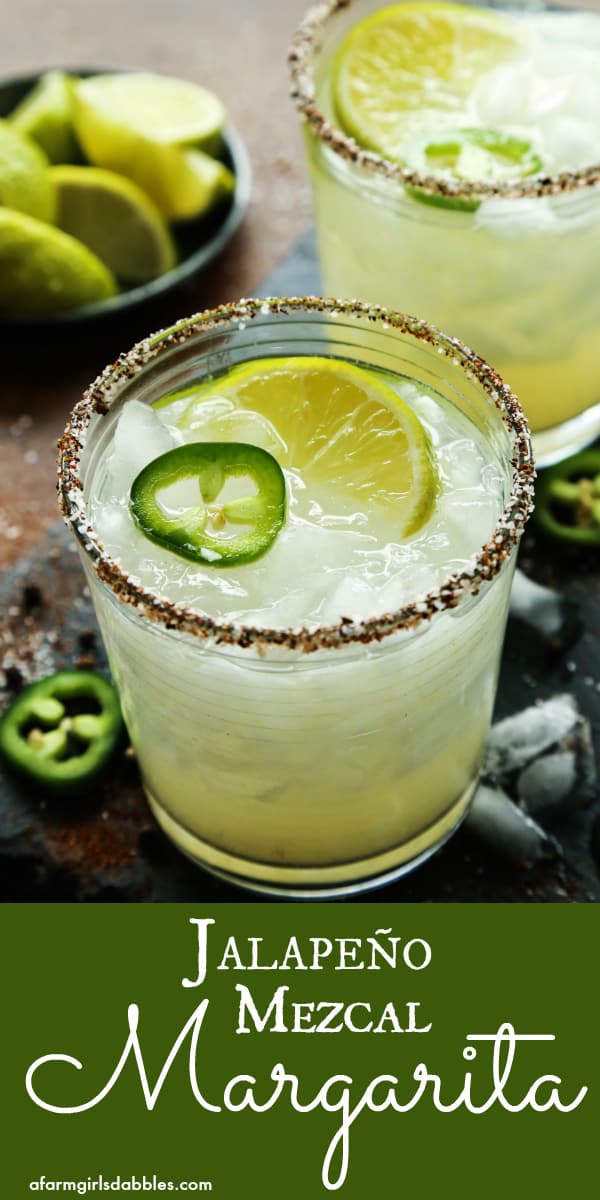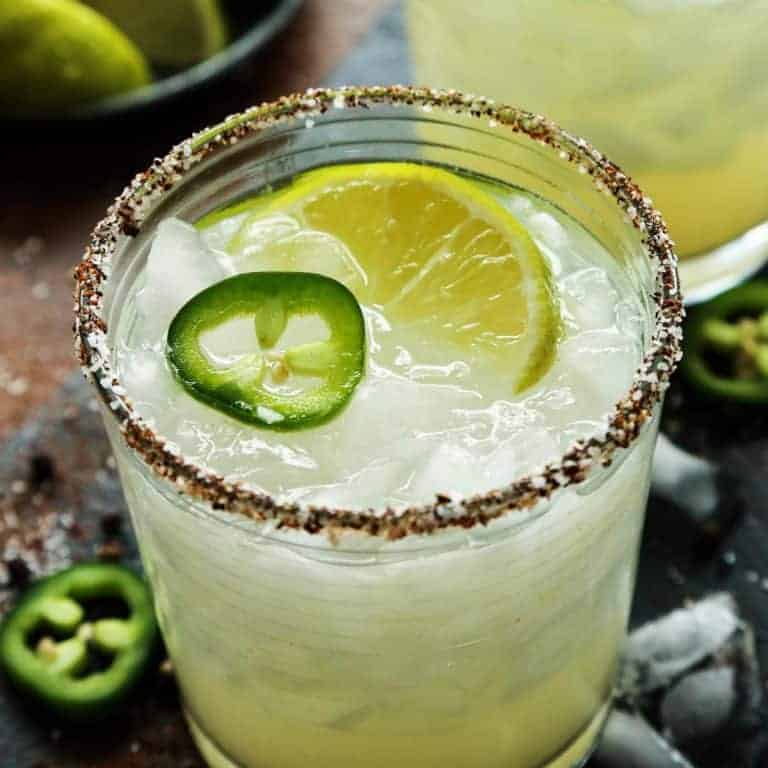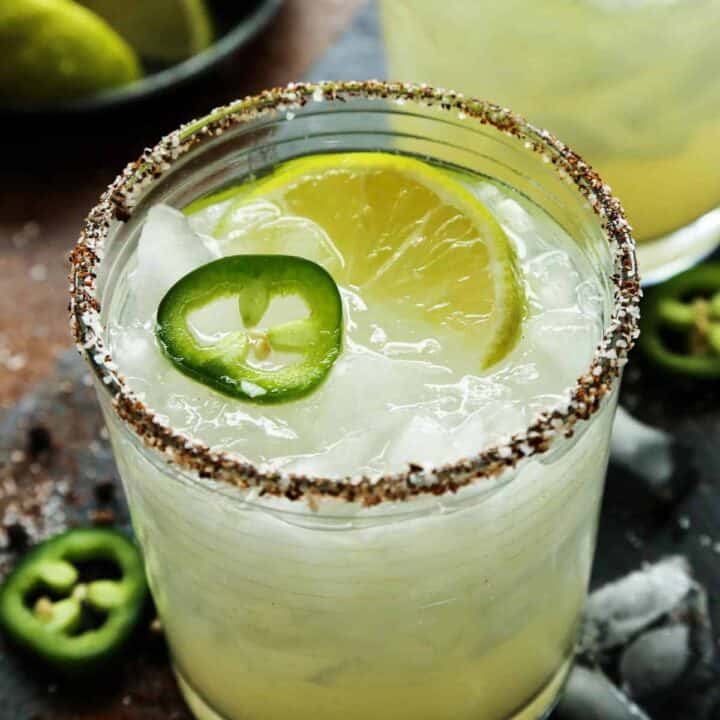 Jalapeno Mezcal Margarita
Yield: 1 margarita
Prep Time: 20 minutes
Total Time: 20 minutes
Smoky mezcal is infused with fresh jalapeno for a bold and spicy margarita, all in a chili salt rimmed glass.
Ingredients
for the jalapeno mezcal:
2 cups mezcal (I recommend Sombra if you want a more pronounced smoky flavor.)
6 slices fresh jalapeno, cut 1/4" thick
for the chili salt rim:
2 tablespoons kosher salt
1 tablespoons chili powder
1/4 teaspoon ground black pepper
1/8 teaspoon chipotle powder
a few grinds of freshly ground black pepper in a course/larger grind
fresh lime wedge
for the jalapeno mezcal margarita:
2 ounces prepared jalapeno mezcal
2 ounces fresh squeezed lime juice
1/2 ounce Cointreau
3 to 4 drops orange bitters
1/2 teaspoon honey
chopped ice
fresh lime wedge, for garnish
fresh jalapeno slice, for garnish
Instructions
for the jalapeno mezcal: Pour mezcal into a pint jar or other glass container. Add jalapeno slices and cover. Refrigerate overnight and then remove jalapeno slices. Leave jalapenos in longer for a spicier mezcal. This will keep well in the refrigerator for a couple months.
for the chili salt rim: In a small bowl, whisk together all ingredients. Transfer to a small plate. Run the cut side of a fresh lime wedge around the rim of a 10 ounce glass. Dip wet rim into chili salt. Set glass aside. Chili salt will keep well in an airtight container for a few months.
to create the jalapeno mezcal margarita: To your prepared glass, add jalapeno mezcal, lime juice, Cointreau, orange bitters, and honey. Stir vigorously with a mini whisk until honey is incorporated. Add chopped ice to fill glass and a give a little stir to combine. Garnish with a lime wedge and jalapeno slice. Enjoy!
Notes
from a farmgirl's dabbles
Recommended Products
As an Amazon Associate and member of other affiliate programs, I earn from qualifying purchases.
Nutrition Information:
Yield: 1
Serving Size: 1
Amount Per Serving:
Calories: 1087
Total Fat: 2g
Saturated Fat: 0g
Trans Fat: 0g
Unsaturated Fat: 1g
Cholesterol: 0mg
Sodium: 14205mg
Carbohydrates: 42g
Fiber: 12g
Sugar: 17g
Protein: 4g
Nutrition information is automatically calculated by Nutritionix. I am not a nutritionist and cannot guarantee accuracy. If your health depends on nutrition information, please calculate again with your own favorite calculator.
If you like this margarita, you might like: