Chocolate Cupcakes with Fluffy Marshmallow Buttercream
These Chocolate Cupcakes with Fluffy Marshmallow Buttercream has won over children and adults alike. Moist and delicious chocolate cupcakes are adorned with big scoops of the fluffiest marshmallow buttercream. So fun!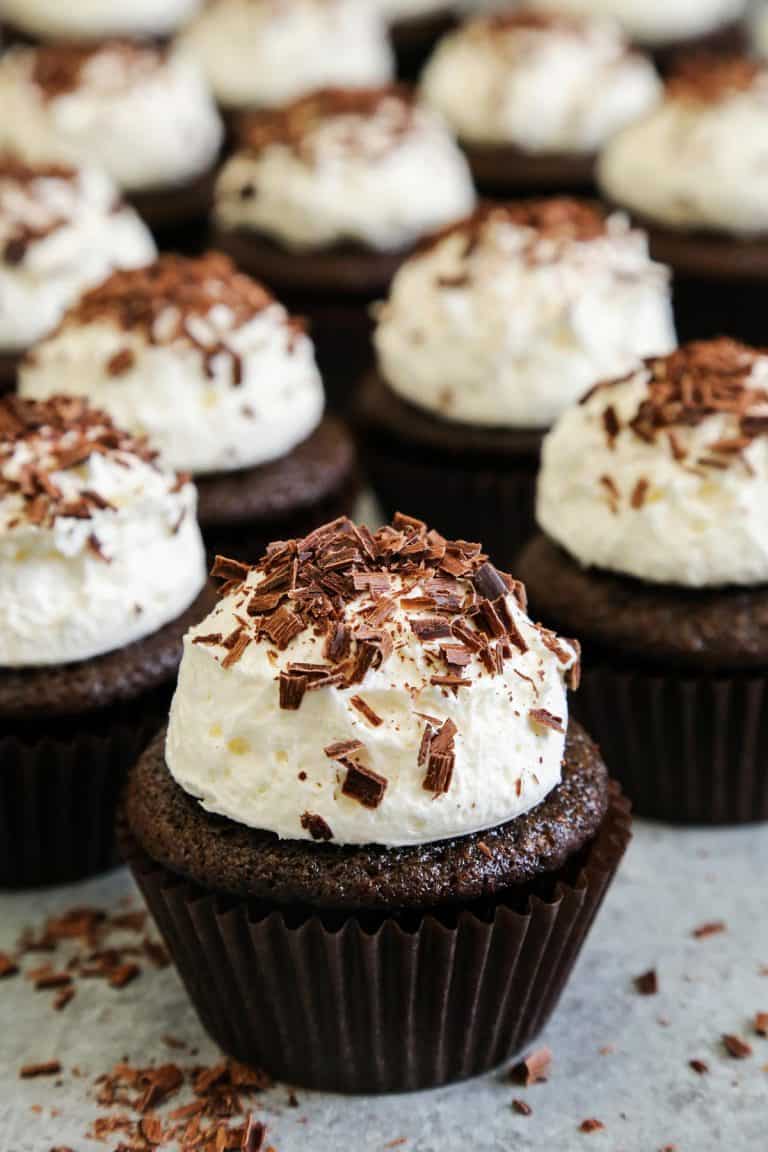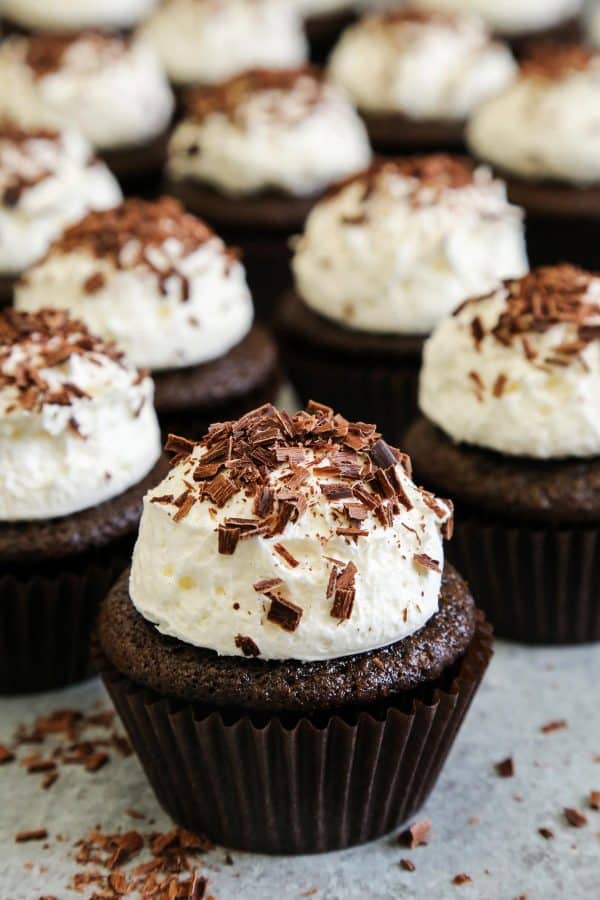 Some of my most joyful moments in the kitchen involve making buttercream frosting. The fluffier, the better – that's my motto.
It's not only fun for me to make and eat myself, but I also immensely enjoy the reactions from those I love when that first swipe of fluffiness reaches their lips. Really great buttercreams are not an everyday occurrence. They're special, and should be totally and completely enjoyed without guilt. That's another motto of mine.
These Chocolate Cupcakes with Fluffy Marshmallow Buttercream have swept us off our feet. They are indulgent in the most celebratory kind of way. If you've been looking for a special cupcake that's easy to make, look no further!
*A few more cupcakes recipes I'm loving: These Coconut Cupcakes with Fluffy Coconut Buttercream are always a hit. As well as my Salted Caramel Mocha Cupcakes and Pumpkin Snickerdoodle Latte Cupcakes!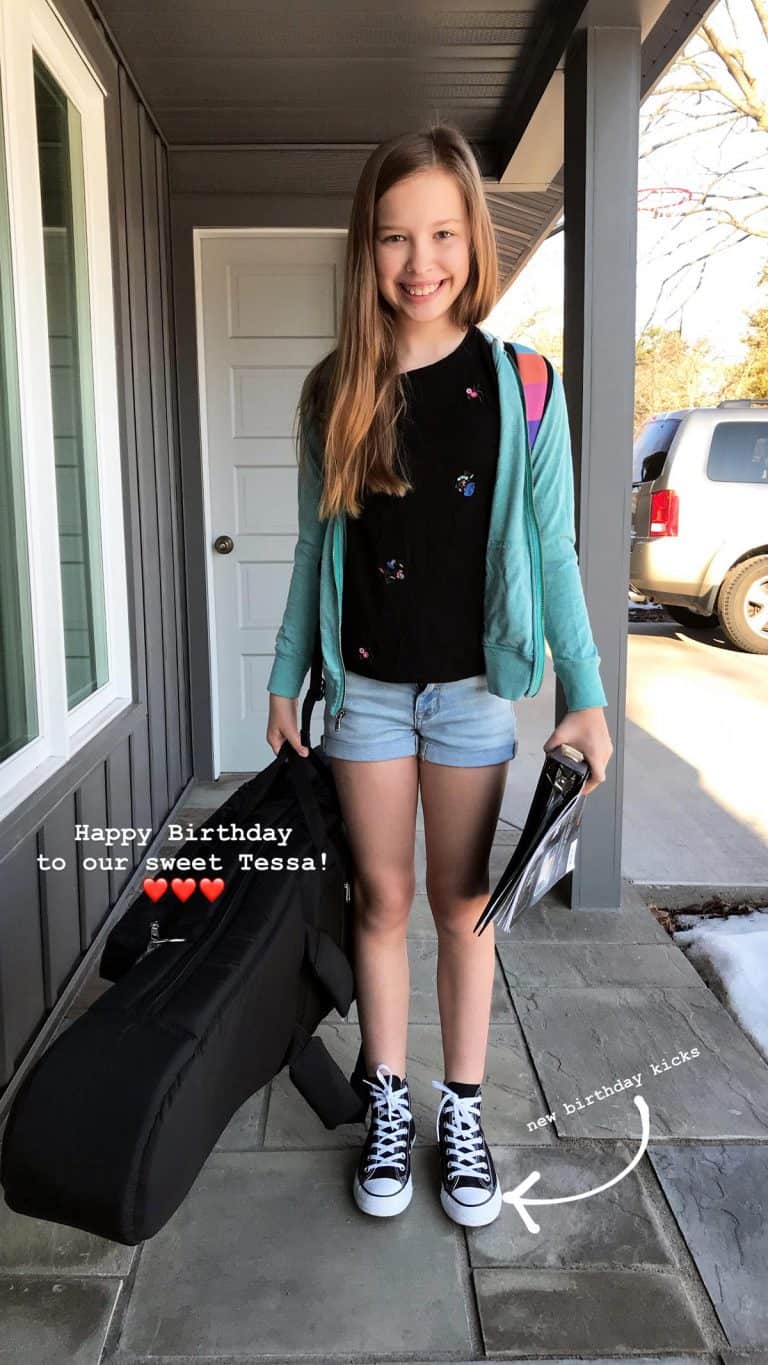 Today is our sweet Tessa's birthday. She is now 11 years old.
We've been celebrating the past few days, first with a handful of girlfriends and a sleepover on Friday night, and then with my parents here for the weekend. The best celebrations always involve our besties in life.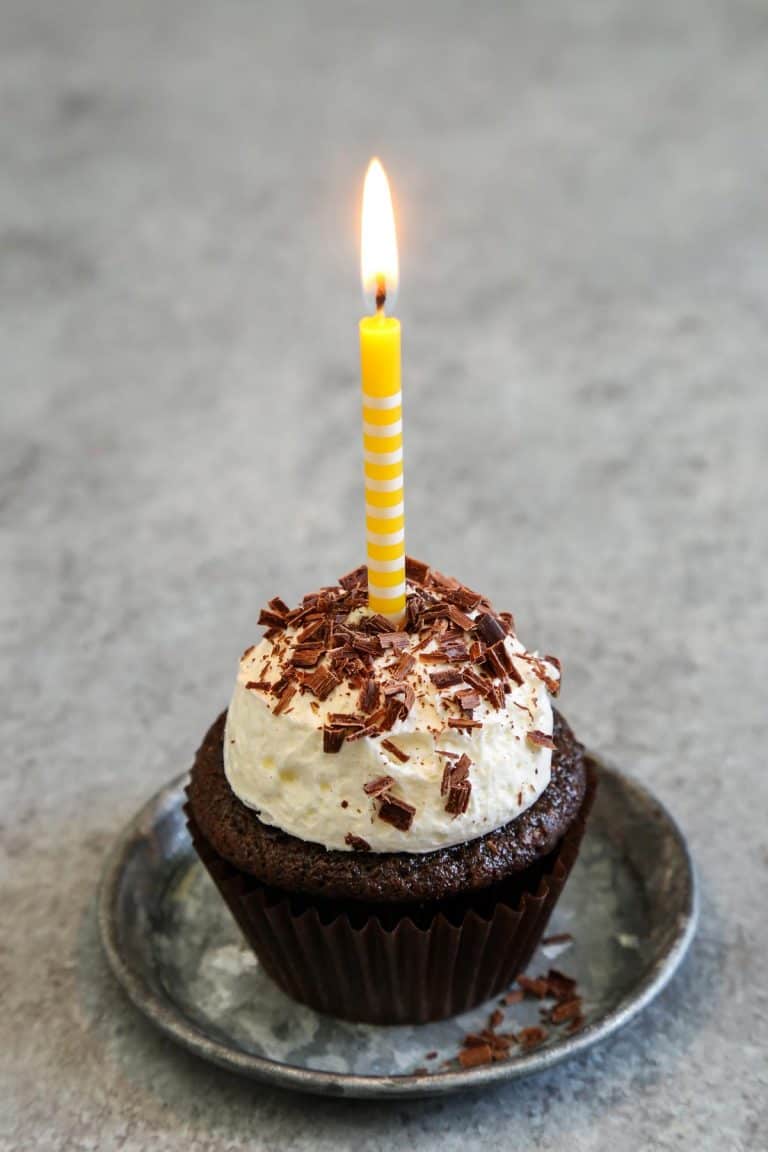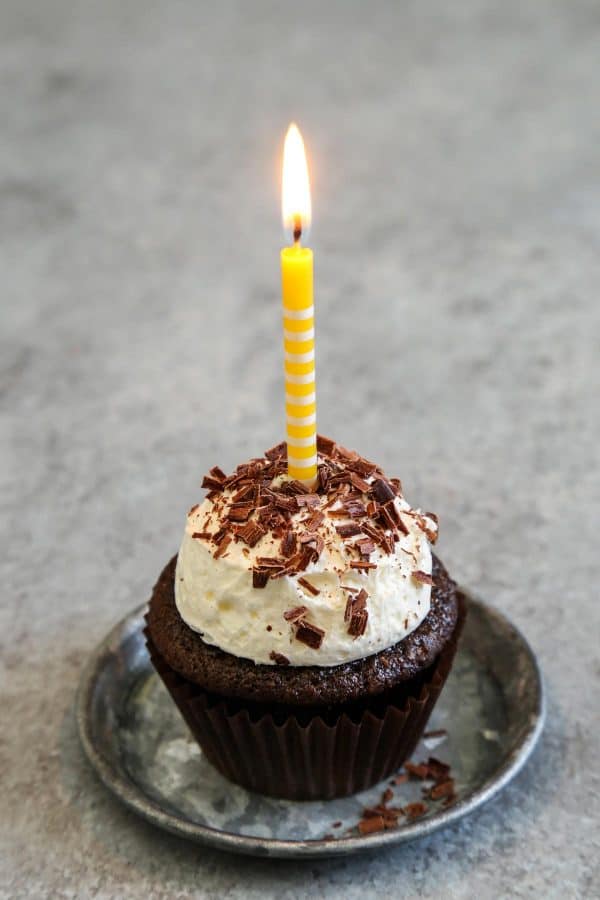 When all you want is fluffy marshmallow frosting…
When I asked Tessa what she'd like me to make for her birthday treat this year, she replied, "I don't care what kind of cake, but I'd like marshmallow frosting." Oh, how I love this girl!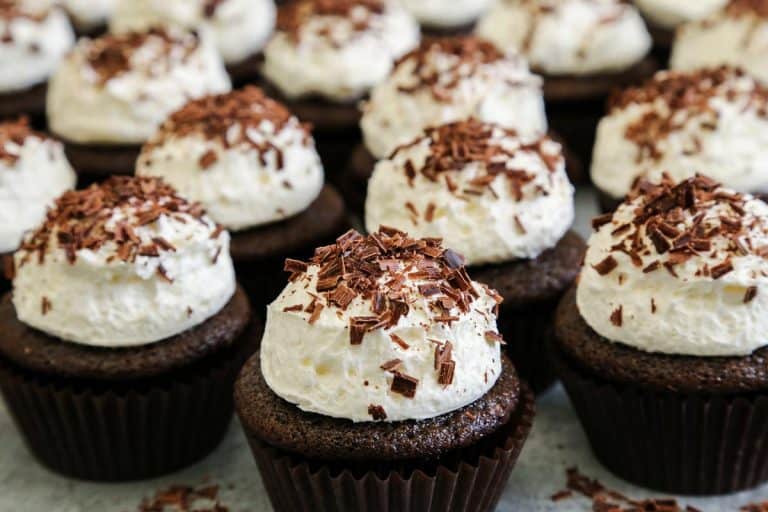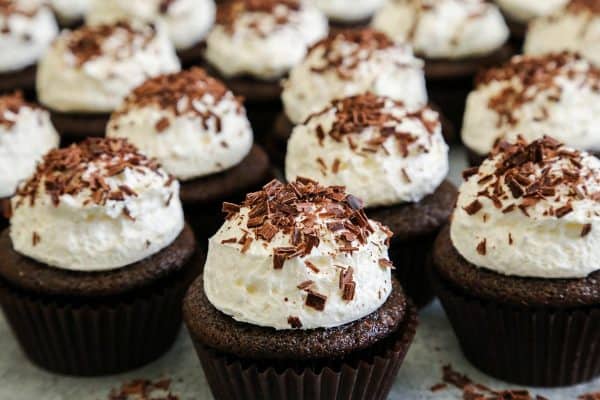 I knew in my heart that this fluffy marshmallow buttercream was a success once I finished capping all the chocolate cupcakes with big pillowy mounds of frosting. It was delicious. And it looked so fun!
Tessa took one look and her eyes got big and wide. "For me?!"
She wholeheartedly approved these chocolate cupcakes, saying how fun they looked and how great they tasted. The marshmallow buttercream got highest marks. One of Tessa's girlfriends even tried to commission me to make these for her birthday party in a few months. :)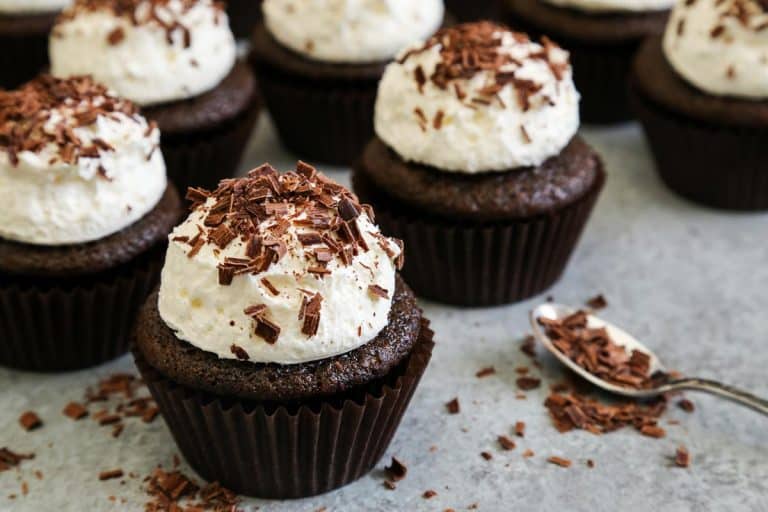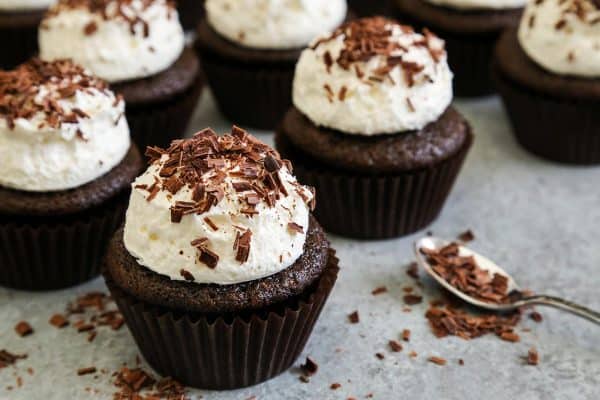 How to make fluffy buttercream frosting:
1. Start with room temperature butter by taking it out of the refrigerator in plenty of time to completely soften on its own. Do NOT soften your butter in the microwave, as this tends to soften it unevenly.
2. Whip the butter. Alot! I start out by whipping the butter alone…for a full 8 minutes in my stand mixer with the paddle attachment. You might think that sounds crazy to whip the butter for that long, but just trust me. A longer whipping time allows more air to be incorporated, and you will see the butter lighten in both color and texture.
3. Beat in the powdered sugar, a bit of salt, some half and half or heavy cream, and any flavorings.
4. To add color to your buttercream, I recommend gel colors. Gels have less liquid and more pigment than liquid colorings, which means you can use less and won't risk diluting the frosting with excess liquid. I'm a total fan of gel colors.
5. Now whip it all again! For this final step, I set the timer for 5 minutes and walk away, only returning once or twice during this time to scrape down the bowl.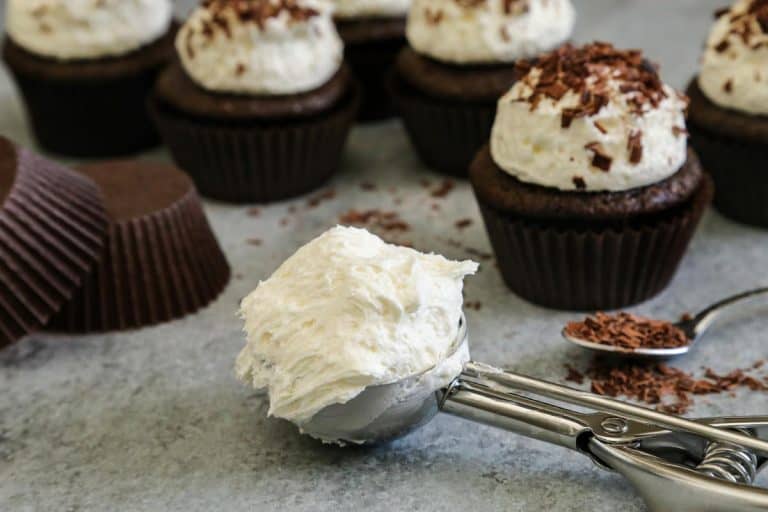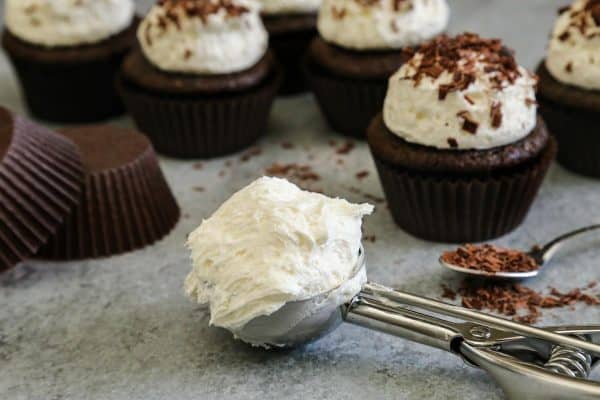 Use a scoop to decorate this chocolate cupcake
Have you ever used a scoop to add frosting to cupcakes? It's one of my favorite methods!
You will want to seek out a large scoop that has a big diameter. I like this 4-tablespoon scoop that allows a small perimeter of cake to remain visible in this standard sized cupcake.
(Those brown paper liners are my go-to liners for cupcakes and muffins.)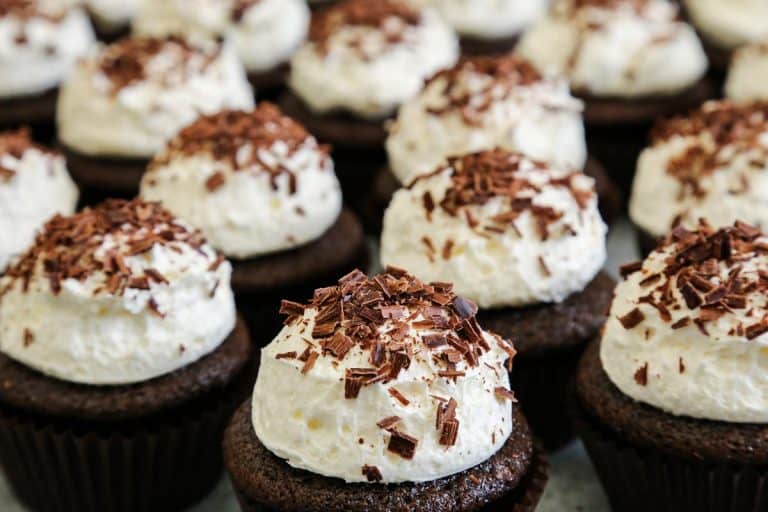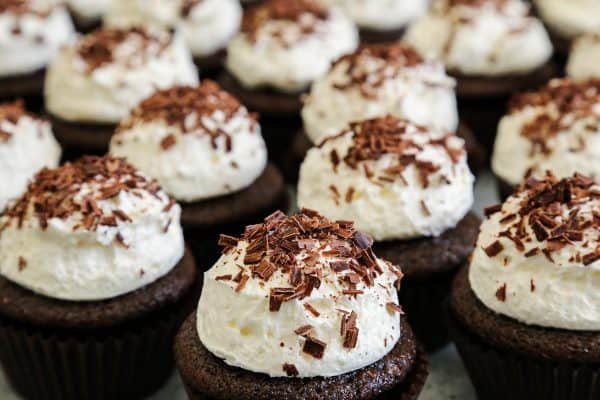 The scoop method for applying the fluffy marshmallow buttercream pronounces the fluffiness of this frosting. It enables the frosting to sit nice and tall, with very little effort. It's so easy!
To finish these off, I simply sprinkled the frosted tops with shavings from a chocolate bar.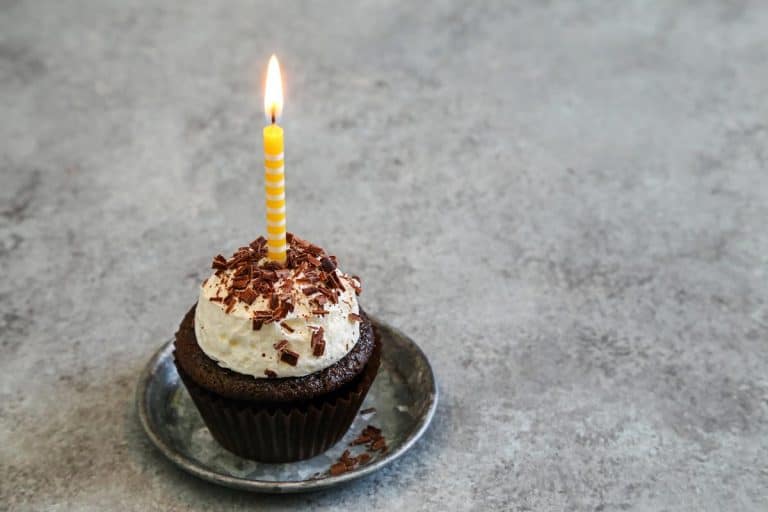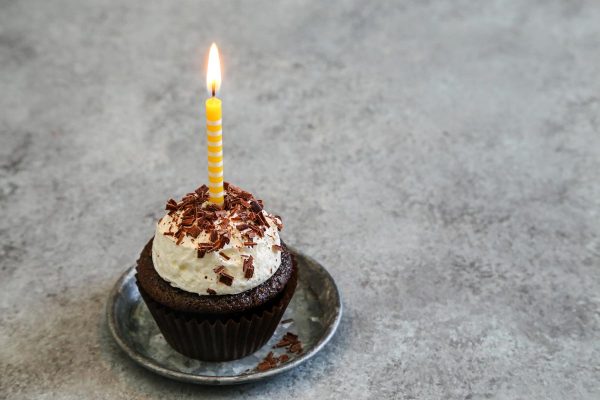 No-fail chocolate cupcake recipe for celebrating
I know that so many people feel intimidated to make their own cupcakes for celebrations, afraid they won't be able to produce treats that look and feel special enough.
But I beg you to let go of those belittling feelings and just give this recipe a try. You'll be surprised at the results of this easy-to-make chocolate cupcake recipe, and even find a little joy in the process.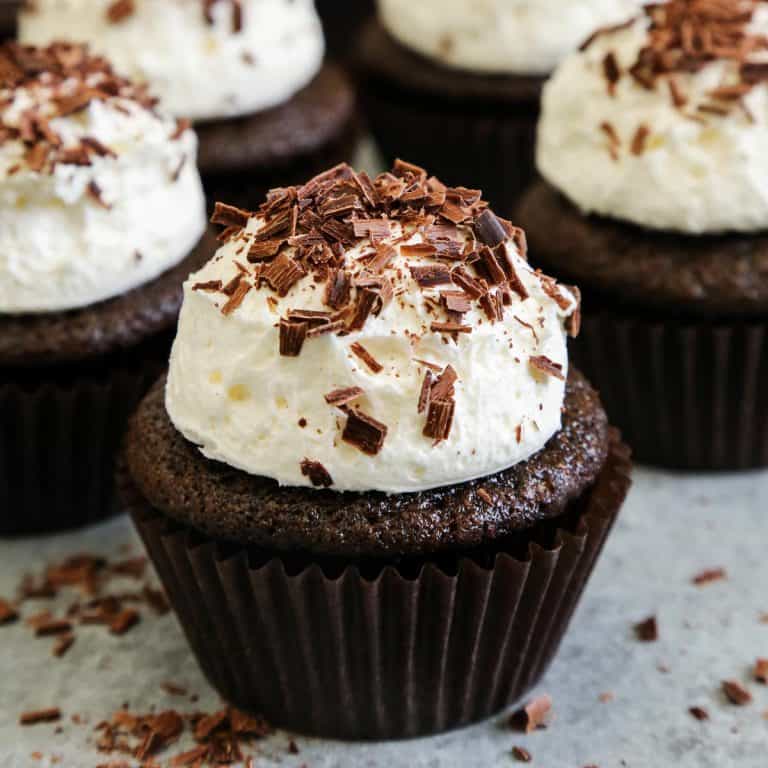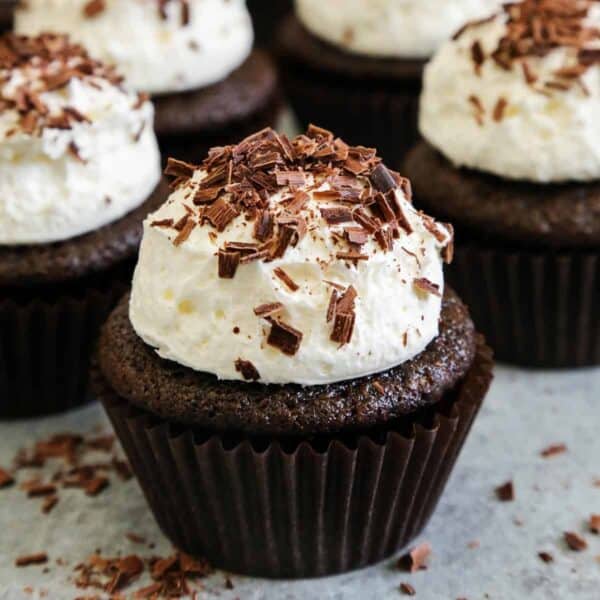 If you like these chocolate cupcakes with fluffy marshmallow buttercream, you might like:
These all look great to me! Fresh Strawberry Buttercream Cupcakes from Fifteen Spatulas, Moist Vanilla Cake from Beyond Frosting, Carrot Cake Cupcakes with Cream Cheese Frosting from Oh Sweet Basil, and Brownie Brittle Toffee Crunch Cupcakes from Big Bear's Wife.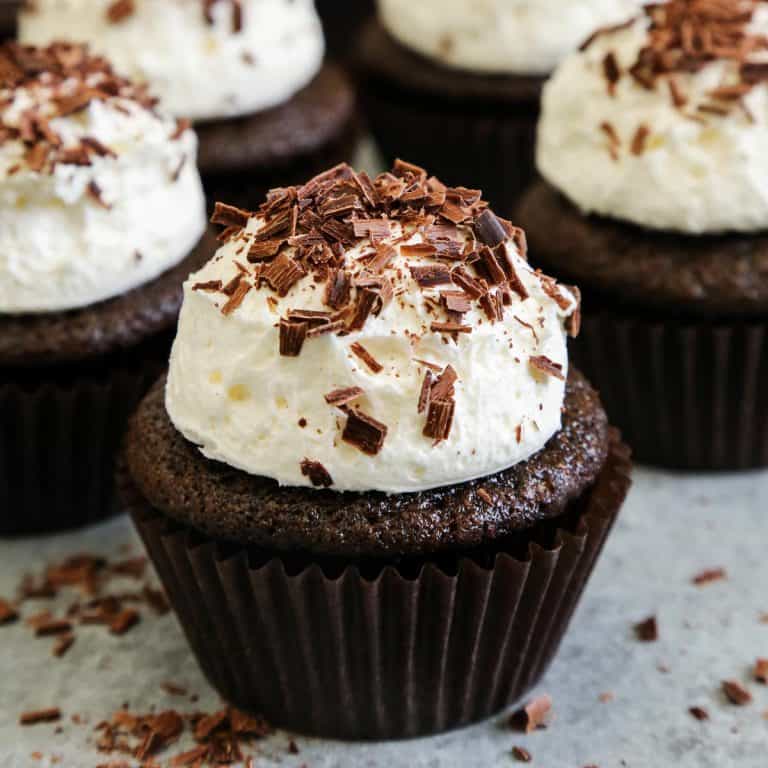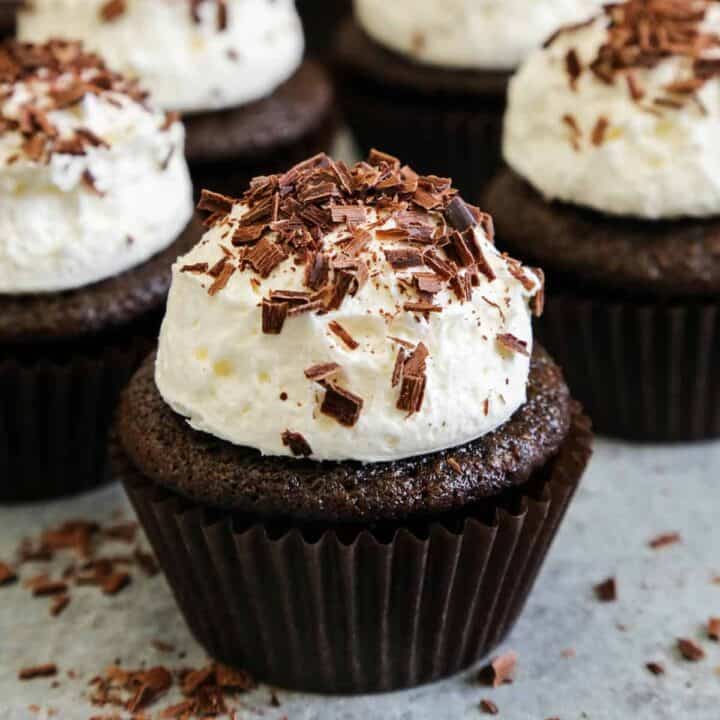 Chocolate Cupcakes with Fluffy Marshmallow Buttercream
Yield: 24 cupcakes
Prep Time: 35 minutes
Cook Time: 25 minutes
Total Time: 1 hour
This cupcake has won over children and adults alike. A moist and delicious chocolate cupcake is adorned with a big scoop of the fluffiest marshmallow buttercream. So fun!
Ingredients
for the chocolate cupcakes:
3 c. all-purpose flour
6 T. cocoa powder
1 tsp. kosher salt
2 c. sugar
1 T. espresso powder
2 tsp. baking soda
2/3 c. vegetable oil
2 T. vinegar
2 c. cold water
1 T. pure vanilla extract
for the fluffy marshmallow buttercream:
2 c. unsalted butter, at room temperature
5 c. powdered sugar
1/2 tsp. kosher salt
2 T. half and half
1 T. pure vanilla extract
1 (13 oz.) container marshmallow creme (use a new container, so it's fresh and ultra fluffy)
chocolate shavings
Instructions
for the chocolate cupcakes: Preheat oven to 350° F. Line 2 regular size cupcake pans with 24 paper liners and set aside.
In a large bowl, whisk all dry ingredients to combine. Make 3 large holes in the dry ingredients.
In a separate smaller bowl, combine oil and vinegar. Pour this into the 3 holes of the dry ingredients. Pour the water over entire mixture. Mix with a fork. Add vanilla and stir.
Divide batter evenly amongst the 24 cupcake wells. Bake for about 25 minutes, or just until a toothpick comes out clean. Remove cupcakes to wire rack to cool completely.
for the fluffy marshmallow buttercream: In the bowl of a stand mixer fitted with a paddle attachment, whip butter on medium-high speed until very fluffy, about 8 minutes, occasionally scraping down the sides and bottom of the bowl. Add powdered sugar and salt, and beat on low to incorporate. Add half and half and vanilla extract, mixing on low until combined. Increase mixer speed to medium-high and beat until very light and fluffy, about 5 minutes, occasionally scraping down the sides and bottom of the bowl. Then add marshmallow creme and mix on medium speed until just combined.
to assemble cupcakes: Use a large 4-tablespoon scoop to top each cupcake with a round of marshmallow buttercream. Gently tap the bottom of the cupcake on the counter once or twice to settle the buttercream onto the cupcake. The marshmallow buttercream recipe makes enough frosting for 24 cupcakes frosted in this generous manner. Top the marshmallow buttercream with a sprinkling of chocolate shavings.
Notes
from a farmgirl's dabbles
Recommended Products
As an Amazon Associate and member of other affiliate programs, I earn from qualifying purchases.
Nutrition Information:
Yield: 24
Serving Size: 1
Amount Per Serving:
Calories: 418
Total Fat: 22g
Saturated Fat: 10g
Trans Fat: 0g
Unsaturated Fat: 10g
Cholesterol: 41mg
Sodium: 255mg
Carbohydrates: 54g
Fiber: 1g
Sugar: 41g
Protein: 2g
Nutrition information is automatically calculated by Nutritionix. I am not a nutritionist and cannot guarantee accuracy. If your health depends on nutrition information, please calculate again with your own favorite calculator.