Lime Baby Cakes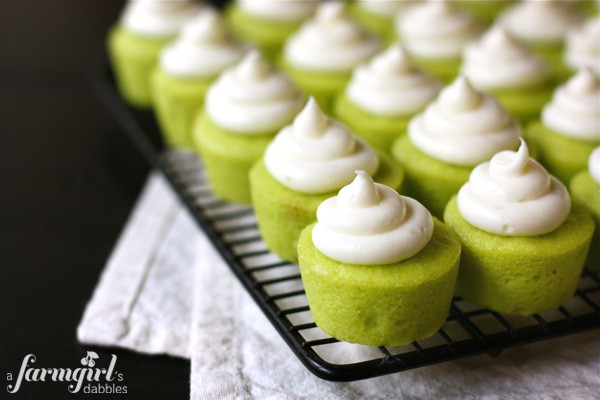 This one's for Mom.
I wanted to post a recipe that I know she loves, but one that she doesn't make for herself.  I sifted through my cookbooks and recipe files for a treat that is truly special to her and makes her smile.
These Lime Baby Cakes are it.
They have my mom written all over them.
Green is even her favorite color.
See her green dress?!
And the flowers on her lapel?
Dad always gave Mom a corsage to wear to church on Mother's Day morning.
I always liked that.
For absolutely everything, Mom, thank you.
I love you.
Happy Mother's Day.
These vibrant green cupcakes are fun, ultra tasty, and addictive.  The buttermilk makes the cake dense and moist.  And the creamy frosting is the perfect contrast to the zing in the cake.  They work marvelously together.
I first made these for a friend's party where a selection of smaller 2-bite desserts was served.  The original recipe is for regular size cupcakes, however, I adapted it to make "baby" cakes.  The little cupcakes went over so well, I've never made them any other way.  If you want to make 12 regular size cupcakes, just cut all the cupcake ingredients in half.  You will probably need to bake them a bit longer, too.  Leave the frosting measurements the same.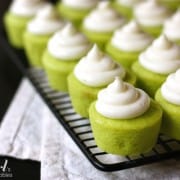 Lime Baby Cakes
Yield: about 50 baby cakes
Ingredients:
for the baby cakes:
3-1/2 c. all purpose flour
2-1/4 tsp. baking powder
3/4 tsp. kosher salt
1 c. unsalted butter, at room temperature
2-1/2 c. sugar
4 large eggs, at room temperature
5 T. fresh lime juice
2 T. finely grated lime peel
1/2 tsp. neon-green food coloring (found in the baking aisle of grocery store)
1-1/2 cups buttermilk
for the frosting:
8 oz. cream cheese, at room temperature
1-1/2 c. powdered sugar
1/2 c. unsalted butter, at room temperature
1 T. finely grated lime peel
1/2 tsp. vanilla
Directions:
for the baby cakes:
Preheat oven to 350°.
A couple notes: I prefer to use flexible silicone mini muffin pans with no paper liners for this recipe, but you can also prepare metal mini muffin pans with paper liners. The silicone muffin pans I used are here. Also, I found that there are different sized mini muffin pans out there, so your yield and baking time may vary a bit. The silicone pans I used yield a little bigger mini cupcake than others, which I also happen to like.
Whisk flour, baking powder, and salt in medium bowl and set aside. In a large bowl, beat butter until smooth. Add sugar and beat to blend. Beat in eggs 1 at a time, then the lime juice, lime peel, and food coloring. Batter may look curdled, but that's just fine. Beat in the flour mixture alternately with the buttermilk, in 3 additions. Spoon batter into liners, about 2/3 full. Bake cupcakes until tester inserted into center comes out clean. This took about 20 minutes for me, but it will depend on the size of your tins, so pay close attention to your baking time. Cool 10 minutes and remove from pan. Cool completely before adding frosting.
for the frosting:
Beat all ingredients in medium bowl until smooth. With a medium-large plain round tip, pipe frosting onto cooled cupcakes, or simply spread it on with a knife. Sprinkle a bit of fresh lime zest over tops, if desired.
heavily adapted from bon appetit, original recipe from Buttersweet Bakery in Atlanta
© a farmgirl's dabbles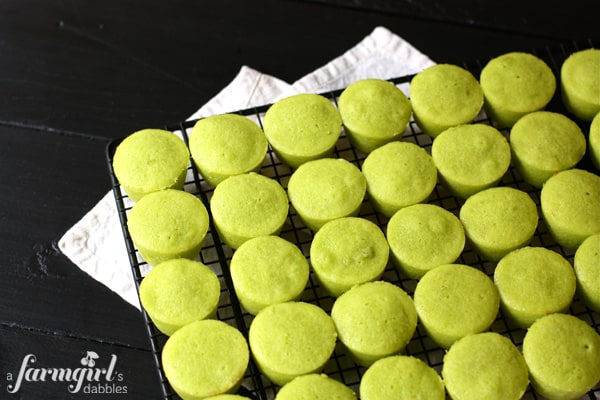 We participate in the Amazon Services LLC Associates Program, an affiliate advertising program designed to provide a means for us to earn fees by linking to Amazon.com and affiliated sites. See our disclosure policy for more info.