Oreo Cheesecake Bites
These Oreo Cheesecake Bites are light in texture, yet ultra creamy. I bet you won't be able to eat just one!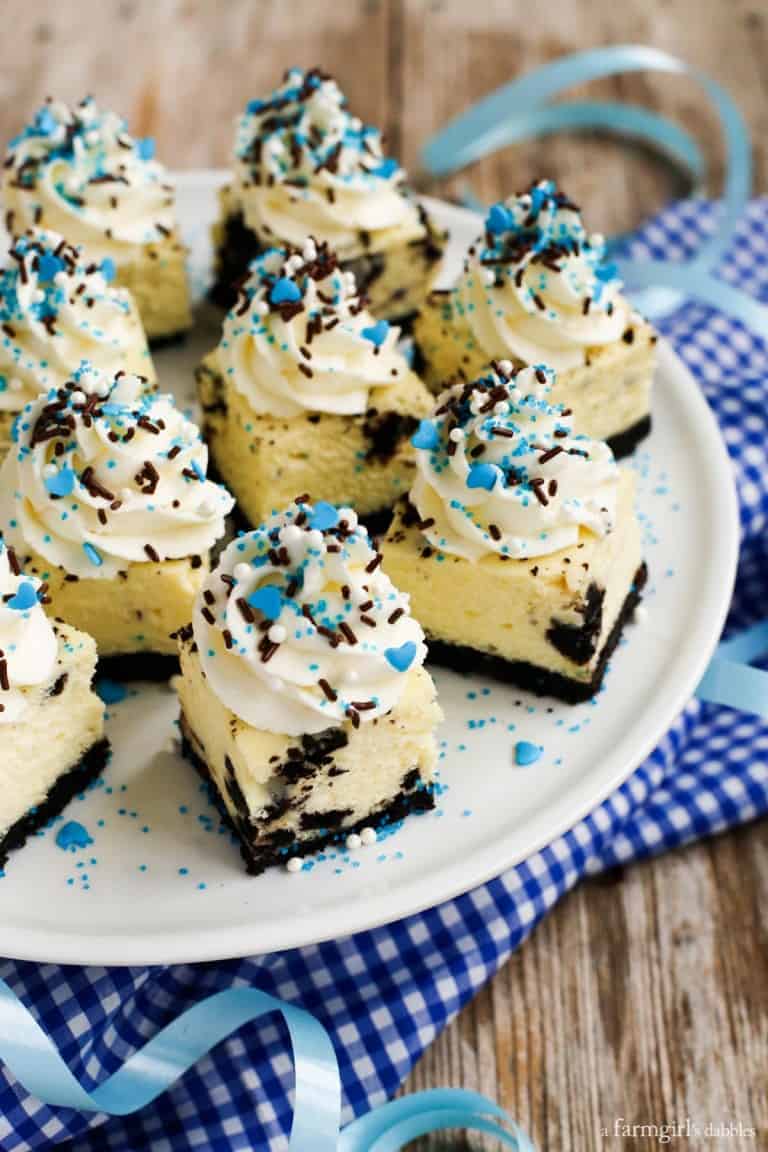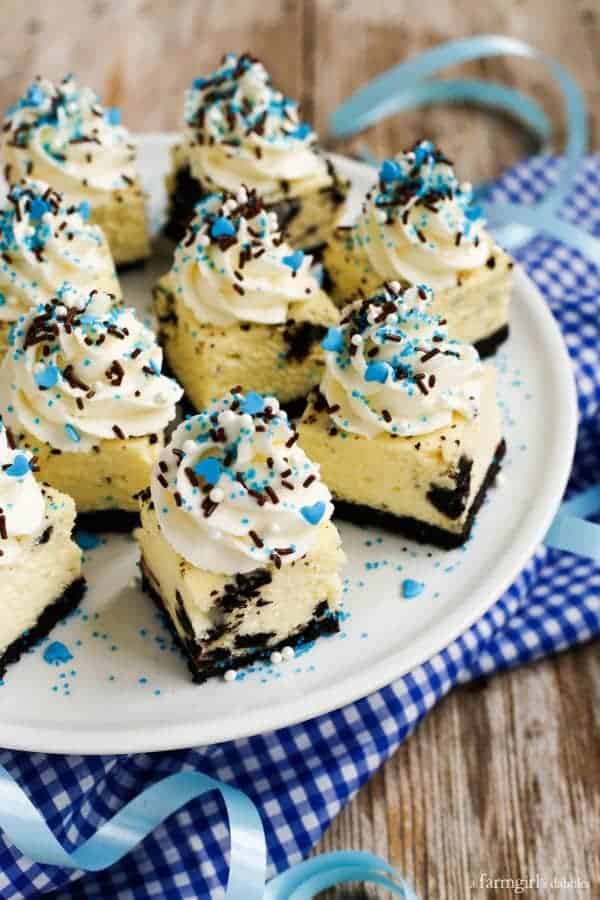 It's been so long…waaaaaayyyyy too long…since I've held a newborn. And right now I'm wishing I could just hop on a plane to NYC to visit my friend Joanne and her precious son. James was born just a little over a week ago, and he's a handsome little fella (here are some pictures!), for sure. I'm so happy to see this dream of Joanne's and Pete's come true.
Today we're celebrating Joanne and Pete and James with a virtual baby shower, and I can't wait for you to dig in to this amazing spread!
Check out these Oreo Cheesecake Bites (I had to make amends with my waistline after making this sweet treat…this recipe is so awesome good!) and all the rest of the baby shower food and drinks made by Joanne's blogging friends. Find the full list of recipes with links later on in this post. Enjoy!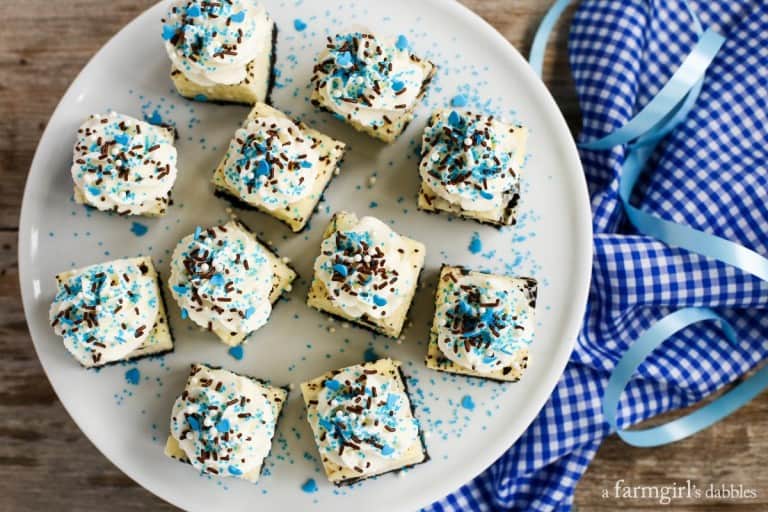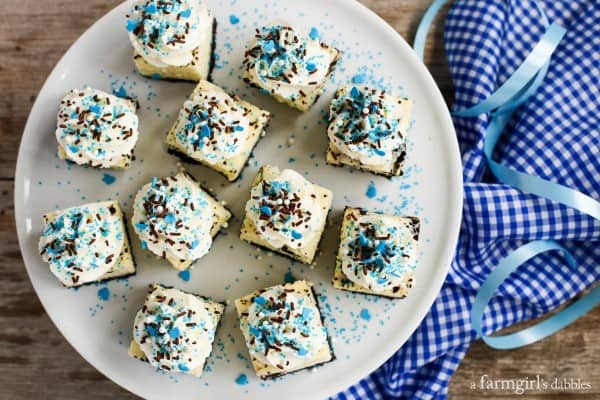 Cheesecake is a weakness of mine (not to mention, Oreos!), so I was selfish in making a recipe for this baby shower that I knew I'd personally want to eat. But…I also know how much Joanne loves her dessert. And I'm positive that if we were together, we could make a good dent in this pan of cheesecake. She's the kind of friend that would never let me eat dessert all by myself. ;)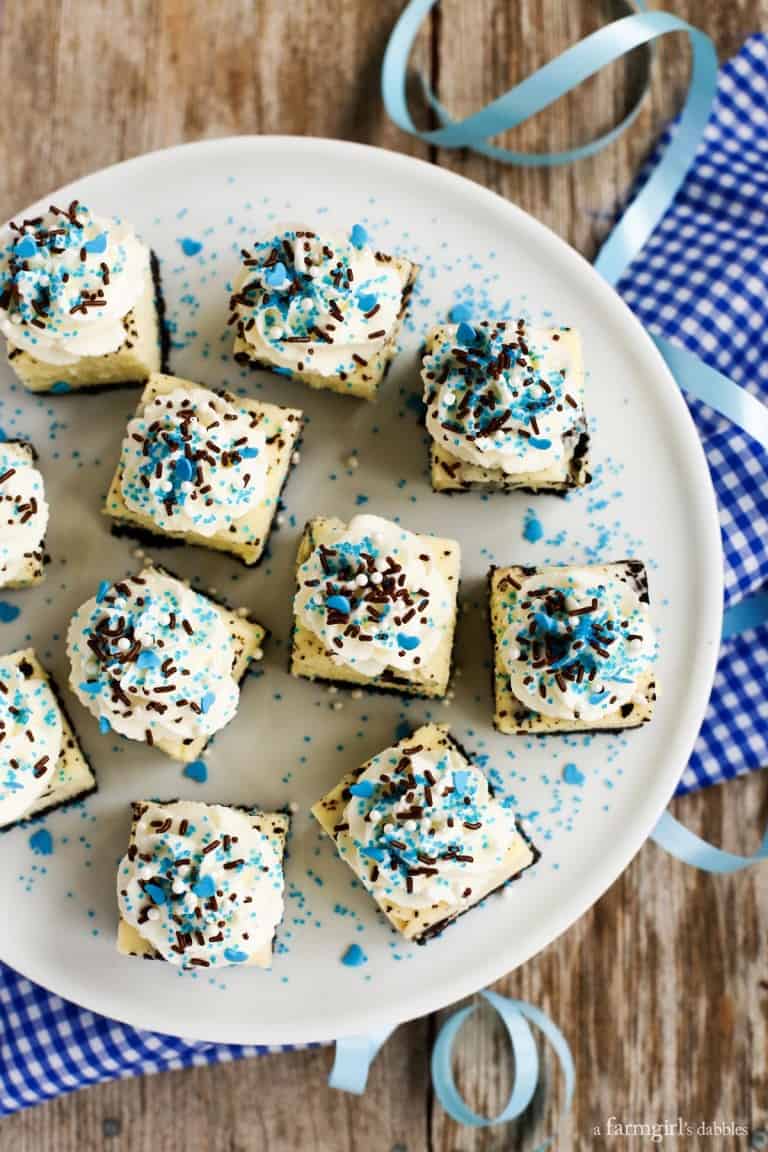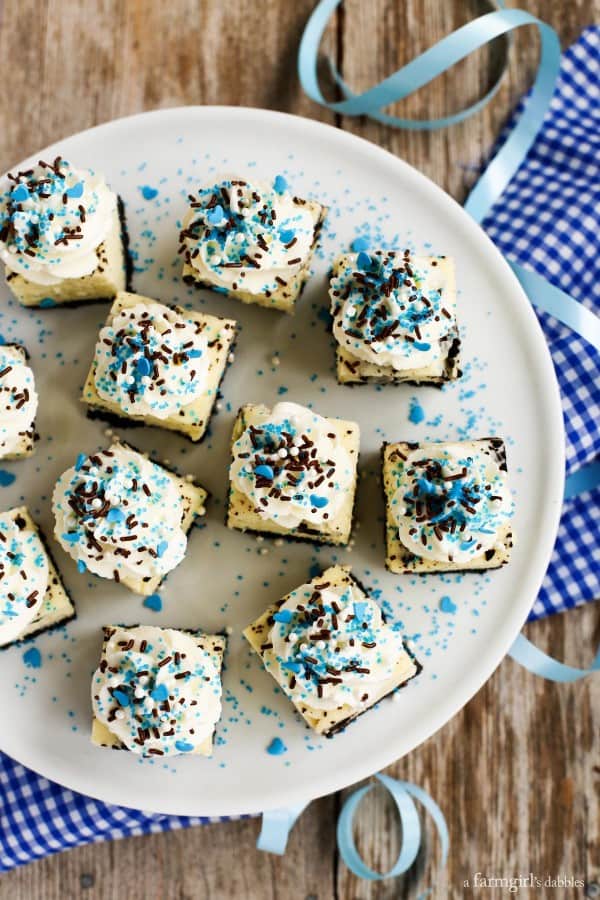 I oftentimes hear people say, "I've never made a cheesecake because they're so hard to make." To that, I say, "Phooey!" I've baked many different cheesecakes over the years, and for the most part, find them easy to make. There are definitely some finicky ones that are more involved. But this recipe is definitely not one of those. This recipe for Oreo Cheesecake Bites is a breeze to make. No special springform pan or water bath is needed. If you have a 13″ x 9″ pan and a desire to eat a cheesecake made by your own two hands, this recipe is for you!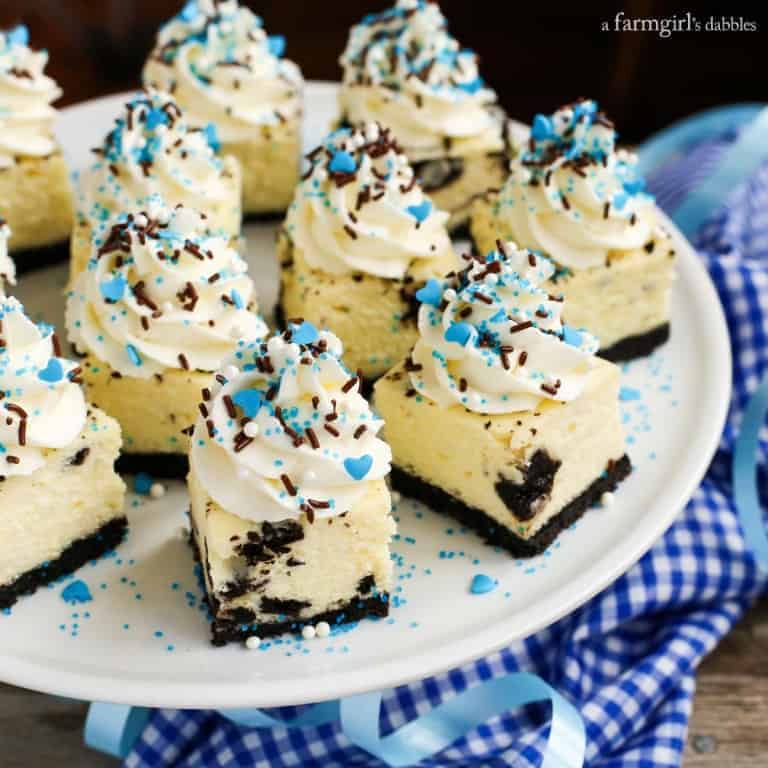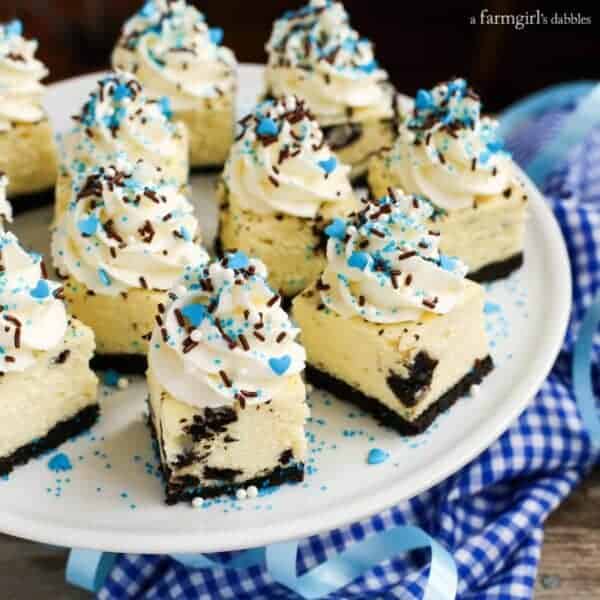 This Oreo cheesecake is light in texture, yet extremely creamy. I topped the bites with swirls of whipped cream, plus a mixture of sprinkles, with little blue hearts for sweet baby James.
Be sure to check out all the other delicious recipes for this baby shower. You can also follow along on social media using the hashtag #fifteenspatulasbaby.
Appetizers
Italian Sub Sandwich Roll-ups from Michael of Inspired by Charm
Smoky Roasted Red Pepper Sun Dried Tomato Hummus from Jeanette of Jeanette's Healthy Living
Creamy Sweet Potato Soup from Sadie of Dairy Good Life
Whipped Goat Cheese & Blueberry Balsamic Crostini from Meseidy of The Noshery
Rosemary Flatbread with Baked Goat Cheese from Heidi of FoodieCrush
Spring Herb Cream Cheese Appetizer Cups from Rachel of Rachel Cooks
Crostini with Almond Ricotta and spicy olive tapenade from Heather of HeatherChristo
Drinks
Fruit Freeze from Deborah of Taste and Tell
Mint Lemonade from Trish of Mom On Timeout
Ginger Lemonade from Kathy of Panini Happy
Desserts
Chocolate-Covered Rice Krispies Treats from Julie of The Little Kitchen
Orange Fluff from Jamie of My Baking Addiction
Chocolate Peanut Butter Pretzel Brownies from Susannah of Feast + West
Mini Ombre Heart Cookies from Bridget of Bake at 350
Mini Coconut Pound Cakes from Mary of Barefeet In The Kitchen
Yellow Sheet Cake with Chocolate Sour Cream Frosting from Jennifer of Savory Simple
Unicorn Shaped Cookies from Jessie of CakeSpy
Oreo Cheesecake Bites from Brenda of a farmgirl's dabbles
Lemon Blueberry Bread from Glory of Glorious Treats
Blintz with Blackberry Sauce from Sommer of A Spicy Perspective
Pastel Rainbow Cake from Bree of Baked Bree
Individual Chocolate Souffles from Andie of Andie Mitchell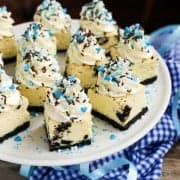 Oreo Cheesecake Bites
Yield: 48 cheesecake bites
Prep Time:20 minutes
Cook Time:45 minutes
Calories per serving: 157
Ingredients:
42 regular Oreo cookies, divided
5 T. unsalted butter, melted
32 oz. cream cheese, softened to room temperature
1 c. sugar
1 c. sour cream
1 tsp. pure vanilla extract
4 large eggs
whipped cream and sprinkles, optional garnishes
Directions:
Heat oven to 325°F.
Line a 13″ x 9″ pan with foil, with ends of foil extending over sides. In a food processor, pulse 30 of the Oreos (use the whole cookie) until finely ground. Drizzle in melted butter and blitz a few times to evenly combine. Press onto bottom of prepared pan.
In a large bowl, beat cream cheese and sugar with electric mixer until blended. Add sour cream and vanilla, and mix well. Add eggs, 1 at a time, beating on low speed after each, just until blended. Roughly chop remaining cookies (reserve all the tiny cookie crumbs) and gently stir them into batter. Pour mixture over crust. Sprinkle top of batter with reserved tiny cookie crumbs.
Bake 45 to 50 minutes, or until center is almost set. Let cool completely at room temperature, then refrigerate for at least 4 hours or overnight. Use foil handles to lift cheesecake from pan before cutting into bars. Mine are cut into 1-1/2″ squares, but you can make them bigger or smaller, whatever you like.
If you want to make these Oreo Cheesecake Bites without the blue sprinkles, here's a bit more inspiration for you. I simply sprinkled the whipped cream with chocolate sprinkles. You could also use finely crushed Oreo cookies…or anything else your little heart desires! :)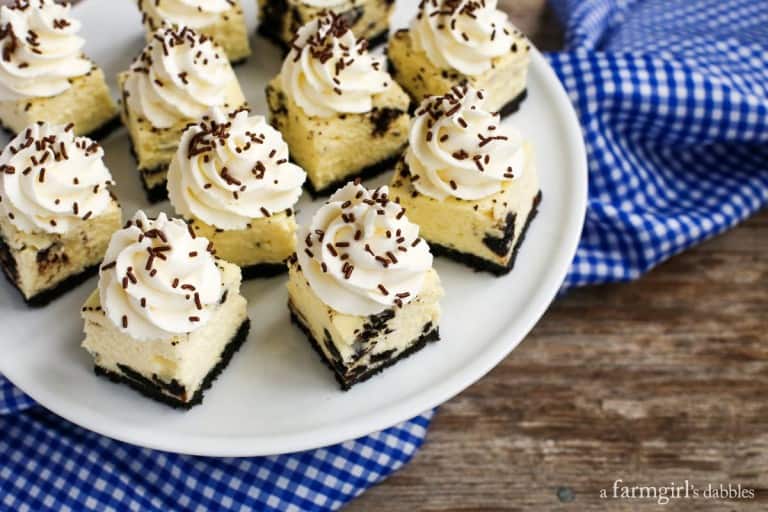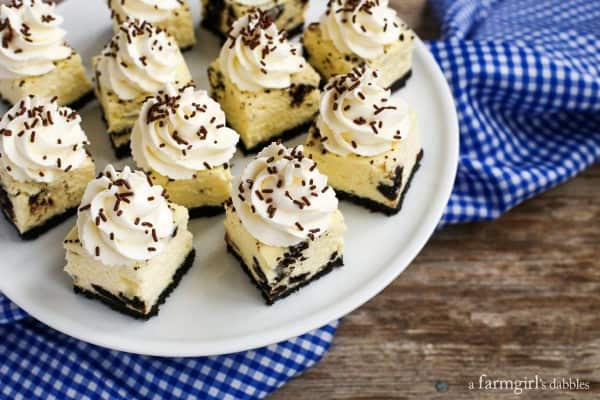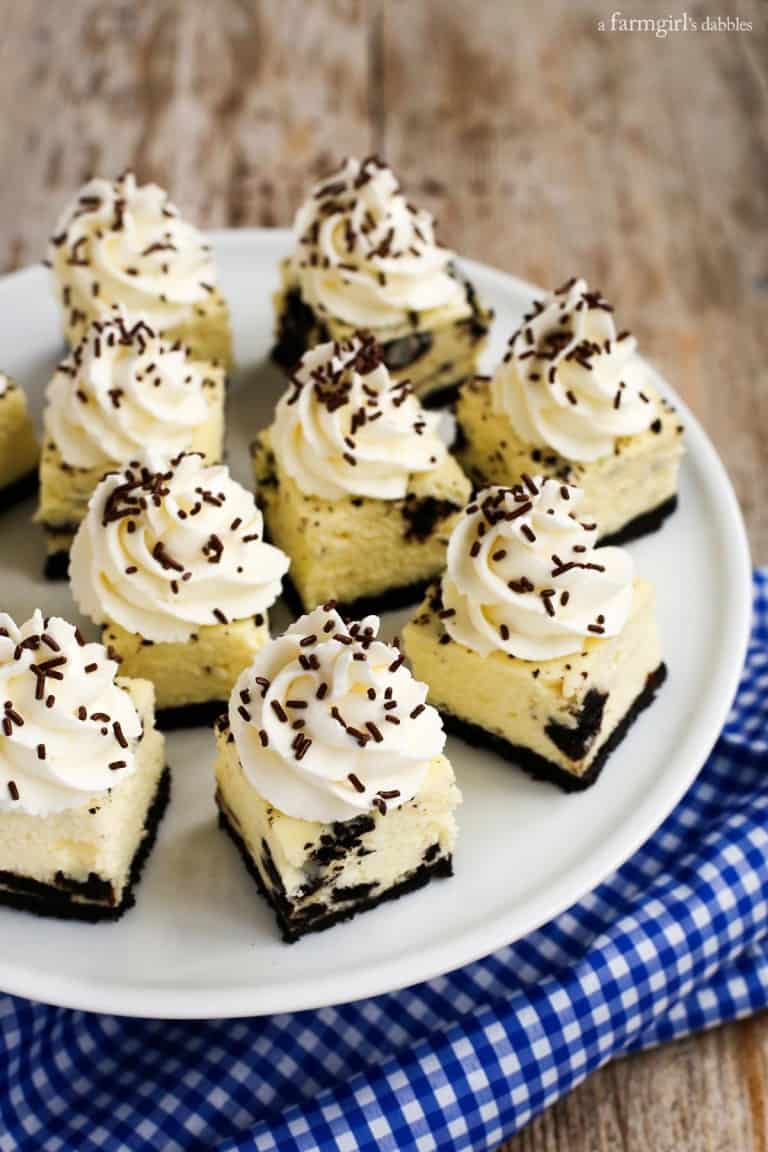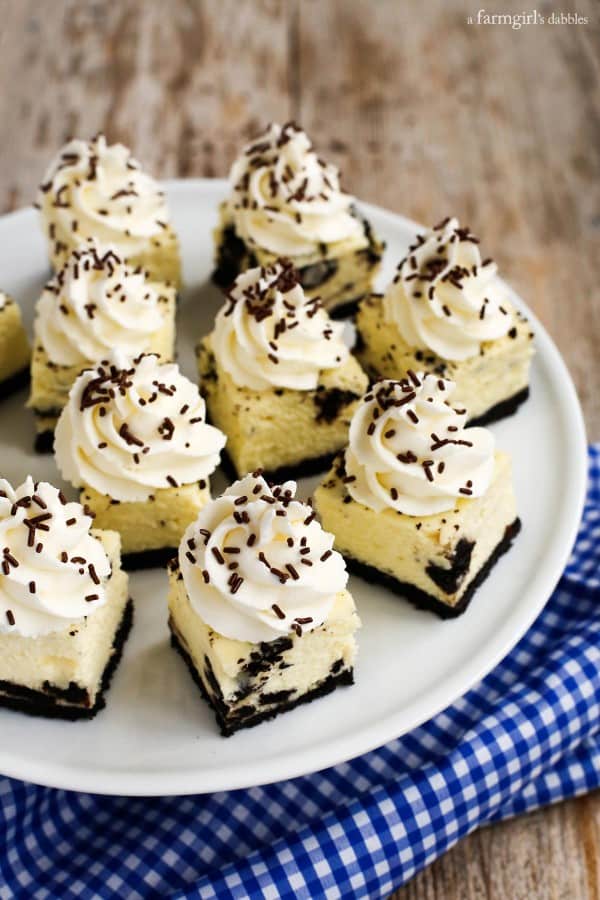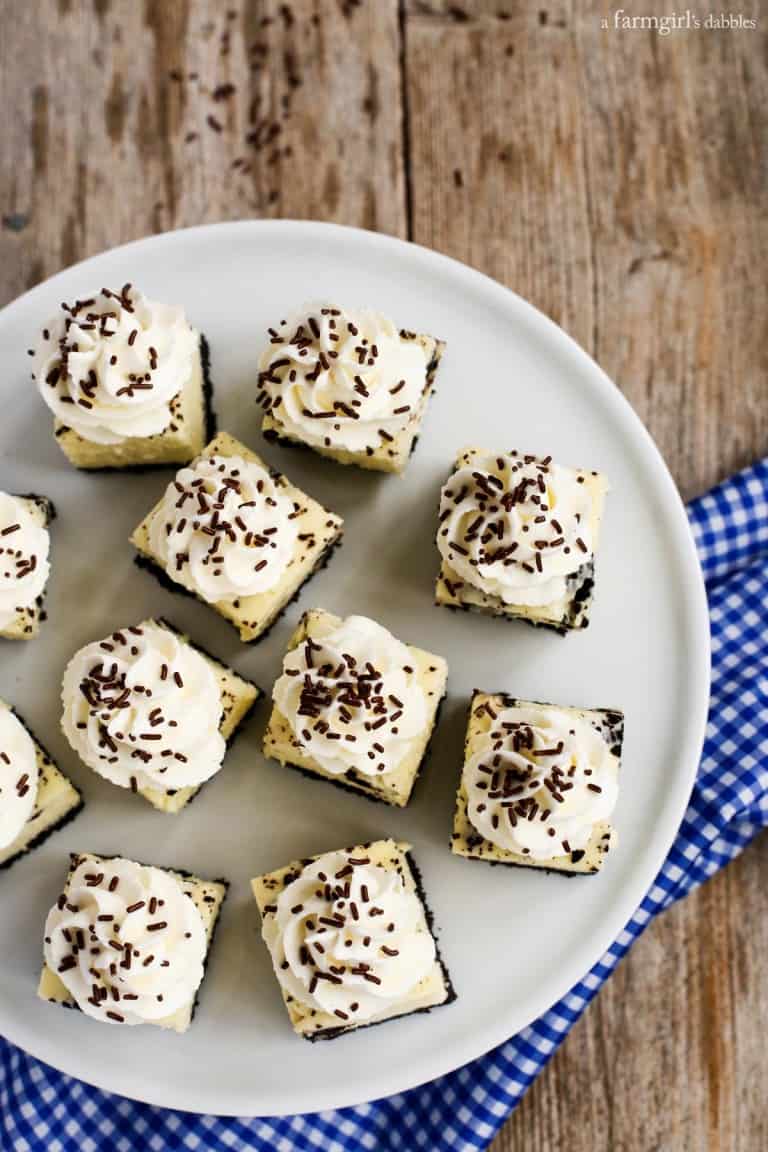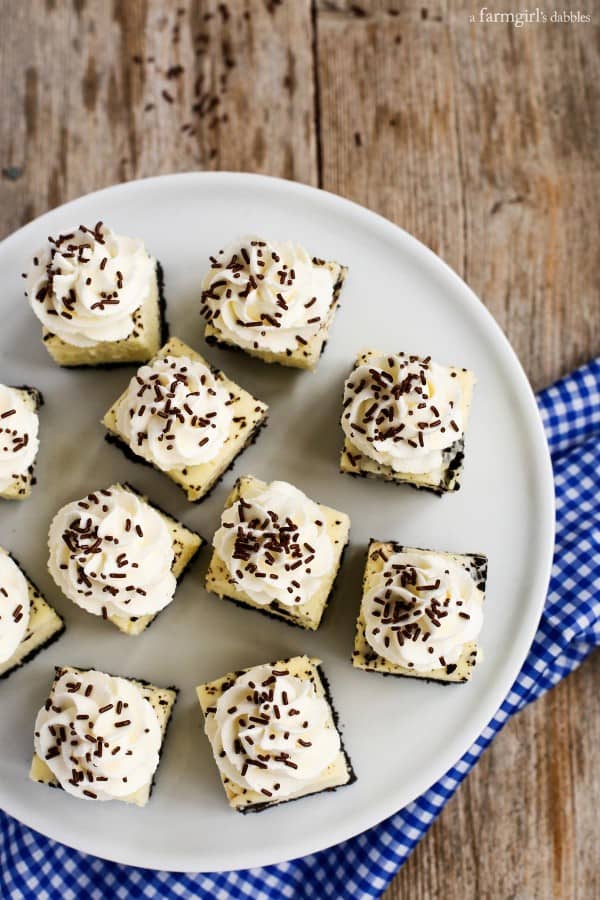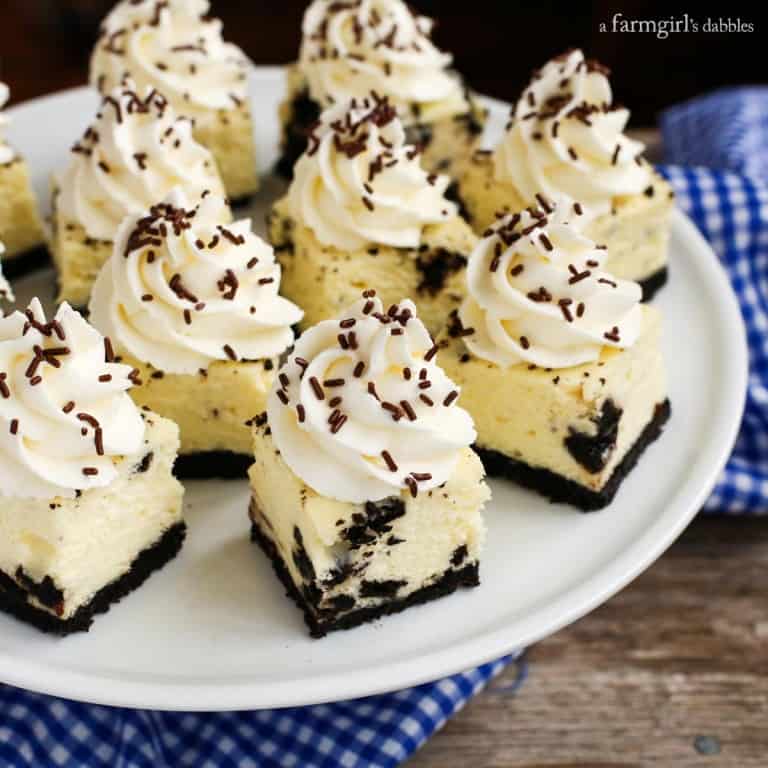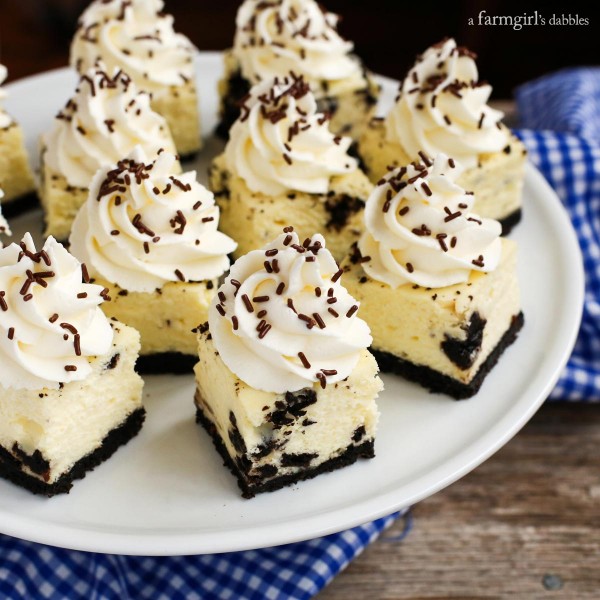 We participate in the Amazon Services LLC Associates Program, an affiliate advertising program designed to provide a means for us to earn fees by linking to Amazon.com and affiliated sites. See our disclosure policy for more info.