Cocktail Sauce
This Homemade Cocktail Sauce is the perfect condiment for your classic or grilled shrimp cocktail, with fresh ingredients, lots of zest, plus some heat. It's ready to serve in just a few minutes!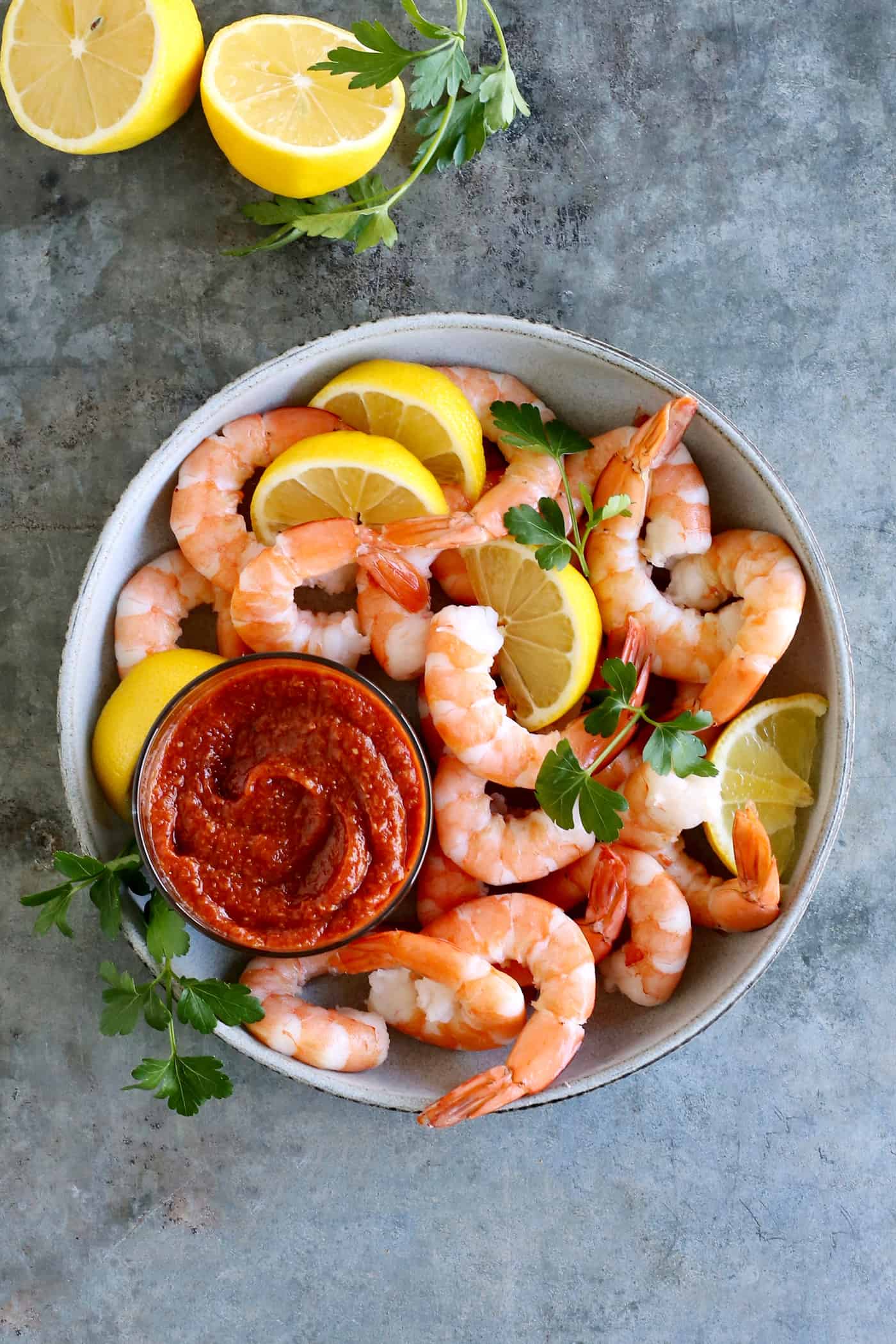 Easy Homemade Cocktail Sauce Recipe
Be warned – after you make this homemade Cocktail Sauce, you'll never buy it pre-made in the store again. Not only is this sauce incredibly easy to make, but the flavor is also above and beyond the bottled stuff. It is LOADED with zesty flavor!
This recipe uses quality ingredients like tomato paste, freshly ground horseradish, and lemon juice to create a seafood sauce that's perfectly zesty and spicy. (Though of course you can tone it down if you like!) The vibrant sauce, paired with classic shrimp cocktail or my crazy awesome grilled shrimp cocktail, is absolute PERFECTION!
What is Cocktail Sauce?
Cocktail sauce is often referred to as seafood sauce or shrimp cocktail sauce, a tomato-based dipping condiment usually served with shrimp and other seafood. It can be a bit spicy and zesty, thanks to the addition of horseradish and hot sauce, and is said to enhance the flavor of seafood.
When it comes to dipping seafood, cocktail sauce is in direct competition with another classic dip, the famous tartar sauce. Cocktail sauce is tomato-based, with a kick – while tartar sauce is creamy, with fresh, tart flavor from lemon and pickles.
I created this cocktail sauce recipe because I find bottled sauces a bit bland. When I worked at SALA Architects in Stillwater, MN, I was treated to "Shrimp-o-rama" each Christmas season – which meant wine with co-workers plus COLOSSAL sized shrimp and the best cocktail sauce ever. The sauce had so much fresh horseradish in it that the first bite always took my breath away. I loved it!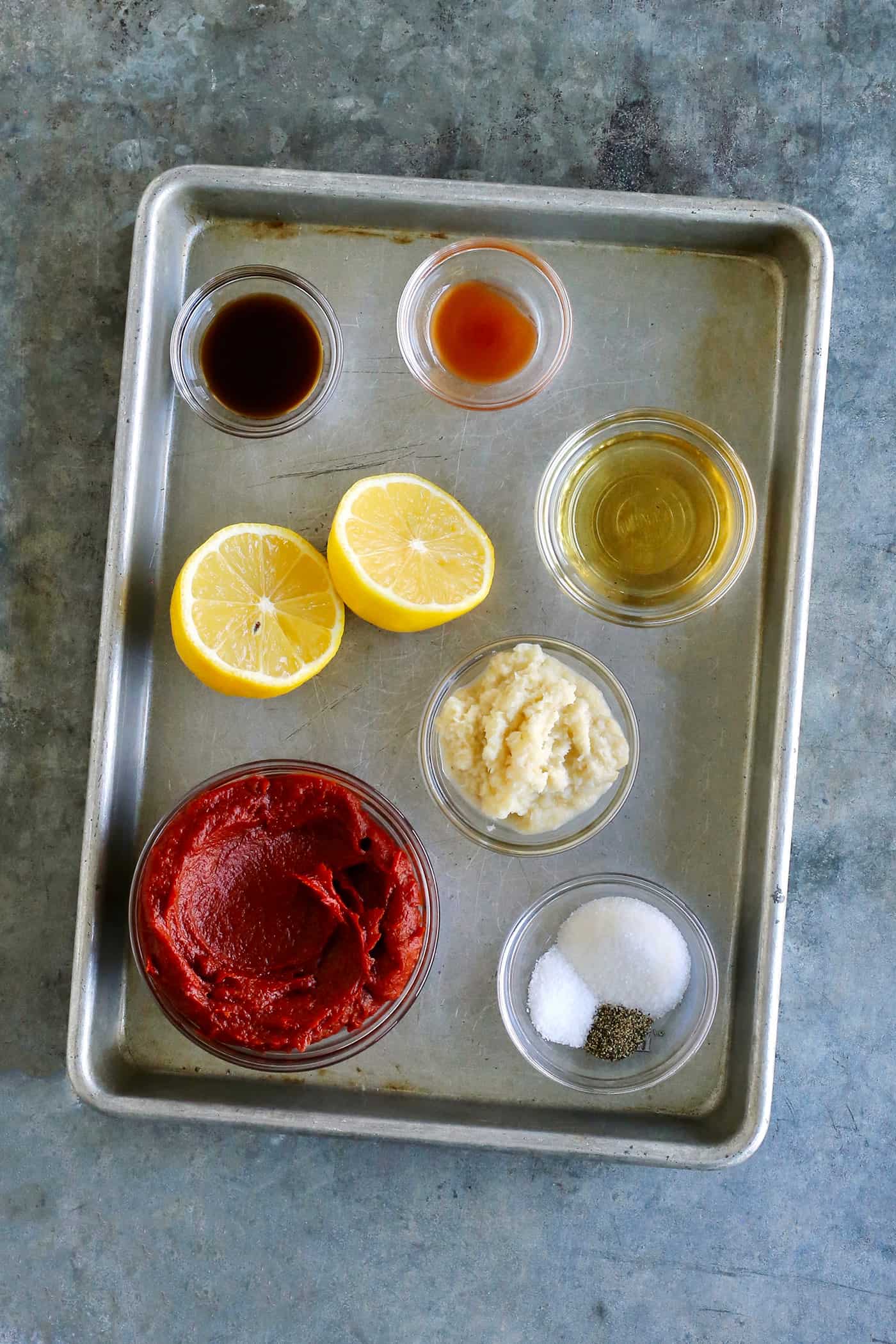 What You'll Need
This homemade seafood sauce recipe requires less than 10 ingredients!
Tomato paste – Be sure to use a good quality tomato paste, as it's the base of the sauce.
Apple cider vinegar – Adds some bright tang to the seafood sauce, plus it helps to loosen up the tomato paste.
Ground horseradish – Be sure to avoid horseradish sauce, which is mixed with mayo. Freshly ground horseradish only! This is the horseradish that I use – I find it at the seafood counter at our local Kowalski's.
Lemon juice – Freshly squeezed only, please!
Sugar & salt
Worcestershire sauce – Adds slight umami undertones.
Tabasco sauce – Adds the heat to the sauce. Use a bit more if you like spicy.
Black pepper
Water – Thins out the sauce. Add a little at a time until you achieve your desired consistency.
Can I Use Ketchup Instead of Tomato Paste?
There are a lot of cocktail sauce recipes out there that take a shortcut by using ketchup, but honestly? Not my favorite. I like the deeper, richer tomato flavor of tomato paste. For a great quality seafood sauce, I really recommend using actual tomato paste, not ketchup.
That said, if you do add ketchup, skip the sugar. Then taste test and see if you'd like to add a bit.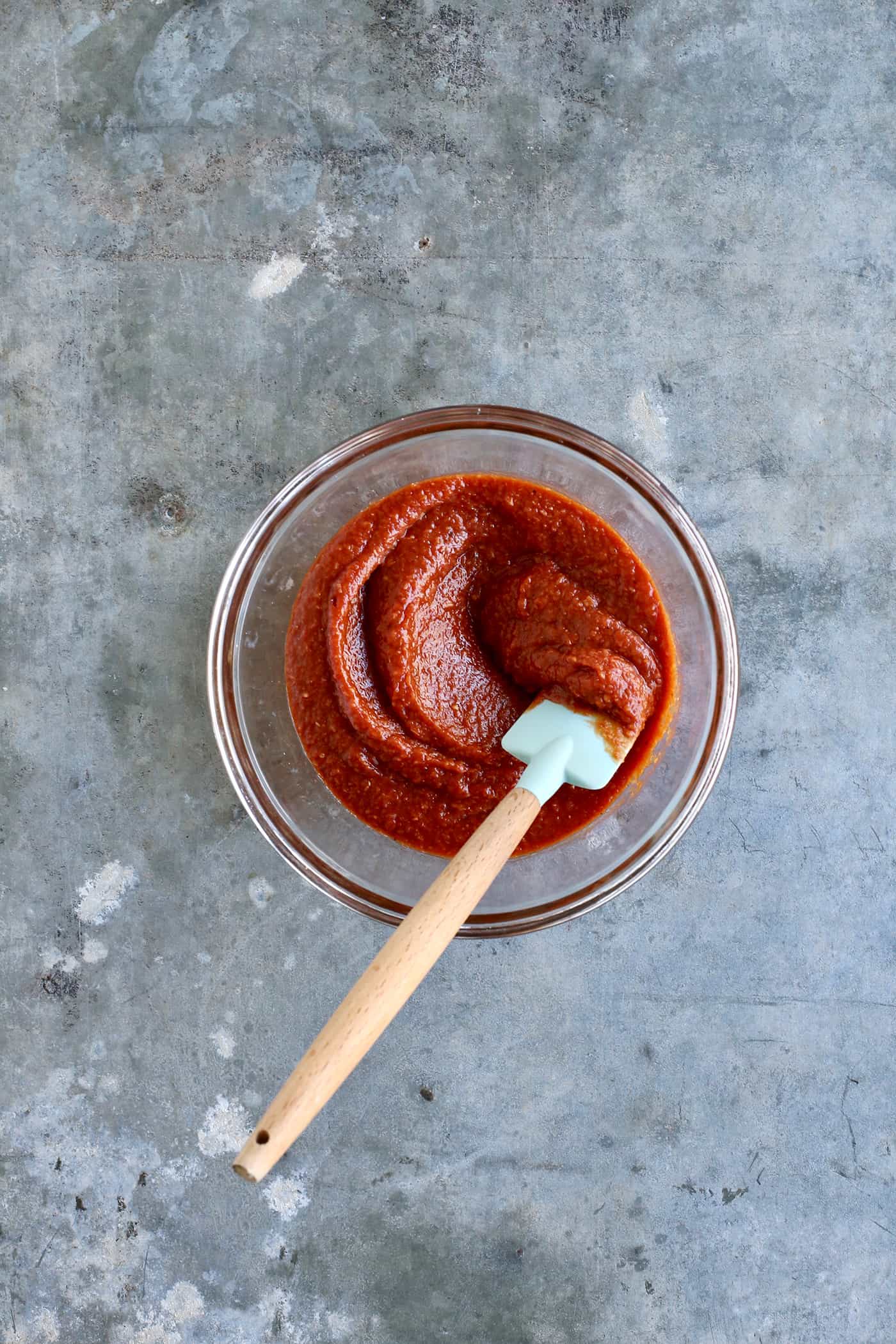 How to Make Cocktail Sauce
You can whip up this sauce in just a few minutes!
Combine the ingredients. Mix together all ingredients except for the water.
Thin it out. Add a tablespoon of water to thin the sauce. If needed, add a bit more until desired consistency is reached.
Serve. Serve immediately or store in the fridge until using.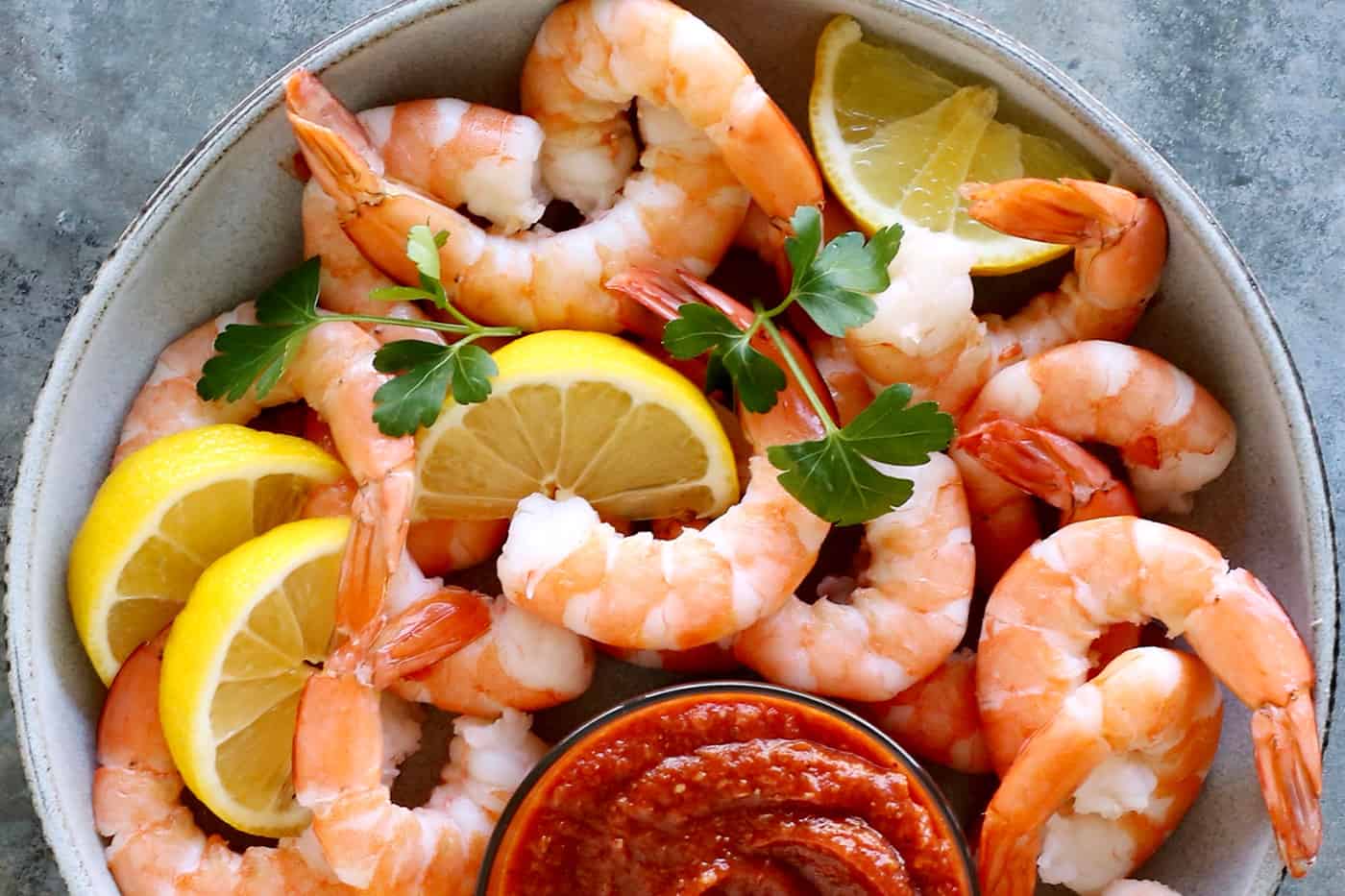 Tips & Variations
Here are a few tips for making the best cocktail sauce.
Use quality ingredients. Like any recipe, your cocktail sauce will only be as good as the ingredients added. Use fresh lemon juice, good quality tomato paste, and freshly ground horseradish for the best flavor.
Make it spicy. This recipe already has some kick to it but if you want to spice it up even more, add in some additional horseradish and/or Tabasco sauce.
Tone it down. On the other hand, if you prefer less heat, cut back on the horseradish and Tabasco.
Prepare in advance. While you can whisk this up and serve it immediately, I do recommend trying to prepare an hour or so ahead of time, just so the flavors have time to combine.
What To Serve with Cocktail Sauce
Cocktail sauce is typically served as a dipping condiment for classic shrimp cocktail, as you see in the photos. I like to use extra large 26-30 count shrimp or larger, for the most succulent bites.
But I also beg you to try this sauce with my grilled shrimp cocktail and air fryer shrimp. Or serve it with other seafood, like clams, oysters, lobster, and crab. And for those who like a creamy, tangy dip, be sure to offer some delicious tartar sauce!
I'm a firm believer that seafood is meant to be served with fresh lemon wedges. So I always offer fresh lemon to squeeze over the shrimp (or other seafood) before dipping. It's fresh and bright, and really enhances the flavors in both the seafood and the sauce.
You can also mix the seafood sauce with cream cheese and enjoy it as a dip on crackers and chips, or even use it as a topping for burgers, seafood sandwiches, and more.
How to Store
I recommend using your homemade cocktail sauce within 2 days. It should be stored in the fridge in an airtight container or jar. After being refrigerated, you'll likely find that the sauce will thicken a bit. If it's thicker than you like, simply stir in a little more water.
More Appetizer Recipes:
Like this recipe? Save it to Pinterest!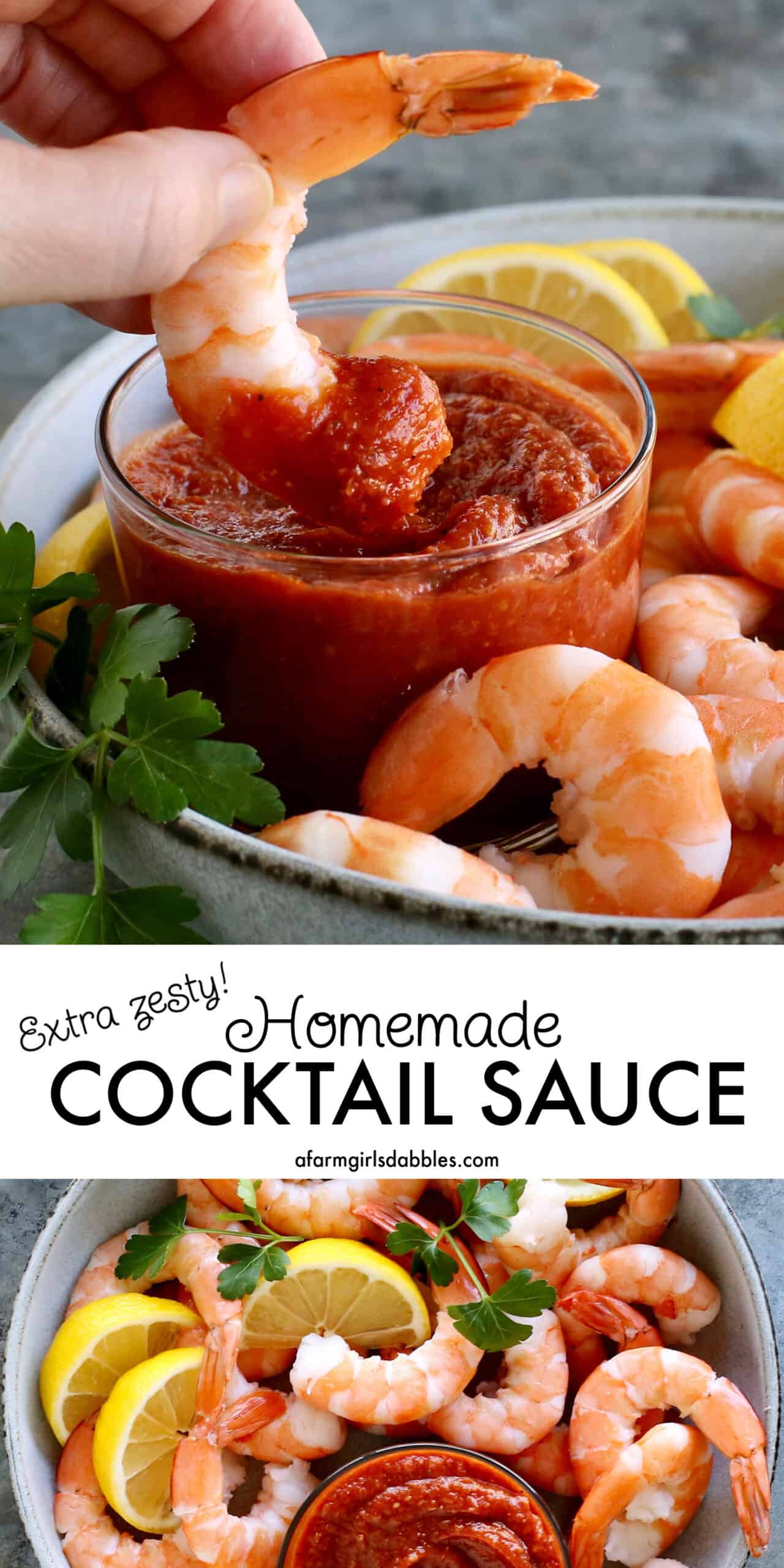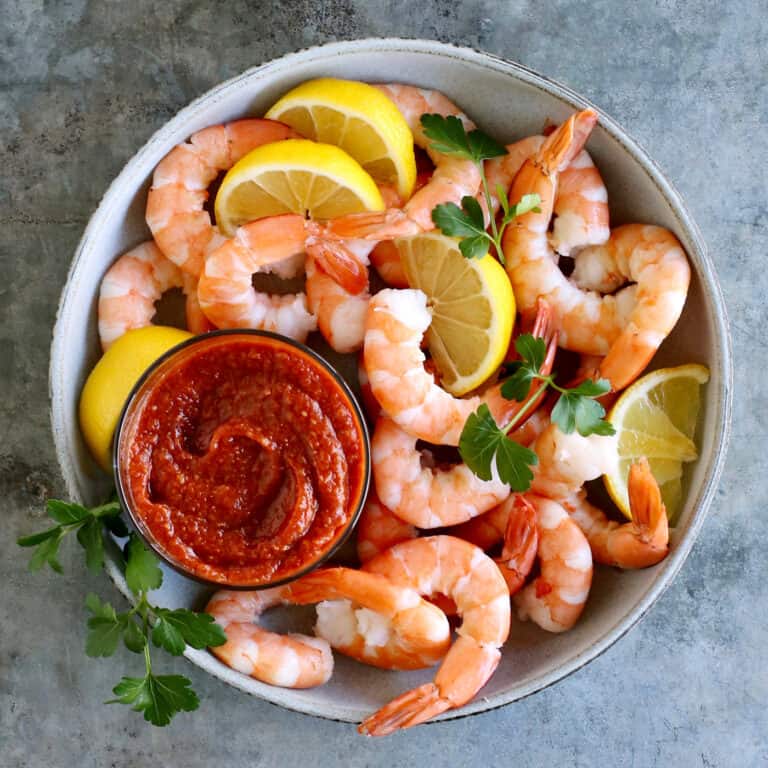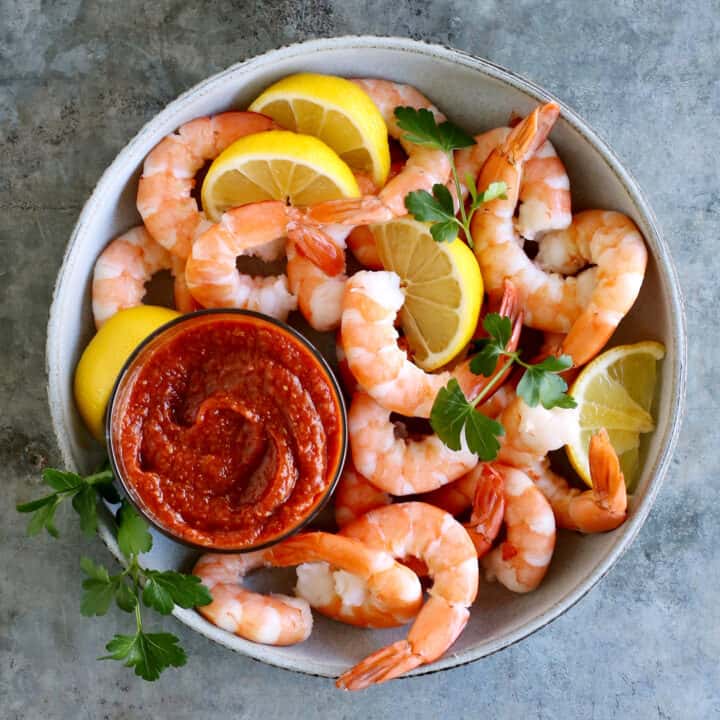 Cocktail Sauce
Yield: 1/2 cup
Prep Time: 10 minutes
Total Time: 10 minutes
This Homemade Cocktail Sauce is the perfect condiment for your classic or grilled shrimp cocktail, with fresh ingredients, lots of zest, plus some heat. It's ready to serve in just a few minutes!
Ingredients
5 tablespoons good quality tomato paste (about half of a 6 ounce can)
1½ tablespoons apple cider vinegar
1 tablespoon fresh ground horseradish - I use this brand found at our local Kowalski's market
2 teaspoons freshly squeezed lemon juice
2 teaspoons granulated sugar
1/2 teaspoon kosher salt
1/4 teaspoon Worcestershire sauce
1/8 teaspoon Tabasco sauce
1/8 teaspoon black pepper
1 to 2 tablespoons water
Instructions
In a small bowl, combine all ingredients except the water. Add a tablespoon of water to thin it out a bit; add more if desired.
Serve immediately or store, covered, in the refrigerator for up to 2 days. Use as a dipping condiment for classic shrimp cocktail (as shown in this post, using extra large 26-30 count shrimp or larger) and grilled shrimp cocktail. Offer fresh lemon wedges to squeeze over the shrimp before dipping.
Nutrition Information:
Yield: 8
Serving Size: 1
Amount Per Serving:
Calories: 14
Total Fat: 0g
Saturated Fat: 0g
Trans Fat: 0g
Unsaturated Fat: 0g
Cholesterol: 0mg
Sodium: 97mg
Carbohydrates: 3g
Fiber: 1g
Sugar: 2g
Protein: 0g
Nutrition information is automatically calculated by Nutritionix. I am not a nutritionist and cannot guarantee accuracy. If your health depends on nutrition information, please calculate again with your own favorite calculator.