Grilled Shrimp Cocktail
This Grilled Shrimp Cocktail is perfectly flavored, tossed with olive oil and simple spices, and then grilled until just charred. Serve this succulent shrimp with lemon slices and cocktail sauce for an easy appetizer guaranteed to impress any dinner guest!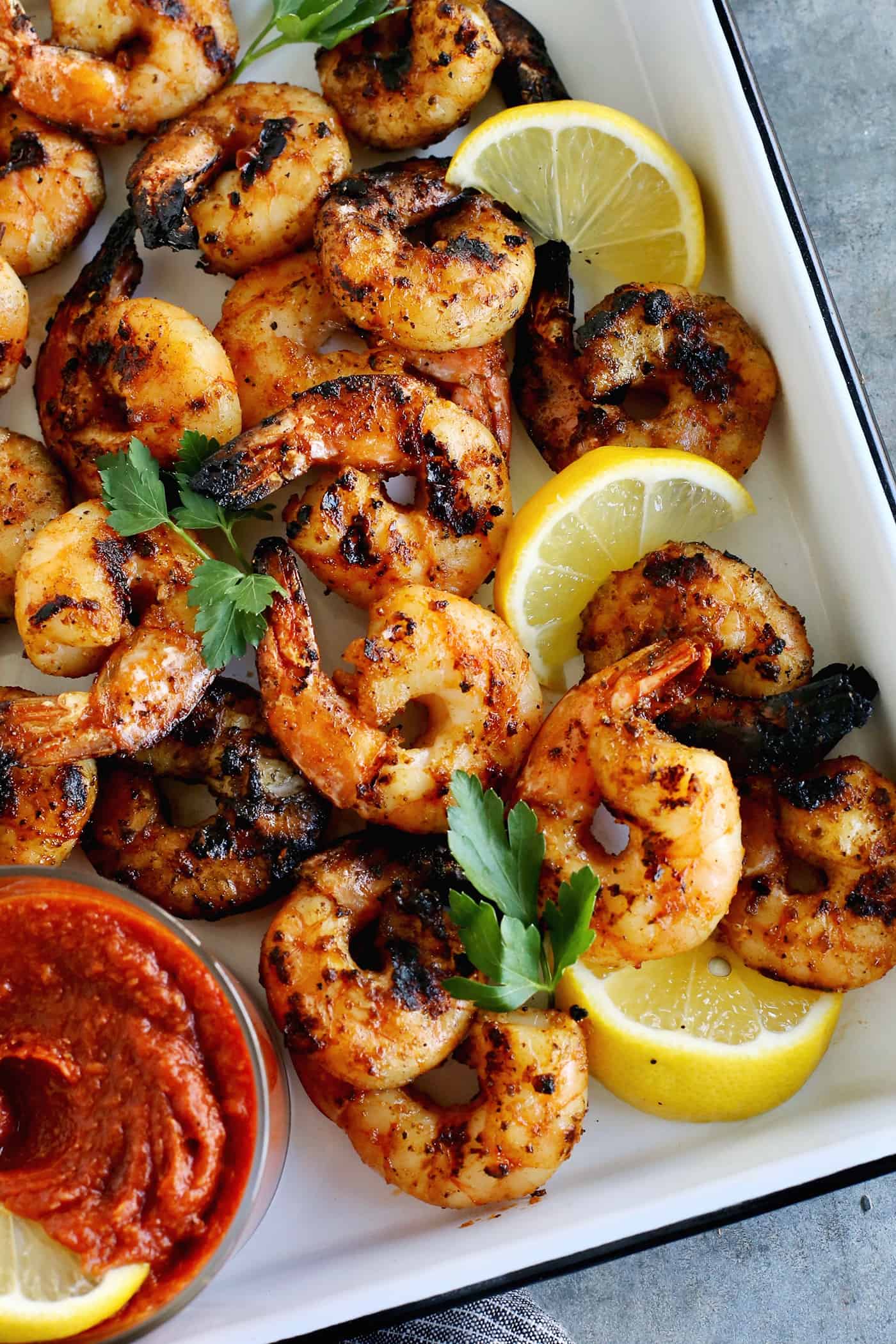 Easy Shrimp Cocktail Recipe
Grilled Shrimp Cocktail is a fun, tasty twist on a classic shrimp appetizer. This version is served hot off the grill, with succulent shrimp married with just a few spices and then charred to perfection. It's grilled shrimp heaven!
The actual preparation and grilling take very little time, which makes this a great appetizer to pull together anytime. Even though it looks fancy, it's actually super simple. But your guests will never know!
Like my shrimp toast, margarita shrimp skewers, shrimp tempura, and Mexican shrimp cocktail, this recipe is a favorite with shrimp lovers. I'm betting you'll find this to be the best shrimp cocktail you've ever had!
Why You'll Love This Shrimp Cocktail
Grilled shrimp cocktail is probably my go-to appetizer if I'm hosting a party – especially in the summer! Here's why:
Juicy and tender. This grilled shrimp has the perfect level of smoky char, and it always comes out fabulously succulent!
Sweet and spicy. This shrimp marinade is packed with sugar and chili powder, for a bit of kick! You'll love every flavorful bite.
Quick and easy. You can prep the shrimp in just 10 minutes. After that, all you have to do is wait for it to marinate, then you can grill it in 8 more minutes!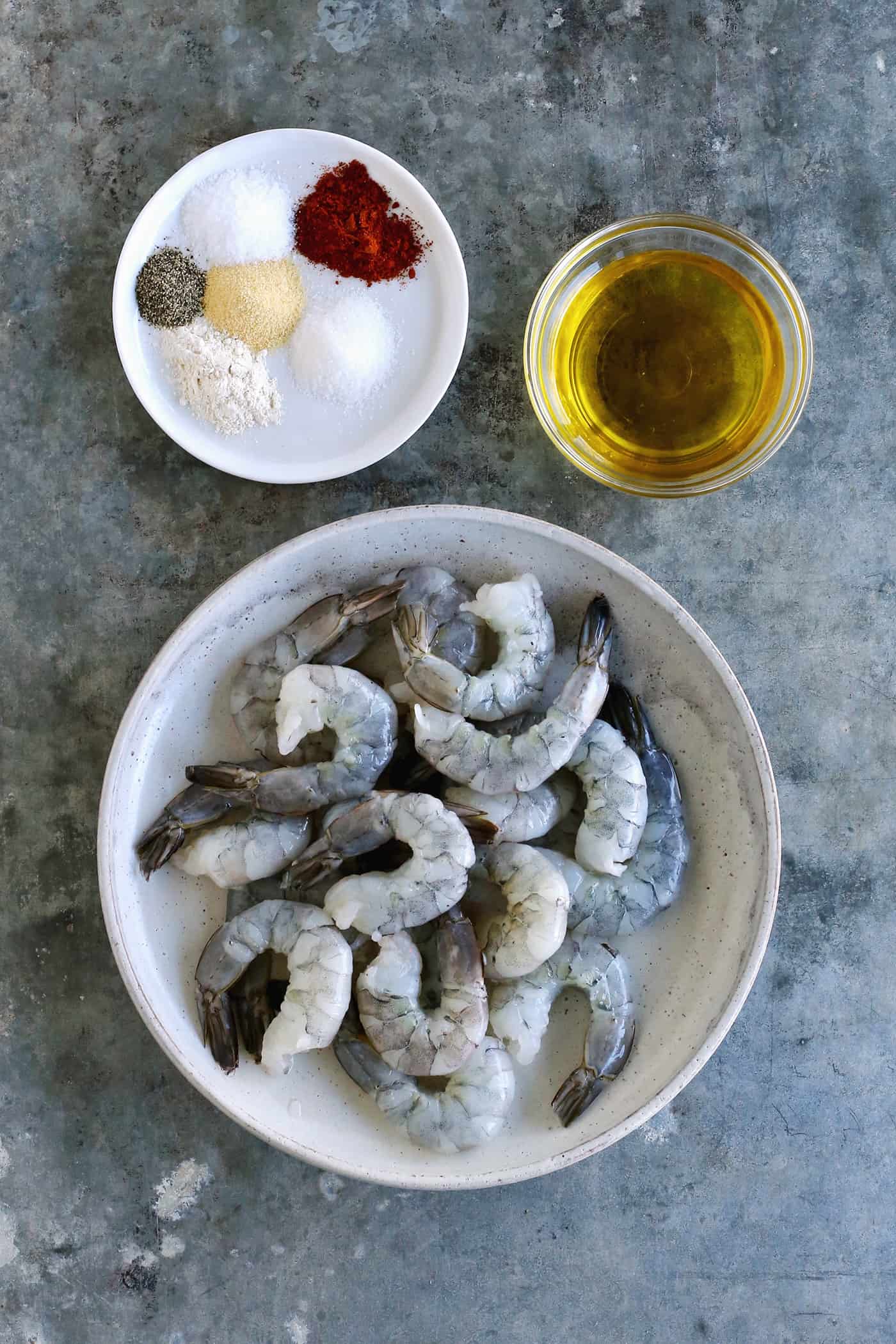 What You'll Need
All you need is shrimp, olive oil, and a few seasonings for this easy shrimp cocktail recipe. Check out the recipe card below for exact amounts!
Shrimp – The larger the shrimp, the better. I always use "extra jumbo," for big, succulent bites. Also keep in mind that shrimp shrink when cooked.
Olive oil – This helps to create a super quick little marinade when mixed with the seasonings, and gives a golden char on the hot grill grates.
Seasonings – Sugar, chili powder, garlic powder, onion powder, salt, and pepper make up the marinade flavors. Don't skip the sugar – its flavor is wonderful with the natural sweetness of shrimp, plus it helps to get that beautiful char on the grill.
For garnish – Serve your shrimp cocktail with lemon wedges, for those who like to squeeze fresh lemon over their seafood. Also, some chopped parsley gives a pretty, fresh finish.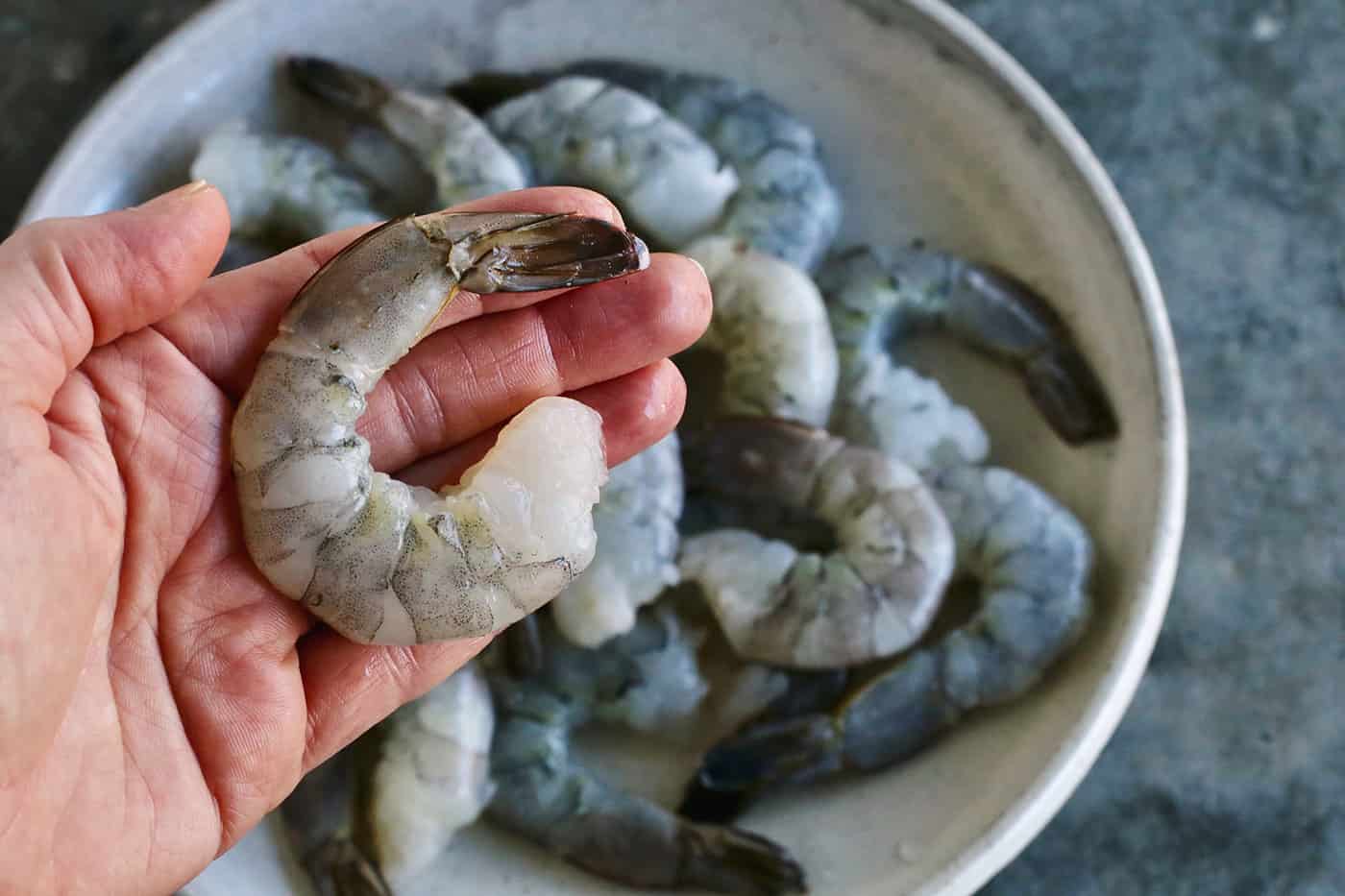 What Kind of Shrimp Should I Use?
For this shrimp cocktail recipe, you want to choose raw extra jumbo shrimp or the largest shrimp you can find. Beyond size, I always look for raw shrimp that is already peeled and deveined, with tails still on.
You can use fresh or frozen shrimp – whichever is most accessible for you. Just know that unless you live in an area with access to local, just-caught shrimp, any shrimp you see in a seafood case has more than likely already been frozen. So grabbing a bag of frozen shrimp is absolutely ok, I do it all the time! For those of you who live with access to fresh shrimp, LUCKY YOU!!!
Frozen shrimp needs to be thawed. I prefer to let it thaw overnight in the refrigerator. And if I'm in a pinch for time, I place the frozen shrimp in a large colander and run cold water over them until they thaw out.
How to Peel & Devein Shrimp
Often you'll find shrimp with a label that says it's already deveined. Yet I am rarely satisfied with that level of deveining. If I see a dark line running along the inside curve of the shrimp, I grab a paring knife and remove it. It's not a glorious task by any means, but once you get the hang of it, it goes quickly. I've deveined hundreds – probably thousands – of shrimp in my life, as it's truly one of my favorite things to eat!
If your shrimp is not peeled, remove the legs and shell up to the tail (leave the tail on). Then devein.
Last step, pat the shrimp dry with a paper towel before proceeding with the rest of the recipe.
How to Make Shrimp Cocktail
There are just a few easy steps to making this shrimp appetizer. Scroll down to the recipe card for the full set of directions!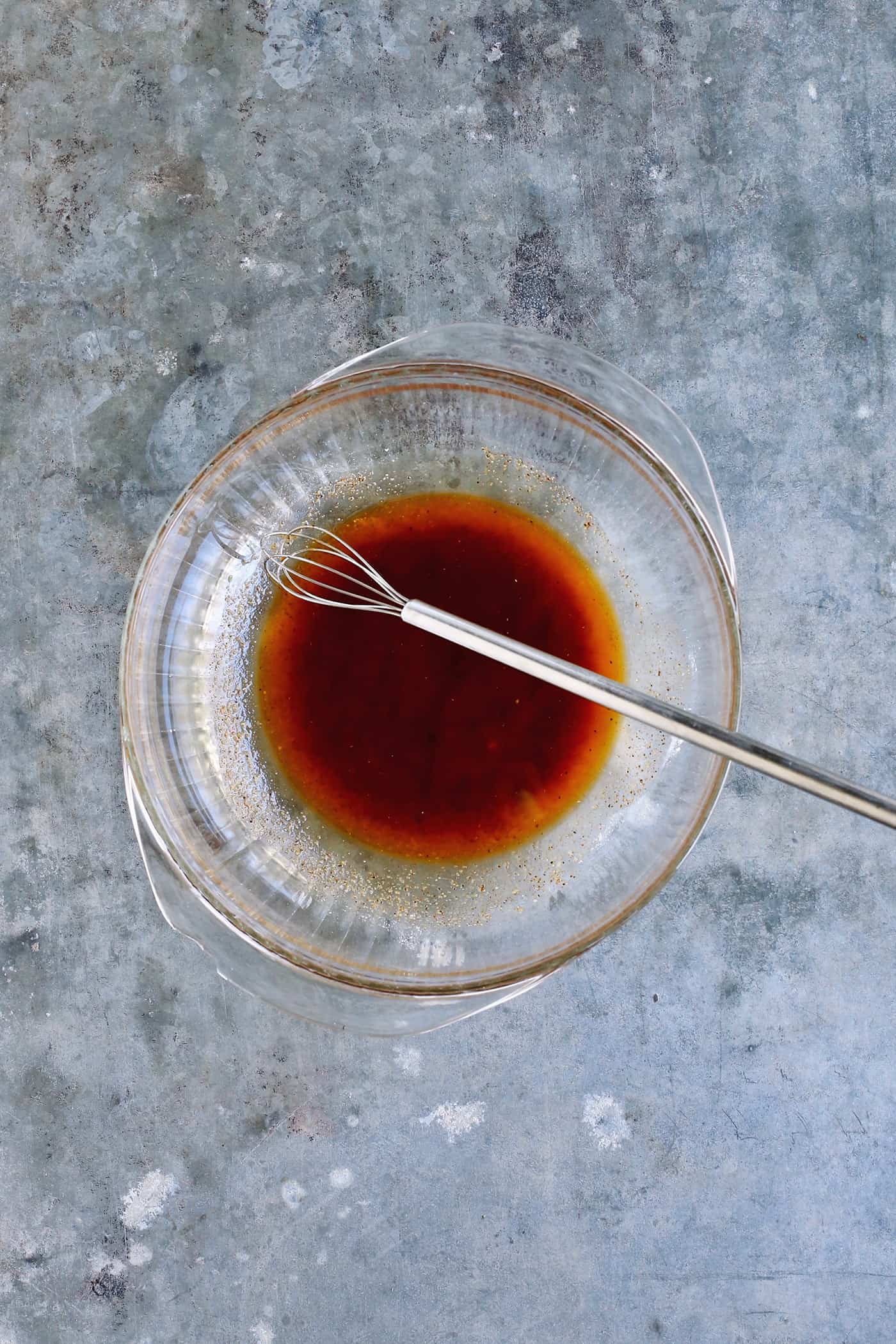 Make the marinade. Combine all of the seasonings with olive oil.
Marinate the shrimp. Toss the shrimp with the marinade. Cover and refrigerate it for 2-3 hours.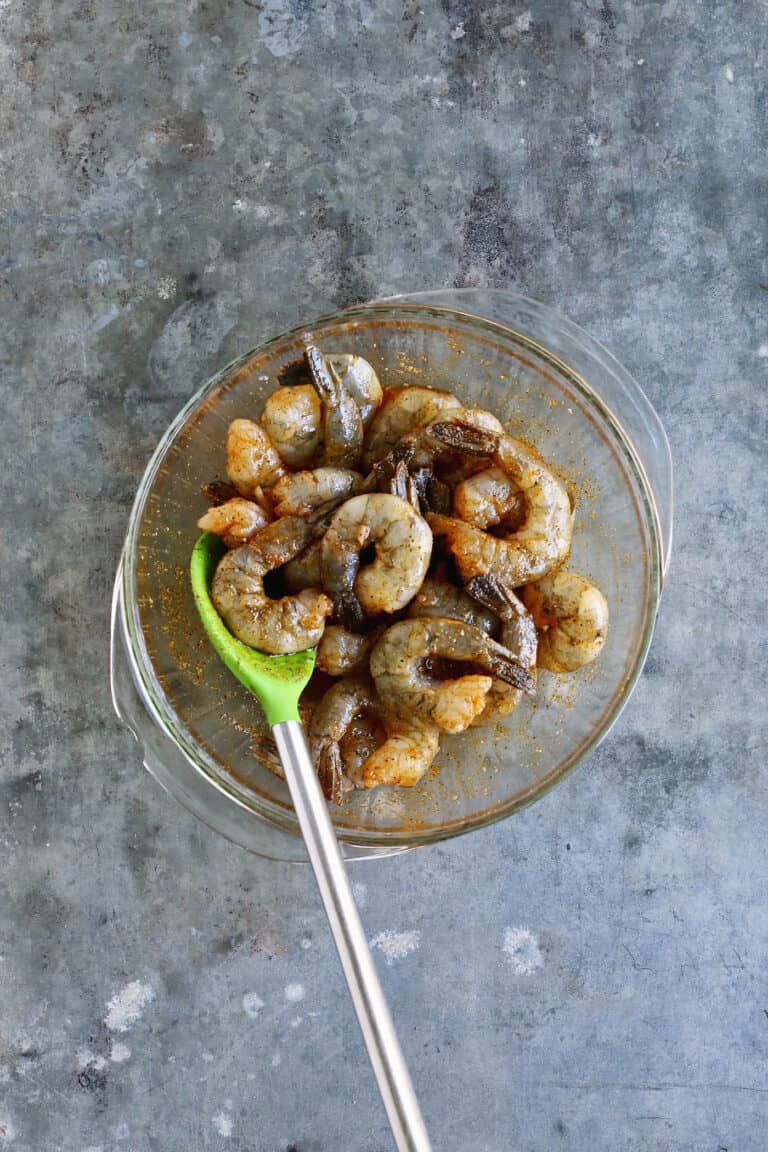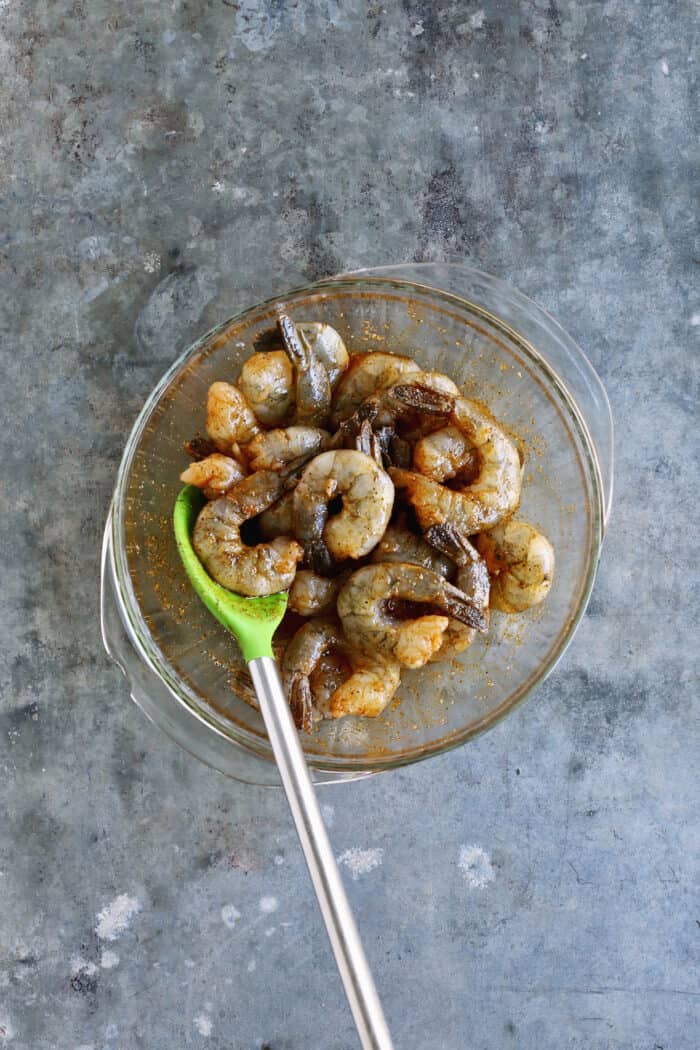 Grill the shrimp. Preheat the grill and clean the grates. Grill the shrimp for 3-4 minutes per side, or until no longer opaque and they have a bit of char. Note that grill temperature and shrimp size will effect total grill time.
Serve. Transfer the shrimp to a platter. Sprinkle it with parsley and serve it with fresh lemon wedges and cocktail sauce.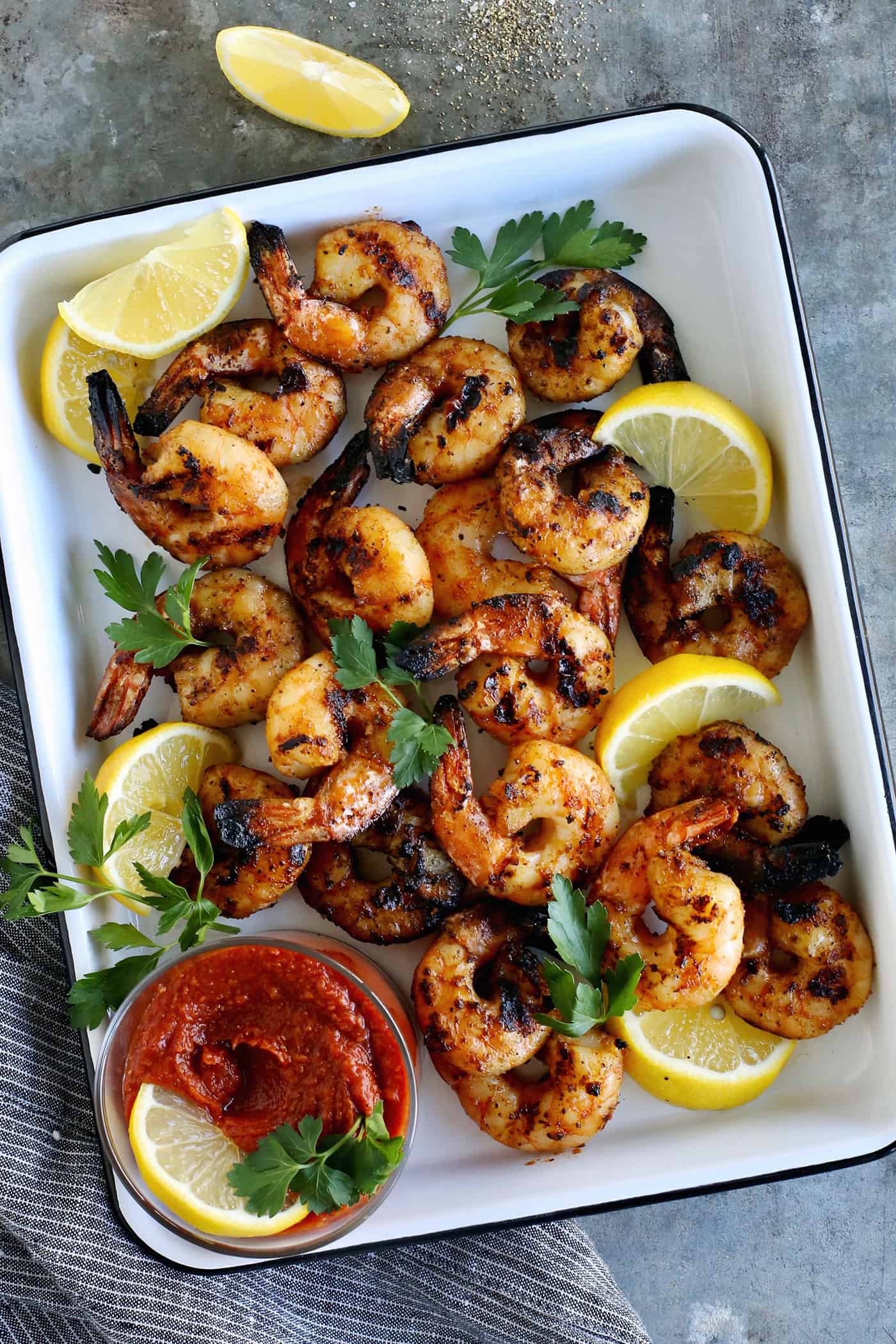 Tips for Success
For the best shrimp cocktail, keep the following tips in mind:
Don't overcook the shrimp. It's important to grill the shrimp until just opaque. This will give you the most succulent, tender shrimp experience. Leaving it on the grill too long can cause the shrimp to become tough and dry – such a shame!
Grill the shrimp on skewers. We most often grill the shrimp without skewers, as jumbo sized shrimp are easy to flip on the grill using tongs. If you aren't as comfortable with that method, I recommend threading the shrimp onto skewers for easier grilling. This is especially true if you're grilling smaller shrimp or an especially large quantity of shrimp.
Reduce the grilling time for smaller shrimp. The listed grill times are for extra jumbo shrimp. Smaller shrimp will require less time to cook, so adjust the time accordingly.
Soak the skewers. If you have wood skewers, soak them for at least an hour before grilling so the wood doesn't burn as fast.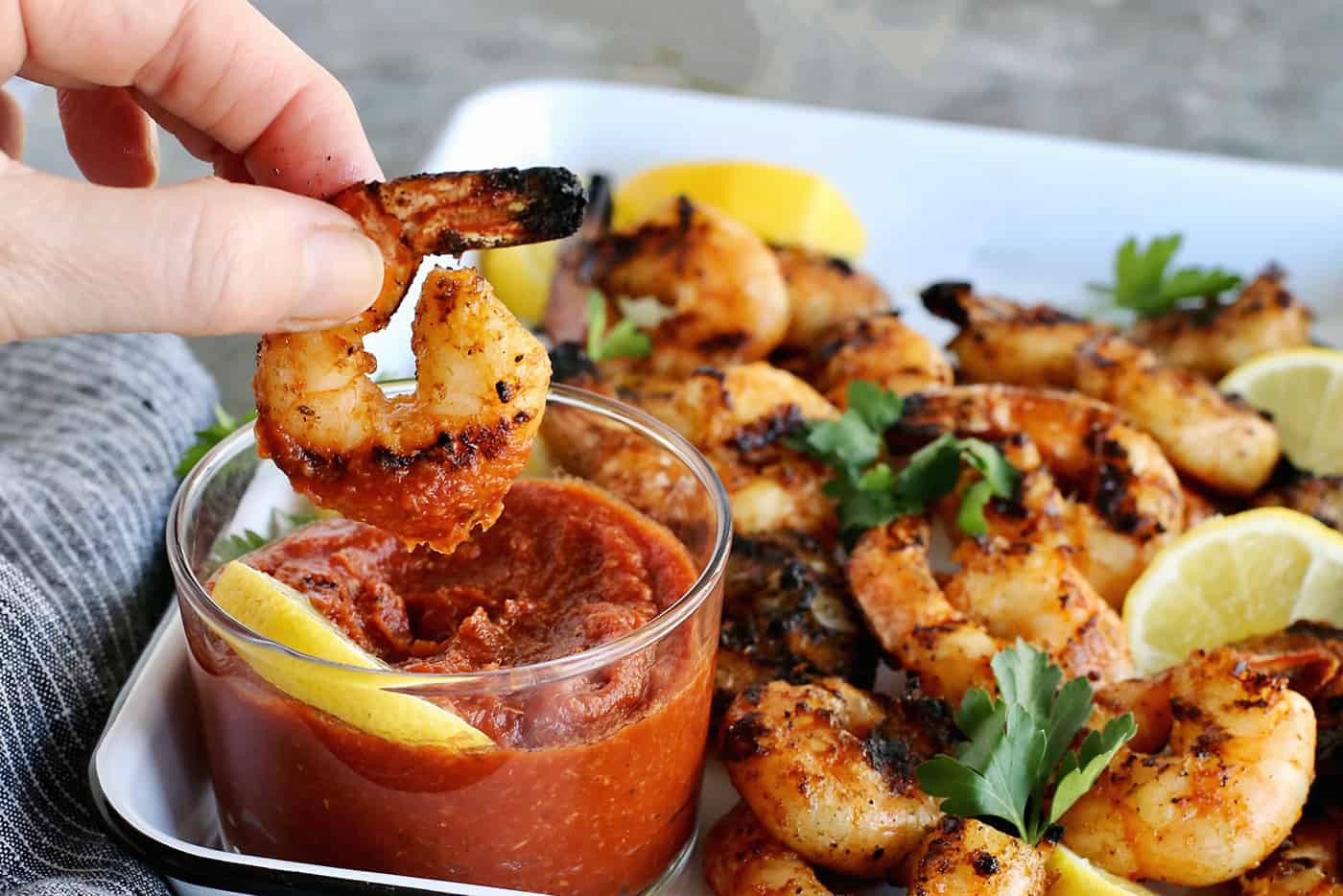 Serving Suggestions
Grilled shrimp cocktail makes a great appetizer for any dinner party, from a super casual BBQ to an elegant event. Serve it hot from the grill with a sprinkle of parsley and lemon wedges! I like to squeeze the lemon over the shrimp just before eating, as the bright citrus really makes all the flavors pop. Here are a few more things that you could serve shrimp cocktail with:
How to Store Leftovers
Grilled shrimp cocktail is pretty easy to save for later – here's the best way to do that:
To store. Leftover shrimp can be stored in the fridge for up to 2 days.
To reheat. Reheated shrimp will never have the same succulence as shrimp hot off the grill. So enjoy the shrimp, cold, dipped in cocktail sauce – or add it to a simple salad for lunch. If you do want to reheat the shrimp, do so as gently/little as possible in the microwave, in a skillet on the stovetop, or back on the grill.
More Shrimp Appetizers
Can't get enough when it comes to easy shrimp recipes? Try these ones, too!
Like this recipe? Save it to Pinterest!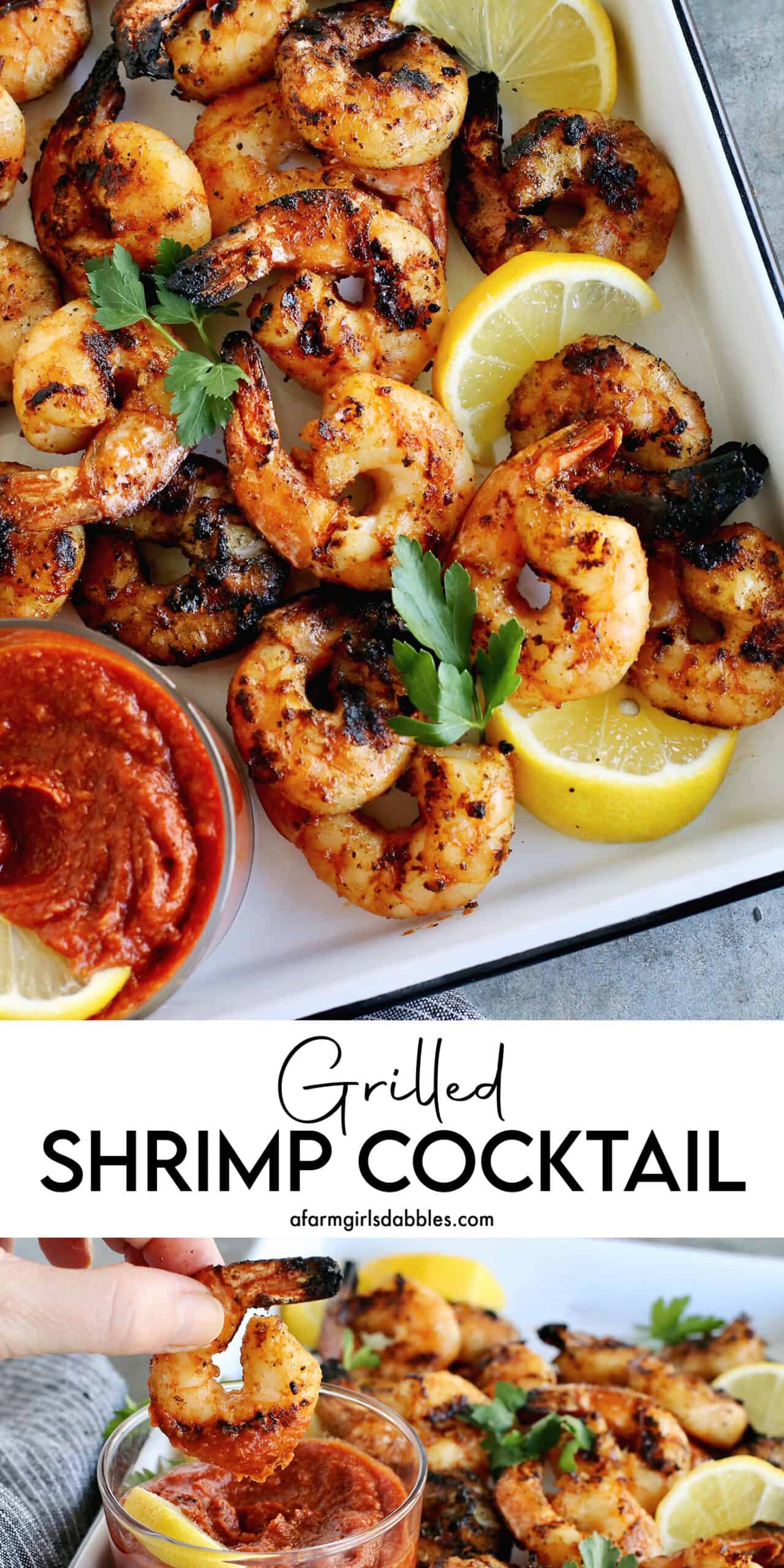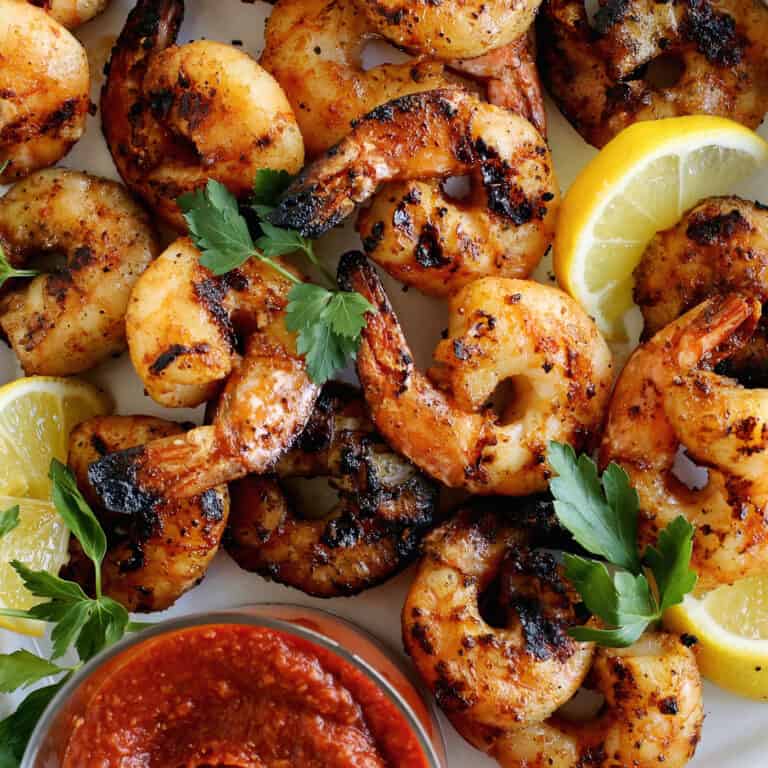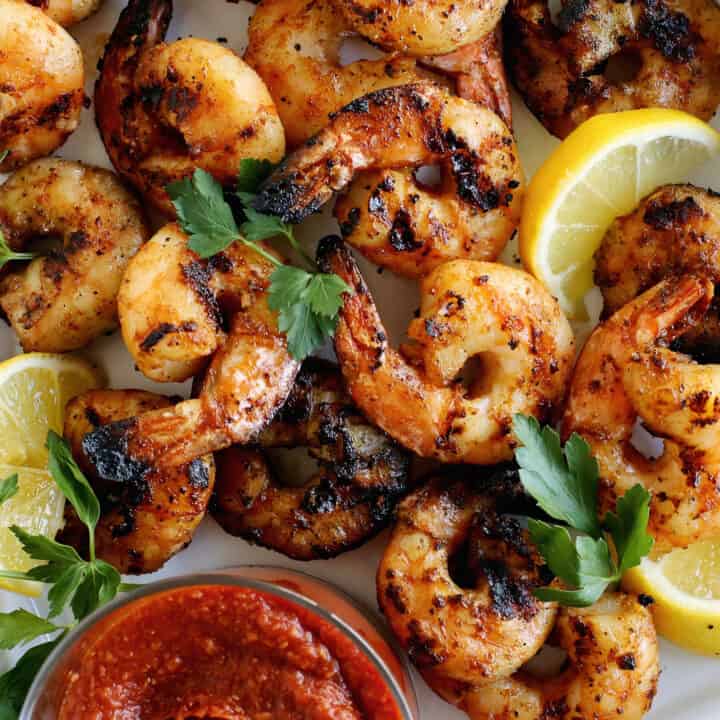 Grilled Shrimp Cocktail
Yield: 4
Prep Time: 10 minutes
Cook Time: 8 minutes
Additional Time: 2 hours
Total Time: 2 hours 18 minutes
Grilled Shrimp Cocktail is perfect for BBQs, summer parties, or just a casual appetizer! It's made with olive oil, tender shrimp, and simple seasonings.
Ingredients
1 pound raw "extra jumbo" (16-20 per pound) shrimp, peeled and deveined
1/4 cup olive oil
1 teaspoon granulated sugar
1 teaspoon chili powder
1 teaspoon garlic powder
1 teaspoon onion powder
1 teaspoon kosher salt
1/2 teaspoon black pepper
chopped parsley & lemon wedges, for garnish
Instructions
In a wide shallow bowl, combine all ingredients from olive oil through black pepper.
Add shrimp to bowl and fold gently to coat shrimp evenly with the marinade. Cover and refrigerate for 2 to 3 hours, folding gently about halfway through.
Remove shrimp from fridge. Then heat grill to medium-high. Make sure grates are clean, and then oil them well.
When grill is hot, set shrimp on grates and grill for 3 to 4 minutes per side for jumbo sized shrimp, using a tongs to flip. Cook just until shrimp are no longer translucent and have some nice char. Do not overcook the shrimp, as that will cause them to become tough and dry.
Place shrimp on a platter and sprinkle with parsley. Serve with fresh lemon wedges to squeeze over the top, plus cocktail sauce and/or tartar sauce for dipping.
Notes
Shrimp can be grilled with or without skewers. Especially if using smaller shrimp or if grilling a large quantity of shrimp, you may want to thread shrimp onto skewers for easier grilling. Smaller shrimp will also take less time to cook.
If using wood skewers, start soaking them in water at least an hour before you start the grill.
To store. Leftover shrimp can be stored in the fridge for up to 2 days.
To reheat. Reheated shrimp will never have the same succulence as shrimp hot off the grill. So enjoy the shrimp, cold, dipped in cocktail sauce - or add it to a simple salad for lunch. If you do want to reheat the shrimp, do so as gently/little as possible in the microwave, in a skillet on the stovetop, or back on the grill.
Nutrition Information:
Yield: 4
Serving Size: 1
Amount Per Serving:
Calories: 272
Total Fat: 16g
Saturated Fat: 2g
Trans Fat: 0g
Unsaturated Fat: 12g
Cholesterol: 239mg
Sodium: 1410mg
Carbohydrates: 6g
Fiber: 1g
Sugar: 2g
Protein: 26g
Nutrition information is automatically calculated by Nutritionix. I am not a nutritionist and cannot guarantee accuracy. If your health depends on nutrition information, please calculate again with your own favorite calculator.