Shrimp Tempura
Homemade Shrimp Tempura features tender shrimp dipped in a light tempura batter, that are deep-fried until perfectly crispy. Served with a creamy sweet and sour dipping sauce, this easy Japanese recipe is always a hit!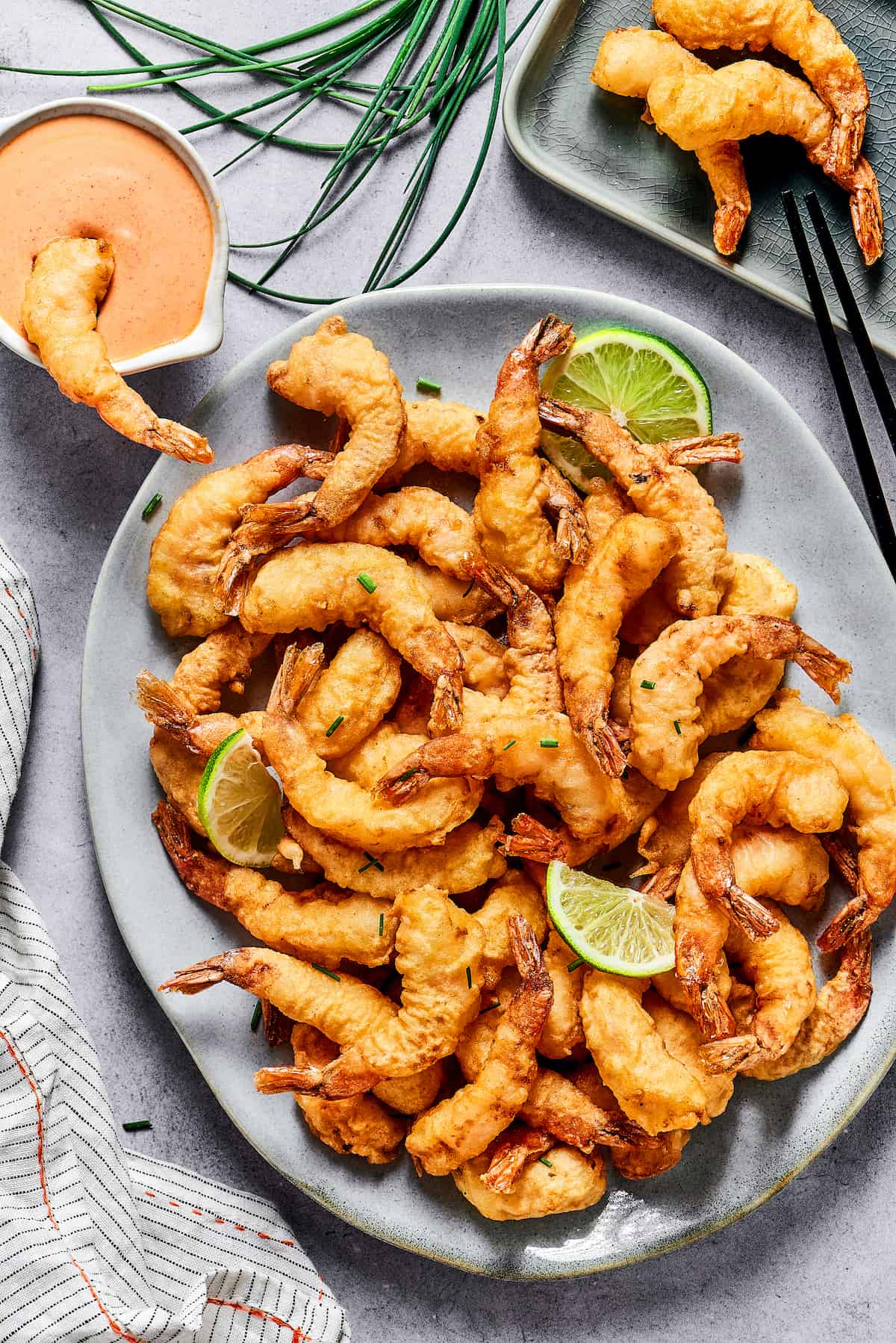 Easy Shrimp Tempura With Dipping Sauce
Shrimp Tempura is a Japanese restaurant staple that I often crave, featuring fresh, tender shrimp dipped in a light tempura batter and then deep-fried until perfectly crispy. This easy homemade version requires just a few common ingredients and comes together quickly.
When I was in high school, I became friends with Yoko, a Japanese foreign exchange student at my school. And one time when she was at our house, she made tempura shrimp and vegetables for my family. It was so good – and I have such wonderful memories of making this with her!
I love to pair this tempura shrimp recipe with a creamy, tangy sweet and sour sauce, but you can also just dip it into soy sauce, as my friend Yoko taught us. Enjoy this delicious, fun dish as an appetizer or a light meal – whatever you choose. You might even want to use your tempura shrimp in these dragon rolls!
And, if you're looking for more easy shrimp appetizers, check out this honey walnut shrimp or this air fryer shrimp!
Why You'll Love This Shrimp Tempura Recipe
Shrimp tempura is a highly requested appetizer in my house. Here's why my family loves it so much:
Perfectly crispy. This shrimp is dipped in a batter made with cornstarch, flour, and egg, and fried until golden and crispy. You'll love the crunch in every bite!
Sweet, tangy sauce. The sweet and sour sauce is made with sweet honey, creamy mayo, smoky paprika, and more! It's truly packed with flavor.
Quick and simple. This shrimp can be battered, fried, and ready to eat in just about 40 minutes. No need to spend too much time in the kitchen today!
What Is Tempura?
Tempura originates from Japan, and is a popular dish in which food (most commonly seafood and vegetables) is dipped into a simple, light batter and then deep-fried to create a thin, crispy coating.
Whenever you see the term "tempura fried" on a menu, know that it simply refers to food that was dipped and fried in this manner.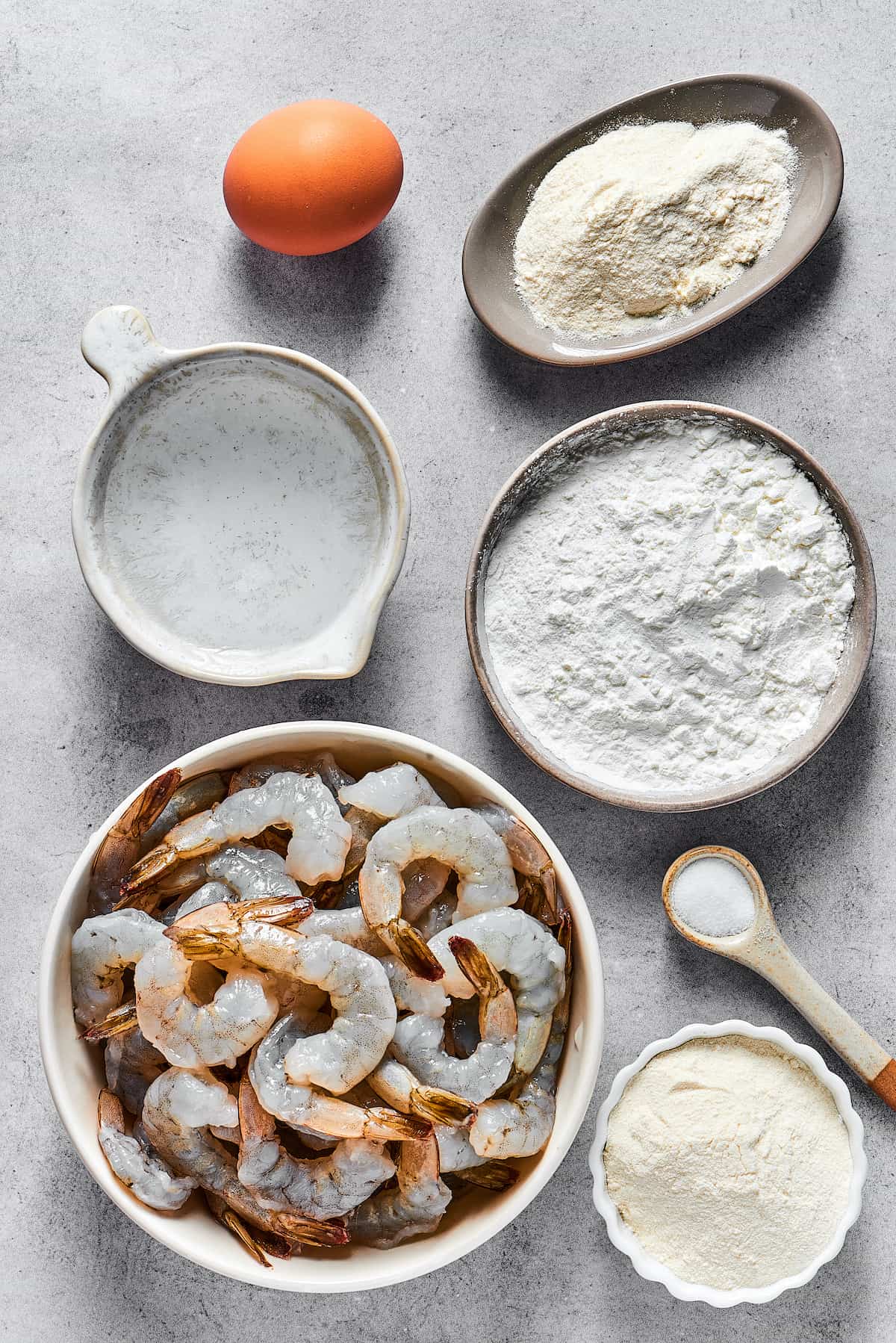 Recipe Ingredients
Besides water and oil, you'll need just 10 ingredients to make this shrimp tempura recipe with a delicious dipping sauce. Head to the recipe card for exact measurements.
For the Shrimp
Shrimp – Jumbo/extra-large shrimp are easiest to work with in this recipe.
Cornstarch – The cornstarch is what makes the tempura crispy without absorbing all of the oil.
Flour – The base of the batter, along with the cornstarch.
Egg – Helps hold everything together, plus gives rich flavor.
Ice-cold water – Thins out the batter and helps to create the crispy coating.
Oil – Use a neutral oil like vegetable or canola oil.
For the Dipping Sauce
Mayonnaise – The creamy, tangy base of the dipping sauce.
Ketchup – Adds rich tomato flavor.
Honey – Used to sweeten and thicken the sauce.
Rice vinegar – Adds bright, tangy acidity.
Spices – Paprika and garlic powder give a boost of flavor.
Can I Use This Batter With Other Ingredients?
Yes, this homemade tempura batter is very versatile and can be used for any tempura dish you'd like. Next to shrimp, vegetable tempura is the most common and popular item. Try dipping mushrooms, zucchini slices, onion, green beans, sweet potatoes, carrots or your other favorite veggies in the batter. You'll only need to adjust the cooking time.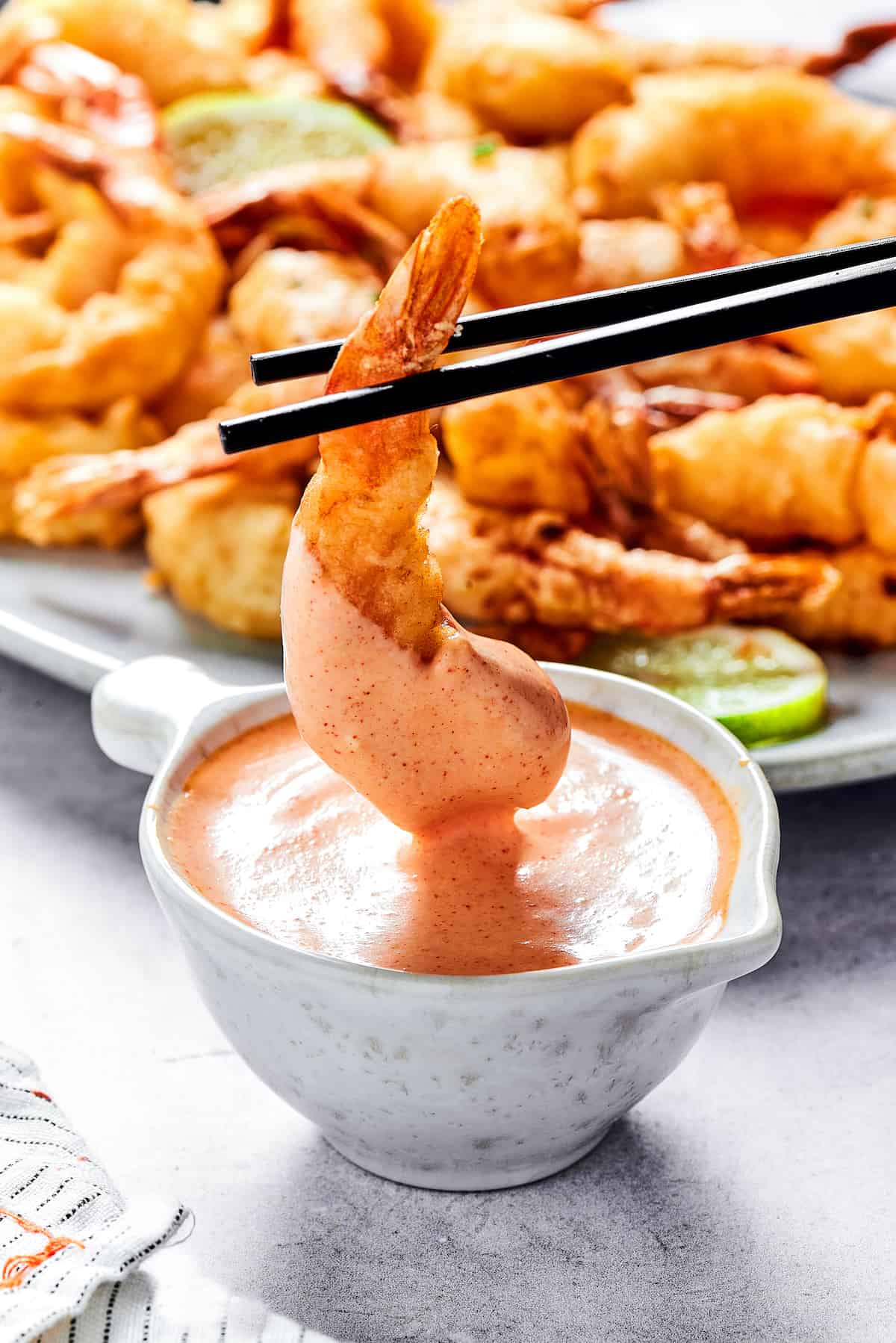 How to Make Shrimp Tempura
Homemade shrimp tempura is easy to make – with just a few steps, these crispy battered shrimp can be on the table in very little time! Be sure to scroll on down to the recipe card to read through the full set of directions before starting.
Prepare the shrimp. Dust both sides of the shrimp with flour and lay the seafood in a single layer.
Prepare the batter. Whisk together the egg and water, and then stir in the flour, cornstarch, and salt. Once the oil is preheated, add ice cubes to keep this mixture cold.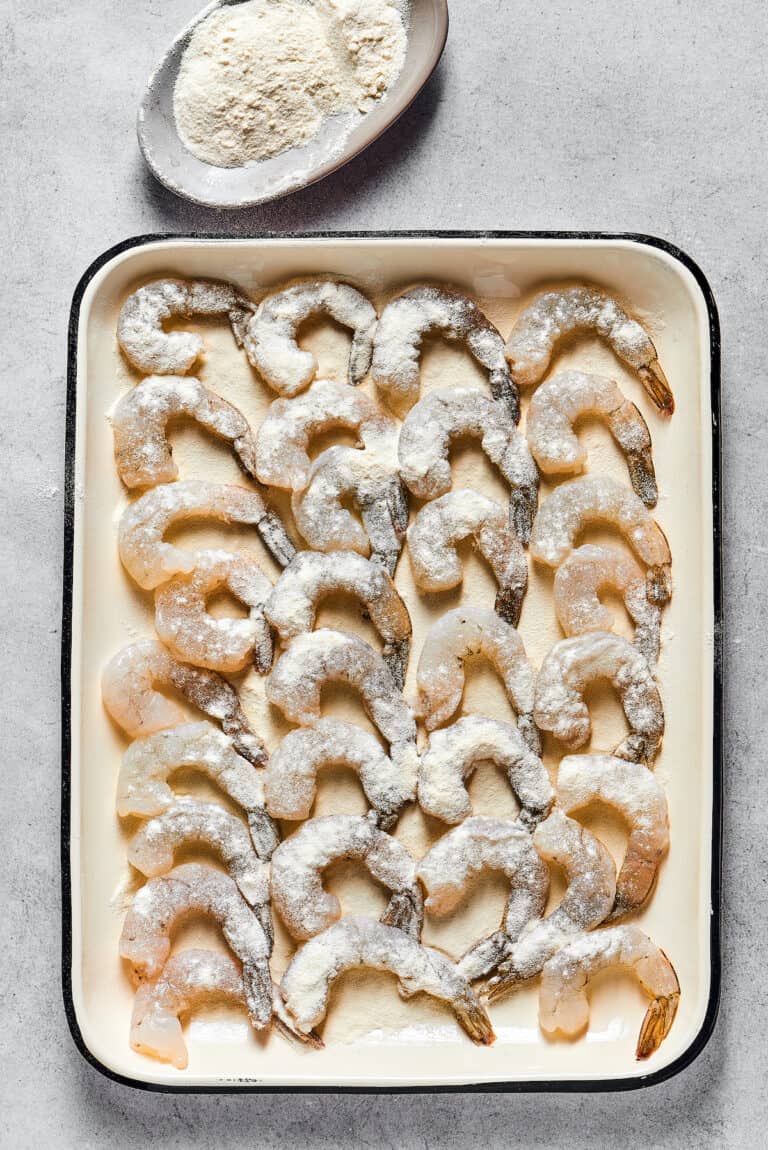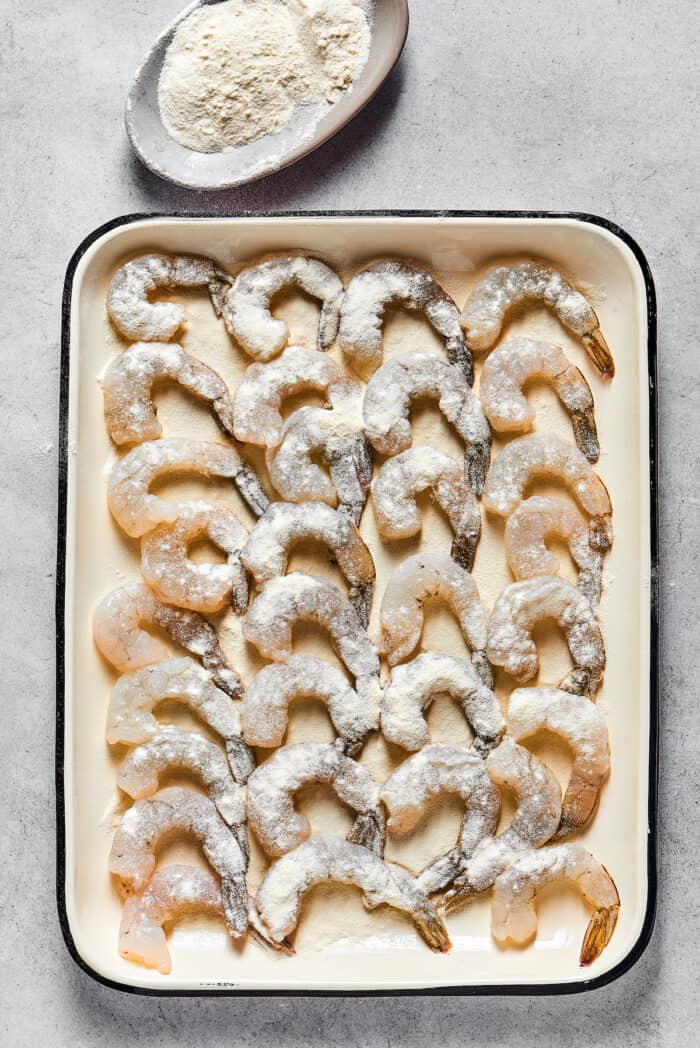 Preheat the oil. Add 2 inches of oil to a large skillet. Heat it up to 375° F.
Fry the shrimp. Dip each shrimp into the batter, coating it evenly. Place a few at a time in the hot oil. Fry until golden brown, about 2-3 minutes, and remove the shrimp to drain on paper towels. Repeat with the remaining shrimp.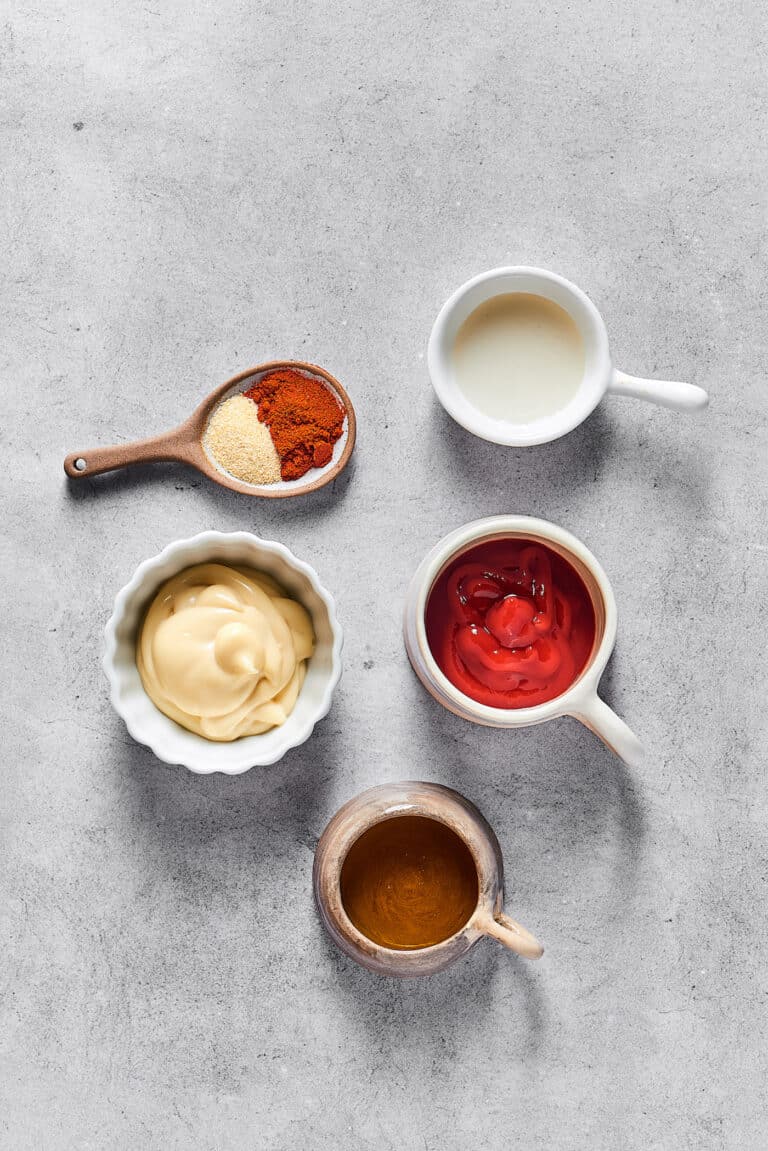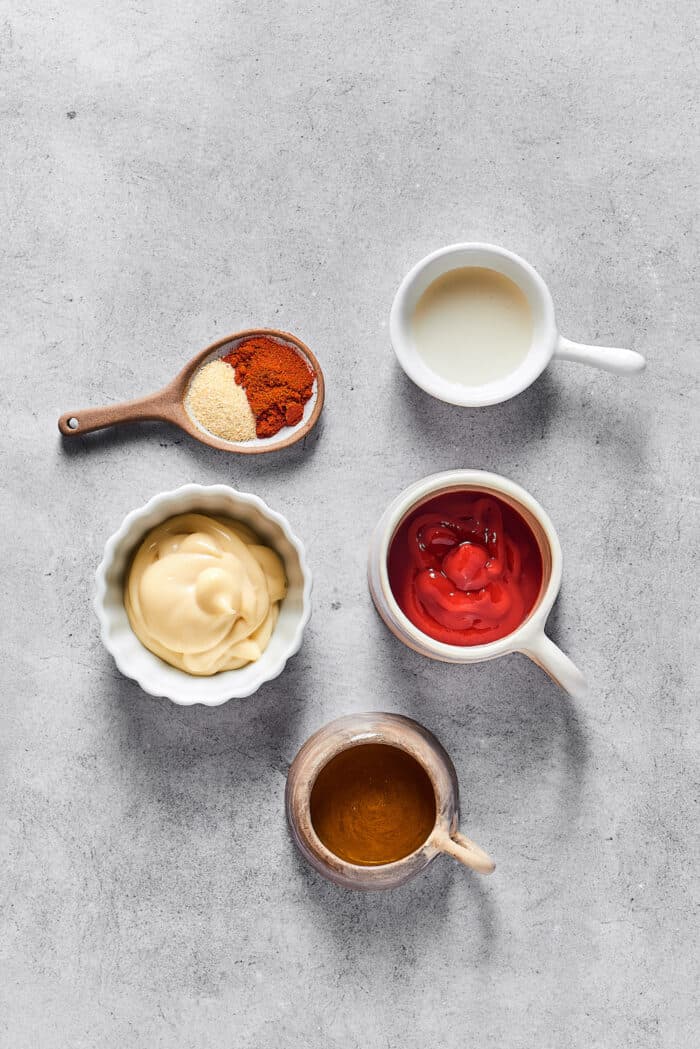 Make the sauce. Combine all of the sauce ingredients until smooth.
Serve. Offer the creamy, yummy sauce for dipping and ENJOY!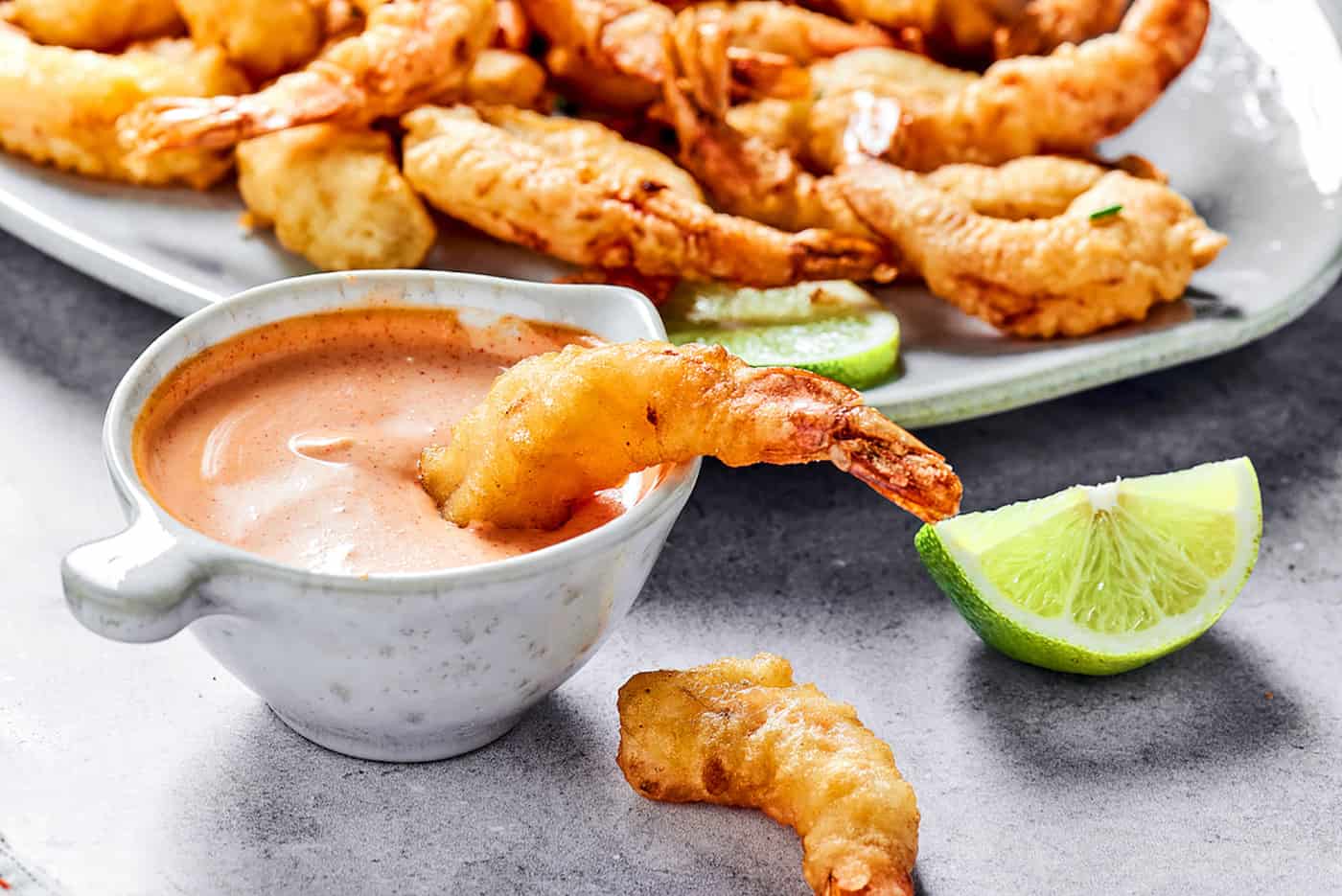 Tips for Success
Homemade tempura is very simple, but there are a few important things to keep in mind to ensure you get succulent shrimp that's perfectly golden and crispy, every single time.
Use the largest shrimp you can buy. I use jumbo shrimp when making shrimp tempura, although large or extra-large shrimp would also work. Larger shrimp are easier to work with and will give you the most succulent shrimp texture.
Use cold ingredients. It's important to keep the batter cold as this prevents it from absorbing extra oil. Be sure to use ice-cold water and a cold egg, plus add ice cubes to keep the batter chilled.
Do not over-mix the batter. It's okay if there are still a few lumps of flour and/ or cornstarch in the batter. Like pancake mix, you want it just mostly smooth, as over-mixing activates the gluten and causes the batter to become chewy, not crispy.
Begin frying immediately. Make the batter right before frying – do not let it sit around. This ensures a cold batter, which also prevents gluten from forming.
Fry just a few shrimp at a time. To ensure the shrimp cook quickly and evenly, fry just a few at a time. Do not crowd the pan.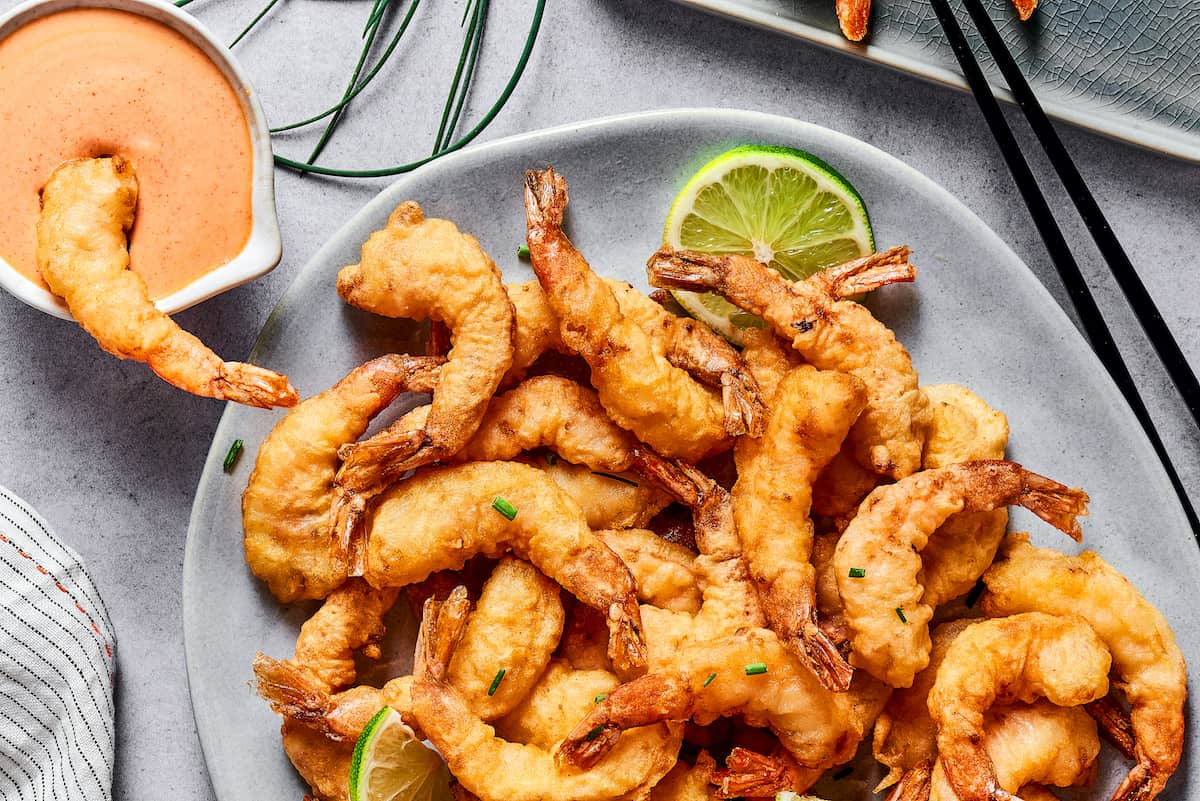 Frequently Asked Questions
Why is my tempura soggy?
The most common reason shrimp tempura does not get crispy is that the oil is not hot enough.
You want to keep the oil at a consistent 375° F for all batches. This way, the batter begins cooking the second it touches the oil, which allows the shrimp to get light and crispy, instead of absorbing extra oil and getting chewy and soggy.
How is tempura shrimp different from fried shrimp?
The batter is the key difference between the two. Fried shrimp is usually dipped in a thicker batter that absorbs the oil more, and may even contain breadcrumbs. While still crunchy, the texture is generally more dense. Tempura, on the other hand, has a rather thin batter that's made primarily from flour, cornstarch, an egg, and ice water. When fried, it creates an irresistibly light, crispy coating.
Is tempura shrimp healthier than deep-fried shrimp?
Tempura shrimp is a bit healthier than fried shrimp usually is, even though it still involves frying. Because it does not absorb as much oil, the shrimp tends to be lighter and a little bit better for you.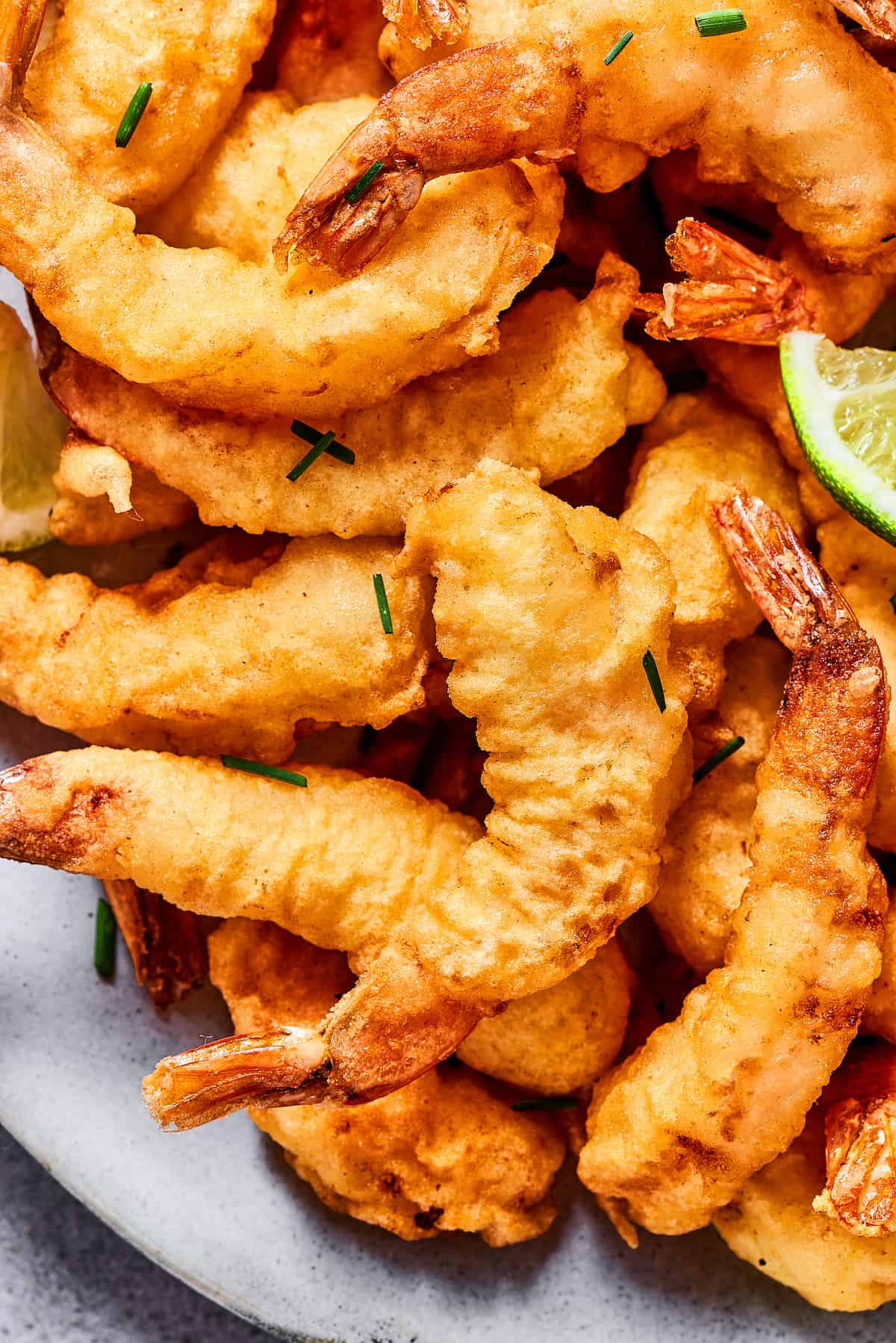 Serving Suggestions
Shrimp tempura makes a great appetizer, especially for a fun dinner with friends. Here are my favorite ways to serve it:
With sauce. I recommend serving this shrimp immediately with a dipping sauce or two. The creamy sauce in this recipe is awesome, as well as soy sauce or sweet chili sauce.
As a meal. To turn it into a meal, add it to a rice bowl with some fresh veggies – maybe with some kimchi on the side as well!
With other Japanese sides. Make a dinner out of your favorite Japanese dishes! Try serving this shrimp with something like beef negimaki.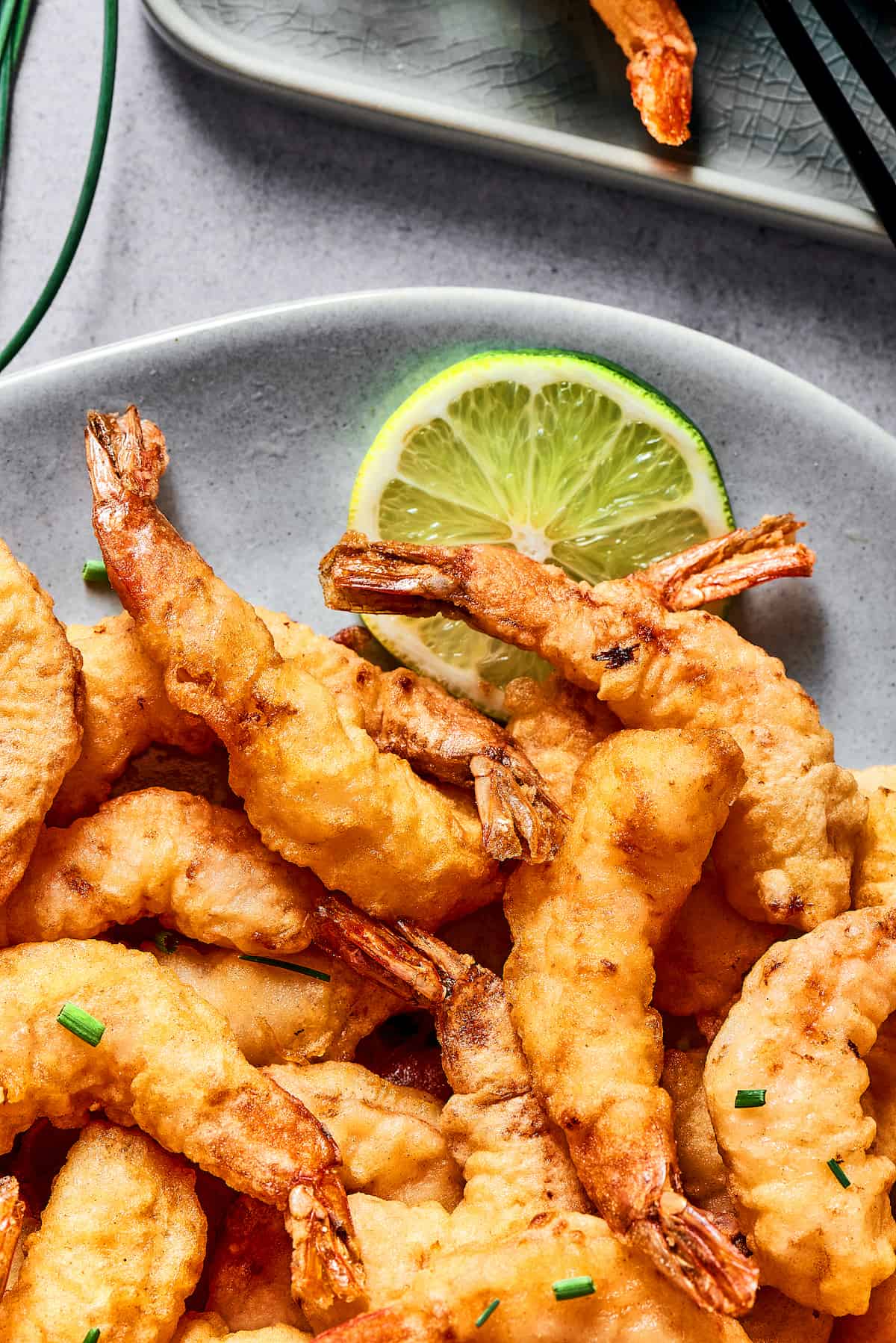 How to Store Leftovers
Shrimp tempura is best enjoyed immediately, as the tempura batter will not stay crispy as it cools or reheats. If you do need to store leftovers, keep them in an airtight container for up to 2 days and reheat them by quickly dropping the shrimp in hot oil.
More Easy Shrimp Recipes
If you love tempura shrimp, you have to try these other easy shrimp recipes! They're just as tasty.
Like this recipe? Save it to Pinterest!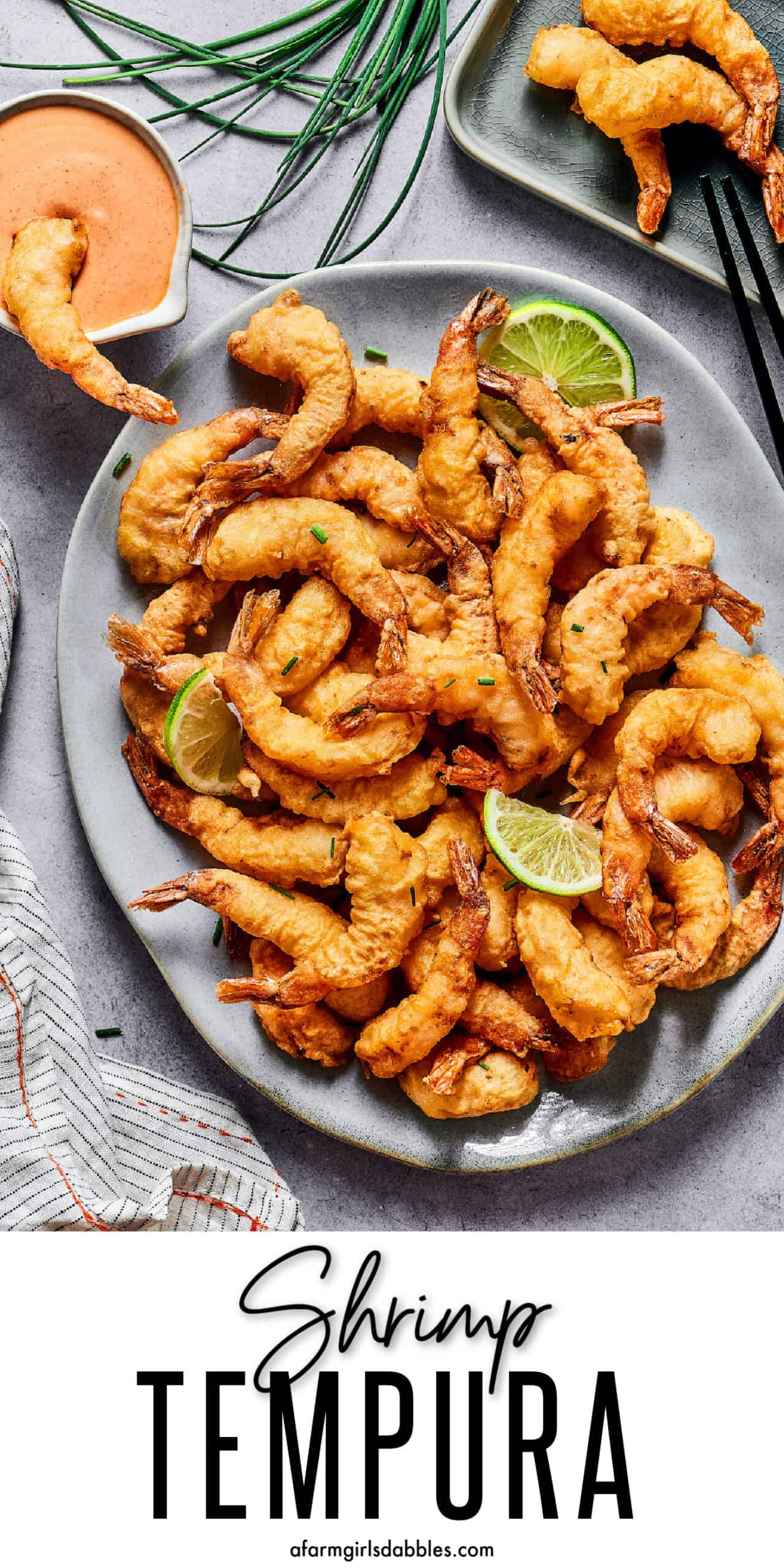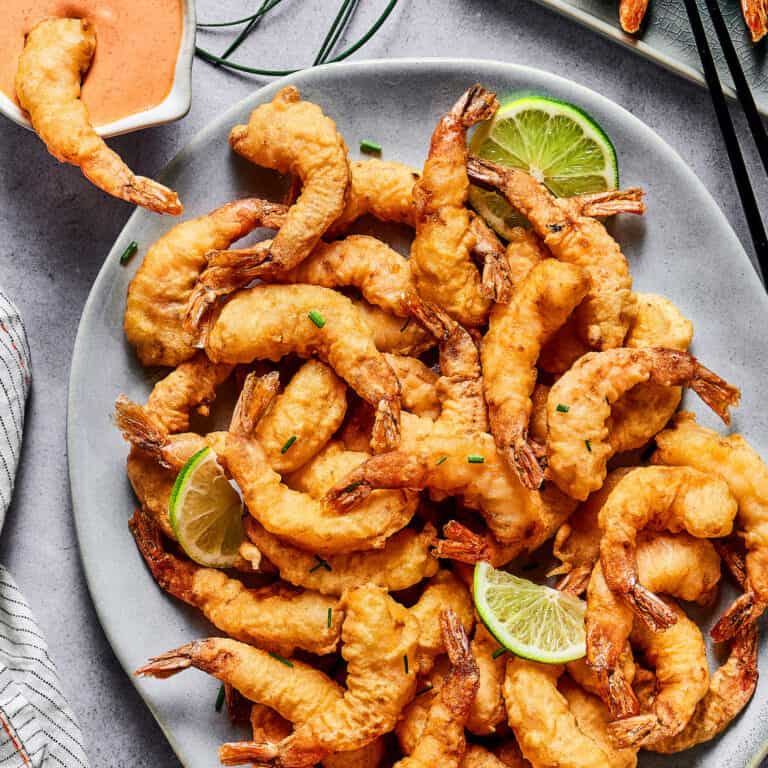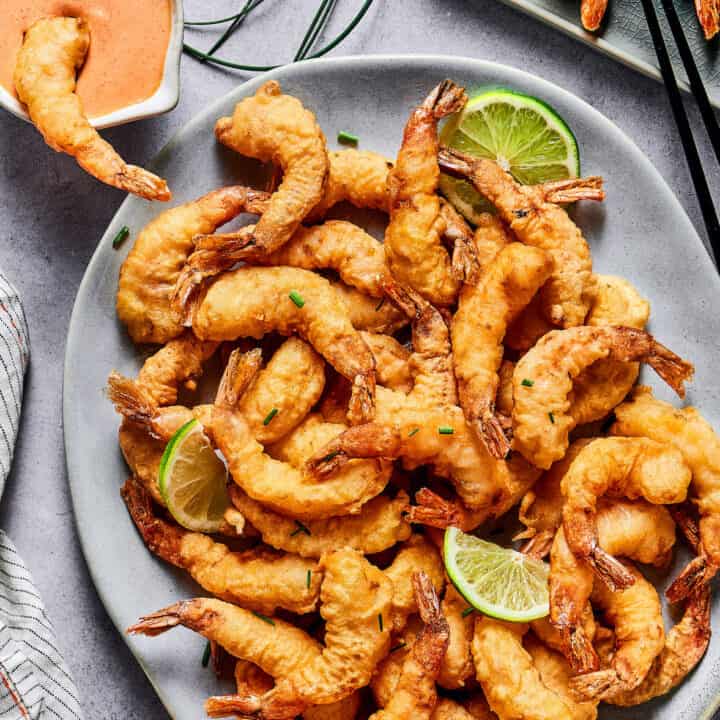 Shrimp Tempura
Yield: 4
Prep Time: 25 minutes
Cook Time: 15 minutes
Total Time: 40 minutes
This Shrimp Tempura recipe is made with tender, juicy shrimp, a light tempura batter, and a creamy sweet and sour dipping sauce. The shrimp are deep-fried until perfectly crispy, and are the BEST appetizer/light dinner!
Ingredients
For the Shrimp:
1 pound jumbo or extra-large raw tail-on shrimp, deveined and shell removed
2 tablespoons all-purpose flour
For the Batter:
1 egg
½ cup ice-cold water
⅔ cup corn starch
½ cup all-purpose flour
1 teaspoon kosher salt
Ice cubes
For the Sauce:
¼ cup mayonnaise
1 tablespoon ketchup
1 tablespoon honey
1 tablespoon rice vinegar
1 teaspoon paprika
1 teaspoon garlic powder
Neutral oil for frying, such as vegetable oil or canola oil
Instructions
For the shrimp: Lay the shrimp out in a single layer and dust both sides with the all-purpose flour.
Place a large, deep skillet or Dutch oven over medium-high to high heat and add about 2" of oil. Heat the oil to 375° F.
For the batter: When the oil is almost hot, make the batter. In a medium bowl, whisk together the egg and water. Then add corn starch, flour, and salt, and stir with fork. Do not overmix. It's ok if the batter is a bit lumpy. Then place a few ice cubes in the batter to keep it cold.
Dip individual shrimp into the batter to coat, and then carefully drop into the hot oil. Repeat with a few more shrimp. Do not overcrowd the skillet.
Fry until light golden color, about 2-3 minutes, and remove shrimp to a paper towel as they finish cooking.
For the sauce: In a small bowl, stir together all sauce ingredients.
Serve tempura shrimp while it's hot and crispy, with sauce for dipping.
Notes
To store and reheat. Shrimp tempura is best enjoyed immediately, as the tempura batter will not stay crispy as it cools or reheats. If you do need to store leftovers, keep them in an airtight container for up to 2 days and reheat them by quickly dropping the shrimp in hot oil.
Nutrition Information:
Yield: 4
Serving Size: 1
Amount Per Serving:
Calories: 424
Total Fat: 22g
Saturated Fat: 3g
Trans Fat: 0g
Unsaturated Fat: 19g
Cholesterol: 55mg
Sodium: 475mg
Carbohydrates: 49g
Fiber: 1g
Sugar: 6g
Protein: 6g
Nutrition information is automatically calculated by Nutritionix. I am not a nutritionist and cannot guarantee accuracy. If your health depends on nutrition information, please calculate again with your own favorite calculator.