Fried Yellow Squash
This Fried Yellow Squash recipe is the perfect way to enjoy the abundance of summer squash. It's delightfully crispy on the outside and tender on the inside, and so very easy to make. Grab your favorite dipping sauce and enjoy!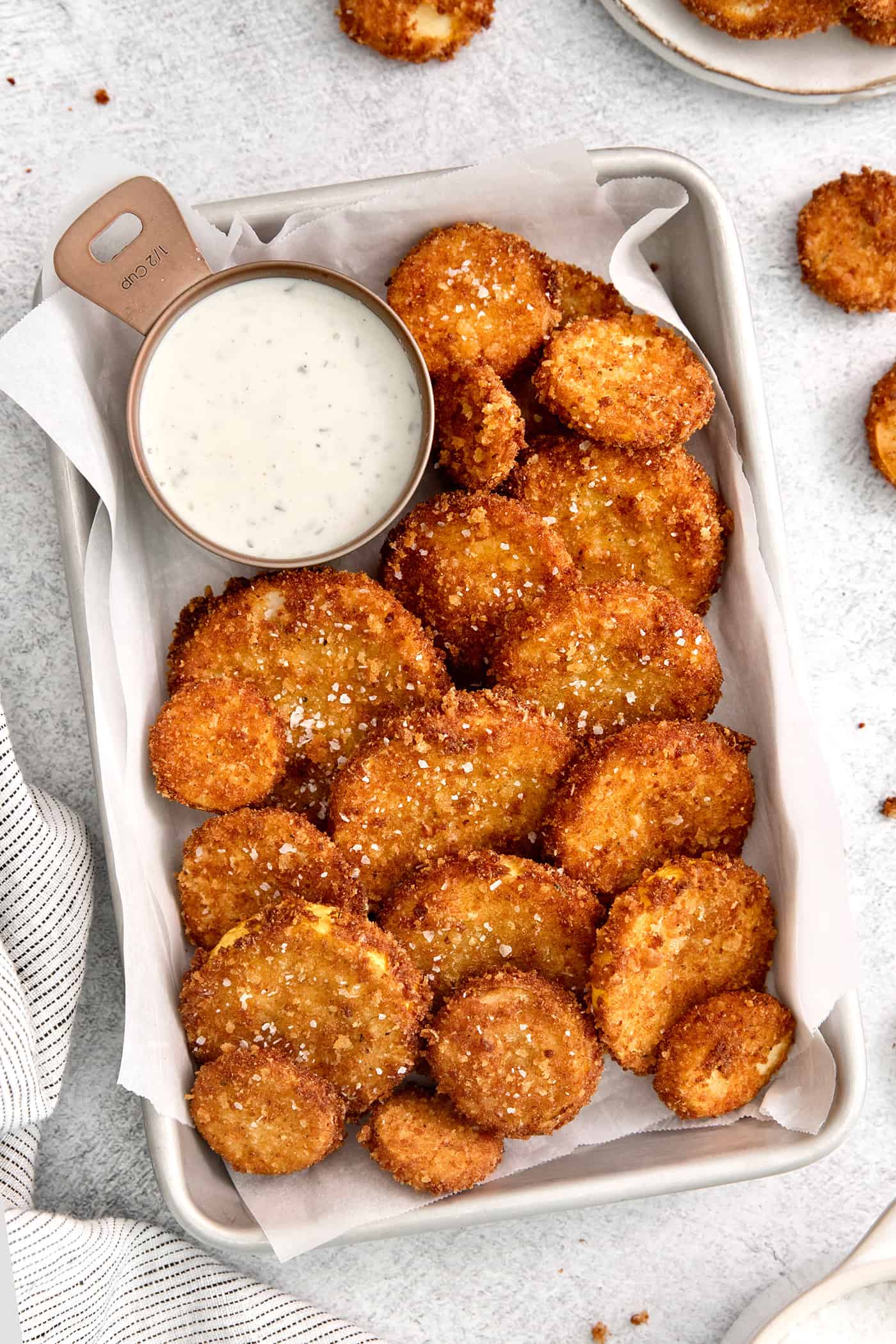 Easy Fried Squash Recipe
I'm always looking for new ways to enjoy the abundance of summer squash. While I most often throw fresh slices on the grill for an easy side, it feels like I hit the lottery with this Fried Yellow Squash recipe!
My family goes absolutely crazZzy for these super fun slices of fried squash. They're tender on the inside plus delightfully crispy on the outside, with a light-textured batter that includes flaky panko crumbs.
And the flavor is incredible, too, with simple Italian seasoning and grated parmesan mixed into the batter.
Whenever I make this for my family, I'm prepared to be treated like royalty at the fry station, as they simply cannot get enough – they love it! And I hope you do, too!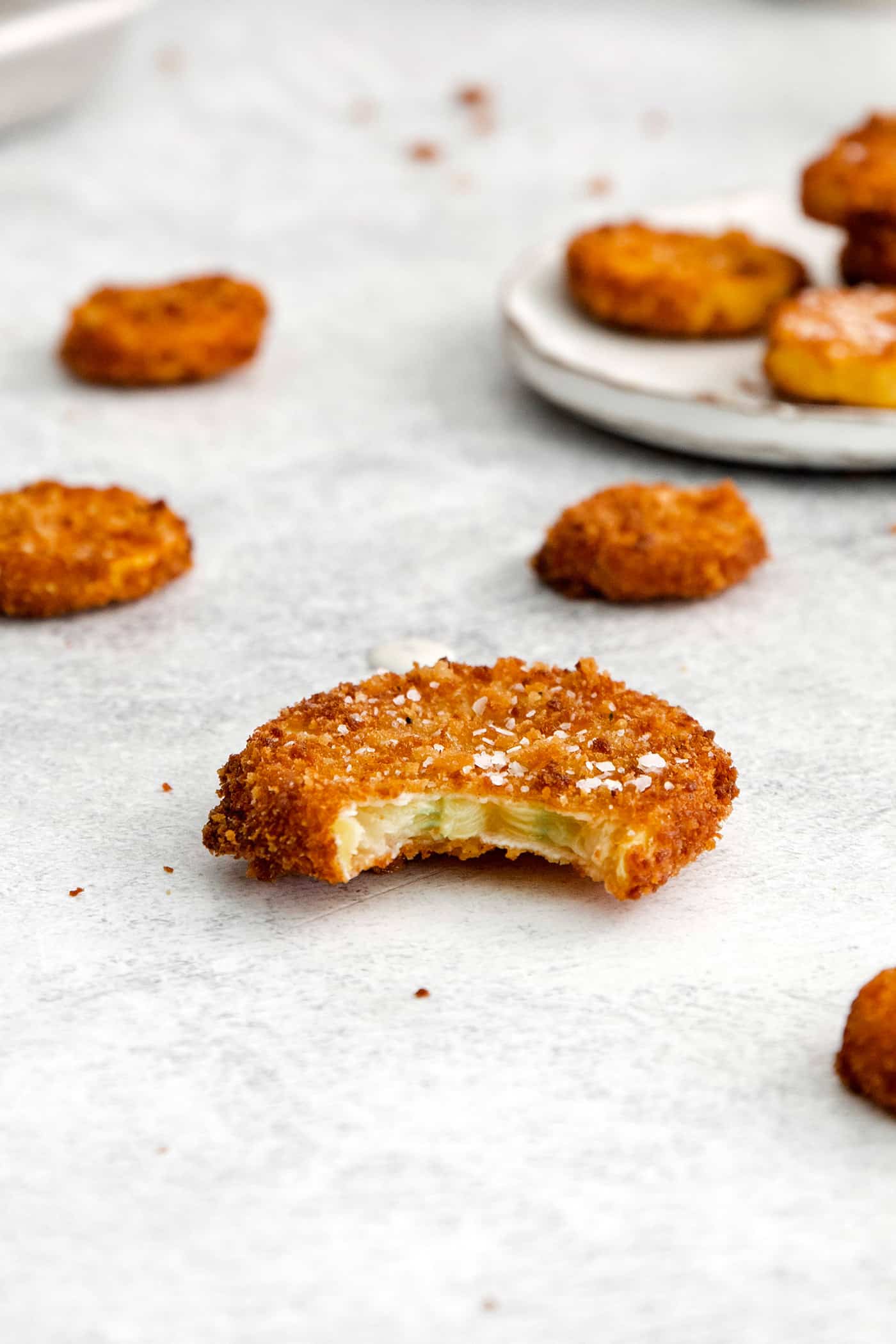 This fried squash recipe is really very simple, with rounds of summer squash coated in a tasty breadcrumb mixture.
But it's the breadcrumb mixture that's the total game changer here.
I use a combination of regular breadcrumbs and panko breadcrumbs, plus some grated Parmesan cheese (super easy, straight from the can!) and very simple seasoning.
The regular breadcrumbs are small and fine, and give the squash an even coating of crispiness. And the panko breadcrumbs are larger in size, super light in texture, and fantastically flaky. Together, they create the most beautiful texture that coats the squash perfectly, for the lightest crispy fried squash!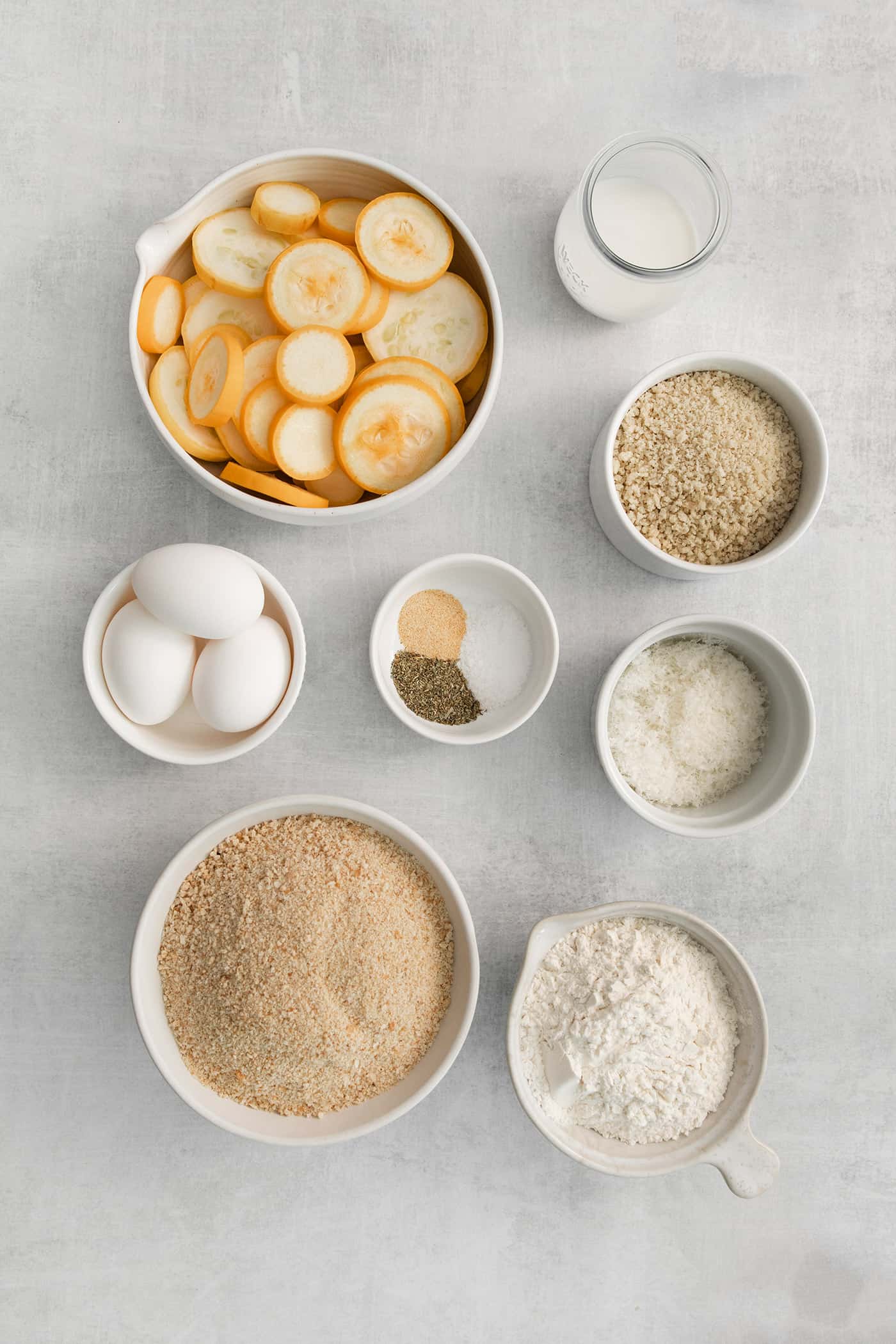 What You'll Need
For this recipe, yellow squash rounds are dredged in flour and egg wash, then coated with a simply-seasoned breadcrumbs mixture. Scroll down to the recipe box for measurements.
Yellow squash – I'm using yellow squash, but zucchini or Chinese eggplant could also be used.
All-purpose flour – Flour coats the squash rounds to enable the egg wash to stick to the squash.
Eggs – And the egg wash is the "glue" that adheres the breadcrumbs!
Whole milk – Milk thins the egg wash mixture so it isn't too thick and overly eggy.
Breadcrumbs – I love the combination of plain and panko breadcrumbs for frying – plain breadcrumbs coat the squash evenly while panko breadcrumbs add extra crunch that's delightfully flaky.
Parmesan cheese – Parmesan adds a nutty, salty flavor to the breadcrumbs.
Salt – Kosher salt seasons the breadcrumbs and the squash so they taste delicious!
Italian seasoning – Italian seasoning adds delicious herby flavor.
Garlic powder – Garlic powder gives an extra punch of flavor that pairs well with the Italian seasoning and Parmesan.
Vegetable oil – Use your preferred neutral oil for frying these squash. I use either vegetable oil or canola oil.
Can I Fry Other Types of Squash?
Yes, absolutely. This fried squash recipe also works with zucchini. And though it's not a squash, Chinese eggplant is another great option.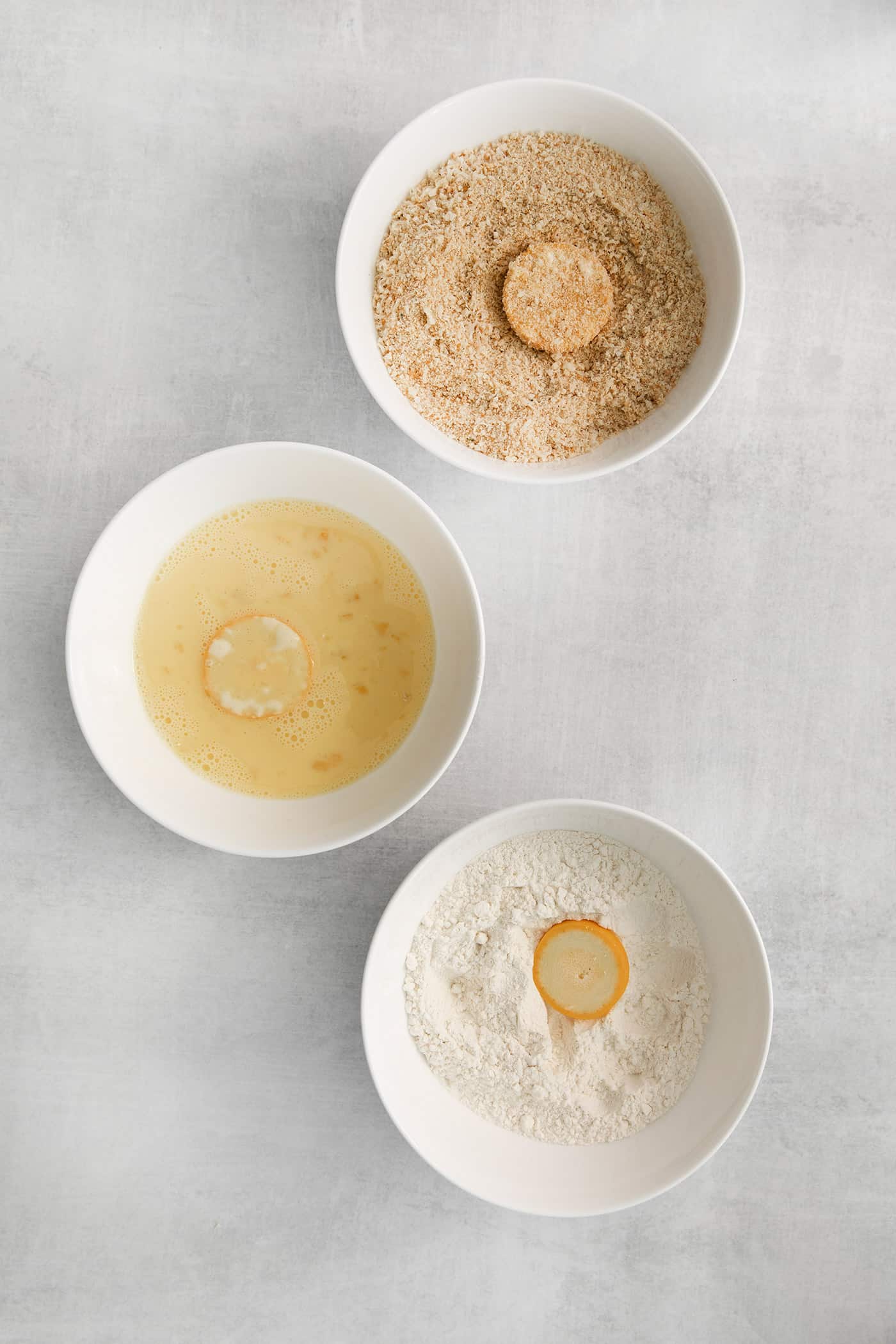 How to Make Fried Yellow Squash
Here's how to make this easy yellow squash recipe.
Preheat the oil. Add at least 2″ of oil to a large dutch oven. Place over medium-low heat to bring the temperature to 350° F.
Dry the squash. Slice the squash into rounds of equal thickness. Pat dry with a paper towel.
Prepare the egg and breadcrumbs. Add the flour to a small bowl. In a second bowl, whisk the eggs and milk until smooth. In a third bowl, stir together both breadcrumbs, the parmesan cheese, and seasonings.
Coat the squash. Dip the squash into the flour, coating it on all sides. Then dip in the egg mixture, and, finally, the breadcrumb mixture. Be sure to coat the squash on all sides in each dish.
Cook the squash. Carefully add the squash to the hot oil. Cook for 30 to 45 seconds per side, until golden-brown. Transfer to a paper towel or wire rack. Sprinkle with a pinch of salt. Repeat with the remaining squash.
Enjoy. Enjoy the squash immediately, with ranch, marinara, or pizza sauce for dipping!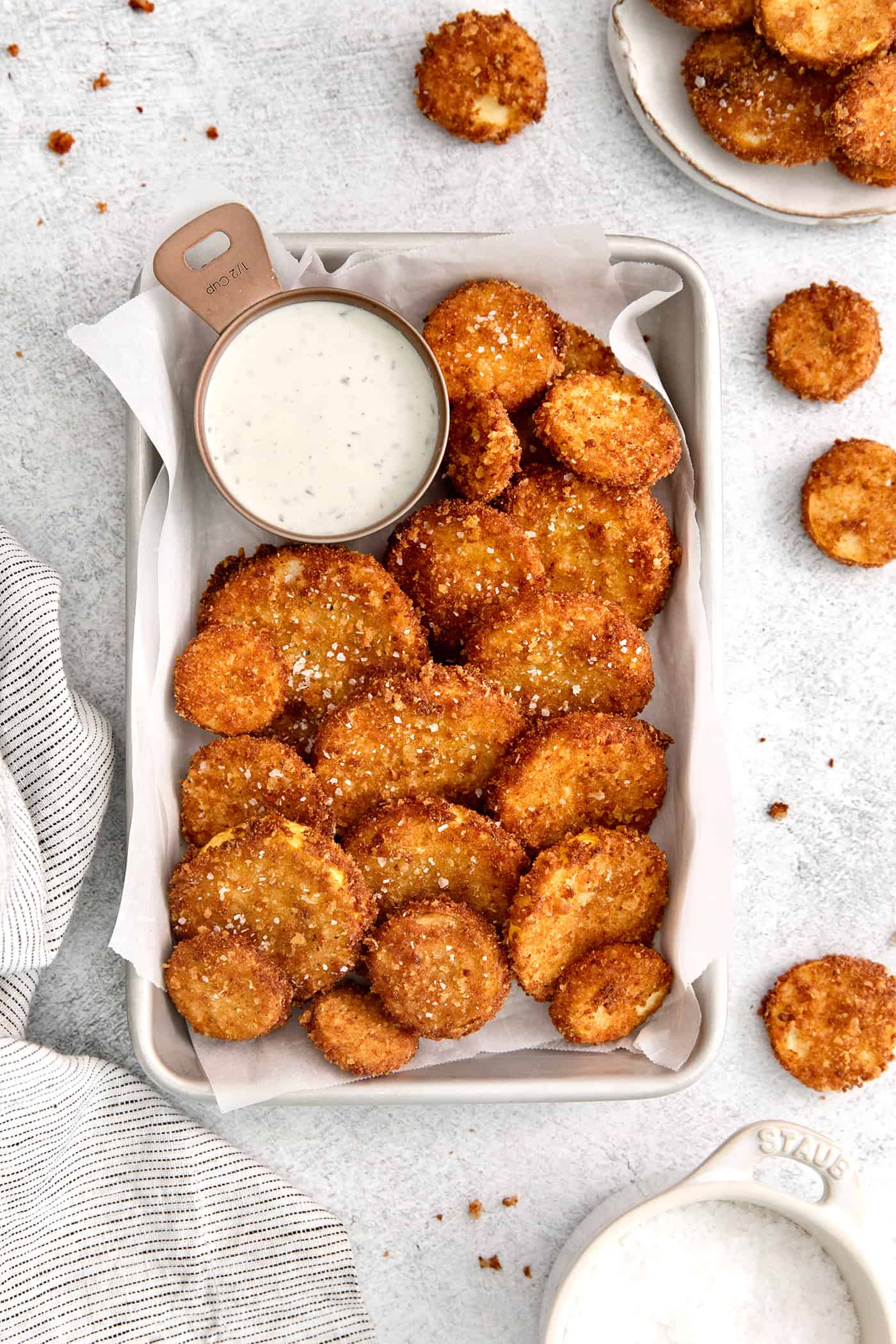 Why Is My Fried Squash Soggy?
There are a few reasons for this.
First, squash in general has a high water content. If you don't pat the squash dry prior to frying, that extra moisture can contribute to a less desirable texture.
Second, if the oil isn't hot enough to make the squash crispy on the outside and cook it in a short amount of time, it can become soggy as well.
And third, it's important to let excess oil drain from the squash as soon as it's done frying. I prefer to place the finished fried squash on a rimmed baking sheet that's lined with paper towel. The paper towel absorbs the frying, extra grease. But you could also set a cooling rack inside a rimmed baking sheet and place the finished fried squash on the rack to drain.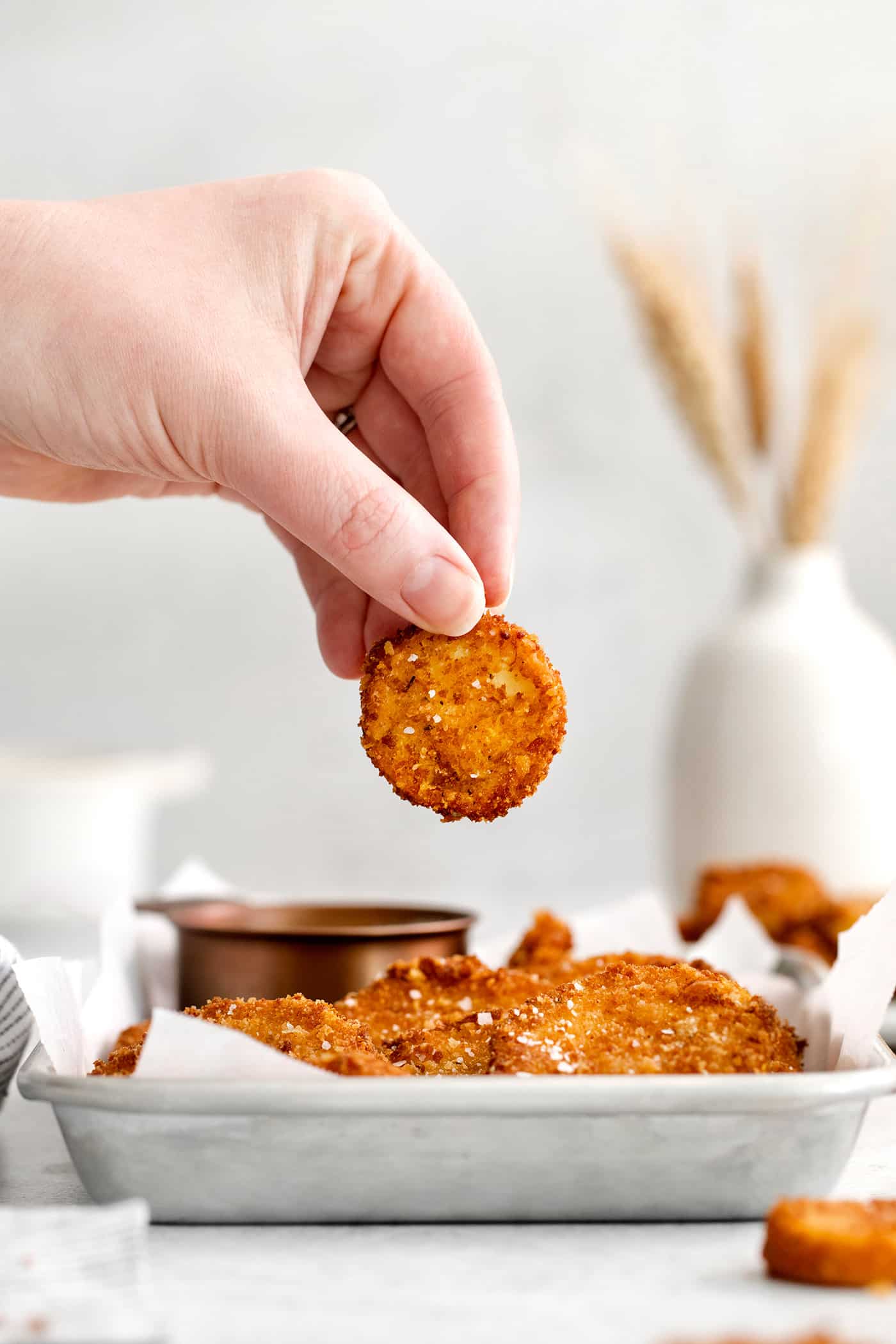 Tips for Success
Here are a few tips for making the best fried yellow squash.
Slice all the squash to an equal thickness. Each piece of squash should be about 1/4″ thick. If they are cut thicker, the inside likely won't cook before the outside browns too much.
Keep the oil temperature consistent. To ensure the squash browns quickly but doesn't burn, it's important that the oil is the right temperature. I like to use a clip-on candy thermometer to monitor it.
Do not crowd the pan. You'll need to fry the squash in several batches. Overcrowding the pan affects the oil temperature and will result in the squash not all cooking properly.
Finish with a pinch of salt. Although the batter is very flavorful on its own, that final little pinch of salt before serving is a noticeable pop of flavor. Just do it!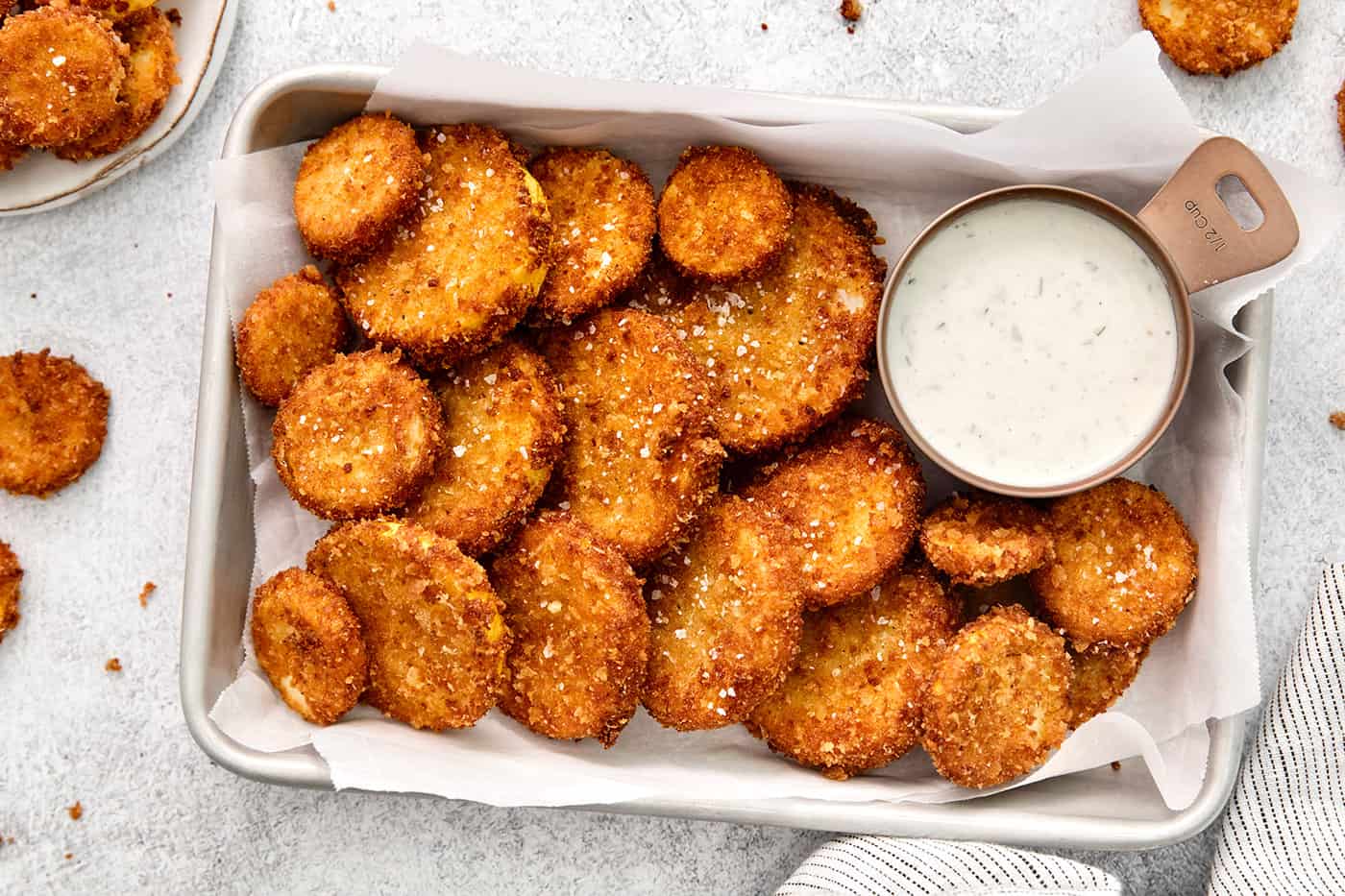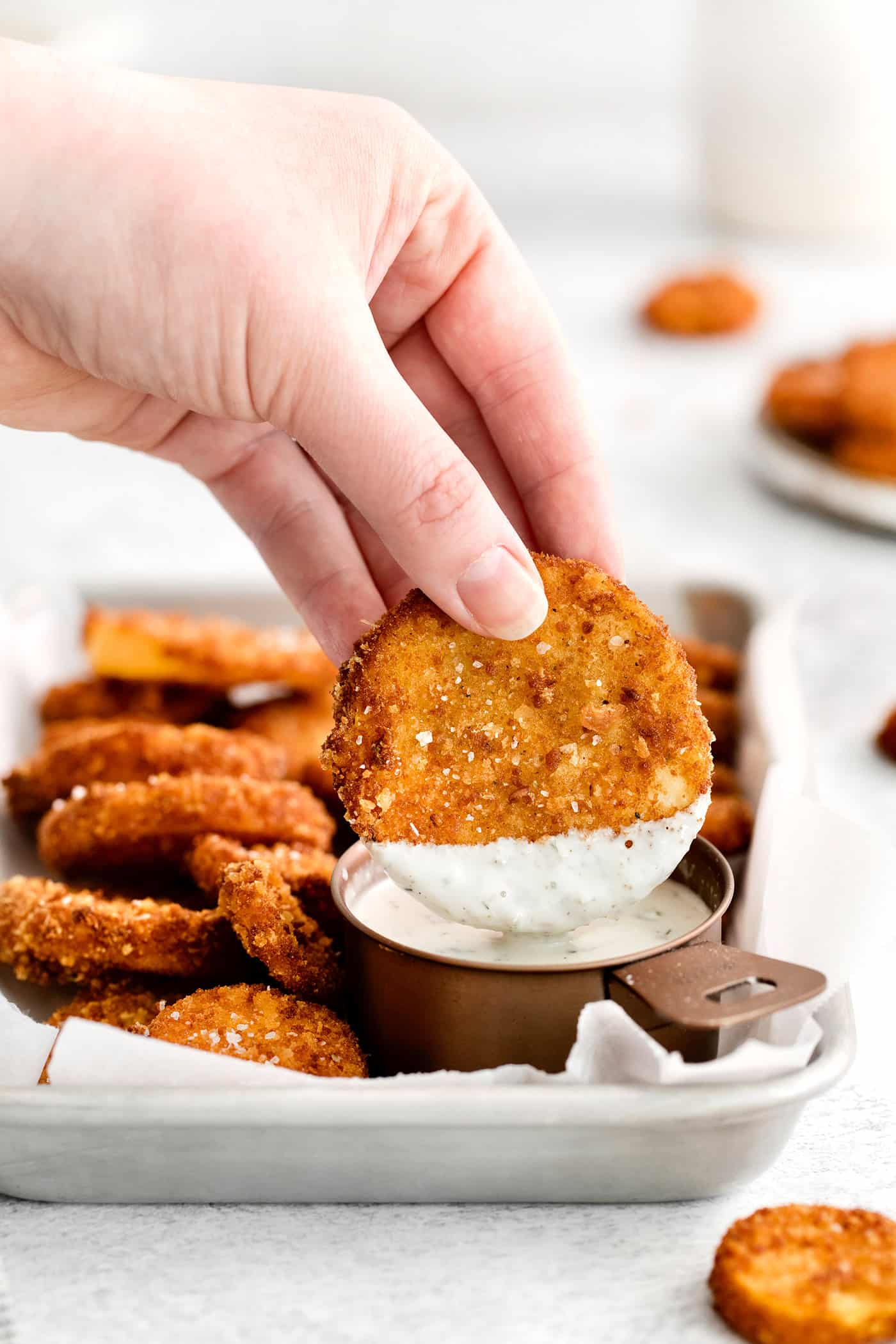 What to Serve with Fried Squash
Fried yellow squash can be served as an appetizer or a side dish. We especially like to make a hearty fresh salad as a main course and fry up some squash to serve with it – my Italian chopped salad is a family favorite.
And, of course, we recommend serving it with a dip. My family loves this homemade buttermilk ranch, with flavors that complement the squash breading super well. A tomato-based dip is awesome too, such as marinara or my easy homemade pizza sauce.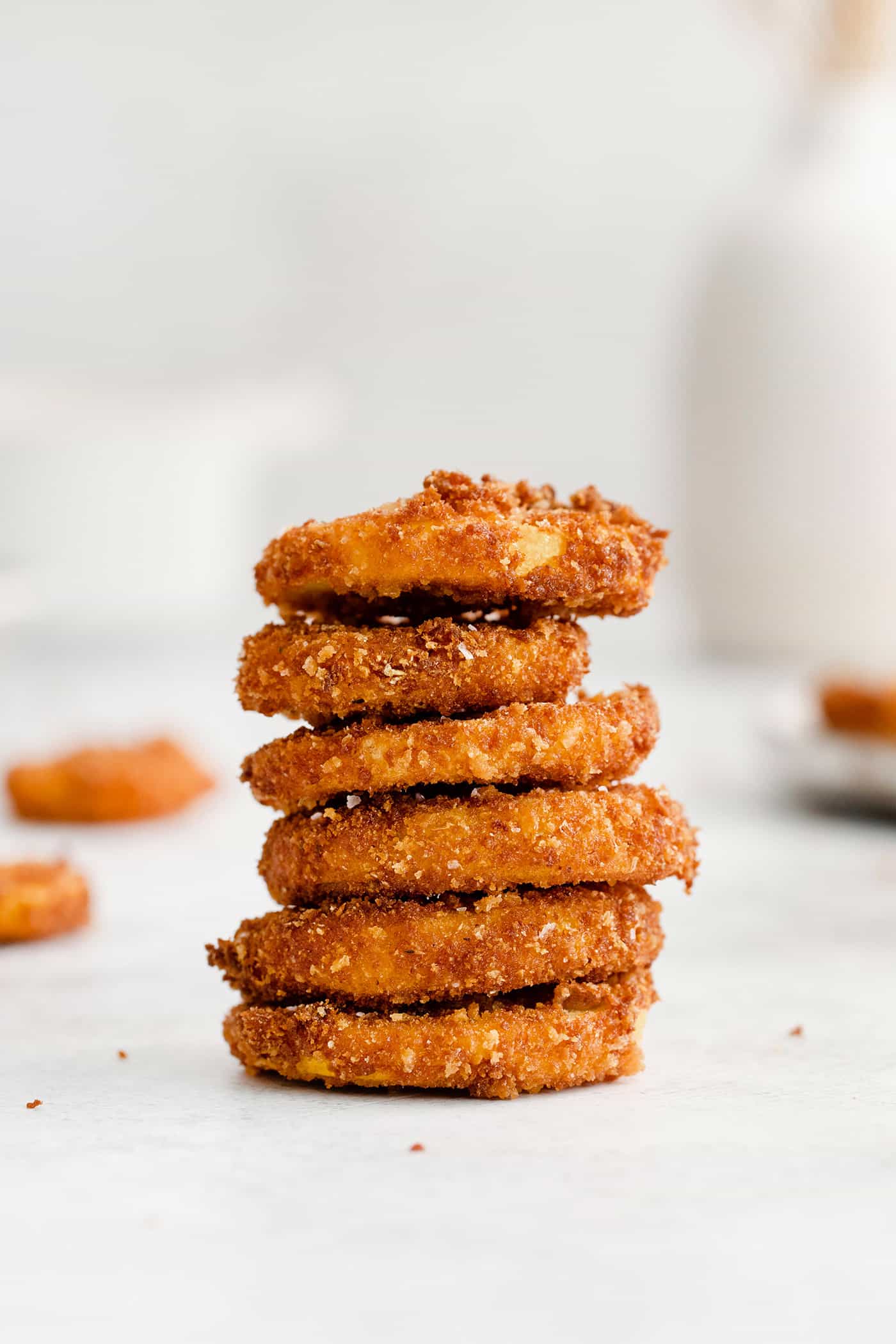 How to Store & Reheat Leftovers
Unfortunately, this fried squash is a recipe you want to enjoy immediately. I don't really recommend storing leftovers, as the squash becomes soggy as it cools, and loses its crispness.
If you do have leftovers and can't stand to toss them, store them in an airtight container in the fridge. Then try reheating them in the air fryer or on a pre-heated pizza stone in the oven. Just be aware that they won't be as crispy or overall fantastic the next day.
More Squash Recipes:
Like this recipe? Save it to Pinterest!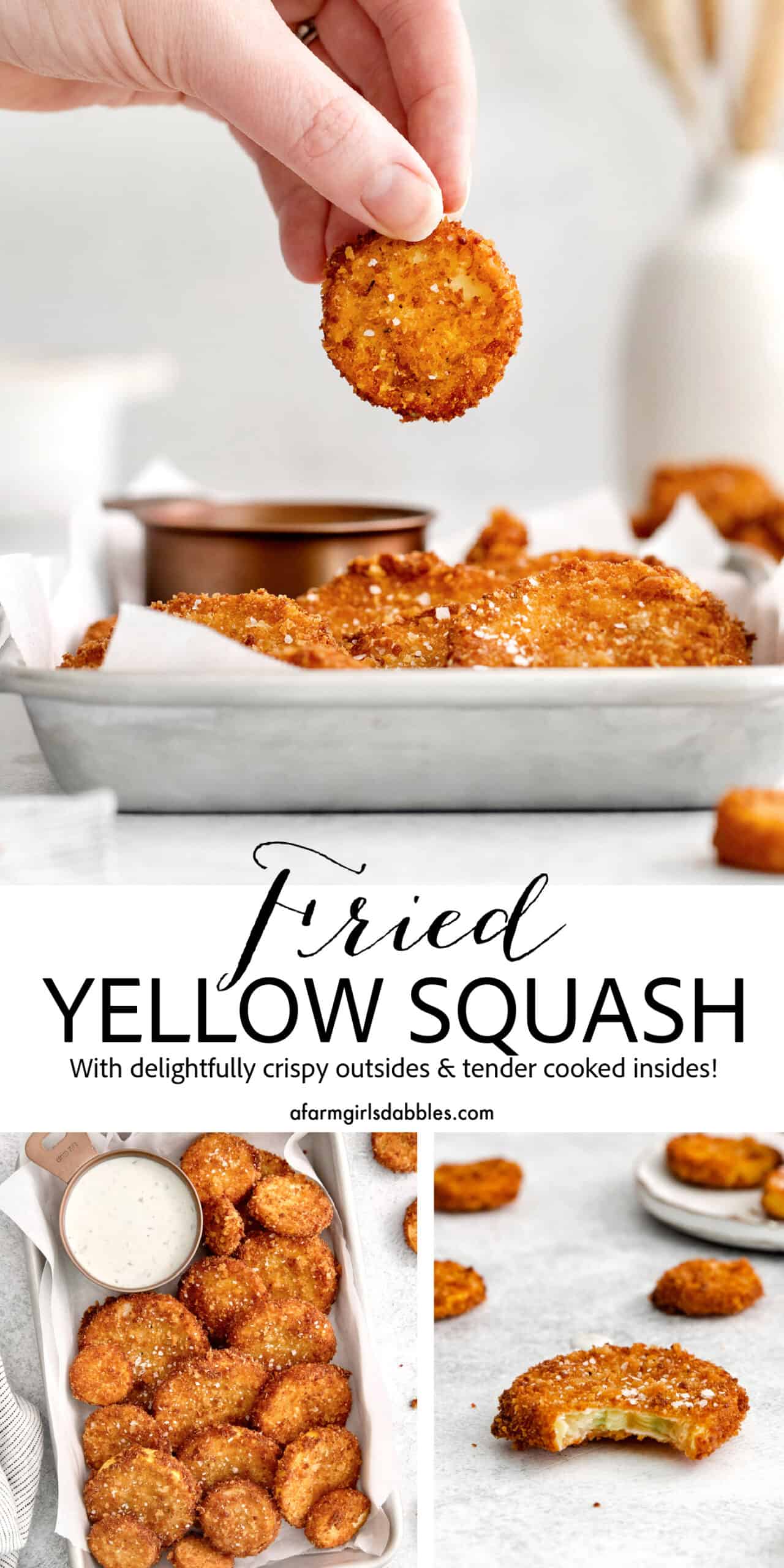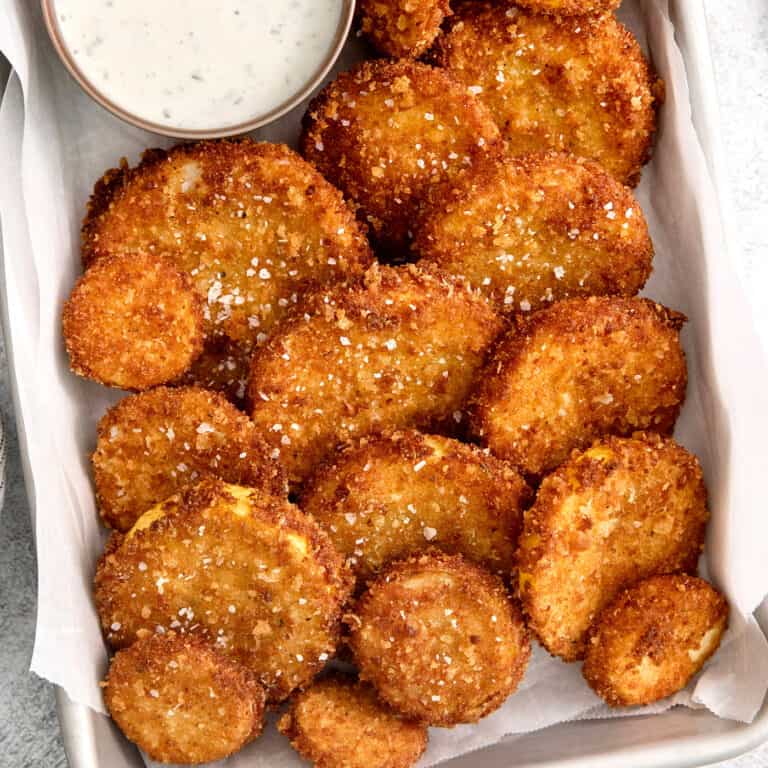 Fried Yellow Squash
Yield: 6 servings
Prep Time: 15 minutes
Cook Time: 15 minutes
Total Time: 30 minutes
This Fried Yellow Squash recipe is the perfect way to enjoy the abundance of summer squash. It's delightfully crispy on the outside and tender on the inside, and so very easy to make. Grab your favorite dipping sauce and enjoy!
Ingredients
4 large yellow squash (about 2 pounds total), cut into ¼" rounds
1 cup all-purpose flour
3 large eggs
¼ cup whole milk
2 cups plain breadcrumbs
1 cup panko breadcrumbs
½ cup grated parmesan cheese
1 teaspoon kosher salt
1 teaspoon dried Italian seasoning
½ teaspoon garlic powder
Vegetable oil or canola oil, for frying
Instructions
Add at least 2" of oil to a large Dutch oven or heavy pot set over medium heat. Place a thermometer into the oil and bring the temperature to 350° F. This will take a while, so get this started right away.
Pat the yellow squash dry with a paper towel.
Add flour to a small bowl and set aside.
In a medium bowl, whisk together the eggs and milk until smooth. Set aside.
In a separate medium bowl, stir together the plain breadcrumbs, panko breadcrumbs, parmesan, kosher salt, Italian seasoning, and garlic powder. Set aside.
Once the oil is hot, dip a piece of squash into the flour, making sure to coat it on all sides and then shake off the excess. Transfer the flour-coated squash to the egg mixture and make sure the squash is coated with egg on all sides. Next transfer the squash to the breadcrumbs and make sure it is evenly coated on all sides. Then very carefully lower the breaded squash into the hot oil (use tongs or a spider strainer if you need to). Repeat this process, taking care to not overcrowd the pan.
Cook the squash for 30-45 seconds per side, or until golden brown. Remove the squash from the oil and place them on a paper towel or wire rack to cool. Immediately sprinkle the squash with a small pinch of kosher salt.
Repeat with the remaining squash, cooking in batches to not overcrowd the pan.
Enjoy immediately with ranch or marinara sauce.
Notes
Fried squash is best enjoyed on the day it's made, while it's still hot.
Nutrition Information:
Yield: 6
Serving Size: 1
Amount Per Serving:
Calories: 454
Total Fat: 13g
Saturated Fat: 3g
Trans Fat: 0g
Unsaturated Fat: 8g
Cholesterol: 101mg
Sodium: 798mg
Carbohydrates: 67g
Fiber: 6g
Sugar: 10g
Protein: 17g
Nutrition information is automatically calculated by Nutritionix. I am not a nutritionist and cannot guarantee accuracy. If your health depends on nutrition information, please calculate again with your own favorite calculator.