Harvest Salad with Butternut Squash
This Harvest Salad with Butternut Squash is fresh and green and loaded with flavor. Featuring maple pecans, cranberries, goat cheese, and a curry fig vinaigrette, it's a welcome addition to Thanksgiving – or any fall and winter table!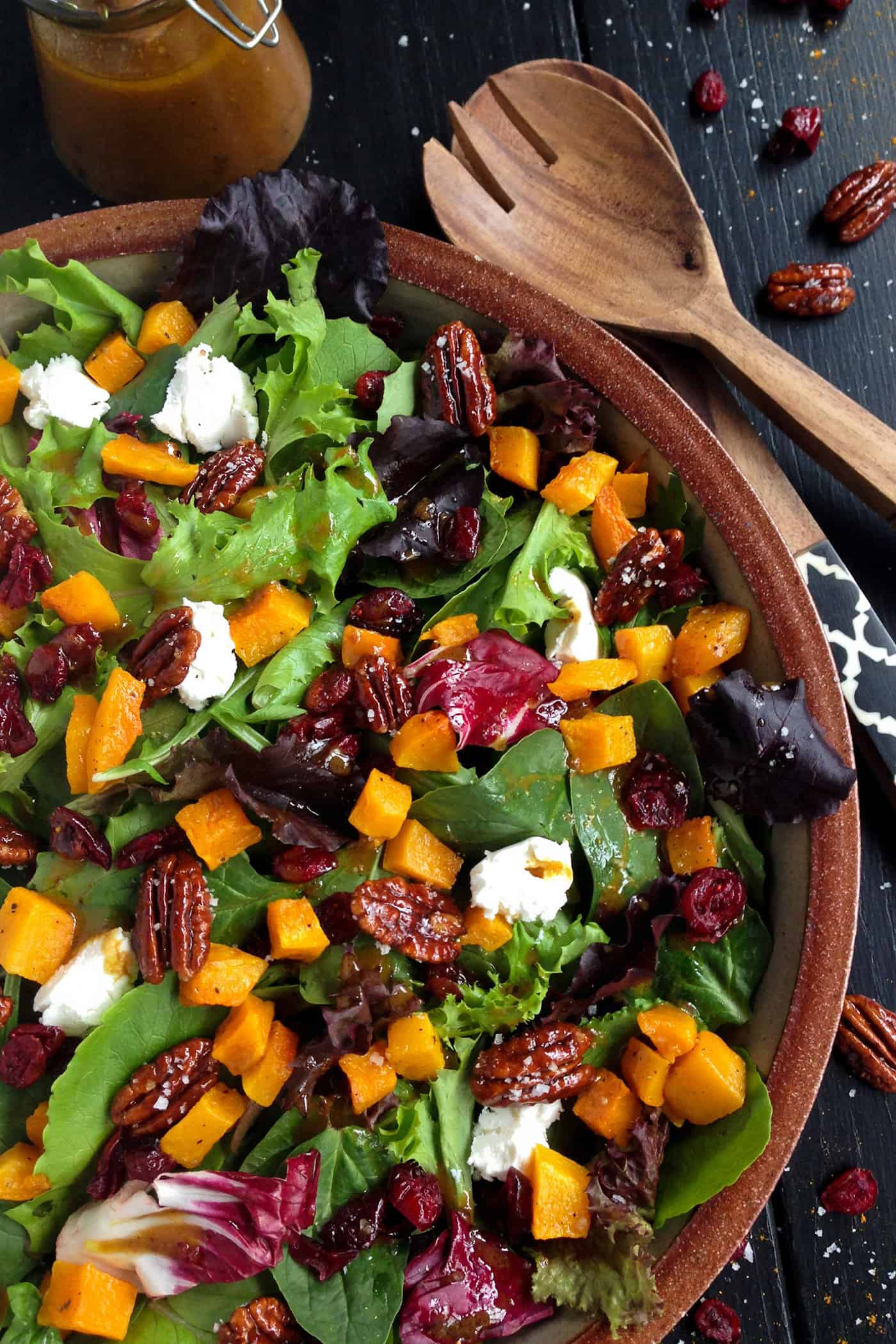 An Easy, Colorful Fall Salad
This Harvest Salad with Butternut Squash brings me so much joy. It's not only a pretty dish to pass around the table, but also incredibly tasty! I love the variety of flavors and textures – fresh greens, sweet and tender squash, tart cranberries, creamy goat cheese, plus maple pecans for a salt-sprinkled crunch. And the curry fig vinaigrette is AMAZING. There's heaven in every bite!
This is one of my favorite fall and winter salads, and I often serve it for Thanksgiving. Guests always say how much they like it, a welcome addition to the other "heavier" comfort dishes on the table. I also appreciate that this salad can be mostly prepared in advance, and then assembled right before the meal. It just doesn't get any better than that!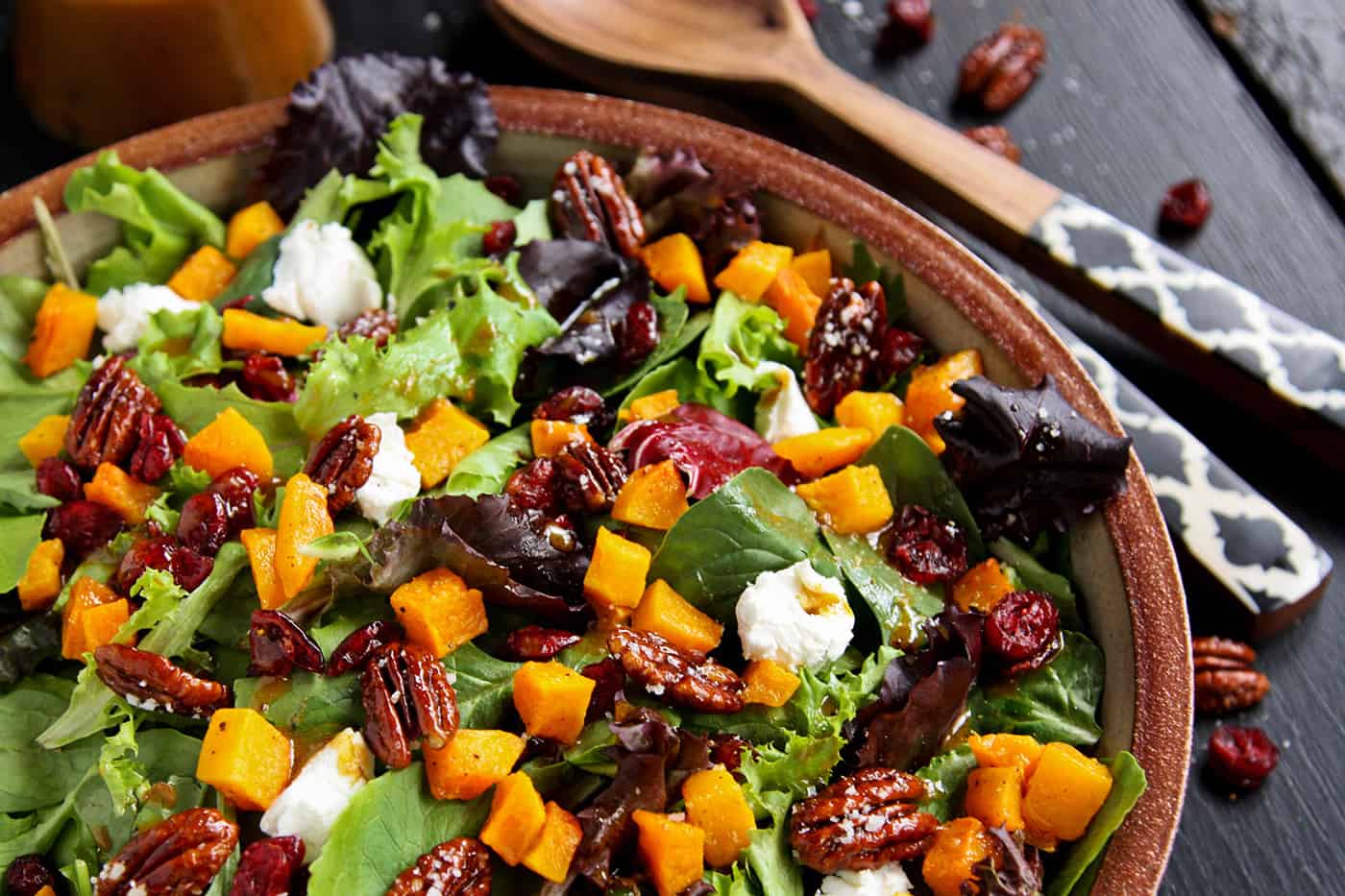 What You'll Need
Don't let this list of ingredients intimidate you – each part of the recipe calls for just a few ingredients, many of which are basic kitchen staples.
FOR THE BUTTERNUT SQUASH:
Butternut squash – Cube the squash into 1/2″ pieces.
Olive oil
Salt & pepper
FOR THE MAPLE PECANS:
Pecan halves
Maple syrup – Be sure to use pure maple syrup, not a pancake syrup with extra ingredients.
Orange juice – Freshly squeezed orange juice will give you the best flavor.
Flaky sea salt – I recommend sea salt as it provides more texture and flavor than regular salt.
FOR THE CURRY FIG VINAIGRETTE:
Fig & ginger jam – Provides the base flavor to the vinaigrette, available at many cheese counters, specialty grocers, and online (link in the recipe card).
Olive oil
Apple cider vinegar – Provides the tang in this vinaigrette.
Honey – For that perfect touch of sweetness.
Dijon mustard – One of my favorite ingredients for making homemade dressings.
Sweet curry powder – I LOVE the warm, irresistible flavor that this spice adds!
Salt
TO ASSEMBLE THE SALAD:
Field greens – You could also use baby spinach.
Dried cranberries – For a tart holiday touch to the salad.
Goat cheese – This adds a creamy, tangy element. It's a beautiful addition!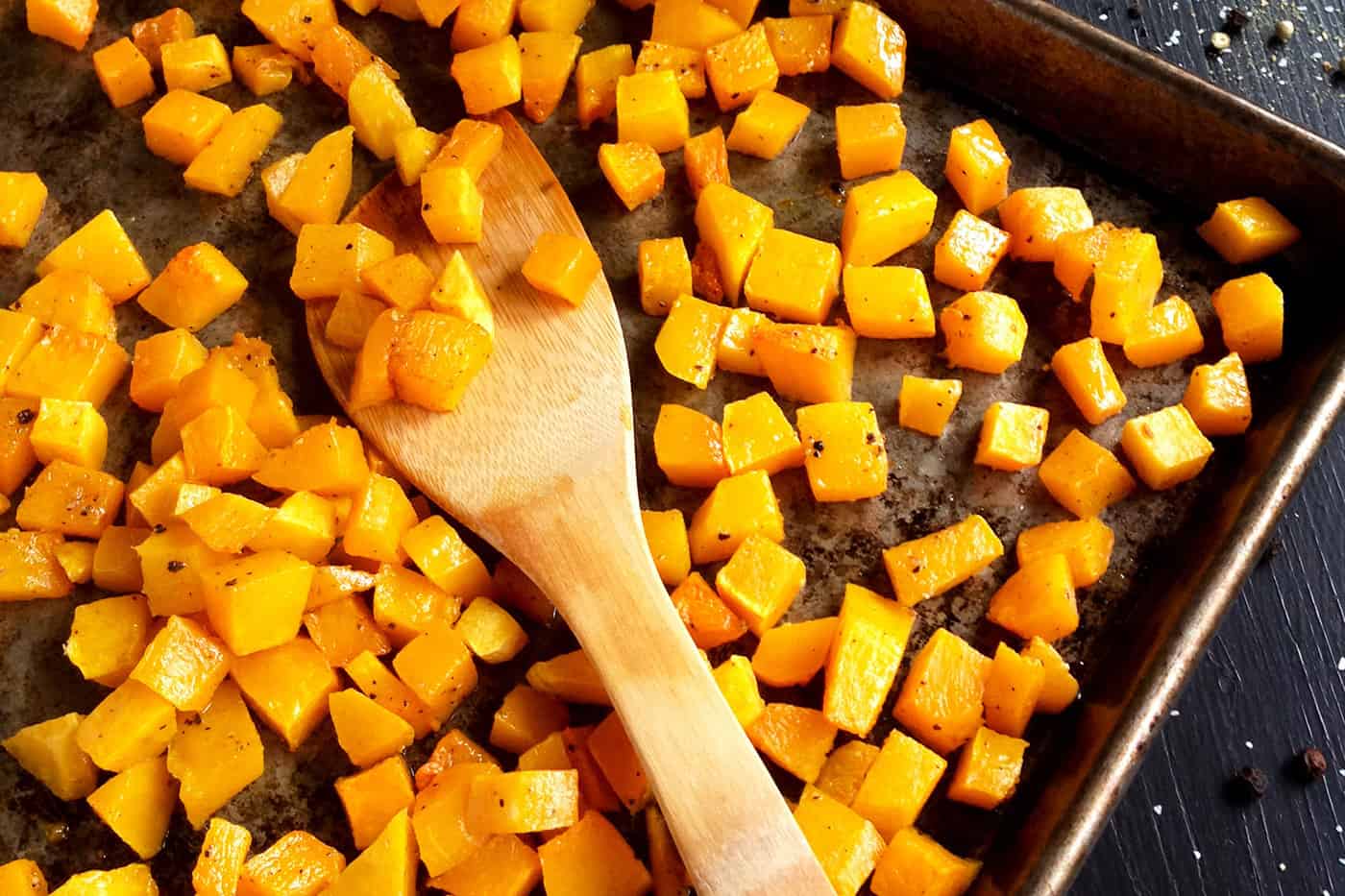 How to Make Harvest Salad with Butternut Squash
Though there are several parts to this recipe, each one is very easy to make on its own. And they can all be prepared ahead of time. Just keep in mind to definitely make the squash in advance so it has time to cool before assembling the salad.
Roast the squash. Toss the squash with olive oil, salt, and pepper. Roast for about 40 minutes total, stirring a couple times, until softened and caramelized. Cool and refrigerate until ready to use.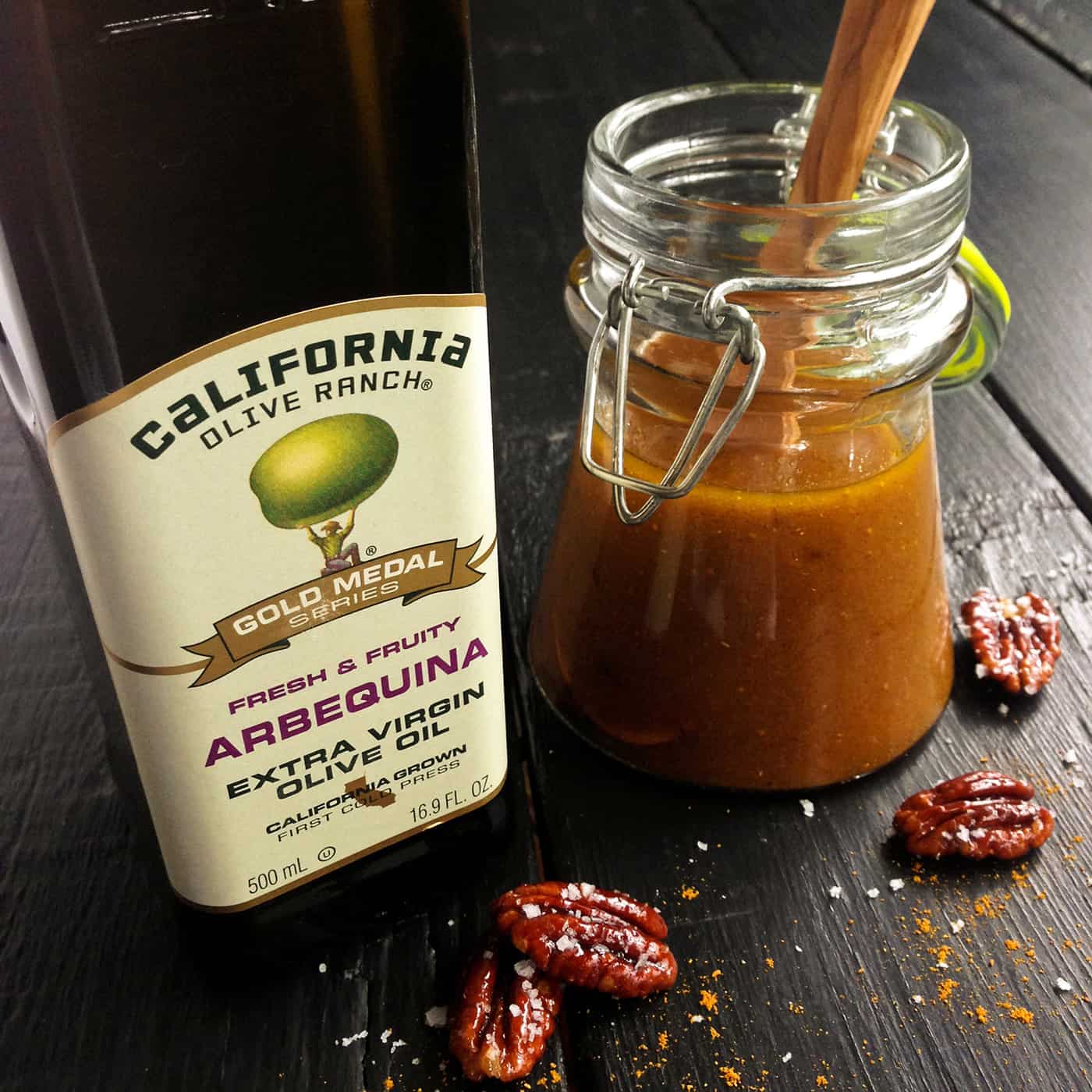 Make the maple pecans. Toast the pecans in a skillet on the stovetop until fragrant. Drizzle with maple syrup and stir to coat. Then add the orange juice. Spread the pecans in an even layer and cook for 2 minutes, stir, and cook for an additional 2 minutes. Remove from the skillet and immediately sprinkle with sea salt. Let cool.
Make the curry fig vinaigrette. Whisk together all vinaigrette ingredients and refrigerate until ready to use.
Assemble the salad. When ready to serve, place half the greens in a salad bowl, top with some of the vinaigrette then half of the squash, cranberries, and goat cheese. Repeat the layers with the remaining ingredients. Finish with vinaigrette, salt, and pepper. If desired, simply offer the vinaigrette on the side, for individuals to add to their own salad plate as they please.
Tips for Success
For a fresh and beautiful salad, keep these tips in mind.
Make the dressing a day in advance. If possible, make the dressing ahead of time. A day or two left to mingle in the fridge will allow the flavors to marry even more.
Use a bottled dressing. If you're looking to save even more time in preparing this harvest salad with butternut squash, just pick up a bottle of this Curry & Fig Salad Dressing. It's one of my favorite bottled dressings, made from a company right here in Minnesota.
Don't make the pecans in advance. The one part of this salad I recommend making the day of is the maple pecans. If you make them in advance, they will lose some of their delightful crispness.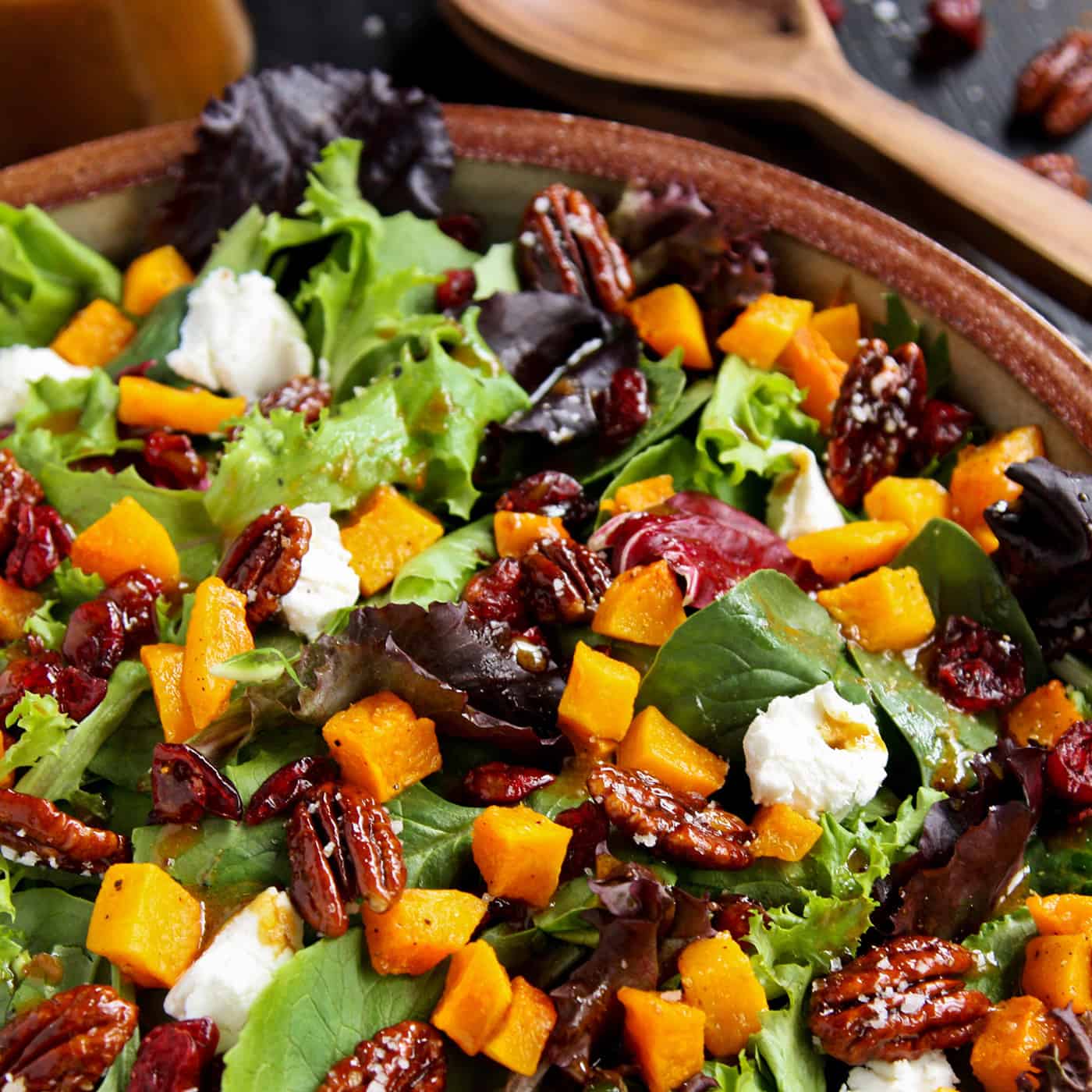 Serving Suggestions
As I mentioned, this is a great salad to serve on Thanksgiving Day next to your turkey and all of the fixing. It's a pop of fresh flavor and color, and usually a very welcomed healthy option. You could also turn this into a meal on its own by adding some turkey leftovers the day after Thanksgiving!
Aside from Thanksgiving day, you can enjoy this salad all fall and winter long. I think it would be perfect next to some grilled turkey tenderloin, grilled pork chops, sugar grilled steak, or this beautiful mustard pork loin roast!
Make Ahead & Storage
Roast the butternut squash in advance. You can batch-roast the butternut squash and store it in the freezer for up to 2 months. Just allow it to thaw before assembling the salad.
Make the dressing in advance. The curry fig vinaigrette can be made a day or two in advance as well. Store in the fridge in a tightly sealed glass jar.
Store the salad. Leftover salad can be stored, covered, in the fridge for up to 2 days. Just be aware that the longer it sits, the less crisp the ingredients may be. If you plan on having leftovers, I recommend serving the vinaigrette on the side and adding it to the individual salads.
More Delicious Salad Recipes:
Like this recipe? Save it to Pinterest!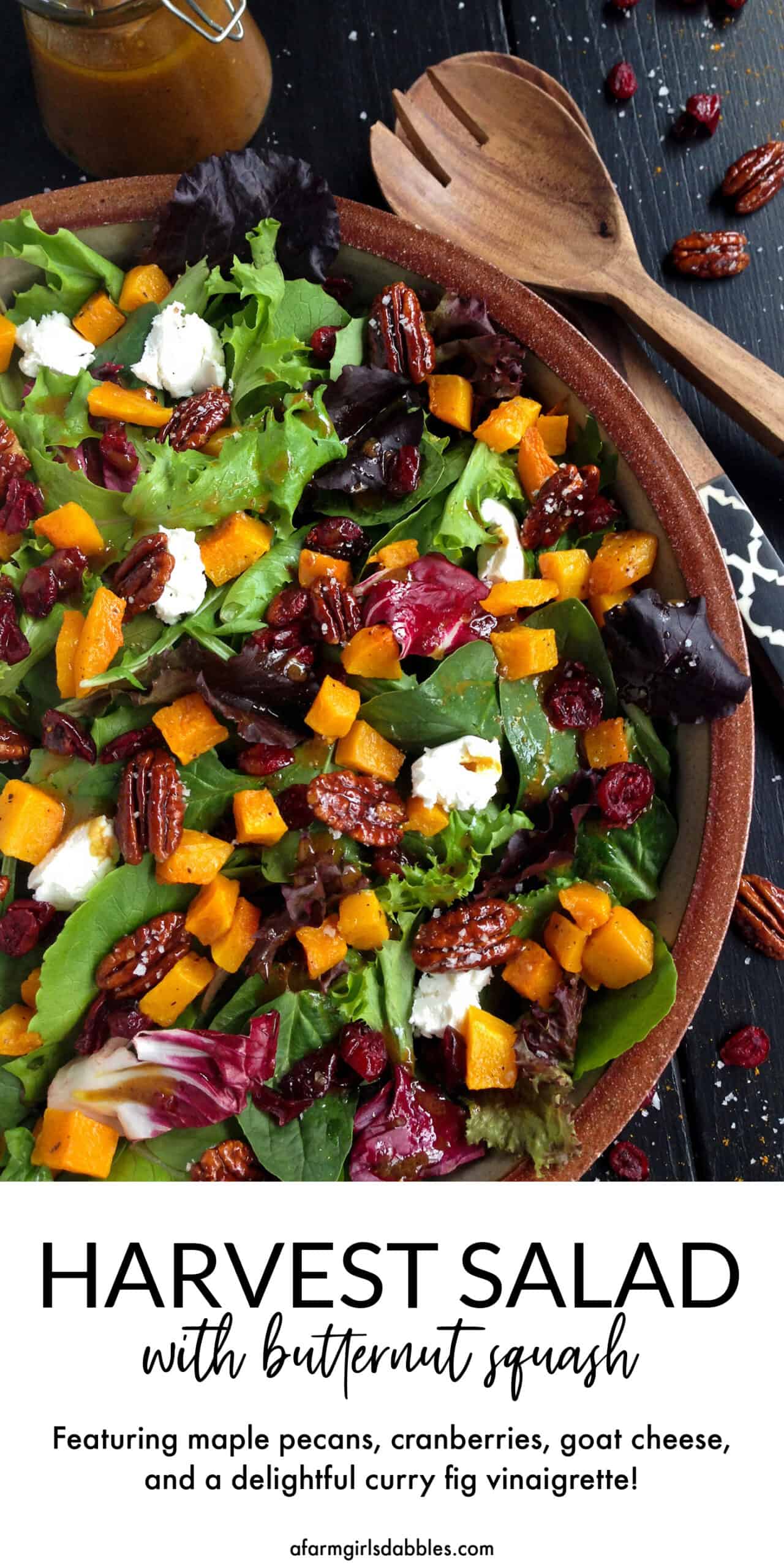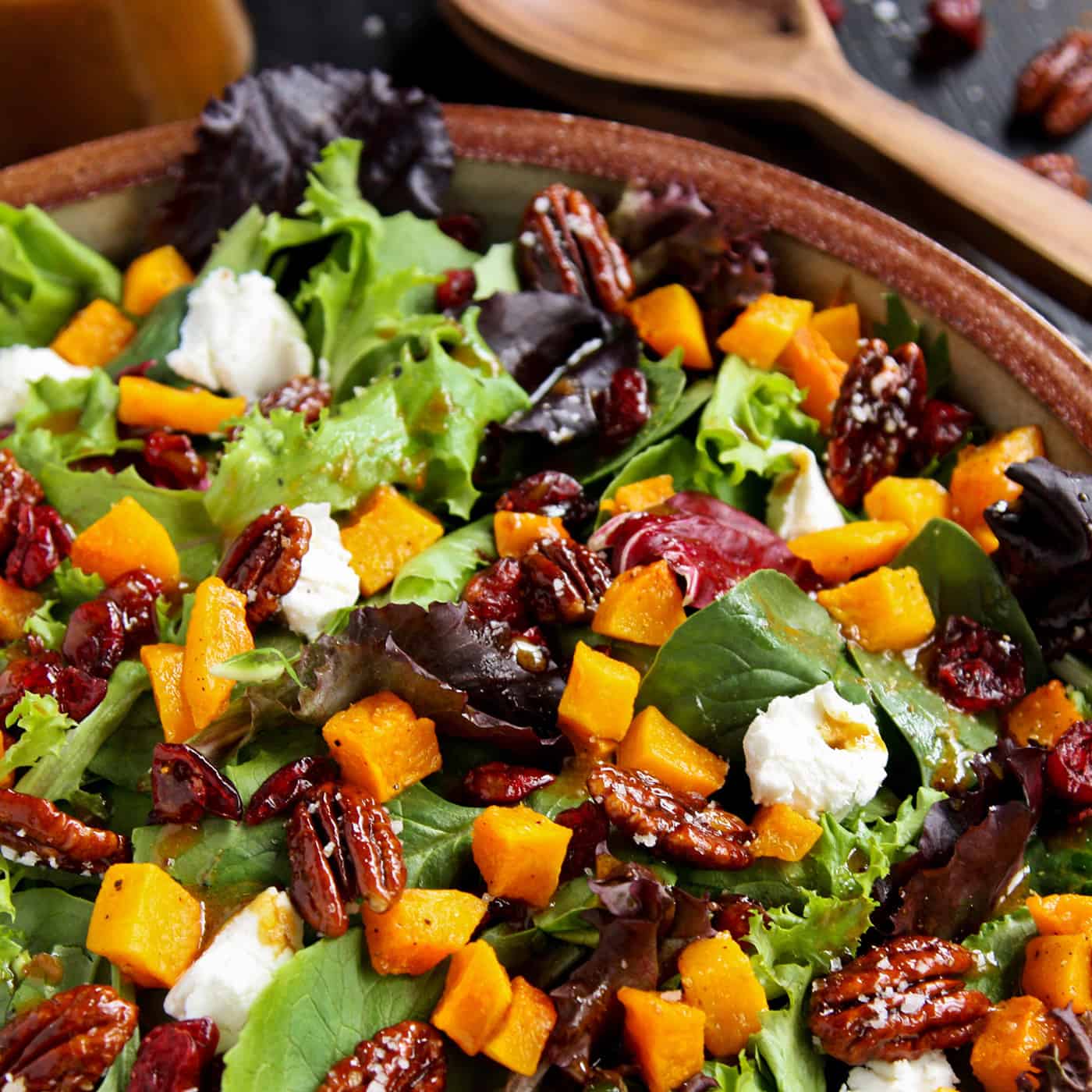 Harvest Salad with Butternut Squash
Yield: 8 servings
Prep Time: 20 minutes
Cook Time: 40 minutes
Total Time: 1 hour
This Harvest Salad with Butternut Squash is fresh and green and loaded with flavor. Featuring maple pecans, cranberries, goat cheese, and a curry fig vinaigrette, it's a welcome addition to Thanksgiving - or any fall and winter table!
Ingredients
for the butternut squash:
3 cups cubed butternut squash, about 1/2" in size
2 teaspoons extra virgin olive oil
kosher salt
freshly ground black pepper
for the maple pecans:
2/3 cup whole pecan halves
1 tablespoon pure maple syrup
1/2 tablespoon orange juice
1/2 teaspoon flaky sea salt
for the curry fig vinaigrette:
1/4 cup fig and ginger jam
1/3 cup extra virgin olive oil
3 tablespoons apple cider vinegar
1/2 tablespoon honey
2 teaspoons Dijon mustard
1/2 teaspoon sweet curry powder
1/4 teaspoon kosher salt
to assemble the salad:
12 ounces field greens or baby spinach
2/3 cup dried cranberries
4 ounces goat cheese
flaky sea salt
freshly ground black pepper
Instructions
For the butternut squash: Preheat oven to 375° F. On a roasting pan, toss squash with olive oil to coat. Sprinkle with salt and pepper and toss again. Roast for 15 minutes. Stir. Roast for 15 minutes more and stir again. Roast an additional 10 minutes to fully soften and lightly caramelize the squash. Remove from oven and let cool. This can be prepared the day prior to serving. Just place cooled roasted squash in a container and refrigerate until ready to use.
For the maple pecans: In a nonstick skillet over medium to medium-high heat, toast the pecans for 3 to 5 minutes, or until warmed and fragrant. Drizzle maple syrup over pecans and stir to coat. Drizzle orange juice over pecans and stir to coat again. Spread pecans in an even layer in the skillet and cook for 2 minutes. Stir the pecans and cook for 2 minutes more.
Remove pecans to a plate and immediately sprinkle with the sea salt. Separate the pecans and let cool completely. Leave pecans whole or chop them up a bit, if you like. These are best prepared the same day. If made the day prior, they will still be very good, but they won't have the same super crisp outer snap.
For the curry fig vinaigrette: Whisk all ingredients until well combined. This can be prepared the day prior. Refrigerate in a covered jar or container until ready to use. Let come to room temperature before whisking to combine - it also works well to shake the vinaigrette vigorously in the covered jar!
To assemble the salad: Place half the greens in a large salad bowl. Drizzle with some of the vinaigrette and then sprinkle on half the squash, half the cranberries, and half the goat cheese, followed by a sprinkling of salt and pepper. Add the rest of the greens, followed by the remaining squash, cranberries, and goat cheese. Drizzle with more of the vinaigrette. Sprinkle with flaky sea salt and freshly ground black pepper. You could also serve the vinaigrette on the side, instead of drizzling it on the salad, for individual servings. This would also help to preserve any leftover salad.
Notes
from a farmgirl's dabbles
Nutrition Information:
Yield: 8
Serving Size: 1
Amount Per Serving:
Calories: 242
Total Fat: 14g
Saturated Fat: 3g
Trans Fat: 0g
Unsaturated Fat: 10g
Cholesterol: 8mg
Sodium: 597mg
Carbohydrates: 28g
Fiber: 6g
Sugar: 15g
Protein: 6g
Nutrition information is automatically calculated by Nutritionix. I am not a nutritionist and cannot guarantee accuracy. If your health depends on nutrition information, please calculate again with your own favorite calculator.
My Trip to California Olive Ranch
Following is a little recap from my trip to California Olive Ranch, where I got the inspiration for this Harvest Salad recipe!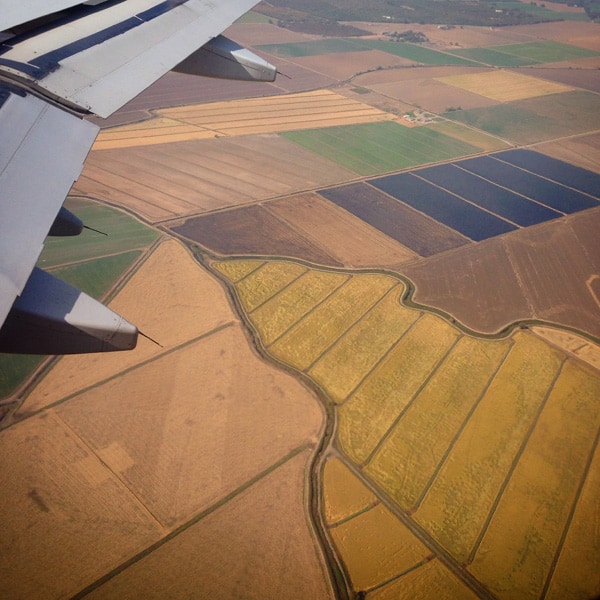 Traveling opens up my world and fills it with new experiences and landscapes. I was so thankful to have a window seat on this flight to Sacramento. The skies were clear most of the way, letting me see the rise and fall of mountains as I traveled from Minnesota to California. This gorgeous quilt of agriculture, just east of Sacramento, had me staring in awe.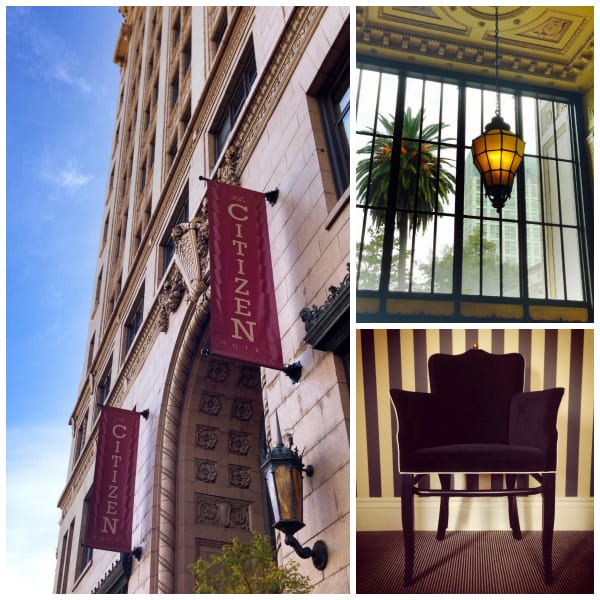 Where I Stayed
The Citizen Hotel was the perfect place to stay in Sacramento. Historic, with all the modern conveniences, it really was a special place. I especially liked my room, with walls striped in bold black and cream.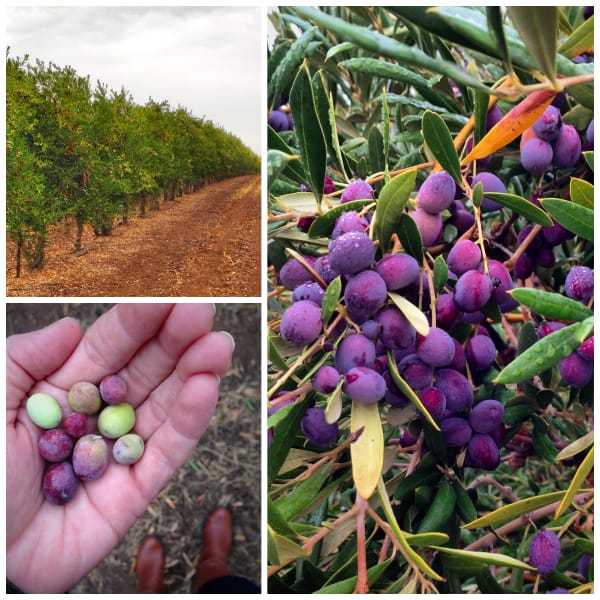 The Olive Harvest
Our group ventured north of Sacramento to California Olive Ranch, about a 90 minute drive. The area had been in desperate need of moisture and Mother Nature chose our field day to let down the rain. Which left us happy for the Sacramento Valley, but sad that we didn't get to actually harvest olives. The harvest machines were shut down for the day. We walked the beautiful rolling orchards, grateful to learn about this company and its product, just the same.
Harvesting olives in California dates back 300 years, when the Spanish brought over the first olive trees. Raised more like a vineyard than an orchard, olives are a low maintenance crop, pollinated by the wind and able to thrive on low water consumption.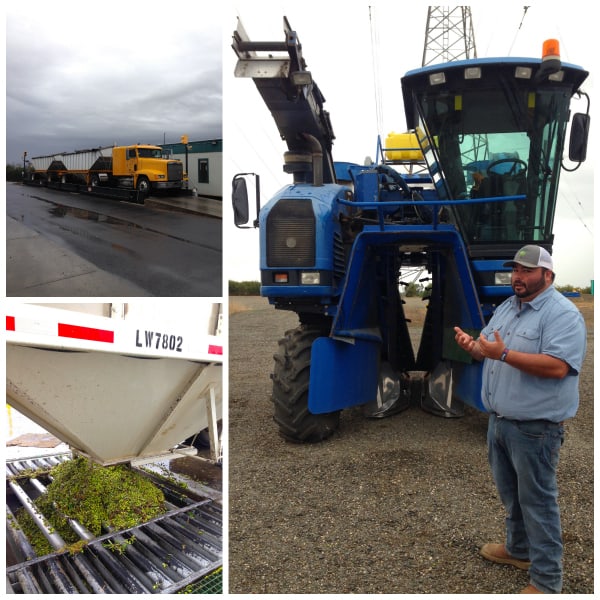 Even though we didn't get to see olives harvested from the orchard, we got up close to a harvester (photo: right). This machine can pick an olive tree clean in just 5 minutes, yielding about one finished bottle of olive oil.
How Olives are Processed Into Oil
Once picked, the olives are transferred to a truck and then brought in for processing (photos: left), assuring the freshest olive oil possible from field to bottle in just 6 to 8 hours. Samples are taken from each truckload. These olives are graded for maturity and then ground, pit and all, to measure fat and moisture levels. Each step of the process tracks exactly which olive variety (California Olive Ranch grows three different varieties of olives) is being processed, the farm it came from, plus the date and time, for full traceability. Every bottle of oil from California Olive Ranch displays the date the olives were harvested. And nothing goes to waste. The olive leaves and post-press mash is used for feed at nearby cattle ranches.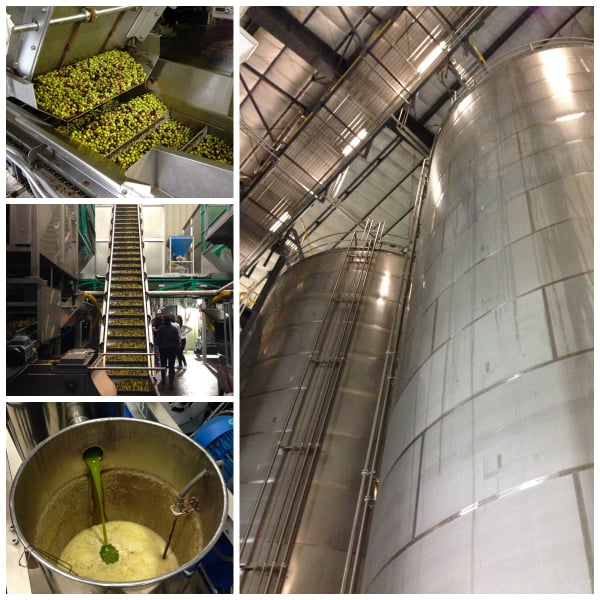 California Olive Ranch prides itself in the superior quality of its extra-virgin olive oils. Where some companies mill and sell olive oils from two to four separate presses, California Olive Ranch does just one with a cold pressing process, yielding the highest quality olive oil for each and every bottle.
The pressed olives produce a fabulous green colored oil that mellows out to a straw yellow hue over time (photo: lower left).
Once pressed, the olive oil is stored in gigantic stainless steel temperature controlled tanks (photo: right), protecting the oil from its enemies of oxygen and light. Each olive oil variety is isolated to its own tank. Then as orders come in throughout the year, the oil is blended and sent out.

Taste Testing Olive Oil
We had the pleasure of sitting down with Bob Singletary, the very impassioned head miller at California Olive Ranch. He creates the olive oil varieties and tastes every single batch of olive oil pressed there. Bob taught us the basics of olive oil tasting, saying that extra virgin olive oils should never have heavy or greasy qualities, and that different types of olives make distinct types of olive oil. He showed us how to first identify the olive oil with our nose and then with our taste buds with a sip-slurp-swallow technique. We determined a variety of flavors, from grassy to pungent, to biting and bracing.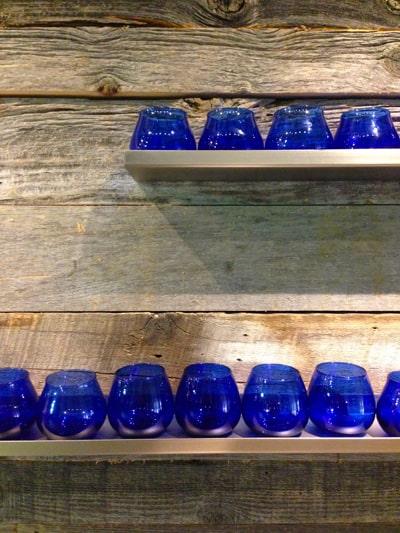 When Bob and others are doing serious taste testing for quality control, these cobalt blue glasses are used so the tasters aren't influenced by the color of the oils. The glasses were just so pretty, lined up on shelves against worn wood walls, that I couldn't resist the photo opp.
Other food bloggers on this trip:
This post was originally published in 2014. The recipe portion was updated in 2021.

Thank you so much to California Olive Ranch for inviting me to spend some time with you, to learn about your wonderful olive oils and your harvesting process.

My travel and hotel expenses for my trip to Sacramento were paid for by California Olive Ranch. I was not compensated to write this post. All opinions are my own.