Fattoush Salad
Topped with seasoned pita and a zesty vinaigrette, Fattoush Salad is a fresh, bright, and flavorful Lebanese Salad. It's light yet filling, perfect for summer days, and makes a great side dish to everything from steak to chicken!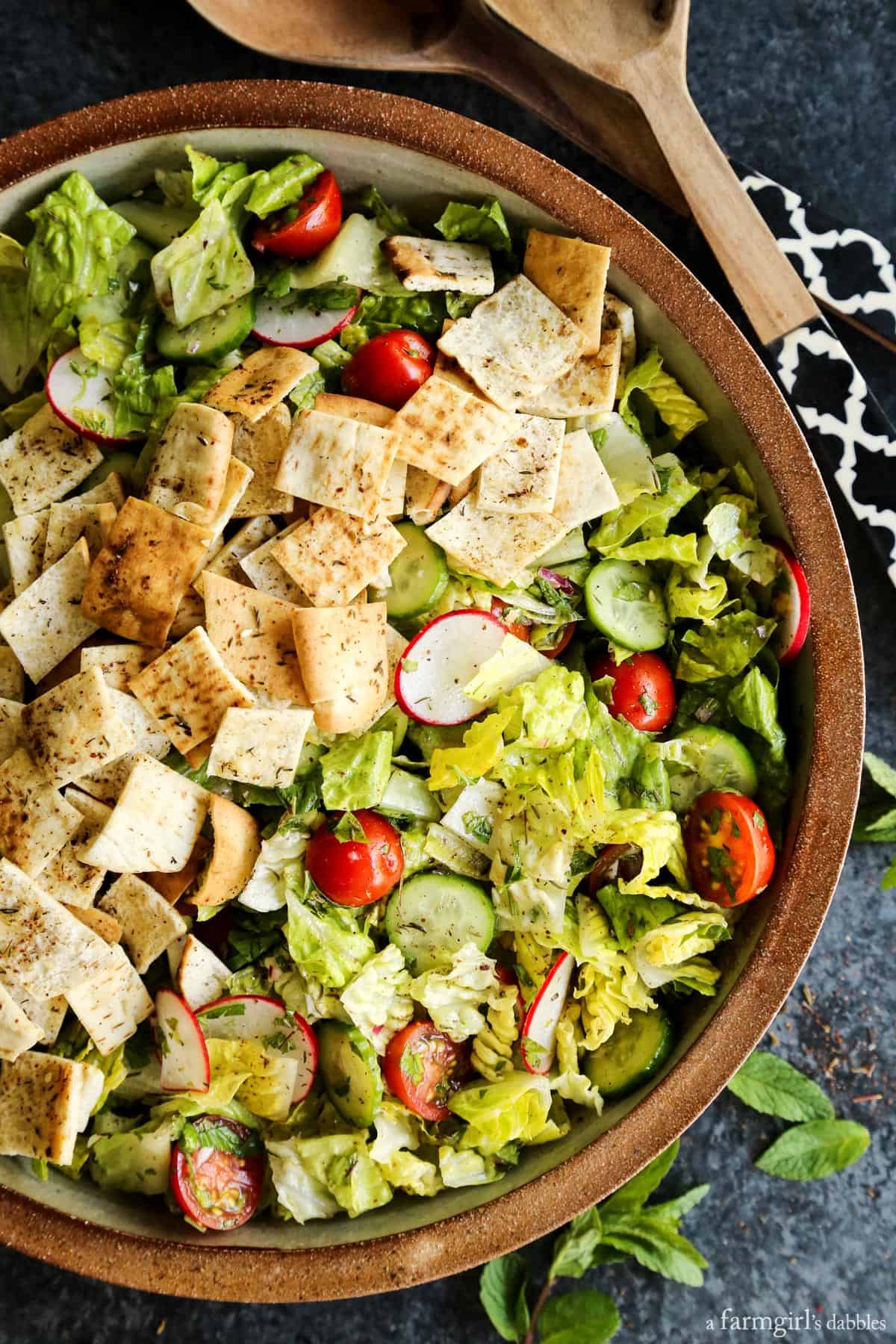 A Fresh & Flavorful Salad
This Fattoush Salad features fresh greens, vegetables, and herbs, and is topped with flavorful, toasted pita bites. A zesty vinaigrette brings it all together, for a perfectly delightful salad that's light yet filling.
The flavors from the Middle East have always intrigued me. And I started seeking them out even more after our family traveled to Egypt to stay with my sister's family for a Christmas holiday, just a few weeks prior to the 2011 revolution.
While in Cairo, I fell in love with their spicy lentil soup and enjoyed many Middle Eastern salads, including my first fattoush salad. And then, several years later, I encountered fattoush salad in a completely different setting – in Panama, while on a cruise through the Panama Canal. This one turned out to be the best fattoush salad I'd ever had, and the one this recipe is based on!
What is Fattoush Salad?
Fattoush Salad is a Lebanese salad made with fresh greens, vegetables, and herbs, and topped with toasted or fried day-old pita bread.
The salad always features a bright, acidic vinaigrette, and the ones I experienced in Egypt used fresh lemon or lime juice, or white vinegar.
My salad is tossed with a zesty red wine vinegar dressing that has a bright, slightly sour flavor from sumac. This is what I experienced while visiting Panama, a country where many Arabs live – and it was my favorite version. I love how the flavor of red wine vinegar plays with those of sumac and za'atar spice!
Fattoush comes from the word "fatteh" which translates to "crumbs", likely because the salad uses up all the "crumbs" of leftover pita bread. Another key to this Mediterranean salad is using fresh, in-season vegetables. That means the vegetables included can vary from one salad to another and there are not really any rules.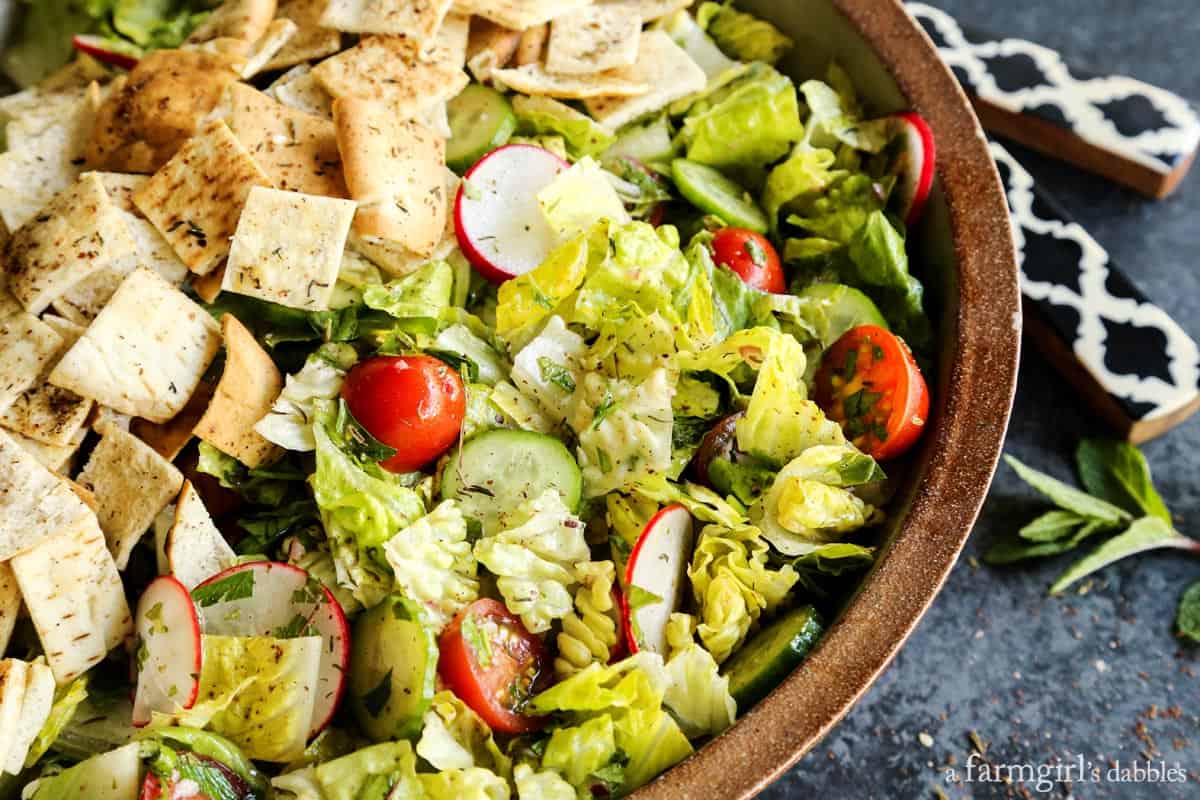 What You'll Need
Here's what you will need to make this Middle Eastern salad!
FOR THE TOASTED PITA CHIPS:
Pita pockets – Split in half horizontally to equal 4 thin rounds.
Olive oil – Helps the seasoning stick and the pita to crisp in the oven.
Za'atar & salt – To season the pita chips. Za'atar is a blend of herbs and spices that is popular in Middle Eastern cooking.
FOR THE VINAIGRETTE:
Olive oil
Red wine vinegar – I love this particular vinegar with fattoush salad, so lovely with the sumac!
Lemon juice – Be sure to use freshly squeezed.
Garlic
Sumac – A classic Mediterranean spice that's deep red in color. It has a pungent, bright flavor that's a bit sour.
Salt
FOR THE SALAD:
Romaine lettuce – Chop it into 1″ to 2″ size pieces. Other types of lettuce or salad greens can also be used, although I do particularly like romaine's sturdy, crisp texture for this salad.
Cherry tomatoes – Halved.
Red onion – This bold onion is perfect in fattoush salad. You could substitute green onion for a lighter flavor.
Radishes – Add a zesty flavor, pretty color, and some crunch to the salad.
Cucumbers – I prefer smaller Persian or Lebanese cucumbers for this salad, but English cucumbers would also work great.
Fresh mint & parsley leaves – Classic fresh herbs that really pack a punch flavor-wise.
Za'atar
Salt & Pepper
Recipe Variations
As I mentioned above, the ingredients used in fattoush salad can vary greatly depending on what's available and in season. Here are a few things you can add to the salad, or substitute, if desired.
Spinach
Sweet bell peppers (green or other)
Cheese (feta and goat cheese are great options)
Olives (especially kalamata olives)
Pomegranate molasses (This is a classic ingredient to sweeten vinaigrettes in Mediterranean salads)
Chickpeas (for added texture and flavor, and a good amount of protein)
Chicken or steak (for a heartier salad – I'd recommend grilling it)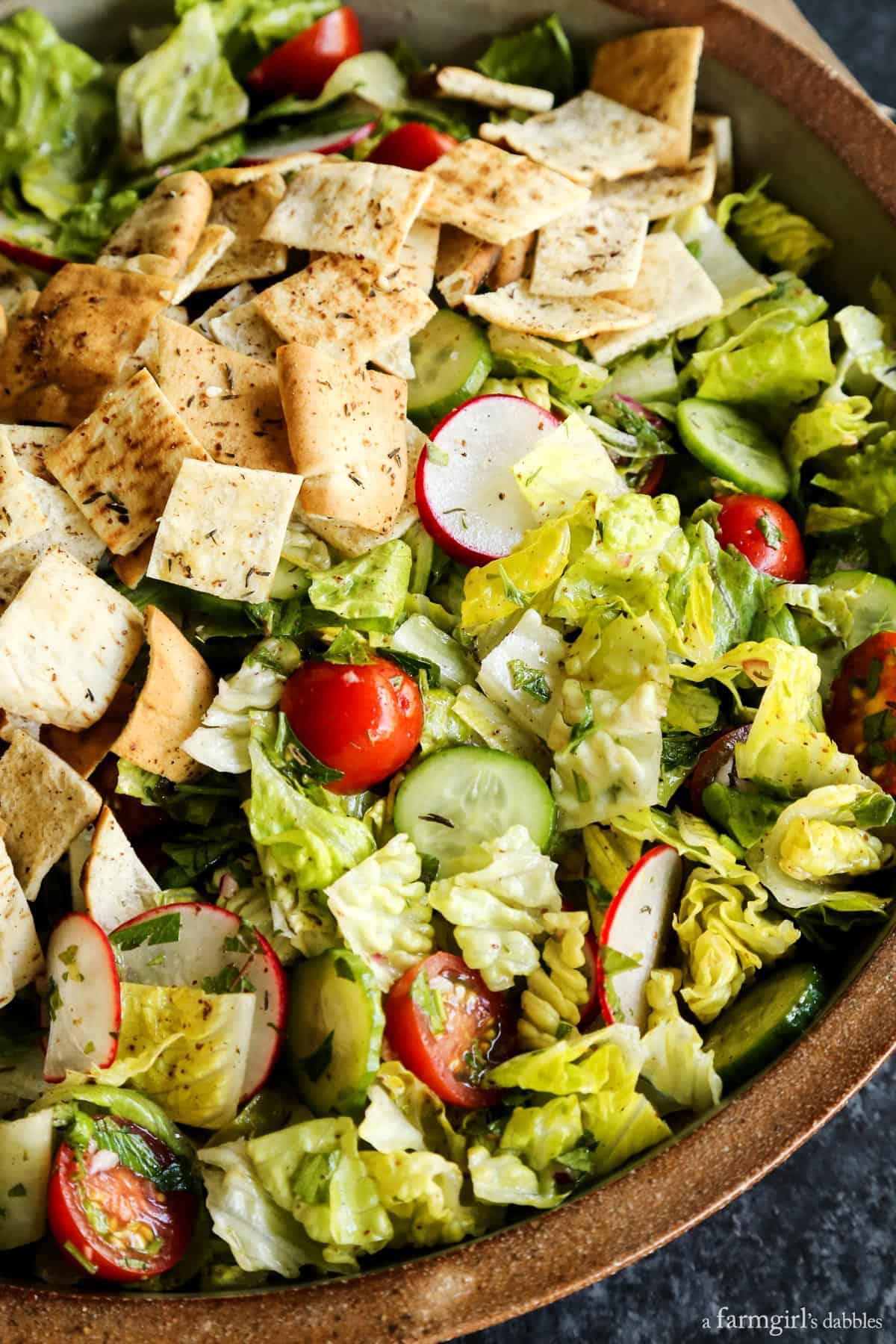 How to Make Fattoush Salad
Here's how to make this delightfully fresh and flavorful Middle Eastern salad.
Bake the chips. Lightly brush the pita rounds with olive oil then cut into 1″ to 2″ pieces. Place on the baking sheet, then sprinkle with za'atar and kosher salt. Bake for 10 to 12 minutes, until nicely browned.
Make the vinaigrette. Whisk together all vinaigrette ingredients. Set aside.
Assemble the salad. Combine all of the salad ingredients. Drizzle with some vinaigrette and fold to coat. Add more as needed or serve extra on the side.
Serve. Sprinkle the salad with za'atar, flaky sea salt, and black pepper. Add the pita chips to the top and serve immediately.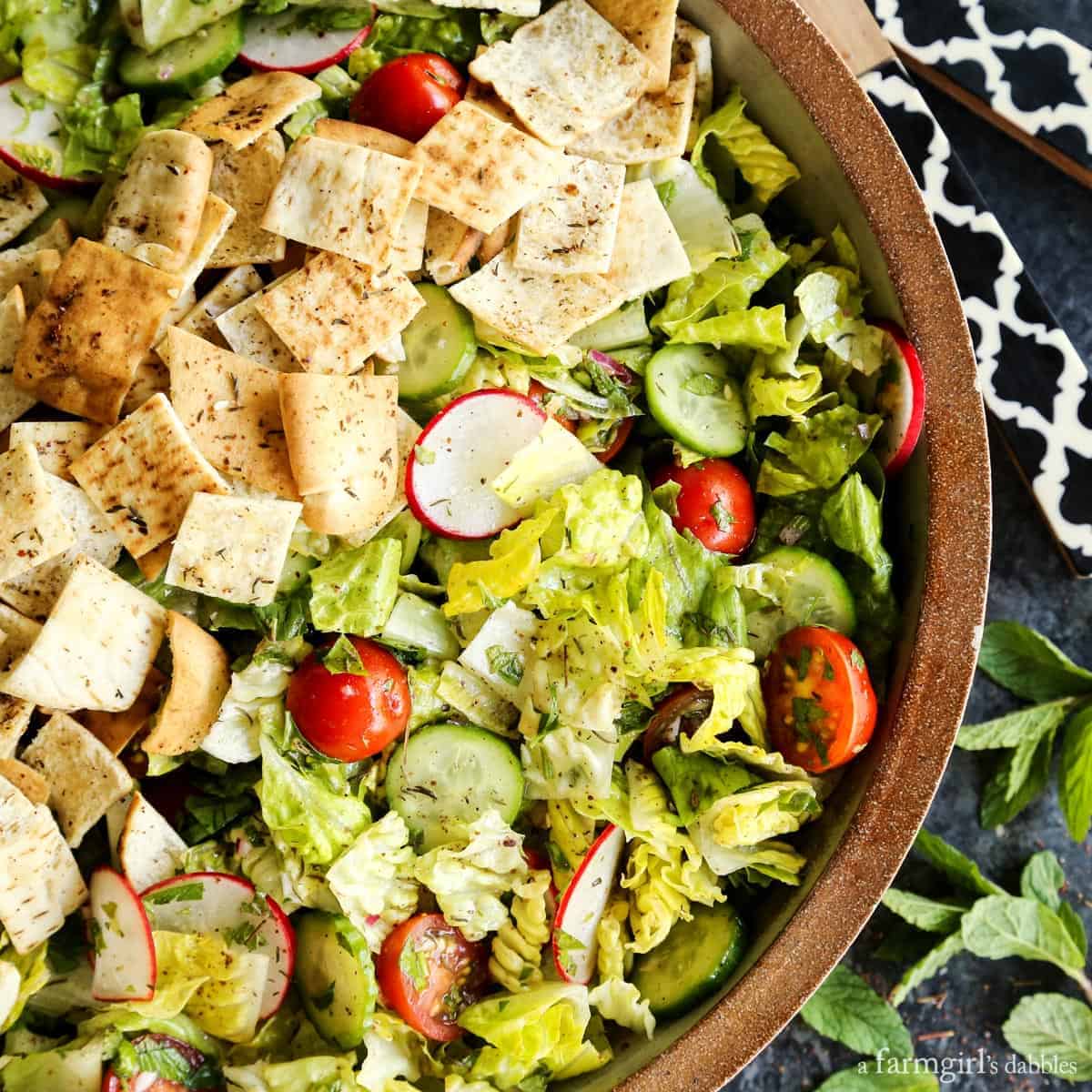 Serving Suggestions
If I might suggest a main entree for this salad, here are some great choices:
I also like to serve some hummus alongside this salad, for dipping the little toasted pita chips in. Our family likes some soft pitas as well, for tearing and dipping into the hummus and swiping up the salad. Oh, so good!!
How to Store
Once you toss it with the vinaigrette, this Lebanese salad should be enjoyed immediately. Otherwise, the lettuce will get soggy, along with the pita chips.
If you want to make it ahead or plan to have leftovers, keep the vinaigrette, pita chips, and salad stored separately. The vinaigrette will be best when eaten within 5 days, but the salad and pita are best enjoyed within 24 hours.
More Fresh Salad Recipes:
Like this recipe? Save it to Pinterest!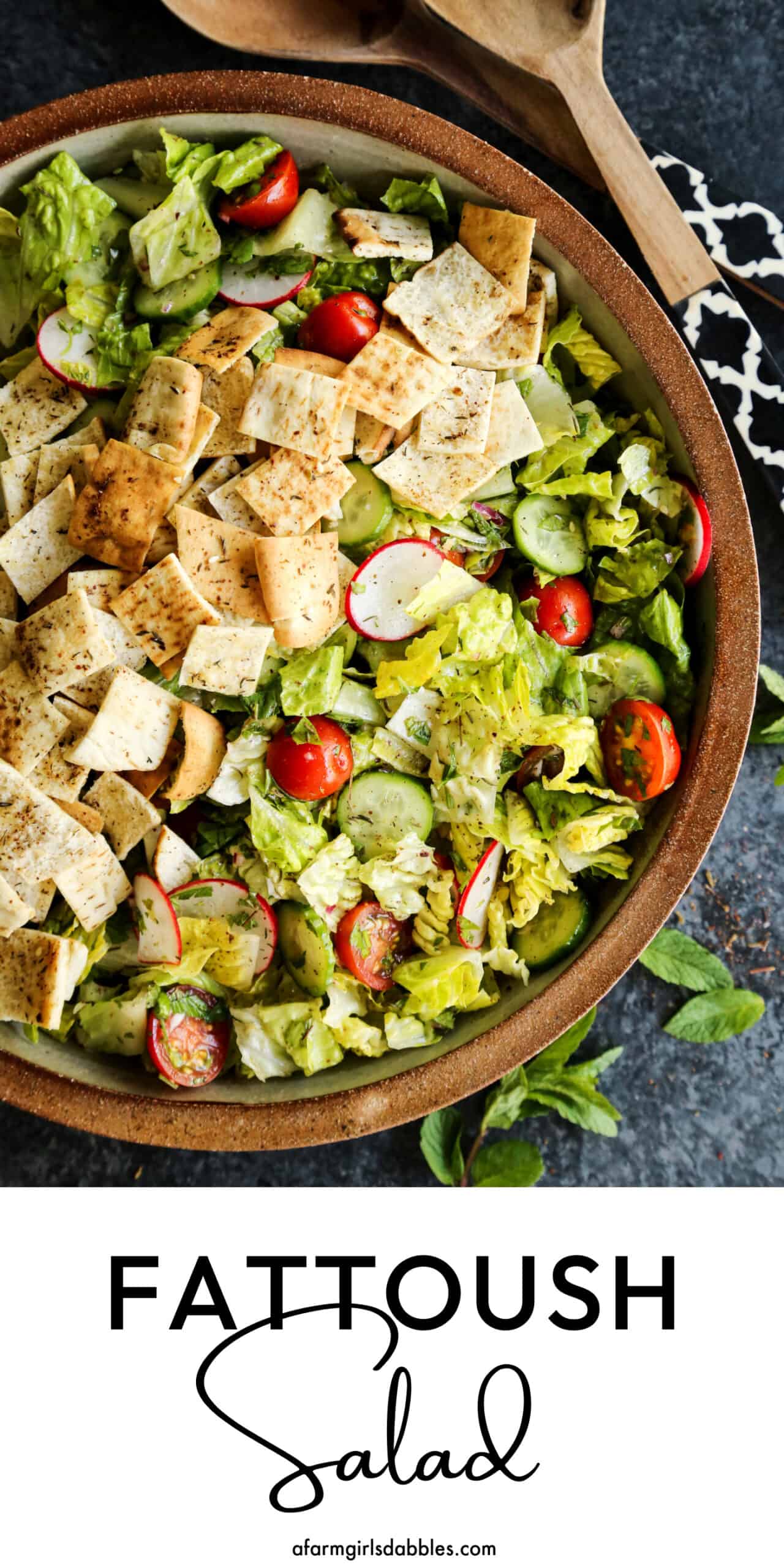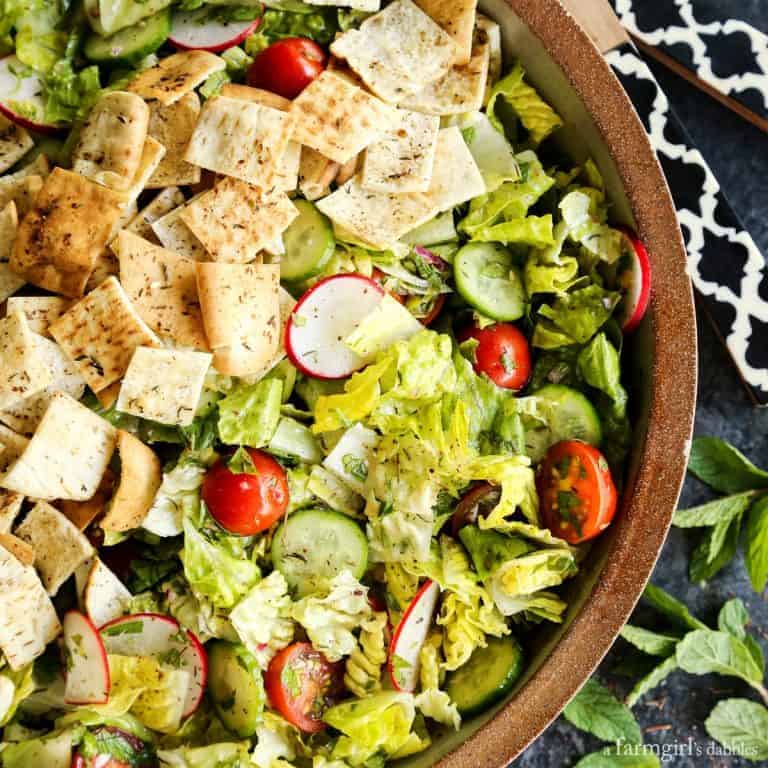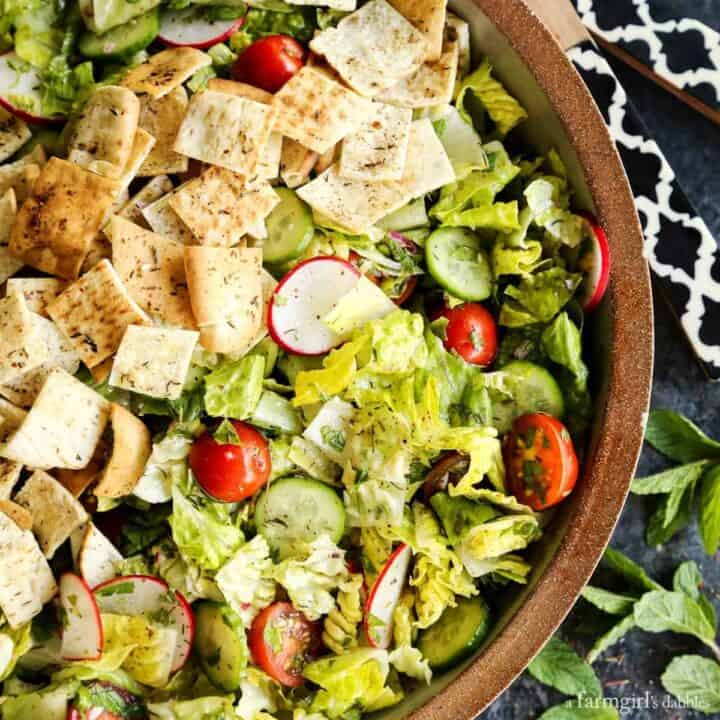 Fattoush Salad
Yield: 6 servings
Prep Time: 5 minutes
Cook Time: 10 minutes
Total Time: 15 minutes
Topped with seasoned pita and a zesty vinaigrette, Fattoush Salad is a fresh, bright, and flavorful Lebanese Salad. It's light yet filling, perfect for summer days, and makes a great side dish to everything from steak to chicken!
Ingredients
for the toasted pita chips:
2 pita pockets (6" to 7" in diameter), split in half horizontally to equal 4 thin rounds
olive oil
2 tsp. za'atar
1/2 tsp. kosher salt
for the vinaigrette:
1/3 c. extra-virgin olive oil
1/2 c. red wine vinegar
1/4 c. freshly squeezed lemon juice
2 garlic cloves, minced
1 tsp. sumac
1/4 tsp. kosher salt
for the salad:
8 c. chopped romaine lettuce (I like 1" to 2" size pieces)
1.5 c. halved cherry tomatoes
1/4 c. minced red onion
3 small to medium radishes, thinly sliced
2 Persian cucumbers, thinly sliced
1/2 c. coarsely chopped fresh mint leaves
1/2 c. coarsely chopped fresh flat parsley leaves
1 tsp. za'atar
flaky sea salt
freshly ground black pepper
Instructions
for the pita chips:
Preheat oven to 350° F.
Spray large rimmed baking sheet very lightly with non-stick spray and set aside.
Very lightly brush olive oil over both sides of each round of pita. Cut into 1" to 2" pieces and spread evenly on baking sheet. Sprinkle pieces with half the za'atar and half the kosher salt. Fold and then sprinkle with the remaining za'atar and kosher salt. Spread pieces out evenly on pan. Bake for 10 to 12 minutes, or until fragrant and nicely browned. Remove from oven to cool completely.
for the vinaigrette:
In a small to medium bowl, whisk together all vinaigrette ingredients. Set aside.
for the salad:
In a very large bowl, combine lettuce, tomatoes, red onion, radishes, cucumbers, mint, and parsley. Gently toss to combine. Drizzle some of the prepared vinaigrette over the salad and then fold to coat evenly. Drizzle more of the vinaigrette over the salad and fold again. Add more vinaigrette as needed or serve extra on the side.
Transfer salad to serving bowl. Sprinkle with za'atar and a bit of flaky sea salt and freshly ground black pepper. Arrange toasted pita chips over the top and serve immediately.
Notes
inspired by the fattoush salad we enjoyed at the Grand Cafe in Colon, Panama
Nutrition Information:
Yield: 6
Serving Size: 1
Amount Per Serving:
Calories: 232
Total Fat: 15g
Saturated Fat: 2g
Trans Fat: 0g
Unsaturated Fat: 12g
Cholesterol: 0mg
Sodium: 559mg
Carbohydrates: 22g
Fiber: 4g
Sugar: 4g
Protein: 4g
Nutrition information is automatically calculated by Nutritionix. I am not a nutritionist and cannot guarantee accuracy. If your health depends on nutrition information, please calculate again with your own favorite calculator.
.
Our Panama Canal Cruise Excursion Experiences
* This is a sponsored post, created in partnership with Princess Cruises.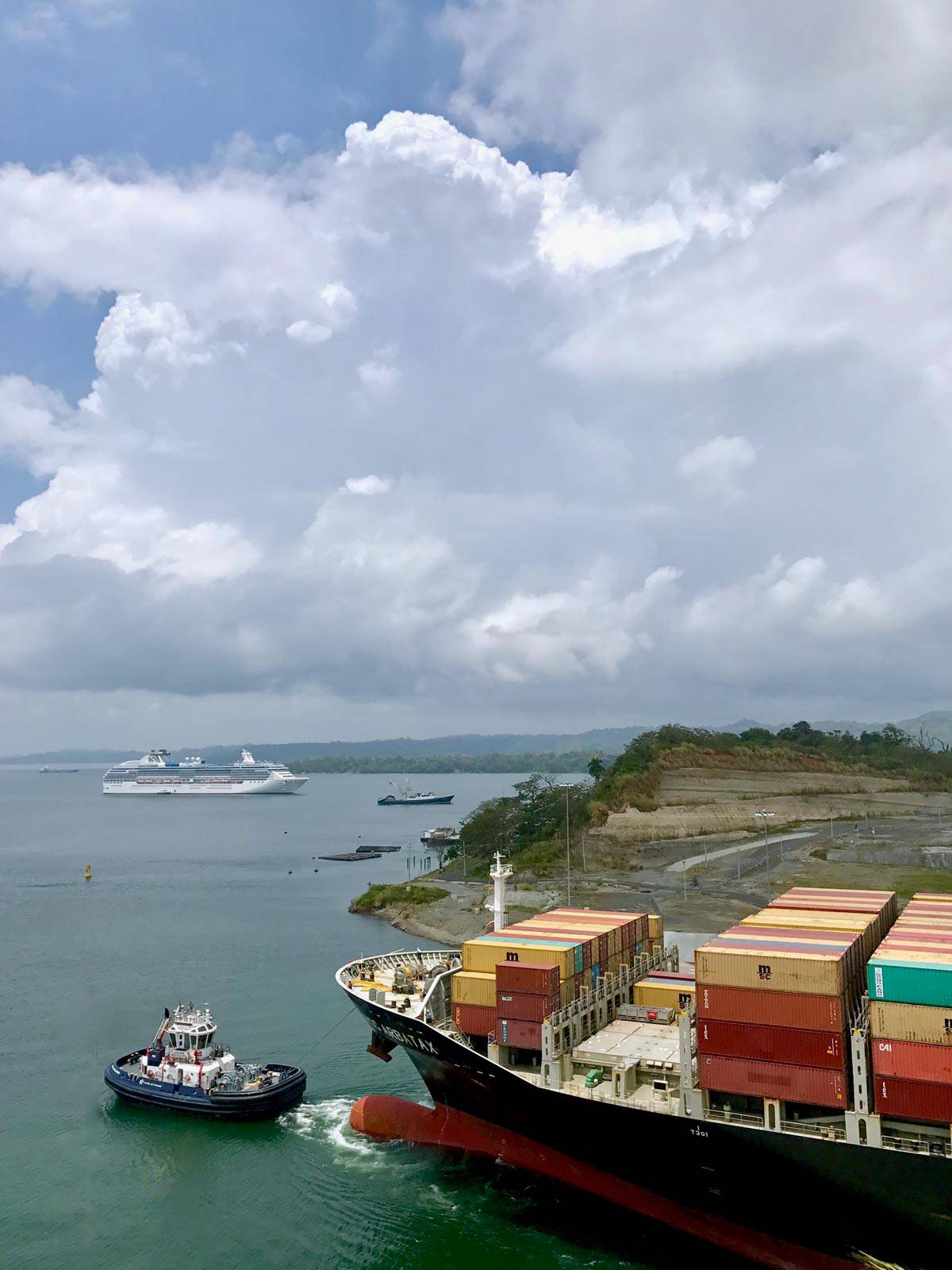 PANAMA
I recently shared about my family's Panama Canal cruise with Princess Cruises, highlighting our best tips for cruising in general and cruising the canal. You can read all about our experience here.
In this post, I am going to highlight what we did at each port of this 10-day cruise, roundtrip Ft. Lauderdale. Our ship, the Coral Princess, stopped at Aruba, Colombia, Panama, Costa Rica, and Jamaica – such a fabulous itinerary!
For this cruise, the highlight was of course the Panama Canal itself. The excursion that we chose here was one that included an up-close look of each of the locks on the Caribbean side, the new Agua Clara Locks (photo above – just opened in 2016 to allow larger ships to pass) and the historic Gatun Locks.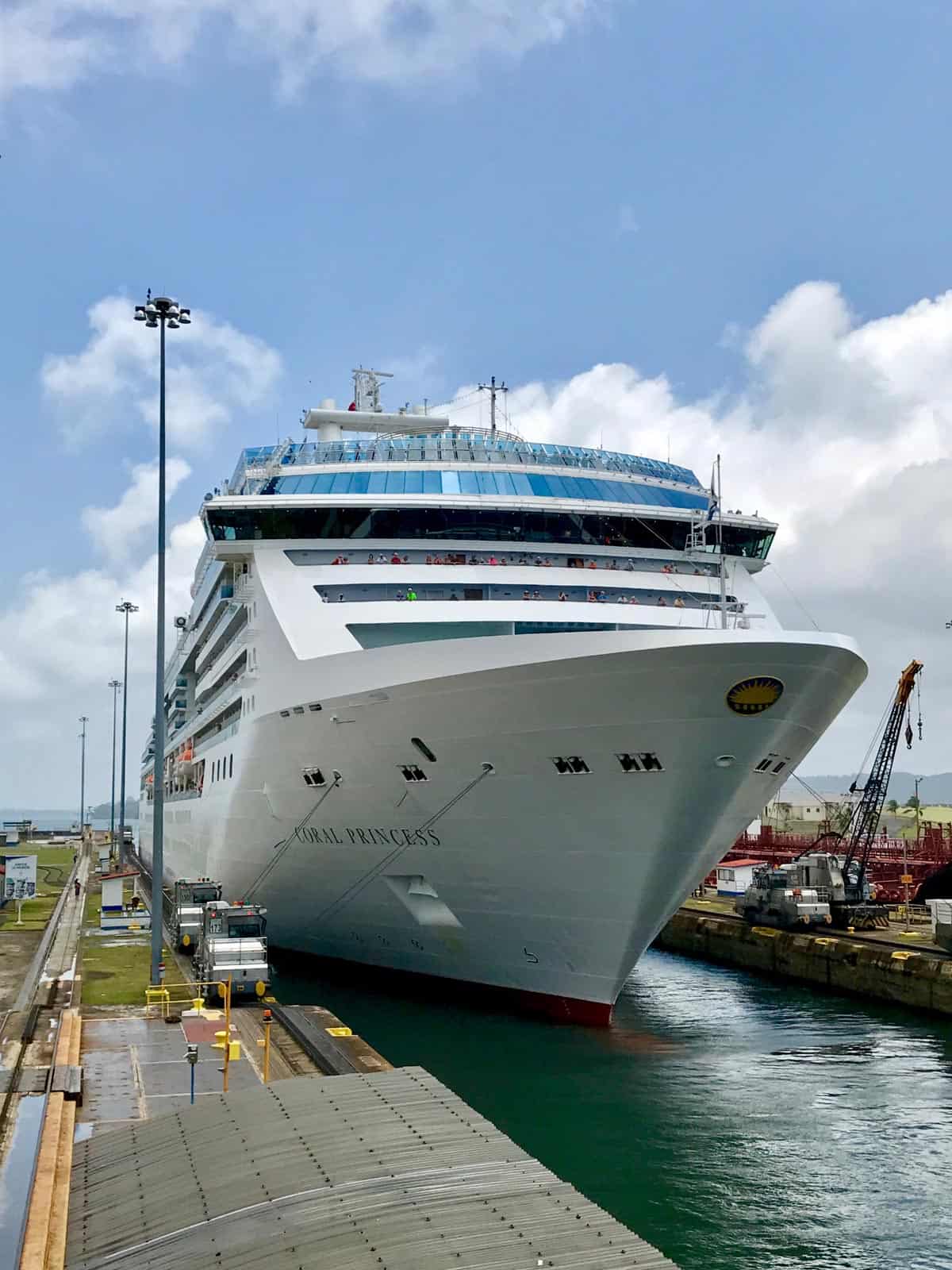 At the Gatun Locks we had the great timing of being able to watch our own ship, the Coral Princess, pass back through the locks. This was definitely a highlight of this excursion for our family.
To read more about our experience on this Panama Canal excursion, go here.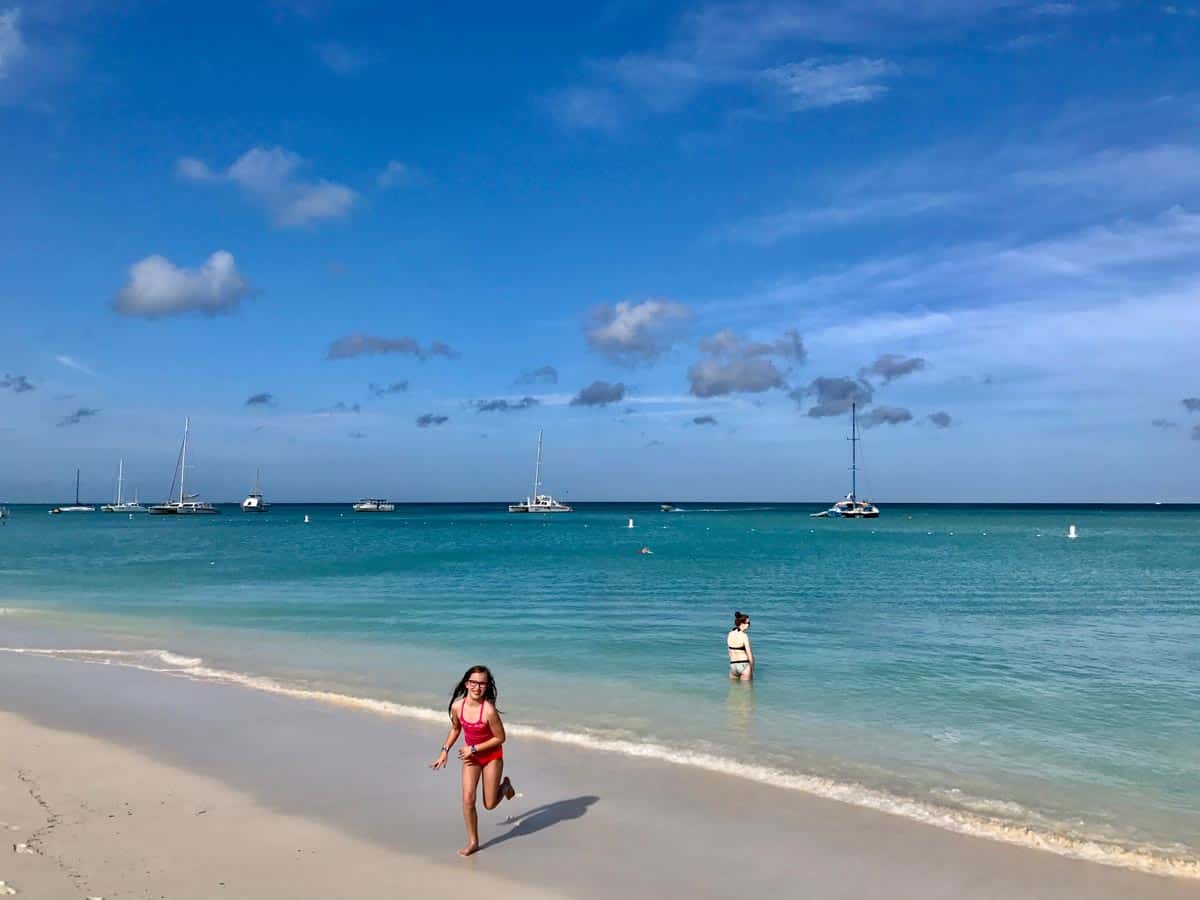 ARUBA
Our family was so excited that Aruba was on this cruise itinerary. We had visited this small island just the year prior and had fallen head over heels for its warm turquoise waters and excellent white sand beaches.
On our previous visit, we explored much of the island with an open-air Land Rover tour. It was a super fun experience that allowed us to take in the island's history and great landscape diversity, a tour that our family would recommend again and again.
But what stuck with us the most was how much we enjoyed just playing in Aruba's stunning waters. So when we had the awesome opportunity to visit this island on our Panama Canal cruise, we knew that all we really wanted to do was head to the beach.
From our past visit, we knew we were comfortable with getting around Aruba on our own. It's a safe and happy kind of place. So we grabbed a cab for a short ride to Palm Beach.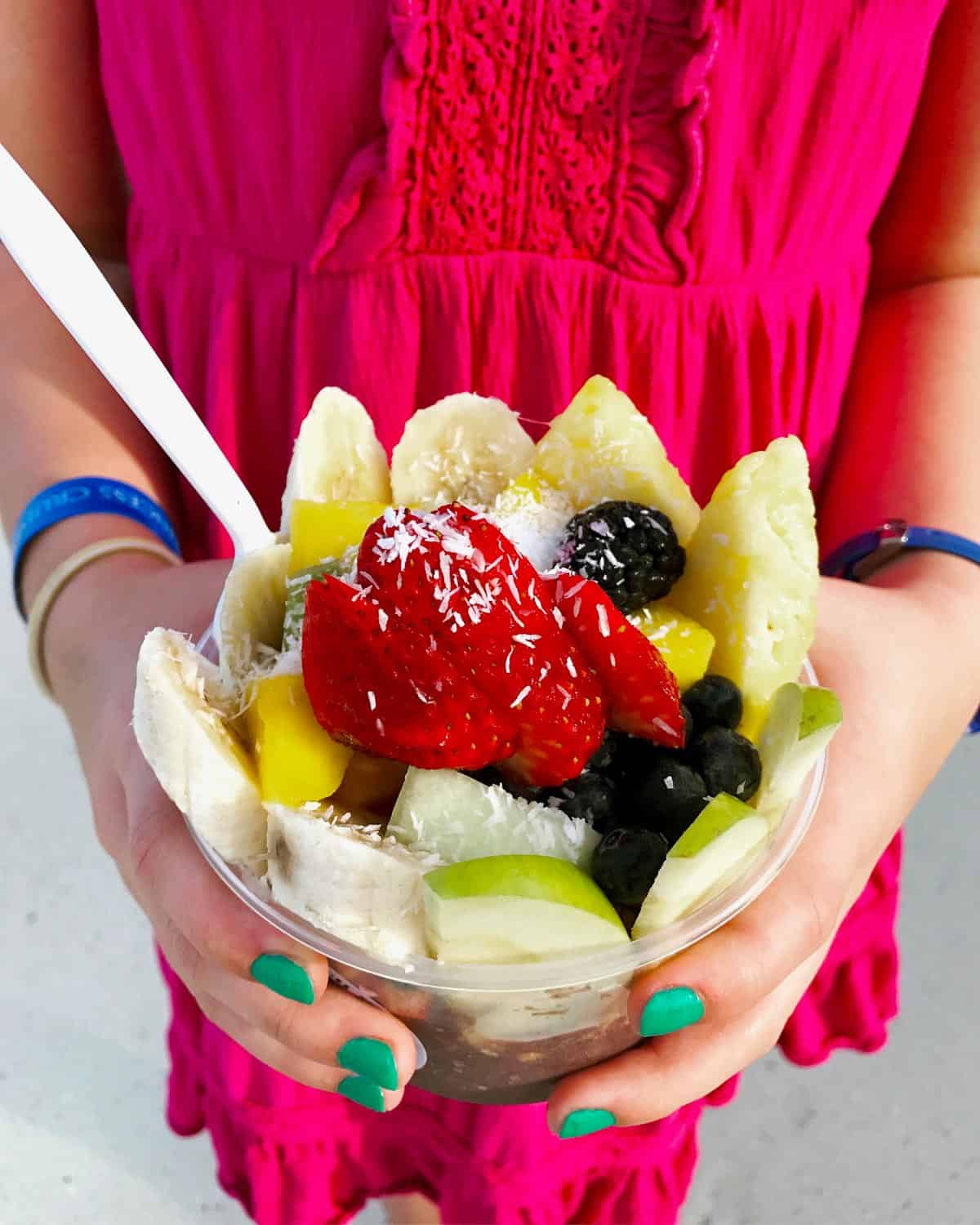 I did a little research before we left home, to find a place on the beach to grab something to eat. Eduardo's Beach Shack was a place that the girls and I desperately wanted to seek out.
This little beach shack was amazing, serving gorgeous fresh fruit smoothies, fresh vegetable juices, acai bowls, and jumbo protein balls. The photo above is the fully loaded raw acai bowl.
So. Good. !!!!!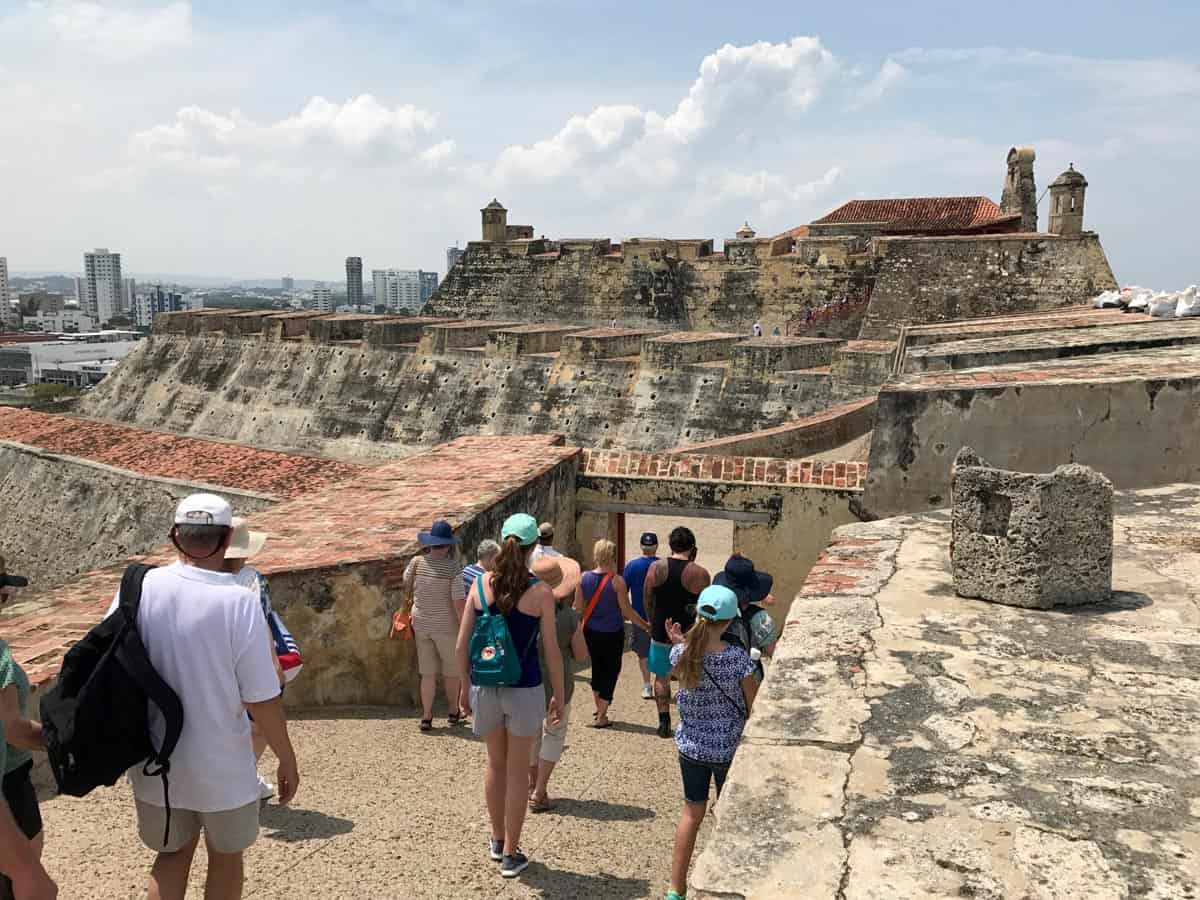 COLOMBIA
We were also excited to visited Cartagena, Colombia, to touch ground on the mainland of South America for our first time. The excursion that we chose included a day full of variety.
We started with a tour of Castillo de San Felipe de Barajas, a fortress built by the Spanish for protection against pirates while shipping gold out to Europe. The fort sits majestically on a hillside overlooking the harbor and city, providing a striking contrast of this historic and modern seaport.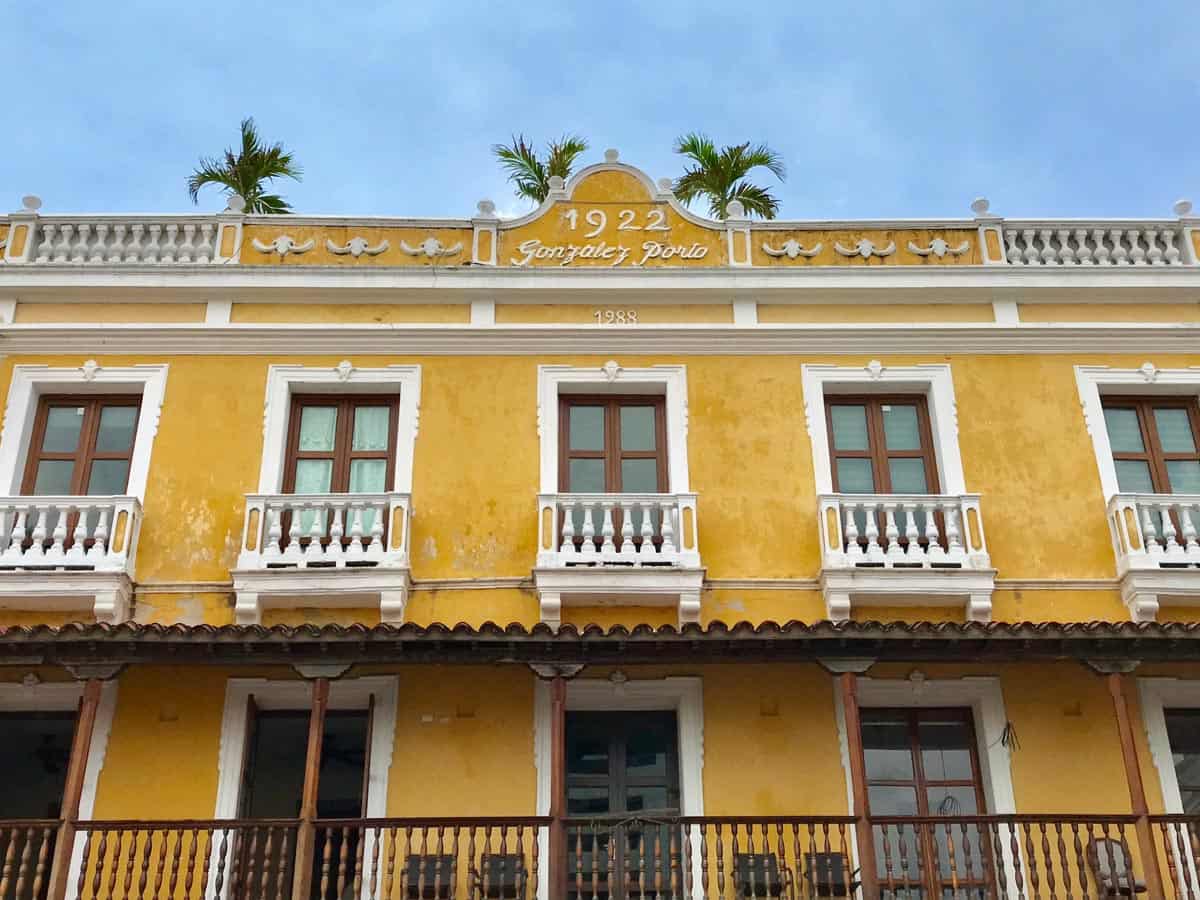 Then we walked the quaint narrow streets of the famous "Old City". Lined with colorful buildings of Spanish Colonial architecture, we had the opportunity to shop and eat, and to just "watch life".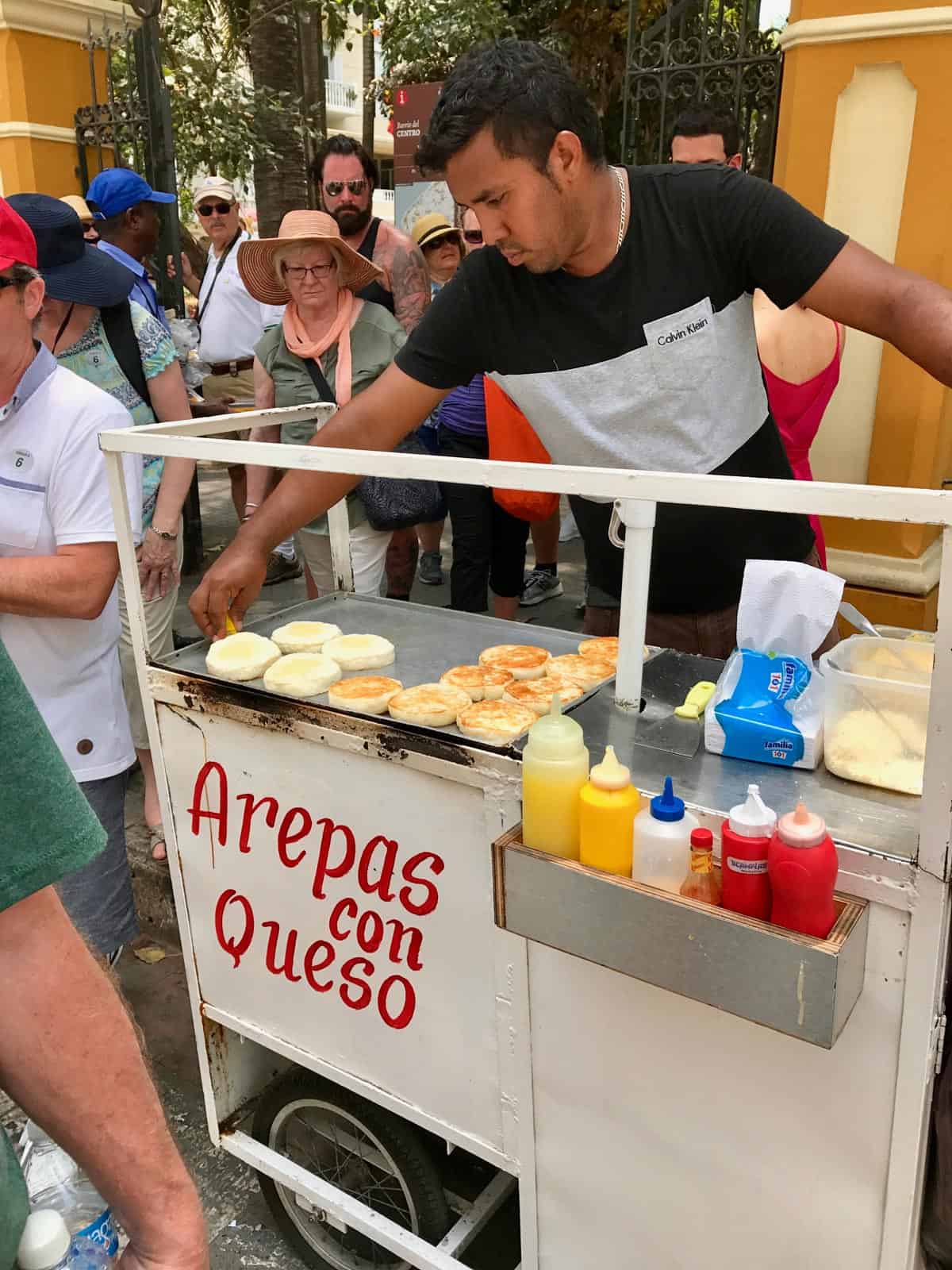 I especially liked taking in the Colombian culture, watching the street entertainers and seeing what the food vendors had to offer.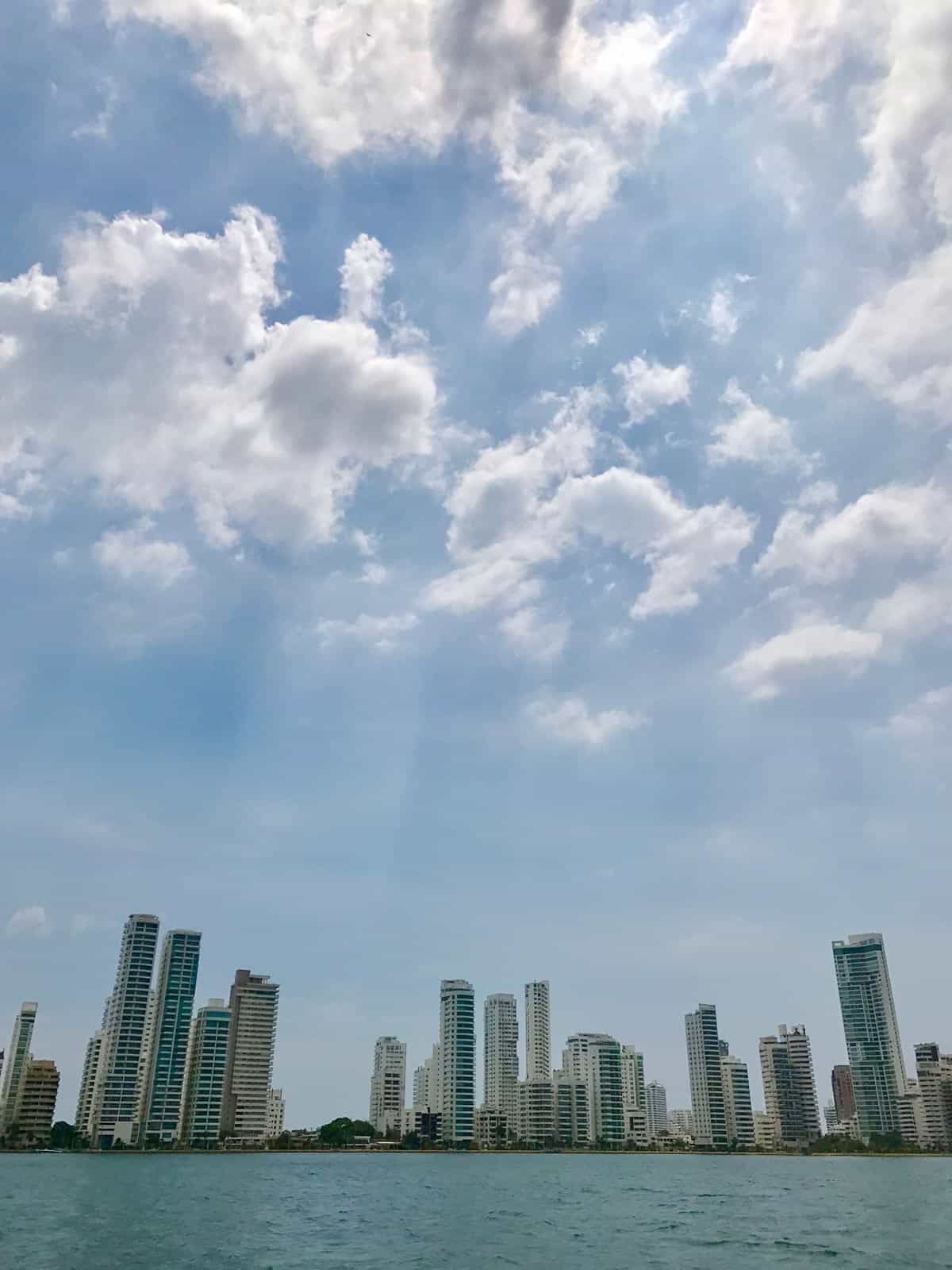 Then we boarded a speed boat for a view of the city from the harbor. Being so close to the equator, in the sweltering heat all day, this portion of the tour out on the water definitely felt refreshing. It also offered a very different perspective of Cartagena.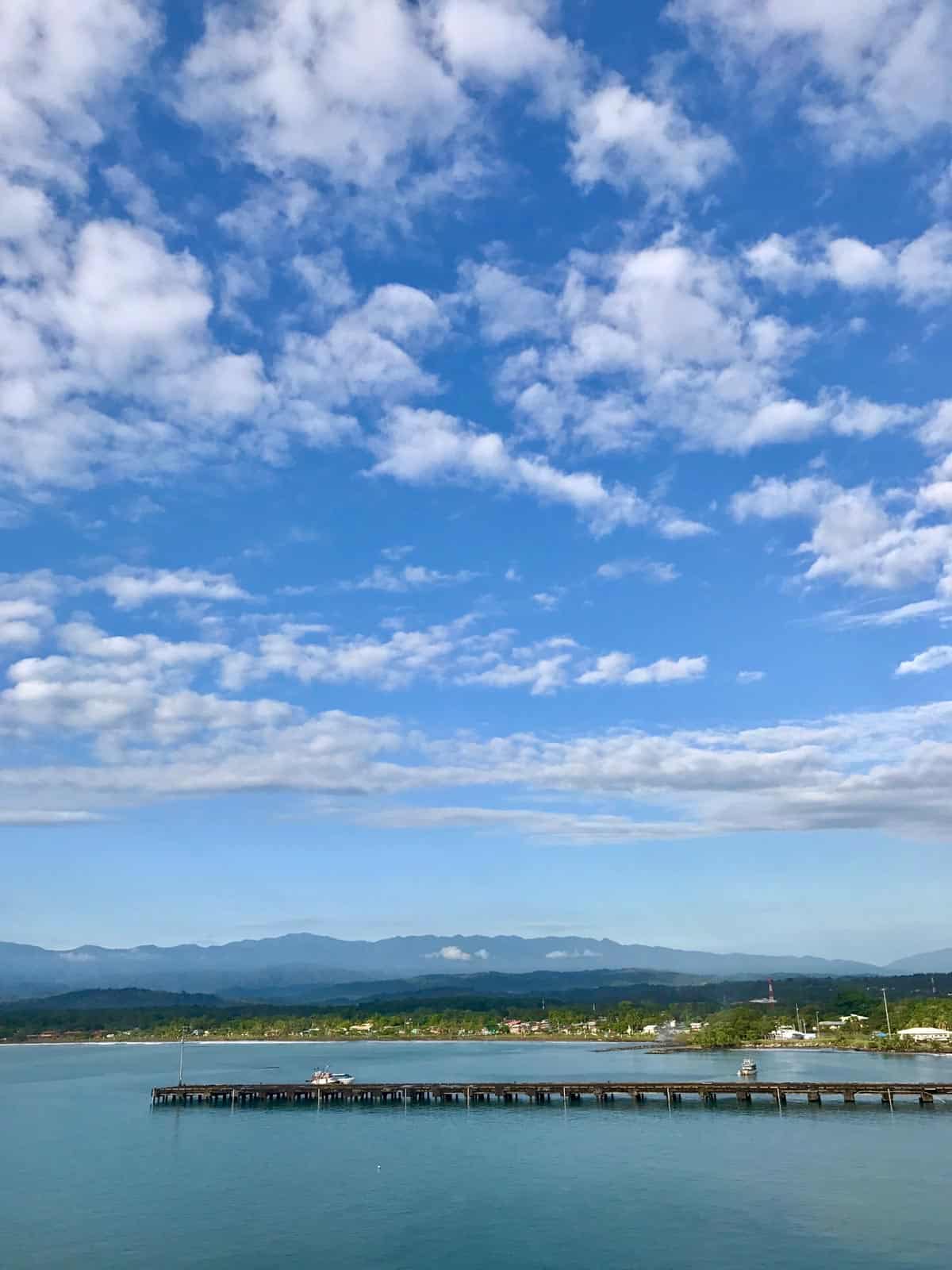 COSTA RICA
Blake and I added Costa Rica to our travel bucket list a couple years ago, so we were very much looking forward to this stop.
Our ship docked at the port of Limón, Costa Rica's bustling capital city, on a 125-mile stretch of Caribbean Sea shoreline between Panama and Nicaragua. The scene is lush and tropical, with everything from white sand beaches to dense rainforest to towering mountains.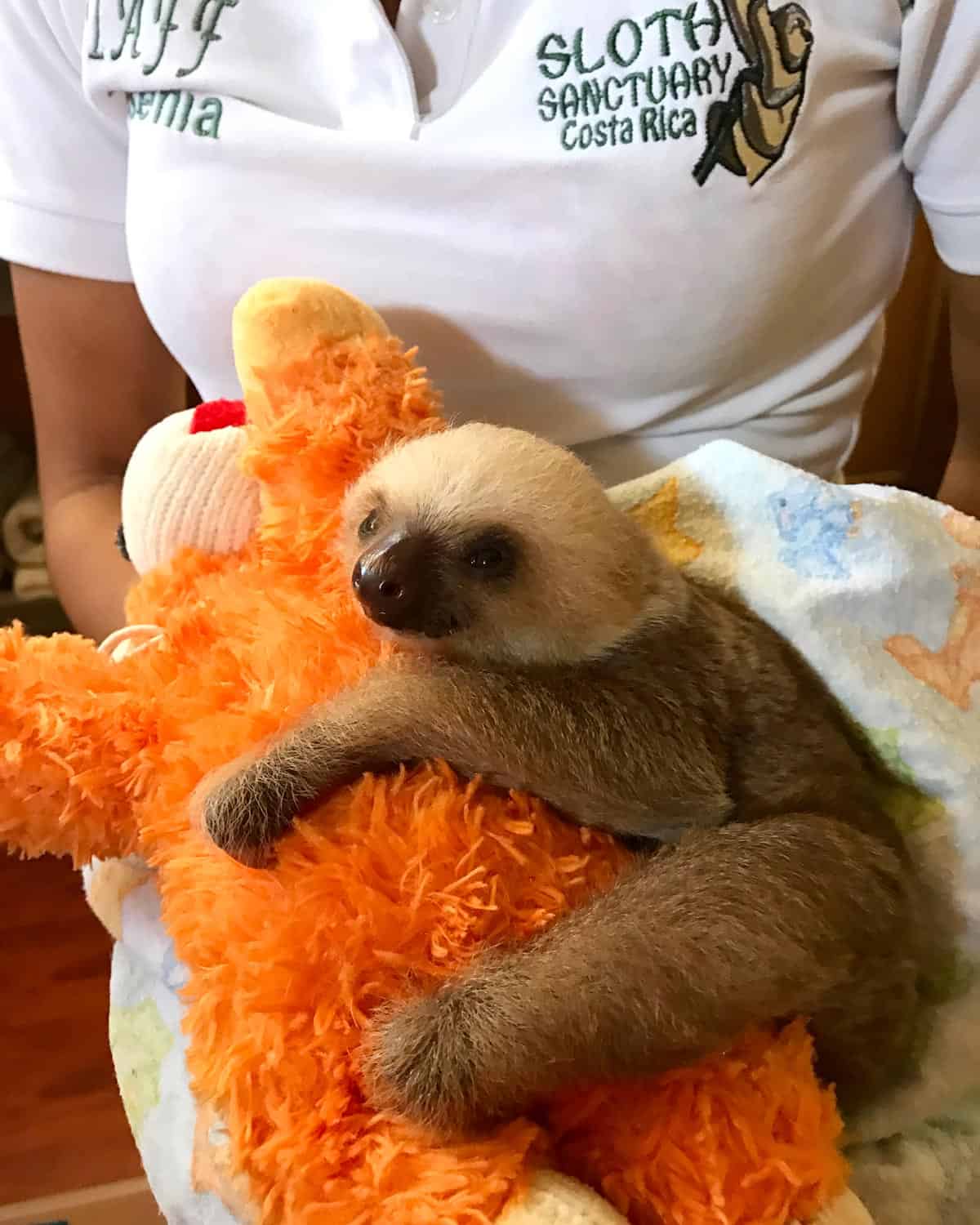 The excursion we chose at this port was to visit the Sloth Sanctuary. This Animal Planet Exclusive Sloth Sanctuary excursion is offered only through Princess Cruises, giving Princess guests an immersive experience in a small-group setting.
Our family came away from this experience with a whole new appreciation for sloths. You might even say we're fans!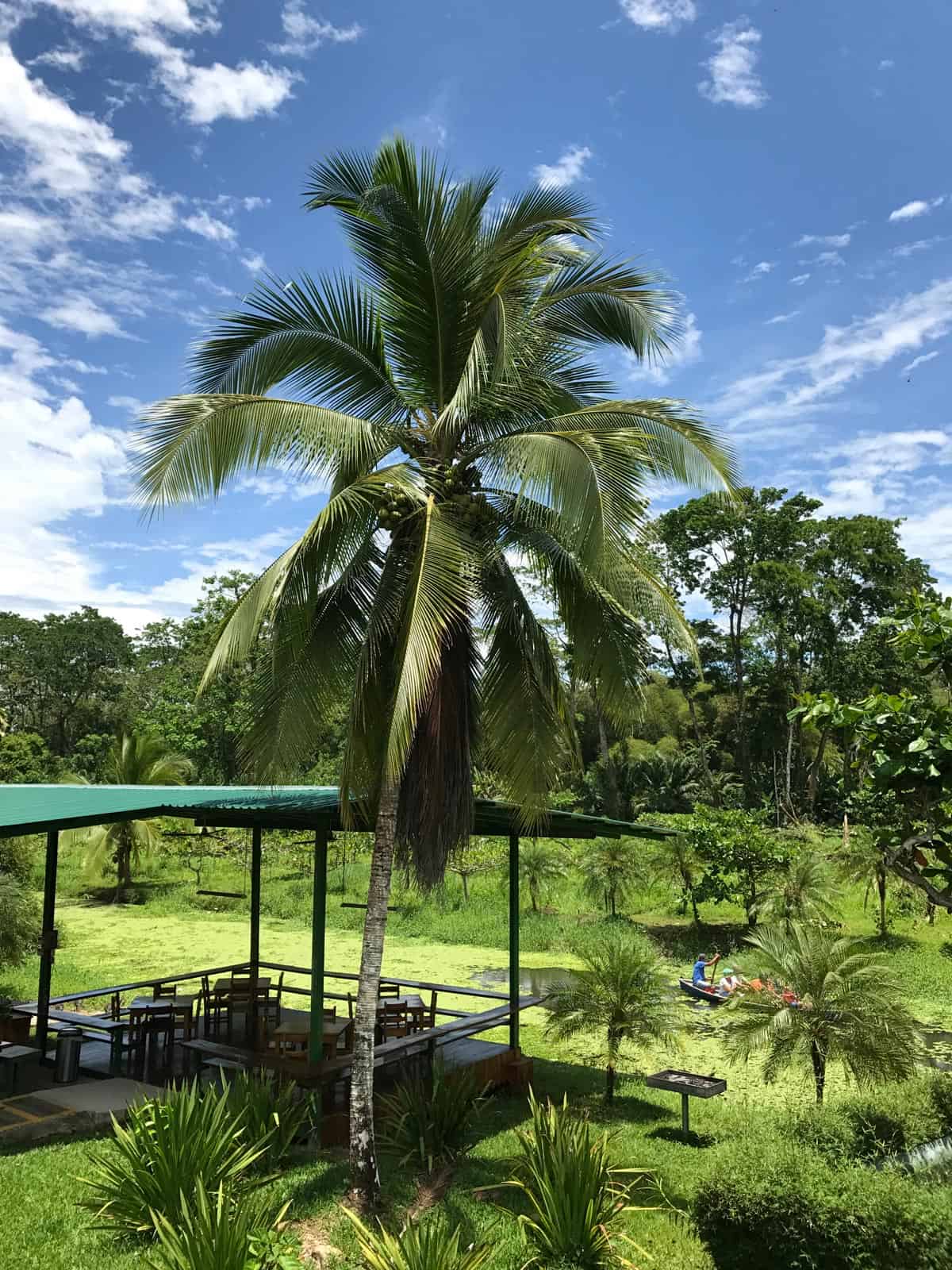 Princess Cruises offers two different excursions at the Sloth Sanctuary. We chose the longer one, which took up the majority of our time at the port of Limón. Besides taking in a very interesting tour of the sloths, we were able to relax with lunch along the river (under the roof in the photo above) and a canoe ride.
To read more about our experience at Costa Rica and the Sloth Sanctuary, go here.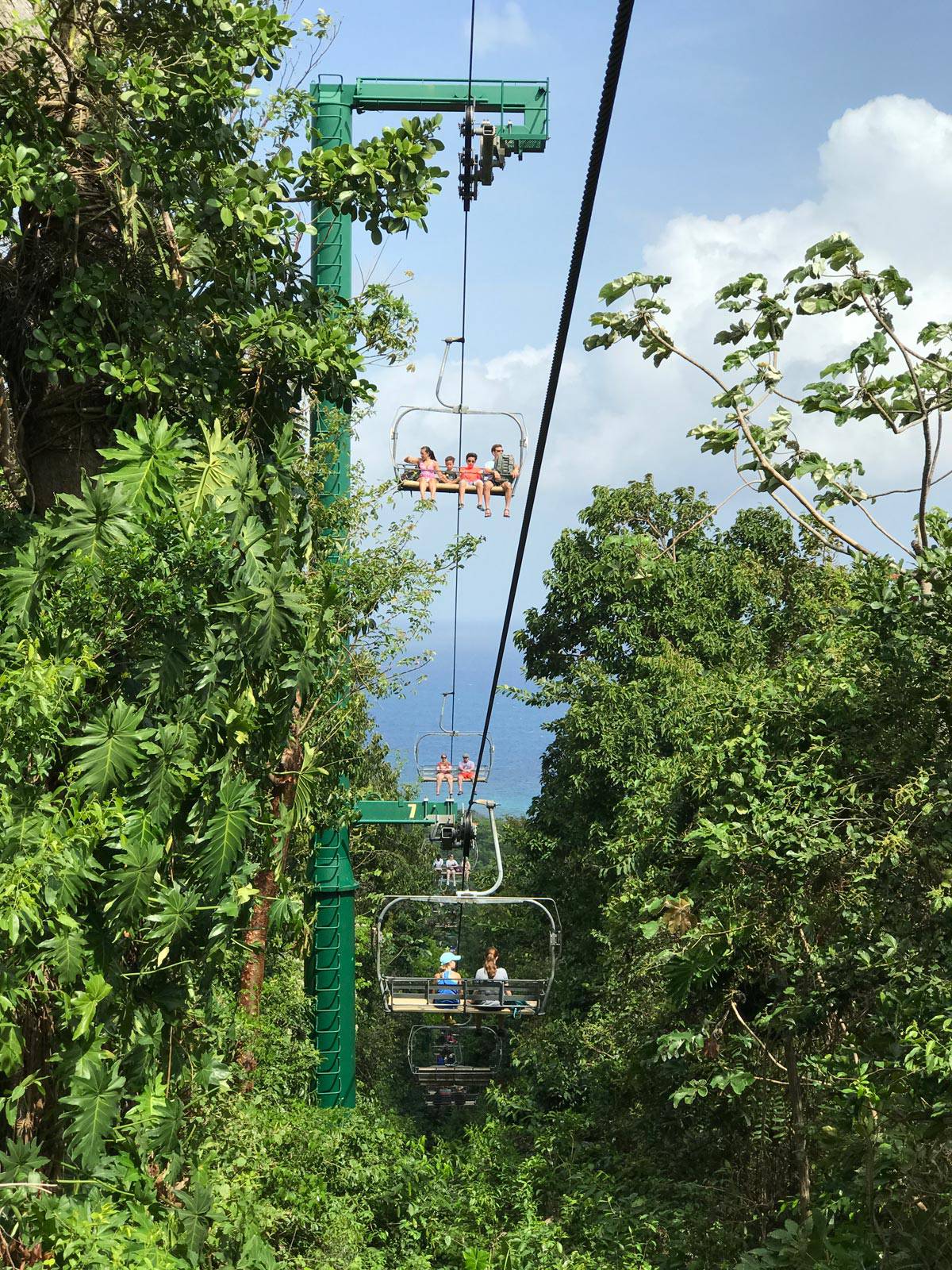 JAMAICA
This is the stop where our family had the most all-out fun.
We chose an excursion that included a chairlift ride up through the jungle canopy to the top of a mountain.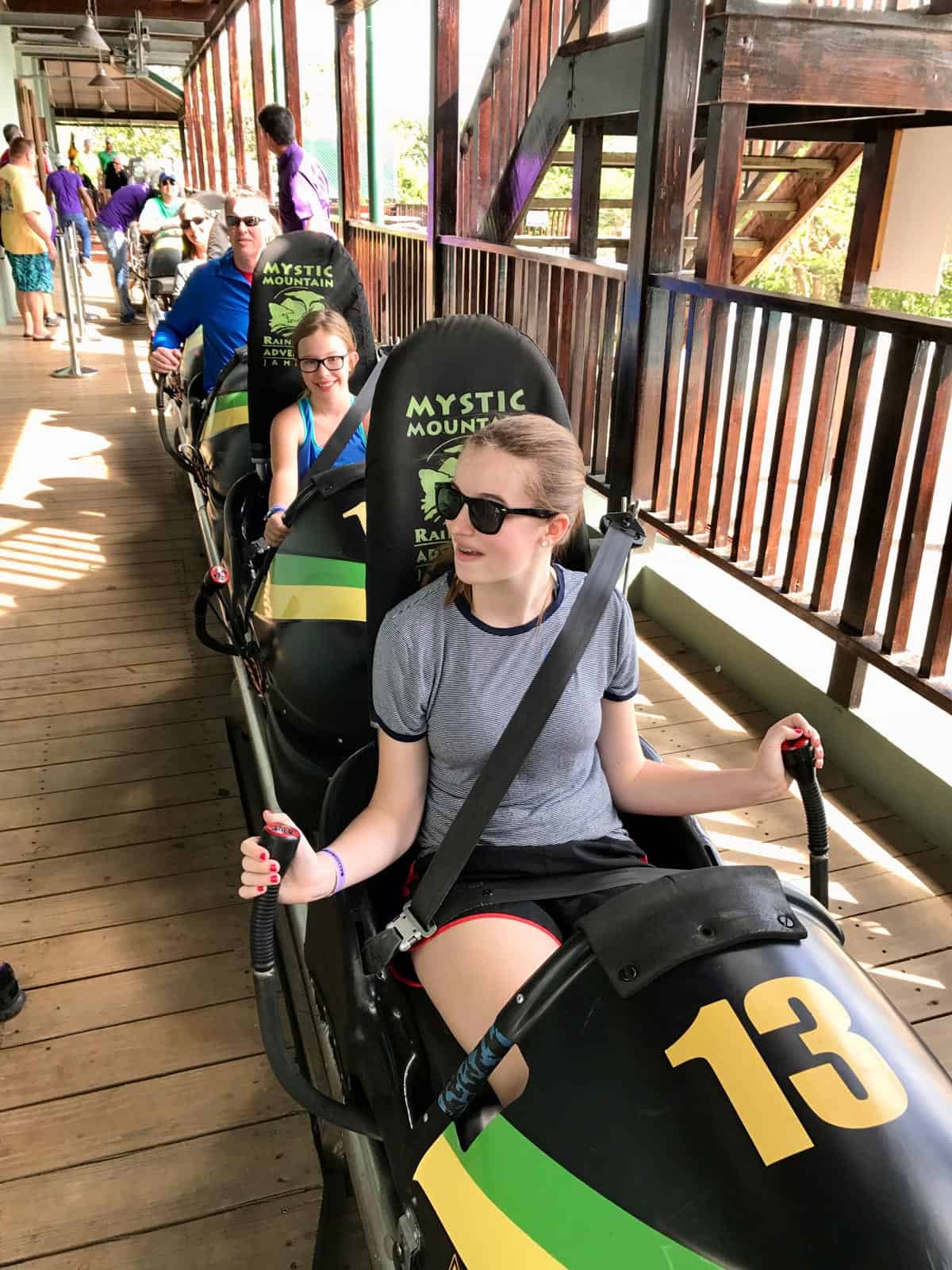 Then we strapped ourselves into bobsleds for an incredibly fast ride back down. I rode behind Blake, who never touched the brake the whole way down. He says he's never heard me scream so loud, for so long. Ever. I just was not expecting that kind of a ride, thinking I was actually going to be able to video it. But I quickly shoved my phone in my pocket, for fear of losing it.
All of us had a blast. We wanted to take another ride on the bobsleds, but knew we'd run out of time to catch the next piece of our Jamaican adventure.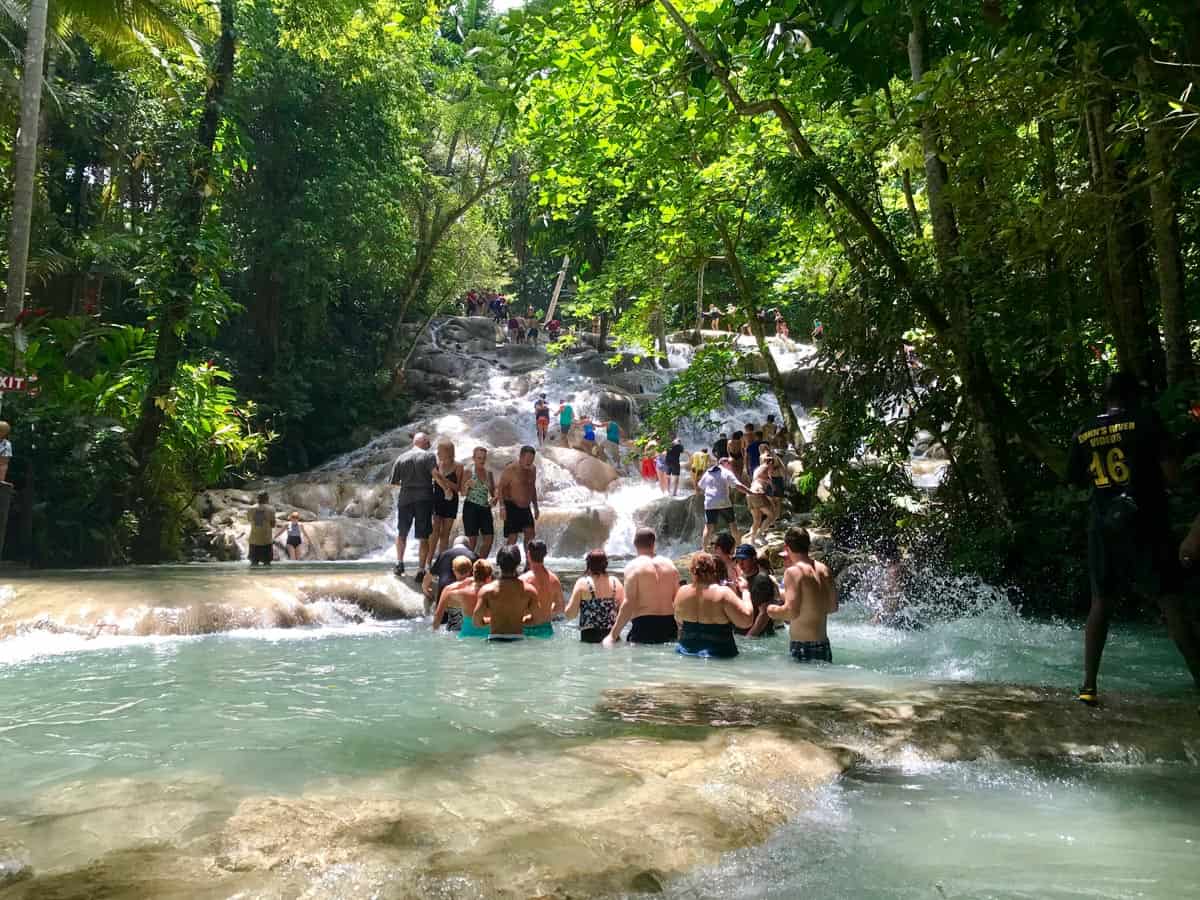 Next was Dunn's River Falls, a 900′ tall cascading waterfall. We formed a hand-held chain with visitors from around the world as a guide led us from the shores of the Caribbean to the top of the falls.
This was an absolutely beautiful and thrilling experience, definitely a highlight of our trip.
We could not contain our smiles and laughter. It was such a great day for our family!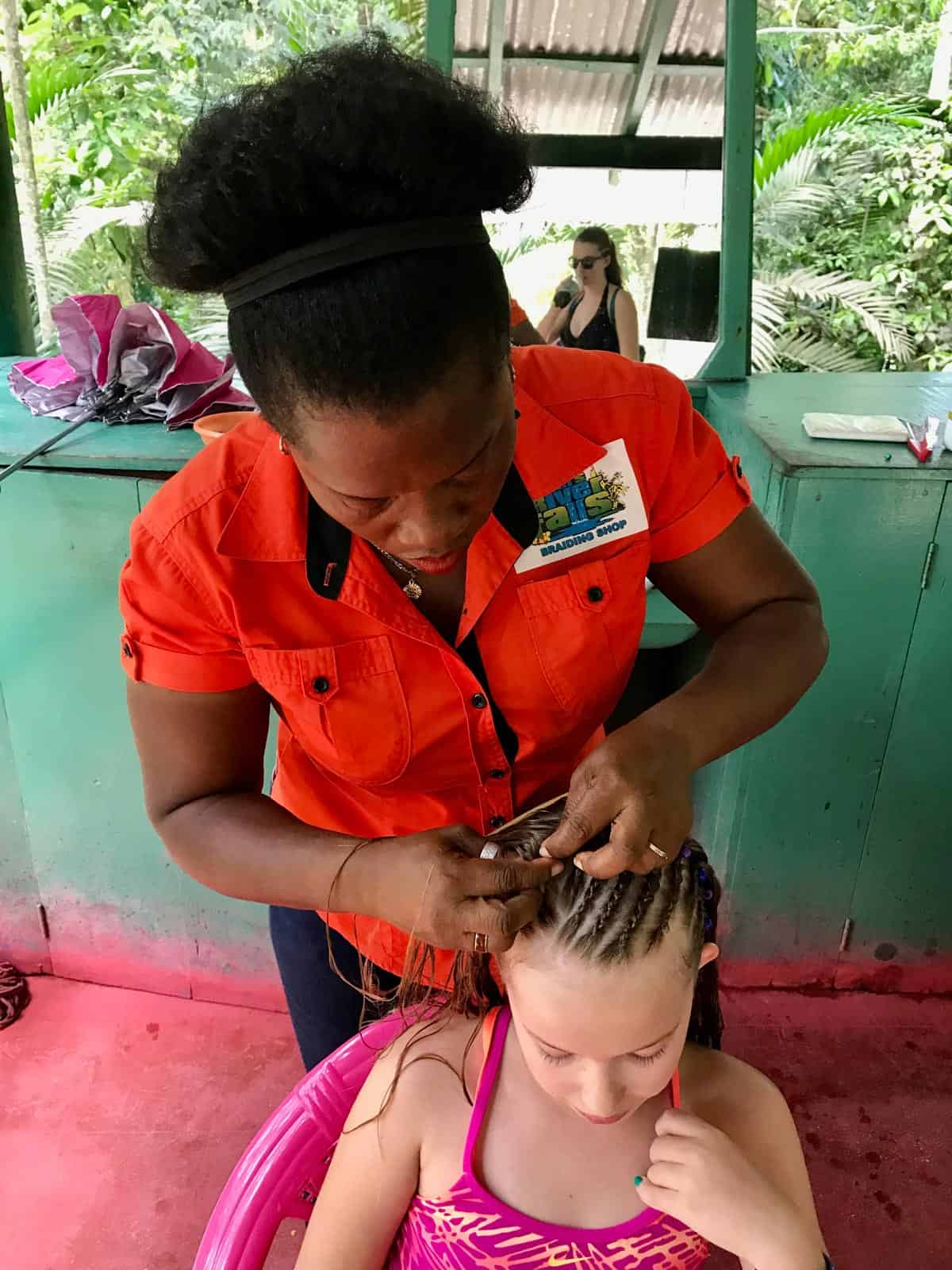 Blake and I always try to involve our girls in the planning of our vacations, to give them a say in how we spend our time. At the falls, Tessa was able to cross an item off her own travel bucket list: getting cornrow braids in Jamaica. Check!
.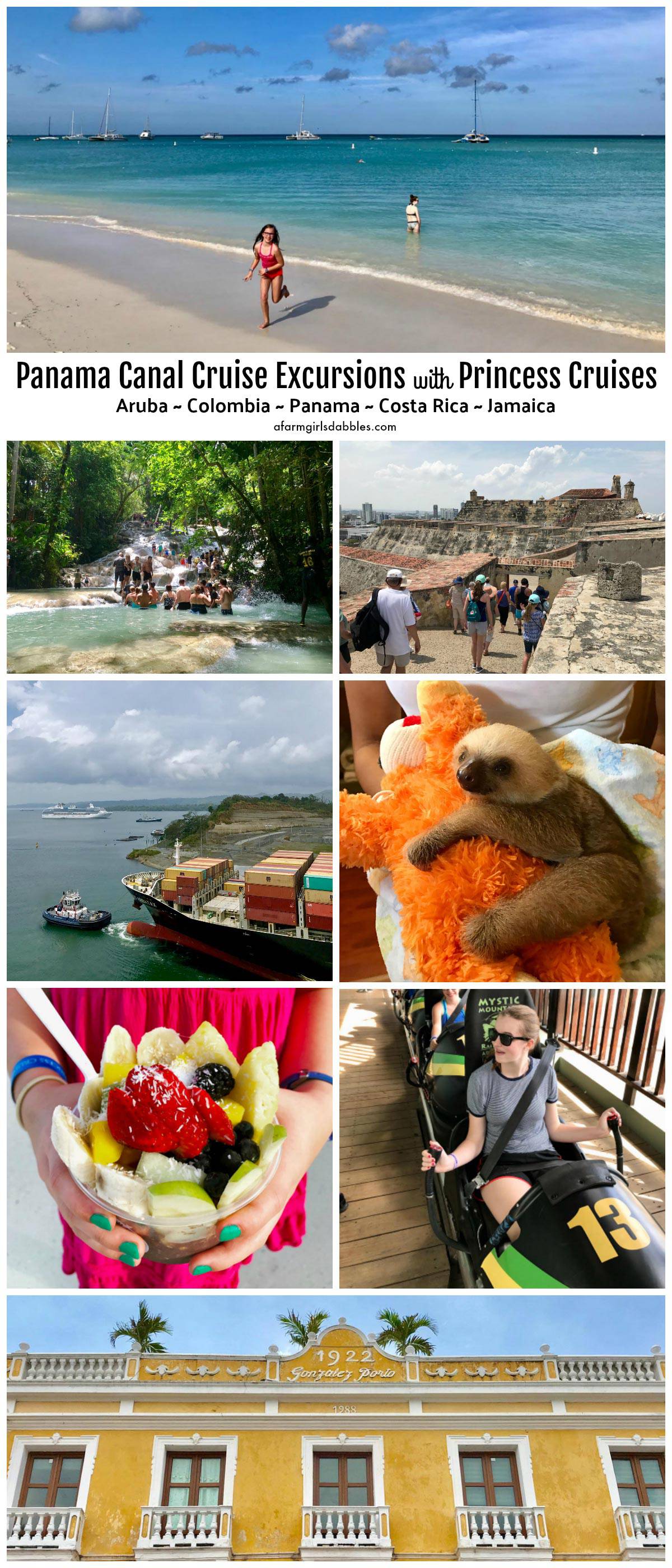 Princess Cruises offers a variety of excursions at each port. Here are a few more posts from travel mates aboard this same Panama Canal cruise: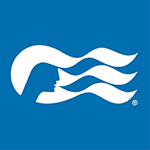 Visit Princess Cruises on their web site. You can also find them on social media on Facebook, Twitter, Instagram, and Pinterest.
For more of our own personal experiences with Princess Cruises (we also visited Alaska!), visit these posts:
Disclaimer: This trip was sponsored by Princess Cruises. Our family was honored to be guests of Princess Cruises on this cruise to the Panama Canal, and we are grateful for the opportunity to share it all with you. This post was originally published in 2017. The recipe portion of the post was updated in 2022.