10 Tips for Planning Your Alaska Cruise
Are you heading to Alaska? Read these 10 Tips for Planning your Alaska Cruise!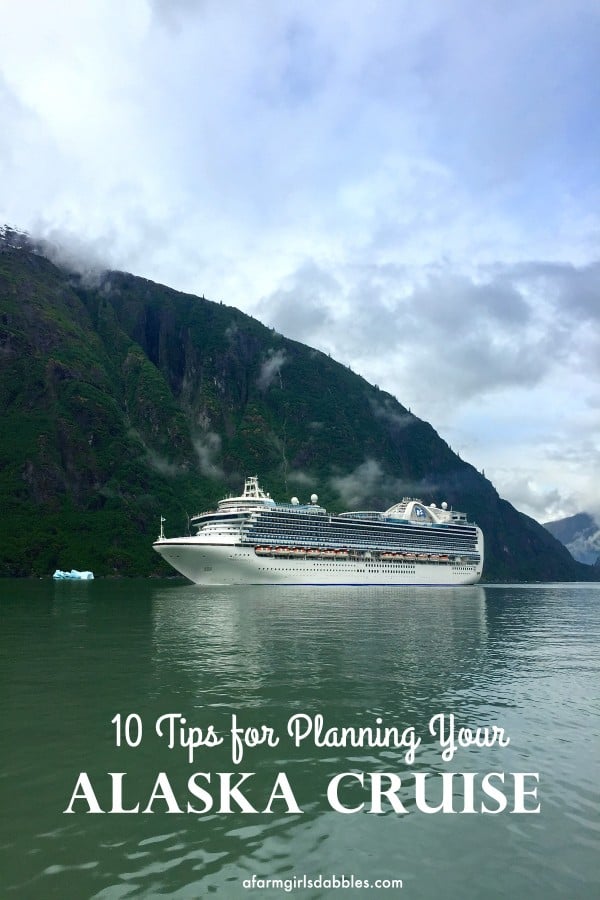 Blake and I just took the trip of a lifetime with Princess Cruises. For seven days, we enjoyed the hospitality of Princess along with the scenic beauty and grandeur of Alaska. It was an AWEsome experience that loaded up my brain with magnificent memories and super-charged my curiosity to keep on exploring this big, beautiful world.
This was my first cruise ever. And Blake had only been on one, more than 30 years ago. So you could consider us both newbies to cruising. This was also our first trip to Alaska.
If an Alaska cruise is on your personal bucket list (it sure should be!), I hope this post helps you start planning and big-time dreaming. I've included the fundamentals that made our trip go smoothly, plus a few extra tips we learned along the way. Get your own trip of a lifetime started with these 10 Tips for Planning Your Alaska Cruise.

Also, be sure to read our other posts from this Alaska cruise:
…
1. Have a current passport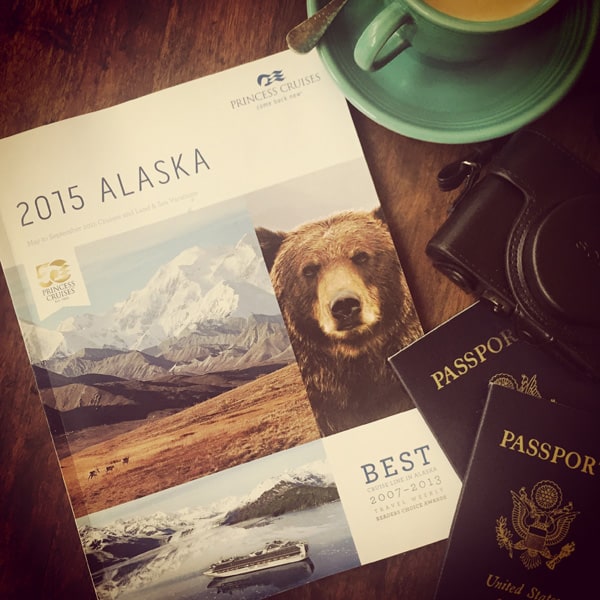 First things first.
Alaska cruise itineraries with Princess include porting in either Victoria or Vancouver, British Columbia. In order for you to book one of these cruises, you must have a current passport for stopping in Canada. And getting a passport or renewing a passport is usually not a spur-of-the-moment kind of thing. You need to plan ahead.
2. Select a cabin with a balcony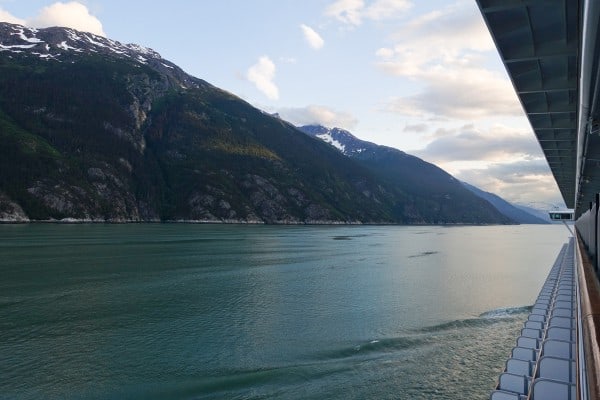 Some things are just worth spending a little extra money on, and a balcony cabin is worth everything when cruising Alaska.
The favorite part of our days was opening up the balcony door, still groggy with sleep, to see how the scenery had changed overnight. Rolling into a new port early each morning, the balcony scene was hushed and peaceful, with other guests emerging onto balconies here and there, cups of hot coffee in hand.
Sleeping in is always a bonus while on vacation, but I beg you to not miss the early mornings on the balcony during your Alaska cruise.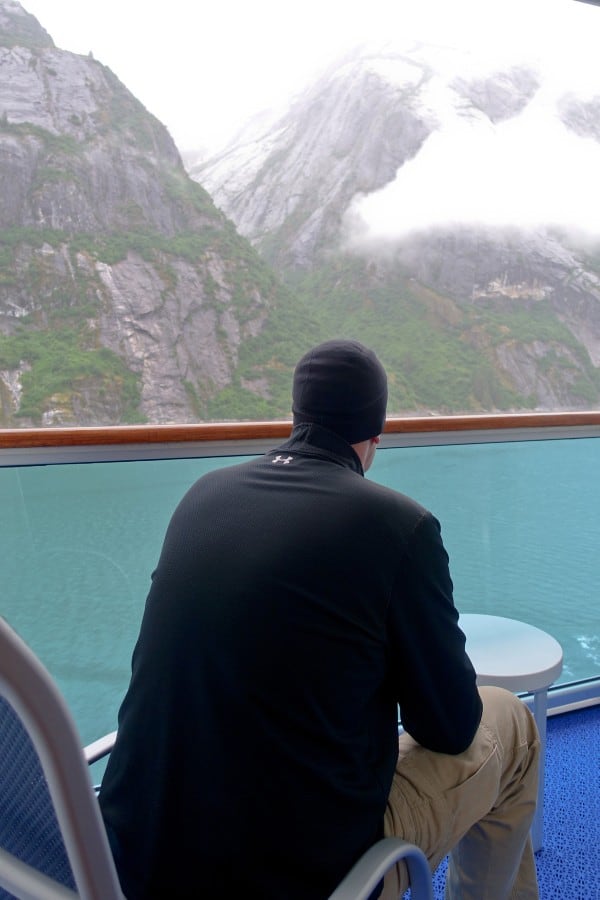 Blake spent a good amount of time out on our balcony, simply enjoying the beauty of Alaska. And keeping his eyes peeled for sightings of whales and dolphins. Oh yes, we saw them!
3. Book your excursions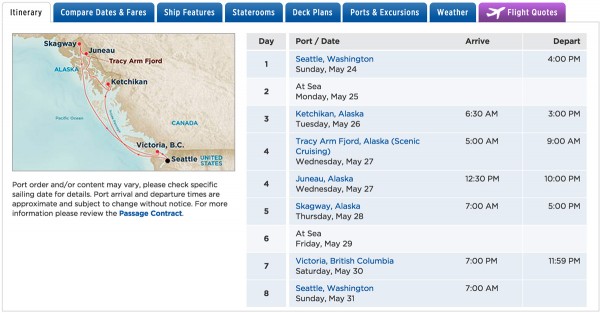 An Alaskan cruise calls for excursions at the ports. I say, If you're going to spend the time and money, get out and experience Alaska!
This was our itinerary on the Ruby Princess, a 7-day cruise from Seattle titled "Inside Passage with Tracy Arm Fjord". We mostly traveled during the night, arriving at a new port very early each morning.
The best advice I received for researching ports and excursions was to spend some time at CruiseCritic.com. I found many comments and opinions about various excursions that helped us decide which ones to sign up for.
Be aware that some excursions can, and do, fill up. So if there are any that you know you definitely want to do, be sure to sign up in advance online.
Once you are set with your Princess cruise, it's very easy to line up excursions within your own personal Princess online account. There is also an excursions desk on the ship, with Princess personnel to help you with the excursions sign-up. If you travel on the Ruby Princess, say "hi" to Maria for us at the excursions desk. She was delightful and super helpful.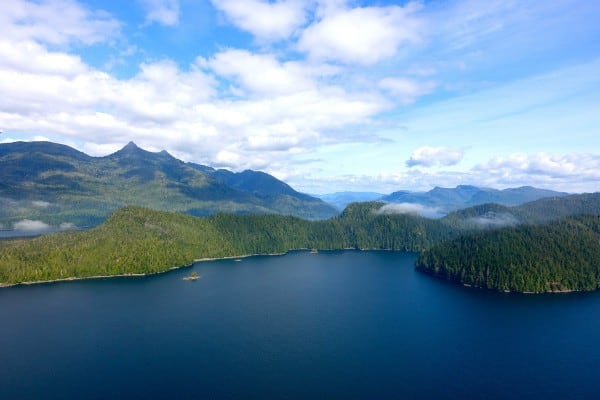 Our first excursion, out of Ketchikan, was flying in a 7-passenger Beaver float plane over Misty Fjords National Monument and Tongass National Forest. Tears in my eyes gorgeous. Choke me up beautiful.
This.
This is the excursion I'd do 1,000 times again.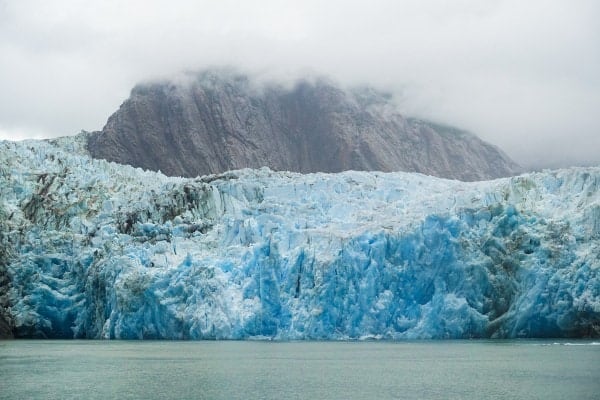 The following morning we left the ship to board a much smaller catamaran that afforded us a closer view of twin Sawyer glaciers in Tracy Arm Fjord.
We even saw a couple calvings, where big chunks of the glacier break off and fall into the water. It's LOUD in the middle of all that perfect silence!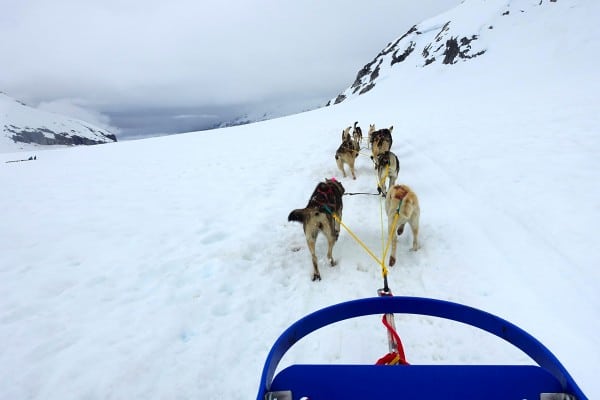 Then we boarded a helicopter (So. Much. Awesome. FUN.) in Juneau that took us up on top of Mendenhall Glacier, where we visited a dog sled camp. And rode on a dog sled. And even drove a dog sled.
Mush!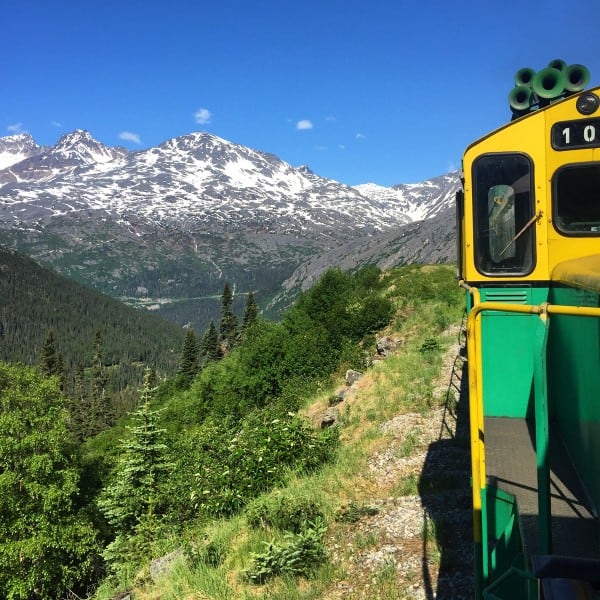 At our northernmost port, Skagway, we boarded the White Pass & Yukon Route Railroad. This train took us up, up, up to the summit of the White Pass, with an elevation just shy of 3,000 feet. The views were breathtaking.
** Please note that our selection of excursions is but a very small choice of all that is available. Others in our group took part in various tours by foot, boat, bus, Hummer, 4-wheeler, plane, helicopter, etc. There's something for everyone.
4. Prepare your wardrobe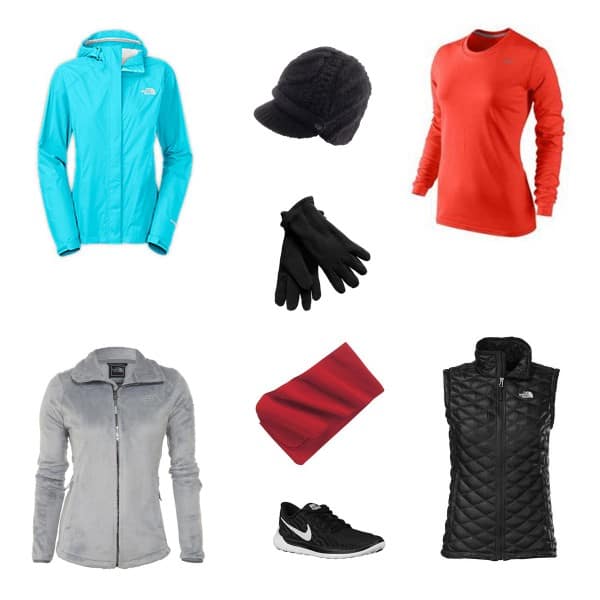 The very best wardrobe advice for the entire Alaska cruise is to dress in layers. I never like being overly cold or hot, and layers let you adjust accordingly.
For excursions (see photo above):
Long sleeve top – This is your base.
Warm coat – This one from The North Face is soft and fuzzy and super warm. It's a great second layer for the chillier days.
Vest – I really like vests, especially this super lightweight yet warm one from The North Face. Vests can be simply layered over a long sleeve top. Or layered over a long sleeve top and warm coat for three layers.
Raincoat – The southern portion of the Alaska trip is actually in a rain forest, so be prepared. Although we experienced very little precipitation during the week, that rain coat was extremely desirable as I stood outside our little boat watching a glacier up close. The coat kept me from getting soaked and provided a buffer from the cool wind. That's layer number four.
Warm hat – I recommend one that covers your ears and has at least a small visor over the eyes. The visor helped keep the rain and drizzle out of my eyes while I was viewing glaciers outdoors.
Gloves – A must for keeping your fingers warm!
Scarf – If you get cold easily and are planning to be on outdoor excursions, I'd recommend packing a scarf, too.
Tennis shoes – A good, sturdy pair of tennis shoes is all Blake and I wore for excursions and we did just fine. If you are planning extensive hiking or prolonged time in the cold or wet, you will probably want to consider hiking boots or another form of warm or waterproof boots.
For time on the ship:
Day – Our time aboard the Ruby Princess was very casual every day. A pair of nice jeans or slacks was great. And even though I felt it was too chilly for wearing shorts, Blake did. Our cruise was in May, and from what I hear shorts are more doable for July and August cruises to Alaska, when they experience warmer temperatures. Also, don't forget to pack a swimsuit and a pair of flip flops for a trip or two to the hot tub!
Night – Our 7-day cruise included two formal nights. We saw people dressed completely to the nines, but more often we saw women wearing nice dresses or skirts and men in sports jackets. The Ruby Princess was definitely flexible with formal, which I appreciated since I don't have any super fancy cocktail dresses.
** An added tip about excursions. The float plane and helicopter rides did not allow purses, backpacks, or bags of any sort on the aircrafts, so don't plan to load up a backpack full of gear to take along. We were allowed to take our phones and camera on the flights, and were asked to leave the rest of our items in a locked area at the flight base. Check with your specific excursion information to know what will be allowed.
5. Research and seek out local eats and drinks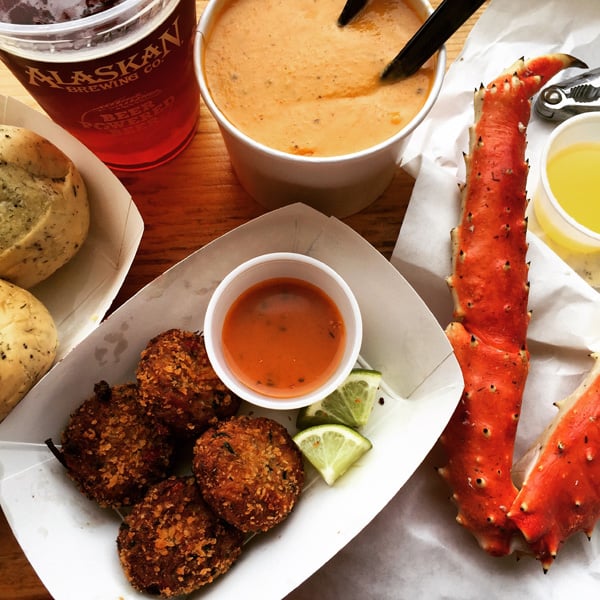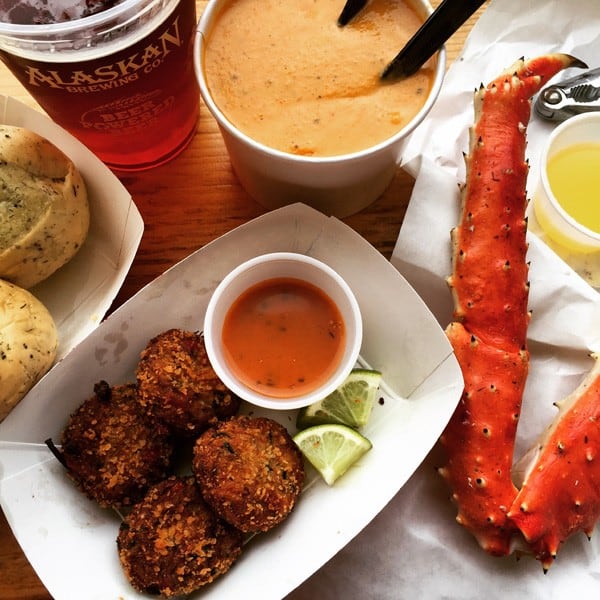 Princess Cruises did a great job of incorporating the local cuisine of Alaska on its menus each and every day.
But I regret not taking more time before leaving Minnesota to research restaurants at each port.
We did alright by asking the locals, though. And we were super grateful to Lindsay and Taylor for texting their recommendation to grab some crab bisque and crab cakes at Tracy's King Crab Shack. They discovered this spot on their Juneau food tour excursion. It's totally casual on the waterfront, offering up piles and piles of fresh, ultra sweet crab. It was so good, we even went back and placed a second order!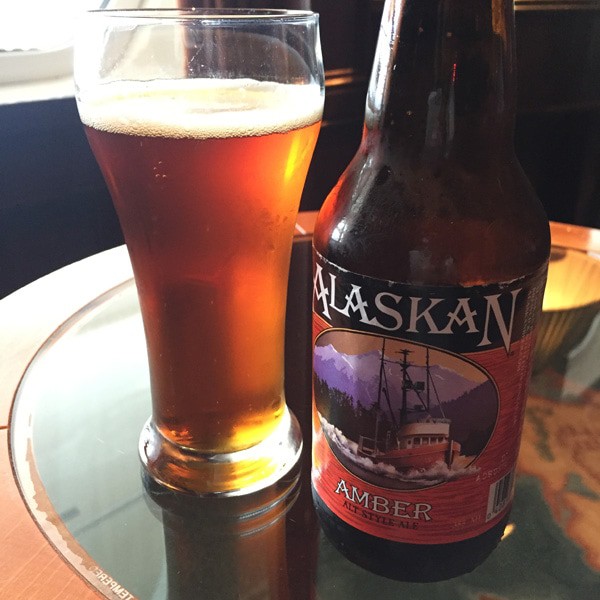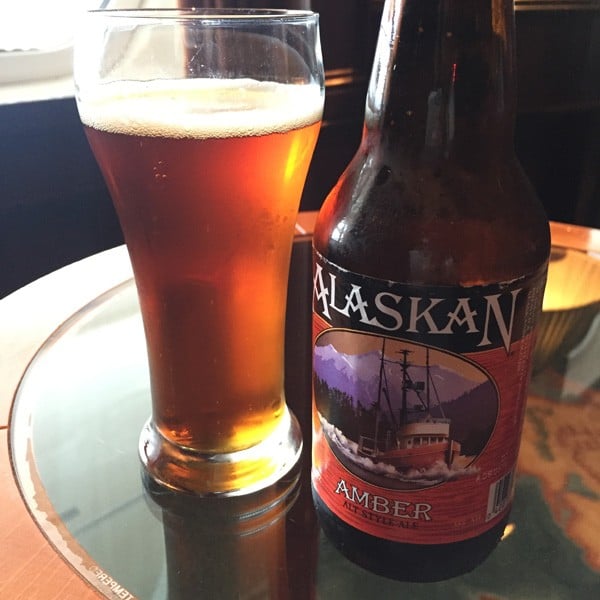 Blake and I also tried a few of the beers from Alaskan Brewing Co. Of the ones we explored, we especially liked the Amber and the White, and we'll be seeking them out back here in Minnesota.
Julie's husband was also pretty keen on the Seawitch brew, introduced this year by Princess to celebrate their 50th Anniversary of cruising. You can find it served onboard the ship.

We got a little more adventurous the morning of our glacier tour, asking for a Bloody Mary made with smoked salmon vodka from Alaska Distillery.
Most people's faces scrunched up at the sight of the bottle, but Blake and I said, "What the heck? We may never be in Alaska again."
The vodka was not fishy, but just nicely smoky. It was interesting in the spiced tomato drink. Blake took a real liking to it. But I won't be buying a bottle any time soon. My eyes are on their rhubarb vodka. Oh, yes.
6. Take along a travel charger


I don't know what I'd do without my travel charger, this external battery pack. It goes with me almost everywhere.
For those days when I'm using social media and the camera on my phone almost continually, this charger has been a life saver. I couldn't have hopped from the 6-hour glacier boat tour to the 3-hour helicopter tour and had battery life to spare without being able to charge up with this handy gadget.
7. Purchase a mini travel charger surge protector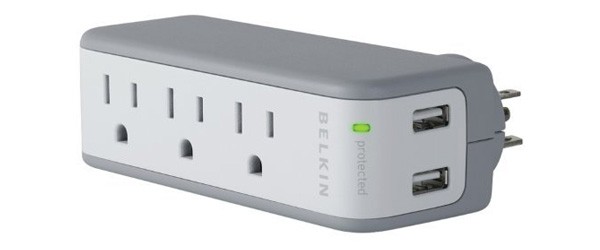 This Mini Travel Charger Surge Protector is another great gadget that goes with me every time I travel. I keep it stored in my travel backpack, along with a couple of these reusable rubber twist ties. I like to use a tie to hold my backpack more securely on my carry-on roller bag, and keep an extra for "just in case" situations.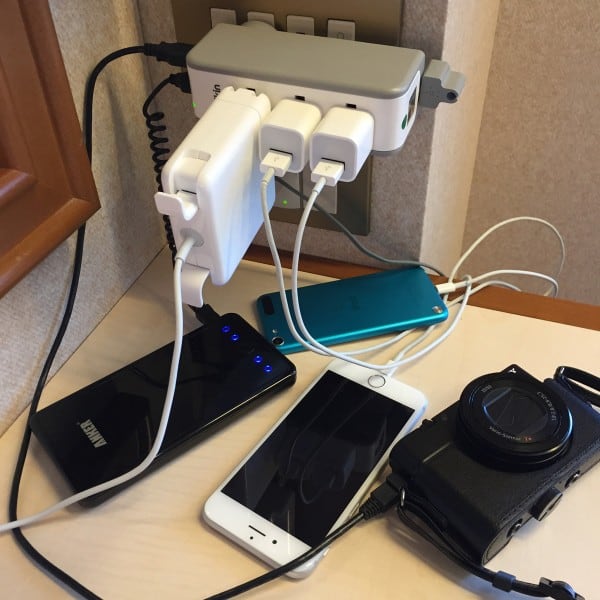 Our cabin had one plugin at the desk. That's it.
Imagine coming back from a day of excursions and exploring a port city, with all your electronics needing to be charged. With two to four people in a cabin, that can be quite a feat these days. We were so thankful to have this travel charger with three outlets and two USB ports.
8. Pack a very good, compact camera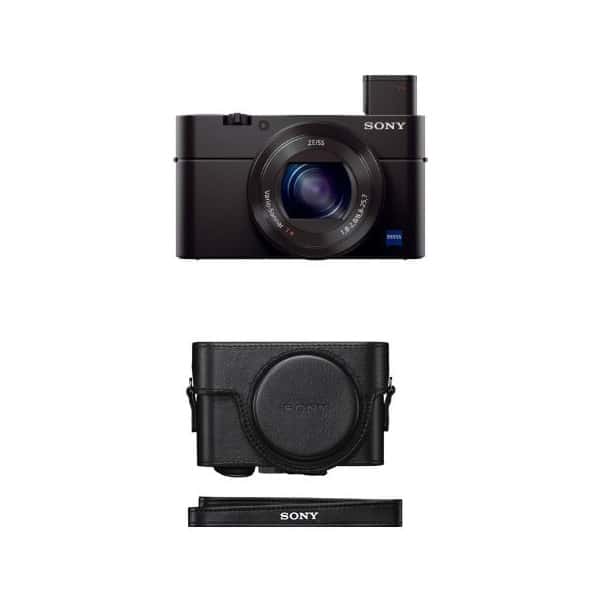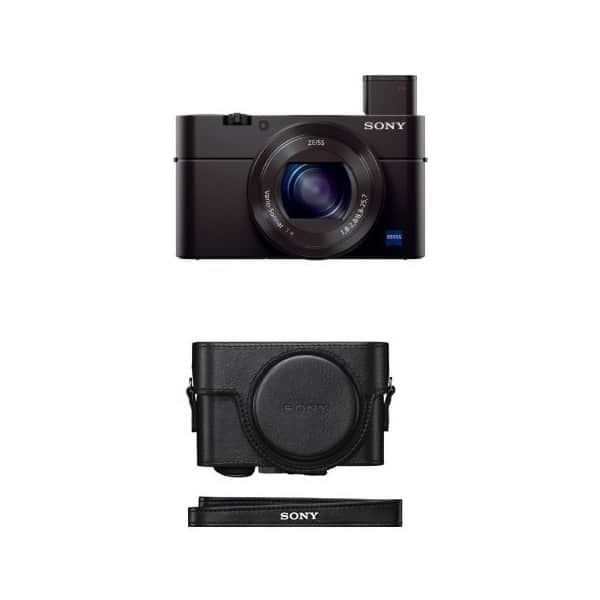 A month or so before the cruise, I purchased a very small, highly rated Sony point and shoot. Because, as much as I looooooooove my iPhone camera, I wanted the ability to grab better quality images with better zoom on this trip that promised to be amazing. And I didn't want to lug my big DSLR around.
This particular camera was recommended by a professional photographer friend. Apparently this little Sony has been the subject of conversation amongst her own circle of photography friends. I've been extremely happy with it so far.

Also. Don't forget an extra card for your camera. Alaska offers endless imagery for you to capture and take home with you.
9. Take along a watch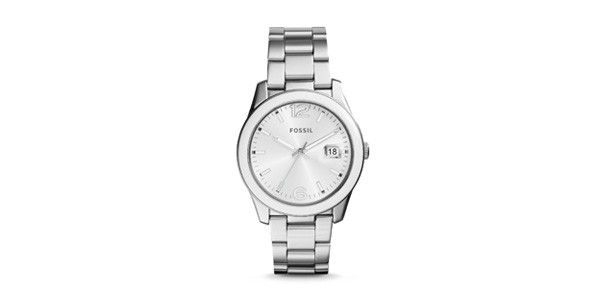 And here's where I get to the serious stuff. The nitty gritty of preparing for your Alaska cruise.
A watch.
You see, I was once an every day watch-wearer, rarely seen without one wrapped around my wrist. Then I got a smart phone and my watch wearing went almost completely out the window. I now wear a watch more for fashion than telling time, but I still rarely wear one.
But you'd be smart to take a watch with you when cruising Alaska.
What we didn't realize was that we'd be passing back and forth between Pacific Standard Time (PST) and Alaskan Standard Time (AKST) during the week. And with only having phone coverage at the ports, our phones were regularly messed up, showing wonky times. I was extremely thankful that Blake had his wristwatch.
10. Pack a battery operated alarm clock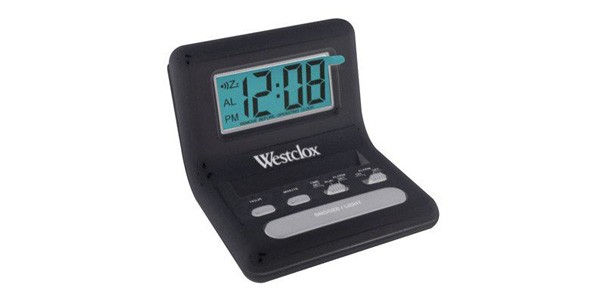 Another time piece recommendation. Our cabin did not have a clock in it. And when we relied on our phones as our alarm clock, well…it just didn't always work out well.
Like I just mentioned, the time displayed on our phones was unreliable. Especially when we were crossing time zones in the middle of the night, and we had to be dressed, grab breakfast, and be off the ship by 6:30 am for a 7:00 excursion.
Just trust me >>> pack a battery operated alarm clock. And don't forget fresh batteries.
You're welcome.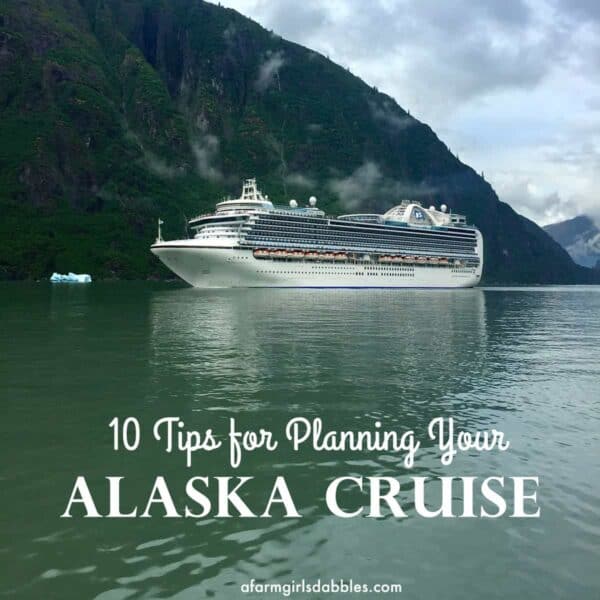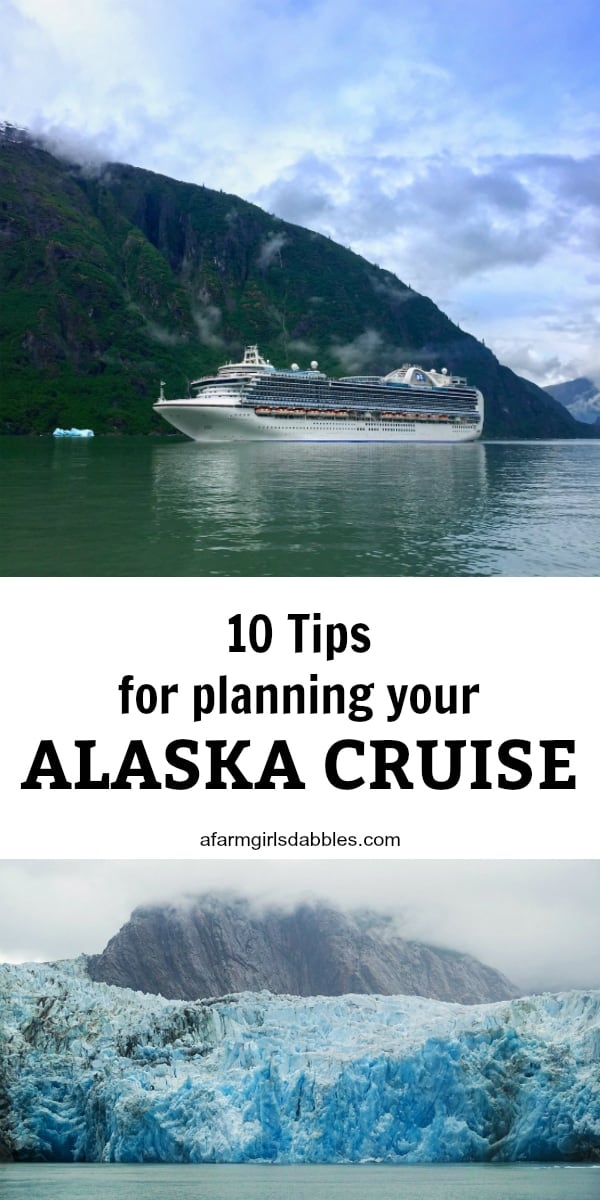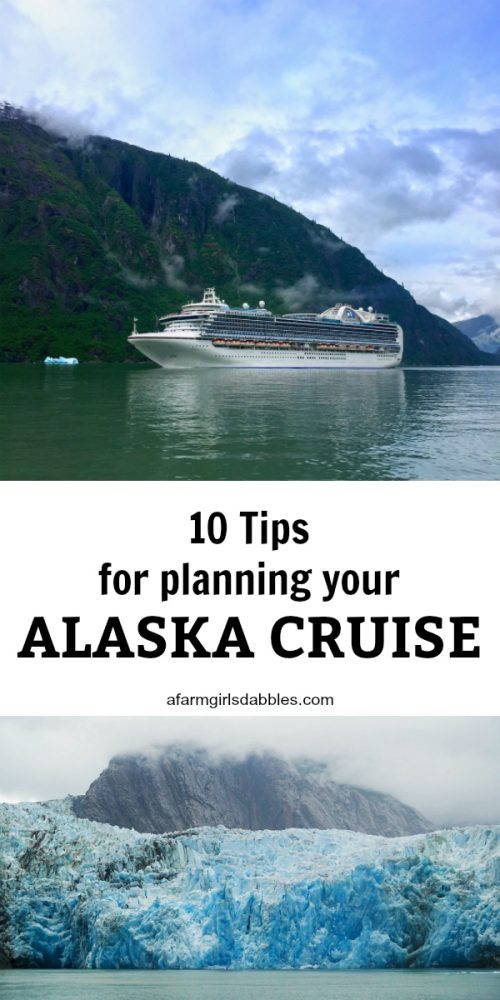 For more on our cruise to Alaska with Princess Cruises, be sure to read:
For more travel from a farmgirl's dabbles, follow along on Pinterest!
Follow a farmgirl's dabbles TRAVEL on Pinterest.


Disclaimer: Blake and I were extremely honored to be guests of Princess Cruises on a recent 7-day Alaska Cruise, and grateful for the opportunity to share it all with you. Thank you for supporting us and the brands we so carefully choose to work with. All of the tips and suggestions in this post are based on our personal experiences. Your experiences may vary. All opinions expressed are our own. This post contains amazon affiliate links.