Chocolate Mousse Cups
With this recipe, anyone and everyone is able to make delicious, savor-every-spoonful Chocolate Mousse Cups at home!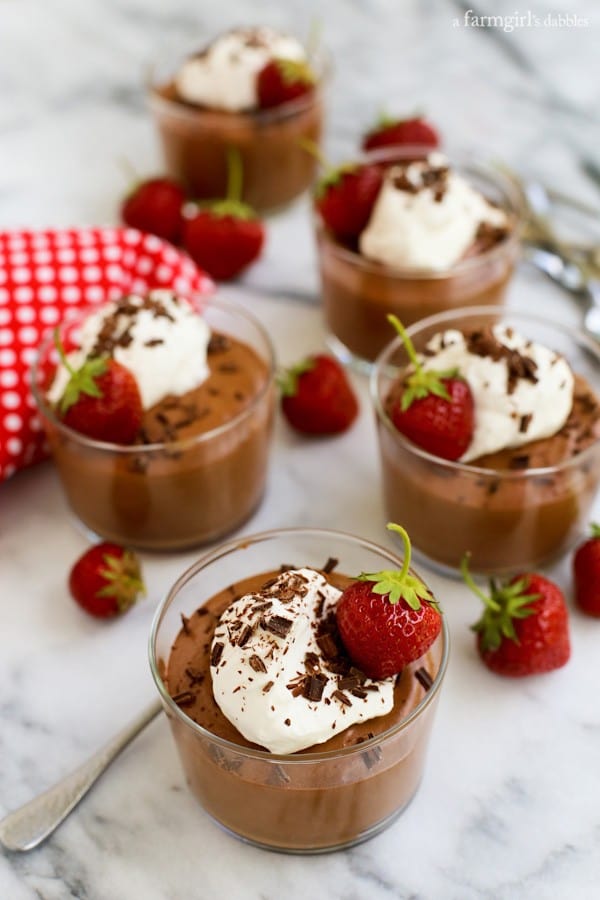 Chocolate mousse is a dessert I find hard to resist, especially when it's made with a deeper, darker chocolate. Smooth and creamy, with an irresistible fluffiness, the texture always makes me wish I had just one more spoonful of its amazingness.
These Chocolate Mousse Cups are a riff on a number of chocolate mousse desserts that Blake and I enjoyed while onboard the Ruby Princess on a recent cruise to Alaska. I am so happy with this recipe, and the simple fact that I can now make this sweet treat any ol' time I please, right here in Minnesota. [rss-cut]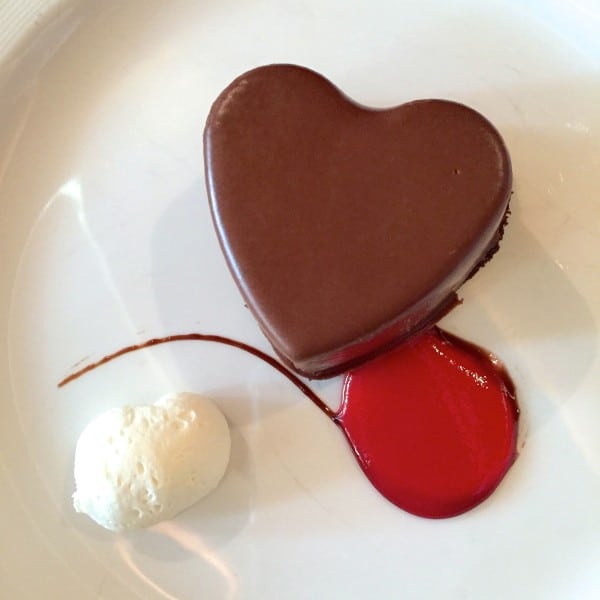 If you've never cruised with Princess before, let me introduce you to the Princess Love Boat Dream dessert. It's a luscious chocolate mousse with a thin brownie bottom, sweetly packaged in a heart-shaped mold. A spoon of fresh strawberry sauce and a little dollop of sweetened whipped cream adorn it perfectly.
(photo credit: ABC)
And if you watched TV in the 70's and 80's, you know that the popular Love Boat series was filmed aboard Princess cruise ships, sailing to beautiful, exotic destinations around the globe. Remember Captain Stubing and his daughter Vicki, Julie (my favorite character), Gopher, Isaac, and Doc? They made for a very entertaining crew. And it was always fun to watch the celebrity guest appearances in each week's new show. It's how I was introduced to the flamboyancy of Charo, after all.
This dessert is held in high regard among Princess cruisers not only because of its television namesake, but also because of its deliciousness. It's completely scrumptious.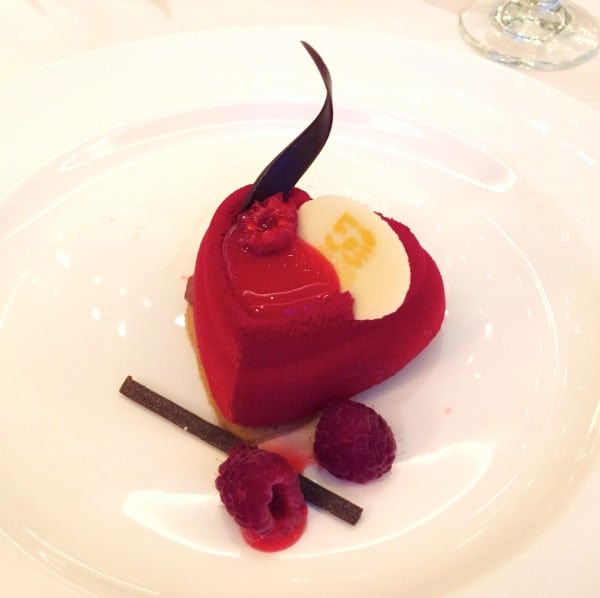 (photo credit: Lindsay)
Another dessert on the Ruby Princess that featured chocolate mousse was this Chocolate Raspberry Mousse with Vanilla Créme Brulée and Crunchy Shortbread. It was created by master chocolatier and pastry chef Norman Love, in celebration of the 50th Anniversary of Princess Cruises in 2015. I always like fresh berries with my chocolate, and this dessert did not disappoint. Also, FYI, if you cruise with Princess, you must try some of Norman Love's specialty chocolates. You can even buy them in the ship's gift shop and take some home with you! They are beautiful works of art and taste incredible.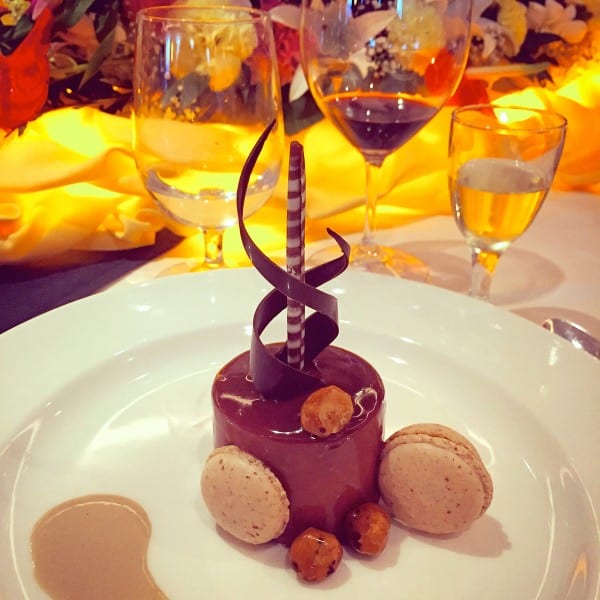 Another chocolate mousse that I ate every last bite of was this Chocolate Praline Timbale with Hazelnut Mousse. It was quite the grand finale to our memorable meal at the Chef's Table. If you've considered this Chef's Table dining experience aboard the Princess cruise ships, I wouldn't hesitate to sign up for it, even with the additional charge. This event takes you behind the scenes, with access to the (gigantic!) galley during dinner prep, complete with Champagne and hors d'oeuvres amidst the hustle and bustle. Then you are escorted to a choice table in the dining room, for a multi-course tasting dinner paired with selected wines. We really did feel special at this dinner, having the full attention of the ship's Maitre d' and Executive Chef the entire time. There is very limited seating available for these dinners, and its popularity was evident by the wait list on our cruise.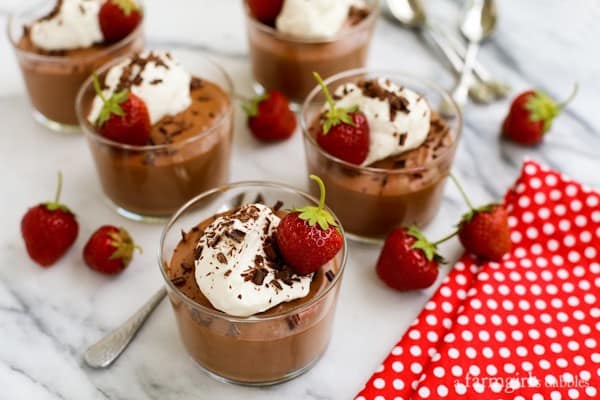 When we returned home from Alaska, I wanted to create a rich chocolate mousse dessert, minus the fancy molds. In other words, I wanted anyone and everyone to be able to make delicious, savor-every-spoonful chocolate mousse at home. If you don't have dessert cups or ramekins, dig out some short canning jars. Even tea cups will do!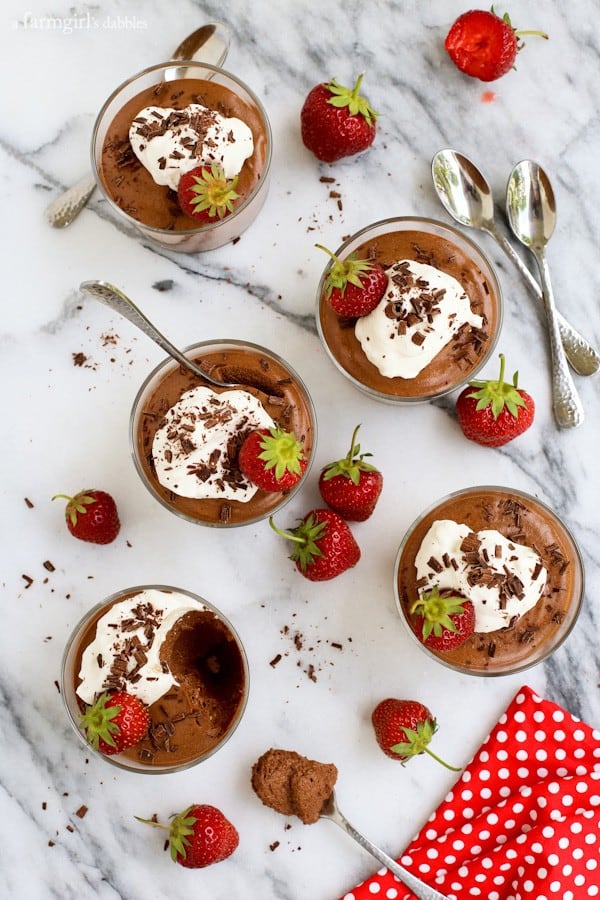 This chocolate mousse recipe is great for entertaining. I love to gift our guests with individually portioned dessert. It's just so much fun! Another plus is that the mousse needs to be made ahead of time. No last minute prep, except for adding a dollop of freshly whipped and sweetened cream, some chocolate shavings, and fresh berries, all of which can be prepared ahead of time also.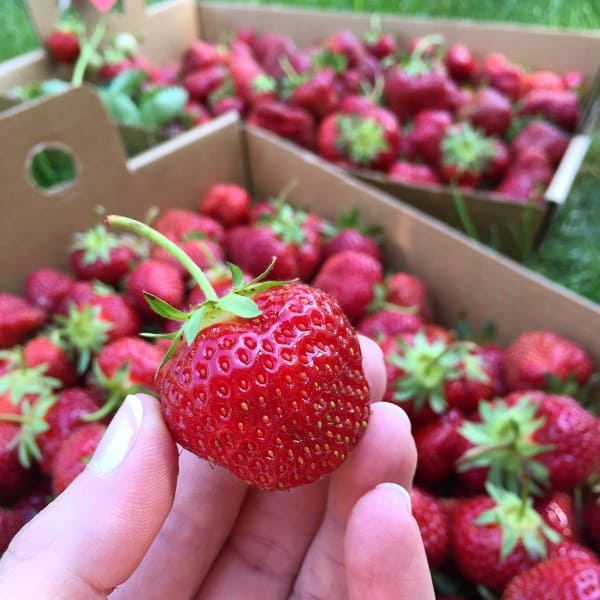 The girls and I had gone strawberry picking the day before we made the chocolate mousse cups, so those super sweet berries made our dessert even more beautiful and tasty.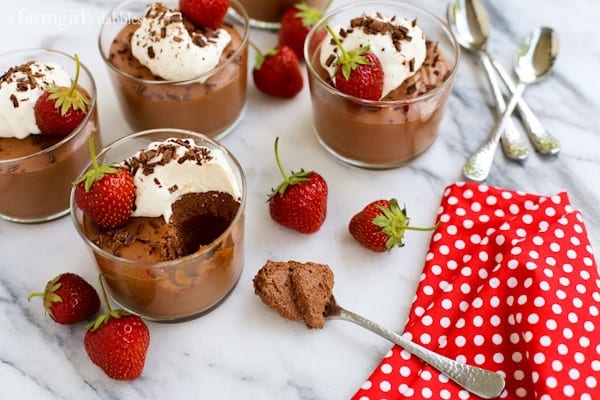 This chocolate mousse is something that I think about and crave, and wish I had in my fridge at all times. The beautiful chocolate flavor, all creamy and fluffy, is irresistible. And when topped with one of my favorite things in all the world – sweetened whipped cream – plus fresh berries, it's just plain dreamy.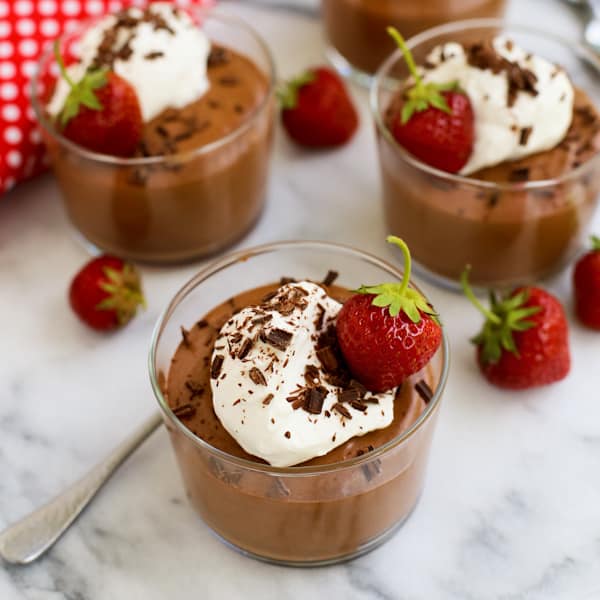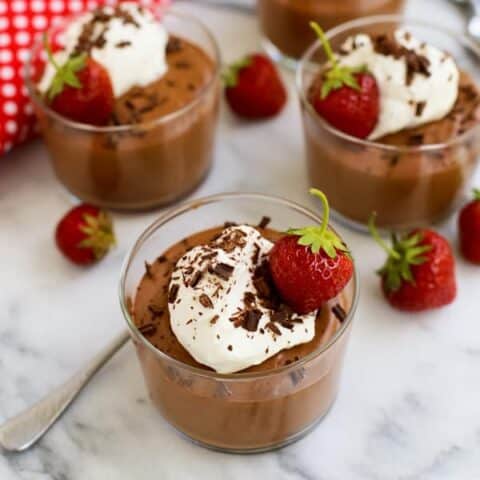 Chocolate Mousse Cups
Yield: 6 servings
Prep Time: 30 minutes
Cook Time: 5 minutes
Additional Time: 2 hours
Total Time: 2 hours 35 minutes
With this recipe, anyone and everyone is able to make delicious, savor-every-spoonful Chocolate Mousse Cups at home!
Ingredients
1/2 c. cold heavy cream
1 tsp. pure vanilla extract
4 large egg yolks
1 T. butter, at room temperature
1/4 c. espresso or strong coffee, at room temperature
3 T. sugar, divided
1/8 tsp. kosher salt
8 oz. bittersweet or semi-sweet chocolate, chopped (I used Ghirardelli 60% bittersweet chocolate)
(I used Ghirardelli 60% bittersweet chocolate)
4 large egg whites
sweetened whipped cream, chocolate shavings, and fresh whole or sliced strawberries for garnish
Instructions
Using an electric mixer, beat cream with vanilla until stiff peaks form. Cover and chill.
In a large metal bowl, combine egg yolks, butter, espresso, 2 tablespoons of the sugar, and salt. Set bowl over a saucepan of gently simmering water, making sure that the bowl does not touch the water. Cook, whisking constantly, until mixture is lighter in color and almost doubled in volume. The mixture will be very frothy. When an instant-read thermometer registers 160°, it is done. This should take between 1 and 5 minutes to achieve, depending on your heat and pan size, etc.
Remove bowl from saucepan. Add chopped chocolate and whisk until melted and smooth. Let stand, whisking occasionally, until mixture comes down to room temperature.
Using an electric mixer, beat egg whites in another medium bowl on medium speed until foamy. With mixer running, gradually beat in remaining 1 tablespoon of sugar. Increase speed to high and beat until firm peaks form.
Fold egg whites into chocolate in 2 additions. Fold whipped cream into mixture just to blend.
Divide dark chocolate mousse among six 6 to 8-ounce ramekins. Chill until firm, at least 2 hours. This dessert can easily be prepared one day in advance. Let stand at room temperature for 10 minutes before serving.
Right before serving, add a dollop of sweetened whipped cream, some chocolate shavings, and fresh strawberries.
Notes
Inspired by the delicious chocolate mousse desserts on our cruise to Alaska aboard the Ruby Princess. Adapted from bon appétit.
Nutrition Information:
Yield: 6
Serving Size: 1
Amount Per Serving:
Calories: 375
Total Fat: 25g
Saturated Fat: 14g
Trans Fat: 0g
Unsaturated Fat: 9g
Cholesterol: 183mg
Sodium: 160mg
Carbohydrates: 34g
Fiber: 3g
Sugar: 29g
Protein: 9g
Nutrition information is automatically calculated by Nutritionix. I am not a nutritionist and cannot guarantee accuracy. If your health depends on nutrition information, please calculate again with your own favorite calculator.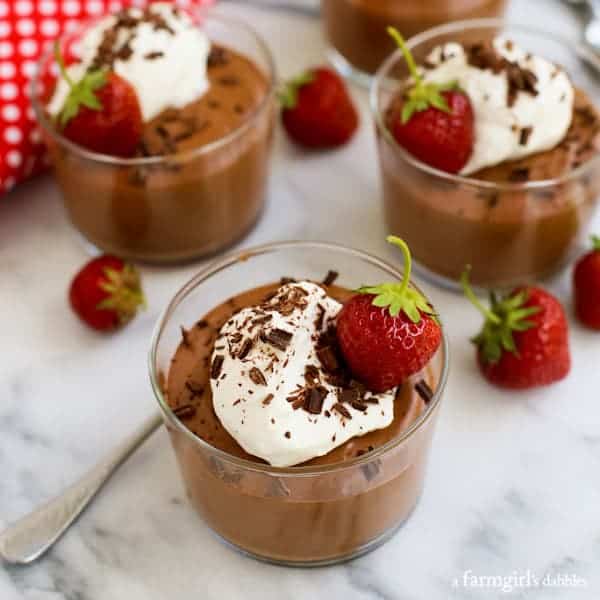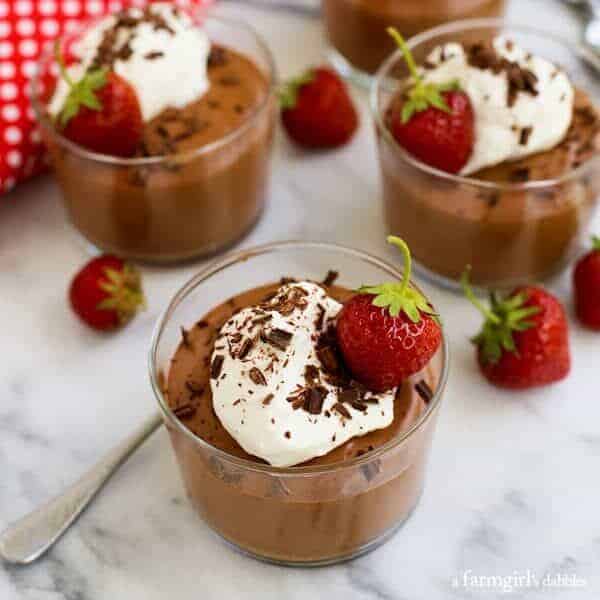 Follow a farmgirl's dabbles's board a farmgirl's dabbles Travel (#AFDtravel) on Pinterest.
Be sure to follow along on Pinterest for more travel ideas. And for more on our trip to Alaska with Princess Cruises, check out these posts:
Disclaimer: Blake and I were extremely honored to be guests of Princess Cruises on a recent 7-day Alaska cruise, and grateful for the opportunity to share it all with you. Thank you for supporting us and the brands we so carefully choose to work with. All of the experiences in this post are personal to our week in Alaska. Your experiences may vary. All opinions expressed are our own.