Slow Cooker Beef and Barley Stew
This Slow Cooker Beef and Barley Stew will make any cold, wintry day feel much, much cozier!
We've had another cold spell the past week here in Minnesota, with some daily highs in the single digits. As I was shivering in our church's lobby on Sunday morning, hanging up my coat with our girls, a lady friend informed me, ever so cheerfully, that there were just 33 days until the first official day of spring. Chilly as I was, that little tidbit of info warmed me up, inside and out, and made me smile. Soon, my friends. Soon we will see green grass and blue sunny skies and temps above 30°F. I canNOT wait!
But in the meantime, we have stew. Warm and comforting, and ladled from the slow cooker that does all of the hardest work for you, it just doesn't get much better. Slow Cooker Beef and Barley Stew. Enjoy this recipe that's sure to warm you up!
[rss-cut]
It is so hard to resist chunks of beef roast that have been immersed in the slow cooker's magic. Ultra tender and infused with the flavors of their surroundings, the beef bites are my very favorite.
I don't use barley a whole lot at home, but always know how much Blake likes his Mom's ground beef and barley soup. My recipe, which does away with the cans of creamed soups, is simple in its ingredient list, yet huge on flavor. I always find it amazing how much deliciousness comes out of the combination of beef broth, red wine, tomato paste, and a little Dijon mustard, especially when set to slowly cook and mingle for the afternoon.
This recipe for slow cooker beef and barley stew does involve some chopping, but all the fresh veggies are well worth the effort. They add so much goodness and flavor. And they make the stew look so pretty, don't you think?! Once the chopping is done, which really doesn't take that much time, all that is required is patience…which I find ridiculously hard to summon up some days. The aroma of a slow simmering stew is one of the greatest ever. Especially when it's accompanied by the outdoor's dreary skies and temperatures in the single digits. Trust me. Make this stew. It'll make these cold, wintry days feel much, much cozier.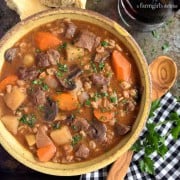 Slow Cooker Beef and Barley Stew
Ingredients:


1 T. olive oil


2 lbs. boneless beef chuck roast, cut into 1" cubes


kosher salt


freshly ground black pepper


8 oz. mushrooms, cut into thin slices


8 large carrots, peeled and sliced diagonally into 1/2" pieces


6 large cloves garlic, minced


4 medium-large yellow potatoes, peeled and cut into 1" cubes


1 large yellow onion, chopped


6 c. low sodium beef broth


1 c. dry red wine


1/4 c. tomato paste


1 T. Dijon mustard


1 tsp. dried thyme


3/4 c. pearl barley


1 bay leaf


chopped fresh parsley


Directions:
Heat a large skillet over medium-high heat and then add oil. Sprinkle beef with salt and pepper. Once oil is hot, sear beef on all sides. (If using a slow cooker like I own - the Cuisinart Cook Central Multi-Cooker - simply brown beef right in the cooker.) Drain off fat and transfer beef to slow cooker. Add mushrooms, carrots, garlic, potatoes, onion, beef broth, wine, tomato paste, mustard, and thyme stir well to incorporate. Then stir in barley and add the bay leaf. Cover and cook on high for 4 hours. Then turn heat to low and cook for 2 hours more. Serve hot, with fresh parsley sprinkled over the top.
from a farmgirl's dabbles
©
Other barley recipes you may like: