Irish Beef Stew
Easy Irish Beef Stew recipe! It's hearty with ultra tender beef, potatoes, and carrots in a rich beef broth that includes Irish Guinness beer and red wine. A flavorful bowl of comfort!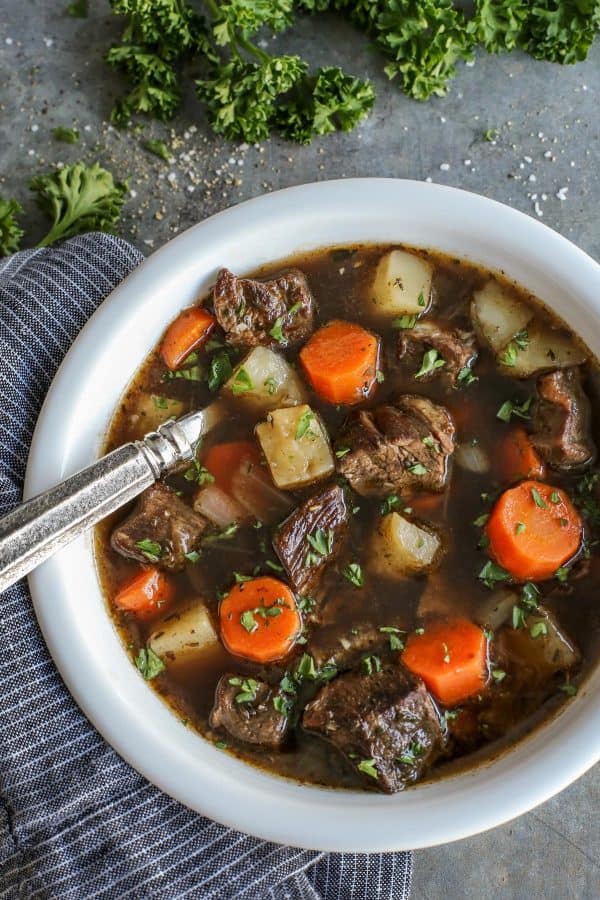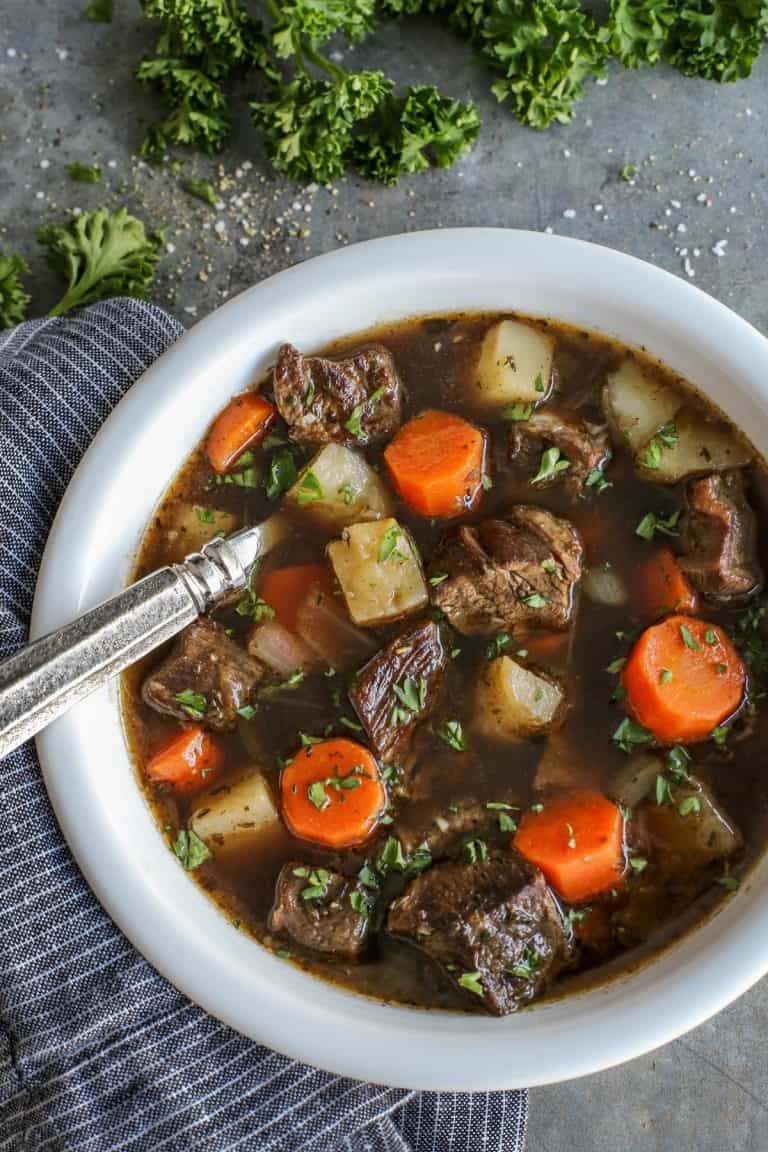 Irish Beef Stew
I'm just a teensy bit Irish, from my Grandma Renelt's heritage. And while my family has never celebrated St. Patrick's Day in a big way, we do like to have fun with its food. Especially green food and this hot, cheesy baked corned beef dip that features a mash-up of Irish-American culture and my much more German genes.
This Irish Beef Stew recipe is hearty and comforting, simmered on the stovetop until the beef and root vegetables are incredibly tender. Beautifully rich and flavorful, a true testament to this stew's goodness is that our oldest daughter (not a big fan of soups and stews) even asks for seconds. It's just a wee bit irresistible, indeed.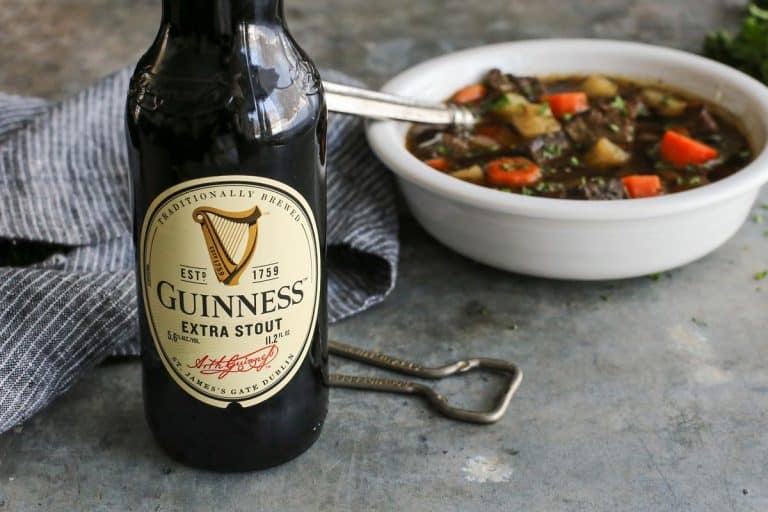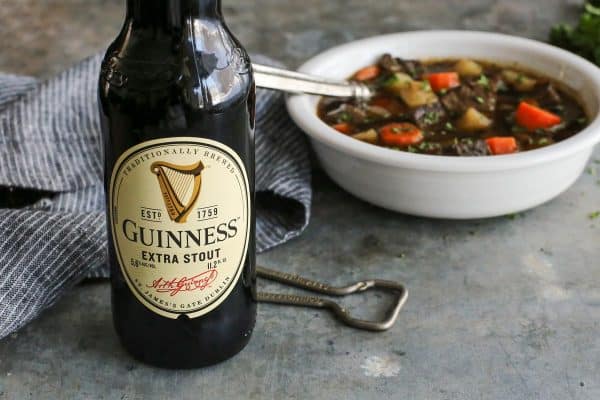 What is Irish stew made of?
Recipes vary, as always, but traditional Irish stew is made with lamb (young sheep) or mutton (mature sheep), along with potatoes, onions, and water – and sometimes carrots and parsley. Its origins are humble.
Here in America, we eat much more beef than lamb, so Irish stew recipes tend to call for beef instead. To ensure the best flavor and tenderness for this stew, I seek out a piece of well-marbled chuck.
This Americanized version of Irish stew calls for additional flavor enhancements of beef broth, a little tomato paste, Guinness Extra Stout (for Irish authenticity?!), and robust, dry red wine. I'm particularly fond of incorporating a bit of beer, hard cider, and/or wine into slow-cooked recipes (such as my Crockpot Italian Beef Stew!). Left to cook low and slow, these ingredients mellow out and add depth and wonderful flavor to so many dishes.
Guinness is dark in color, a little bit bitter, a little bit sweet. By the time it reaches your bowl, the bitterness is simmered away and you're left with a softly roasted, caramel-y flavor. The stew's broth is so good, you'll be wanting to lift your bowl and just plain drink it. Really!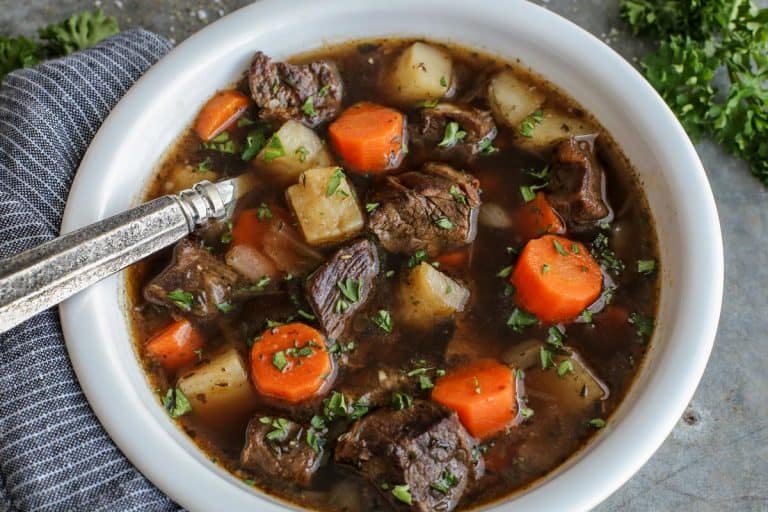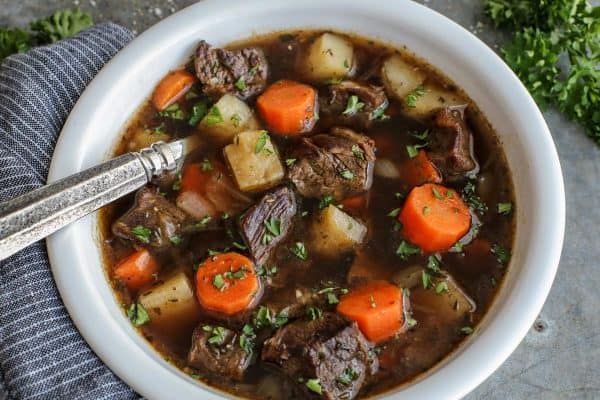 Rich broth + tender beef = YUM!
We make quite a few stews, soups, and chilis at our house. And while Blake and I are usually on the same page, embracing each and every one, our girls are a different story. Normally either one or the other will like whatever is simmering away inside my favorite soup pot or in the slow cooker, but not so often both at the same time.
They both LOVE this soup and this soup, by the way.
And they both agree that this Irish beef stew is a winner, too. For them, it's all about that rich, flavorful broth and abundance of tender beef chunks. I'm confident you'll follow suit.
Like this easy stew recipe? Save this recipe to Pinterest!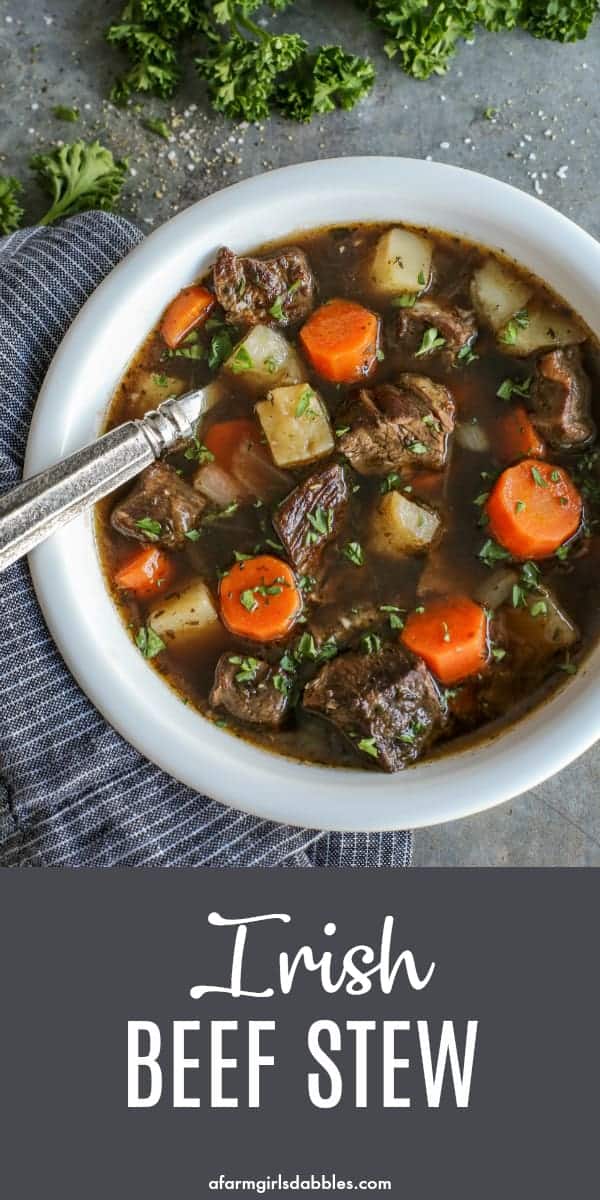 For more stew and soup recipes using beef, check out my:
And here are a few more cozy beef recipes I'd like to try!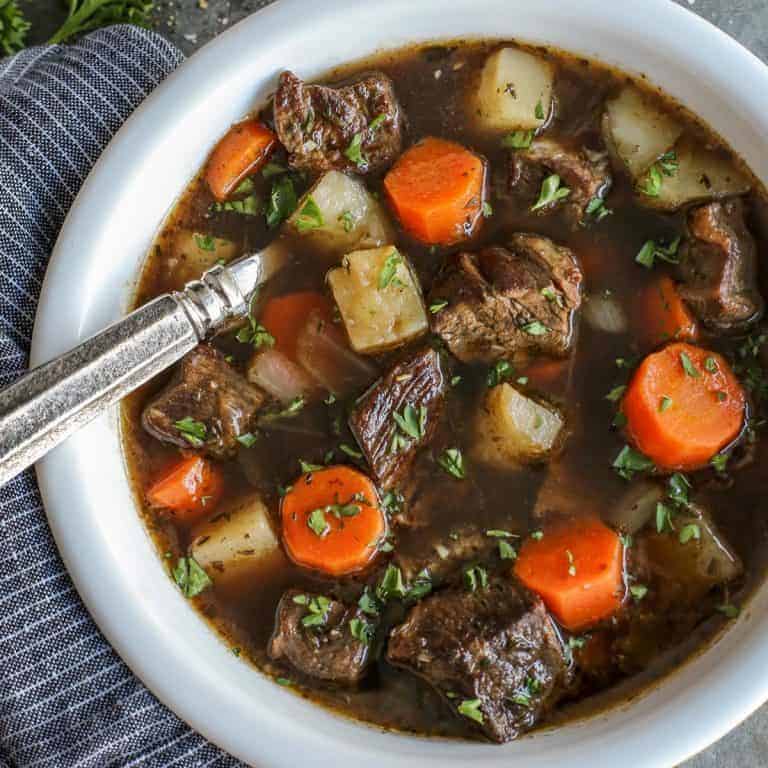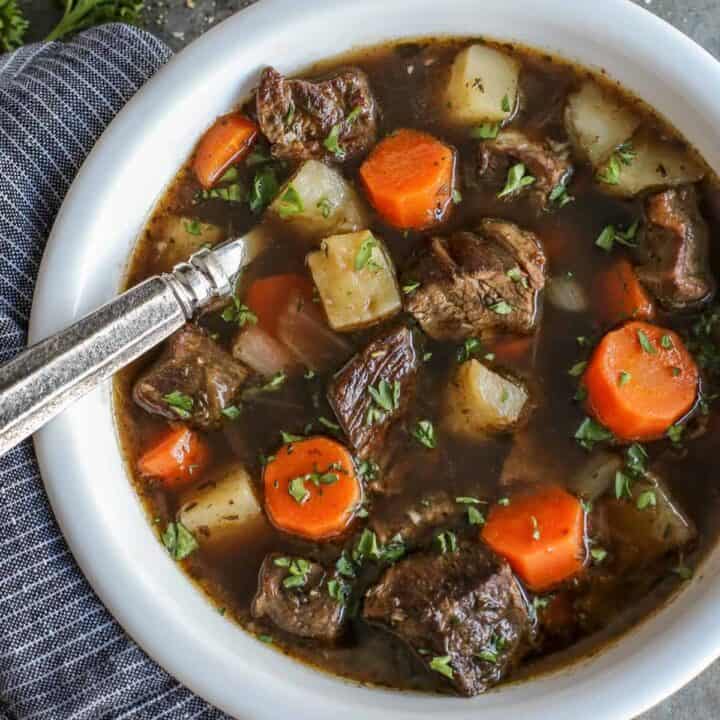 Irish Beef Stew
Yield: 8 servings
Prep Time: 15 minutes
Cook Time: 2 hours
Total Time: 2 hours 15 minutes
A rich and hearty stew that's easy to make. Chunks of beef, potatoes, and carrots simmer until ultra tender in a flavorful beef broth that includes Irish Guinness beer and red wine.
Ingredients
2-1/2 lbs. well-marbled beef chuck roast, cut into 1" to 1-1/4" pieces, any large pieces of solid fat discarded
kosher salt
freshly ground black pepper
3 T. olive oil, divided
8 c. low sodium beef broth
1 c. Guinness Extra Stout
1 c. robust, dry red wine
2 T. tomato paste
1 T. sugar
1 T. dried thyme
1/2 T. Worcestershire sauce
1/2 T. soy sauce
2 bay leaves
2 T. unsalted butter
2 lbs. russet potatoes, peeled, cut into 1/2" pieces
1 large yellow onion, chopped
4 c. 1/2"-thick slices peeled carrots
6 large cloves garlic, minced
fresh parsley, chopped
Instructions
Sprinkle beef pieces fairly generously with kosher salt and freshly ground black pepper.
Heat large heavy pot over medium-high heat. When hot, add 1 tablespoon of the oil, swirling it around bottom of pot. When oil is shimmering, carefully add beef pieces, leaving at least 1/2" space between pieces. Crowding the beef will cause it to steam rather than brown, so this step will need to be done in batches. Sauté beef until deeply browned on two sides, about 5 minutes per batch. Remove beef to a plate after each batch is browned, adding another tablespoon of oil to the pot prior to adding more beef. When the final batch is browned, add all browned beef back to the pot, along with any accumulated juices from the plate. Add beef broth, Guinness, red wine, tomato paste, sugar, thyme, Worcestershire sauce, soy sauce, and bay leaves. Stir to combine. Bring mixture to a boil. Reduce heat to medium-low, then cover and just barely simmer for 1 hour, stirring occasionally.
While stew is simmering, prepare potatoes, onion, carrots, and garlic. Heat a large skillet over medium heat. Add butter; melt. Add potatoes, onion, and carrots. Sauté until onions are softened, about 15 to 20 minutes. Stir in garlic and sauté for two minutes more. Remove from heat.
Add sautéed vegetables to stew and simmer uncovered for another 45 minutes. Potatoes and beef should be very tender. If the beef isn't fork-tender, continue to simmer until it is. Taste test and add a bit more salt and pepper, if needed. Discard bay leaves. Spoon off any obvious fat from top of stew. Serve hot in individual bowls, with fresh parsley sprinkled over the top.
This stew can be prepared a day or two prior to serving - just refrigerate in the meantime, and bring to a simmer prior to serving.
This stew also freezes well.
Recommended Products
As an Amazon Associate and member of other affiliate programs, I earn from qualifying purchases.
Nutrition Information:
Yield: 8
Serving Size: 1
Amount Per Serving:
Calories: 524
Total Fat: 26g
Saturated Fat: 10g
Trans Fat: 1g
Unsaturated Fat: 14g
Cholesterol: 102mg
Sodium: 680mg
Carbohydrates: 33g
Fiber: 4g
Sugar: 5g
Protein: 34g
Nutrition information is automatically calculated by Nutritionix. I am not a nutritionist and cannot guarantee accuracy. If your health depends on nutrition information, please calculate again with your own favorite calculator.