Judi's Grasshopper Cake
This Grasshopper Cake is a favorite, one I've enjoyed nearly all my life. Mint and chocolate fudge perfection!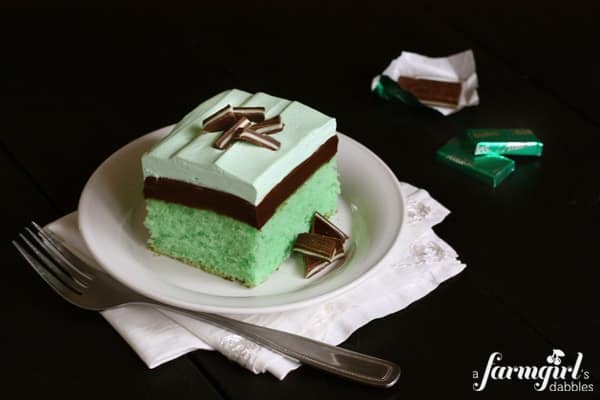 This cake has happy childhood memories written all over it. When Mom would make Judi's Grasshopper Cake, it didn't matter the season, it always felt like a holiday.
My mom was always known for having some Chocolate Mint Brownies stashed away in the freezer. For emergencies, ya know. That flavor combo is still one of her favorites, and I can't help but think of her every time I see it. So it comes as no surprise that this cake, a recipe she got from our farm neighbor and friend, Judi Fritz, was made quite often at our house.
 Mom still makes this cake from the recipe card Judi gave her all those years ago. 
This grasshopper cake is perfect for the Christmas season or for St. Patrick's Day (or absolutely any time, according to my mom!). It's an easy and beautiful layered dessert, decked out in Creme de Menthe and fudgy goodness. Always a hit.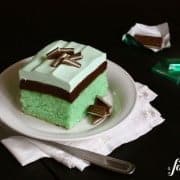 Judi's Grasshopper Cake
Yield: 16 servings
Cook Time:27 minutes
Calories per serving: 317
Ingredients:
for the cake:
1 box Betty Crocker Super Moist White Cake Mix with pudding in the mix
1-1/4 c. water
1/3 c. vegetable oil
3 egg whites
4 oz. Creme de Menthe (liqueur or syrup…I much prefer the liqueur!)
for the topping:
1 16-oz. jar hot fudge topping (I like Mrs. Richardson's brand.)
1 8-oz. container Cool Whip, thawed
2 oz. Creme de Menthe
chopped Andes Mints for garnish, optional
Directions:
The cake photos in this post show this cake made with 2 jars of hot fudge topping. It was something of an experiment for me, as I always love that layer best. But it turns out that I didn't like the cake better because of the additional fudge. It was too much fudge for me and our girls. But not for my husband. So I will leave that decision up to you…if you REALLY like fudge a whole lot, go ahead and use 2 jars of fudge. But I recommend sticking with Judi's original recipe of using just 1 jar.
Preheat oven to 350° for shiny metal or glass pan, or to 325° for dark or nonstick pan. Spray the bottom only of 9" x 13" pan with cooking spray.
In a large bowl, beat the cake mix, water, oil, and egg whites on low speed for 30 seconds, then on medium speed for 2 minutes more. Scrape the bowl occasionally. Batter will be a bit lumpy. Stir in the Creme de Menthe. Pour into prepared pan and bake for 27 to 32 minutes, or until toothpick inserted in center comes out clean. Be careful to not over bake, as it will end up dry. Cool completely.
Gently spread the fudge topping evenly over the cake. In a medium bowl, stir together the Cool Whip and 2 ounces Creme de Menthe. Spread mixture evenly over the fudge. If desired, garnish with chopped Andes Mints. Store covered in the refrigerator.
One of my favorite cakes as a kid, adapted ever so slightly from the recipe box of Judi Fritz.
©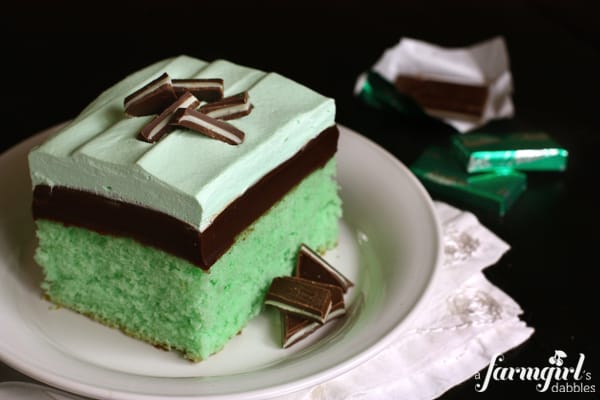 I'm linking up with the following:
We participate in the Amazon Services LLC Associates Program, an affiliate advertising program designed to provide a means for us to earn fees by linking to Amazon.com and affiliated sites. See our disclosure policy for more info.