Homemade Chocolate Pudding Cups with Mint Grasshopper Cream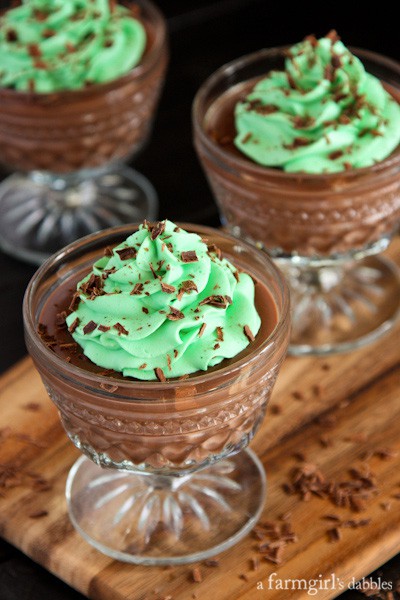 I've always wanted to try making pudding from scratch. Not that I think pudding from a box mix is too horrible to eat, or anything. I was more just curious about the process. And if the homemade pudding actually did taste better (which I definitely hoped it would), that would be a great bonus, affirming my time at the stove was well spent.
And now that I've tried it for myself, I think that everyone should try making homemade pudding at least once in their lifetime. And you should start with this recipe for Homemade Chocolate Pudding Cups with Mint Grasshopper Cream!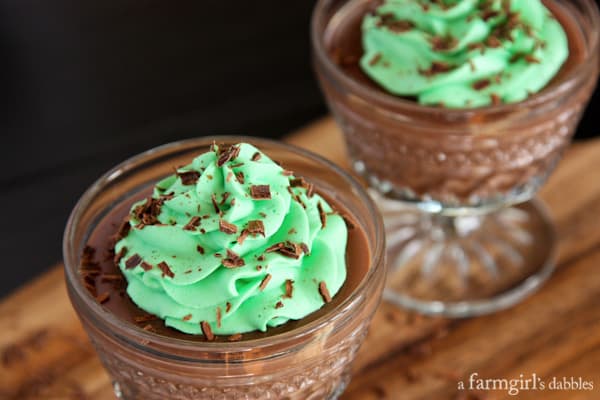 Our oldest daughter Hatti helped me with the grocery shopping last week, and when she found out that homemade chocolate pudding was up next in the kitchen, her eyes got big and bright, and a smile washed across her face. Both of our girls love a cup of chocolate pudding, so I was excited to test this out on them.
Hatti chose my Grandma Renelt's cut-glass dessert cups from the hutch for our pudding cups, and then chopped the chocolate for me before heading off to school for the day. She made me promise that the pudding would be ready to eat when she got back home that afternoon. Definitely, I told her.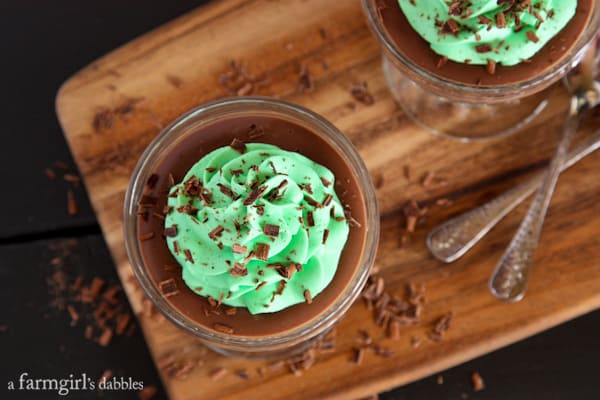 It was so fun to see this homemade pudding come together, with just a few ingredients. I kept it more to the semi-sweet chocolate flavor this time around, knowing that my husband would enjoy it more than the dark chocolate that I desperately wanted to spoon into my mouth. I must have been feeling quite selfless that day, because dark chocolate is my BFF. So next time…I'll be making a much darker batch of pudding cups. Even if I have to eat them all myself!
Everyone, including myself, thought this homemade chocolate pudding was truly a treat, a notch above pudding made from the box. But the girls will also be the first to admit that the mint grasshopper cream was the clincher to this dessert. It's light and creamy in texture, and packed with mint flavor. And it's pretty and fun, full of retro comfort and whimsical swirls. Can you imagine coming home from school to anything better?!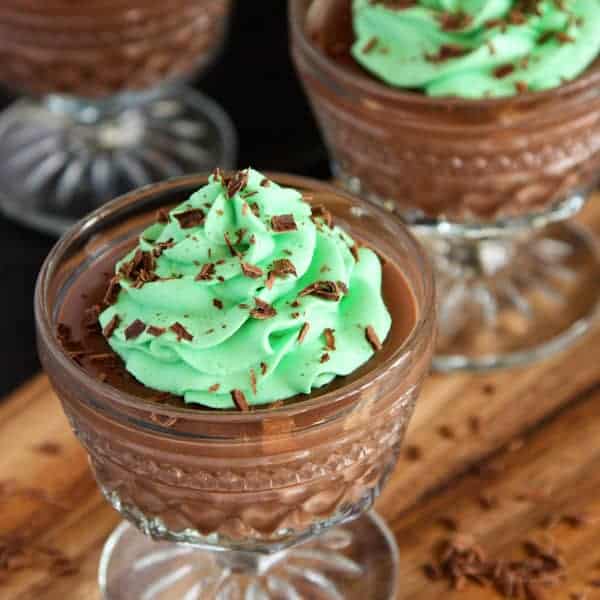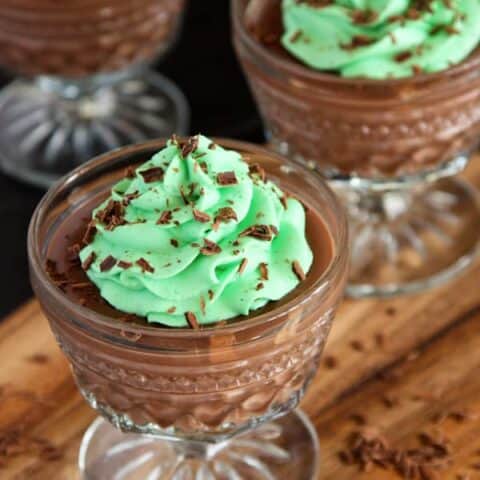 Homemade Chocolate Pudding Cups with Mint Grasshopper Cream
Yield: 6 servings
Cook Time: 25 minutes
Total Time: 25 minutes
Everyone should try making homemade pudding at least once in their lifetime.
Ingredients
for the chocolate pudding:
for the mint grasshopper cream:
1 c. heavy whipping cream
1/4 c. powdered sugar
4 oz. cream cheese, at room temperature
3 T. creme de menthe syrup
1 to 2 tsp. pure mint extract
green food paste (I used AmeriColor Leaf Green #111)
bittersweet chocolate shavings
Instructions
for the chocolate pudding:
In a medium saucepan, whisk together the cornstarch, sugar and salt. Slowly whisk in the milk, in a thin steam at first so that lumps don't form, then more quickly once the cornstarch mixture is smoothly incorporated. Place over medium-low heat and stir occasionally, scraping the bottom and sides. If any lumps begin to form, use a whisk to break them up. After 15 to 20 minutes (slower over lower heat is better, to give the cornstarch time to cook), before the pudding starts to simmer, the mixture will thicken, enough that it will coat the back of a wooden spoon. Add the chocolate, and continue stirring for another 2 to 4 minutes, until chocolate is fully incorporated and mixture is quite thick.
Remove from heat and stir in the vanilla.
Divide warm pudding among 6 individual pudding cups or one large serving bowl, and chill until it is cool and set, about 2 to 3 hours. If you dislike pudding skin (I happen to like it!), place plastic wrap on top of the pudding and smooth it gently against the surface before refrigerating. This recipe can easily be prepared a day prior to serving.
for the mint grasshopper cream:
In the bowl of a stand mixer, whip cream until stiff. Add powdered sugar and whip until combined and very stiff. Remove whipped cream to a separate bowl and set aside. Add cream cheese to mixer bowl (no need to wash the bowl or whip attachment) and whip until very smooth, with no lumps. Add creme de menthe syrup and whip to thoroughly combine. If you really like mint (like we do!), add up to 2 teaspoons of pure mint extract. And if you want the mint grasshopper cream to be a deeper green color (we did!), add a bit of green food paste until the desired color is reached. Mix to incorporate.
With a spatula, gently fold in 1-1/2 cups of the reserved whipped cream (you will have some left over). Place mint grasshopper cream in refrigerator to chill for 30 minutes.
Fold the cooled mint grasshopper cream a couple times, and then spoon it into a pastry bag fit with a large star tip (I used Wilton 1M). Pipe swirls of the grasshopper cream onto the tops of each chilled pudding cup. You could also skip the pastry bag and just spoon a good sized dollop of the grasshopper cream onto each pudding cup.
Sprinkle with chocolate shavings and serve immediately, or place in refrigerator to serve within one day.
Nutrition Information:
Yield: 6
Serving Size: 1
Amount Per Serving:
Calories: 637
Total Fat: 38g
Saturated Fat: 23g
Trans Fat: 0g
Unsaturated Fat: 12g
Cholesterol: 76mg
Sodium: 185mg
Carbohydrates: 65g
Fiber: 4g
Sugar: 50g
Protein: 9g
Nutrition information is automatically calculated by Nutritionix. I am not a nutritionist and cannot guarantee accuracy. If your health depends on nutrition information, please calculate again with your own favorite calculator.