Dana's Black Licorice Caramels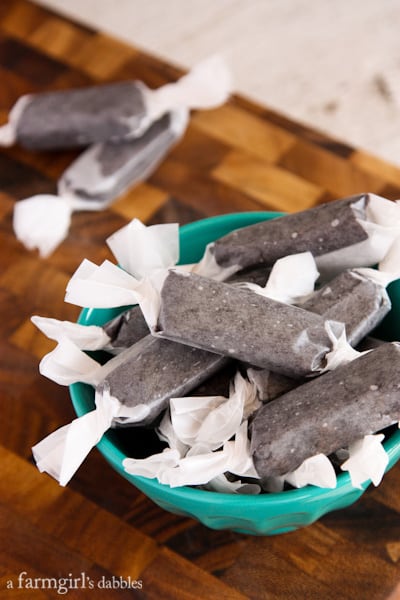 I had just imagined that whenever March rolled around, for as long as I had the desire to keep writing and photo-clicking away here at a farmgirl's dabbles, that I'd feature some new way to enjoy German chocolate cake. Because it's my dad's signature birthday cake, and I always try to find ways to recognize and honor family members and special people in my life through the wonderful tool of food.
Here are the German Chocolate cakes I've made the past few years:
But there's no German chocolate cake coming from me this year for your birthday, Dad. Sorry.
But not really.
During the holidays, I was introduced to Black Licorice Caramels and they rocked my world. I immediately knew they would be Dad's next birthday treat. Black licorice is to Dad what dark chocolate is to me!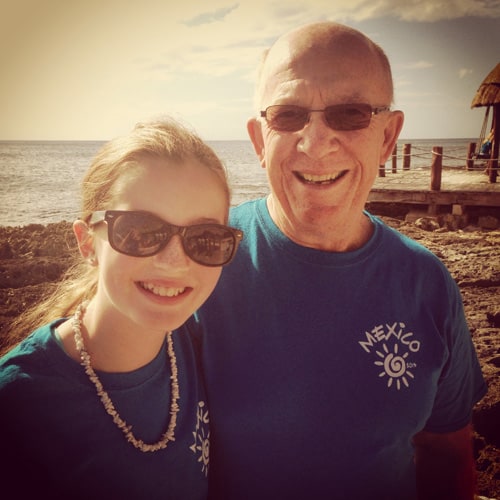 March 20th marks the birthday of two extremely important people in my life:
My dad. A man who's been there from the very beginning. He's a kid at heart, and always seems to have just the right advice at just the right time. I don't know life without him.
Our firstborn daughter. What a beautiful feeling it was, almost 12 years ago, to be in labor (not a beautiful feeling) on our way to the hospital, in the early morning hours of my own dad's birthday. The sky was crystal clear and sunny bright. And the air was crisp and chilly, lending a shimmery layer of frost to every branch and fence post. Hatti took her time, waiting until late that afternoon to finally scream her way into this world, but what a welcome sight and sound she was!
The photo above was taken on our family trip to Mexico last fall. Dad and Hatti call this their "birthday buddies" shot.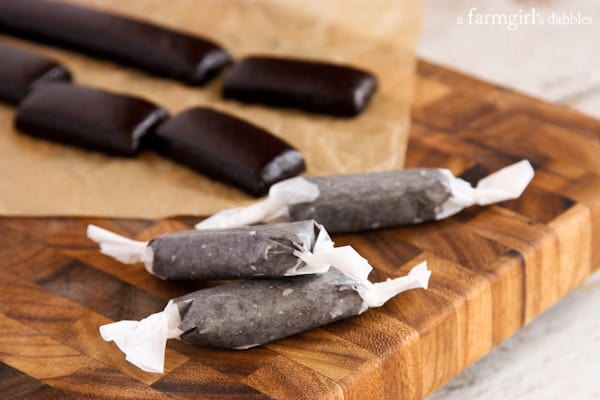 Even though I am not a huge fan of anise, I find these black licorice caramels to be irresistible. I like black licorice in small and mild doses, very much the opposite of my dad. I could not quit popping these into my mouth!
My parents are spending some time in Florida right now, escaping the cold and snow at home in South Dakota. So we packaged up a tin of these black licorice caramels and mailed them off to Dad last week, an early birthday treat. I was sure to include a note that read, "please share with Mom", to make him think twice about hiding them all for himself.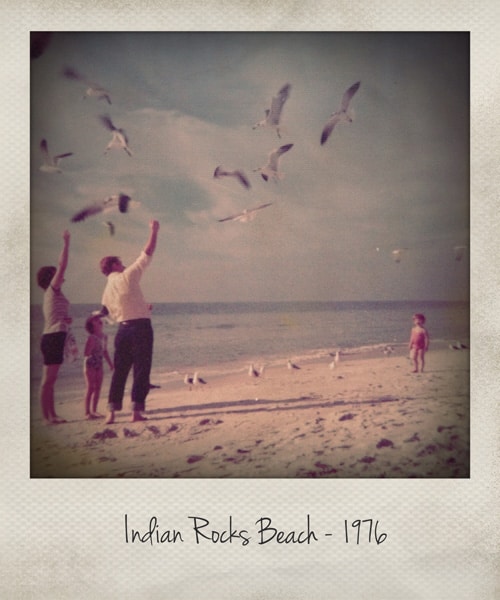 Knowing that Dad and Mom have been spending their time along Florida's gulf coast made me dig into the old photos, reminiscing about the times we visited my grandparents there when I was young. I have vivid memories of Dad and Mom teaching us how to feed the seagulls, and found many different photos from various beaches along the Gulf of Mexico and Atlantic Ocean as proof. But this photograph is my favorite. Mom, me, Dad, Cheryl. And you can't see her in this picture, but baby sister Jessica is on the beach, too, crawling in the sand close by.
I can hear the sharp call of the gulls and my parents' reassuring tutelage, telling me to hold my hand high and my body still. And then I feel the piece of soft white bread snatched from my fingers. Some of my best memories. Ever.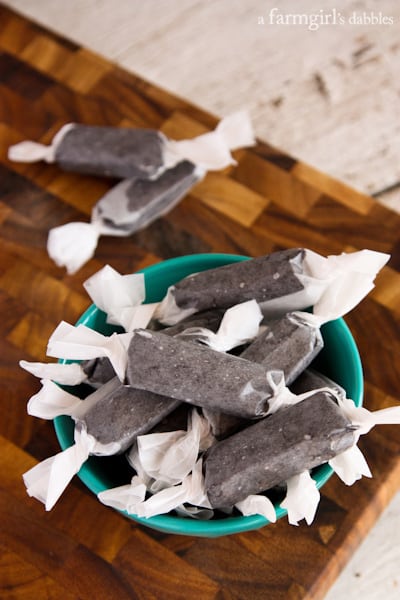 Even if you don't like black licorice, I think you'll agree that these are worth a second piece. Our daughters kept scrunching up their noses as I was making this pan of caramels. But they are usually willing to try new foods, and were intrigued about these being caramels. I convinced them to take "just one bite" and they agreed that they were good. So just imagine if you really do like black licorice…
These black licorice caramels are soft and buttery in both texture and flavor. The anise doesn't bite you. It's much more mellow. And did I mention buttery? So good!!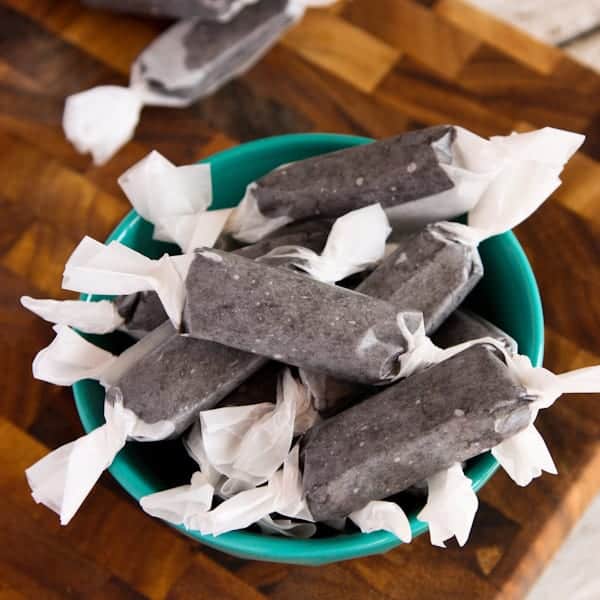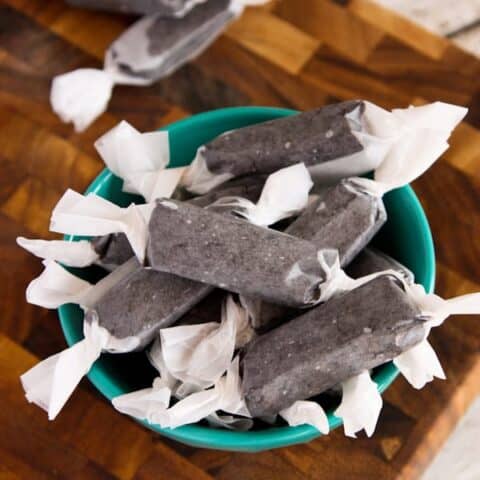 Dana's Black Licorice Caramels
Yield: 60 to 70 pieces
Prep Time: 40 minutes
Cook Time: 20 minutes
Total Time: 1 hour
These black licorice caramels are soft and buttery in both texture and flavor. The anise doesn't bite you.
Ingredients
1 c. butter
1 14-oz. can sweetened condensed milk
2 c. sugar
1.5 c. light corn syrup
1/4 tsp. salt
2 tsp. anise extract
1 tsp. black food coloring gel paste (I used AmeriColor Super Black #101
Instructions
Lightly spray a 9"x13" pan with cooking spray and set aside. If you want to be able to lift the full slab of caramel out of the pan to cut it, line pan with parchment paper, leaving an overhang on the long sides.
In a large heavy sauce pan over low to medium heat, melt the butter. Add sweetened condensed milk, sugar, corn syrup, and salt. Place a candy thermometer on side of pan, taking care to not let it touch bottom of pan. Stirring almost constantly, cook on medium heat to 234° F to produce a soft and chewy caramel. Cook up to 244° F for a firmer caramel.
Remove from heat and stir in anise extract and black food coloring. Pour into prepared pan and let cool for 30 minutes on the counter.
Place in refrigerator to cool completely. Cut into pieces (mine are about 3/4" x 2"). Wrap in wax paper. Enjoy!
Nutrition Information:
Yield: 70
Serving Size: 1
Amount Per Serving:
Calories: 91
Total Fat: 3g
Saturated Fat: 2g
Trans Fat: 0g
Unsaturated Fat: 1g
Cholesterol: 10mg
Sodium: 44mg
Carbohydrates: 16g
Fiber: 0g
Sugar: 16g
Protein: 1g
Nutrition information is automatically calculated by Nutritionix. I am not a nutritionist and cannot guarantee accuracy. If your health depends on nutrition information, please calculate again with your own favorite calculator.