A Trip to The Ranch with The Pioneer Woman and Land O'Lakes
I had an amazing time visiting The Pioneer Woman's family ranch in Oklahoma. Read about my Trip to the Ranch and all the fun ladies I went with!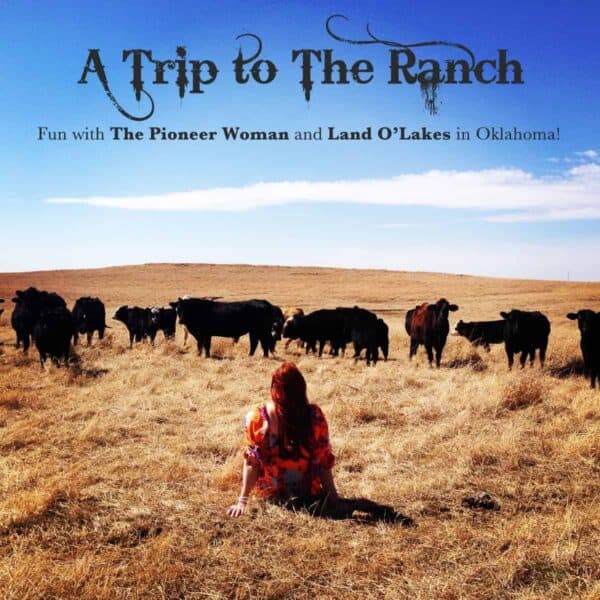 A Trip to the Ranch
I love wide open spaces. They calm me. Except when I'm 100 miles from the nearest big box grocery store, a Super Target, or a great restaurant for more than a week. I guess you can say that I've been "city-fied" since my growing up on the farm. There's no denying that I love the conveniences and endless variety that the city offers. But the quieter country life remains priceless to me. I still crave the sights of the big open sky and endless rolling landscape, and the sound of nothing but birds, cows, and the occasional tractor. Such is the every day life of Ree Drummond.
I hope you were following along with me on Instagram this past week as I visited The Pioneer Woman's family ranch. Located a couple hours north of Tulsa by car, it was everything I thought it would be. And so much more. And so much less. It's hard to describe. But I loved the contrast between the obvious vastness of the ranching operation and how very simply and humbly the Drummonds live. Their kindness, values, and overall character are solid. They are good hardworking people, and I enjoyed my time there on the Oklahoma grasslands so much.

Our Kitchen Conversations group was welcomed to Oklahoma with personal notes from Land O'Lakes and Ree. Some slept at The Lodge, while the rest were at The Grandview Inn, a nearby bed and breakfast and the childhood home of Ree's husband, Ladd. I was at the B&B, owned and operated by Steven and Tiffany Poe. Tiffany is some kind of crazy woman. Almost ready to give birth, with three young kids already, this woman ran circles around me. Besides taking care of her family and the B&B, she also runs a food truck with her husband and is Ree's righthand woman when it comes to food styling help. Aaaaaaaand she is helping out with The Building. I prodded Tiffany for the secret to her endless reserve of positive energy. Beaming from ear to ear, she quickly admitted to snorting powdered sugar. I definitely think there's more to it than that, but at least I have a place to start!
Steven and Tiffany gained extra bonus points with me when they served us breakfast before we checked out of The Grandview Inn. They set an egg with a perfectly seasoned and fried thinly sliced bone-in pork chop before me. With just one bite, I was looking for my mom hiding out in their kitchen. That pork chop tasted exactly how Mom makes hers, with a light breading of flour and Lawrys seasoned salt, pan-fried to utter perfection.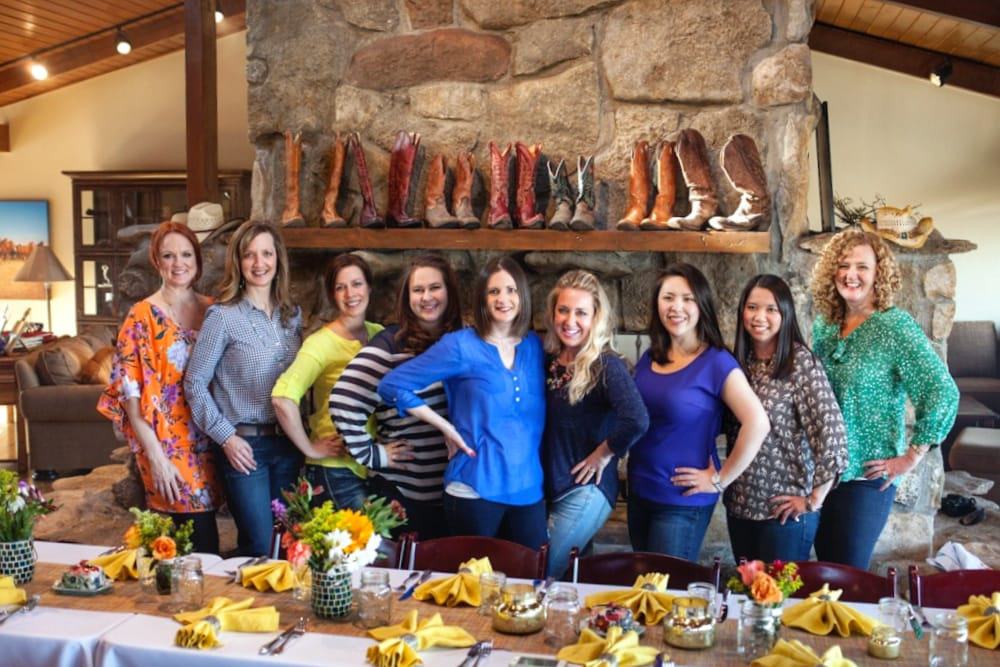 The Kitchen Conversations group consists of an awesome group of ladies. From left to right are: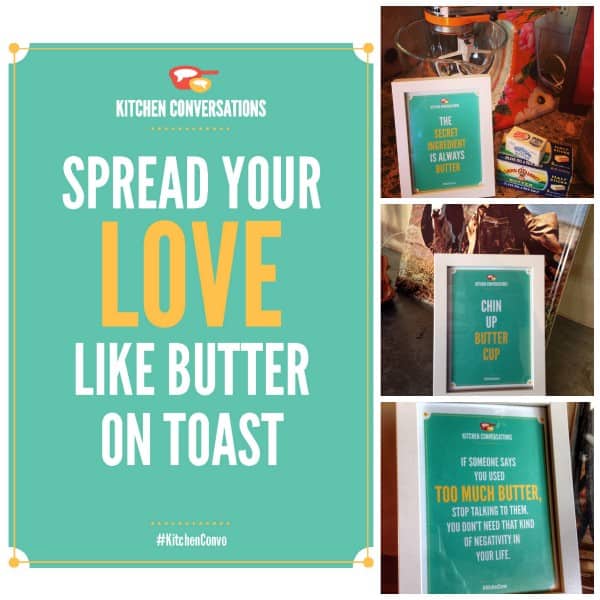 Our time with Land O'Lakes was stationed at The Lodge, such a gorgeous space of natural materials and light. And scattered around on kitchen counters and side tables were fun Butterisms, reminders of why we were gathered in that special place together. I especially liked the one in the lower righthand photo.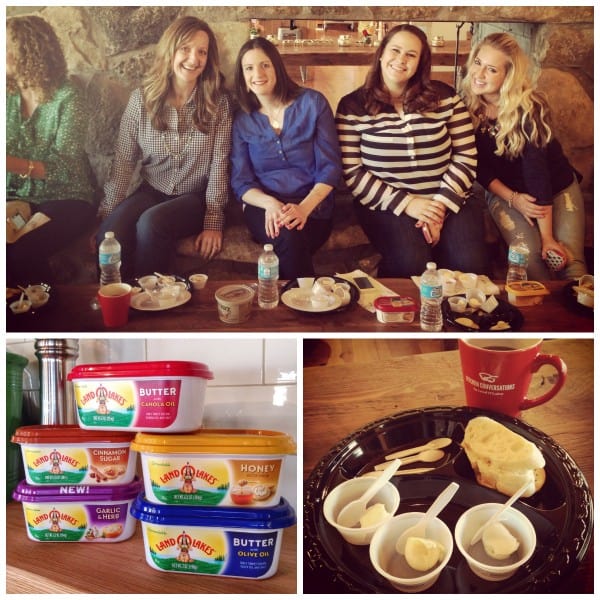 After sharing breakfast around the famous long table you see on Ree's Food Network show, we gathered to talk about butter with the fabulous crew from Land O'Lakes. And then we were dared to taste the Land O'Lakes spreadable butter products against the competition. But there really was no competition at all. The Land O'Lakes butters were silky and creamy, with a very pure and clean flavor. The competition didn't even come close, in either texture or flavor. Tasting truly is believing. (Top photo: Bridget, me, Maria, Jessica, and Jenny)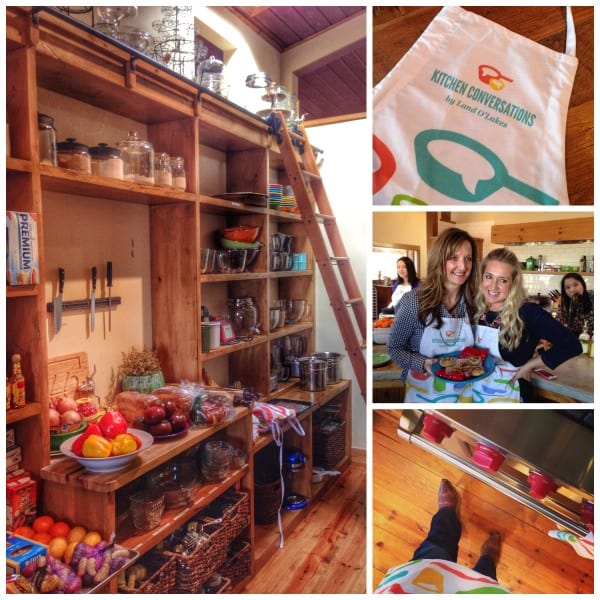 Can you imagine having a pantry like this? In my dreams! It was light and bright, stocked and organized. And we all got to play in it during the Butter Showdown!
The Butter Showdown
In the Butter Showdown we were divided into teams of two, and then each team drew two different ingredients out of a cowboy hat. We then had 30 minutes to create a dish that used those two ingredients. My partner was Jenny and our ingredients were coconut milk and black tea. We were both drawn to make something sweet. With Jenny's affinity for cookies, it just seemed like the natural way to go. She started mixing up a cookie base while I made a sweet nut brittle topping on the stove top. Together we presented our Coconut Milk and Chocolate Chunk Cookies with Black Tea Cashew Brittle (middle righthand photo). They were delicious, and disappeared fast!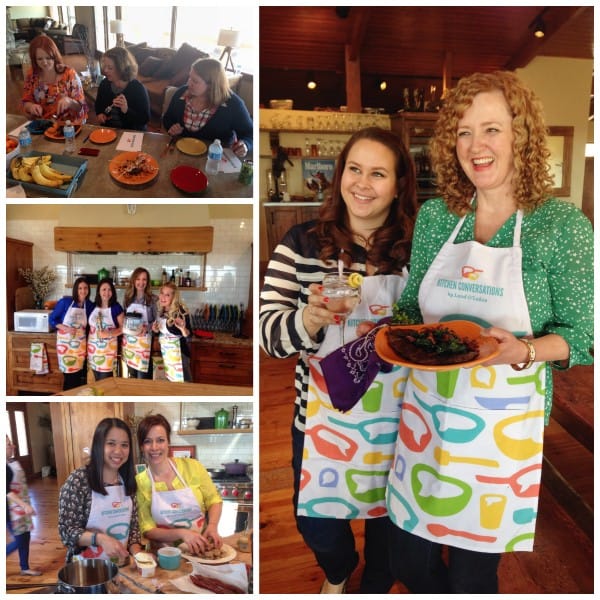 Our cookies were apparently not quite as convincing, though, as the dish created by Jessica and Bridget, who won the Butter Showdown (far right photo). All of our entries were judged by the discerning palates of Ree and two ladies from the Land O'Lakes Test Kitchen, Becky and Amber (top left photo). Middle lefthand photo: Maria, Joanne, me, Jenny. Bottom lefthand photo: Julie and Sommer.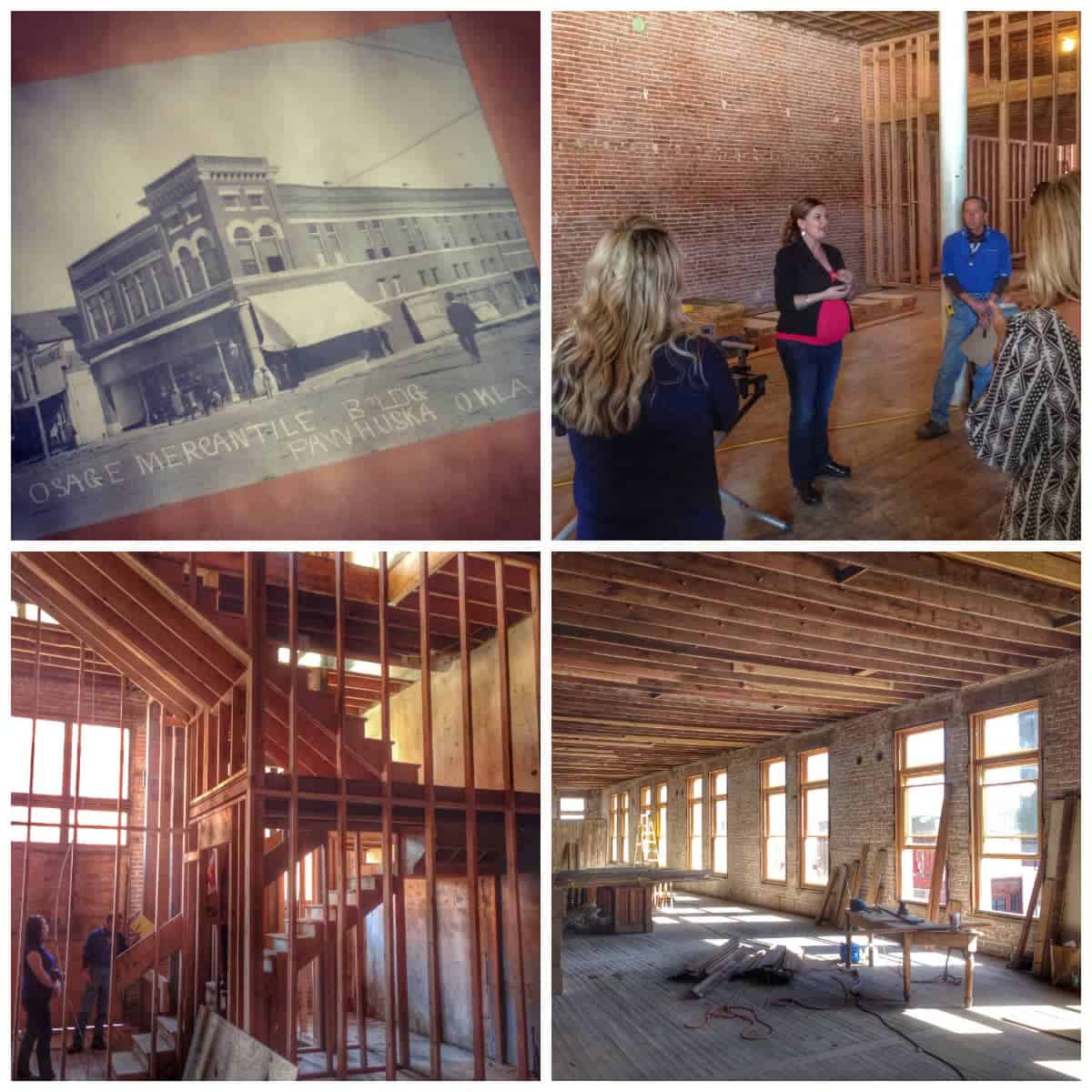 After we ate lunch, Ree led us all on a tour of The Ranch, showing us their cows and personal homestead. And then we drove into Pawhuska for a tour of The Building. That's Tiffany describing some of the plans for The Building with us (upper righthand photo). It's such a cool old structure with an even cooler vision. I've always been drawn to historic homes and buildings, and am just so excited to see how this project continues to progress. With plans for personal offices and photography/work spaces, plus a coffee shop, fresh deli, and event space…this is sure to be a beloved gathering spot for their small remote community.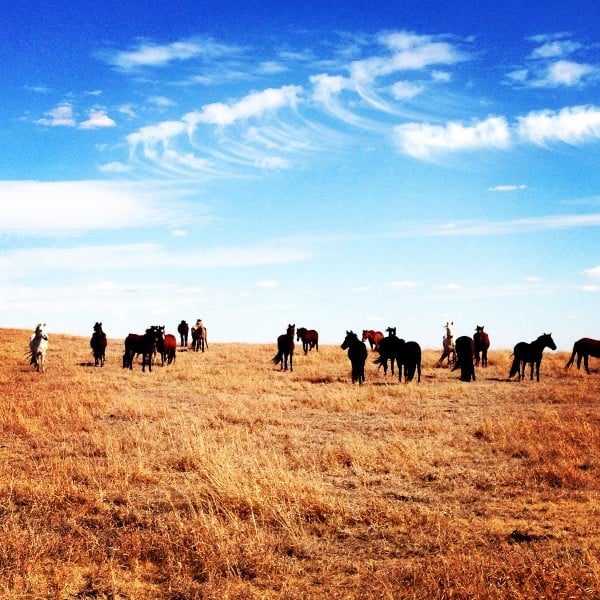 After leaving The Building, we headed back to The Lodge.
And this.
This is what I was secretly really looking forward to on my visit to The Ranch. I've seen Ree's gorgeous photos of their wild horses, but I was completely awestruck in their actual presence. I would have loved to simply camp out on their prairie for a few hours to watch them.
Then we ate. Again. Everything was always delicious, but do you want to know the fun part? The Land O'Lakes crew put together our breakfast, lunch, and dinner menus highlighting all the recipes we'll be sharing with you tomorrow. For each meal, they chose a few different dishes that we created for Land O'Lakes and we were able to sit down and enjoy them together. My Roasted Mexican Cauliflower with Pepitas (second photo from the top on the righthand side) was served for dinner, along with Jenny's Cheesy Green Chile and Bacon Buttermilk Biscuits (top righthand photo), Jessica's Rosemary Hasselback Potatoes (second photo from the bottom on the righthand side), and Julie's Grilled Flank Steak with Chimichurri Butter (bottom righthand photo). It was so YUM!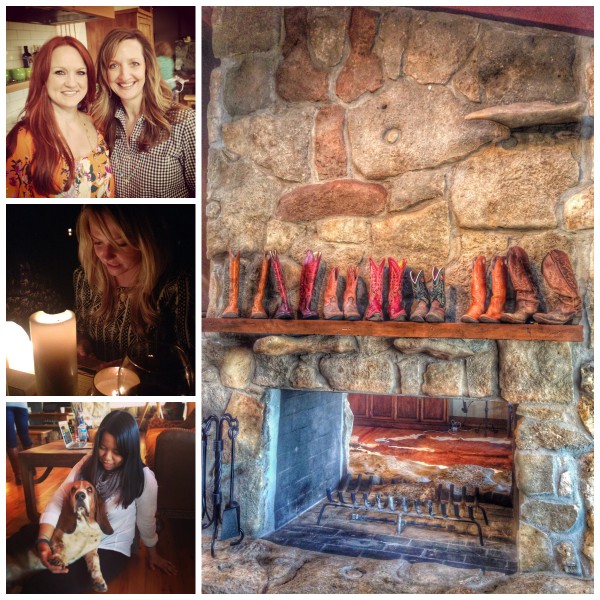 Before dinner ended that evening, right before we were about to dive into dessert, the electricity went out. Ree warned us that it would likely "be awhile", as candles were lit, wine glasses were filled, and we pulled our chairs in a little closer around the table to enjoy the soft new glow of our tablescape. Johnna (middle lefthand photo), a member of the Land O'Lakes group, played game show host as she quizzed us by candlelight in a game of Foodie Fight. Losing electricity is never one's desire, but I think those two hours without it only added to our adventure at The Ranch.
The next morning, as we were about to say our farewells, Ree introduced us to Charlie (lower lefthand photo, with Julie). He is quite the dog, and had us captivated with his quiet innocent charm. I will never look at our daughter's Charlie books the same way ever again!
---
For more trip recaps, be sure to check out:
A Fun Day at The Lodge by Ree at The Pioneer Woman
Adventures on The Pioneer Woman's Ranch by Joanne at Fifteen Spatulas
And don't forget to get my recipe for Roasted Mexican Cauliflower with Pepitas. It's SO GOOD!!
Disclosure: My travel expenses to The Ranch were paid for by Land O'Lakes. I was not paid to write this trip recap. All opinions are my own. Thank you so much to Ree and the Land O'Lakes crew for inviting me to spend some time with you!