Roasted Mexican Cauliflower with Pepitas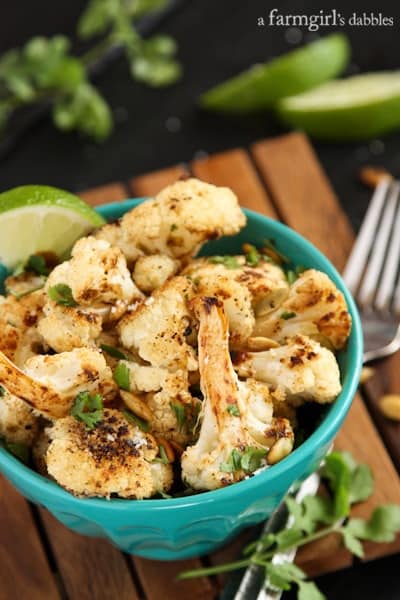 Cauliflower is a vegetable I had to learn to love. I went through the better portion of my life not knowing how good it could be, completely unaware of its delicious potential. But once I discovered the ultimate secret to preparing cauliflower, to simply roast it in the oven until it's tender and caramelized, it's been hard to hold me back. I'm always looking for new flavors to pair this veggie with, and this Roasted Mexican Cauliflower with Pepitas is the best dish yet!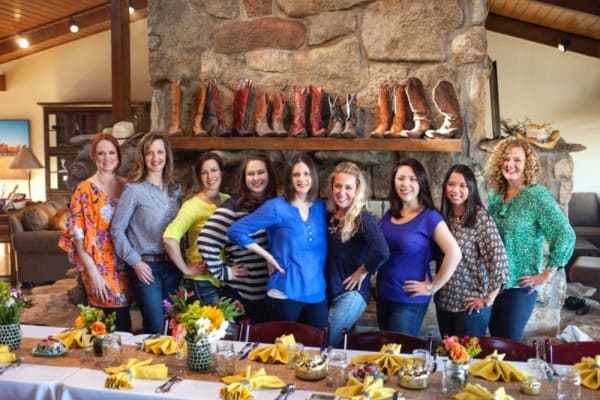 I'm ever so thankful to be a part of the Kitchen Conversations group again this year with Land O'Lakes, sharing about their butter products. Last year was a blast working with Becky from the Land O'Lakes Test Kitchen, Ree from The Pioneer Woman, Julie from The Little Kitchen, Maria from Two Peas and Their Pod, and Sommer from A Spicy Perspective. This year we have some new faces joining the group. Yay! Please say hello to Bridget from Bake at 350, Joanne from Fifteen Spatulas, Jenny from Picky Palate, and Jessica from The Novice Chef!
2014 has kicked off with an awesome start, with a visit to the ranch last week. Or should I say, The Ranch! It was so much fun, super casual and filled with great food, friends, and laughter. For a trip recap with photos from the event, click here. Also be sure to check out the hashtag #KitchenConvo on Instagram, Twitter, and Pinterest for more on our time in Oklahoma, plus all the latest Kitchen Conversations happenings!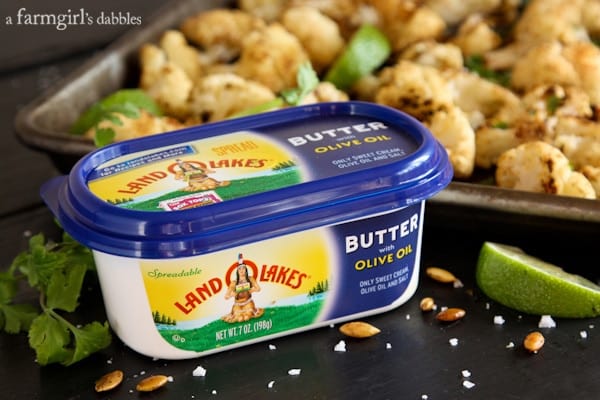 Did you know that Land O'Lakes offers a variety of spreadable butter products in tubs? When my husband found out that the Kitchen Conversations group was going to be working with these this year, I discerned visible signs of excitement from him. Blake is a man who does not show his emotions, so it was obvious to me that this was a good thing. A man of simple needs, he requires nothing more than a slice of warm toast with a good shmear of creamy butter. But when the butter doesn't shmear easily, well, that's not a good thing. Needless to say, Blake loves the Land O'Lakes spreadable butter products. He and our daughters are especially fond of the Cinnamon Sugar Butter Spread; it makes every piece of toast a special one!
I think that most people view the spreadable butter products as only easy-to-use toppers for their toast or muffin. But I wanted to show you how versatile they truly are and used the Land O Lakes® Butter with Olive Oil in my recipe for this roasted cauliflower. Because, really, its only ingredients are sweet cream, olive oil, and salt. That's it. Perfect for this recipe!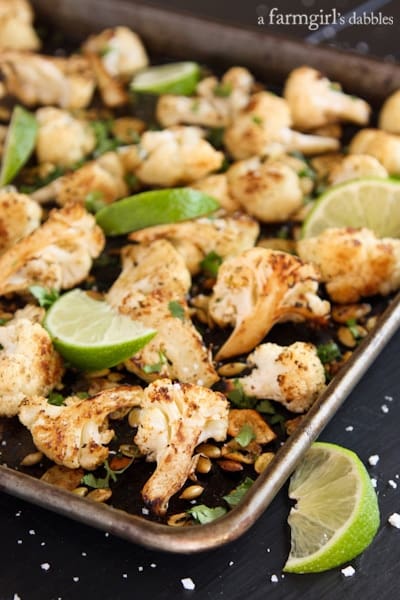 Cauliflower is a bit bland on its own, I think everyone can agree. But when you roast it with a simple combination of butter, olive oil, salt, and pepper…it's transformed into something so tasty you almost forget how good it is for you.
The secret to roasted cauliflower's amazingness is in the caramelization. A simple roasting pan provides the vehicle for perfectly tender cauliflower with caramelized cut surfaces and edges. It's so delicious, I burn my mouth every single time as I snitch from the hot pan, unable to wait for it to be set on the table. Blake and the girls can't get enough of the roasted cauliflower, either. It's a sure way to get our family to eat their veggies!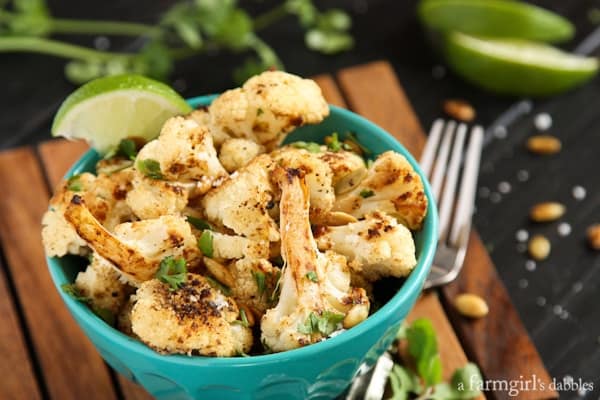 Cauliflower is the ideal stage for playing with flavors. And this new recipe, infused with a Mexican flavor twist, takes roasted cauliflower to a whole new level. The vegetable adores being partnered with cumin and ancho chili, and absolutely shines when brightened up with the fresh lime. Add to that the earthiness of cilantro and nuttiness of pumpkin seeds and it's just plain irresistible!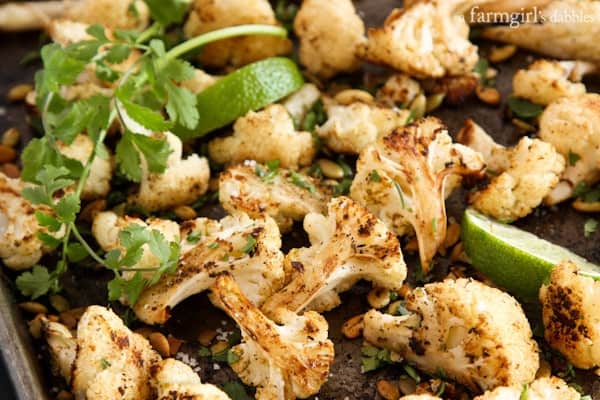 I love serving this Mexican cauliflower straight from the hot roasting pan. Letting my family scrape up all the tasty morsels on their own not only makes for a casual and fun presentation, but it also shows off the simplicity of this hearty dish of veggies. I want our girls to know that awesome meals don't have to be fussy and complicated. All you really need are beautiful ingredients and a desire to let them shine.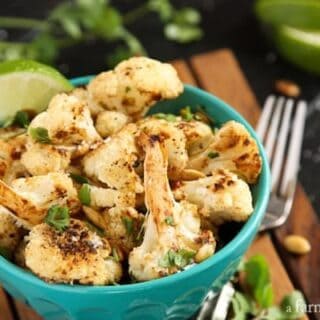 Roasted Mexican Cauliflower with Pepitas
Yield: 4 servings
Prep Time: 10 minutes
Cook Time: 20 minutes
Total Time: 30 minutes
Roasted Mexican Cauliflower with Pepitas is a fun twist on regular old cauliflower! This flavorful side dish is a great way to get your kids to eat some veggies.
Ingredients
juice and zest from 1 lime
2 tsp. ground cumin
1/2 tsp. ground ancho chili
1 tsp. flaky sea salt or kosher salt
1/4 tsp. freshly ground black pepper
3 T. plus 1 tsp. Land O Lakes® Butter with Olive Oil, divided
1 large head cauliflower, cut into smaller florets, and florets cut in half
4 cloves garlic, thinly sliced
1/4 c. pepitas (pumpkin seeds)
1/4 c. chopped fresh cilantro
fresh lime wedges
Instructions
Place a large roasting pan with edges into the oven and preheat the oven to 450° F. While oven preheats, combine lime juice and zest in a small bowl. In another small bowl, combine cumin, ancho chili, sea salt, and black pepper. Set both bowls aside.
Remove hot pan from oven and add the 3 tablespoons of Land O Lakes® Butter with Olive Oil to the pan. With a spatula, spread the butter around as it sizzles and dances across the hot pan. Add cauliflower florets to pan and quickly toss with the melting butter. Drizzle the lime juice and zest mixture over the cauliflower, and then sprinkle with the mixture of spices.
Toss cauliflower to combine, and then spread it out evenly in the pan. Place pan back into the oven and roast for 15 minutes without stirring, letting the edges of the cauliflower caramelize.
In a small bowl, melt the remaining teaspoon of Land O Lakes® Butter with Olive Oil in the microwave, and then stir in the garlic slices. Remove hot pan of cauliflower from the oven and add buttery garlic slices and pepitas to the cauliflower. Toss to combine, then place pan back into the oven to roast for an additional 5 minutes.
Remove from oven and sprinkle with fresh cilantro. Add a bit more sea salt and black pepper, if desired. Serve cauliflower right from the pan with fresh lime wedges to squeeze over individual portions.
Nutrition Information:
Yield: 4
Serving Size: 1
Amount Per Serving:
Calories: 151
Total Fat: 6g
Saturated Fat: 1g
Trans Fat: 0g
Unsaturated Fat: 4g
Cholesterol: 3mg
Sodium: 809mg
Carbohydrates: 23g
Fiber: 7g
Sugar: 12g
Protein: 7g
Nutrition information is automatically calculated by Nutritionix. I am not a nutritionist and cannot guarantee accuracy. If your health depends on nutrition information, please calculate again with your own favorite calculator.
You're surely going to want to check out the rest of the recipes from our Kitchen Conversations group. I ate every single one of these dishes at The Ranch – they're all awesome!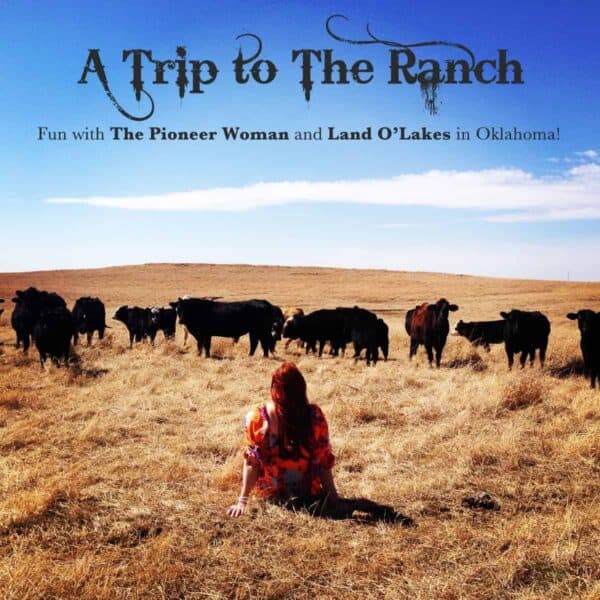 Also be sure to get the whole story from my trip to The Ranch! Just click here!
…
Disclosure: A Farmgirl's Dabbles has partnered with Land O'Lakes for an exclusive endorsement of Land O Lakes® Butter for their Kitchen Conversation blogger program. This blog post is sponsored by Land O'Lakes. All opinions are my own.