Chocolate French Silk Pie with Salted Pecan Crust
Chocolate French Silk Pie with Salted Pecan Crust has a delicious, silky chocolaty filling inside a buttery, nutty homemade pie crust. It's easy to make and a perfect dessert recipe for special occasions.
If you love French Silk Pie you should also try my recipe for Chocolate French Silk Pie Bars with Graham Toffee Crust.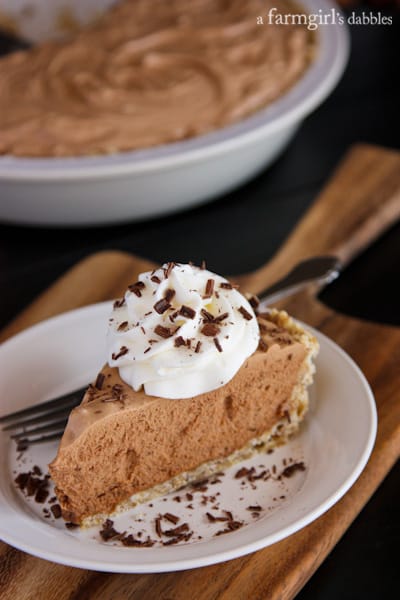 I Had Fun Making This French Silk Pie From Scratch
Have you ever made French silk pie from scratch? Well I hadn't until Hatti requested it for her birthday treat this year. It's one of those recipes that's been on my long list for years, but I just never seemed to get to it. Sometimes all it takes is a child's nudge for a person to try something new, and I'm sure that this Chocolate French Silk Pie with Salted Pecan Crust is not the last time our daughter will challenge me. Because, truly, this pie is unlike any that I've made before. Not that it was difficult. The method was just different. And fun. And I've already been dreaming about making it again, it's so good!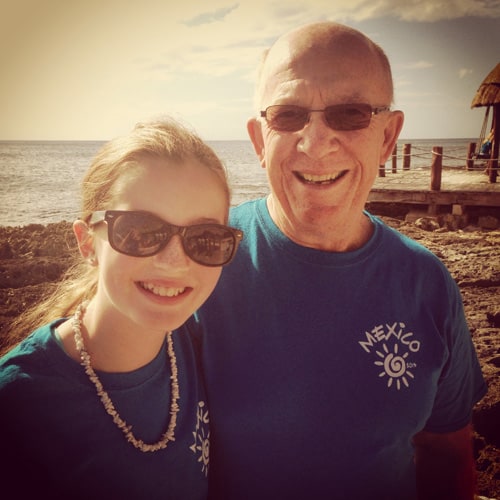 I shared this photo last week, titled "birthday buddies". It's of our daughter Hatti and my dad when we were in Mexico last fall. They are happy to share the same birthday and to document it with photos. I couldn't help but share it again today, on their actual birthday. This picture full of warm sunshine and even warmer memories simply makes me smile.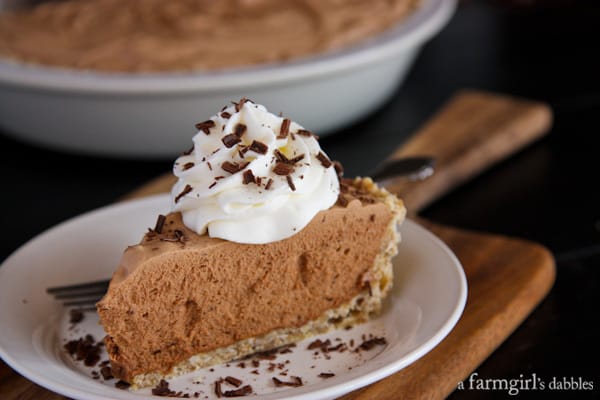 This Chocolate Silk Pie Recipe Is Easy To Make With A Stand Mixer
After reading through a few recipes for French silk pie, I realized that I obviously didn't know the first thing about what it took to create one. There is a lot of egg whipping going on!
It's times like these, recipes like this, where a KitchenAid stand mixer is essential. What would I do without mine?!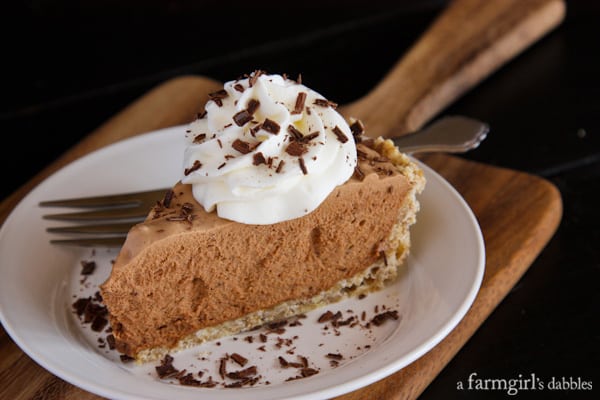 I think it's fair to say that my only experiences with eating French silk pie prior to this homemade one has been after sliding into a booth at Perkins or Baker's Square or beloved little Minnesota gems Betty's Pies or Joseph's. Joseph's is my dad's favorite place to eat when he comes to visit us because they have awesome broasted chicken and a big menu of fresh homemade pies, made in-house daily. And French silk pie has always been Hatti's favorite slice there. I love it, too.
The Homemade Pie Crust Is Nutty And Delicious
If you've never made a French silk pie, then you're in for a treat. It's great fun to see the pie filling gain volume as each egg is added and whipped for a full five minutes each. And if you're pie crust challenged, like I am, then you'll be thrilled with this wonderful pressed-in crust. I first tried it out in a super delicious Turtle Pecan Cluster Cheesecake to celebrate my in-laws' 60th wedding anniversary, and was instantly smitten. The buttery nutty texture contrasts beautifully with the incredible silkiness of the pie. PLUS it's super duper easy to make!!
What Does Chocolate French Silk Pie Taste Like?
And the flavor? It's some kind of fabulous. The filling is perfectly chocolately, with a little boost from espresso powder. I substituted powdered sugar for the regularly called for granular, to get rid of any chance of ending up with a grainy filling. Because I really don't like that. When I'm hungry for French silk pie, I want it super silky!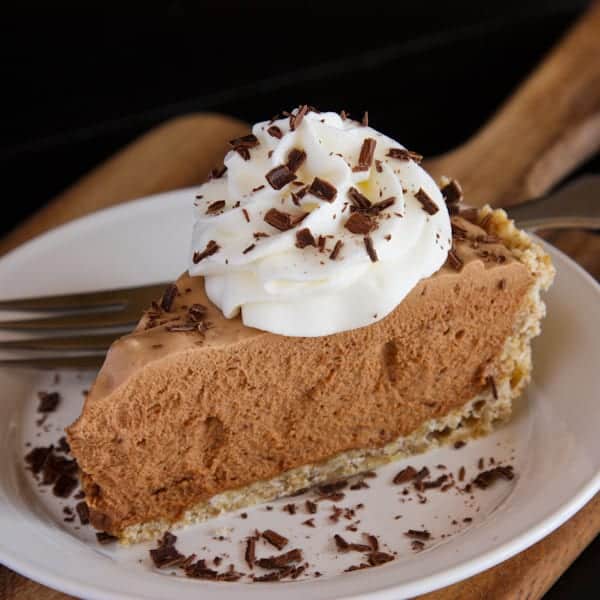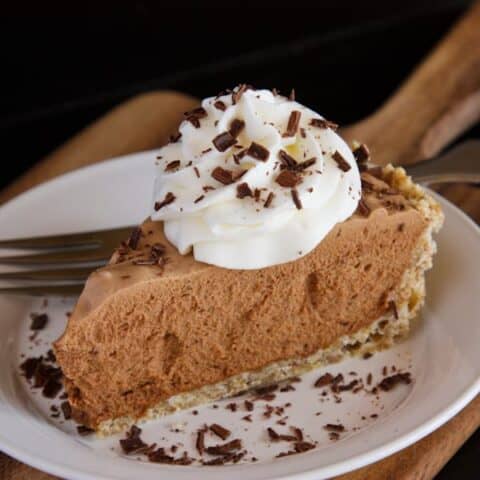 Chocolate French Silk Pie with Salted Pecan Crust
Yield: 1 pie
Prep Time: 2 hours 30 minutes
Cook Time: 15 minutes
Total Time: 2 hours 45 minutes
Chocolate French Silk Pie with Salted Pecan Crust has a delicious, silky chocolaty filling inside a buttery, nutty homemade pie crust. It's easy to make and a perfect dessert recipe for special occasions.
Ingredients
for the salted pecan crust:
1 c. all-purpose flour
1/3 c. packed brown sugar
1/4 tsp. kosher salt (add a bit more if you like a more pronounced salty flavor)
1/4 c. finely chopped pecans
6 T. cold butter, cubed
for the chocolate French silk pie:
2 oz. bittersweet chocolate
2 oz. semi-sweet chocolate
1 c. unsalted butter, softened
1.5 c. powdered sugar
1 tsp. pure vanilla extract
1 tsp. espresso powder
pinch of kosher salt
4 large pasteurized eggs, at room temperature
freshly whipped sweetened cream
bittersweet chocolate shavings
Instructions
for the salted pecan crust:
Preheat oven to 325° F.
In a small bowl, combine flour, brown sugar, salt, and pecans. Cut in butter with a rigid pastry cutter or a fork until crumbly. Press evenly onto the bottom and sides of a 9" pie pan.
Bake for about 15 minutes, or until set and slightly browned. Remove to wire rack to cool completely.
for the chocolate French silk pie:
In a small microwave-safe bowl, gently melt chocolates, taking care to not scorch. Set aside and let cool until chocolate mixture is at room temperature.
In the bowl of an electric stand mixture, using the paddle attachment, cream together butter and sugar on medium-high speed until fluffy, about 1 to 2 minutes. Drizzle chocolate over butter/sugar mixture and beat on medium-low speed until thoroughly combined. Add vanilla, espresso powder, and salt, and beat until combined.
Switch to the whisk attachment. Then add one egg and beat for 5 minutes on medium speed. Repeat with remaining three eggs, beating the mixture for an additional 5 minutes with each egg addition, for a total of 20 minutes of beating. Pour chocolate filling into cooled pie crust, spreading evenly with a spatula. Refrigerate for at least 2 hours or until thoroughly chilled before serving.
To serve, top with freshly whipped sweetened cream. Garnish with chocolate shavings.
Nutrition Information:
Yield: 14
Serving Size: 1
Amount Per Serving:
Calories: 357
Total Fat: 26g
Saturated Fat: 15g
Trans Fat: 0g
Unsaturated Fat: 10g
Cholesterol: 104mg
Sodium: 116mg
Carbohydrates: 28g
Fiber: 2g
Sugar: 19g
Protein: 4g
Nutrition information is automatically calculated by Nutritionix. I am not a nutritionist and cannot guarantee accuracy. If your health depends on nutrition information, please calculate again with your own favorite calculator.