Chocolate French Silk Pie Bars with Graham Toffee Crust
This post may contain Amazon or other affiliate links. As an Amazon Associate I earn from qualifying purchases.
These Chocolate French Silk Pie Bars with Graham Toffee Crust are destined to become your next best Thanksgiving feast tradition!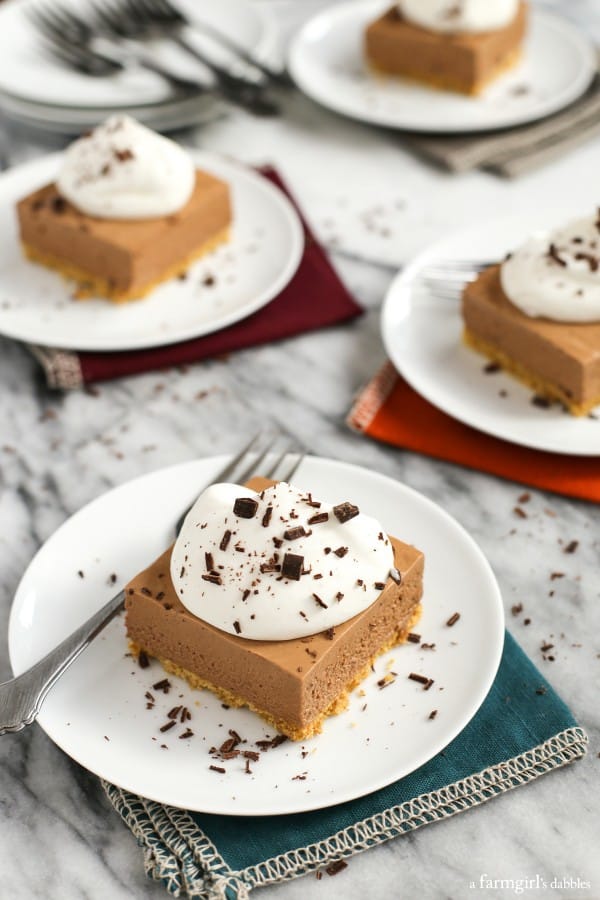 Thanksgiving is now just a couple weeks away. If you're in charge of dessert, I have a fantastic recipe for you to show off with. This recipe for Chocolate French Silk Pie Bars with Graham Toffee Crust is out of this world delicious!
Last year we hosted Thanksgiving for Blake's family in our home. Blake smoked a turkey on the Big Green Egg in the back yard, while the girls and I created a harvest salad, fresh cranberry sauce, homemade green bean casserole (recipe coming soon!), potatoes au gratin, and a French silk pie. It's a good thing that we started making the meal the day prior, that another family member brought a pumpkin dessert, and that we had planned to shortcut the bread course with some Rhodes rolls. Because, my oh my, that meal was alot of work!
We will not be hosting this year, which I'm quite alright with. But we will be contributing to a meal or two. I'm waiting to hear back from family on final plans, to know what we will be tasked with making. But once they see these French silk pie bars published here, I'm guessing this recipe will be added to our list. Which I'm more than alright with!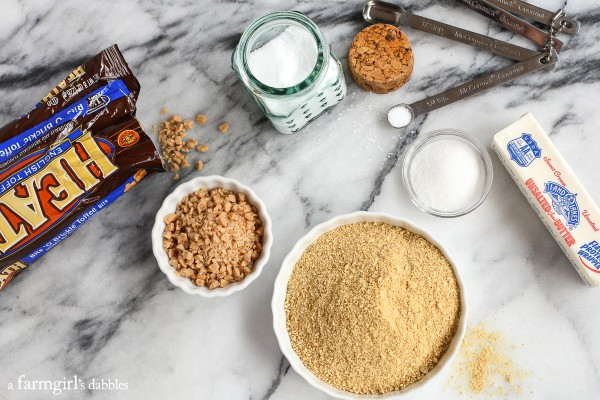 The French silk pie recipe I've been making for the past couple years has an outstanding salted pecan crust. But with these bars, I wanted to try out a graham cracker crust. With a twist, of course. My mind wandered to toffee.
The crust comes together quickly with just a few ingredients. And it's so easy to make. Simply press the mixture into an 8″ square pan and bake for 10 minutes.
I made a number of pans of these bars, getting the recipe just right. And I can tell you that this crust will stay beautifully crisp for a few days in the refrigerator, making this dessert an easy one to put together a day or two before Thanksgiving.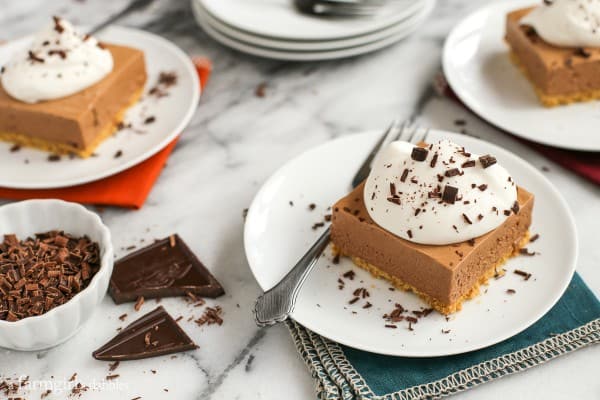 For those of you who suffer with frustration in making traditional pie crust (pick me!), this is your surefire way to create a dessert to be proud of. The slices of bars come out crisp and clean, with some tips I included in the recipe below.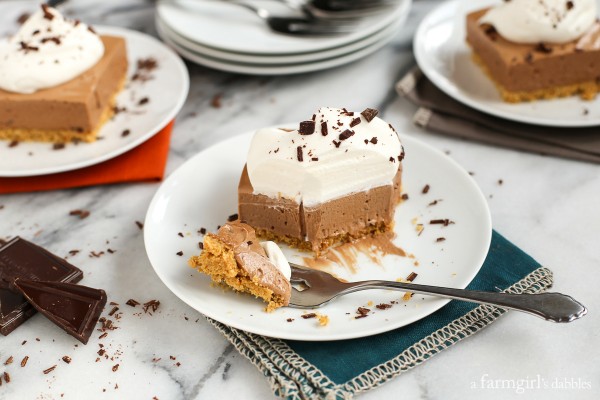 I've been a fan of this pie since I was just a kid. Topped with a big dollop of sweetened whipped cream and chocolate shavings, it's irresistible to me. Its luscious texture, like a thick and creamy, ultra smooth pudding, was created for kids to fall in love with. It's a good thing that being a kid doesn't have to be defined by our age, as I intend to enjoy French silk pie forever and ever.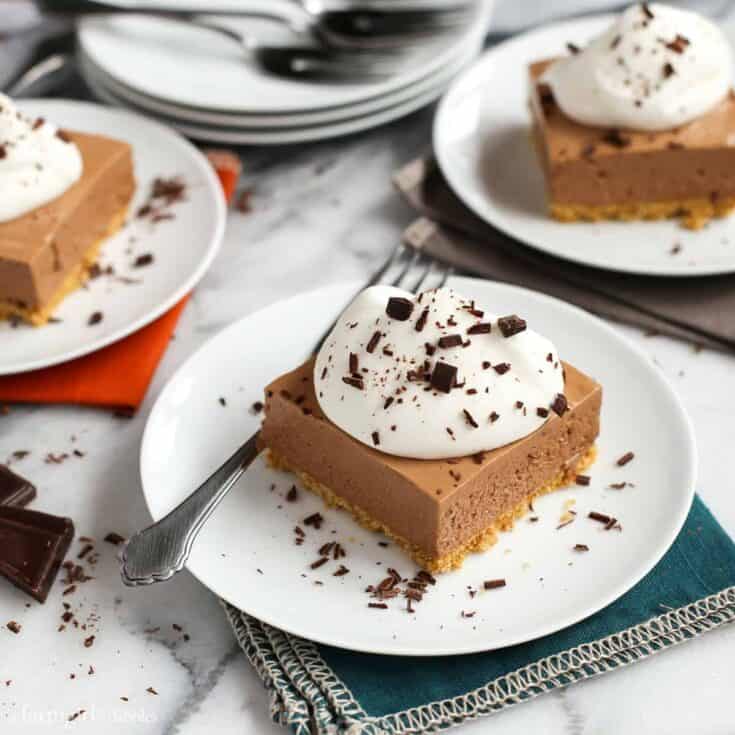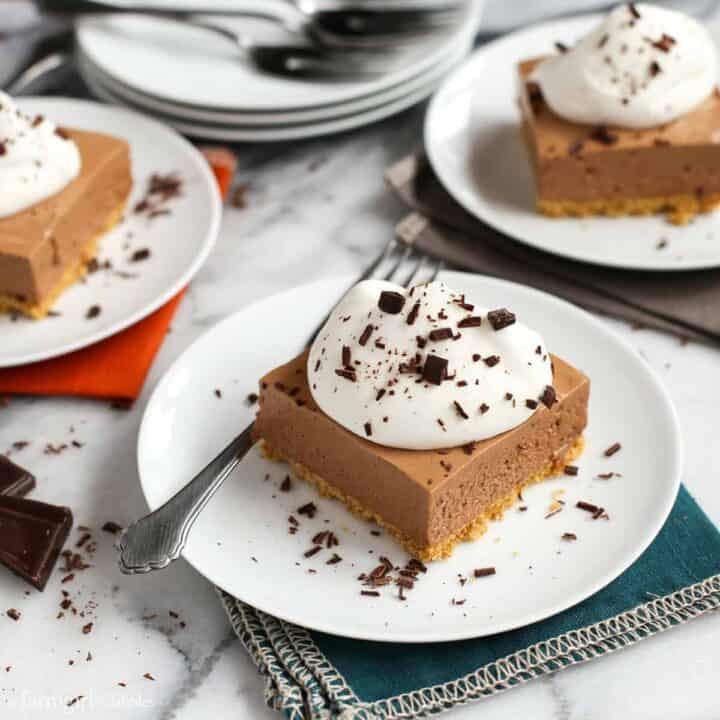 Chocolate French Silk Pie Bars with Graham Toffee Crust
Yield: 16 servings
Prep Time: 35 minutes
Cook Time: 10 minutes
Total Time: 45 minutes
These Chocolate French Silk Pie Bars with Graham Toffee Crust are destined to become your next best Thanksgiving feast tradition!
Ingredients
for the graham toffee crust:
for the chocolate French silk pie filling:
Instructions
for the graham toffee crust:
Preheat oven to 325° F.
In the bowl of a food processor, combine the graham cracker crumbs, sugar, salt, and toffee bits. Pulse a few times to combine and to break down the toffee bits just a bit. Add the melted butter and pulse a few times, until mixture is combined and evenly moistened by the butter.
Pour mixture out into an 8" x 8" pan, and firmly press into an even layer onto the bottom of the pan. Bake for about 10 minutes, until fragrant and slightly golden. Remove to a wire rack to cool completely.* Note: to achieve ultra clean cuts of bars like you see in my photos, line your pan with a strip of foil first. Simply fold a 16'' long piece of foil into an 8'' x 16'' strip and place in an 8'' square baking pan, leaving an overhang on 2 sides. Press the graham toffee crust mix into the bottom of the pan that is lined with foil and bake. Proceed with the remainder of the recipe as usual. Once the bars are chilled, run a knife around the perimeter of the pan to loosen it, and then carefully lift the bars from the pan by pulling up on the foil lining. Place bars on a cutting board and then slice into squares. To get clean cuts, dip a long, thin, non-serrated knife into a tall, warm glass of water and then wipe knife clean after each cut.
for the chocolate French silk pie filling:
In a small microwave-safe bowl, gently melt chocolates in the microwave, taking care to not scorch. Set aside and let cool until chocolate mixture is at room temperature.
In the bowl of an electric stand mixture, using the paddle attachment, cream together butter and sugar on medium-high speed until fluffy, about 1 to 2 minutes. Drizzle chocolate over butter/sugar mixture and beat on medium-low speed until thoroughly combined. Add vanilla, espresso powder, and salt, and beat until combined.
Switch to the whisk attachment. Then add one egg and beat for 5 minutes on medium speed. Repeat with remaining three eggs, beating the mixture for an additional 5 minutes with each egg addition, for a total of 20 minutes of beating.
Pour chocolate filling into cooled graham toffee crust, spreading evenly with a spatula. Refrigerate for at least 3 hours or until thoroughly chilled before serving.
To serve, top with freshly whipped sweetened cream. Garnish with chocolate shavings.
Nutrition Information:
Yield: 16
Serving Size: 1
Amount Per Serving:
Calories: 320
Total Fat: 24g
Saturated Fat: 14g
Trans Fat: 0g
Unsaturated Fat: 8g
Cholesterol: 91mg
Sodium: 80mg
Carbohydrates: 25g
Fiber: 2g
Sugar: 19g
Protein: 4g
Nutrition information is automatically calculated by Nutritionix. I am not a nutritionist and cannot guarantee accuracy. If your health depends on nutrition information, please calculate again with your own favorite calculator.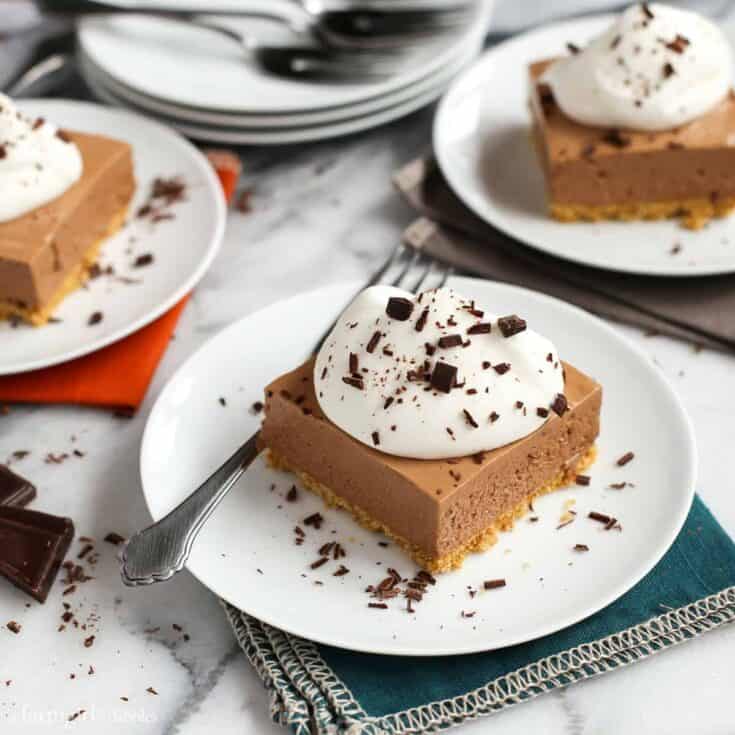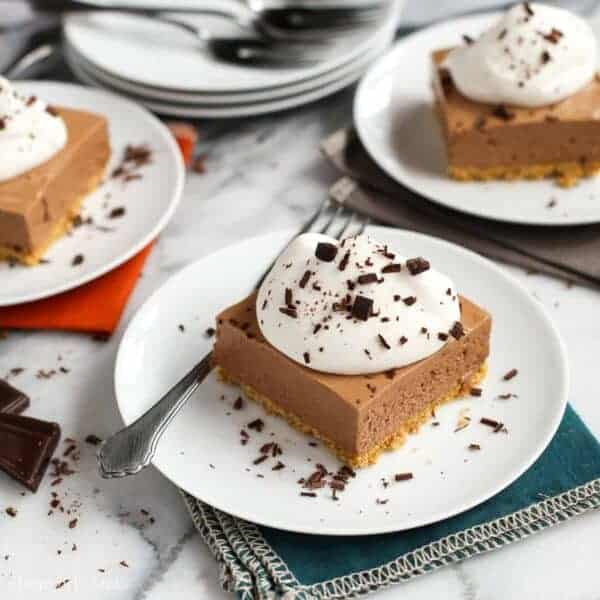 We participate in the Amazon Services LLC Associates Program, an affiliate advertising program designed to provide a means for us to earn fees by linking to Amazon.com and affiliated sites. See our
disclosure policy
for more info.