48 Hours on the Florida Space Coast
The Florida Space Coast has so much to offer. Here's what I experienced in just 48 hours!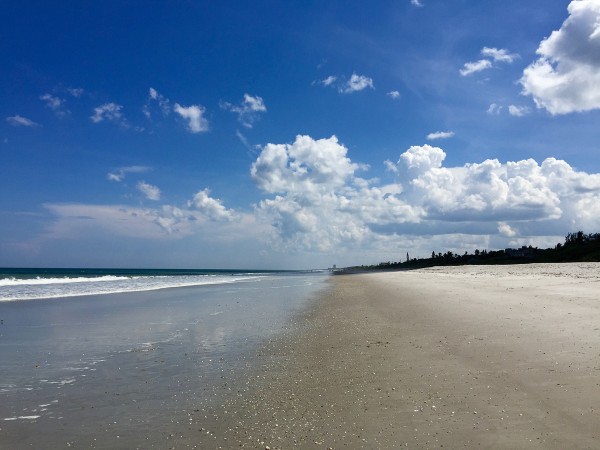 Ahhhhhh…Florida, I've always been fond of you.
Being in Florida, with toes dipped in the sand, evokes alot of beautiful feelings for me. Whenever I visit, memories float through my mind from vacations long ago with my dad, mom, and two younger sisters.
I recently had the pleasure to return to the Florida Space Coast to join up with a group of lady friends for a girls weekend. Here's a little recap of my 48 Hours on the Florida Space Coast.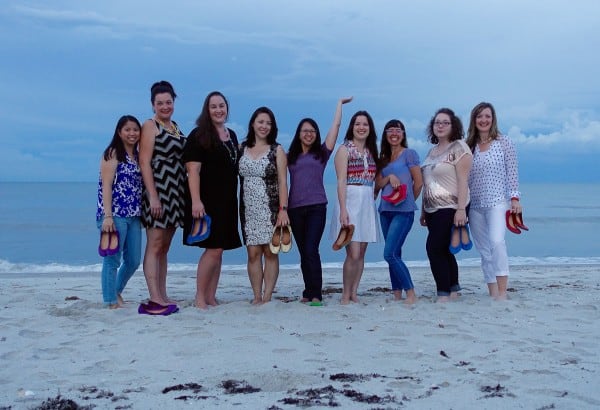 From left to right, our #scgirlsweekend group consisted of:
We stayed right along the beach at Azure State, in Melbourne Beach, Florida. Valerie and Frederico were our sweet, awesome hosts for the weekend.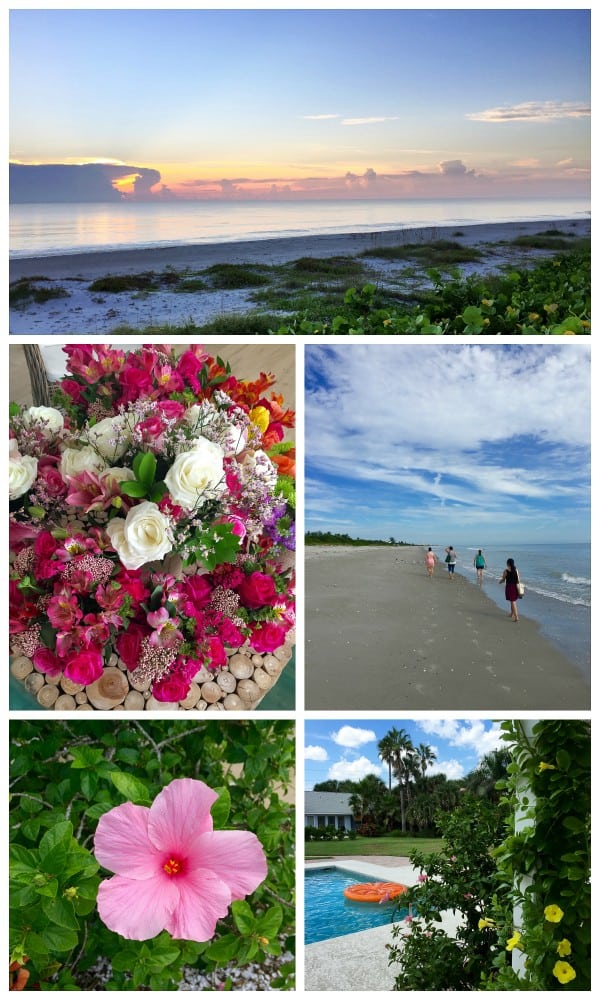 I'm a morning person, so you could always find me waiting for the sun to rise up over the Atlantic (top photo). This stretch of beach was extremely quiet and peaceful, very secluded. After enjoying breakfast one morning at a nearby beachside restaurant, we walked back along the water's edge (middle right photo).
Thanks to ProFlowers and Azure Estate's gardens, there were fresh, happy blooms at every turn, indoors and out.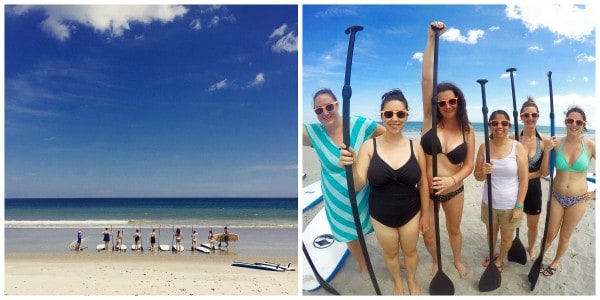 One of my highlights from the weekend was paddle boarding for the first time. My husband and daughters had first tried this popular sport just this past summer when we spent a week in northern Minnesota at beautiful Grand View Lodge. As I was standing on the beach of the ginormous Atlantic, I was wishing I had first given paddle boarding a shot on those calm lake waters of Minnesota just a couple months earlier. The ocean's enormity and rolling waves were taunting me, begging me to chicken out.
But thankfully, we had Ron Jon Surf School to help us, as most of us were beginners. They brought boards for all of us, gave us excellent instruction without making us feel like complete chicken dorks, and paddled along with us the entire time. They were awesome.
Suzanne lives nearby, and she and her husband have boards of their own. She was a pro paddle boarder and used her new GoPro to capture lots of footage of us rookies on our boards. I love the fishbowl effect that the GoPro gives to our group photo on the right.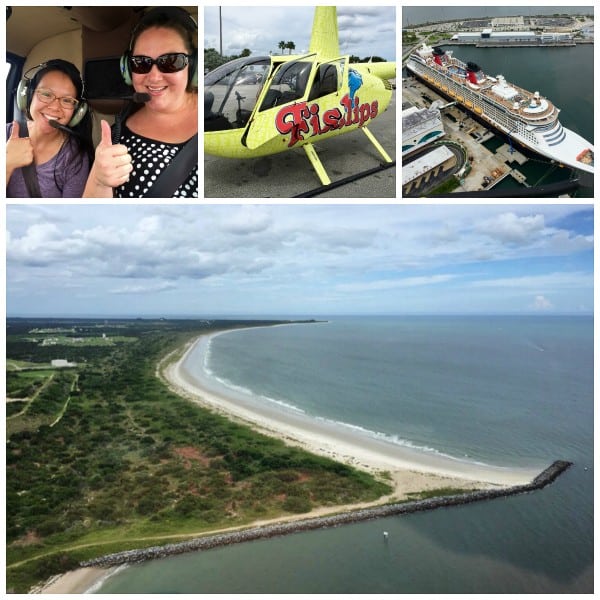 We packed quite alot into just a couple days, and even managed to get up in the air by helicopter. I was so excited! I had only been in a helicopter once before, just a few months earlier when my husband and I (and Julie and Lindsay and their husbands) were on a cruise to Alaska.
Our ride with Florida Air Tours was short and sweet, taking two or three of us up at a time to swing out over the ocean and then back again over Port Canaveral. This is where the big cruise ships dock. When we flew over, we could see ships from both Disney and Carnival.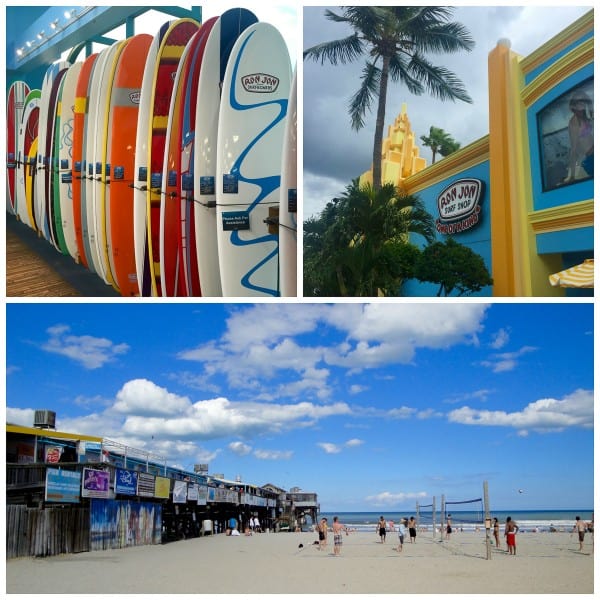 It was fun to stop into Ron Jon Surf Shop and Cocoa Beach Surf Company again. My family had spent some time there a few years ago when we drove over from Orlando while visiting the Disney parks. The beach/surf lifestyle is always fascinating to me, such a contrast to our life in the Upper Midwest.
The photo on the bottom was taken at the Cocoa Beach Pier a few years ago. We ran out of time to stop there on this girls weekend trip, but I wanted to include this scene that's just a couple blocks behind Ron Jon's. You'll find restaurants and bars, laid back beach goers, souvenir shops, and my youngest daughter's favorite beach activity…searching for shells.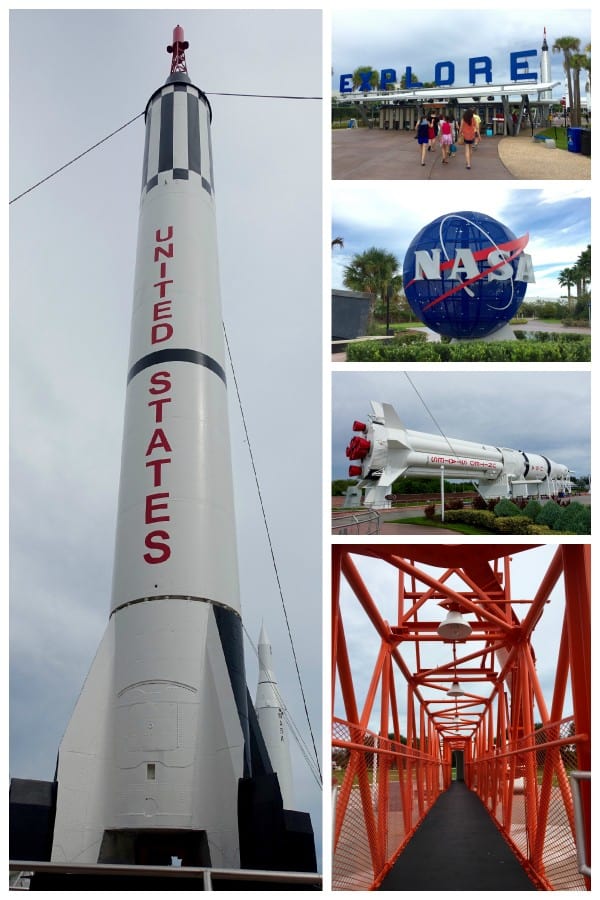 The single most popular thing to do when visiting the Florida Space Coast, besides hanging out at the beaches, has to be spending a day at the Kennedy Space Center.
I am so thankful that my parents always tried to incorporate museums and art and fun ways of learning into our vacation time when I was a kid. When I was young, my grandparents wintered in Florida along the Gulf Coast, so my family traveled to visit them quite a few times over the years. The Disney parks were always a favorite way to spend a few days, but Dad and Mom made sure that we also took in other Florida notables. One was the Kennedy Space Center. And I was sure to get my family there as well when we visited Florida a few years ago.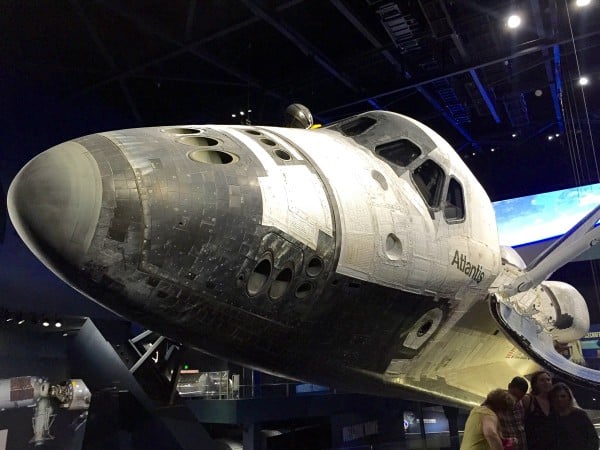 During this visit to the Kennedy Space Center, it was awesome to experience the new Space Shuttle Atlantis exhibit. As I stood before it, looking at all the seams and rivets, the scuffs, I tried to focus in all its amazingness. This space shuttle orbiter had circled the earth almost 5,000 times from 1985 to 2011. It's a vehicle that launched like a rocket, flew in orbit like a spacecraft, and landed on a runway like a glider. All the science and technology and time that went into its 33 missions is hard to even try to comprehend.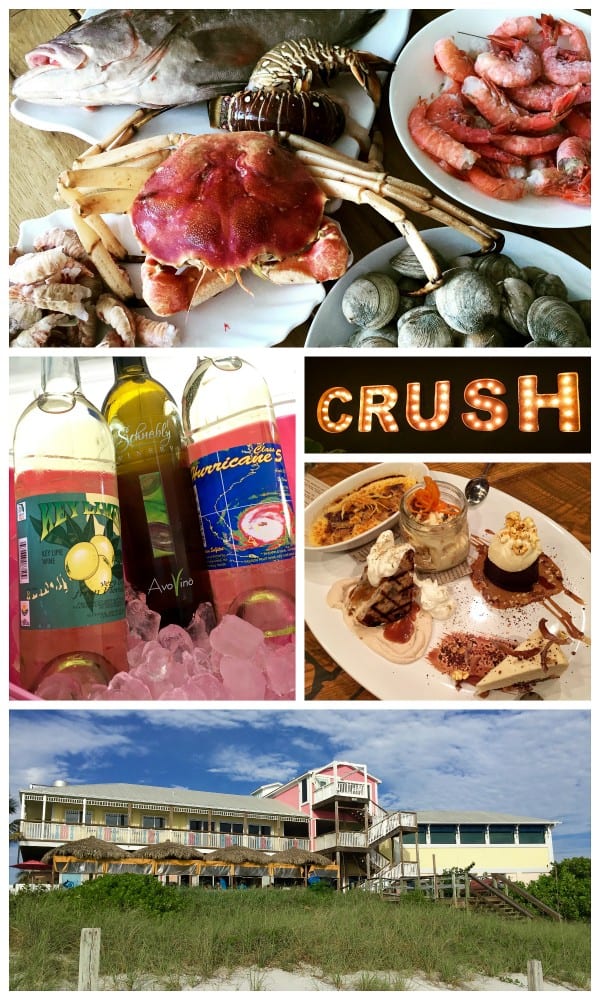 And for a group of food bloggers, our time together would not have been complete without some awesome eats. Of course.
It was such a treat to have Wild Ocean Seafood come to us with coolers full of ice, loaded with fresh local fish and seafood (top photo). After sharing with us about their passion to provide top quality, fresh, local, and sustainable seafood, they left us with a huge variety of ocean eats for us to incorporate into our meal later that day.
Thanks to East Coast Winery in Melbourne, we were able to learn about and sip on a variety of Florida wines (middle left photo). Many of them incorporated local fruits, sweet and delicious.
We enjoyed an incredible meal at Crush Eleven in Cocoa Village. Beautiful cocktails, inventive appetizers and main courses, and luscious desserts (middle right photos).
And sitting along the ocean beach for a breakfast that included crab and a mimosa, on a canopy covered deck, was pure happiness. That's Sand on the Beach Bar and Grill in the bottom photo.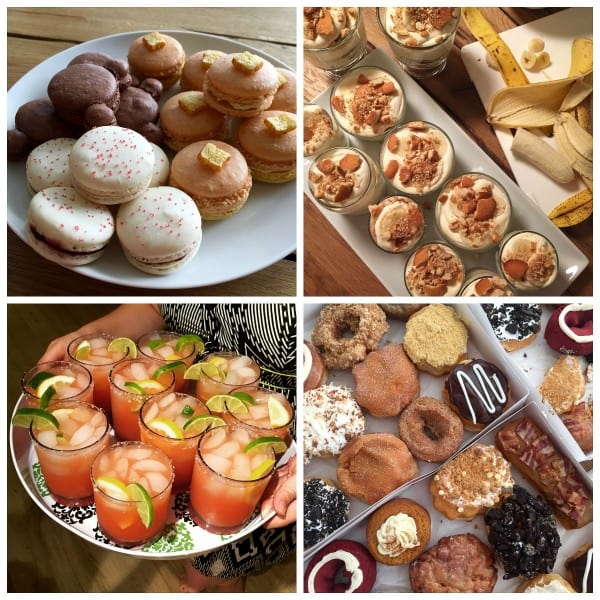 From start to finish, it was obvious that Julie and the Florida Space Coast team spent alot of time and energy putting this weekend together. Julie even planned a dinner titled "A Taste of Nine Blogs", where she orchestrated a menu that included a recipe from each of our blogs. We had a great time preparing it in the kitchen together and then enjoyed our creations around a big table poolside one evening.
Suzanne brought along macarons (upper left photo) that she had made. How lovely of her! I especially liked the chocolate Mickey Mouse shaped ones.
One of my favorite desserts this weekend was Glory's creation of Magnolia Bakery Banana Pudding (upper right photo). I didn't snap a photo of Jessie's Shortbread Nanaimo Bars, but they were to die for. Get the recipe here!
Susannah was the cocktail hostess with the mostest, handing out gorgeous glasses of her thirst quenching Watermelon Orange Margarita Punch. I can't wait to serve this to guests next summer!
And Love Bugs Bakery delivered some really awesome donuts (bottom left photo) and bagels for breakfast one morning.
Other notable food experiences that do not have a photo to go alongside come from:
Mexico's Grill in Cocoa Beach, which catered a great lunch to our group while we relaxed at Azure Estate.
Dijon's Steak and Lobster House, where we dined by candlelight. Every last bite here was delicious.
The fried chicken at a super casual little spot at Port Canaveral called Larry's Shack.
Shari's Berries, who delivered their always fresh and incredible chocolate dipped strawberries.
And because I arrived late and had to leave early, I missed out on Take a Bite Cupcakes and Backwater. But I heard plenty about how good they both were.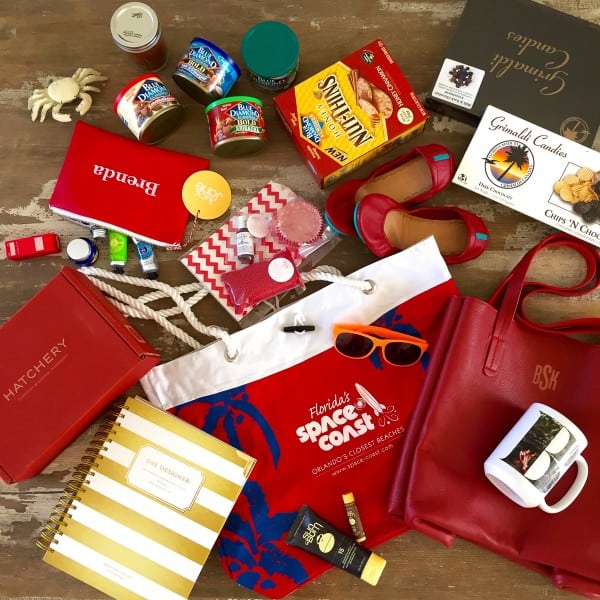 I wanted to send out a big thank you for all the goodies that were waiting in my room when I arrived. So many wonderful things! If I forget to include anybody here, please accept my apologies.
Thank you so much to: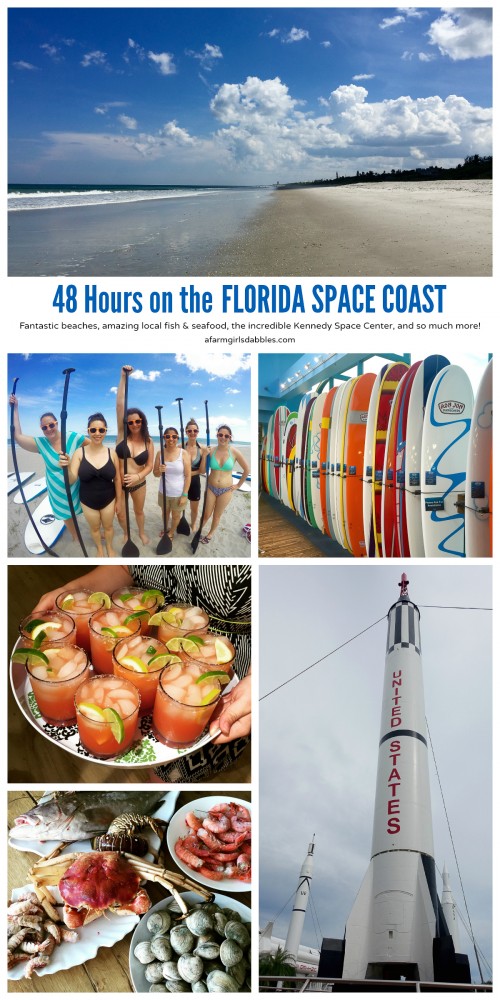 Disclosure: A special thank you to Julie at The Little Kitchen, Florida's Space Coast, Valerie and Frederico of Azure Estate, the Kennedy Space Center, and all the other sponsors who made this Florida Space Coast experience possible.