Pumpkin Pie Cream Puffs
This fun Pumpkin Pie Cream Puff recipe is the perfect alternative to traditional pumpkin pie this Thanksgiving. Each cream puff is layered with a pumpkin pie filling and fluffy maple sweetened whipped cream!
If you love homemade cream puff recipes you should also try my Mini Cream Puffs with Vanilla Pastry Cream!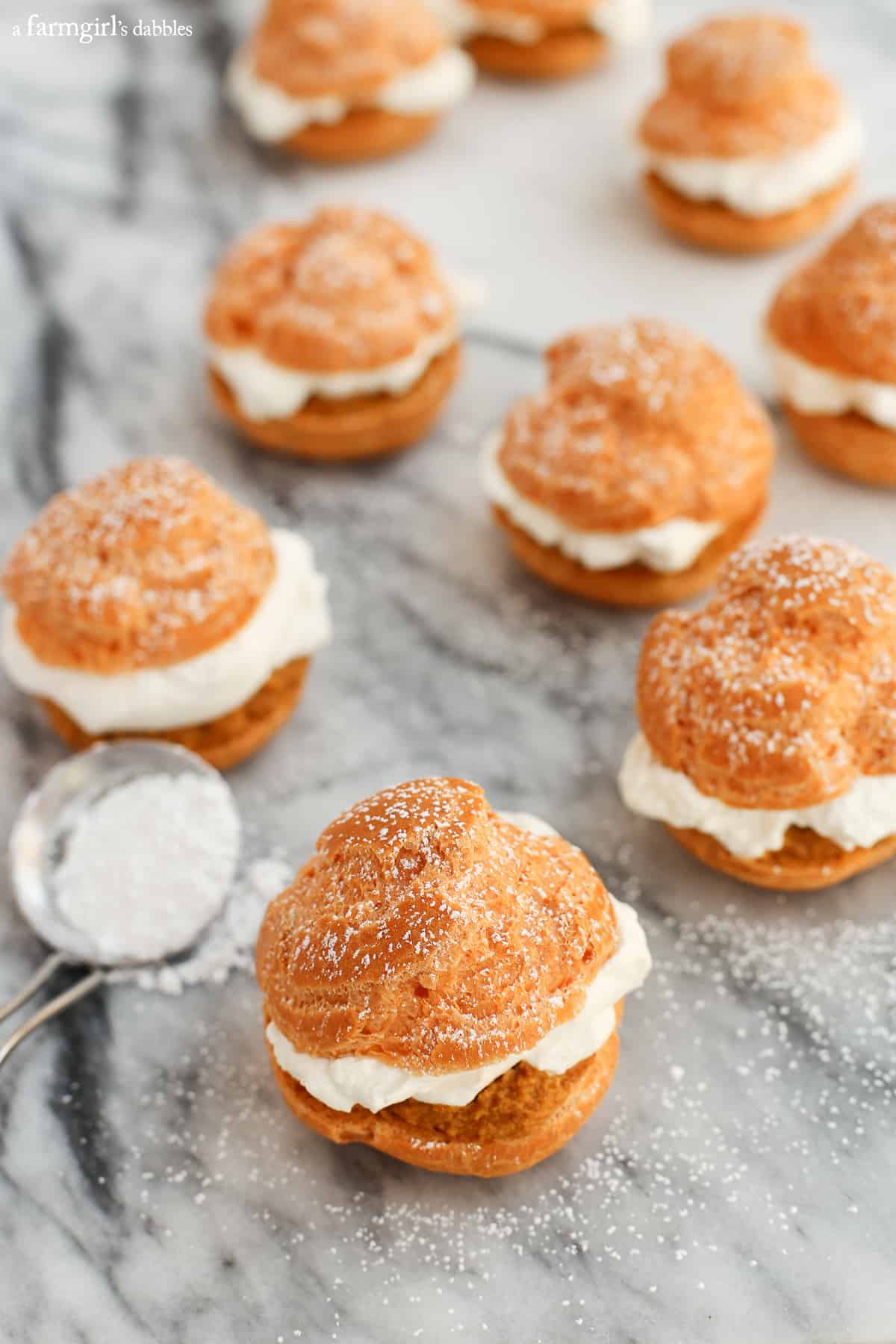 Pumpkin Pie Cream Puffs
Pumpkin, pumpkin, pumpkin. Everywhere we look, pumpkin.
But I'm not complaining. I enjoy its seasonal presence, even if it does get a bit excessive.
The temperatures have dropped another tier lower here in Minnesota, and as I write, the rain falling outside my window has a hint of whiteness. I am so not ready for this change of seasons. But that's when I especially appreciate all that pumpkin has to offer. It means pumpkin muffins, breads, pancakes, and lattes – all warmed with spices, offering comfort and cold weather encouragement.
My Family Loved Eating These Pumpkin Pie Cream Puffs
If you're needing a little cheer, cringing at the thought of donning hats and scarves and gloves and boots again…I have a sweet little treat for you. These Pumpkin Pie Cream Puffs are completely adorable. I had so much fun making them. And my family had even more fun eating them!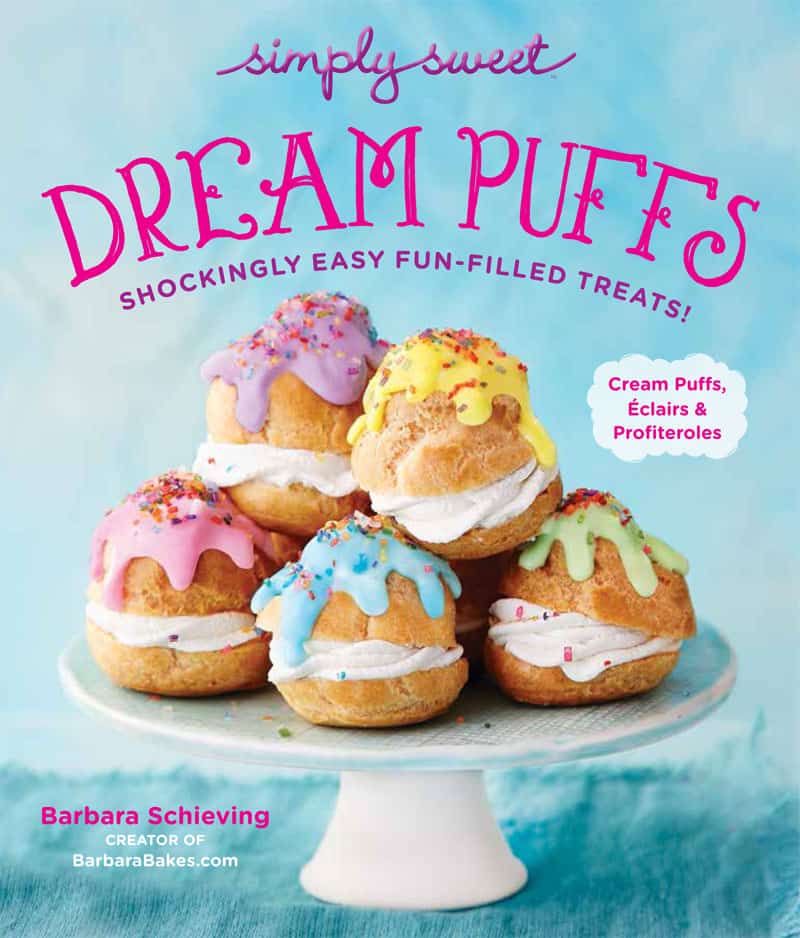 Cream Puff Recipes Are As Fun To Make As They Are To Eat
I'm sharing this cream puff recipe from the newly released e-cookbook Simply Sweet Dream Puffs by food blogging friend Barbara Schieving of BarbaraBakes.com.
I've always enjoyed making cream puffs and would recommend this book for anyone making them for the first or fiftieth time. With just a few ingredients, anyone can create these fun desserts.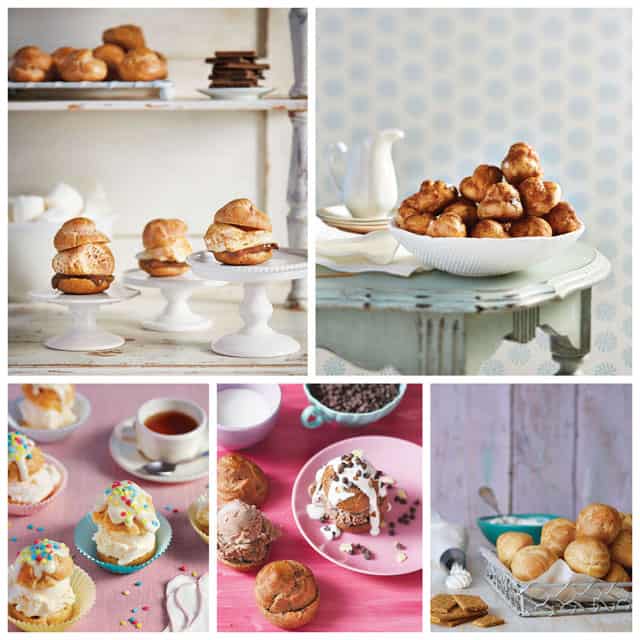 Barbara's book is filled with a great selection of creative recipes, all displayed with colorful, joy-filled photos snapped by respected food photographer Helene Dujardin. Pictured above: S'mores Cream Puffs, Churro Cream Puffs, Vanilla Bean Profiteroles, Rocky Road Profiteroles, and Graham Cracker Cream Puff Shells. Which one would you choose to make first?!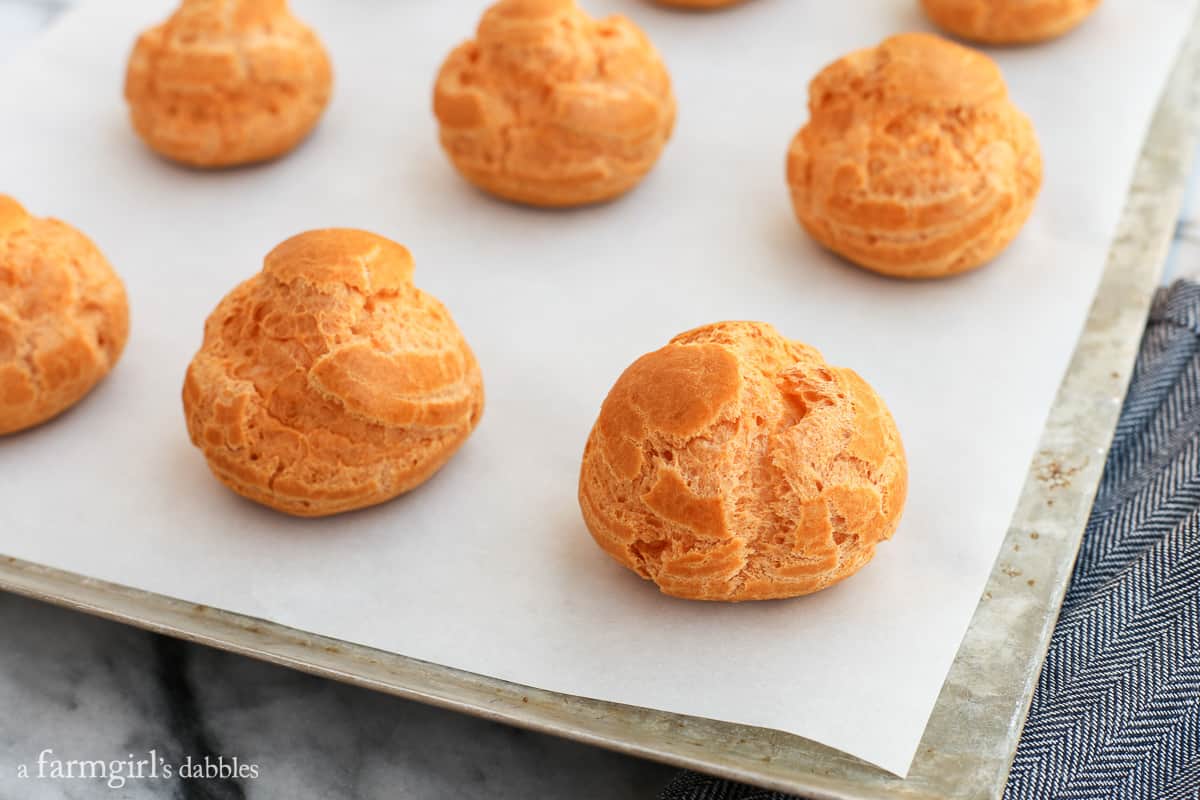 The cream puffs for this pumpkin pie themed dessert have a touch of orange food coloring in them. I'm always a little giddy whenever the rounds of cream puff dough go into the oven, amazed as I watch them puff up in the heat, crackly and crinkly, and full of air.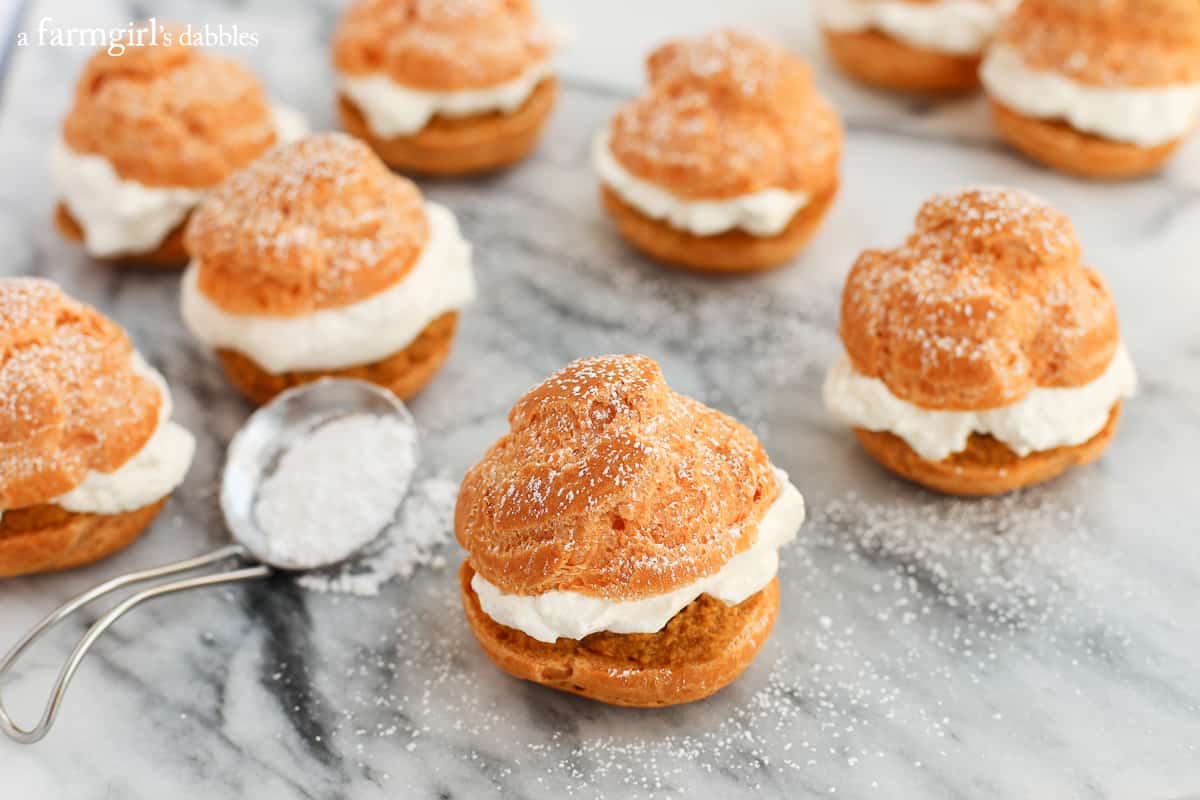 How To Make Pumpkin Pie Cream Puffs
After the cream puffs cool, they are split and layered with a pumpkin pie filling and fluffy maple sweetened whipped cream. A sprinkling of powdered sugar finishes them off. They are little pumpkin pie flavored puffs of yumminess.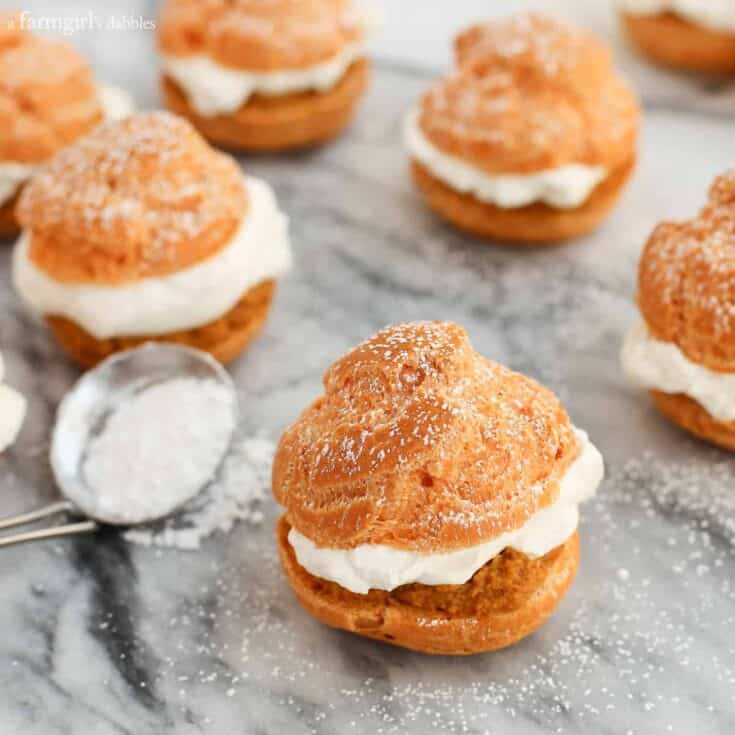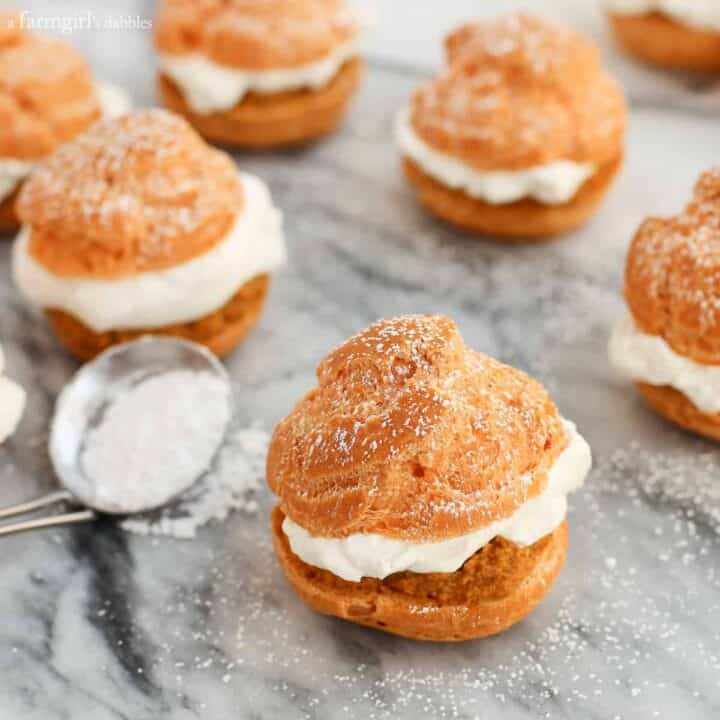 Pumpkin Pie Cream Puffs
Yield: 16 cream puffs
Prep Time: 20 minutes
Cook Time: 45 minutes
Total Time: 1 hour 5 minutes
These fun Pumpkin Pie Cream Puffs are the perfect alternative to traditional pumpkin pie this Thanksgiving. Each cream puff is layered with a pumpkin pie filling and fluffy maple sweetened whipped cream!
Ingredients
For the Pumpkin Colored Cream Puff Shells:
3/4 cup all-purpose flour
6 tablespoons unsalted butter, cut into 6 pieces
1 teaspoon sugar
1/4 teaspoon salt
3 large eggs, at room temperature
orange food coloring paste
For the Pumpkin Pie Filling:
1/2 cup firmly packed brown sugar
2 large eggs
1/2 teaspoon table salt
1 teaspoon cinnamon
1 teaspoon pumpkin pie spice
1 cup canned pumpkin
1/2 cup evaporated milk
For the Maple Whipped Cream:
1.5 cup heavy cream
a couple pinches table salt
2 tablespoons pure maple syrup
1 teaspoon pure vanilla extract
powdered sugar
Instructions
For the Pumpkin Colored Cream Puff Shells:
Preheat oven to 425° F.
Lightly grease baking sheets or line with parchment paper. Measure flour and set aside.
Bring butter, sugar, salt, and 3/4 cup water to a boil in a 3-qt. saucepan over medium-high heat, stirring occasionally. Immediately remove from heat, and quickly stir in flour mixture all at once. Return to heat and stir with a wooden spoon for 1 to 2 minutes, or until dough is smooth and forms a ball. Transfer dough to the bowl of an electric mixer and let cool for 5 minutes.
Add 3 eggs, 1 at a time, beating until mixture is smooth and glossy. Spoon dough into a pastry bag fitted with a 5/8-inch plain tip. Pipe dough onto prepared pans into 1-1/2" rounds that are about 1-1/2" high. Smooth out peaks and round tops with a moistened finger.
Bake at 425° F for 5 minutes. Then reduce oven temperature to 375° and bake 30 minutes, or until puffy and golden brown. Turn oven off and let shells stand in closed oven for 10 minutes. Remove from baking sheets to wire racks. Let cool completely.
For the Pumpkin Pie Filling:
In a large saucepan, whisk together brown sugar, eggs, salt, cinnamon, and pumpkin pie spice. Add pumpkin and evaporated milk, and whisk until smooth.
Cook over medium heat, whisking constantly, 5 minutes or until thickened. Let stand 30 minutes, and then chill for 4 to 24 hours.
For the Maple Whipped Cream:
Place cream and salt in a large bowl. Beat at medium-high speed with an electric mixer until soft peaks form.
Add maple syrup and vanilla extract. If you like a sweeter whipped cream, add a few tablespoons of powdered sugar. Beat until stiff peaks form.* Note: This will make quite a bit of whipped cream, enough to abundantly fill your cream puff shells, as shown in my photos. If you do not plan to use that much whipped cream, you should be good to cut the whipped cream ingredients in half.
To Assemble the Pumpkin Pie Cream Puffs:
Cut each cream puff shell in half horizontally. Spoon pumpkin pie filling onto bottom halves. Spread maple whipped cream on top of filling. Place tops of cream puff shells onto whipped cream.
Serve immediately or cover and chill until ready to serve. Sprinkle with powdered sugar before serving. Once assembled, these are best eaten on the day they are made. If you want to make these a day prior to serving, keep the cream puff shells, pumpkin pie filling, and maple whipped cream stored in separate containers in the refrigerator. Then assemble the pumpkin pie cream puffs the following day.
Nutrition Information:
Yield: 16
Serving Size: 1
Amount Per Serving:
Calories: 237
Total Fat: 15g
Saturated Fat: 9g
Trans Fat: 0g
Unsaturated Fat: 5g
Cholesterol: 97mg
Sodium: 166mg
Carbohydrates: 23g
Fiber: 1g
Sugar: 17g
Protein: 4g
Nutrition information is automatically calculated by Nutritionix. I am not a nutritionist and cannot guarantee accuracy. If your health depends on nutrition information, please calculate again with your own favorite calculator.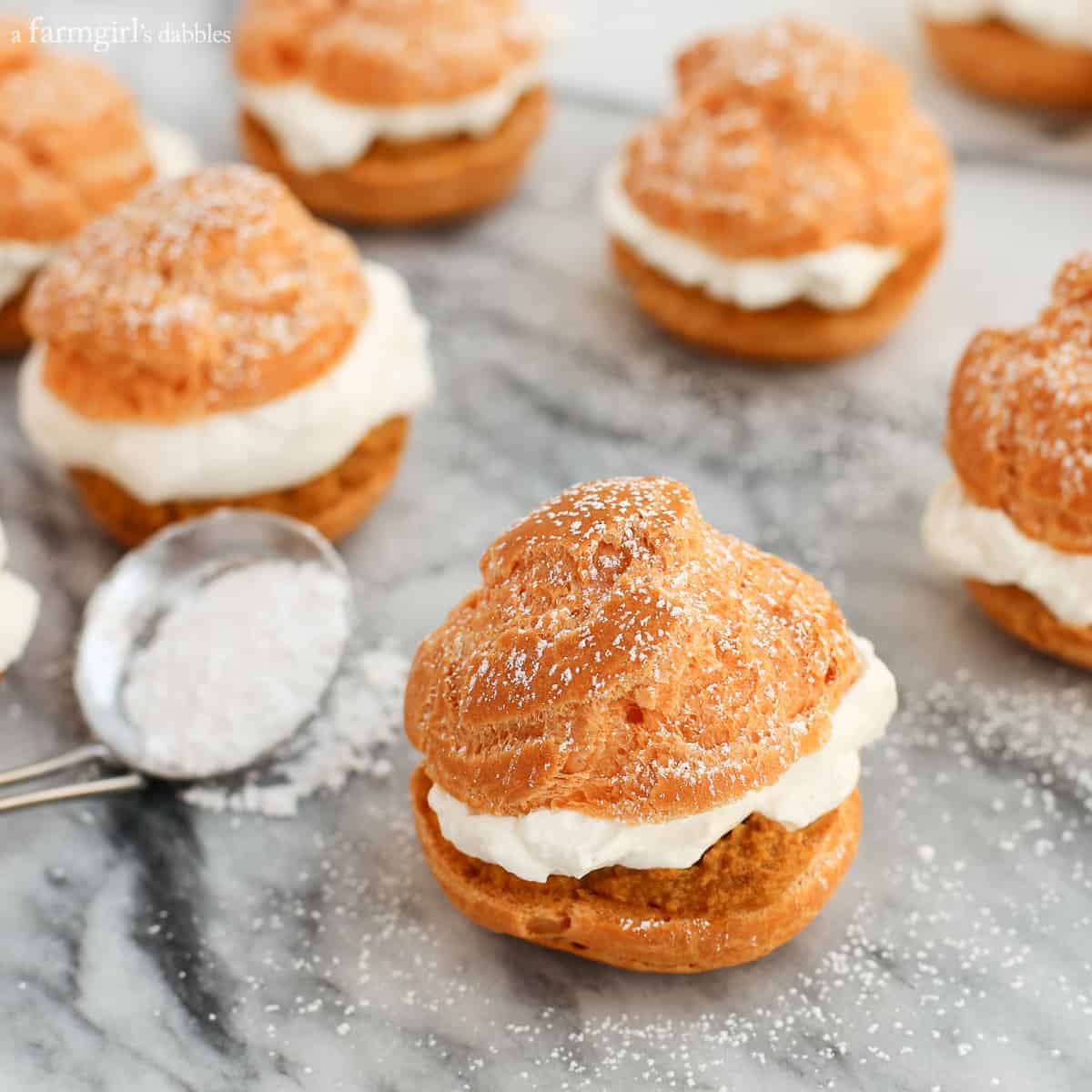 Disclosure: I was gifted a copy of Simply Sweet Dream Puffs for my review and cream puff baking pleasure. There are affiliate links in this post. I make small earnings through any purchases made through these links. Thank you for supporting a farmgirl's dabbles!