Baked Chicken Meatballs with Sweet Oyster Sauce
When I serve these Baked Chicken Meatballs in Sweet Oyster Sauce to my family, there are never leftovers!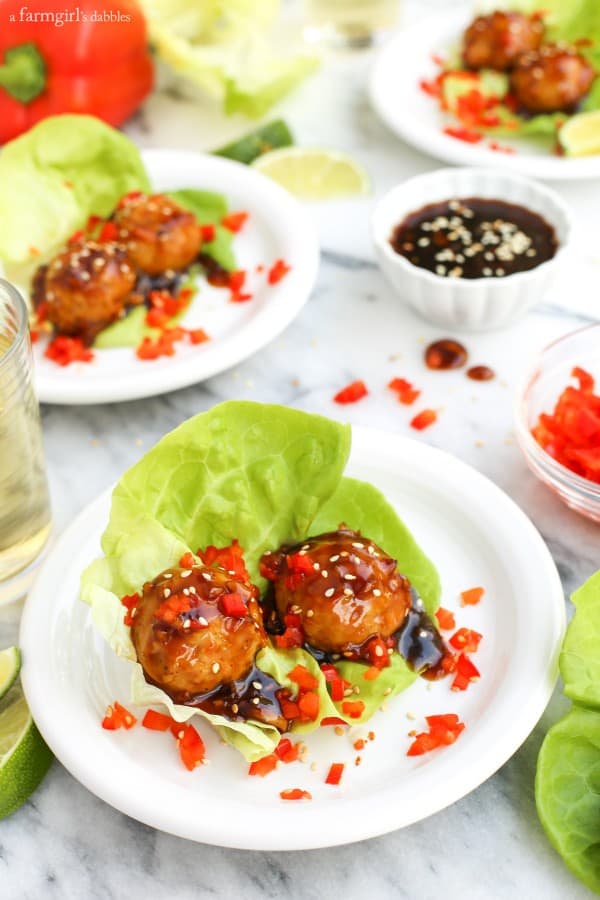 A number of summers ago, some friends of ours served us grilled chicken wings with oyster sauce. It was a hot and ultra humid evening, the kind that quickly melts a whole tub of ice cubes as they work overtime to cool off refreshments. While the adults caught up on life, sitting around the patio table in the shade, the kids splashed in the pool, enjoying the extended hours of summer sunshine. The evening was filled with stories, laughter, and some very memorable eats. For our family, we left with a desire to recreate those wings with oyster sauce, at home in our very own kitchen.
I worked for quite awhile to perfect my recipe/technique for crispy baked chicken wings with oyster sauce, but all that testing was definitely worth the wait. And now I've created another recipe with the oyster sauce flavor we so often crave, these Baked Chicken Meatballs with Sweet Oyster Sauce. When I serve this meal to my family, with fresh, crisp lettuce leaves for wraps, there are never leftovers. Not even one single, solitary meatball is left standing.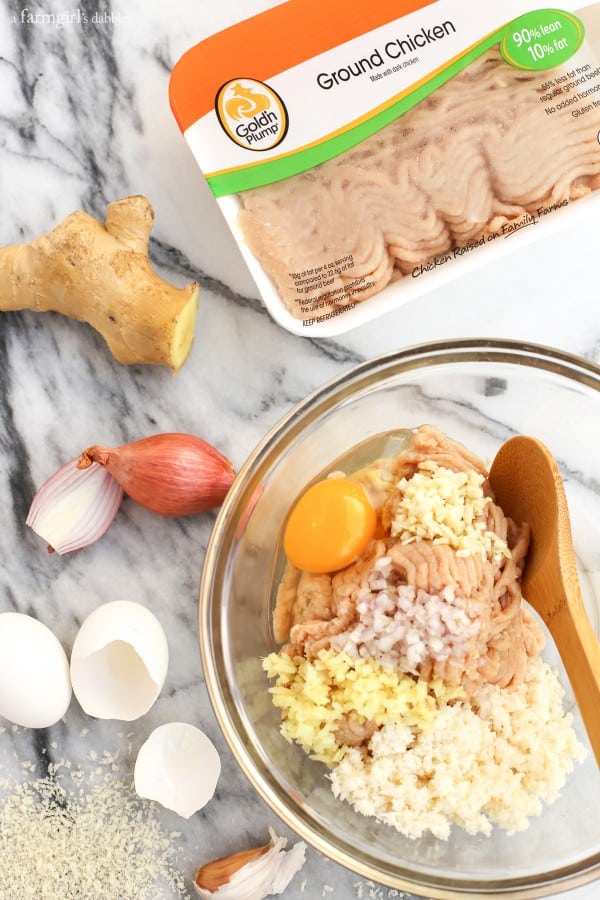 * This post is sponsored by Gold'n Plump.

Having a few packages of ground chicken in our freezer is one of my secrets to keeping our weeknight dinner menu varied and delicious. Gold'n Plump Ground Chicken is flavorful from dark chicken meat and available in convenient 1-pound packages. I use it for tacos, quesadillas, pizzas, pasta sauces, soups, and chilis. Ground chicken welcomes the flavors of many cuisines, a blank canvas for colorful, vibrant flavor.
The mixture for these chicken meatballs comes together easily in one bowl. Fresh minced ginger, garlic, and shallots make the flavor of these meatballs sing.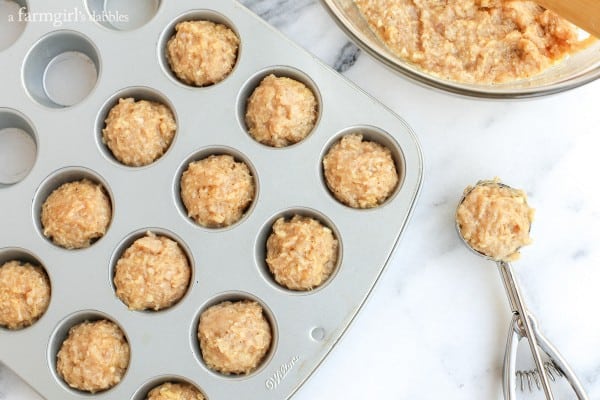 If the idea of rolling meatballs makes you skip over the actual making of meatballs, I have a little trick for you. Simply use a medium scoop to portion the chicken mixture, placing the chicken in the cups of a mini muffin pan. Place the pan in the oven and bake. This method will give you a slightly flattened bottom on the meatballs, but if you're not picky about that sort of thing, this technique is definitely your weeknight dinner making friend.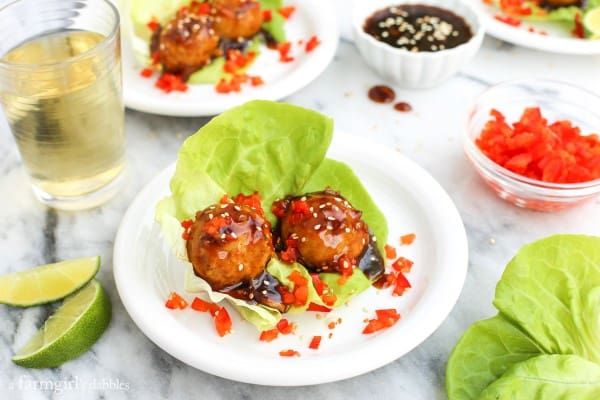 The sweet oyster sauce is delicious, flavored with honey and savory, salty oyster sauce, plus more fresh ginger and garlic. It coats the baked meatballs in the most wonderful way.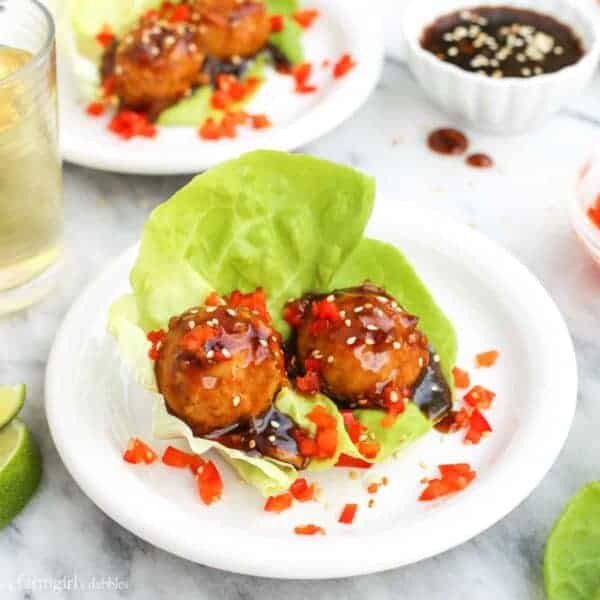 A sure way to get our kids to eat lettuce? That's an easy one. I serve them lettuce wraps. And these baked chicken meatballs with sweet oyster sauce beg to be eaten this way. I like to offer chopped fresh red bell peppers, toasted sesame seeds, and fresh lime wedges for extra flavor, color, and texture. Chopped cilantro and fresh green onion would also be great. I hope you find this recipe as irresistible as our family does!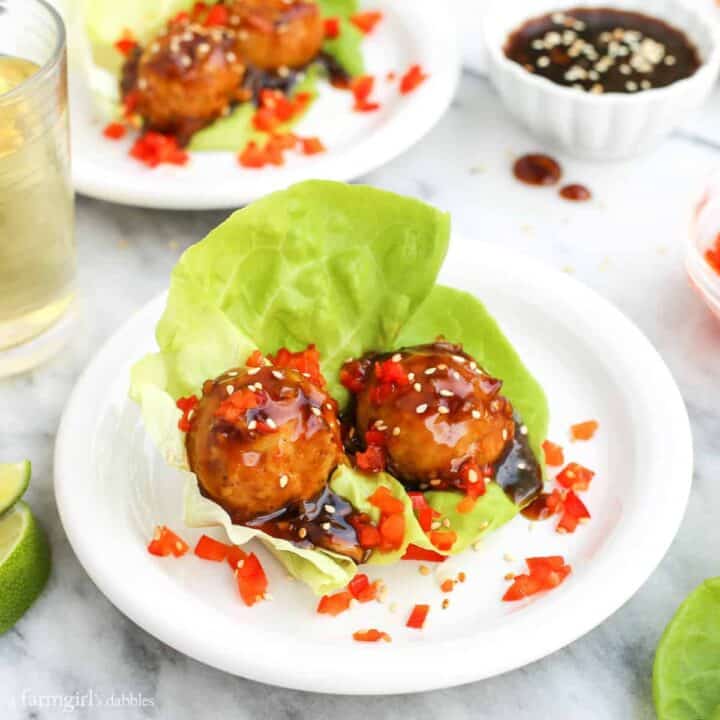 Baked Chicken Meatballs with Sweet Oyster Sauce
Yield: 4 servings
Prep Time: 45 minutes
Cook Time: 15 minutes
Total Time: 1 hour
When I serve these Baked Chicken Meatballs in Sweet Oyster Sauce to my family, there are never leftovers!
Ingredients
for the chicken meatballs:
1/4 c. panko bread crumbs
3 T. milk
1 lb. Gold'n Plump® Ground Chicken
2 cloves garlic, minced
1 T. minced shallot
1 T. minced fresh ginger
1 large egg, lightly beaten
2 tsp. soy sauce
1/8 tsp. kosher salt
1/4 tsp. black pepper
for the sweet oyster sauce:
1 T. vegetable oil
1 T. sesame oil
3 cloves garlic, minced
2 T. minced fresh ginger
1/3 c. oyster sauce
3 T. soy sauce
1/4 c. honey
1.5 tsp. cornstarch
1 T. water
for lettuce wraps and optional garnishes:
1 head Boston lettuce, leaves separated
toasted sesame seeds
chopped red bell pepper
chopped fresh cilantro
chopped green onion
lime wedges
Instructions
for the chicken meatballs:
Preheat oven to 450° F. Lightly spray a mini muffin pan with cooking spray and set aside.
In a large bowl, stir together the bread crumbs and milk. Once all the milk is absorbed, add the rest of the ingredients for the meatballs. With your hands, mix the ingredients just until combined, without overworking. Use a medium scoop (about 2 tablespoons) to evenly portion out meatballs. This size scoop should give you about 20 to 22 meatballs. Roll the portioned meatballs just a bit in your hands before placing them into the individual wells of the mini muffin pan. Bake for about 15 minutes, or until meatballs are fully cooked.
for the sweet oyster sauce:
While the meatballs are baking, prepare the sauce. Add vegetable oil and sesame oil to a medium saucepan over medium to medium-low heat. When oils are warmed, stir in garlic and ginger. Sauté for 2 to 3 minutes, stirring regularly, until softened. Do not let the garlic and ginger brown. Then stir in oyster sauce, soy sauce, and honey. Simmer the sauce for about 10 minutes, stirring occasionally, until reduced and thickened a bit. In a very small bowl or cup, whisk together the cornstarch and water to create a slurry. Turn up the heat on the saucepan just a bit, until the sauce is lightly bubbling. Whisk in the slurry until combined. Let sweet oyster sauce lightly bubble away for 3 to 5 minutes, just until it is thickened. Remove saucepan from heat.
for lettuce wraps and optional garnishes:
Remove meatballs from muffin pan to a large bowl. Drizzle hot sweet oyster sauce over the meatballs and gently fold to coat evenly.
To serve, place one to two meatballs in each lettuce leaf and then top with optional garnishes. A squeeze of fresh lime finishes them off.
Nutrition Information:
Yield: 4
Serving Size: 1
Amount Per Serving:
Calories: 586
Total Fat: 29g
Saturated Fat: 7g
Trans Fat: 0g
Unsaturated Fat: 21g
Cholesterol: 207mg
Sodium: 1806mg
Carbohydrates: 40g
Fiber: 4g
Sugar: 21g
Protein: 45g
Nutrition information is automatically calculated by Nutritionix. I am not a nutritionist and cannot guarantee accuracy. If your health depends on nutrition information, please calculate again with your own favorite calculator.
This post is sponsored by Gold'n Plump, a chicken brand based out of St. Cloud, Minnesota. I am partnering with them again this year to bring you delicious new chicken recipes from our kitchen and backyard grills. All opinions are 100% my own, as always. Thank you for supporting the brands that help make this site possible!