Easy Lemon Bars Recipe
This classic Lemon Bars recipe is loaded with fresh, tangy lemon flavor and shortbread cookie crust. They are the most lemony lemon bars you'll ever find!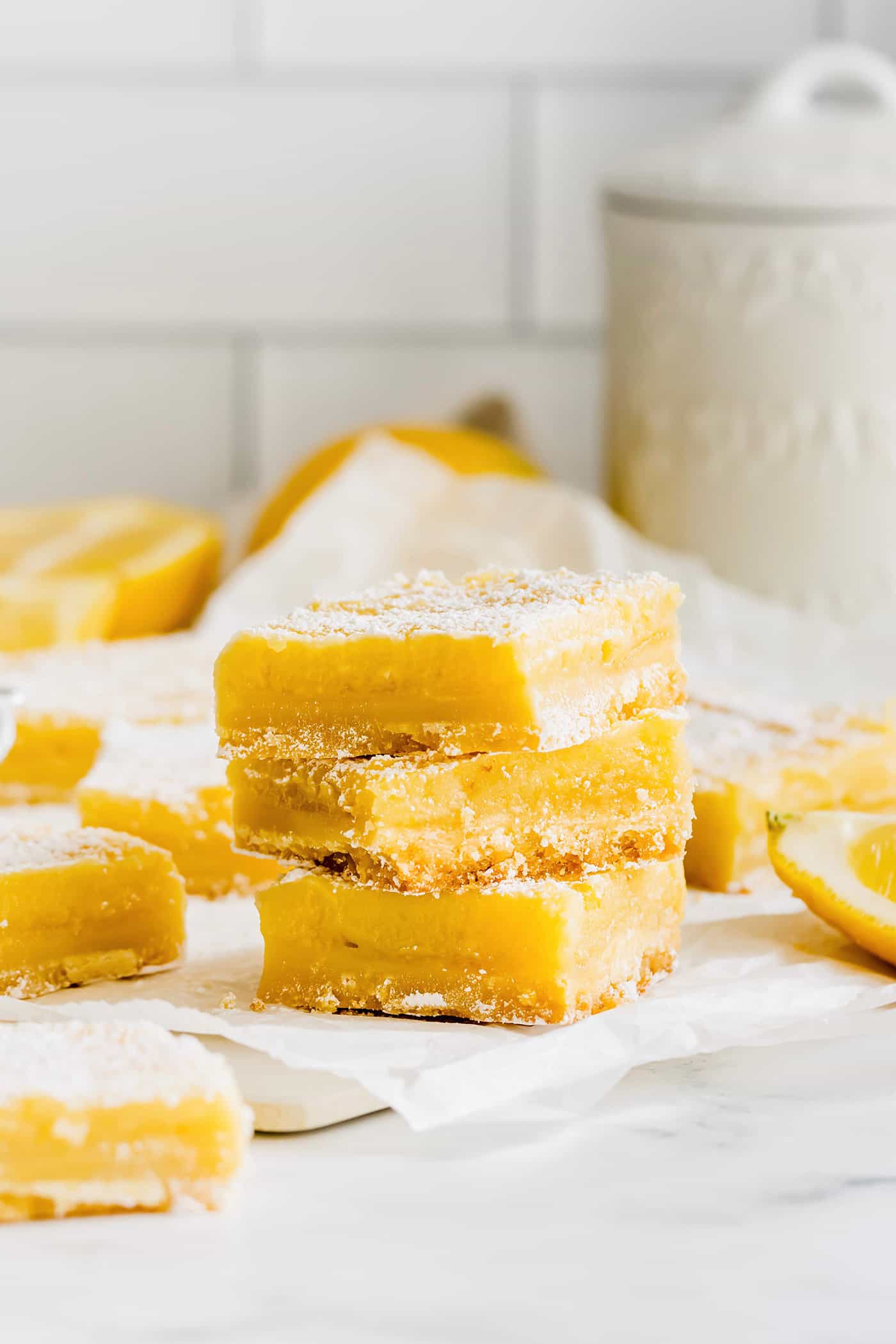 Simple Homemade Lemon Bars
If I had to choose a handful of recipes that my family, friends, and previous co-workers associate with me, these bright, sunshiny Lemon Bars with the perfect shortbread cookie crust would be a top contender. I'm talking Top-5 Dessert Recipe Request over the past ten years. These are the BEST lemon bars!
This kind of feedback obviously elevates this recipe to one of my favorite desserts to make. Because it makes my favorite people HAPPY!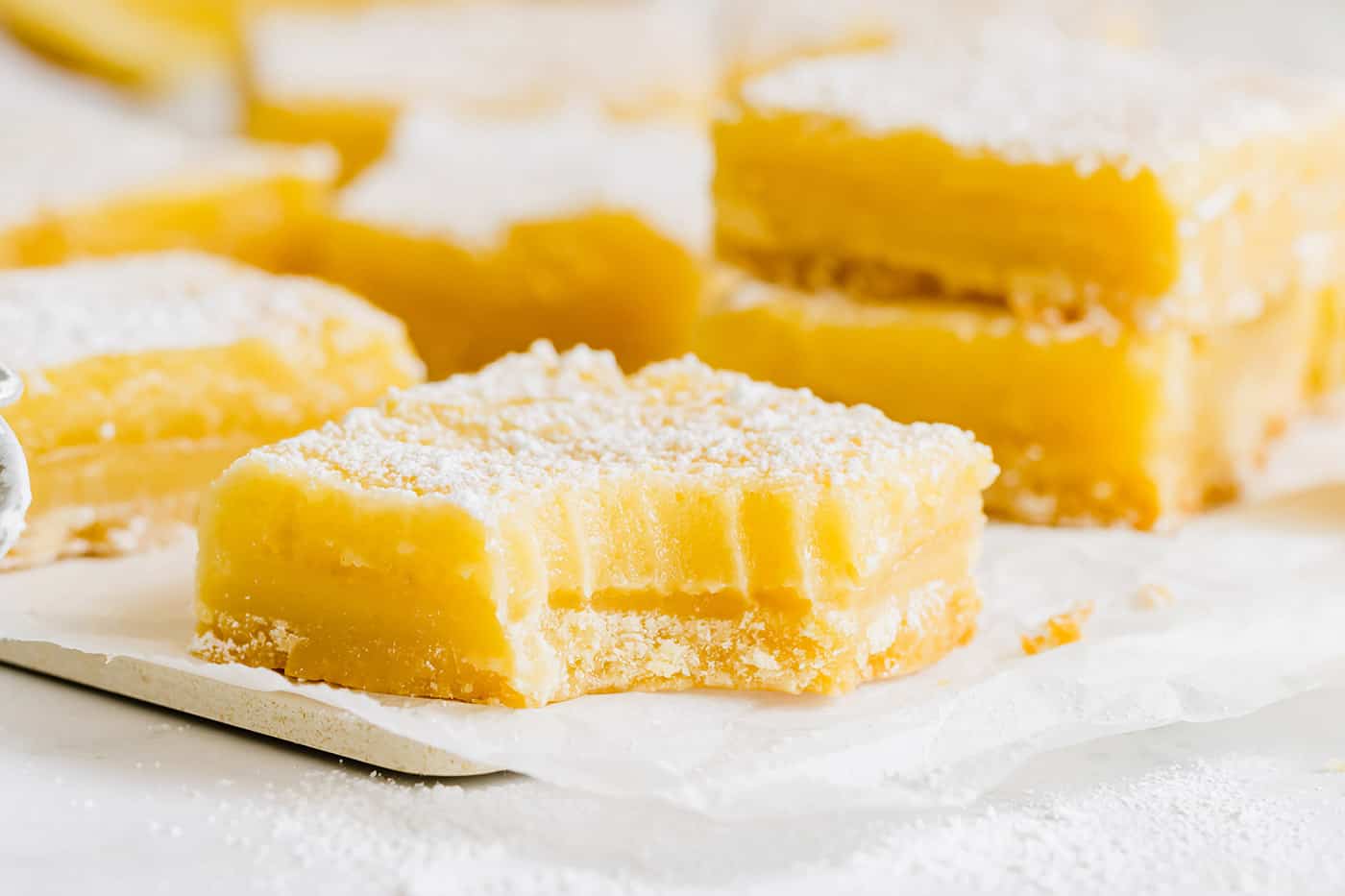 These bars consist of two distinct layers. On the bottom is a sturdy shortbread crust with a delicate bite. It's just the perfect thickness – not too thin, not too thick. On top of that is a perfectly baked lemon layer that's extra bright and lemony (the most lemony lemon bar you'll ever find!). A light sprinkle of powdered sugar tops them off. Absolute PERFECTION!
Everyone should have a go-to lemon bars recipe in their back pocket. And I mean EVERYONE!
Looking for more bars recipes? Try these super popular Chewy Chocolate Chip Cookie Bars. Or my mom's Chocolate Mint Brownies recipe. And Strawberry Rhubarb Crumb Bars are always a hit!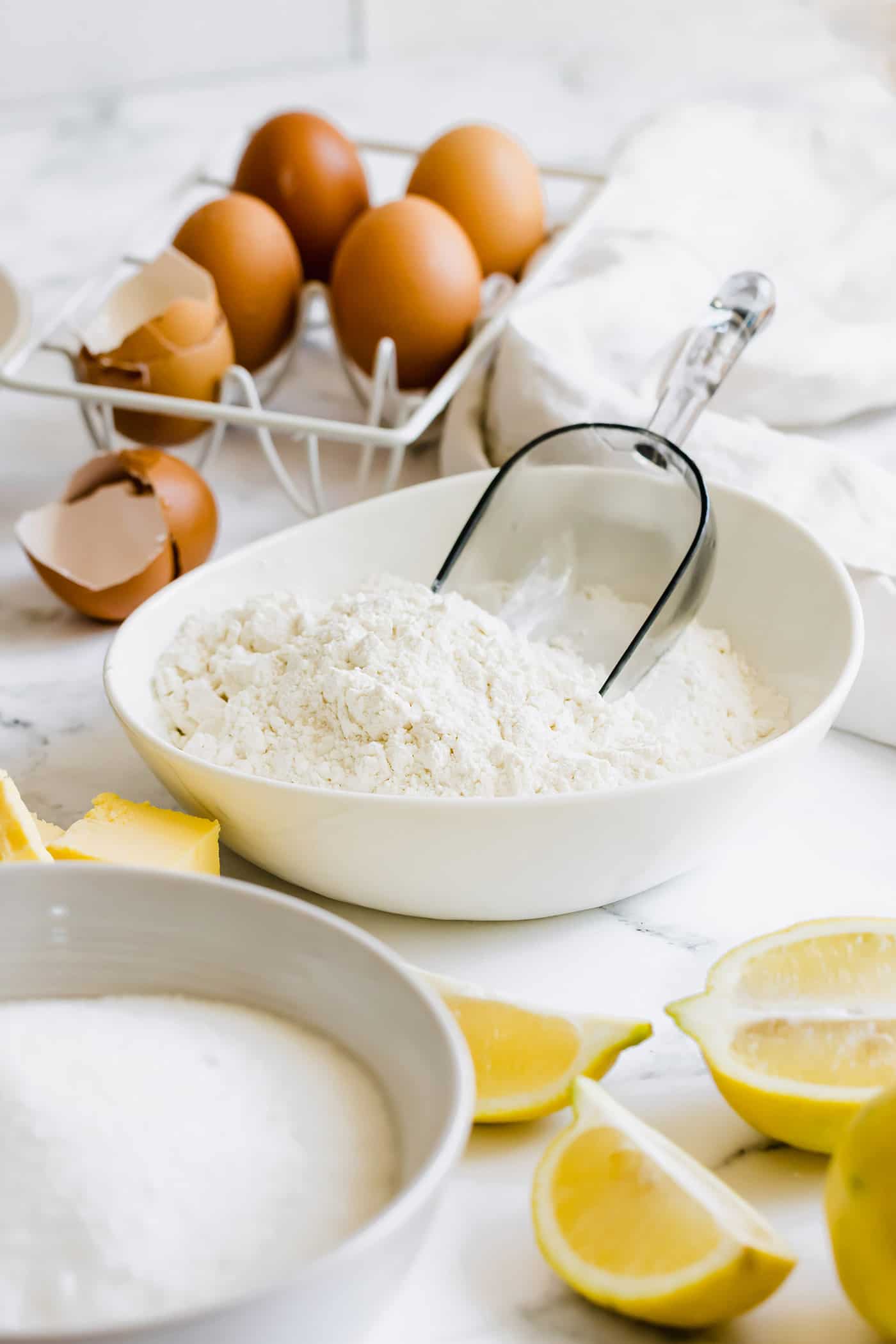 What You'll Need
The ingredients list for this recipe is super simple, with very common pantry items. And fresh lemons, of course!
Here's what you'll need:
FOR THE SHORTBREAD CRUST:
unsalted butter – Soften the butter, do not melt!
powdered sugar – I love the lighter texture that the powdered sugar gives to the crust.
all-purpose flour – Butter, sugar, and flour. That's the makings of a simple shortbread crust.
kosher salt – EVERY shortbread crust deserves a touch of salt!
FOR THE LEMON FILLING:
eggs – You'll need 6 eggs for this recipe, a main ingredient when making lemon curd.
granulated sugar – This not only adds sweetness to the lemon curd mixture, but also helps to thicken it.
lemon juice – Only freshly squeezed lemon juice will do! This will give you the brightest, freshest flavor.
lemon zest – The secret to my extra lemony lemon bars is EXTRA lemon zest. If you adore lemon like I do, you'll LOVE this! (Here's the zester we use, one of my favorite kitchen tools.)
all-purpose flour – Provides stability to the creamy lemon curd filling.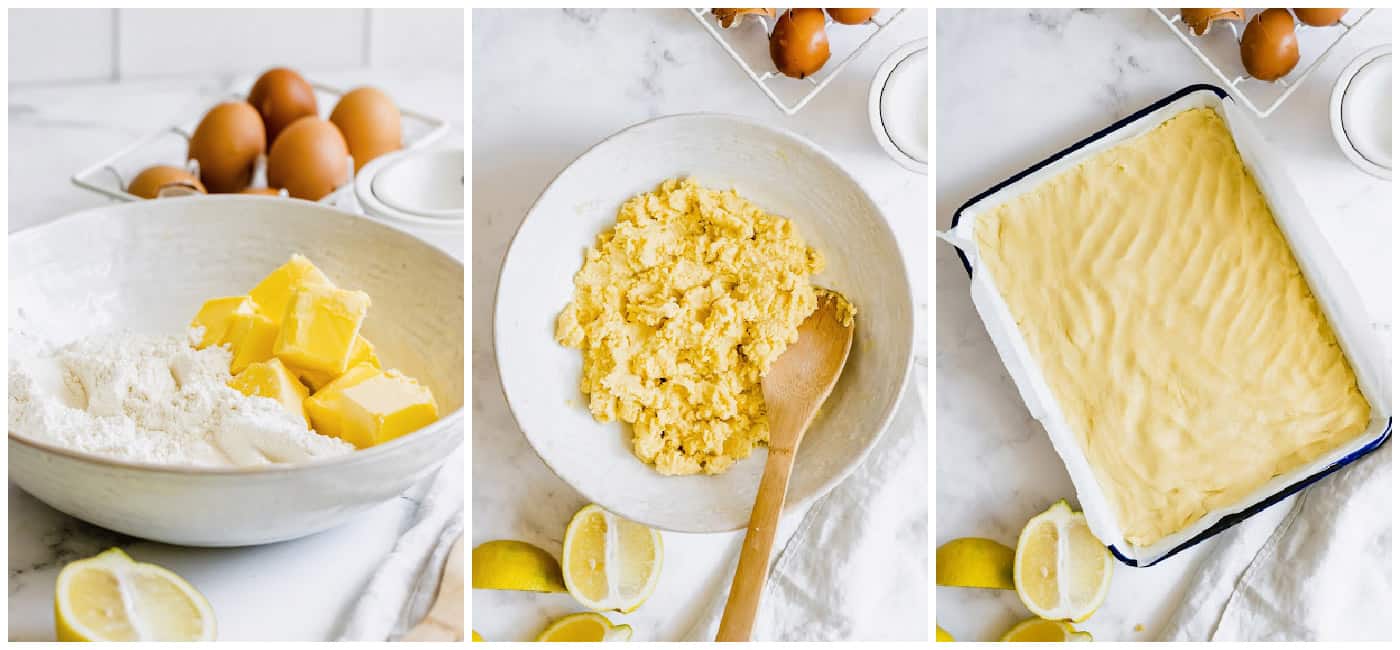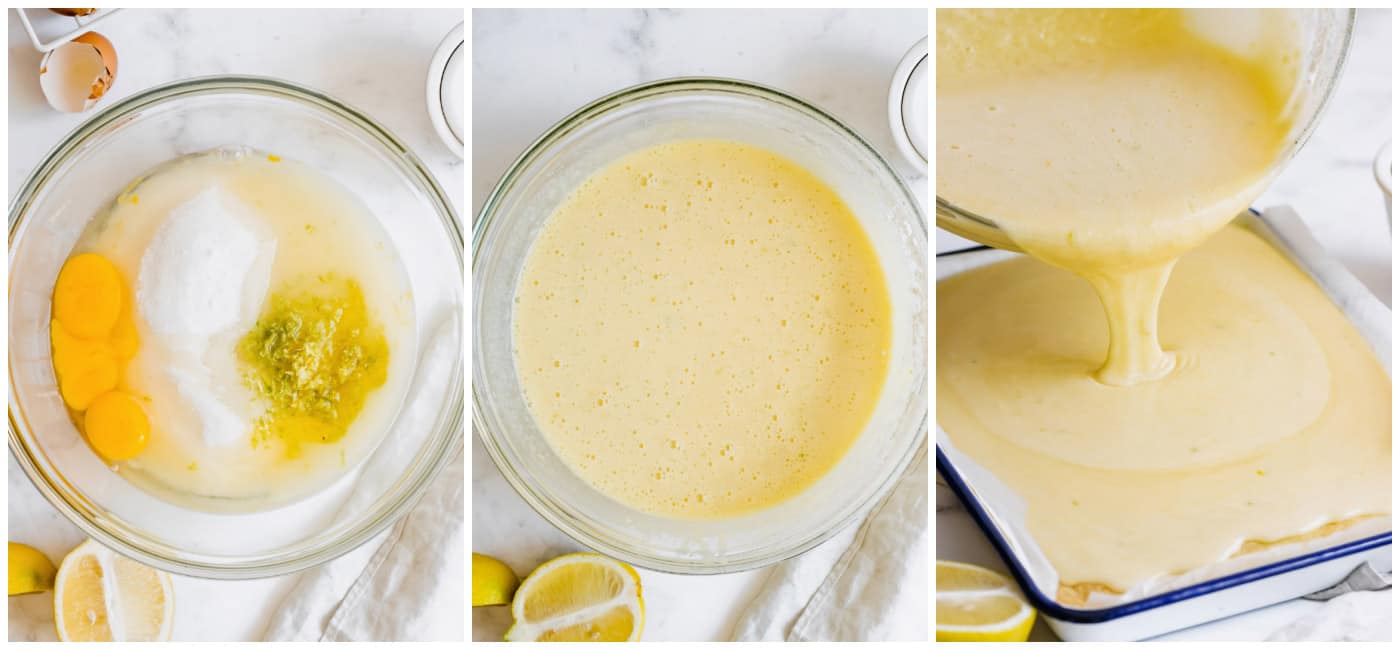 How to Make Lemon Bars
This easy lemon dessert recipe features two distinct layers: a delicious shortbread crust and a bright, creamy lemon curd filling. Grab two bowls and a baking pan, and let's make these bars!
Prepare the crust: Combine butter, flour, powdered sugar, and salt in a large bowl. Pat evenly into your prepared pan.
Pre-bake crust: Bake at 350° F until set and just beginning to turn color, 15 to 20 minutes.
Prepare the lemon filling: Beat together the eggs, sugar, lemon juice and zest, and flour. Pour over the warm pre-baked crust.
Bake: Place in 350° F oven and bake 30 to 35 minutes, or until the center is set and no longer jiggly.
Then let the lemon bars cool completely to room temperature. I usually let the pan sit on the counter for 1 to 2 hours, and then put it in the refrigerator to chill for 1 to 2 hours more.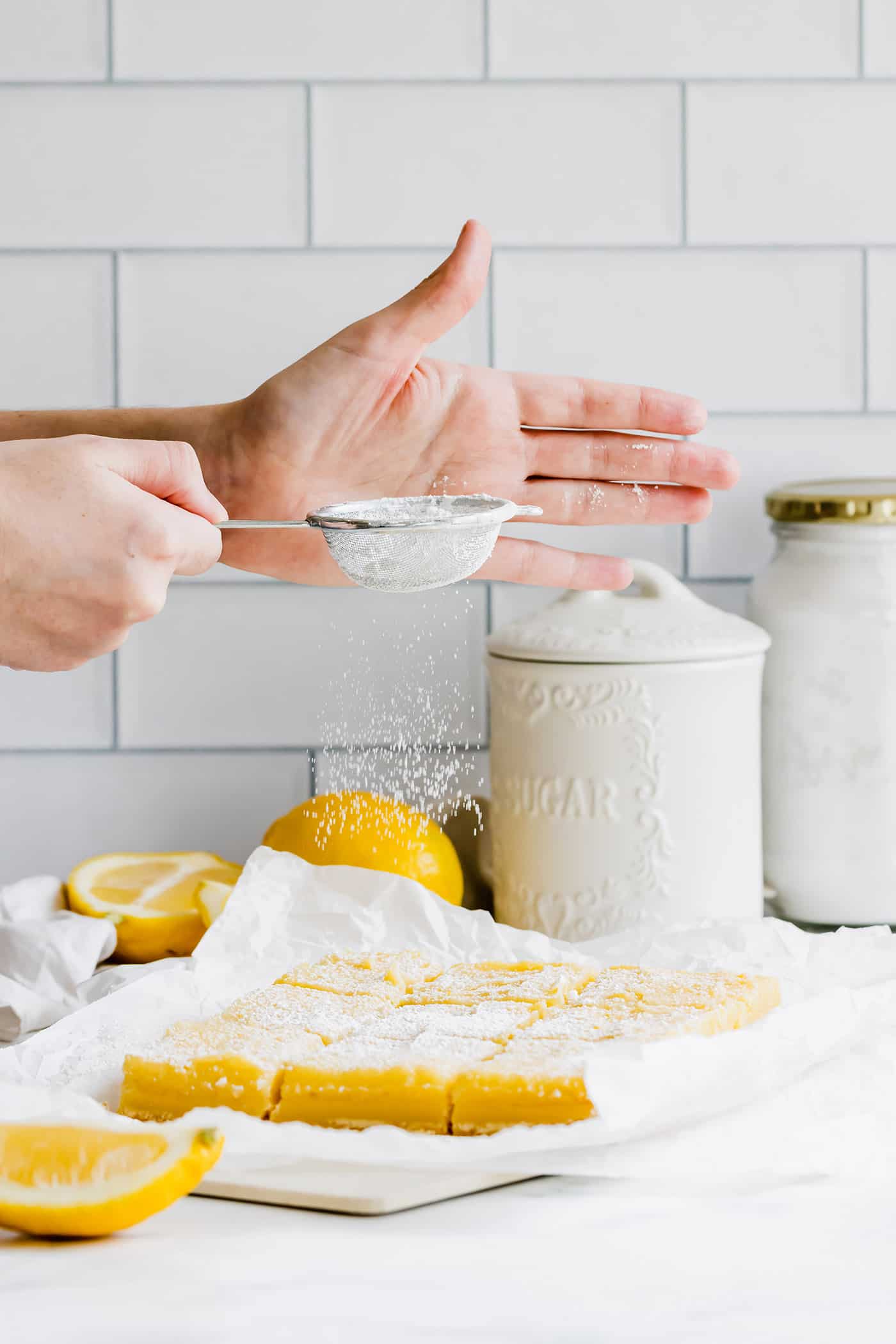 How to Serve
Before serving, I like to give the bars a sprinkle of powdered sugar. Either sprinkle powdered sugar over the whole pan prior to cutting OR sprinkle it over individually cut bars.
I also prefer to eat the lemon bars chilled, or at least slightly chilled. This gives a firmer texture and I just truly like the chilled temperature more!
Want super clean cuts? Then bake the lemon bars in a pan lined with parchment paper. Once cooled, pull the bars out of the pan using the parchment paper overhang and place on a cutting board. Cut into squares with a long non-serrated knife and wipe it clean between each cut.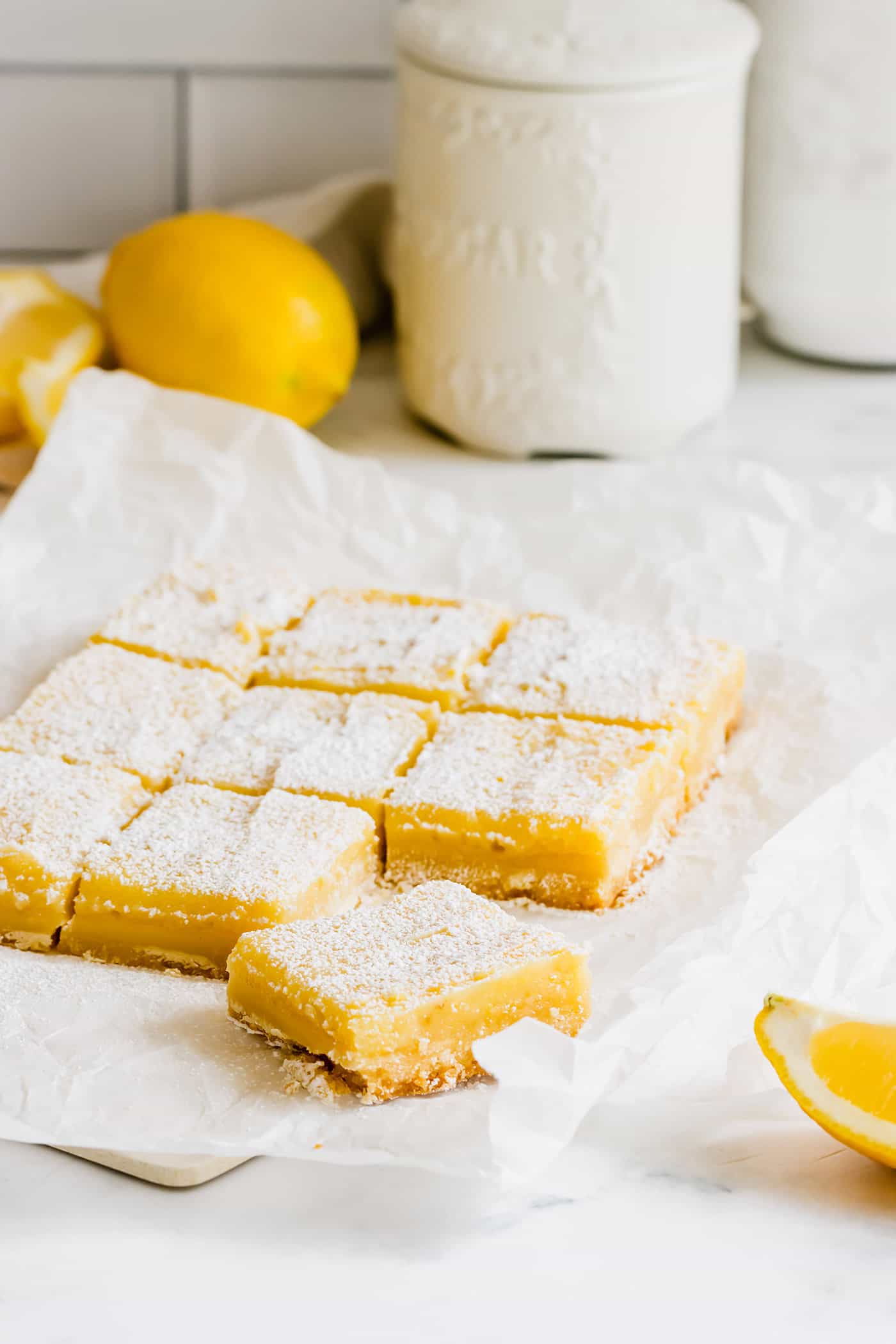 What Makes these the BEST Lemon Bars?
I've eaten a fair amount of different lemon bars in my life and was left feeling disappointed by so many of them. Some simply had too much crust. But the lemon layer is where I've always been most critical. Some bars featured a lemon filling that was grossly "eggy" and didn't taste like lemon at all, or were a sloppy mess when you tried to cut them. I promise you – this lemon bars recipe is NOT those kinds of bars!
Tips and Tricks
While this is an incredibly easy recipe, it never hurts to have a few extra tricks up your sleeve. Here are my tips:
Use powdered sugar in the crust. Powdered sugar is not as dense as granulated sugar, which gives the crust a more delicate texture. This crust is the perfect thickness, with an almost a melt-in-your-mouth kind of texture!
Pre-bake the crust. This gives the crust a head start, which guarantees a properly baked crust that can hold up the creamy lemon layer.
Use only fresh lemon. To achieve the extra tangy lemony goodness in this recipe, use only fresh lemon juice. And add every last bit of lemon zest that the recipe calls for – I know it seems like a lot – but this is the key for that extra hit of lemon flavor.
Do not reduce the sugar in the lemon filling. The sugar not only sweetens the fresh tart lemon filling, but also works with the eggs to thicken it. Reducing the sugar will give you a looser filling that will not set up as well.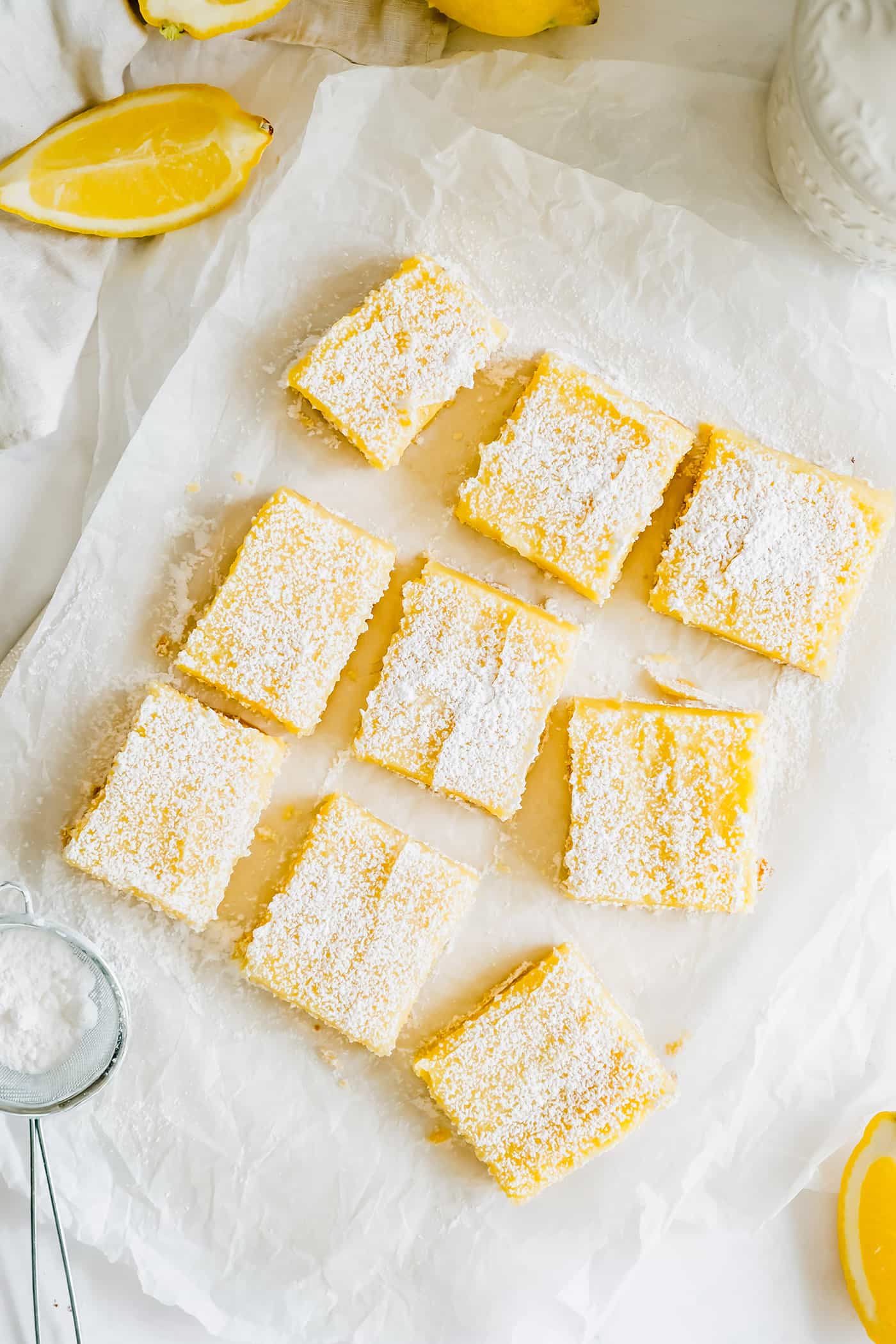 How to Store
If you won't be eating all the bars on the day they are baked, you should cover them tightly and refrigerate them. If any condensation forms on top of the bars, simply blot it off with a paper towel before sprinkling them with powdered sugar. I don't recommend storing these on the counter.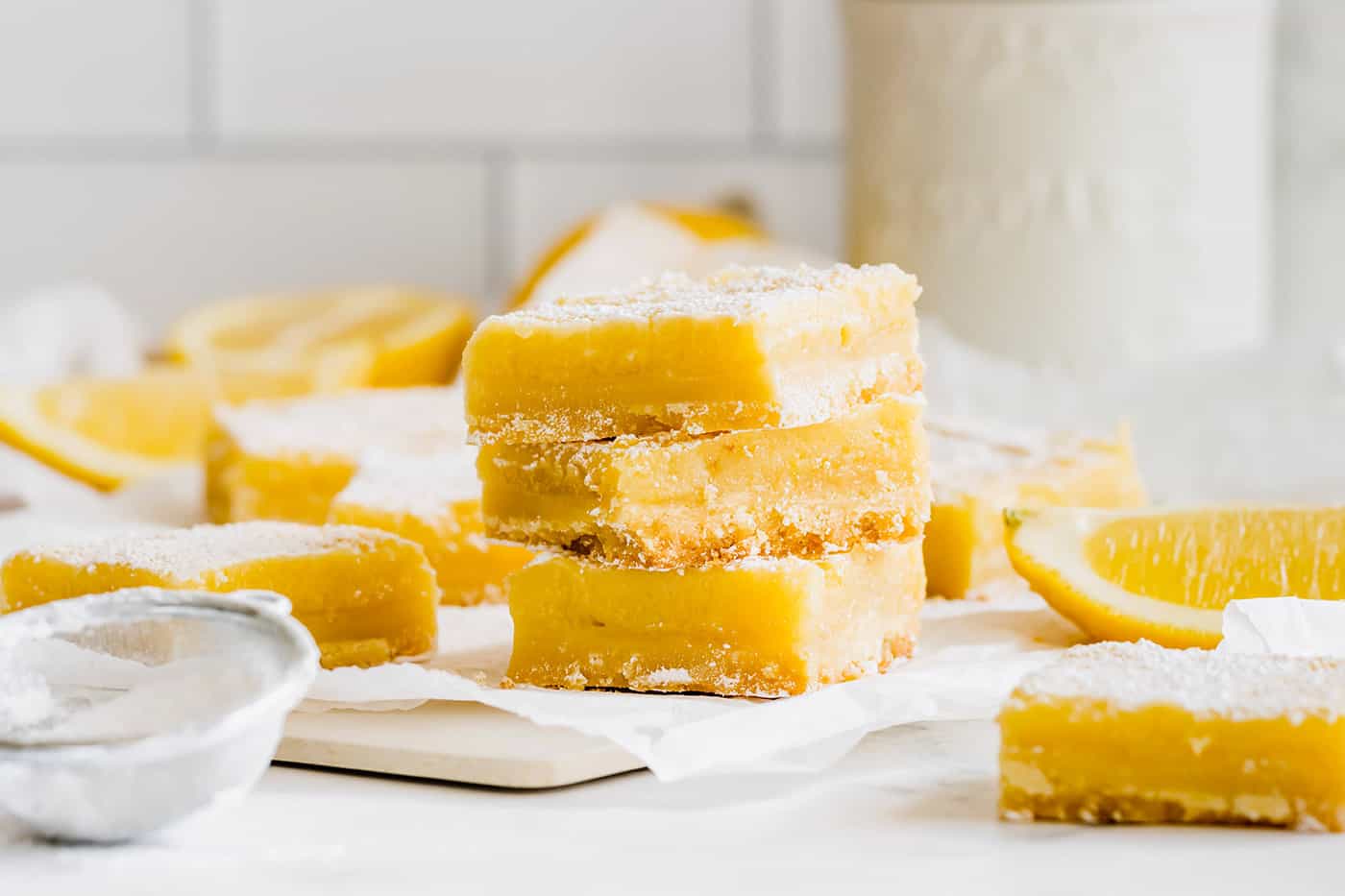 Can Lemon Bars be Made Ahead of Time?
This recipe works well to make one to two days ahead of time. Just let the pan of bars cool to room temperature, cover with an airtight lid or tight-fitting plastic wrap, and refrigerate.
Before serving, remove the pan of lemon bars from the fridge. If any condensation has formed on the top of the bars, blot the bars with a paper towel. Then proceed with cutting the bars and sprinkling with powdered sugar.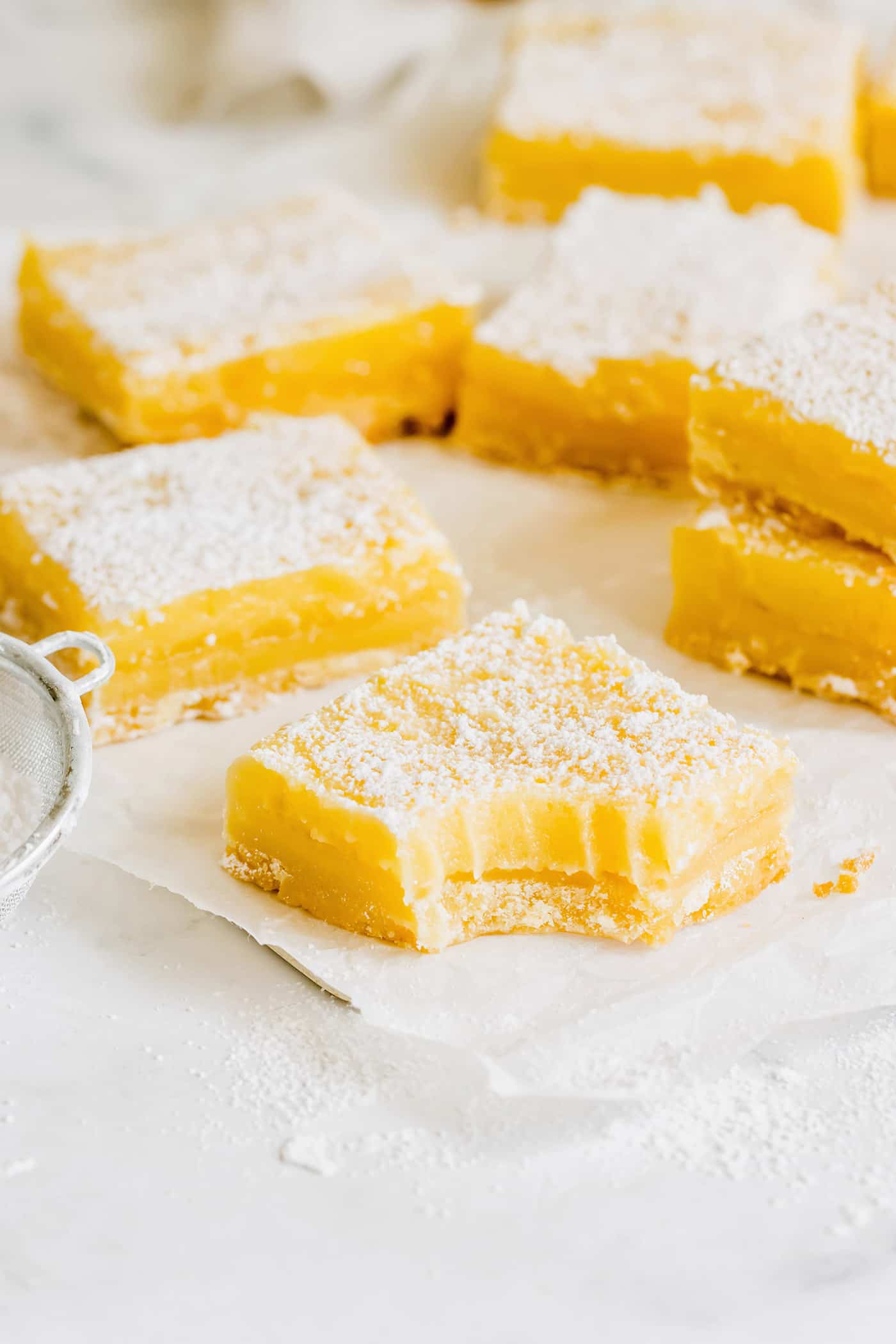 Can I Freeze These Bars?
This is one of my favorite dessert recipes for freezing – I do this regularly!
This is how I freeze them:
Let the pan of bars cool to room temperature and then refrigerate for 1 to 2 hours.
Cut into bars.
Arrange a single layer of bars in a freezer-safe container.
Place a piece of wax paper or parchment paper over the top.
Repeat with more lemon bars and wax paper layers, as needed.
Cover with a tight fitting lid and freeze for up to 3 months.
To defrost, remove the amount of lemon bars you want to serve, and let them come to cool room temperature. Sprinkle with powdered sugar and enjoy!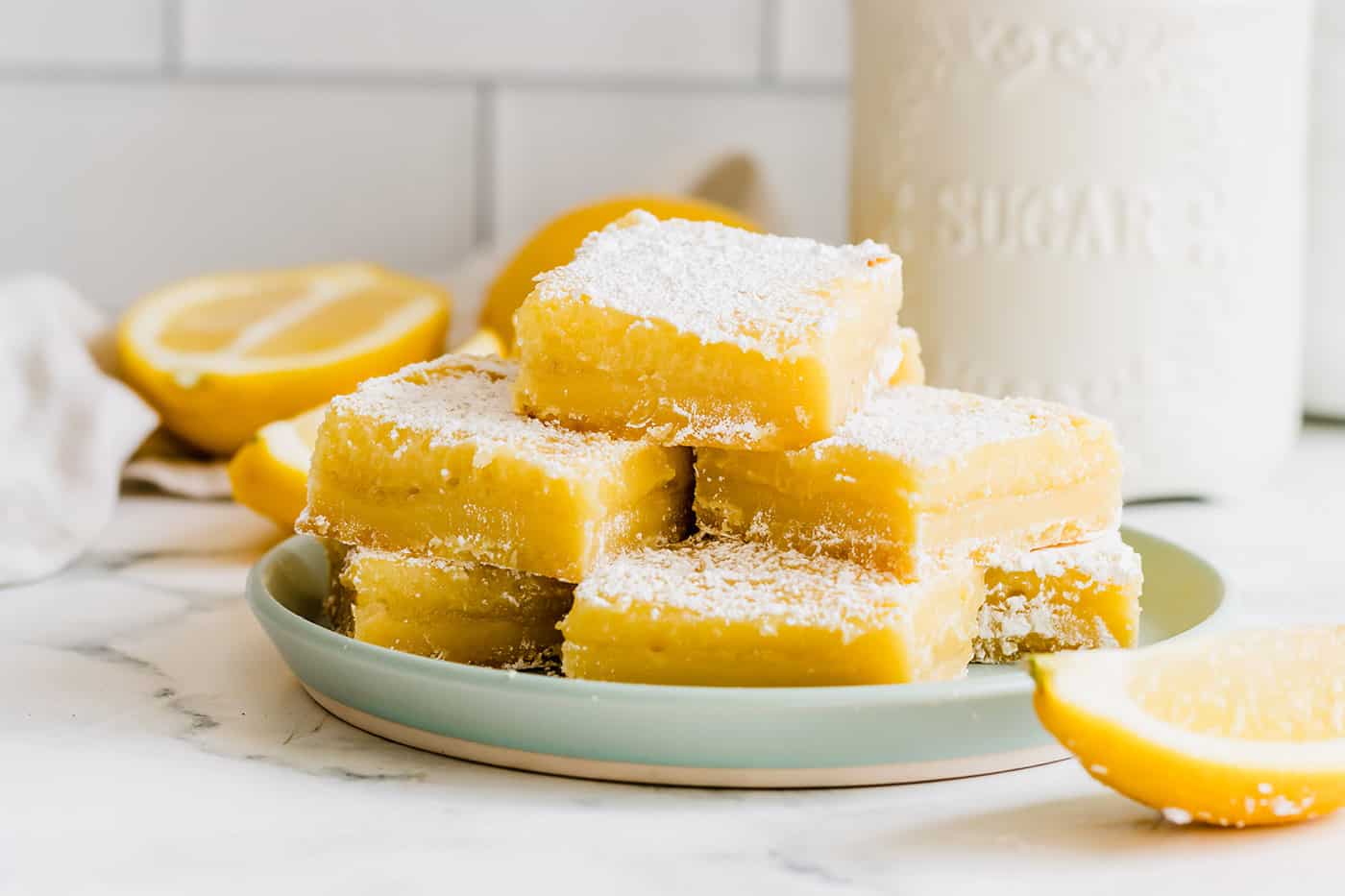 If you make these lemon bars, do come back and let me know what you think. I especially want to hear from all you Super Serious Lemon Bar Lovers! :)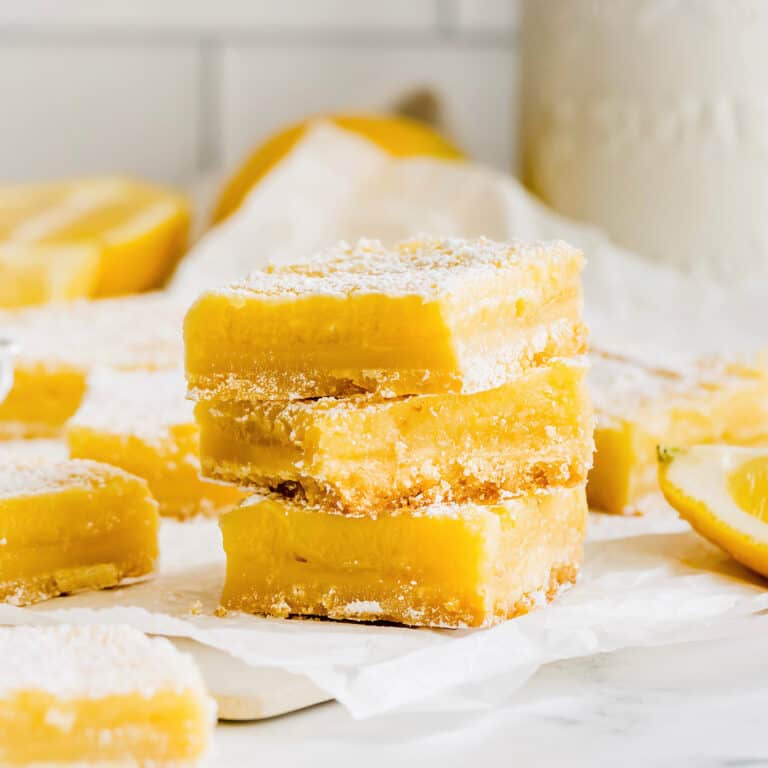 Lemon Bars
Yield: 24 servings
Prep Time: 10 minutes
Cook Time: 45 minutes
Total Time: 55 minutes
This easy Lemon Bars recipe is loaded with fresh lemon flavor and has the best shortbread cookie crust. These sunshiny bars are the perfect lemon dessert for BBQs and summer!
Ingredients
for the crust:
1 cup unsalted butter, softened (not melted)
2 cup all-purpose flour
1 cup powdered sugar
1/8 teaspoon kosher salt
for the lemon filling:
6 large eggs
3 cup granulated sugar
4 tablespoons grated lemon zest - here's my favorite zester
1/2 cup fresh lemon juice
1 cup all-purpose flour
Instructions
Preheat oven to 350° F. Lightly spray a 9″ x 13″ glass or ceramic baking pan with cooking spray. Or for clean cuts: line the pan with parchment paper, leaving an overhang on the long sides - and then use the sides to lift the finished bars out for easier cutting. Set aside.
For the crust: In a medium bowl, combine the butter, flour, powdered sugar, and salt. Mix with a large spoon or your fingers until well combined. Shape dough into a ball and then pat evenly into your prepared pan. Bake for 15 to 20 minutes, or until set and just beginning to turn color. Remove from oven.
For the lemon filling: While the crust is baking, prepare the lemon filling. With an electric mixer on medium speed, beat together the eggs, sugar, lemon zest, lemon juice, and flour. Pour mixture over the warm baked crust and bake for an additional 30 to 35 minutes, or until the center is set and no longer jiggly. The top should be lightly golden brown. Although you don't want to over-bake, you don't want to under-bake either, as the lemon filling will not set up properly. My oven bakes a bit on the light side, and I always bake this for 35 minutes. If you find that the bars didn't fully set, don't give up on this recipe. Give it another try and increase the baking time. It will work! Remove pan from oven and let cool completely at room temperature. I usually let cool on the counter for about 2 hours and then put the pan in the refrigerator to chill for 1-2 hours.
To serve: I recommend serving these chilled or even just slightly chilled. Once cool, dust with powdered sugar and cut into squares. Or cut into squares and then dust with powdered sugar. If lining the pan with parchment paper: cut around the edges of the pan to loosen, pull the bars out of the pan using the overhang on the sides, and place on a cutting board. Cut into squares with a long non-serrated knife and wipe the knife clean between each cut. Finish with a dusting of powdered sugar.
Recommended Products
As an Amazon Associate and member of other affiliate programs, I earn from qualifying purchases.
Nutrition Information:
Yield: 24
Serving Size: 1
Amount Per Serving:
Calories: 260
Total Fat: 9g
Saturated Fat: 5g
Trans Fat: 0g
Unsaturated Fat: 3g
Cholesterol: 67mg
Sodium: 31mg
Carbohydrates: 42g
Fiber: 1g
Sugar: 30g
Protein: 3g
Nutrition information is automatically calculated by Nutritionix. I am not a nutritionist and cannot guarantee accuracy. If your health depends on nutrition information, please calculate again with your own favorite calculator.
A few more lemon desserts for you!
Like this recipe? Save it to Pinterest!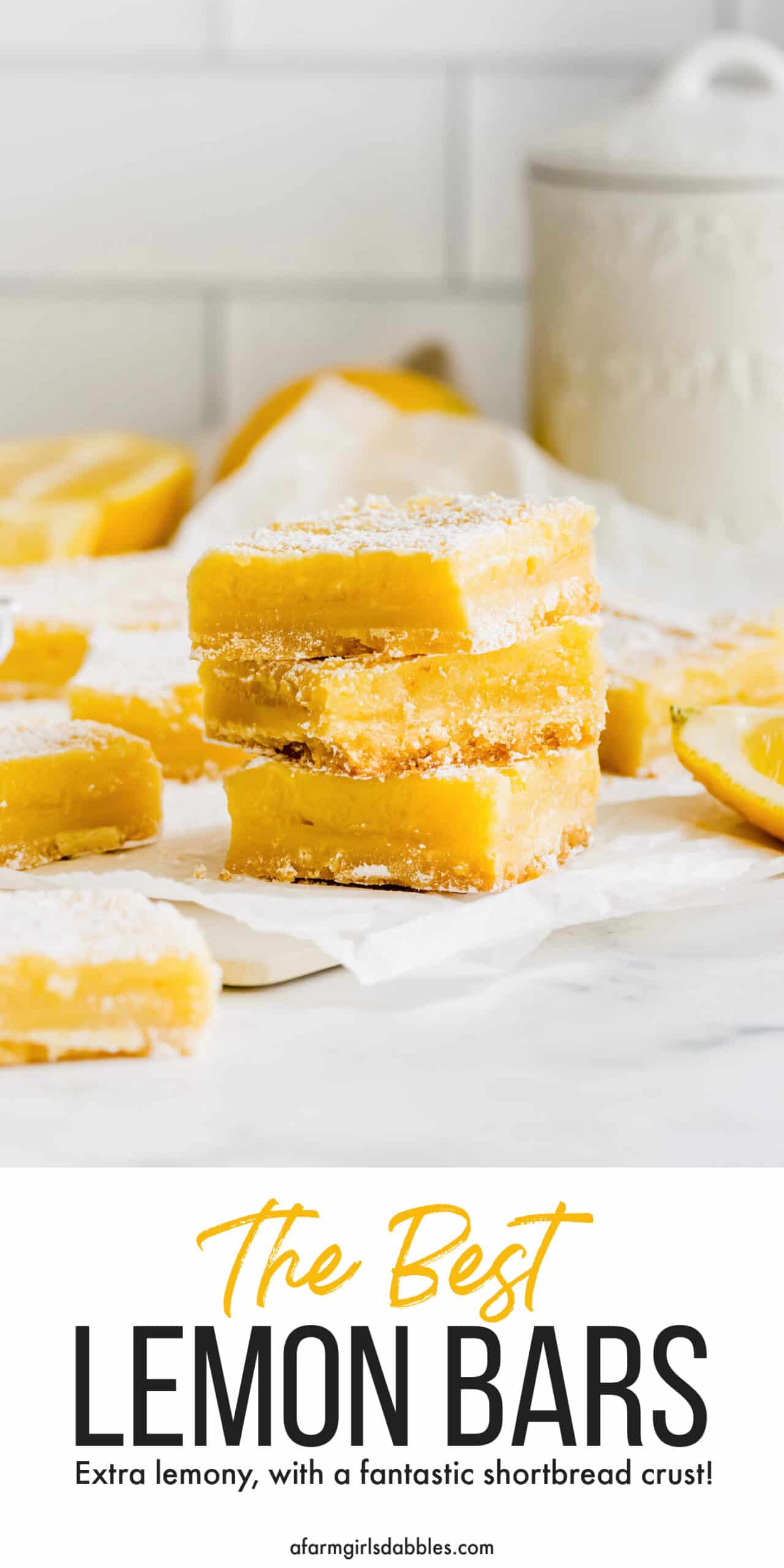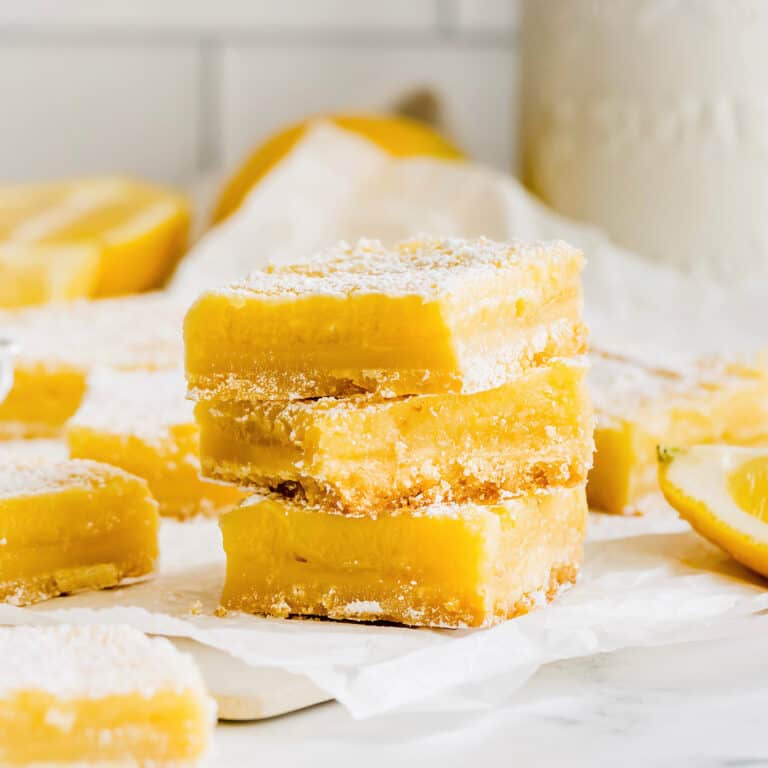 This post was originally published in 2011, and then updated in 2021 with new photos and some new text.