Almond Poppy Seed Bread with Lemon Glaze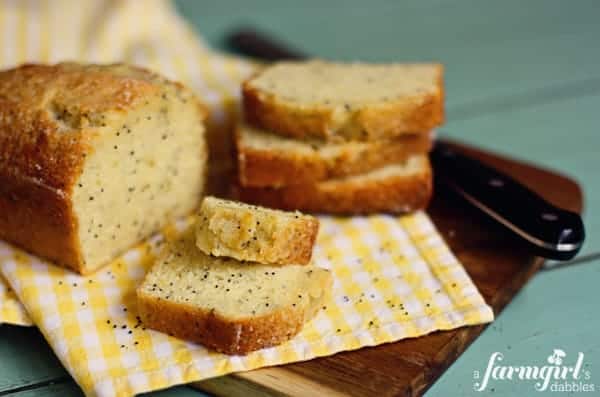 Everyone should have a scrumptious no-fail recipe for lemon poppy seed bread in their back pocket, dontcha think? So why is it that I didn't have one until just recently?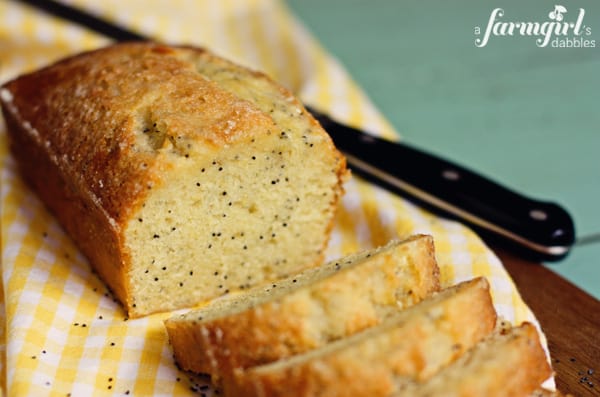 I was looking for a quick bread recipe made in small loaf pans, because I think little loaves make great food gifts for a hostess, a new mom, or someone who is grieving. Or for our daughters, who absolutely adore anything lemon poppy seed…bonus points if there's almond flavoring, too!
But I didn't have any such recipe.
So I played around with one that I already knew I loved…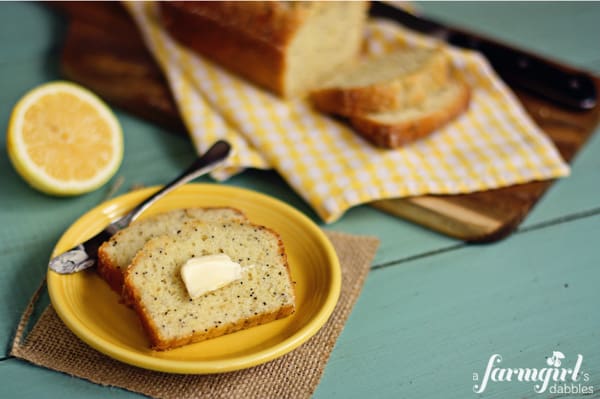 …and came up with this Almond Poppy Seed Bread with Lemon Glaze. It's fabulous, I tell you. Our girls are crazy for it!
These little loaves of almond + lemon bread are the best that you'll ever find, guaranteed. They're perfectly moist, and flavored with the comfort of almond and the brightness of lemon. My favorite part, though, is the lemony sugar glaze that soaks into the bread, giving it extra moistness and sweet lemon tang. Once the glaze cools and sets, it creates a wonderful thin crust over the top of the bread, giving each slice's top a few bites of crunchy texture. If I could get away with only eating the top half of the entire loaf, I surely would! ;)
And, yay! My Almond Poppy Seed Bread with Lemon Glaze is featured at A Cup of Jo, in Joanna's "Best Recipe Series". Please check it out!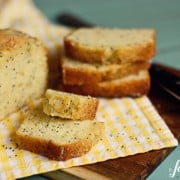 Almond Poppy Seed Bread with Lemon Glaze
Yield: 2 small loaves of bread
Cook Time:45 minutes
Calories per serving: 172
Ingredients:
for the almond poppy seed bread:
1-1/2 c. flour
1-1/4 c. sugar
1/2 tsp. salt
1 tsp. baking powder
1 T. poppy seeds
3/4 c. milk
1/2 c. + 1 T. vegetable oil
2 large eggs, slightly beaten
1 tsp. pure vanilla extract
1-1/2 tsp. almond extract
2 T. freshly grated lemon zest
for the lemon glaze:
1/3 c. sugar
2 T. freshly squeezed lemon juice
1/4 tsp. pure vanilla extract
1/4 tsp. almond extract
1/2 T. unsalted butter, melted and slightly cooled
Directions:
for the almond poppy seed bread:
Preheat oven to 350°. Spray two 7-1/2" x 3-1/2″ loaf pans with cooking spray and set aside. I love this smaller loaf pan size – the bread makes for a great hostess gift!
In the bowl of a stand mixer, combine the flour, sugar, salt, baking powder, and poppy seeds. Stir on low, just until combined.
In a separate medium bowl, combine the rest of the ingredients – the milk, vegetable oil, eggs, vanilla, almond extract, and lemon zest.
Slowly add the wet ingredients to the dry. With mixer on low speed, beat until incorporated. Then raise the mixer speed to medium and beat for one more minute. Pour batter into prepared loaf pans and bake for 45 to 50 minutes, or until toothpick comes out clean.
for the lemon glaze:
While the bread is baking, prepare the glaze. Combine all glaze ingredients and whisk until incorporated. When the baked loaves are removed from the oven, immediately brush the glaze over the warm bread tops. It will seem like alot of glaze, but it will soak in and make the bread ultra moist and flavorful, with a bit of a sugary crust once cooled. Cool loaves about 20 minutes. Then run a knife around the edges of the pans before removing bread from pans.
We participate in the Amazon Services LLC Associates Program, an affiliate advertising program designed to provide a means for us to earn fees by linking to Amazon.com and affiliated sites. See our disclosure policy for more info.