Lemon Heaven Bars
This post may contain Amazon or other affiliate links. As an Amazon Associate I earn from qualifying purchases.
Lemon Heaven Bars are dense and soft and chewy. Loaded with fresh lemon flavor and covered with a thin, sweet glaze, these easy lemon bars are completely irresistible!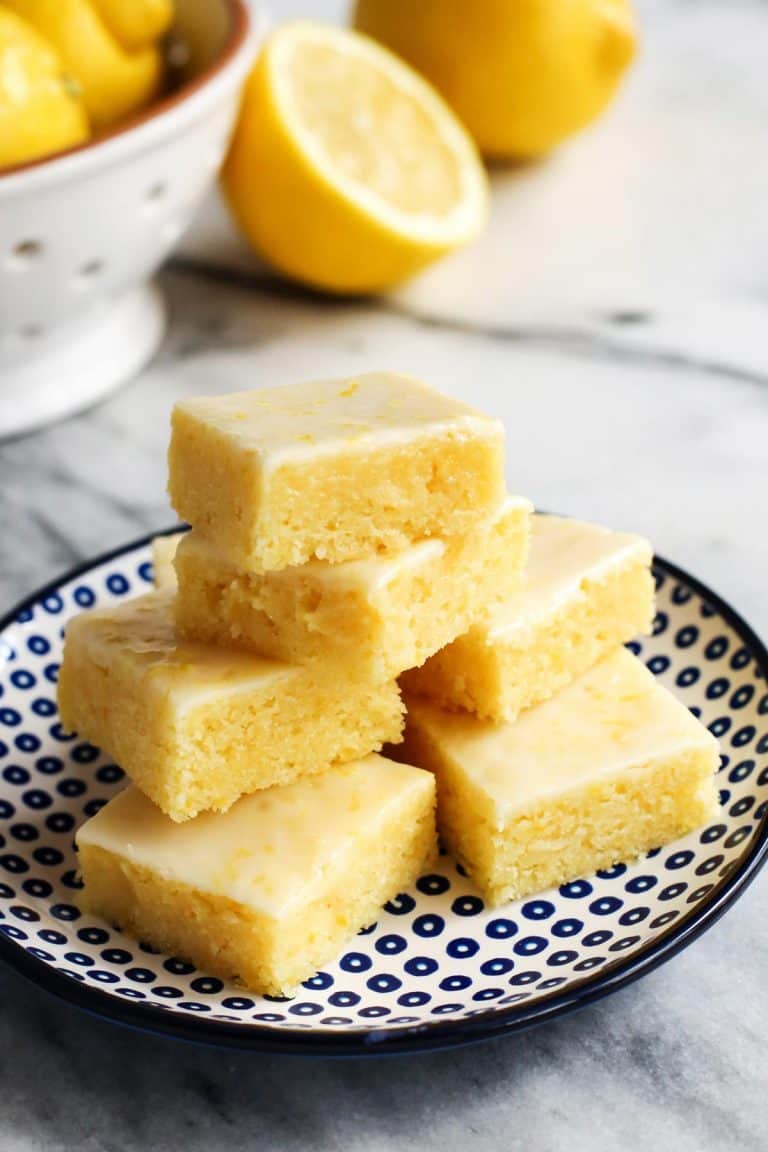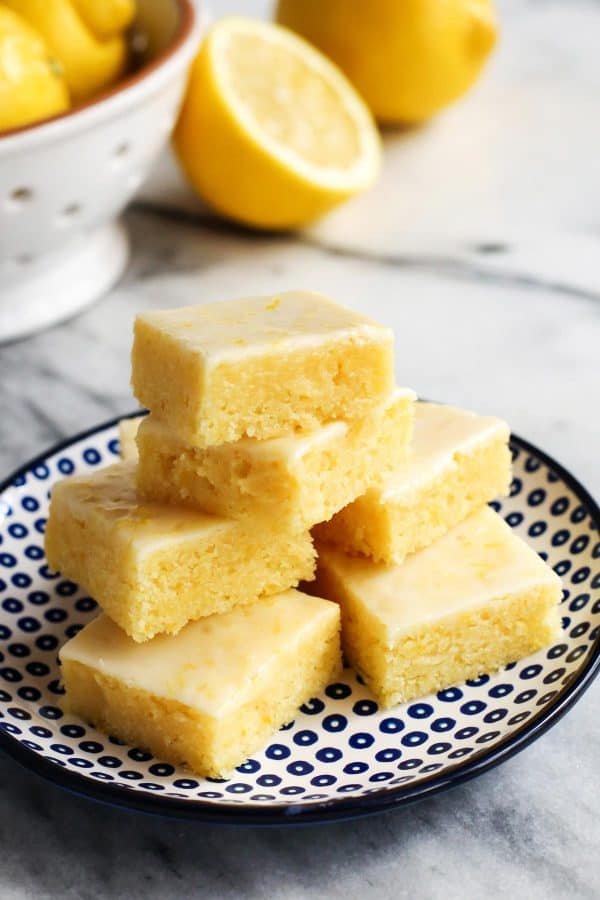 Lemon Heaven Bars
You know that my heart will always belong to chocolate when it comes to dessert. But when I need something comforting with a jolt of puckery freshness, I can't resist a homemade lemon bar.
My favorite lemon bar recipe consists of a buttery shortbread crust topped by a bright layer of thickened lemon custard. When baked, the top of the bars take on a thin, crackly texture. And then they get a pretty sifting of powdered sugar. It's one of the recipes people ask me for the most. Here's the recipe.
But now, after many, many years, there's a new lemon bar contender vying for my attention. These Lemon Heaven Bars are out of this world good, packed with an extra dose of fresh and puckery lemon flavor.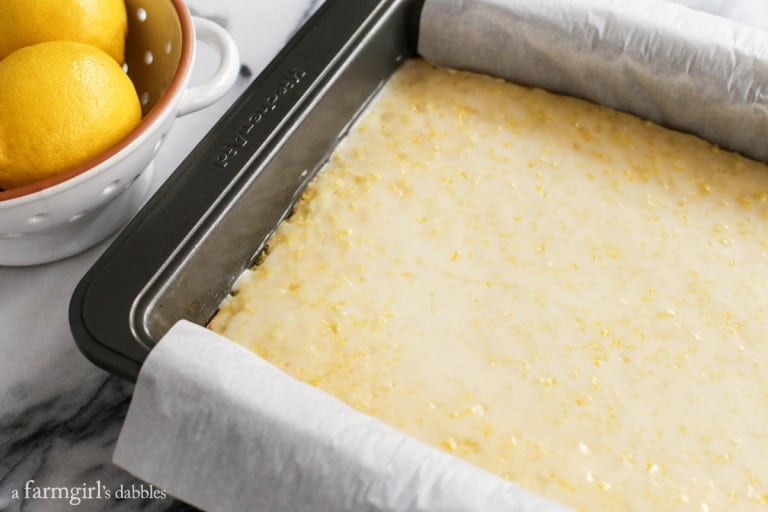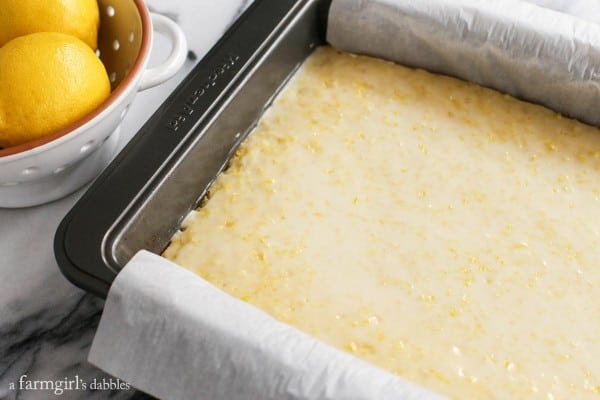 How to Make Lemon Heaven Bars
These lemony bars are incredibly easy to make. All you need are some common baking ingredients, a few lemons, and a 9″ x 13″ pan.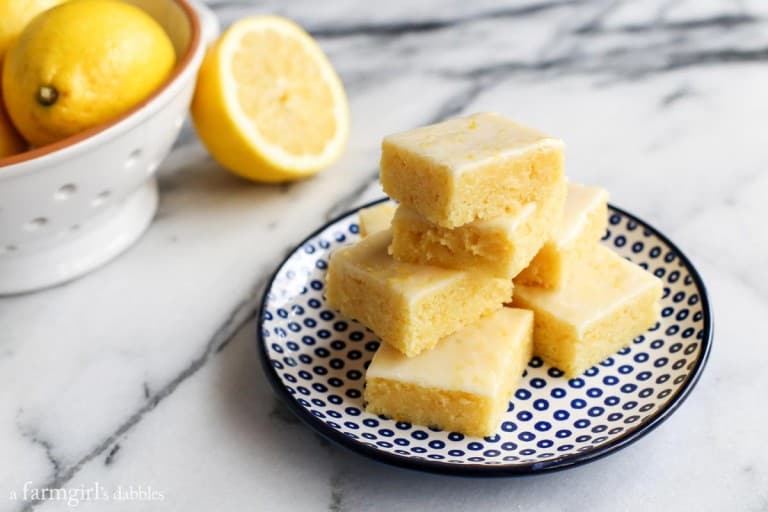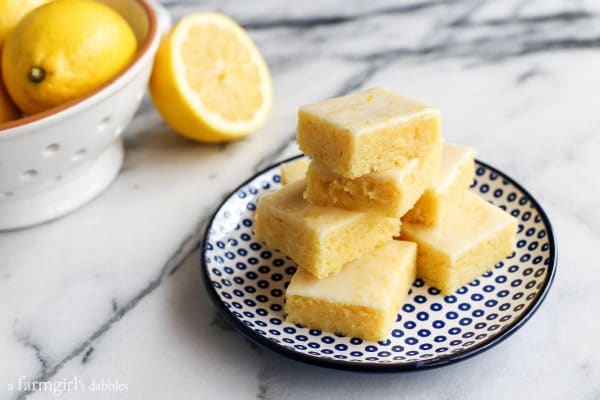 The texture of the lemon heaven bars is very much like a really dense, moist cake, all soft and chewy and absolutely irresistible.
A simple glaze is spread over them, a mixture of powdered sugar and fresh lemon juice and zest. The glaze adds another element of sweetness, plus another level of lemon tang.
My special tip: Try these cold. They're extra dense and chewy!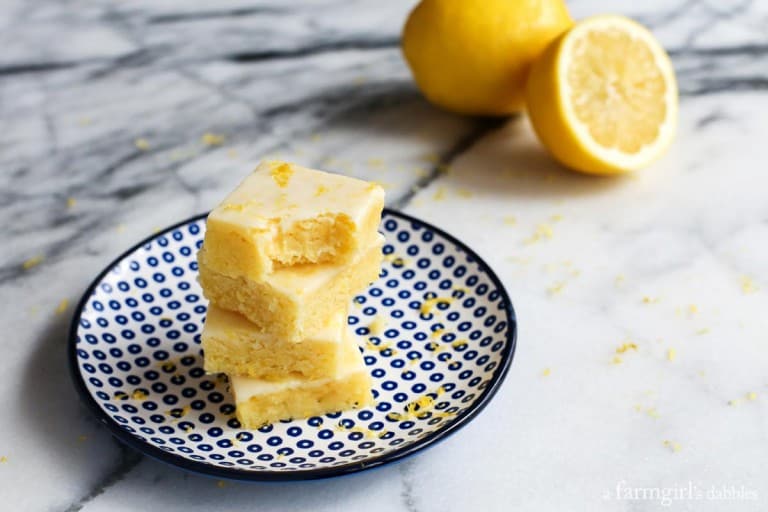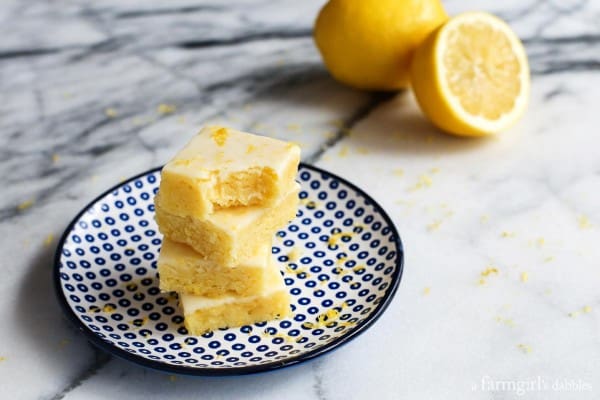 How I Named These Bars
I took a plate of these beauties into work a few years ago, asking for help in naming the recipe. Because I couldn't name them "lemon bars", as this new recipe needed to be distinguishable from the lemon bars recipe I was already known for.
As I was pondering this new name with my friend and co-worker Ann, Tim took his first bite. And he said, "lemon heaven". And that, my friends, is how these came to be known as Lemon Heaven Bars.
More lemon recipes for you:
Like this recipe? Save it to Pinterest!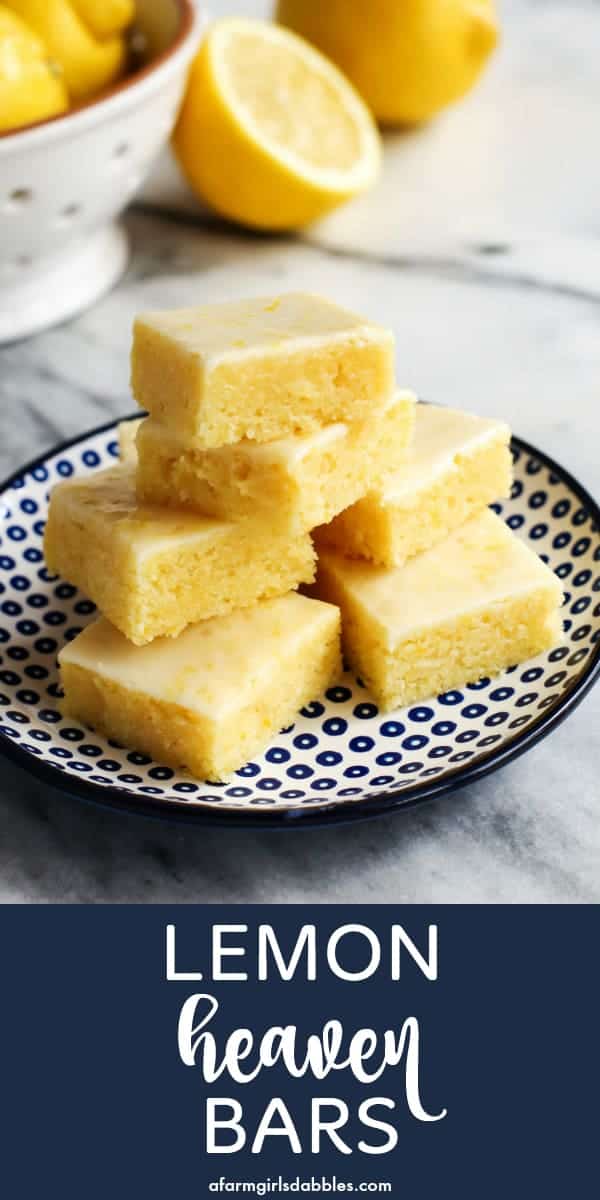 Here are a few more lemon desserts you might like: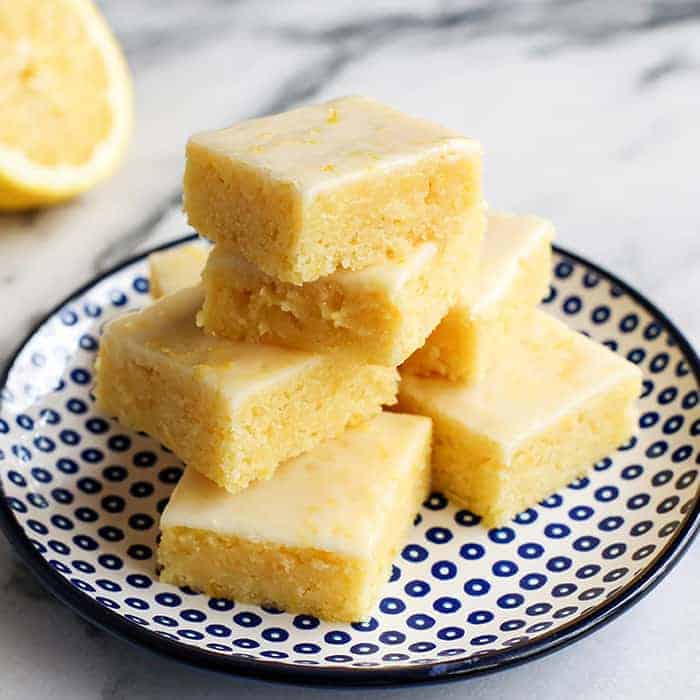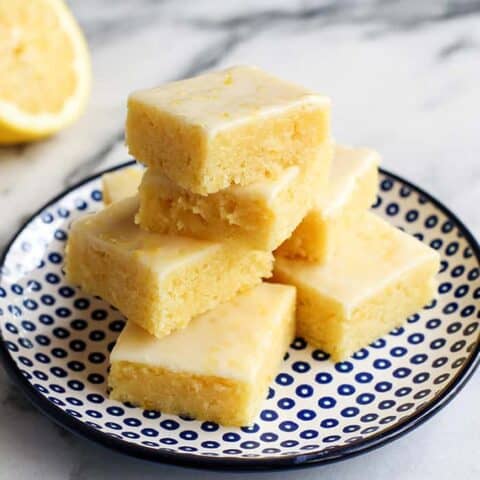 Lemon Heaven Bars
Yield: 24 bars
Prep Time: 25 minutes
Cook Time: 20 minutes
Total Time: 45 minutes
These bars are dense and soft and chewy. Loaded with fresh lemon flavor and covered with a thin, sweet glaze, they are completely irresistible!
Ingredients
for the lemon bars:
2 c. all-purpose flour
1-1/2 c. sugar
1/2 tsp. baking powder
1/4 tsp. kosher salt
fresh lemon zest from 2 large lemons
1 c. unsalted butter, melted and cooled
4 large eggs
1/3 c. freshly squeezed lemon juice
1 tsp. pure vanilla extract
for the lemon glaze:
1-1/2 c. powdered sugar
2 T. freshly squeezed lemon juice
fresh lemon zest from 1 large lemon
Instructions
For the lemon bars:
Preheat oven to 350° F. Line a 9" x 13" pan with parchment paper so that two opposite sides have an overhang. This will allow you to lift the bars out once they are cooled, to make clean cuts. If ultra clean cuts are not a big thing for you, simply spray the pan lightly with a non-stick spray. Set pan aside.
In a large bowl, whisk together flour, sugar, baking powder, and salt. Add lemon zest (my favorite zester!) and whisk again to separate and coat all the little pieces of zest. Set bowl aside.
In a small bowl, whisk together butter, eggs, lemon juice, and vanilla.
Add wet ingredients to dry ingredients and stir until combined. Spread batter evenly in prepared pan. Bake for about 20 minutes, or until a toothpick inserted in the center comes out clean. The lemon bars should spring back lightly when gently pressed. Remove from oven and let cool completely on a wire rack.
For the lemon glaze:
In a small bowl, whisk together all glaze ingredients until smooth.
Drizzle glaze over top of cooled lemon bars and then use a spatula or the back of a spoon to spread glaze evenly over the bars.
Place pan in refrigerator for 2 hours.
Run knife around the perimeter of the pan where there is no parchment paper and then lift the bars from the pan using the parchment paper overhangs. Cut into squares. I think these bars are best enjoyed when chilled, but feel free to serve them at room temperature also.
Recommended Products
As an Amazon Associate and member of other affiliate programs, I earn from qualifying purchases.
Nutrition Information:
Yield: 24
Serving Size: 1
Amount Per Serving:
Calories: 199
Total Fat: 9g
Saturated Fat: 5g
Trans Fat: 0g
Unsaturated Fat: 3g
Cholesterol: 51mg
Sodium: 49mg
Carbohydrates: 29g
Fiber: 1g
Sugar: 20g
Protein: 2g
This post was previously published in 2016. I updated some of the photographs and some of the text in 2019.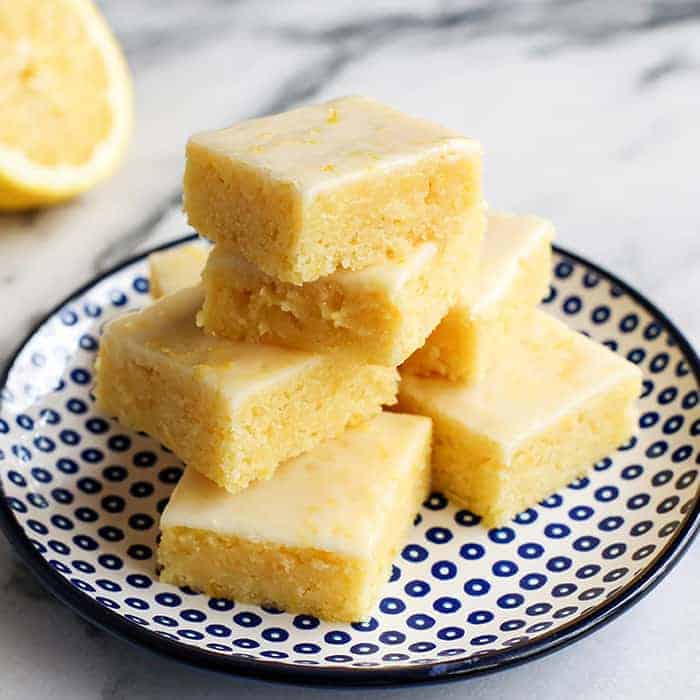 We participate in the Amazon Services LLC Associates Program, an affiliate advertising program designed to provide a means for us to earn fees by linking to Amazon.com and affiliated sites. See our
disclosure policy
for more info.