Mini Lemon Custard Cups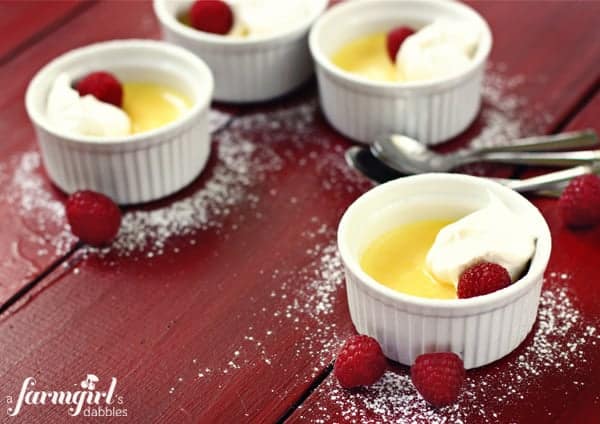 I'm kinda (ok…more like, officially!) obsessed with custards. Getting that kitchen torch for Christmas launched me straight to the enchanted land of crème brûlée, which only incited me to experiment further. From there, caramel custard was born in fun squat mason jars that showed off a pretty layer of absolutely exquisite salted caramel sauce. And now…these lovely Mini Lemon Custard Cups.
I had been wishing for a set of smaller custard cups for some time, and then a couple weeks ago I happened upon a sale I couldn't refuse. The cups I bought are a 4.5 ounce size, and just perfect for smaller portions. I can't wait to come up with more ways, both sweet and savory, to use them!
These lemon custards are a few small bites of heaven, just the perfect way to end a meal on a sweet note without overdoing it. The lemon flavor is delicate, almost soothing, and on an entirely different level than my favorite pizzazzy lemon bars. The small custard size makes them great for a dessert buffet, providing an extra special treat for a spring brunch celebrating a bride-to-be, a new baby, or the much deserving mom. Yes, Mother's Day is just a few days away. Wouldn't Mom love to sink her spoon into one of these little beauties?!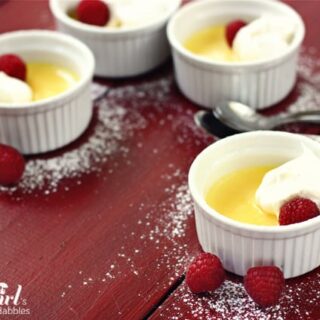 Mini Lemon Custard Cups
Yield: 10 mini custard cups
Prep Time: 25 minutes
Cook Time: 35 minutes
Additional Time: 30 minutes
Total Time: 1 hour 30 minutes
Mini Lemon Custard Cups are the perfect dessert mixture of tangy and sweet! This easy custard recipe is even better with a couple of raspberries on top, just so you know. :)
Ingredients
2.25 c. whole milk
grated zest of 1 lemon
4 large eggs
1/2 c. sugar
1/8 tsp. pure lemon extract or lemon oil (use another 1/8 tsp. for a bit more lemony flavor)
Instructions
Put the milk and lemon zest in a saucepan and bring just to a boil. Remove the pan from the heat, cover and set aside for 30 minutes so the zest can infuse the milk with its lemon goodness. Reheat the milk before mixing the custard.
Preheat oven to 325° F. Line the bottom of a roasting pan with a double thickness of paper towels and place 10 small (I used 4.5 oz. size) custard cups in the pan. Have a fine mesh strainer lined with cheese cloth ready. Fill a teakettle with water and put it on to boil. When the water boils, turn the heat down just to keep it warm.
In a 1-quart glass measuring cup or a heatproof bowl, whisk the eggs and sugar together until well blended. Still whisking, strain in about 1/4 cup of the hot milk little by little to temper (warm) the eggs so they won't curdle. Whisking continuously, slowly strain in the remaining milk. Discard the zest left in the strainer. Stir in the lemon extract. If using lemon oil, it will be stronger, so you may want to use less. The 1/8 teaspoon of lemon extract will give you a very delicate and mild lemon custard. If you want the lemon flavor more pronounced, double the amount of extract.
Skim off the foam from the top of the custard with a spoon. Then divide the custard amongst the prepared cups. Carefully place the roasting pan in the oven and then pour enough hot water from the teakettle into the roasting pan to come halfway up the sides of the cups.
Bake for about 35 minutes, or until they jiggle just a little only in the very center, when you tap the cups lightly. Transfer the custards to a rack and cool to room temperature, then cover and refrigerate for at least 2 hours before serving.
Take custards out of the refrigerator about 15 minutes prior to serving. Serve with small dollops of sweetened whipped cream and fresh berries.
Notes
Note: If you want to make bigger serving sizes…use six (6 to 8 oz.) custard cups and bake an additional 5 to 10 minutes.
Adapted from Baking from my home to yours by Dorie Greenspan, such a splendid and reliable book…I LOVE it!!
Nutrition Information:
Yield: 10
Serving Size: 1
Amount Per Serving:
Calories: 118
Total Fat: 5g
Saturated Fat: 2g
Trans Fat: 0g
Unsaturated Fat: 3g
Cholesterol: 80mg
Sodium: 52mg
Carbohydrates: 14g
Fiber: 0g
Sugar: 13g
Protein: 4g
Nutrition information is automatically calculated by Nutritionix. I am not a nutritionist and cannot guarantee accuracy. If your health depends on nutrition information, please calculate again with your own favorite calculator.