Grandma Renelt's Fresh Ginger Dressing
This post may contain Amazon or other affiliate links. As an Amazon Associate I earn from qualifying purchases.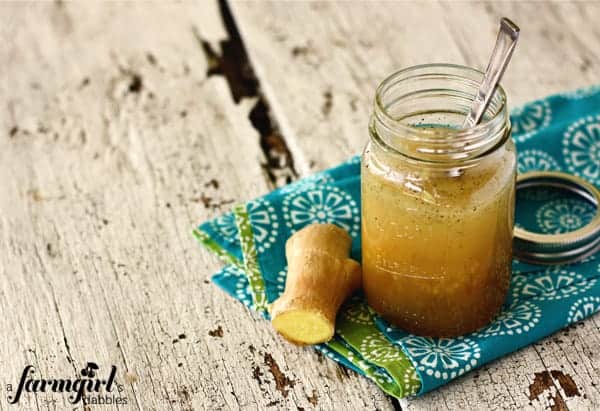 I've been thinking alot about my Grandpa and Grandma Renelt this past week. They've been on my mind more than usual because my family just returned from a vacation in Florida, the warm and endlessly sunny state where my grandparents used to spend many of their winters. While I was growing up, our family traveled to stay with them several times over the years, and those visits produced loads and loads of happy memories for me. So much of last week's vacation time felt like I was reliving trips from the past. Except this time I was the parent!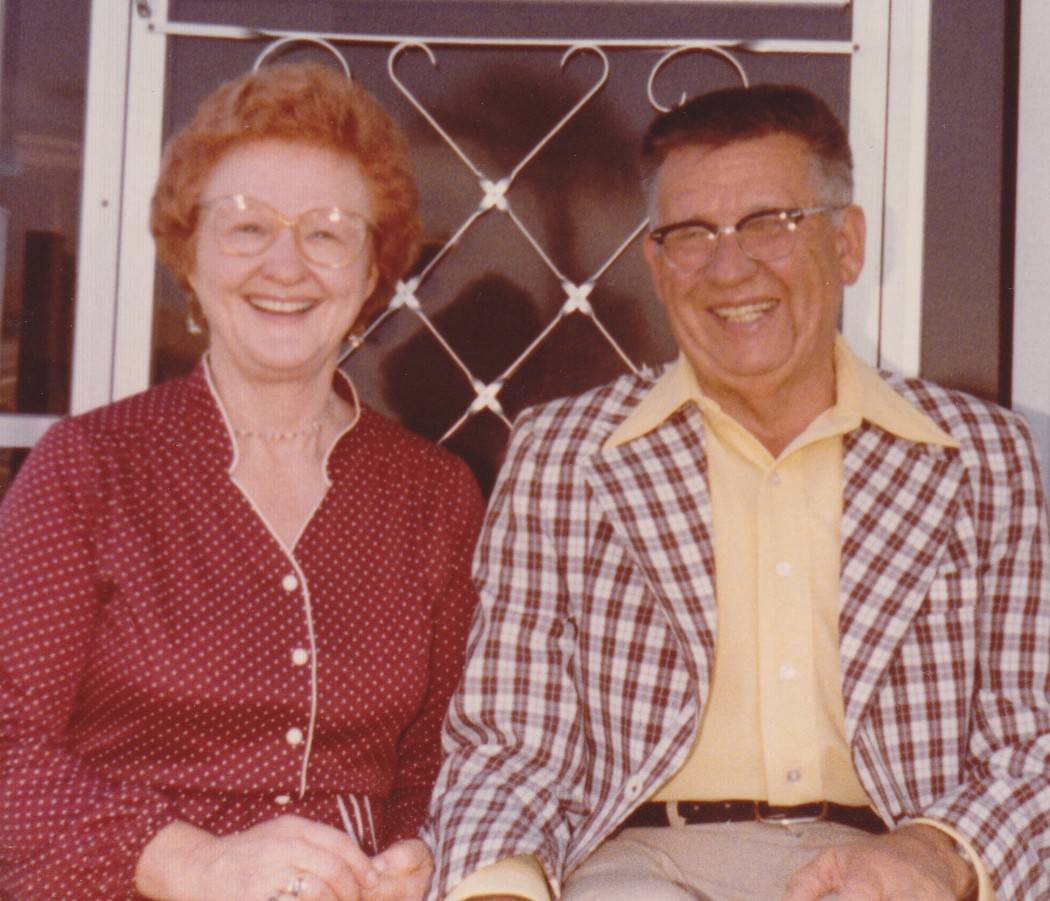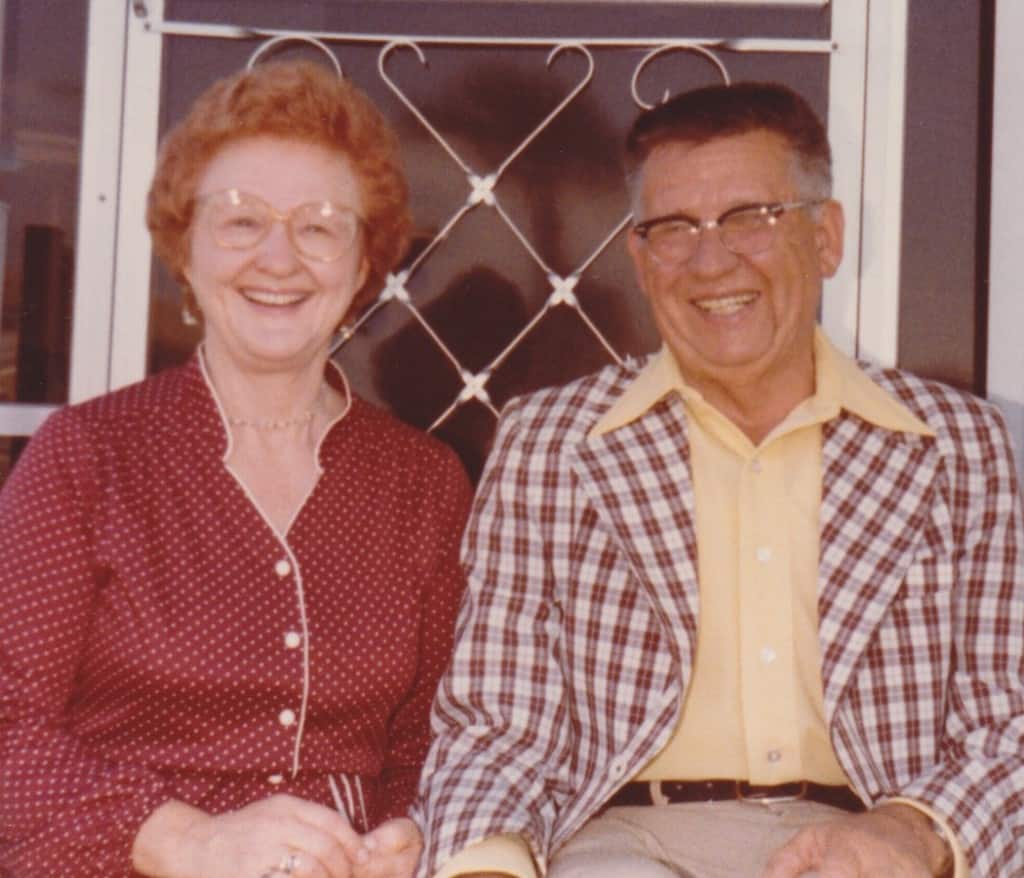 Grandma definitely knows her way around every corner of the kitchen, but I especially loved our Florida breakfasts together where she treated us to fresh squeezed orange juice. And not the "fresh squeezed" kind from the store's jug like we drank every morning last week on vacation. No, Grandma squeezed those sweet Florida oranges with her own two hands, no electric gizmos involved. I think that must be how you know someone loves you.
Another favorite, and still extremely simple, eat that Grandma introduced me to was her Fresh Ginger Dressing. I've always loved it, but it wasn't until just a few years ago that I asked her for the recipe. She laughed that vivacious laugh of hers and then said, "Recipe?! I don't have a recipe!" So I proceeded to make her guesstimate the measurements of ingredients.
I like to play around with my grandma's recipe by experimenting with different vinegars and sweeteners. And the amount of ginger I use completely depends on my mood. Sometimes I want mellow ginger. Other times I want it full throttle, spicy and full of zing. But the recipe I've included is how I most commonly make it, and a great place for you to start.
I like to drizzle this fresh ginger dressing over my salads any time of year, but its light body and bright flavor is especially nice during the warmth of spring and summer. Please let me know if you try it!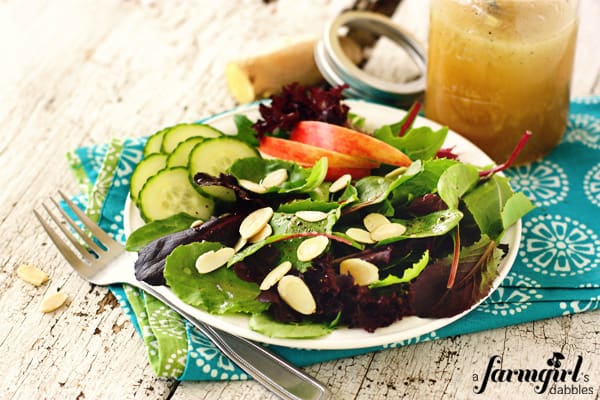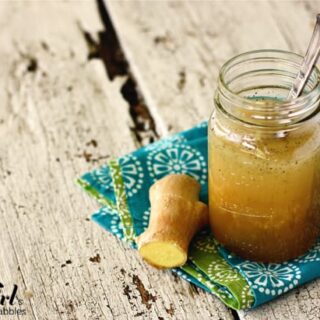 Grandma Renelt's Fresh Ginger Dressing
Yield: almost 1-1/2 cups of dressing
Prep Time: 10 minutes
Total Time: 10 minutes
I like to drizzle this fresh ginger dressing over my salads any time of year, but its light body and bright flavor is especially nice during the warmth of spring and summer.
Ingredients
1/2 c. your favorite vegetable oil
2/3 c. rice vinegar (or regular white vinegar)
1/3 c. honey
2 T. grated fresh ginger
pinch of kosher salt
1/8 tsp. freshly ground black pepper
Instructions
Combine all ingredients in a pint jar and shake vigorously. Or if you like a more well-blended dressing, place ingredients in a smallish bowl and give it a few whirls with an immersion blender.
Then store in a pint jar, shaking vigorously before each use. Serve with your favorite fresh greens. Keeps well in the refrigerator for one week.
Notes
Adapted from my Grandma Renelt's recipe box, one of my favorite recipes in all the world.
Nutrition Information:
Yield: 6
Serving Size: 1
Amount Per Serving:
Calories: 224
Total Fat: 18g
Saturated Fat: 1g
Trans Fat: 0g
Unsaturated Fat: 16g
Cholesterol: 0mg
Sodium: 24mg
Carbohydrates: 16g
Fiber: 0g
Sugar: 15g
Protein: 0g
Nutrition information is automatically calculated by Nutritionix. I am not a nutritionist and cannot guarantee accuracy. If your health depends on nutrition information, please calculate again with your own favorite calculator.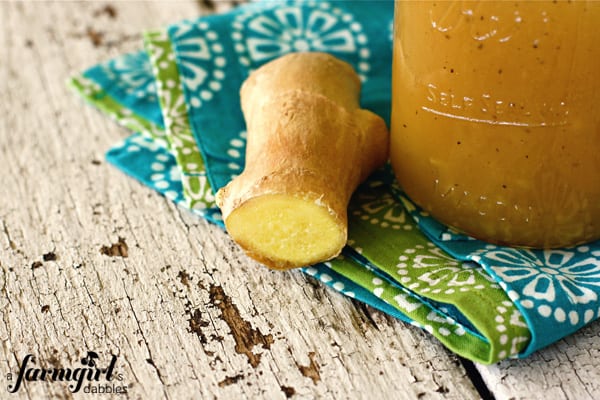 We participate in the Amazon Services LLC Associates Program, an affiliate advertising program designed to provide a means for us to earn fees by linking to Amazon.com and affiliated sites. See our
disclosure policy
for more info.