Mom's Chocolate Mint Brownies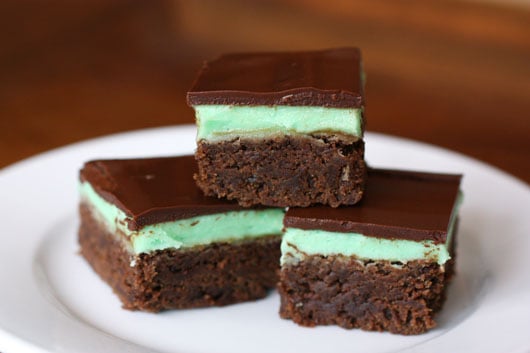 I have very vivid – and numerous – memories of finding Mom digging in the big chest freezer on the farm, looking for the container that held her stash of Chocolate Mint Brownies.  Yes, this recipe is all Mom.
And I do have to agree, these beautiful bites are quite the perfect after meal treat.  Reminiscent of those little foil wrapped Andes mints, but softer and a bit more decadent, these mint layered brownies finish off a meal in the most lovely way.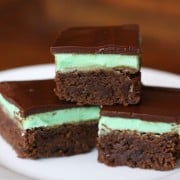 Mom's Chocolate Mint Brownies
Ingredients:
for the brownie base:
4 1-oz. squares unsweetened chocolate
2/3 c. shortening
2 c. brown sugar
3 large eggs
1 tsp. vanilla
1-1/4 c. all-purpose flour
1 tsp. baking powder
1 tsp. salt
for the peppermint layer:
2 c. powdered sugar
2 T. heavy cream
1/2 c. butter, softened
3/4 tsp. peppermint extract
a few drops of green food coloring, if desired
for the chocolate glaze:
2 1-oz. squares semi-sweet chocolate
2 T. butter
Directions:
Preheat oven to 350°.  Lightly grease a 9″ x 13″ pan.
Melt the chocolate and shortening together.  Remove from heat and add brown sugar, eggs, and vanilla.  Blend well.  Add flour, baking powder, and salt.  Mix well.   Pour into prepared pan and bake for about 25 minutes, until toothpick just barely comes clean.  Cool thoroughly.
Prepare the peppermint layer by creaming together the powdered sugar, cream, butter, and extract.  Tint with green food coloring, if desired.  Frost brownie base with this mixture and refrigerate until firm.
To make the chocolate glaze, melt together the chocolate and butter.  Spread gently over the cold frosting.  The glaze will be thin.  Cool until glaze hardens.  Cut into small squares.
Mom's recipe box
© a farmgirl's dabbles
I'm linking up with:
Kim at Quit Eating Out for "Saturday Swap". She says that these brownies are a favorite with her husband's side of the family. Check out her site right here!
We participate in the Amazon Services LLC Associates Program, an affiliate advertising program designed to provide a means for us to earn fees by linking to Amazon.com and affiliated sites. See our disclosure policy for more info.