Herby Ham Salad
Leftover ham? This simple Herby Ham Salad is creamy, tangy, and utterly delicious.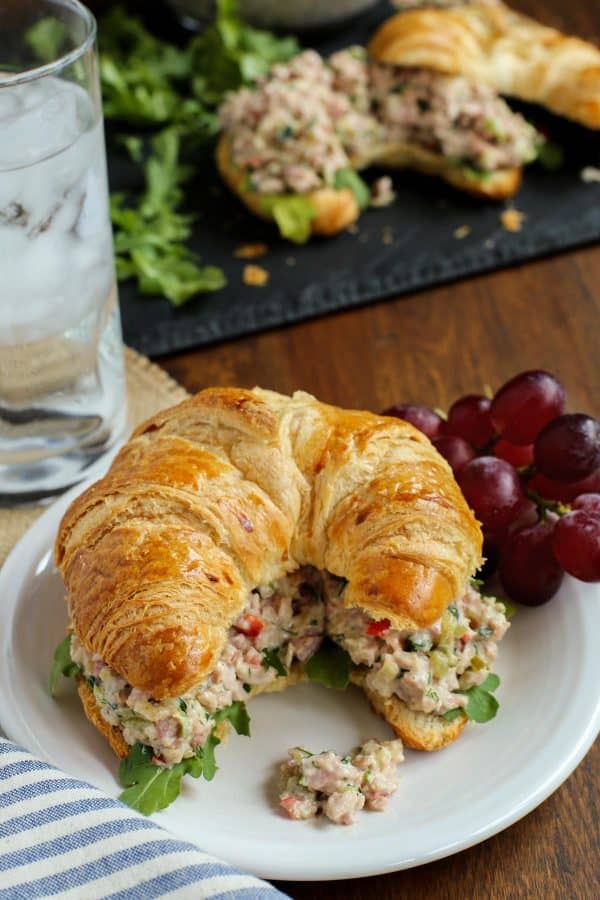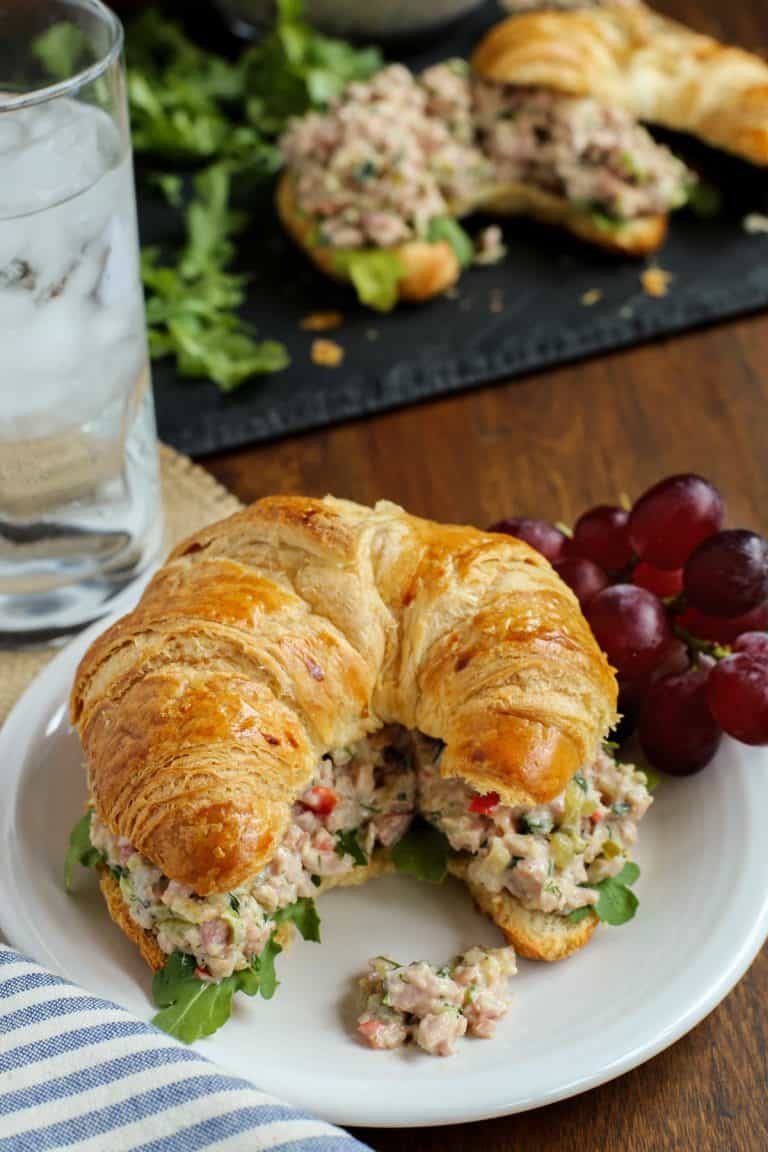 Did you grow up on ham salad? I don't remember my mom making it, but my aunt Mary Jane did. It was a sandwich spread I could count on at each of my cousin's graduation parties. Mary Jane also offered her famous tiger meat, a rare find at most gatherings, especially nowadays, and one that I can't personally vouch for. No, thank you.
My aunt's ham salad, though. I've missed that spread.
When I admitted to my sisters that sometimes, when I'm on a road trip to and from South Dakota and North Dakota, I'll pick up one of those pre-packaged ham salad sandwiches out of the cooler case at a gas station…well let's just say they weren't very impressed. All Cheryl and Jessica could do was scrunch up their faces in disgust. I laughed it off, and really don't care. In fact, I can guarantee that I'll eat more of those gas station sammies on future road trips. But the conversation also made me face the facts. It was due time that I experimented with making ham salad at home. You are going to LOVE this Herby Ham Salad. I promise!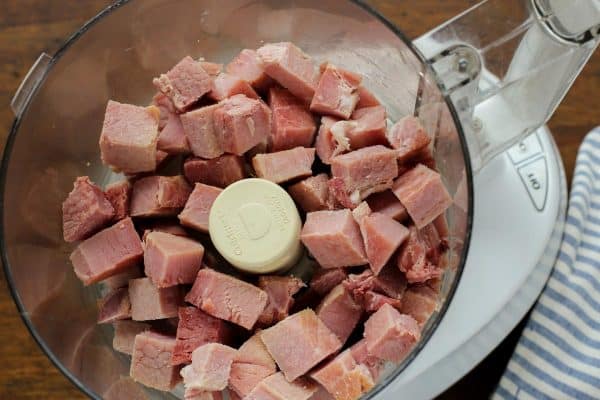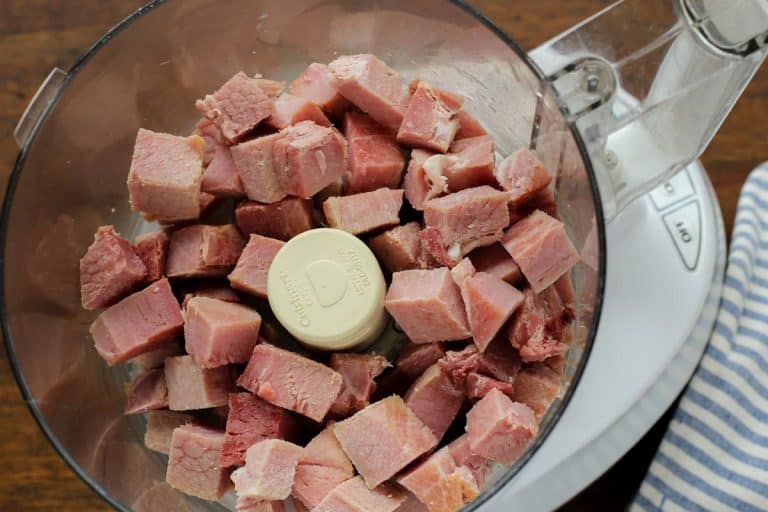 If you're anticipating leftovers this year (I highly recommend that you make sure that happens!), this recipe has you covered. Similar in style to other salad favorites of mine (think chicken salad, egg salad, and tuna salad), this ham salad is creamy, tangy, and utterly delicious. Blake says it's the best ham salad he's ever had. And I have to agree.
It's easy to make. Just cube some leftover ham and add it to a food processor.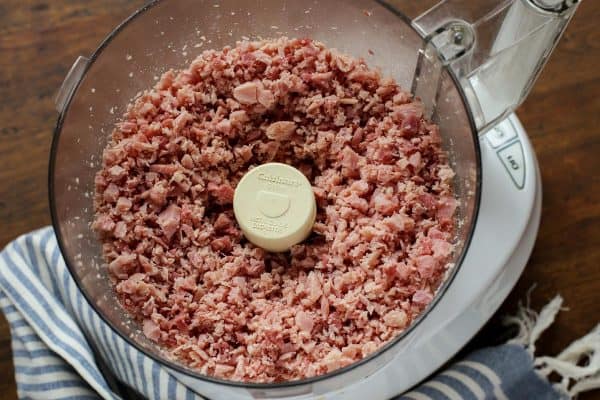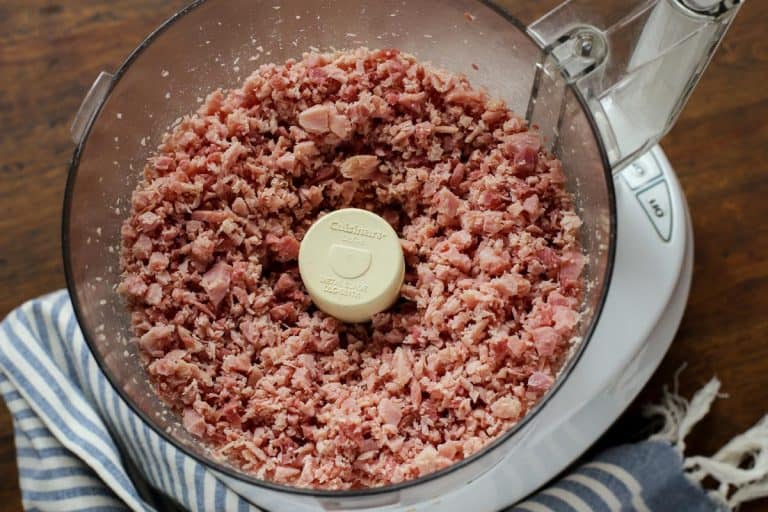 Then pulse the ham until it's nice and small.
Some people like to blitz the heck out of the ham, creating a mush-like consistency. I prefer some nice texture, leaving the ham in small bits.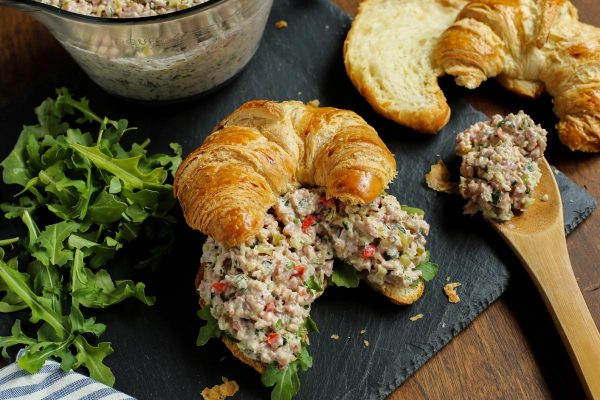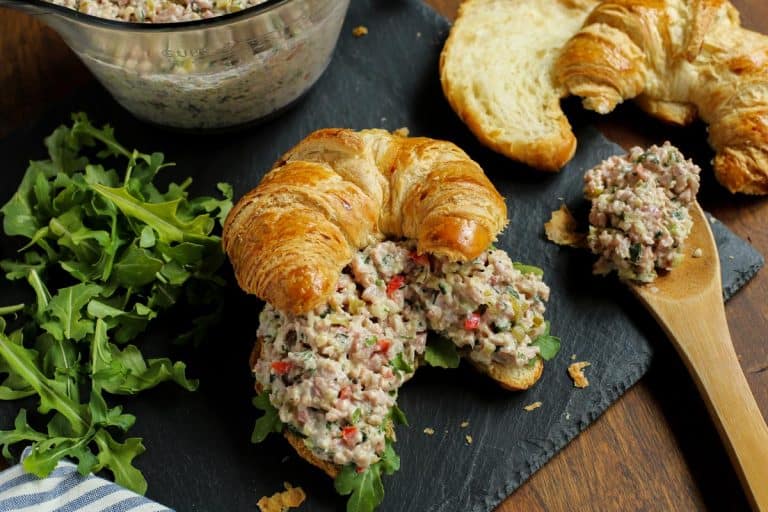 And most ham salad is loaded with mayonnaise. But I wanted the wonderful smoky ham flavor to shine through, and opted for less mayo.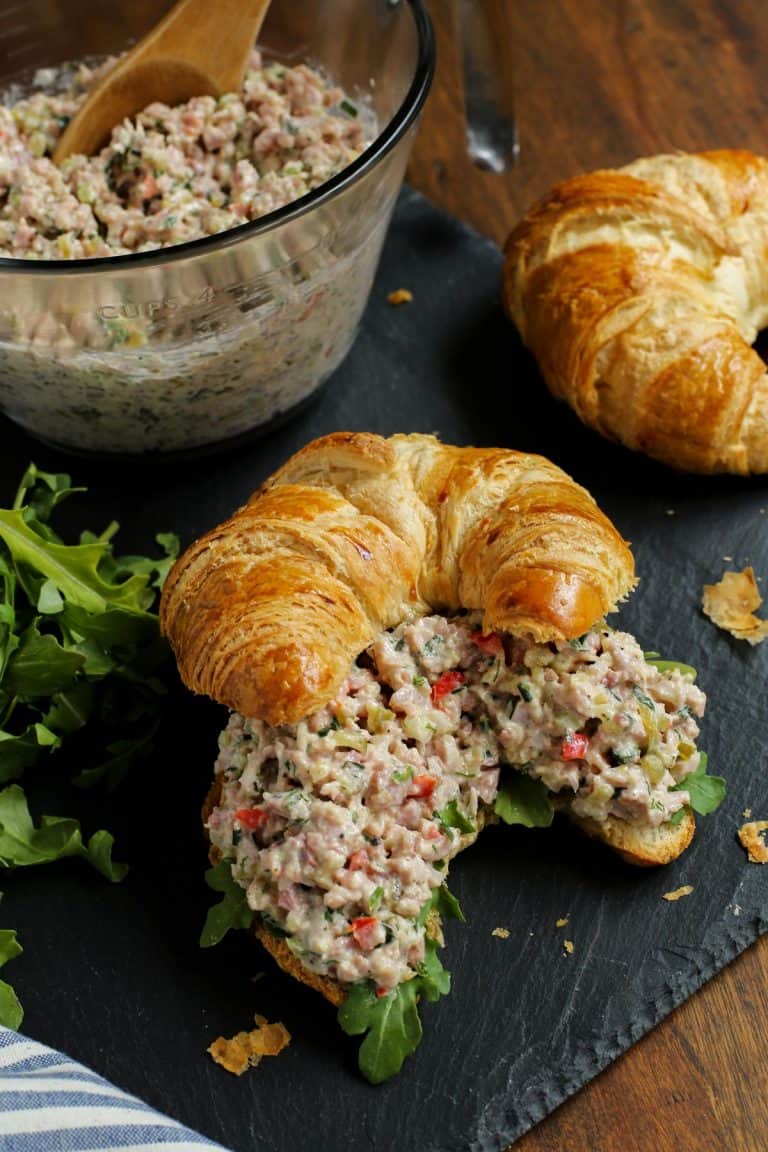 Along with the traditional sweet pickle relish, plenty of fresh herbs were stirred in, adding color and different levels of fresh flavors. But the best part is the kick of cayenne. I'm pretty sure that simple addition is what helped to slam-dunk Blake's opinion of this herby ham salad.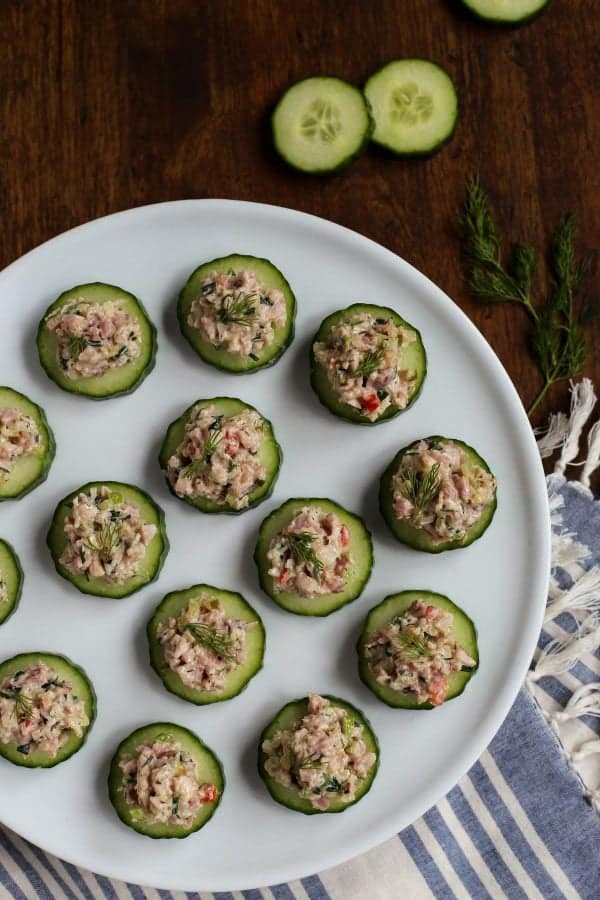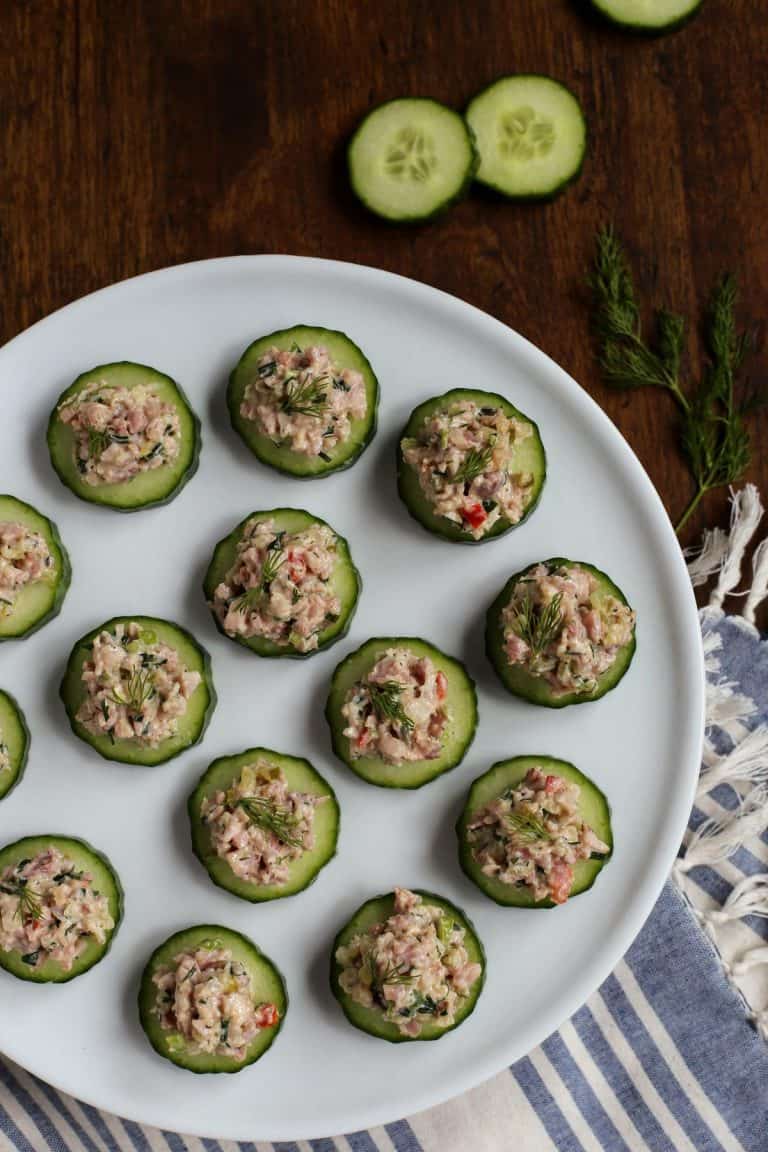 While the ham salad on a flaky croissant makes for an incredible lunch, I also highly recommend noshing on crackers and cucumber slices topped with this salad mixture.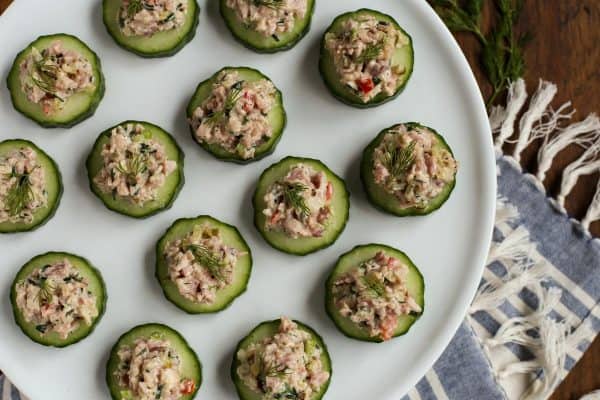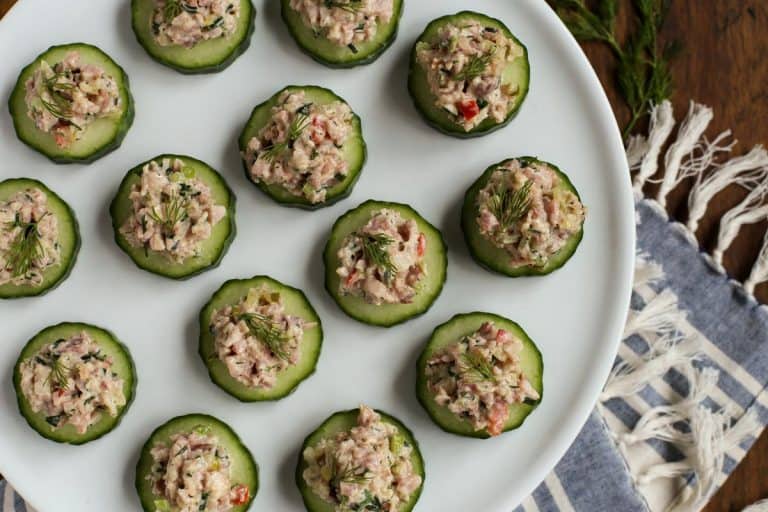 This method works beautifully for an appetizer course. Just think about a chilled cucumber and herby ham salad bite on a hot summer day in the backyard. Pass me a tall, cold glass of lemonade, please.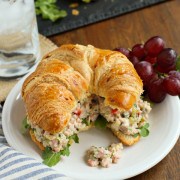 Herby Ham Salad
Yield: about 3 cups of ham salad
Ingredients:
1 lb. chopped cooked ham (I recommend a good smoked ham)
½ c. mayonnaise
½ c. sweet pickle relish, drained from the jar with a slotted spoon
1 T. Dijon mustard
1 green onion, minced
2 T. minced yellow onion
2 T. minced red bell pepper
2 T. minced celery
2 T. minced fresh parsley
2 T. minced fresh chives
1 T. minced fresh dill (use more if you really like dill)
¼ tsp. cayenne (this gives the ham salad a nice kick – if you don't like heat, try just a pinch to start out with)
kosher salt and freshly ground black pepper, to taste
Directions:
Using a food processer, pulse the chopped ham until you have very small pieces. Take care to not over-process. Transfer ham to a medium bowl and add the rest of the ingredients, folding to combine. Serve chilled.
Serve as a sandwich spread or a topper for crackers or cucumber slices. Also good served on a  plate of fresh greens.
from a farmgirl's dabbles
©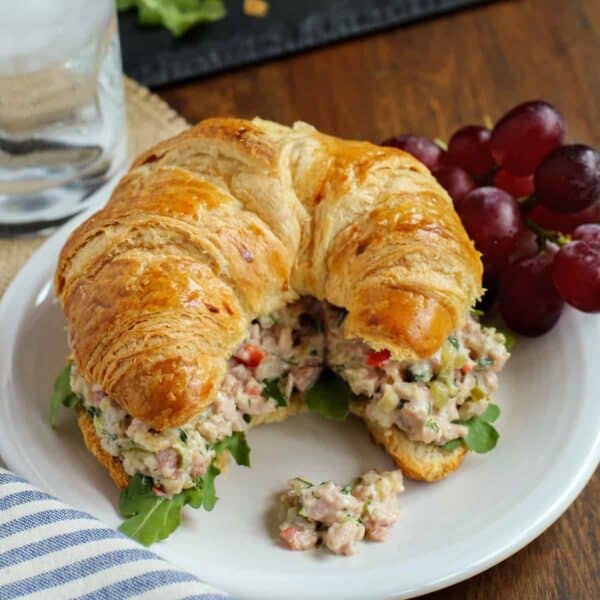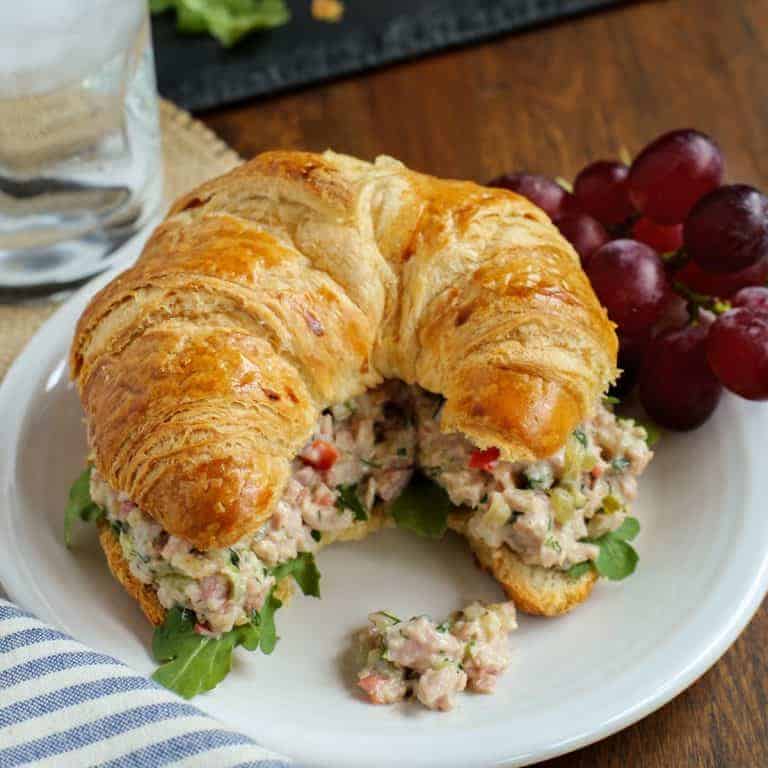 Disclosure: Thank you to the Ohio Pork Council and the Ohio Soybean Council for sponsoring this post. My family enjoys #PinkPork and we're happy to share its goodness with you. All opinions are my own.
We participate in the Amazon Services LLC Associates Program, an affiliate advertising program designed to provide a means for us to earn fees by linking to Amazon.com and affiliated sites. See our disclosure policy for more info.