Mexican Corn Salad
This post may contain Amazon or other affiliate links. As an Amazon Associate I earn from qualifying purchases.
Mexican Corn Salad is an off-the-cob version of elote – where grilled Mexican street corn is slathered in a creamy, tangy sauce and garnished with crumbly Cotija cheese. It's a fun fresh corn salad with BIG flavor!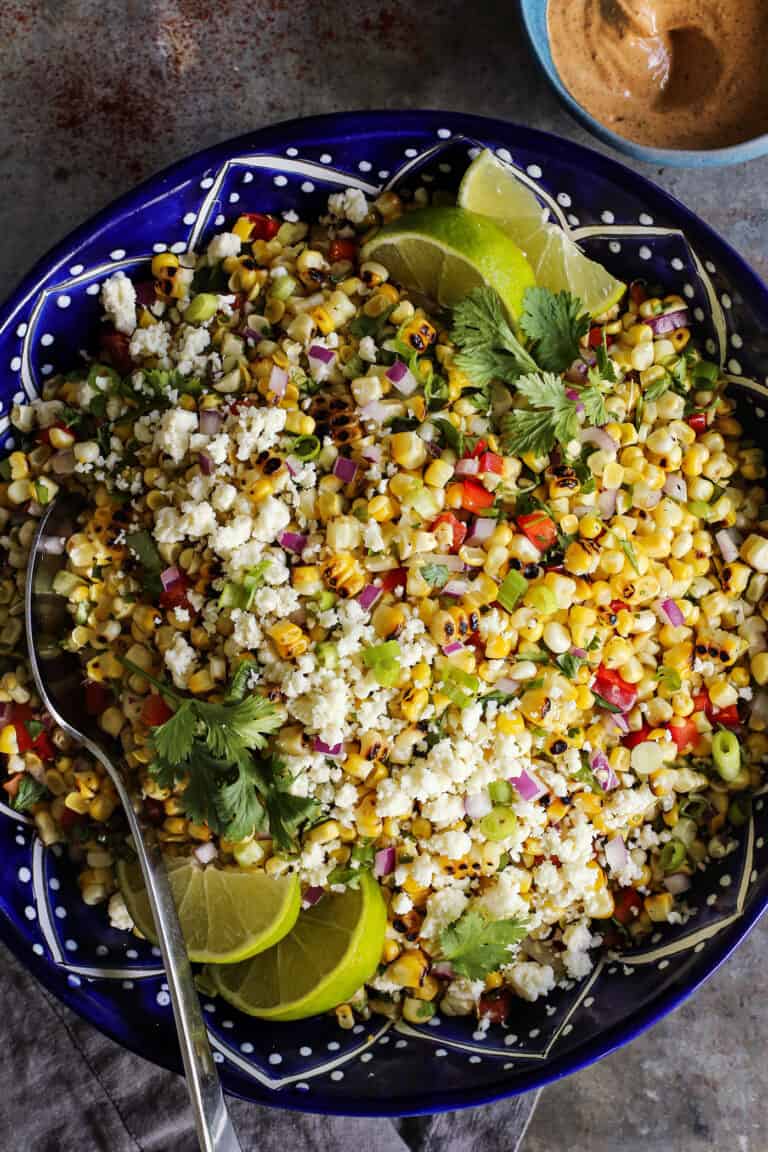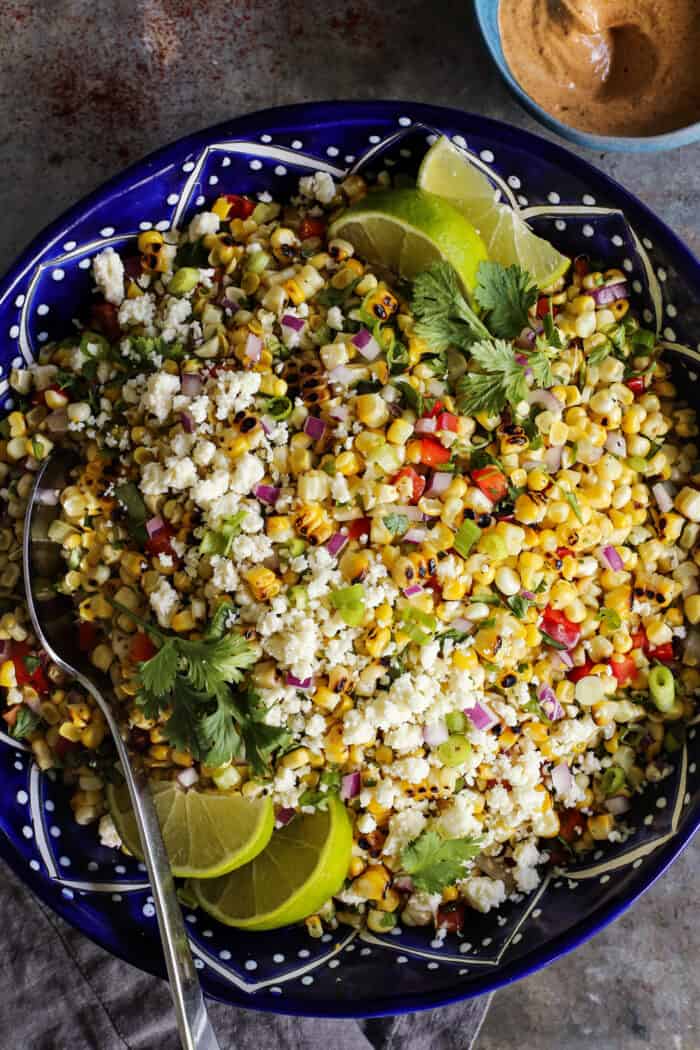 My Family Loves the Fresh Corn in this Mexican Corn Salad!
I love to fill my big blue Mexican pottery bowl with fun food!
This cobalt blue bowl was painted by hand, a keepsake I brought back with me from a family vacation to Mexico a number of years ago. Whenever we travel, I look for useful, locally made items that will remind me of those special places whenever I use them.
I've been making this Mexican Corn Salad recipe for a number of summers already, and our family only seems to grow more and more fond of it.
Known as esquites in Mexico, this salad is an off-the-cob version of elote – where grilled Mexican street corn is slathered in a creamy, tangy sauce and garnished with crumbly Cotija cheese. I remember first hearing about this dish from Rick Bayless many years ago, and just had to try it!
This fresh corn salad is a super yummy (and easy!) way to indulge in all that beautiful, fresh local sweet corn of summer – and it makes a great potluck dish. Pair it with tender, flavorful Beer Can Chicken, beautifully charred Margarita Grilled Shrimp, or my Easy Grilled Pork Chops!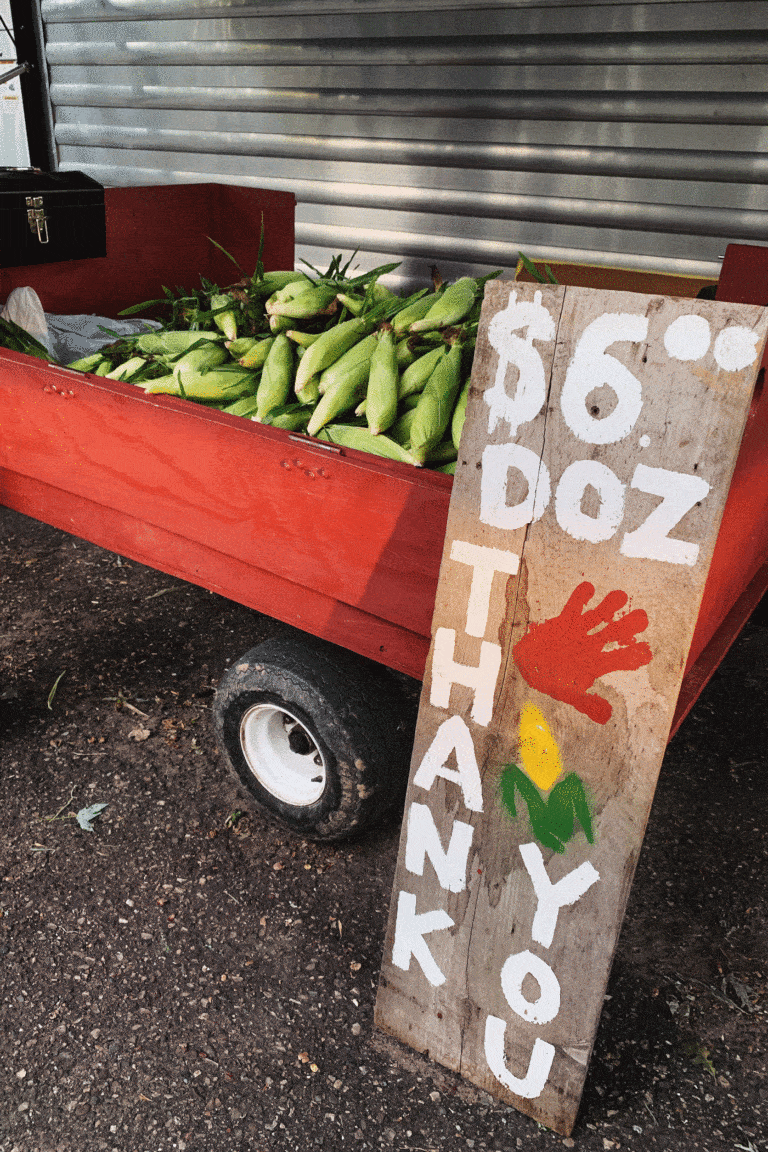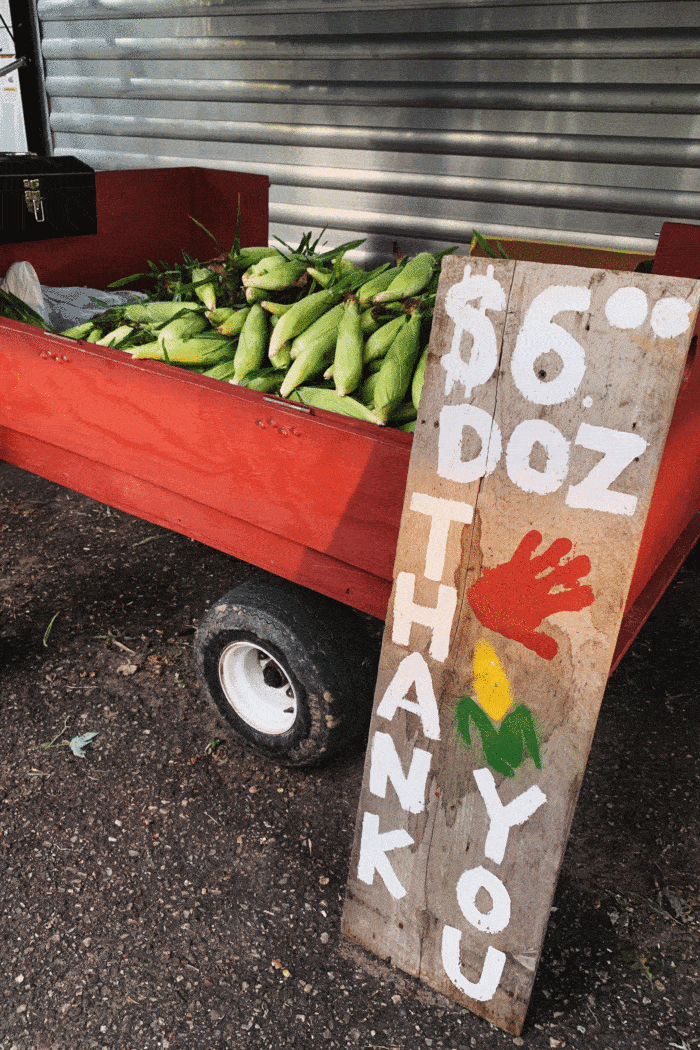 Every summer, I seek out the little farm stands selling their homegrown sweet corn. This one is located just a few miles from us.
The well-kept old farm house is nestled under a canopy of big ol' shade trees. It's a sweet, welcoming kind of place with dogs and chickens – and I even saw a peacock this week!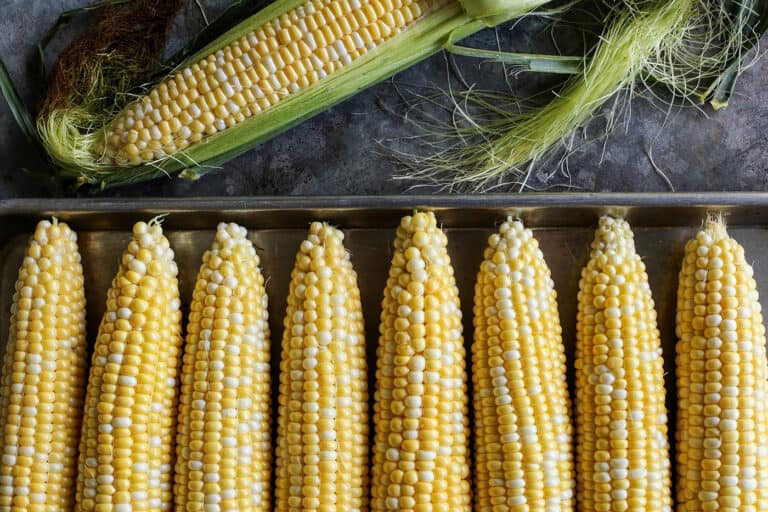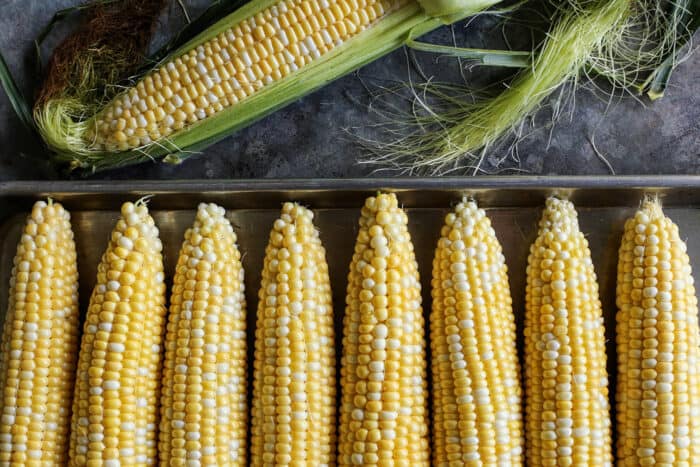 There Are So Many Ways to Eat Sweet Corn – Here Are Our Favorites!
I like to grab a dozen ears from the farm stand (they always tell me to take a few extra, that's the kind of folks they are) every few days throughout the season.
We eat the sweet corn many different ways. The simplest is "sweet corn supper", where all we eat is corn on the cob. Nothing else. I always looked forward to this summer meal as a kid. Simply cook the ears of corn in boiling water for just a few minutes, stab corn picks into their ends, and then slather the tender kernels in creamy butter. Finish them off with a little sprinkle of coarse salt. It's a perfectly fun way to enjoy a summer meal!
Other fresh corn recipe favorites include: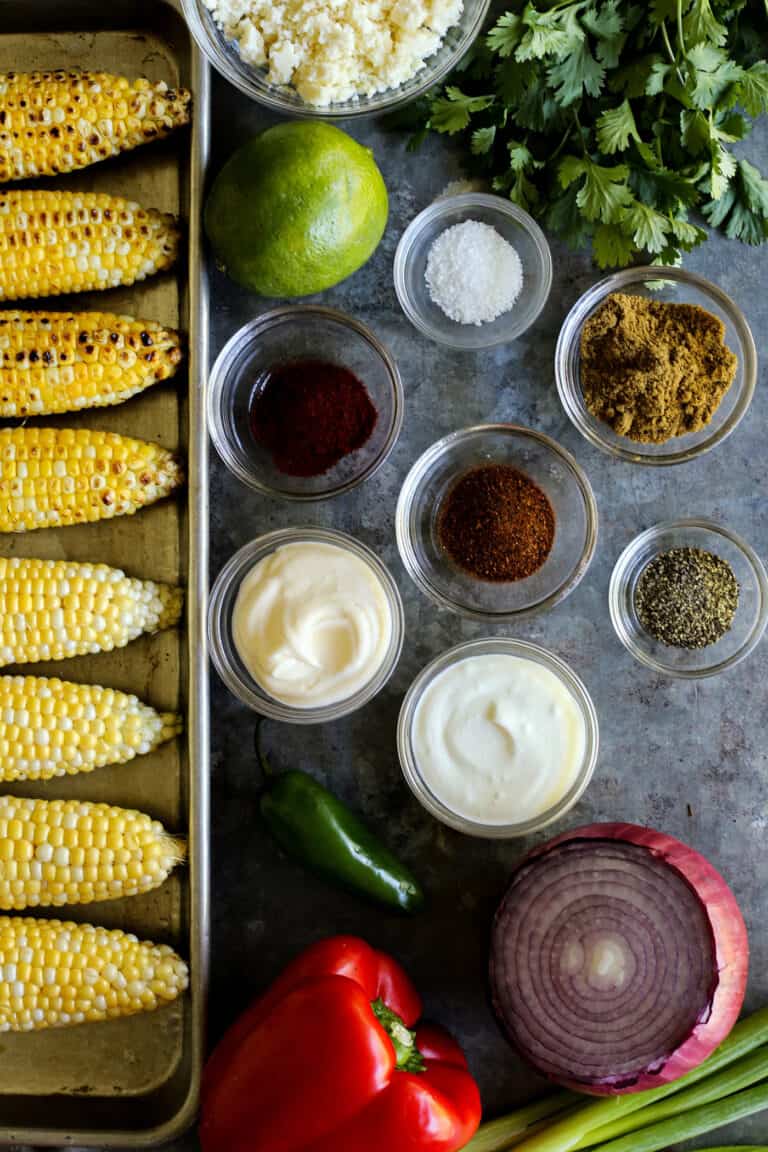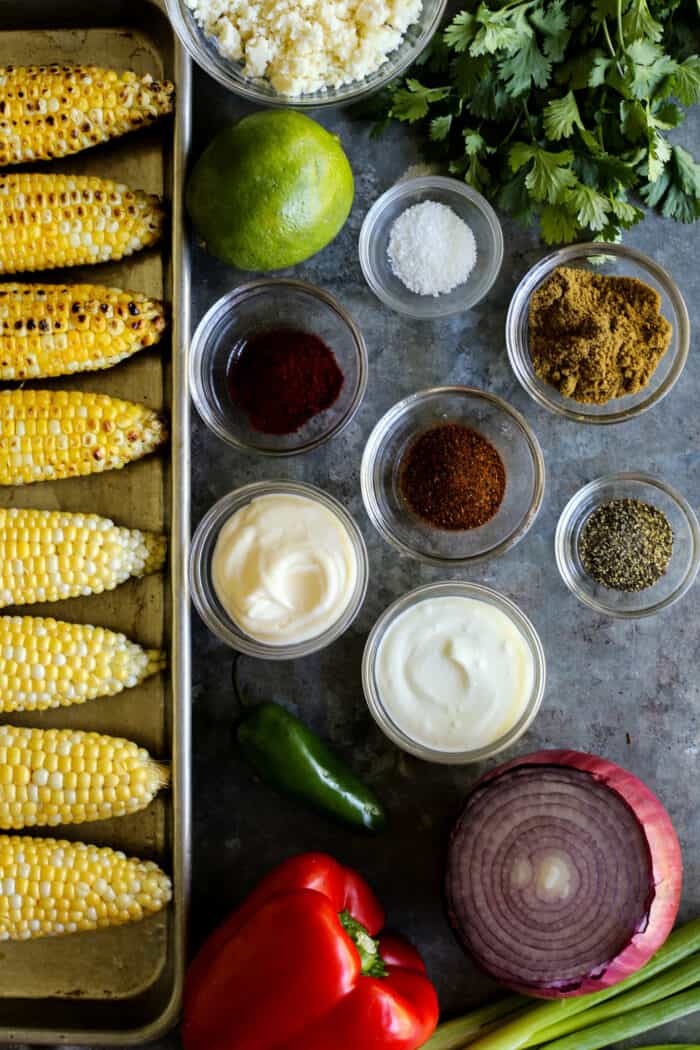 Mexican Salad Ingredients
This easy-to-make salad is super fresh, comprised mostly of sweet corn kernels. A creamy, tangy dressing that's flavored with spices common to Mexican cooking brings it all together. And salty, crumbly Cotija cheese gives the salad an extra nod to Mexico.
Here's what you'll need to make this salad:
sweet corn
red bell pepper
red onion
jalapeno
cilantro
Cotija cheese
sour cream
mayonnaise
lime juice
cumin
smoked paprika
chili powder
black pepper
kosher salt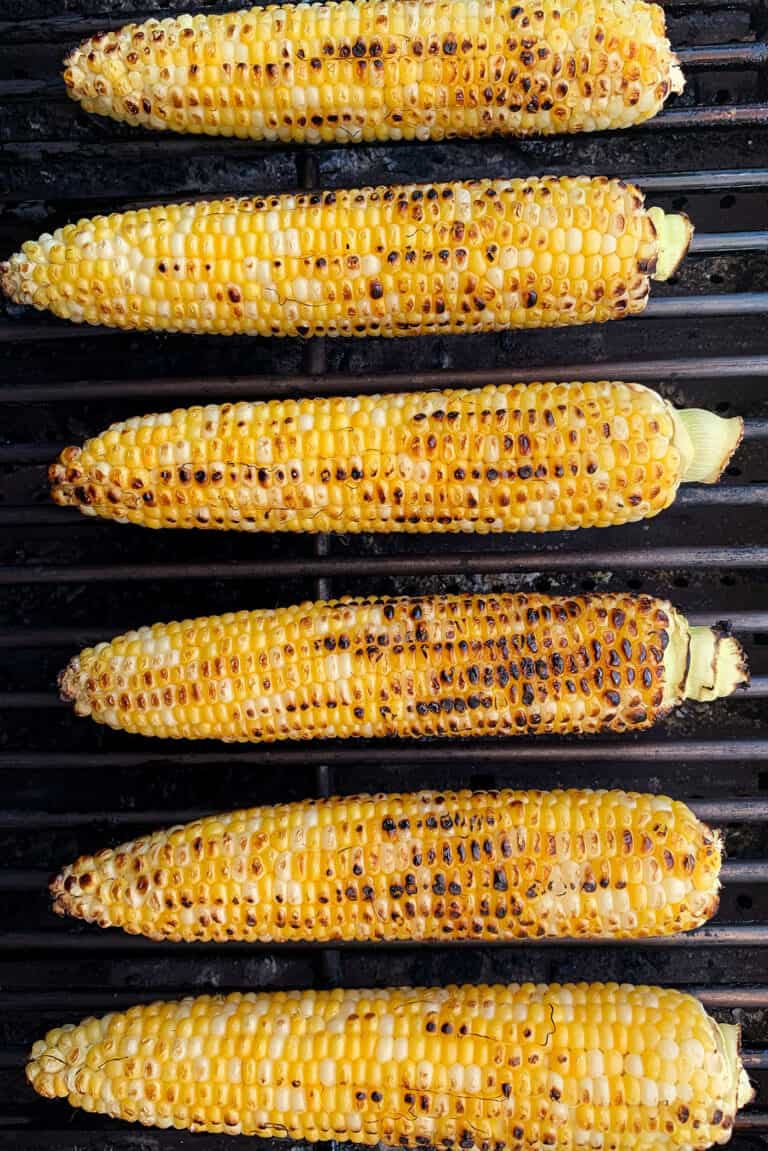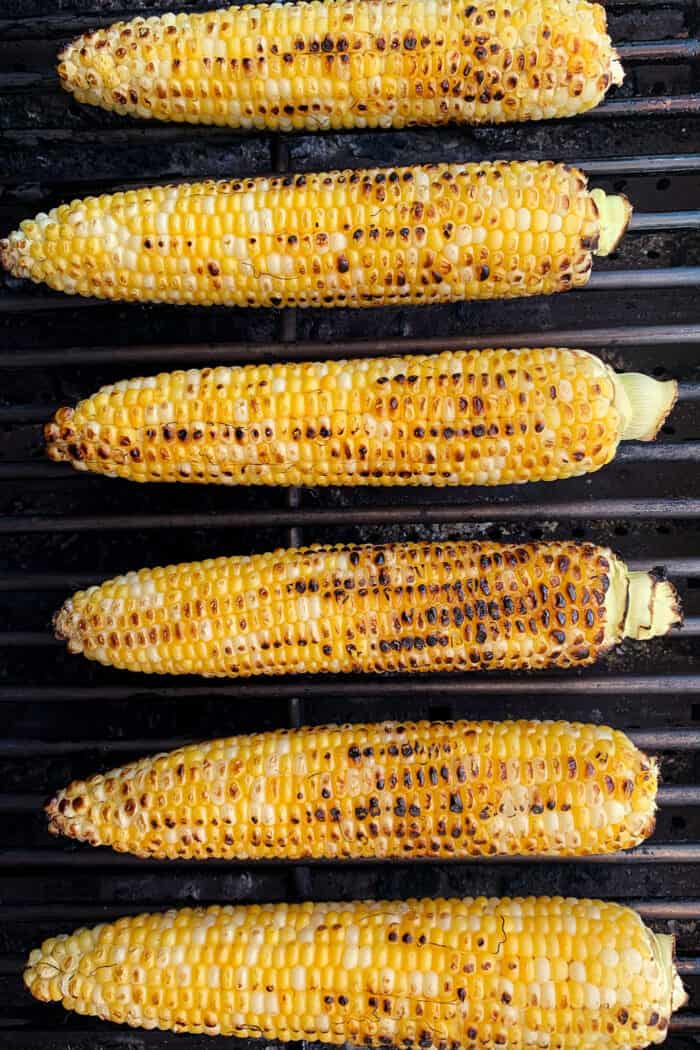 How to Make Mexican Street Corn Salad
I like to grill half the corn and leave half the corn uncooked for this recipe. Grilling gives an added smokiness to the salad, plus gives beautiful color. And the uncooked kernels offer super fresh pops of the purest sweet corn flavor and texture. It's a wonderful mix!
Here's how to make this salad:
Grill 4 ears of corn over high heat, until charred.
Remove corn from grill and let cool.
Cut kernels from grilled corn and 4 uncooked ears of corn.
Fold together corn kernels, red pepper, onion, jalapeno, cilantro, and Cotija cheese in a large bowl.
In a small bowl, stir together sour cream, mayonnaise, lime juice, cumin, smoked paprika, chili powder, black pepper, and salt.
Pour creamy sauce over corn mixture and fold to incorporate.
How Do You Get Corn Off the Cob?
I've tried some different gadgets, but keep coming back to a very simple method when it comes to removing corn kernels from the cob. Here's what I do:
Place a cob of corn, small end facing up, in the center of a 9″ x 13″ cake pan. Then use a sharp serrated tomato knife to cut down the cob, from top of ear to bottom. When cutting, saw back and forth very slightly with the knife as you go down the cob. Rotate the cob until all the kernels are in the bottom of the pan.
This method isn't entirely perfect, as there are always a few kernels that stray – but it's the best way I've found so far. If you have a method that you especially like, I'd love to hear from you – please leave a message in the comments section!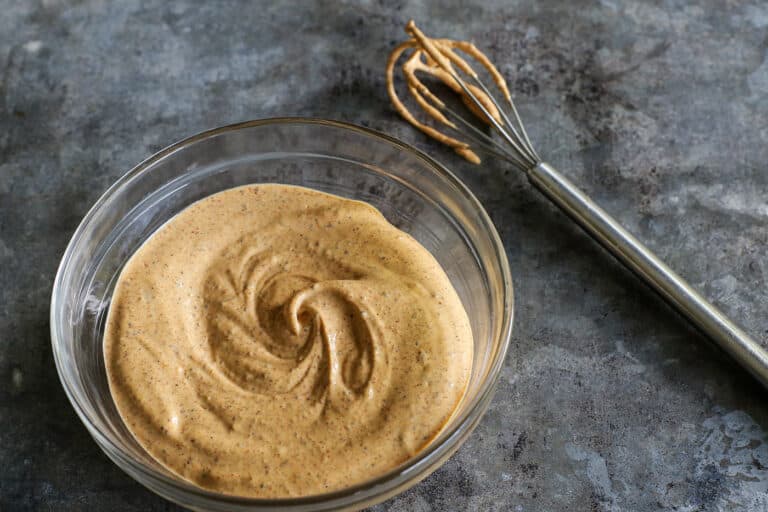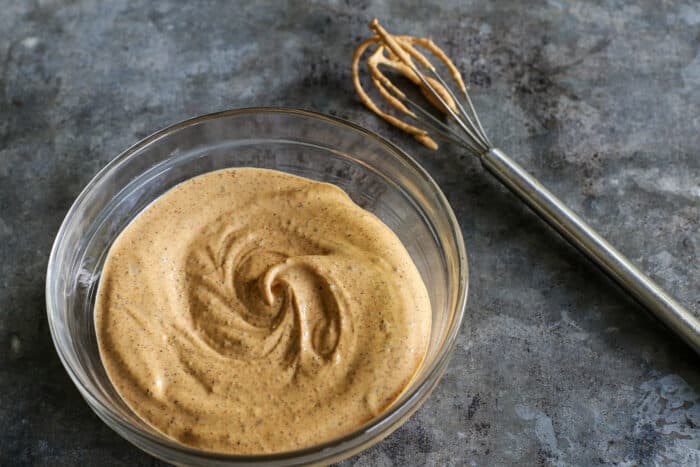 The creamy sauce for this salad is pretty darn awesome, an incredibly tasty dressing that is accomplished with very little effort. Feel free to add more heat by increasing the chili powder and smoked paprika!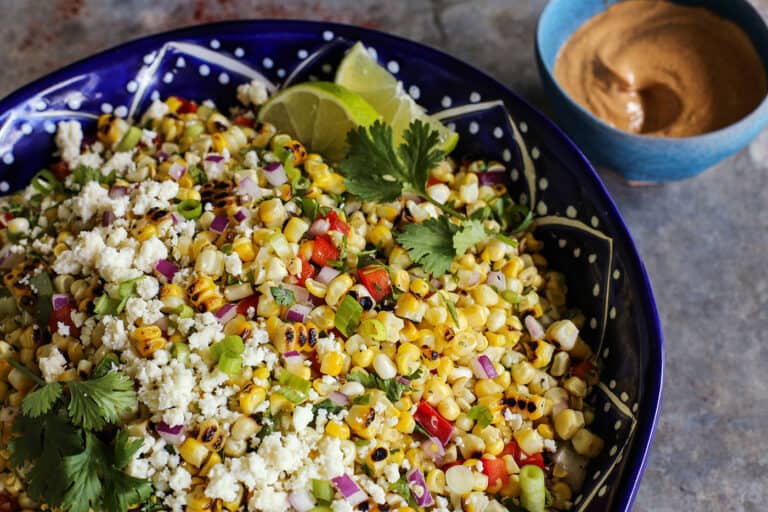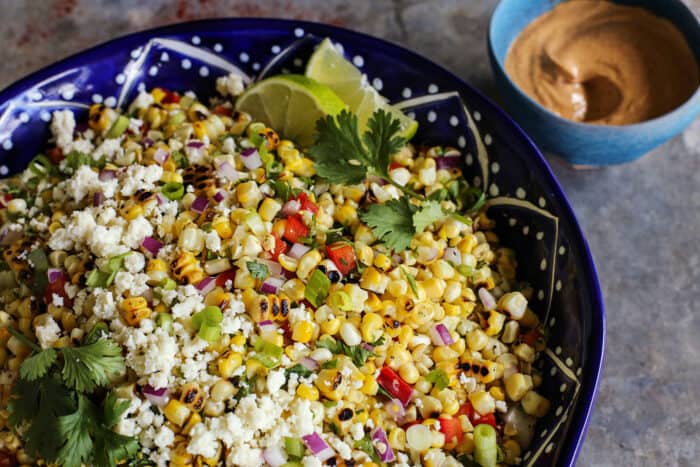 What is Cotija Cheese?
Cotija is a cheese made from cow's milk, from the town of Cotija in Mexico. It has a salty flavor and crumbly texture, and comes in two different varieties – fresh and aged. The fresh version is soft. And the aged version is much harder, almost like Parmesan.
Aged Cotija is often used crumbled or grated, as a topping for many Mexican dishes. Think enchiladas, burritos, soups, salads, beans, and tacos. And you'll ALWAYS find it with traditional Mexican elote (corn on the cob).
I can always find Cotija at our local grocery stores, but if you're not able to locate it, feta cheese would be a great substitute.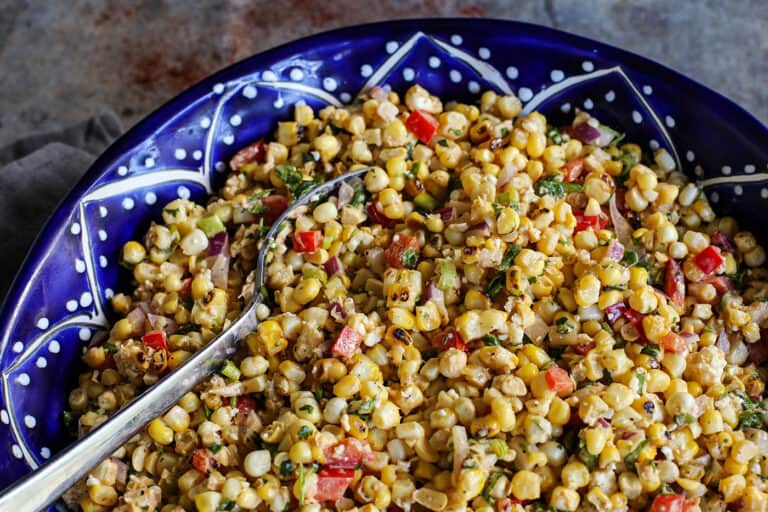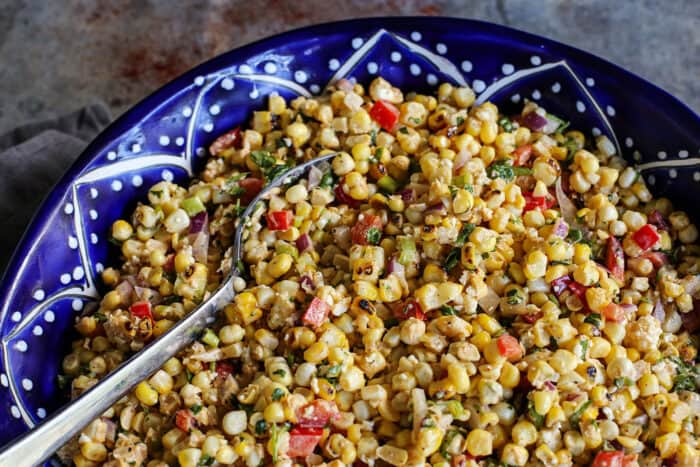 This grilled Mexican corn salad is so many wonderful things, all packed into one bowl. It's fresh, smoky, sweet, spicy, and tangy – the perfect side dish for all these fabulous summer meals in the back yard!
Like this tasty salad recipe? Save it to Pinterest!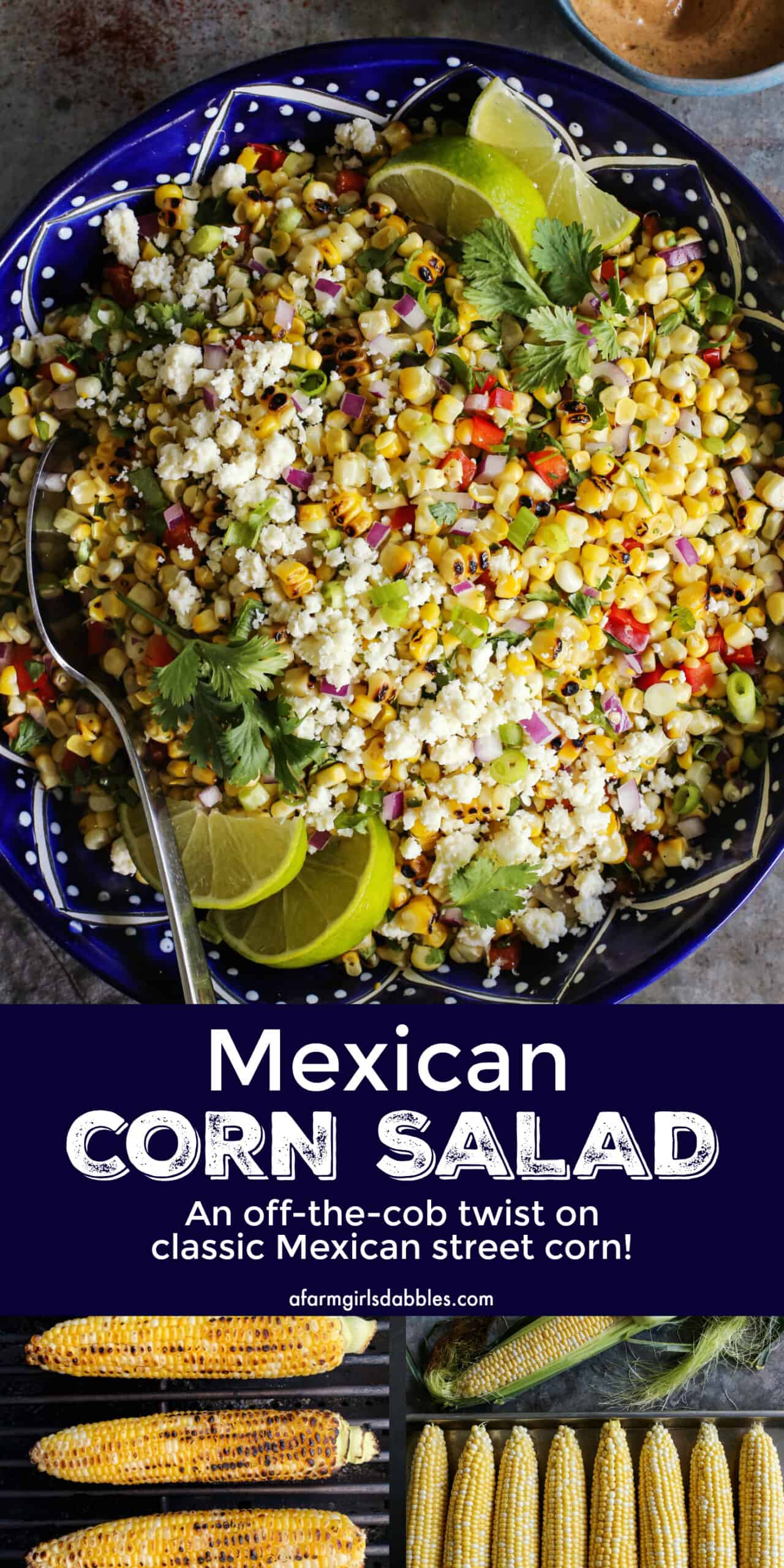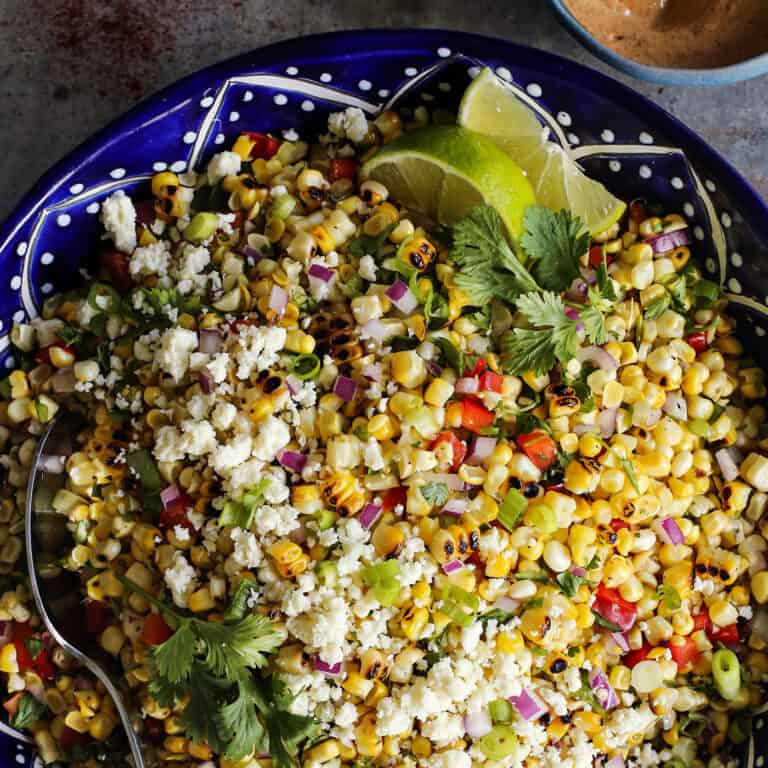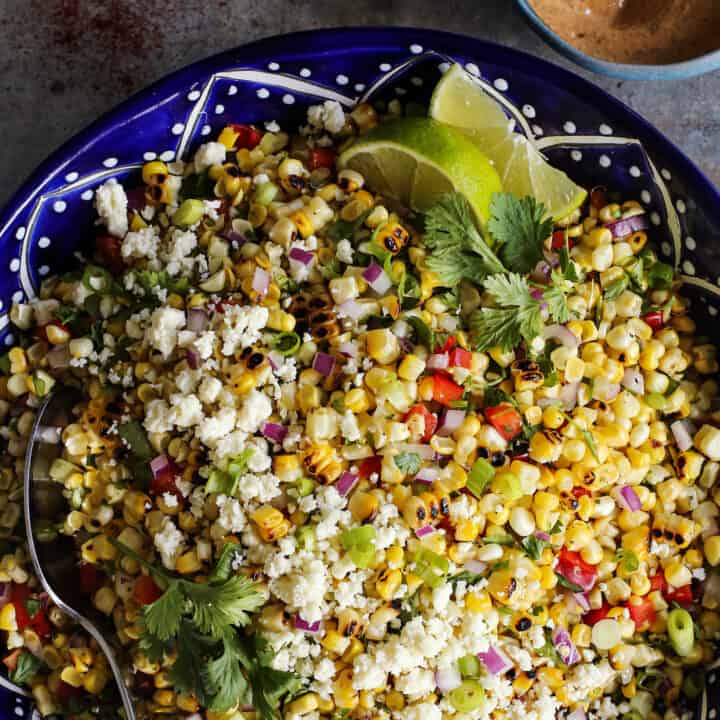 Mexican Corn Salad
Yield: 10 servings
Prep Time: 25 minutes
Cook Time: 5 minutes
Total Time: 30 minutes
This tasty salad is an off-the-cob version of elote - where grilled Mexican street corn is slathered in a creamy, tangy sauce and garnished with crumbly Cotija cheese. It's a fun fresh corn salad with BIG flavor! 
Ingredients
8 large ears sweet corn, husked
1 medium red bell pepper, diced
1/2 small red onion, diced
2 T. minced jalapeno
1/2 c. chopped cilantro
3/4 c. crumbled cotija cheese
4 T. sour cream
4 T. mayonnaise
4 T. fresh squeezed lime juice
1.5 tsp. ground cumin
1.25 tsp. smoked paprika
3/4 tsp. medium chili powder
1/2 tsp. black pepper
1/2 tsp. kosher salt
Instructions
Heat grill to high heat. Add 4 ears of corn, turning occasionally, until charred. Remove corn from heat and allow to cool for 5 to 10 minutes.
Cut kernels from all 8 ears of corn and add kernels to a large bowl.
Fold red pepper, onion, jalapeno, cilantro, and cheese into corn.
In a small bowl, stir together the remaining ingredients. Pour over corn mixture and fold to incorporate.
Serve at room temperature or chilled.
Notes
from a farmgirl's dabbles
Nutrition Information:
Yield: 10
Serving Size: 1
Amount Per Serving:
Calories: 180
Total Fat: 9g
Saturated Fat: 3g
Trans Fat: 0g
Unsaturated Fat: 6g
Cholesterol: 14mg
Sodium: 287mg
Carbohydrates: 23g
Fiber: 3g
Sugar: 5g
Protein: 6g
Nutrition information is automatically calculated by Nutritionix. I am not a nutritionist and cannot guarantee accuracy. If your health depends on nutrition information, please calculate again with your own favorite calculator.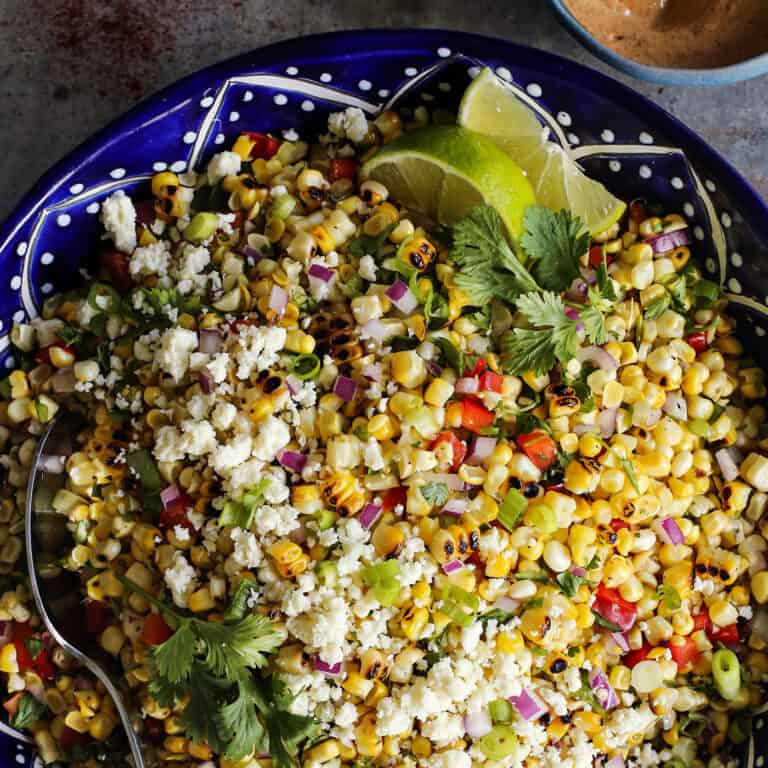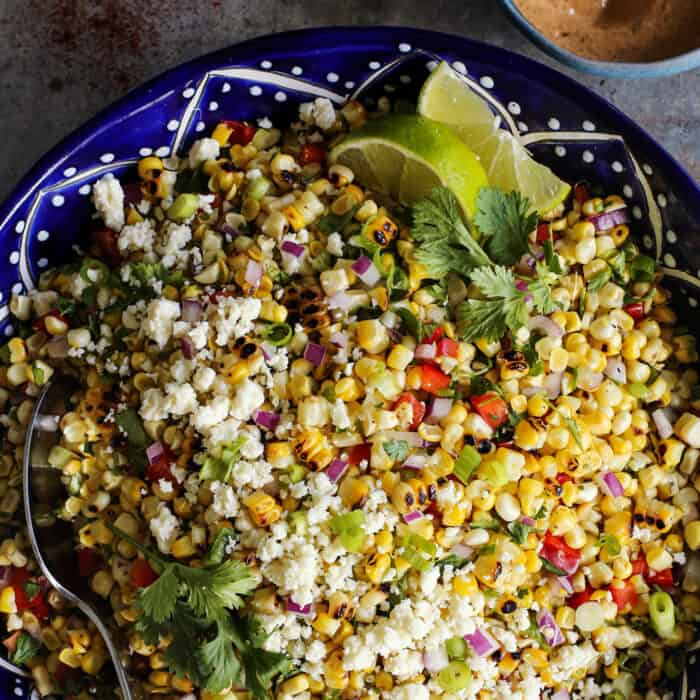 We participate in the Amazon Services LLC Associates Program, an affiliate advertising program designed to provide a means for us to earn fees by linking to Amazon.com and affiliated sites. See our
disclosure policy
for more info.