Strawberry Salad with Red Wine Vinaigrette
This Strawberry Salad with Red Wine Vinaigrette has Monterey Jack cheese and ridiculously crunchy candied pecans. A beautiful crowd-pleasing salad recipe that my whole family adores!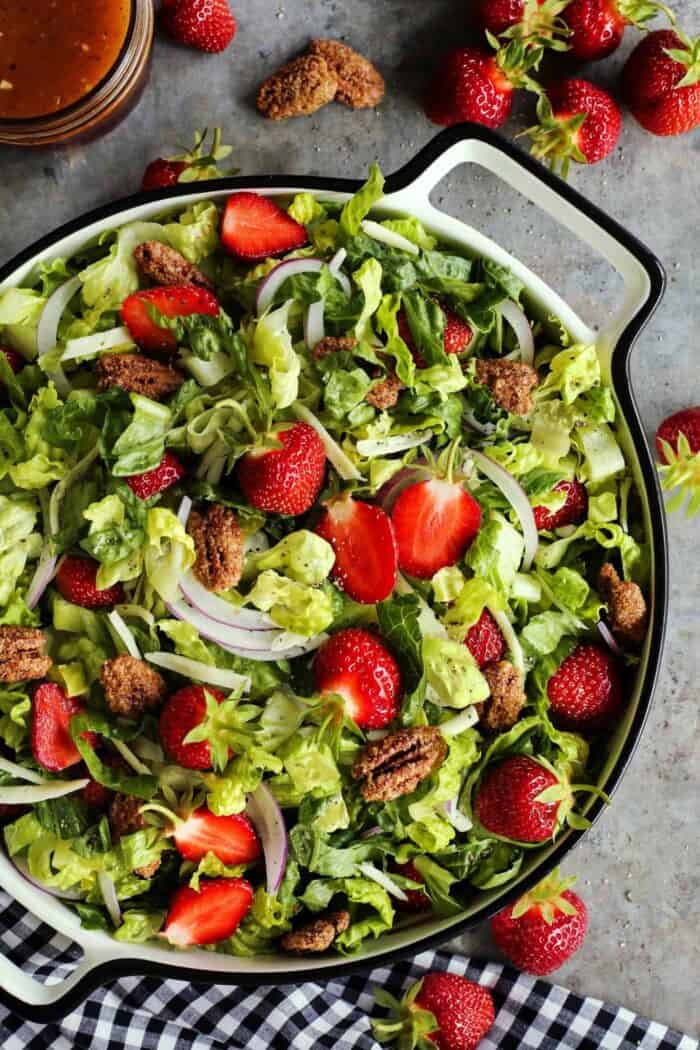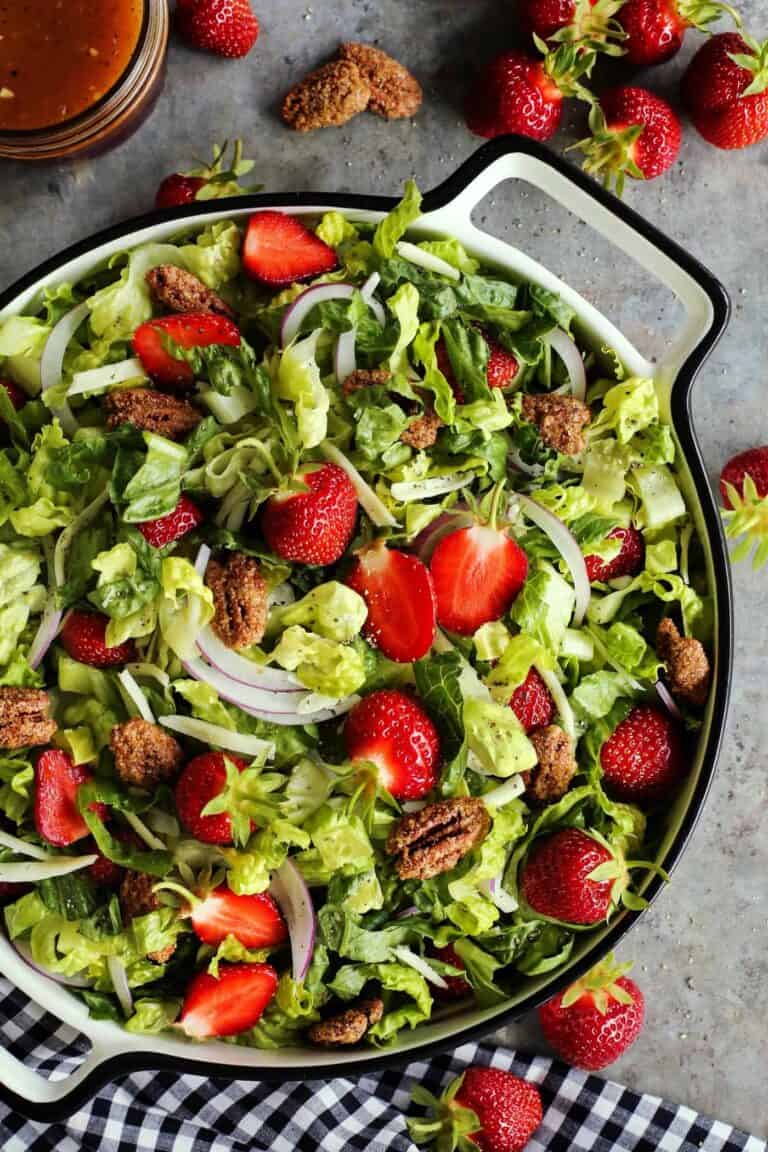 Our Favorite Strawberry Salad Recipe
It was the spring of last year, at our oldest daughter's junior prom dinner. The parents of one of Hatti's girlfriends hosted the dinner at their home, and I and a few other moms helped them pull it all off. It was a blast to help prepare and serve the meal to that group of awesome (and spiffy-lookin'!) young adults!
The meal was delicious from start to finish, but the one recipe that I couldn't go home without is this Strawberry Salad with Red Wine Vinaigrette. We make it over and over again; it's our family's favorite strawberry salad recipe!
This recipe comes from the recipe box of friend and prom dinner hostess Leanne Dorff-Rogers. The recipe is originally from her sister-in-law, Lori Dorff, and is shared in her honor. Lori passed away from breast cancer in 2016.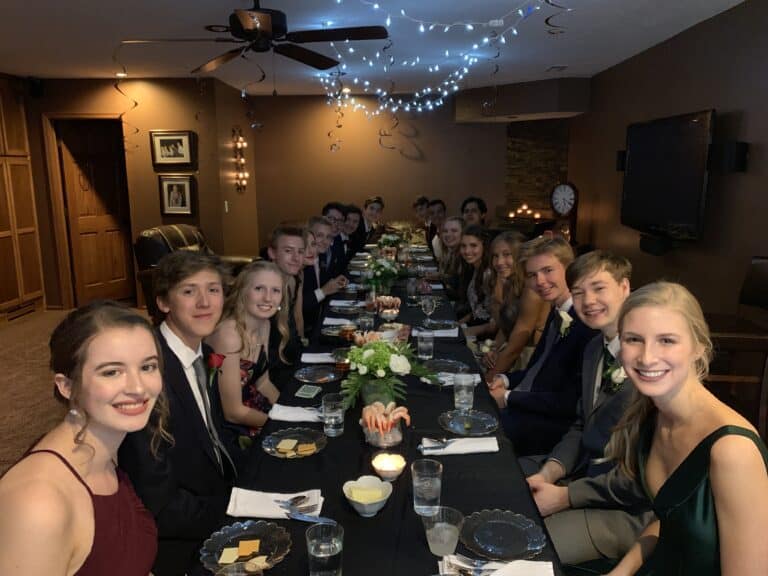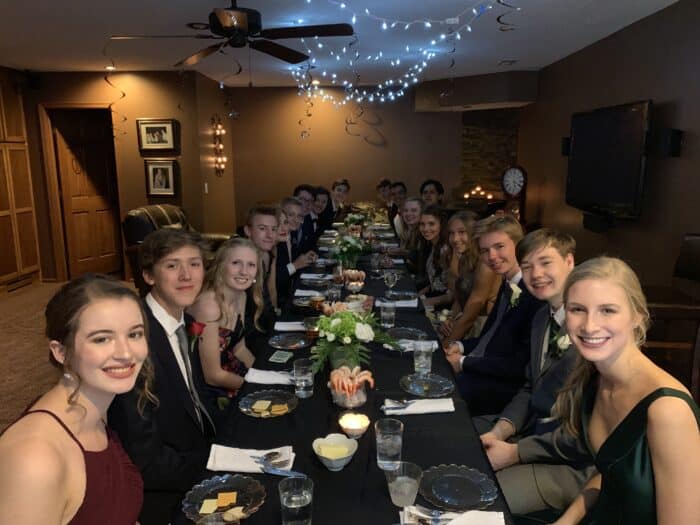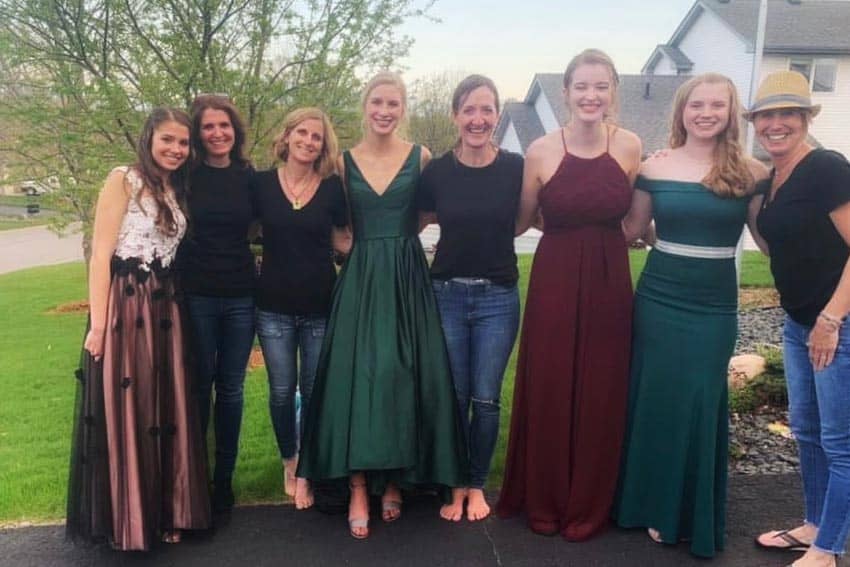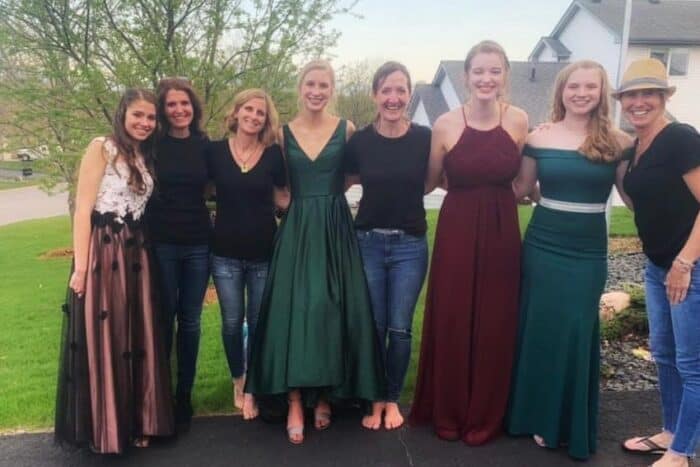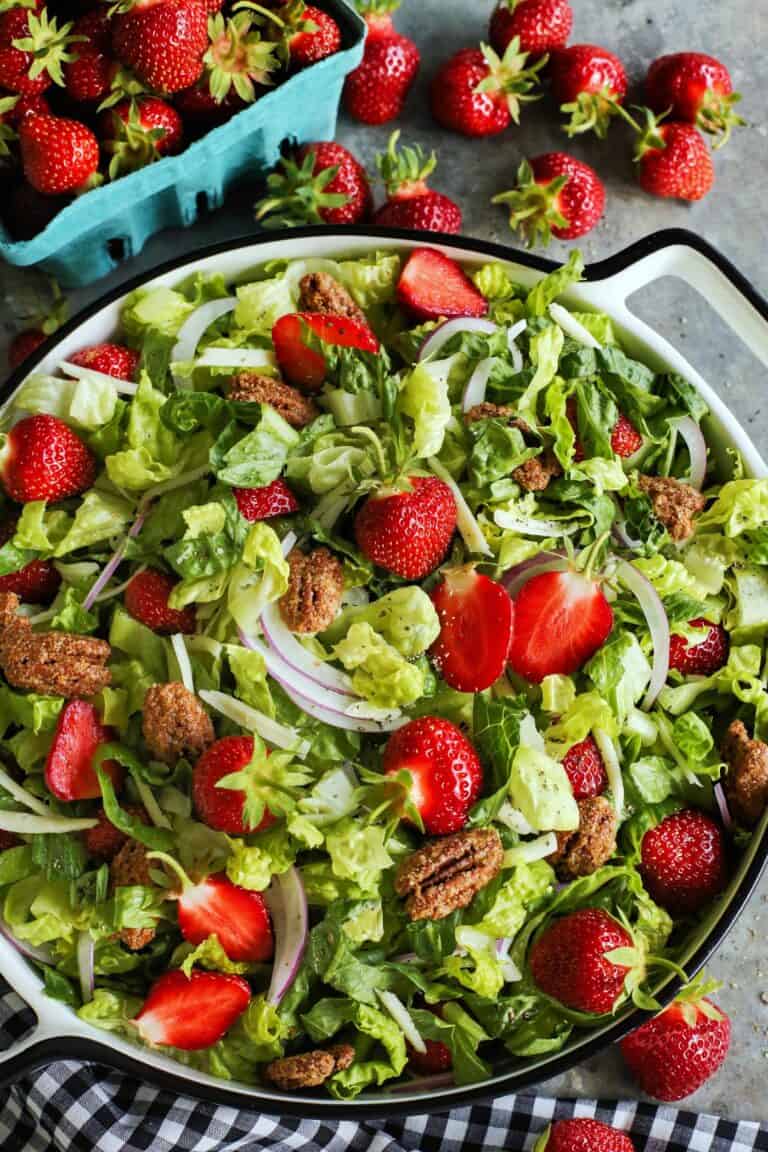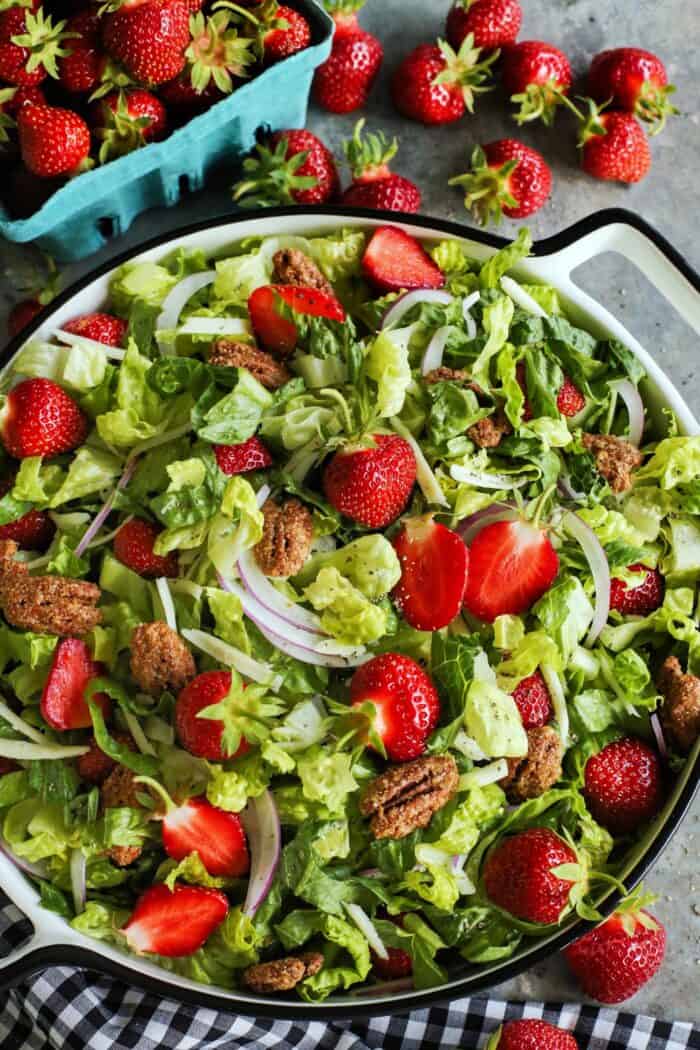 What's in this Salad?
If you're looking for an easy strawberry salad recipe that pleases the masses, believe me when I say that practically EVERYONE asks for a second helping of this one!
Here's what you'll need to make this salad:
Romaine lettuce or baby spinach
Strawberries
Monterey jack cheese
Red onion (Not in the original recipe, but I like to add in just a bit!)
Candied Pecans (Leanne uses candied walnuts.)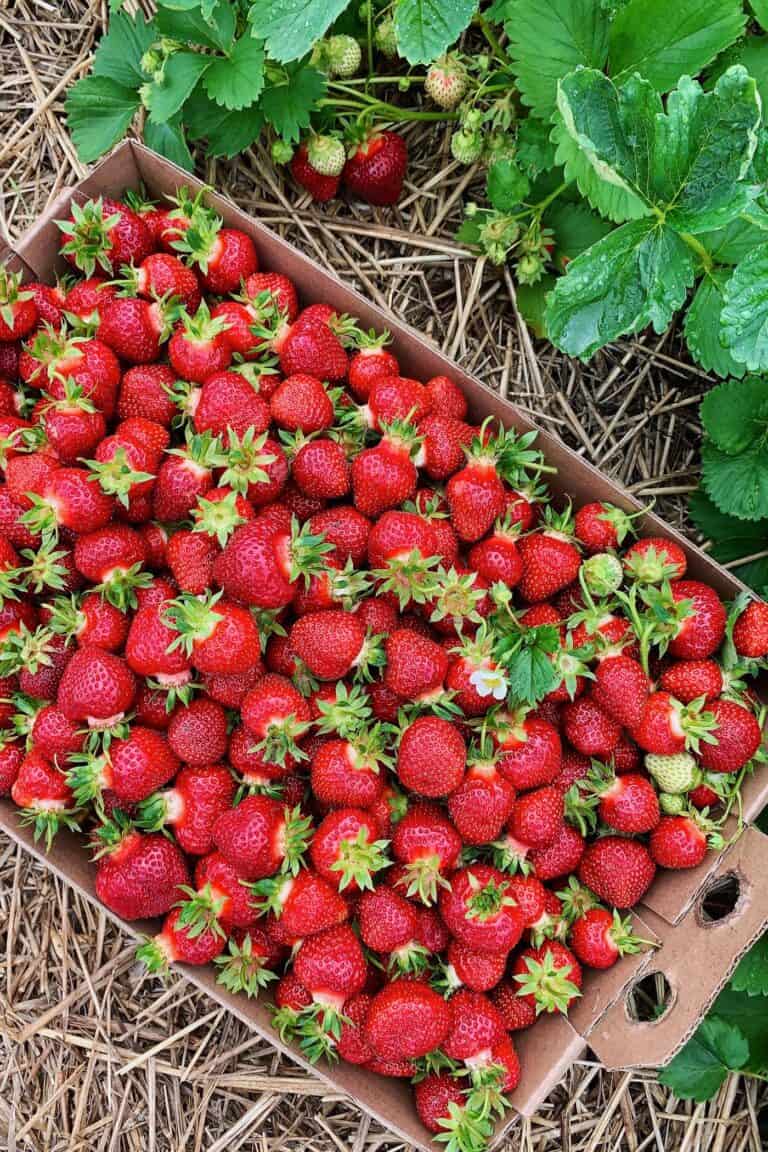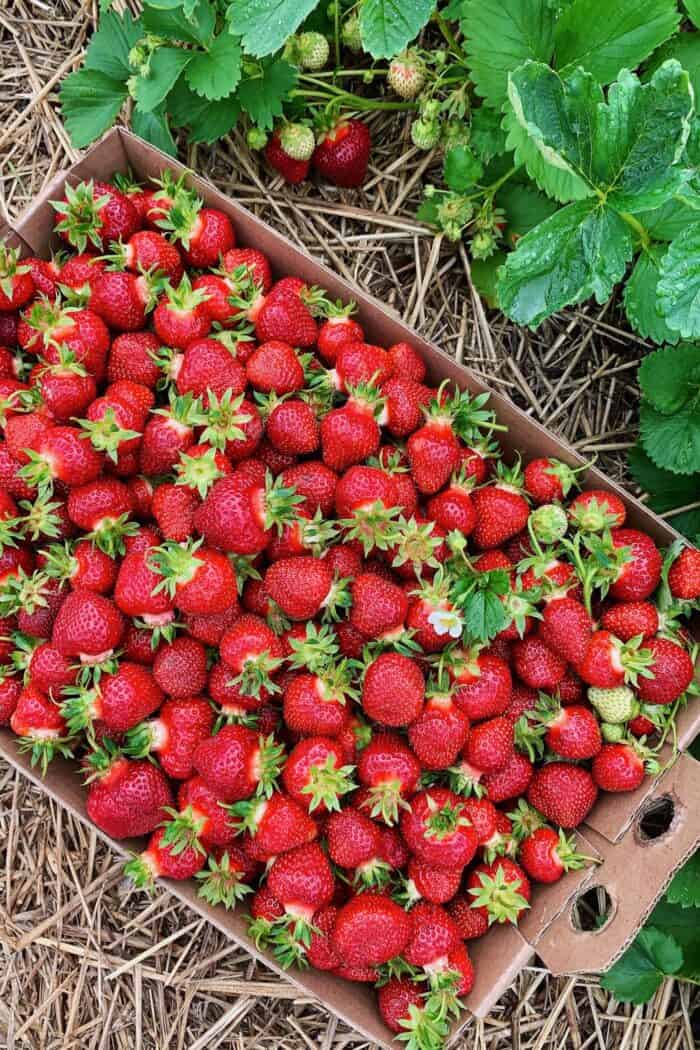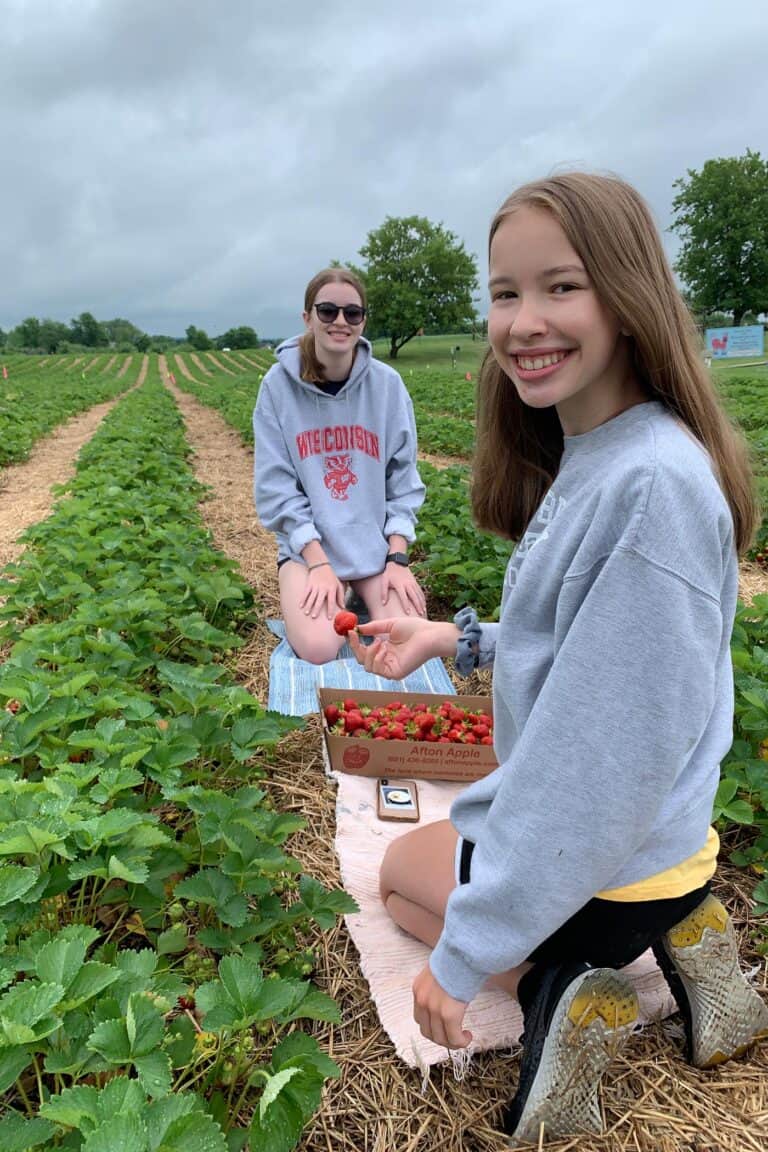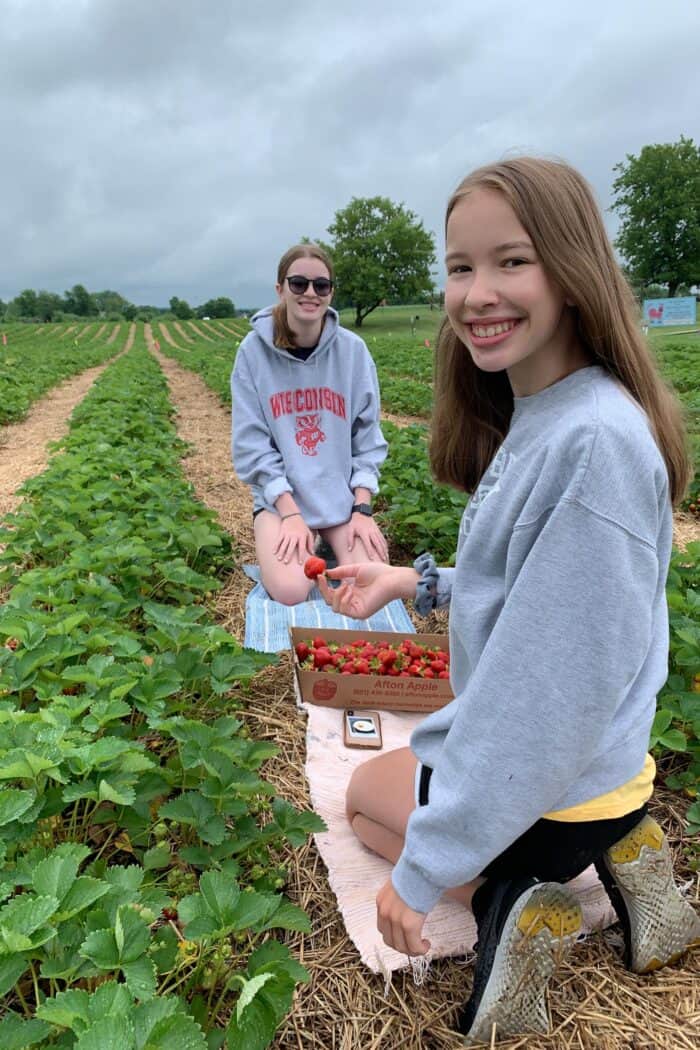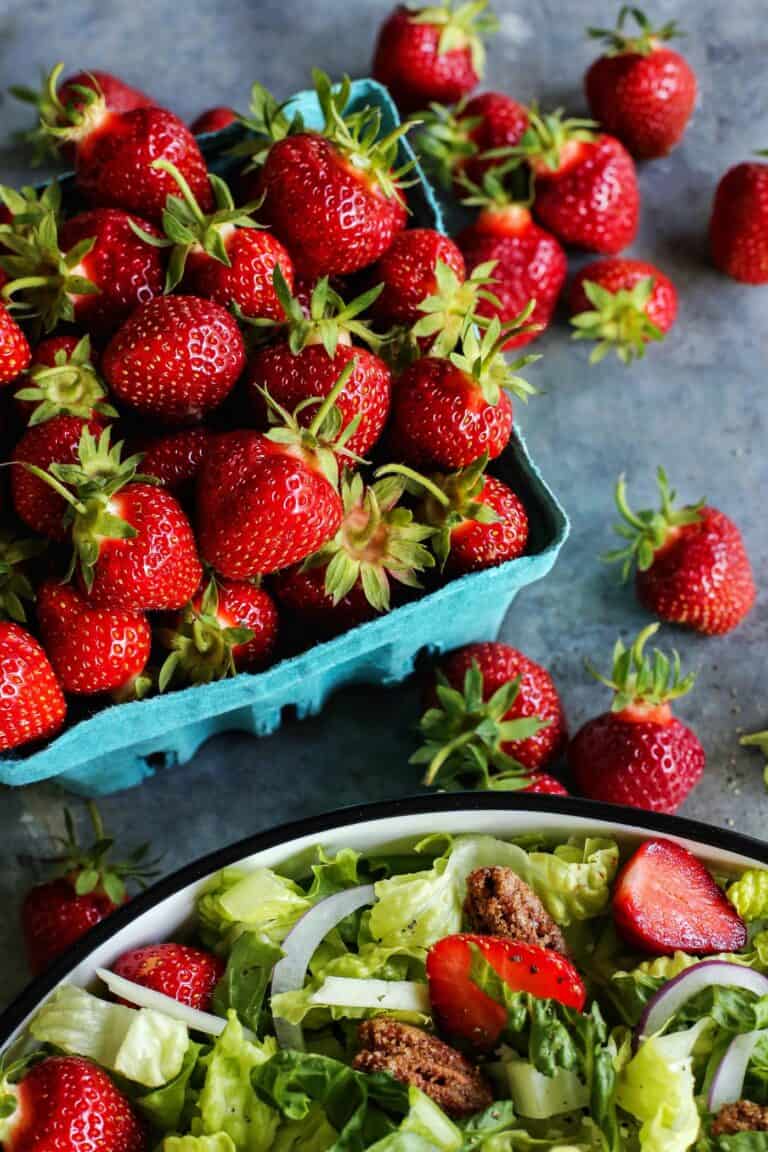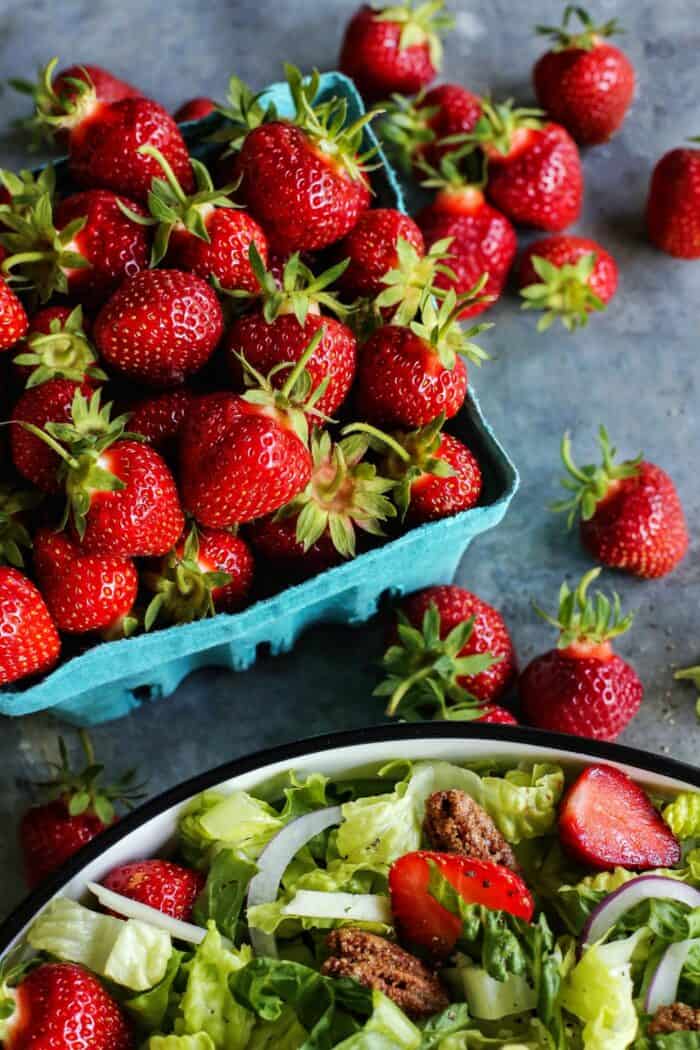 How to Make Strawberry Salad
This salad is especially wonderful when you can get your hands on some extra-sweet local strawberries!
Maybe you have a great farmers market that offers them? Or if you're really lucky, you have some growing in your yard. We pick our own strawberries at local patches at least once each summer, at either Afton Apple Orchard or Pine Tree Apple Orchard. Those fresh strawberries are such a treat.
But just use the best strawberries you can find, and enjoy!
Here's how we make strawberry salad:
Prep the greens. If using romaine, chop it into "large bite-size" pieces that are easy to get from fork to mouth. If using baby spinach, just leave it whole-leaf (do not chop).
Cut the strawberries. If you have small to medium sized strawberries, just slice them in half. If berries are larger, quarter them.
Shred the cheese. This recipe calls for Monterey Jack cheese, and it's the PERFECT cheese for the salad. But I'm not always able to find it in shredded form. When that happens, I just buy a block and shred it on my own.
Slice the onion. I like a little bit of red onion in fresh salads, and prefer to slice it into very thin rings or chop it quite small.
Place ingredients in serving bowl. Toss together all of the lettuce, plus about three-fourths of the strawberries, cheese, and onion. Then scatter the remaining one-fourth of the strawberries, cheese, and onion over the top.
Sprinkle salad with Candied Pecans.
Serve with Sweet Red Wine Vinaigrette. I prefer to serve the dressing on the side, so people can add as little or as much as they like. Plus, if there is leftover salad, it will keep longer if it hasn't already been dressed with the vinaigrette.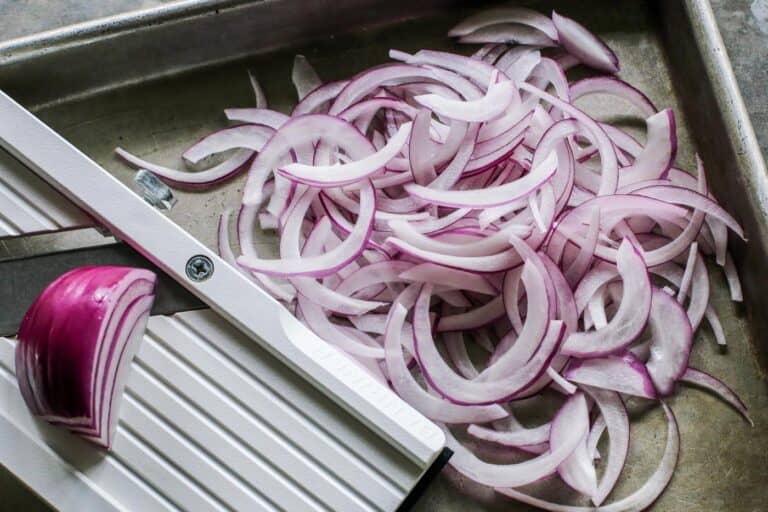 How to Slice Onions Thin
When it comes to slicing onions for salads and my famous Pickled Red Onions, I am SO GRATEFUL for my mandoline.
This small kitchen gadget gives me uniform slices in a range of thicknesses. For this strawberry salad, I like to slice the onion as thin as possible while still keeping a bit of a toothsome bite.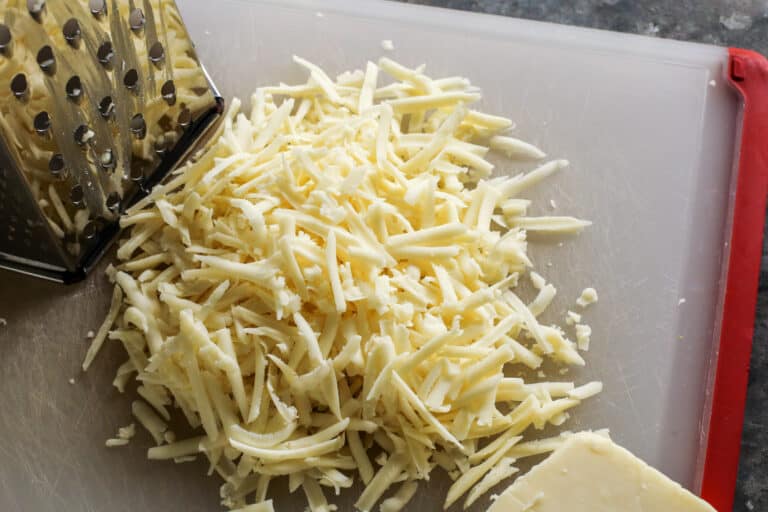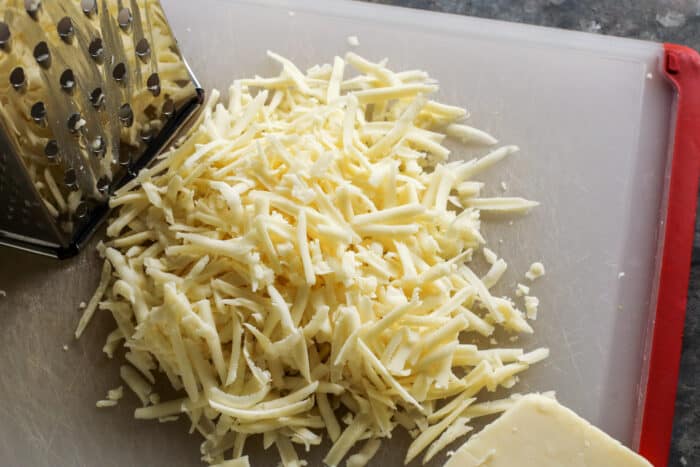 What is Monterey Jack Cheese?
So I have never paid much attention to Monterey Jack cheese…until this recipe!
Now I insist on having some in our fridge at all times. Monterey Jack is a beautiful pairing with the flavors in this salad. Plus it's a great melting cheese, awesome for recipes like Italian Stuffed Jalapenos, Cheesesteak Totchos, Cheesy Stuffed Mushrooms, or Chicken Cheesesteak Baked Ziti.
Monterey Jack, often referred to as Jack, is an American white, semi-hard cheese made from cow's milk. It has a mild buttery flavor, with a slight sweetness and nuttiness. This cheese reminds me of a good whole milk mozzarella because of its creamy, full body, but with more flavor.
Monterey Jack is frequently marbled with Colby to produce Colby-Jack, or with yellow cheddar to produce cheddar-Jack. But for this recipe, I want you to look for plain ol' Monterey Jack, no blends.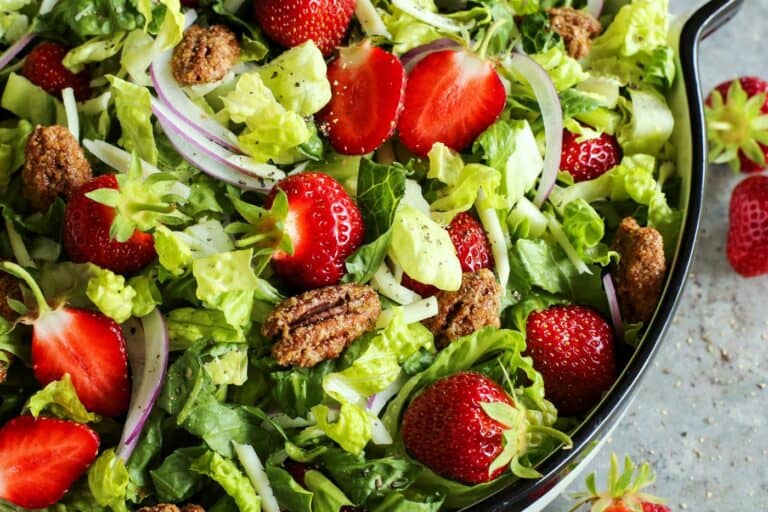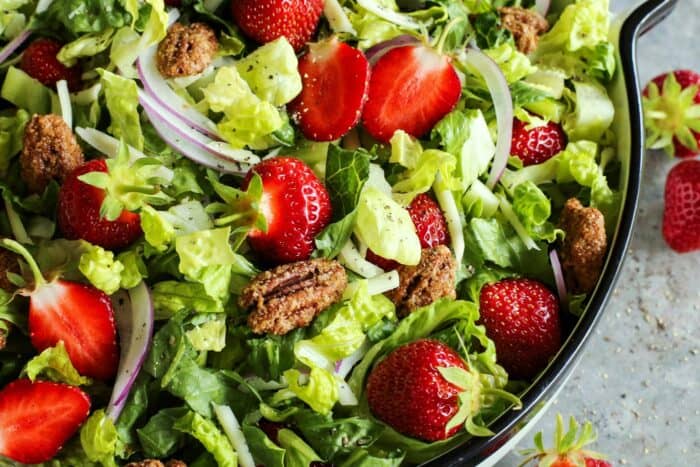 Use Homemade Candied Pecans in this Salad – They're Easy to Make!
I prefer candied pecans that are ridiculously crunchy, with a craveable ratio of sweet to salty, plus just a hint of heat. No half-way roasted, soggy, or sticky candied nuts allowed in this house!
If this also sounds like your kind of candied nut, then you simply MUST check out my easy Candied Pecans Recipe. They are the BEST tasty, crunchy nuts I know!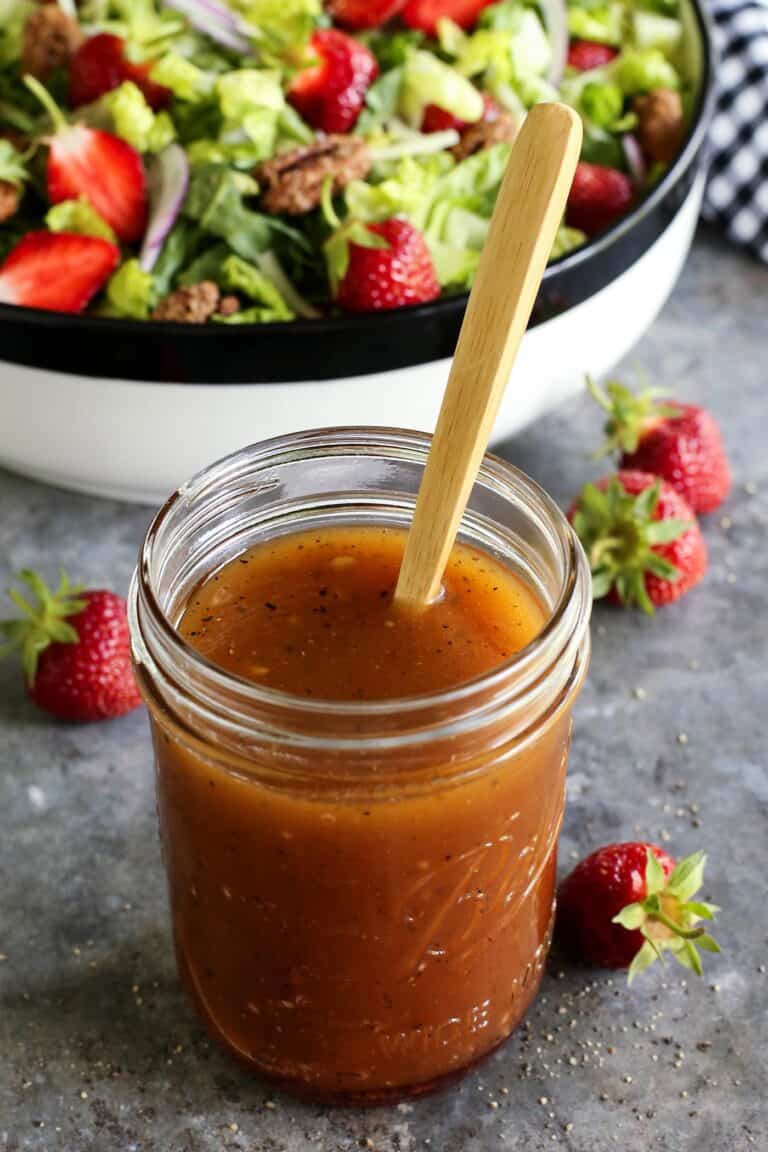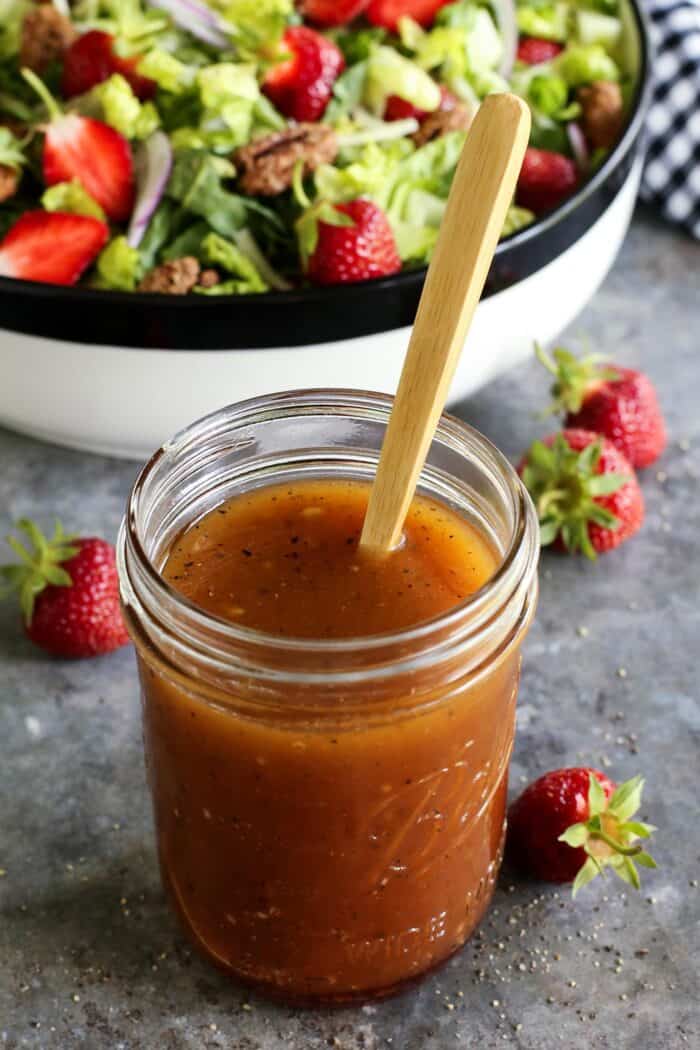 Dress this Salad with a Sweet Red Wine Vinaigrette
There are numerous reasons to love this salad. And the Sweet Red Wine Vinaigrette is definitely one of them.
This easy homemade salad dressing uses just a few common pantry items and takes only 5 minutes to make. It's more sweet than savory, which makes it a beautiful dressing to pair with sweet fresh fruits. I love a good vinegar dressing!
Variation Ideas
I've always believed in tweaking recipes to better suit my own likes. If you are looking to change up this strawberry salad recipe, here are my top suggestions:
Swap out the greens. My photos show this salad with romaine. But so many people love a great strawberry spinach salad! I'm also a big fan of arugula, for its peppery, substantial bite. And a mix of tender spring greens would also be nice.
Use other sweet seasonal fruit. Summer's best blueberries, blackberries, peaches, and nectarines come to mind first. Slices of plum or mango would also be lovely.
Include a different cheese. I do think Monterey Jack is the perfect cheese for this salad. However, mozzarella or a nice Havarti or Gouda would also be great choices.
Replace the candied pecans. Maybe you don't like pecans? Then use that same candied pecans recipe to make candied walnuts or almonds. Or toss in some (non-candied) roasted whole cashews or sliced almonds!
Use a different dressing. I know that some people just don't like red wine vinegar. I think my grandma's recipe for Fresh Ginger Dressing would be a great substitute!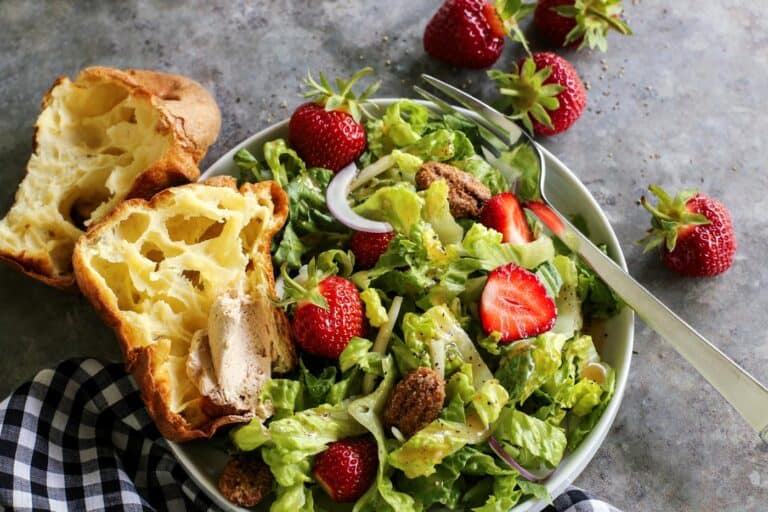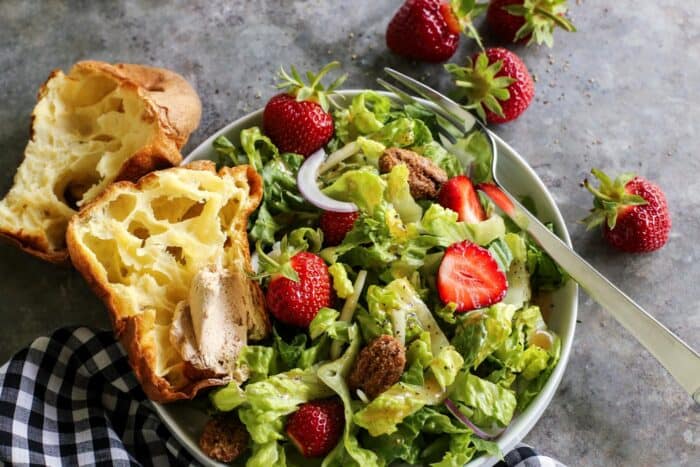 What to Serve with this Strawberry Salad
This salad could be served as a larger main course portion or as a smaller side.
Either way, a steaming hot popover is an excellent way to round out the meal. Try my Sourdough Popovers recipe or these Regular Popovers. And for a super duper fabulous treat, whip up some fluffy Cinnamon Honey Butter to spread on them!!
To serve as a main course, grill a couple chicken breasts seasoned simply with kosher salt and ground black pepper. Then slice the cooked chicken into thin strips and serve over individual plates of salad. Sliced steak would be great, too. Or add shrimp or pieces of salmon – delish!
To serve as a side salad, this recipe goes with so many entrees. Think Beer Can Chicken, Easy Grilled Pork Chops, or these eye-catching Sugar Grilled Beef and Asparagus Kebabs.
And to wash it all down? How about a cold, refreshing margarita?!
Can this Salad be Made in Advance?
I appreciate recipes that let me prepare (at least some of) it advance. Especially when it comes to entertaining, so our kitchen isn't a mess when guests arrive. Because I'm a very messy cook!
So much of this salad can be prepared ahead of time. Yay!
Here's how I prep this salad in advance:
Prep the fresh ingredients. Up to a couple hours prior to serving the salad, you can wash, dry, and chop the lettuce. Also clean the strawberries, remove their stems, and slice them. And slice the red onion. Place each ingredient in separate airtight containers and refrigerate.
Prep the cheese. If you need to shred a block of Monterey Jack, that can be done up to a couple days in advance. Store in an airtight container in the refrigerator.
Make the candied pecans. The candied nuts can be made a day or two in advance, and then stored in an airtight container at cool room temperature. I like to make a batch of candied pecans and then freeze small containers of them, to use whenever we want. They keep very well in the freezer for at least a couple months – a perfect shortcut for making this salad all summer long!
Make the dressing. The sweet red wine vinaigrette can be made up to two days in advance. Just be sure to let it sit at room temperature for about 30 minutes prior to serving, to let the oil come to room temperature.
And when it's time to serve the salad, all you need to do is grab a large salad bowl and assemble. Easy peasy!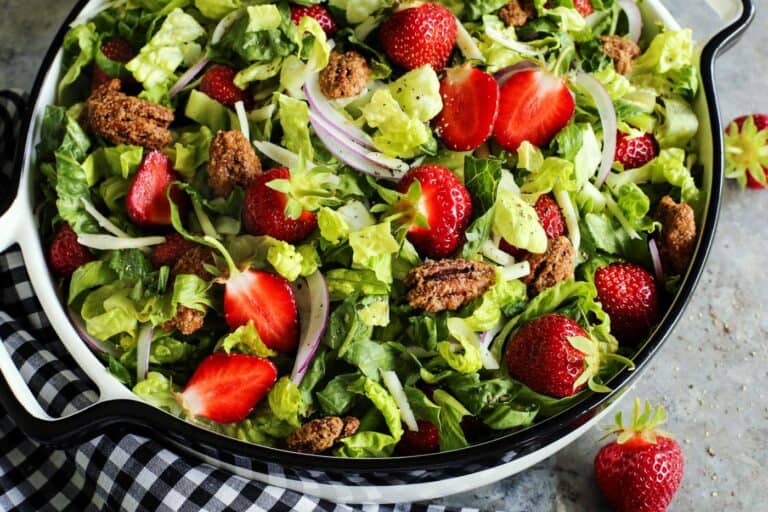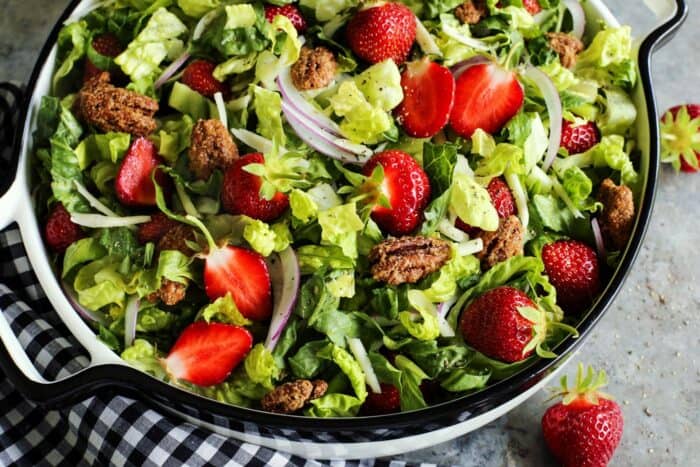 How to Store this Salad
If you think you'll have any leftover salad, I will always recommend that you offer the vinaigrette on the side. Because dressed salad greens simply never keep as well as bare salad greens.
To store any leftover salad, place it in an airtight container and refrigerate. The different textures of the salad ingredients will not be as vibrant after the initial serving, but will still make for an excellent, happy lunch the following day.
Like this salad recipe? Pin it!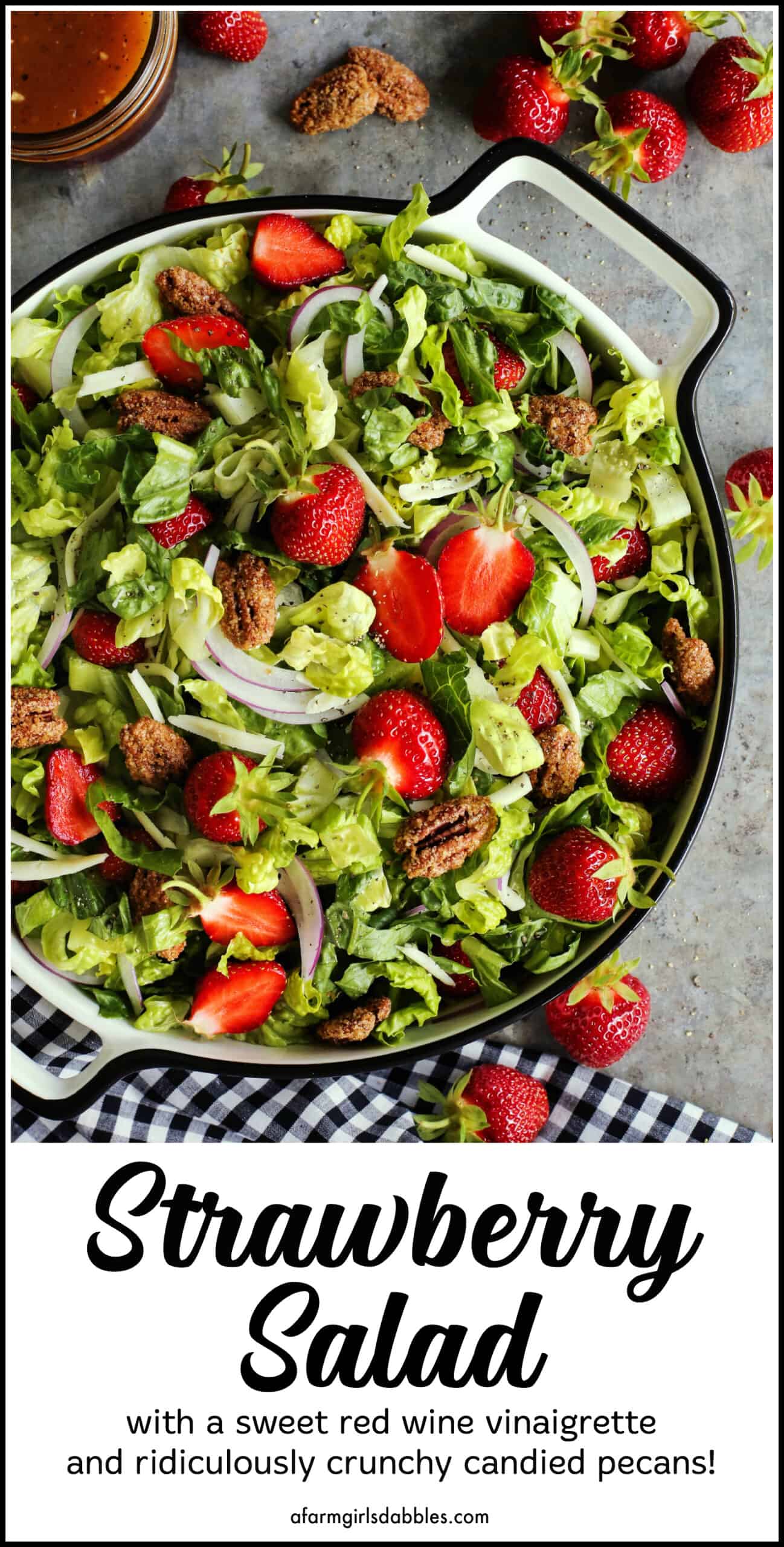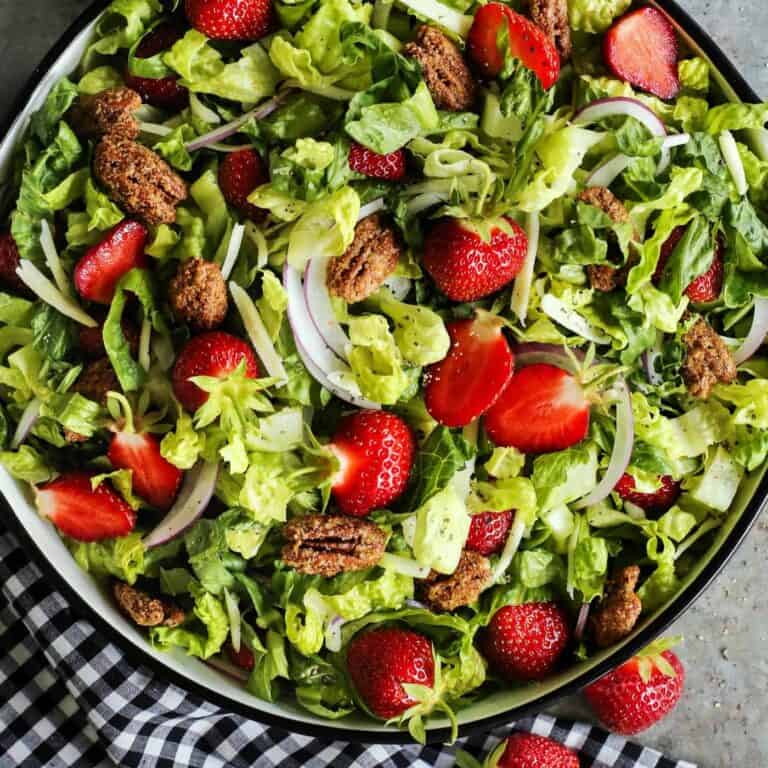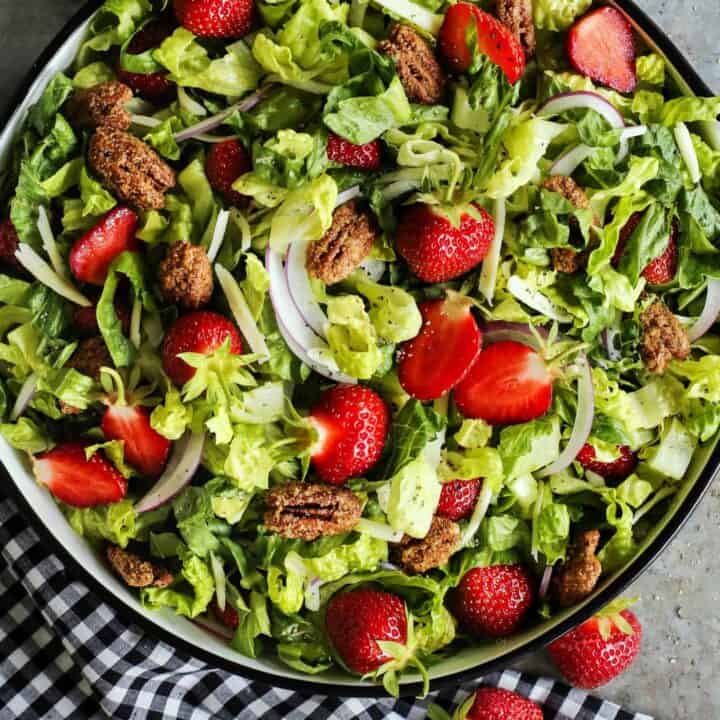 Strawberry Salad with Sweet Red Wine Vinaigrette
Yield: 4 servings
Prep Time: 25 minutes
Total Time: 25 minutes
This Strawberry Salad with Red Wine Vinaigrette is a family favorite, with Monterey Jack cheese and ridiculously crunchy candied pecans. It has become a summertime staple, a truly crowd-pleasing salad!
Ingredients
8 c. chopped romaine or whole-leaf baby spinach
3 c. halved or quartered strawberries
1 c. shredded Monterey jack cheese
1/4 c. very thin slices red onion - a mandoline works great for this!
3/4 c. candied pecans - try my ridiculously crunchy, easy Candied Pecans recipe!
Instructions
In a large serving dish or salad bowl, toss together all of the lettuce, plus about three-fourths of the strawberries, cheese, and onion. Then scatter the remaining one-fourth of the strawberries, cheese, and onion over the top.
Sprinkle with Candied Pecans.
Serve with Sweet Red Wine Vinaigrette on the side, for people to add as little or as much as they like to their own portion.
Notes
This recipe comes from the recipe box of friend and prom dinner hostess Leanne Dorff-Rogers. The recipe is originally from her sister-in-law, Lori Dorff, and is shared in her honor. Lori passed away from breast cancer in 2016.
Recommended Products
As an Amazon Associate and member of other affiliate programs, I earn from qualifying purchases.
Nutrition Information:
Yield: 4
Serving Size: 1
Amount Per Serving:
Calories: 308
Total Fat: 19g
Saturated Fat: 6g
Trans Fat: 0g
Unsaturated Fat: 12g
Cholesterol: 25mg
Sodium: 290mg
Carbohydrates: 27g
Fiber: 7g
Sugar: 17g
Protein: 11g
Nutrition information is automatically calculated by Nutritionix. I am not a nutritionist and cannot guarantee accuracy. If your health depends on nutrition information, please calculate again with your own favorite calculator.