Cheesy Stuffed Mushrooms Grilled on a Cedar Plank
These Cheesy Stuffed Mushrooms Grilled on a Cedar Plank are an easy appetizer or side dish, infused with a wonderful woodsy flavor.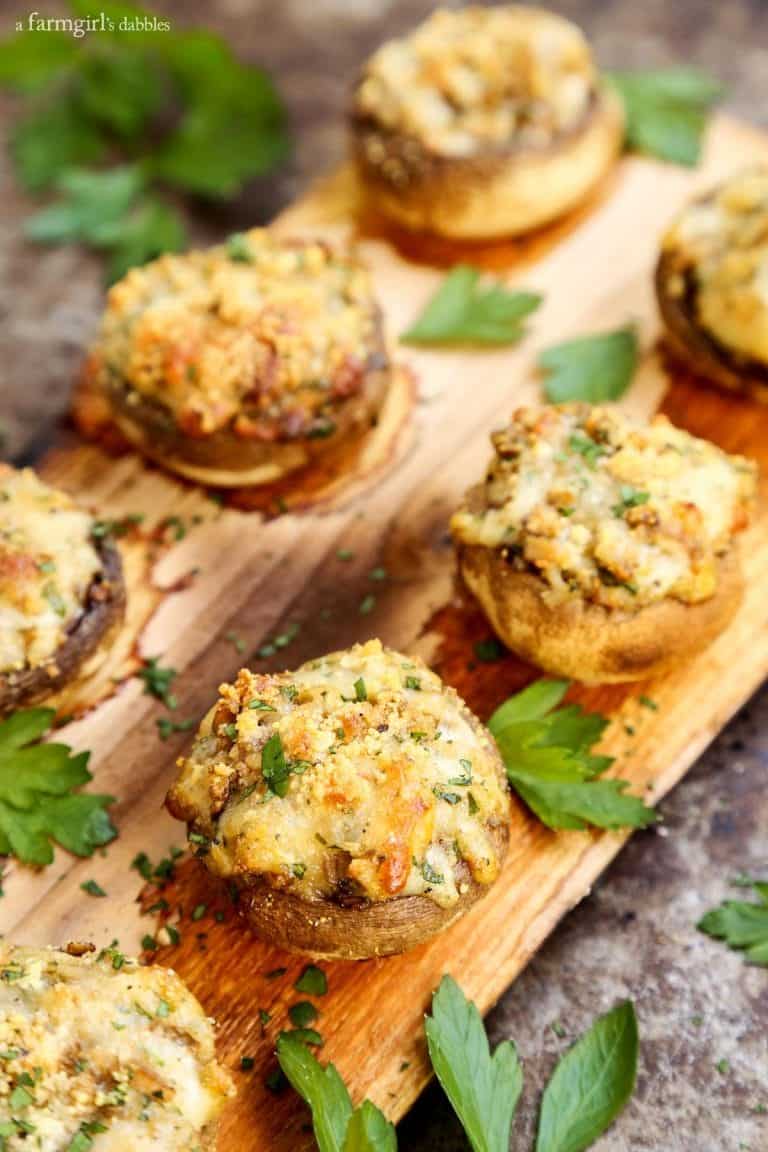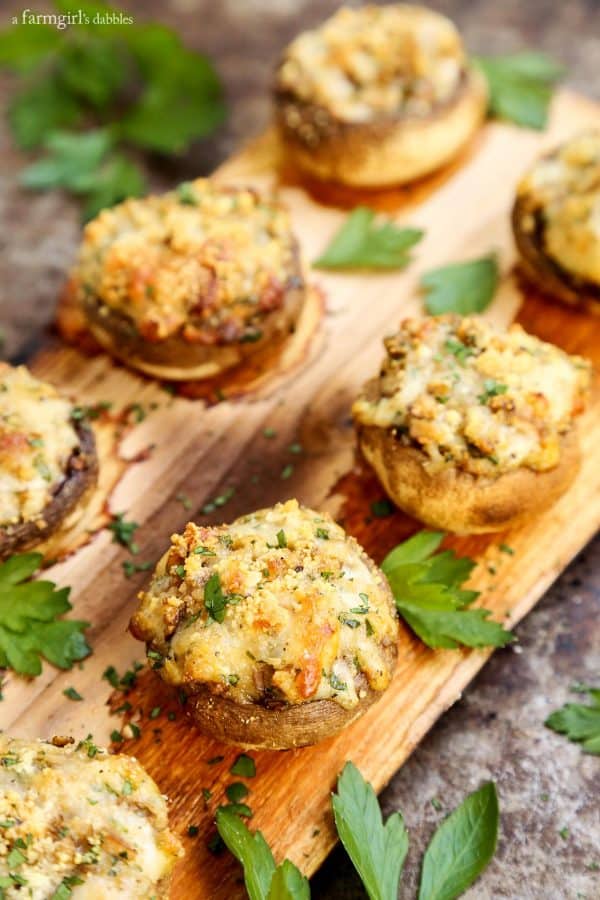 We've been having some gorgeous days this fall in Minnesota. Minus a few too many rainy-filled days, but hey, our grass is still nice and green so I'll take it. Once the kids have finished their homework and Blake and I are done with work-work, we take every chance we can to be outside. True, we're grabbing a sweatshirt a little more often as the evenings are cooling down quicker, but the after-supper bike rides and gatherings around the backyard fire pit have been nothing short of magical. Like soak-it-all-in and save-it-all-up, for a memory to reflect upon come some nasty freezing day in January. This is the good stuff, baby.
The fall months are also host to some of the year's best grilling. And I'm sure you'll agree that mushrooms stuffed with cheese are some of the best things you'll ever eat. Try these Cheesy Stuffed Mushrooms Grilled on a Cedar Plank. They've been on regular repeat on our grill for the past couple months, and I don't see that changing any time soon!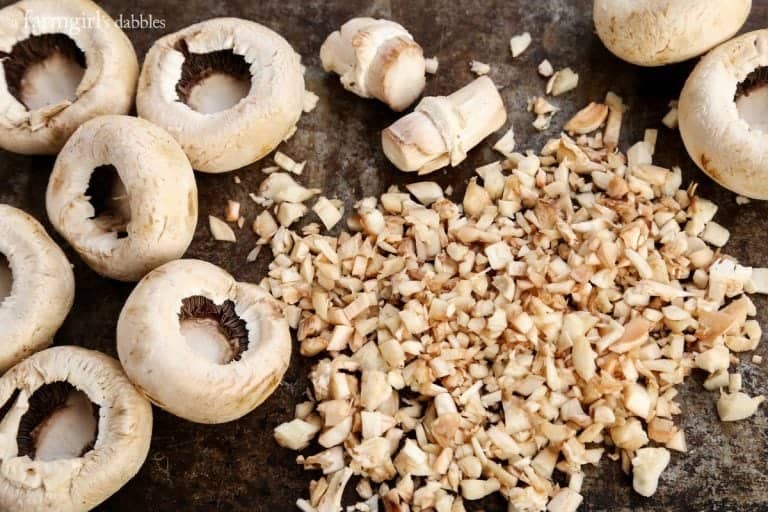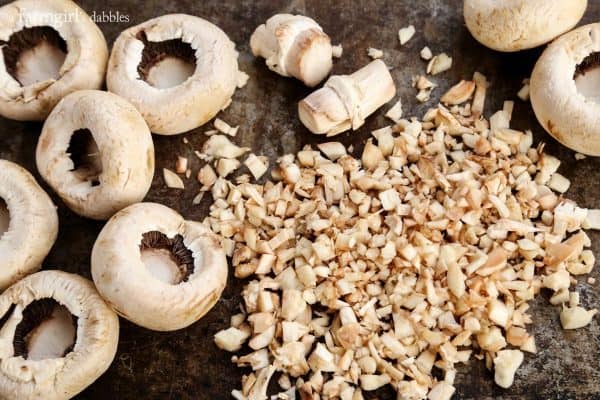 Mushrooms have always been a favored food for me. You can find them in our grocery cart almost every single week.
But stuffed mushrooms…well, they're something extra special.
I can remember making stuffed mushrooms with Mom and my sisters on the farm. We'd bake them in the oven for special gatherings once or twice a year, using a recipe that included sausage. The recipe originally came from my Grandma Renelt.
I wanted to create a version, just as tasty, that came together a little bit quicker, a little bit easier. In this recipe, I eliminated the sausage and filled in the gap with a bit more cheese. Gooey, glorious cheese. And then I threw them on a cedar plank to smoke. HEAVEN!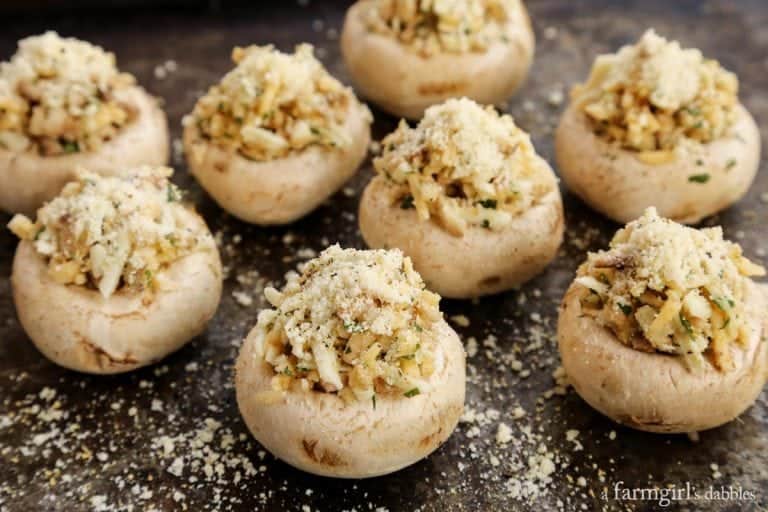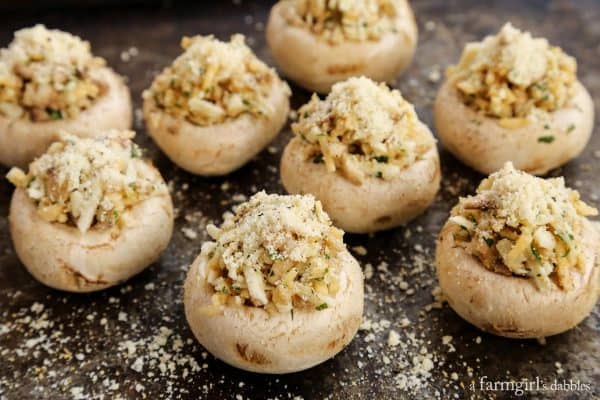 The mushroom caps are stuffed with a simple mixture that includes Mozzarella and Gouda. These two cheeses provide not only a boost in flavor, but also that gooey-chewy texture that we all know and love from cheese. And then sprinkled over the tops is a blanket of grated Parmesan, adding a little crispy saltiness. (Perfection!)
I like to stuff the mushroom caps tightly with the cheese mixture and then lightly mound another good amount on top. This will ensure that there will still be a nice mound of cheese on the mushrooms, even after the cheese has fully melted.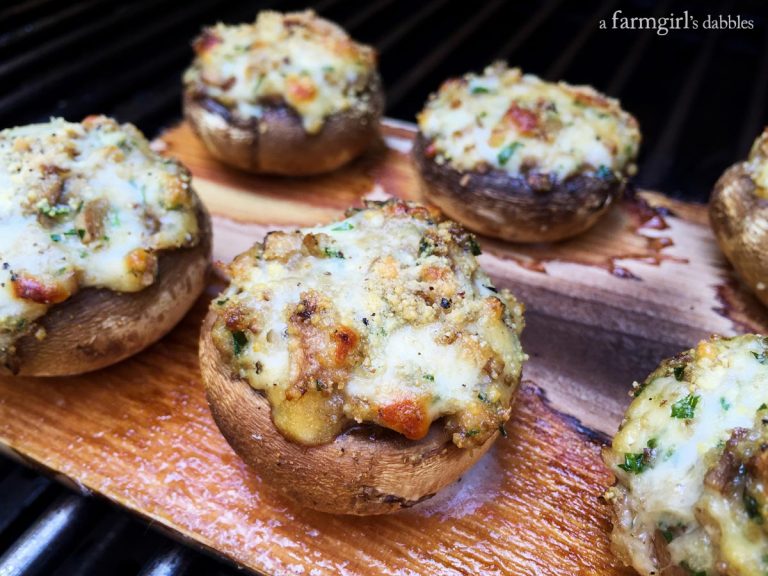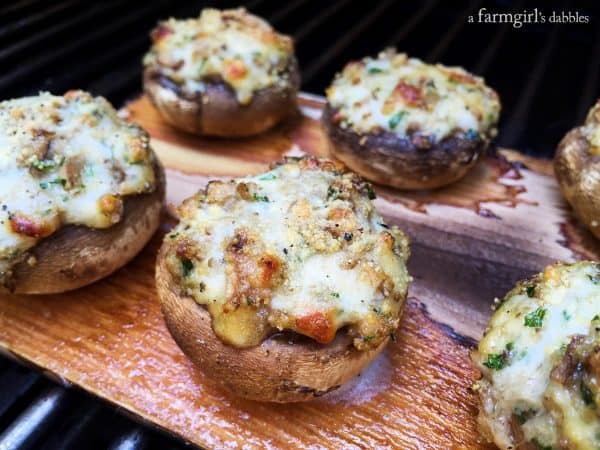 Cedar planks are a grill's best friend. The cedar leaves these stuffed mushrooms infused with a wonderful woodsy flavor. And do I even need to mention how awesome this smells? I make sure the windows are open while these are grilling, so I can enjoy the smoky cedar while preparing the rest of the meal in the kitchen.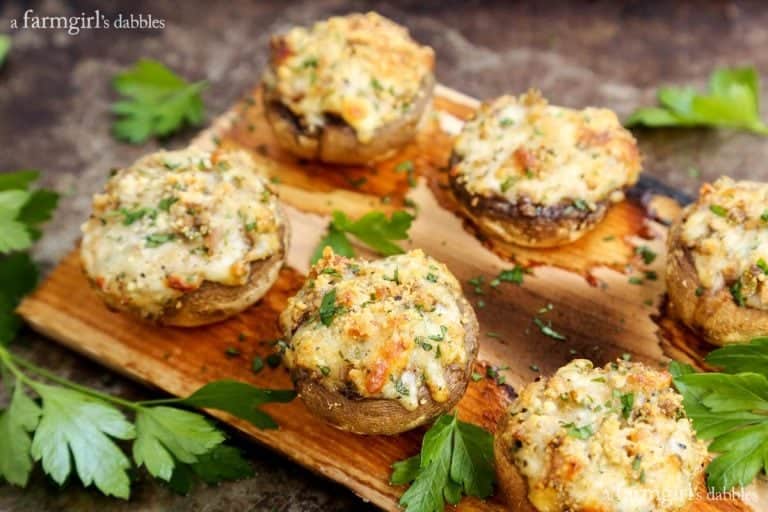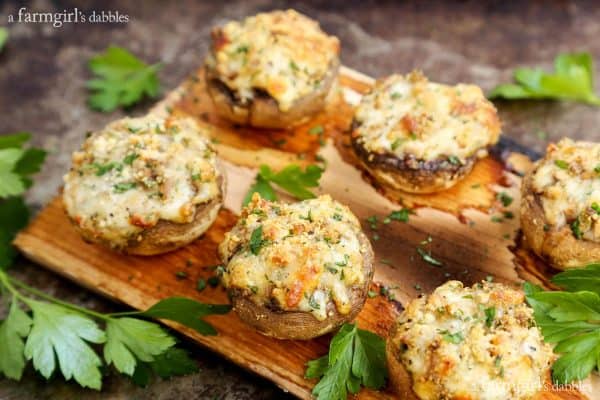 This recipe for Cheesy Stuffed Mushrooms Grilled on a Cedar Plank has turned out to be one of my favorite dishes from this year. The mushrooms go great with almost any meal. I'm already thinking they would be a welcome addition to our Thanksgiving, Christmas, and New Years Eve celebrations. And can you imagine how quickly they'd disappear on a tailgating buffet?! You can just never go wrong with anything stuffed with cheese.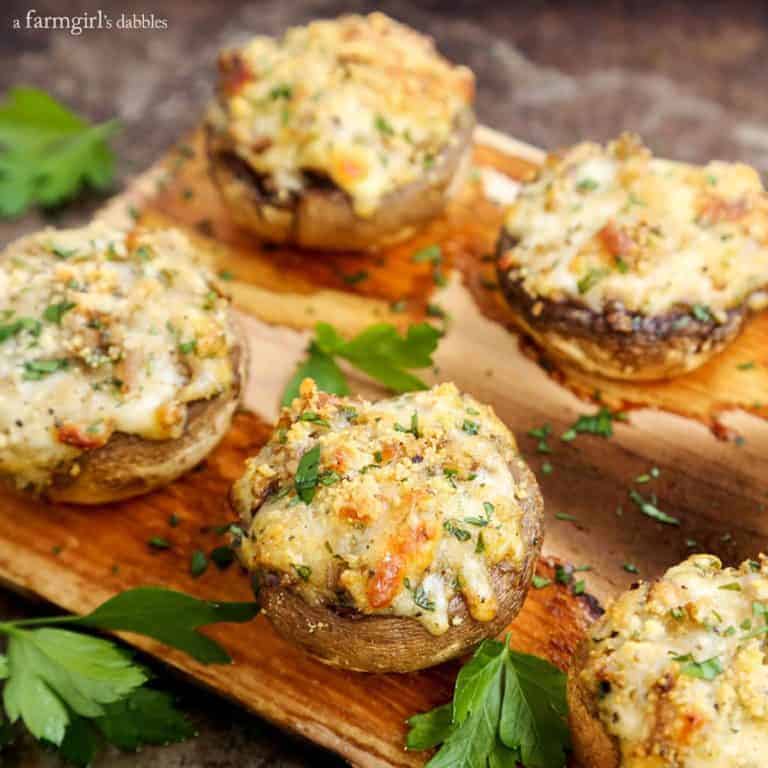 Cheesy Stuffed Mushrooms Grilled on a Cedar Plank
Yield: 4 servings
Prep Time: 3 hours 15 minutes
Cook Time: 15 minutes
Total Time: 3 hours 30 minutes
These Cheesy Stuffed Mushrooms Grilled on a Cedar Plank are an easy appetizer or side dish, infused with a wonderful woodsy flavor.
Ingredients
2 T. unsalted butter, at room temperature
2 T. Italian flavored bread crumbs
2 T. minced fresh parsley
1/4 tsp. garlic salt
2 oz. shredded Mozzarella cheese
2 oz. shredded Gouda cheese
8 large crimini mushrooms
1 T. grated Parmesan cheese
freshly ground black pepper
Instructions
At least 3 hours prior to grilling, place a cedar grill plank inside a rimmed pan. Add water to cover plank. Place a couple heavy mugs on top of the plank to push the plank into the liquid. Let soak until ready to grill.
When ready to grill, preheat grill to high, about 500° F.
In a medium bowl, combine butter, bread crumbs, parsley, and garlic salt. Add Mozzarella and Gouda cheeses and stir to combine. Remove stems from mushrooms. Chop stems into very small pieces and add to the cheese stuffing mixture, stirring to combine.
Press cheese stuffing mixture very snugly into the empty cavity of each mushroom cap, until cheese stuffing mixture is even with the top of the mushroom cavity perimeter. Gently mound the remaining cheese stuffing mixture onto the tops of the mushrooms, pressing just slightly to keep the mixture in place. Sprinkle with Parmesan and black pepper.
Remove wet cedar plank from water and place on a pan. Arrange stuffed mushrooms on wet plank. Transfer cedar plank with stuffed mushrooms to preheated grill grates. Turn grill down to medium-low heat, between 300° F and 325° F, and close the grill cover. You will start to see some smoke after three to four minutes. Do not peek. Keep the grill cover closed until the mushrooms have been on the grill for a total of twelve minutes, and then take a quick peek. It may take another 3 minutes or so to get the cheese melty and golden.
Carefully remove hot plank to a large pan. Let sit for a couple minutes. Serve hot, as either an appetizer or side dish. I like to serve these mushrooms right from the cedar plank.
Notes
from a farmgirl's dabbles
Nutrition Information:
Yield: 4
Serving Size: 1
Amount Per Serving:
Calories: 204
Total Fat: 13g
Saturated Fat: 8g
Trans Fat: 0g
Unsaturated Fat: 4g
Cholesterol: 42mg
Sodium: 371mg
Carbohydrates: 12g
Fiber: 1g
Sugar: 4g
Protein: 12g
Nutrition information is automatically calculated by Nutritionix. I am not a nutritionist and cannot guarantee accuracy. If your health depends on nutrition information, please calculate again with your own favorite calculator.