Autumn-Spiced Cheddar Chicken Tacos with Apples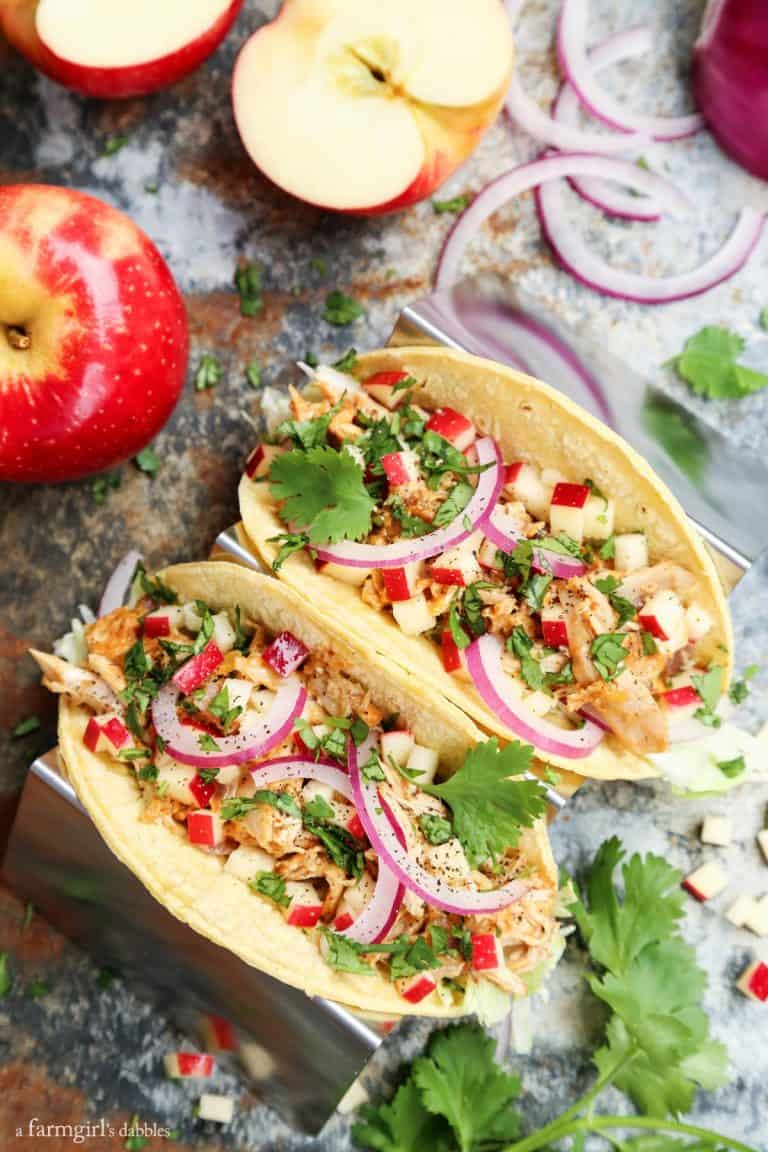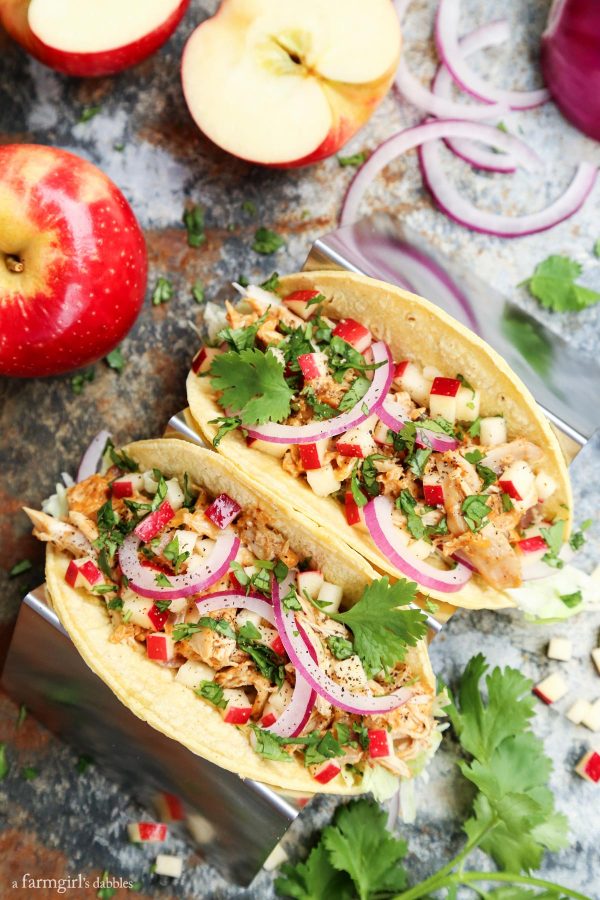 These Autumn-Spiced Cheddar Chicken Tacos with Apples are so wonderful that you'll want to eat them all year 'round. You'll love the fall spices with the cheddar cheese and crisp apple bits! If every evening I announced, "It's taco night!", I really do think I'd be met with applause.
My family simply never tires of the flavors associated with tacos. So I try to mix it up with a little different rendition each time (more for me than for them), so that each taco meal has at least a couple new twists. I recently shared a recipe for taco tater tot hotdish, which has gone over incredibly well at our table.
And now I have these Autumn-Spiced Cheddar Chicken Tacos with Apples to show off. This recipe is ultra flavorful and comes together quickly, perfect for a weeknight meal.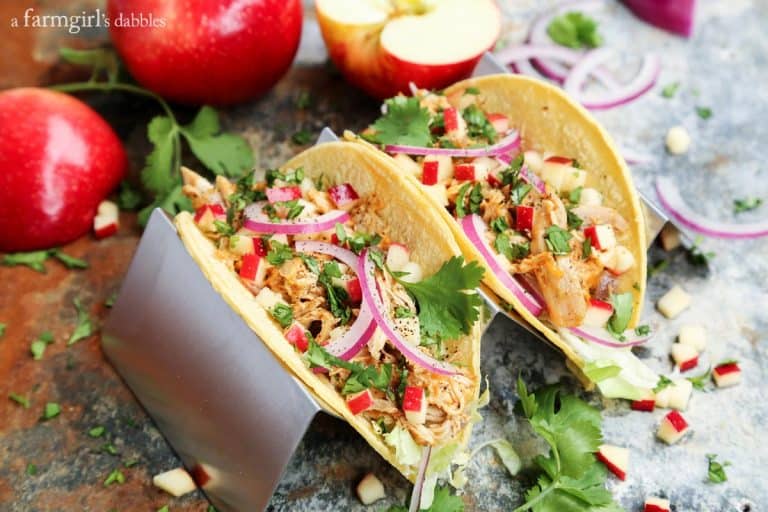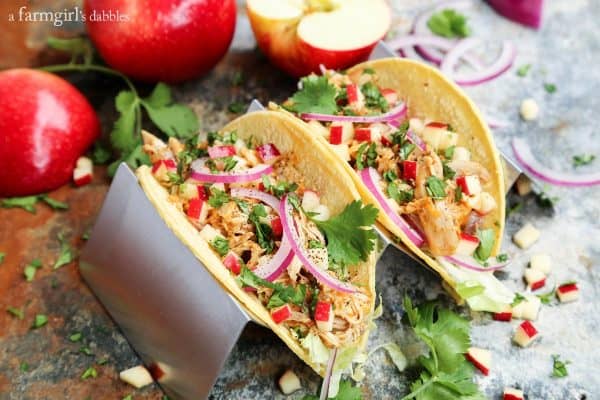 * This is a sponsored post, created in partnership with Crystal Farms® Cheese. This taco recipe is just a bit different than most.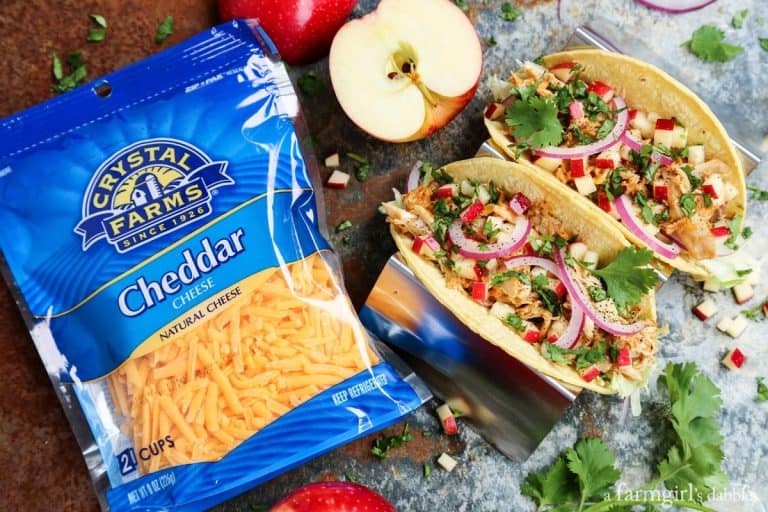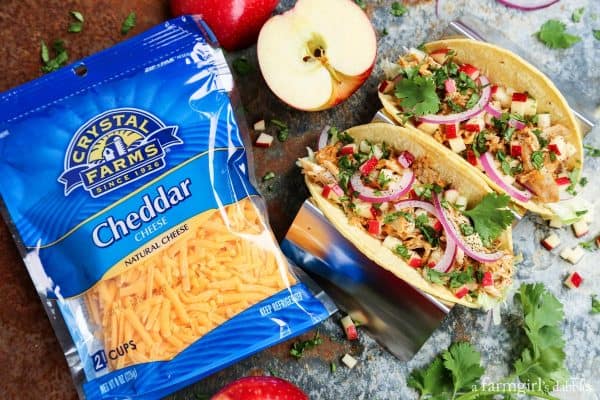 Instead of offering shredded cheese as a condiment to sprinkle over the top, I stirred Cheddar cheese right into the pan of warm shredded chicken filling. I was amazed at the wonderful, silky texture and delicious flavor that resulted. Its creaminess even insisted that I forego the sour cream on my tacos this time around. I knew that all these tacos really needed were some fresh toppings. You can always find a few different varieties of Crystal Farms® Cheese in our refrigerator.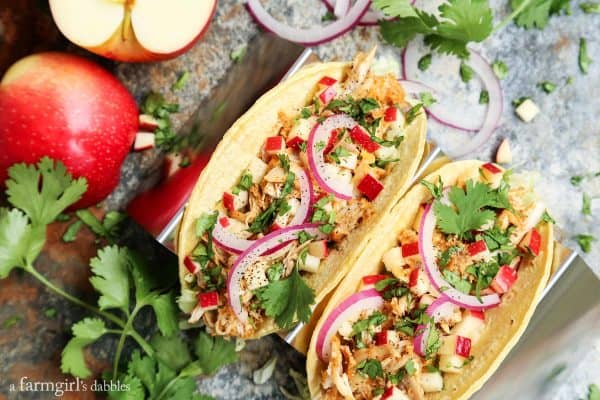 Crystal Farms is located just across the border from Minnesota in Lake Mills, Wisconsin, and is one of the largest cheese brands in the country. Since 1926 they have been committed to providing the highest quality products to all of us cheese lovers. Crystal Farms products are rich in calcium, and natural with few preservatives. This is the Cheddar that makes these chicken tacos so great. I gave these tacos a little autumn flair by adding some warm spices that we more often associate with baking. The chicken is flavored with a mixture of chili powder, cumin and garlic, common to tacos.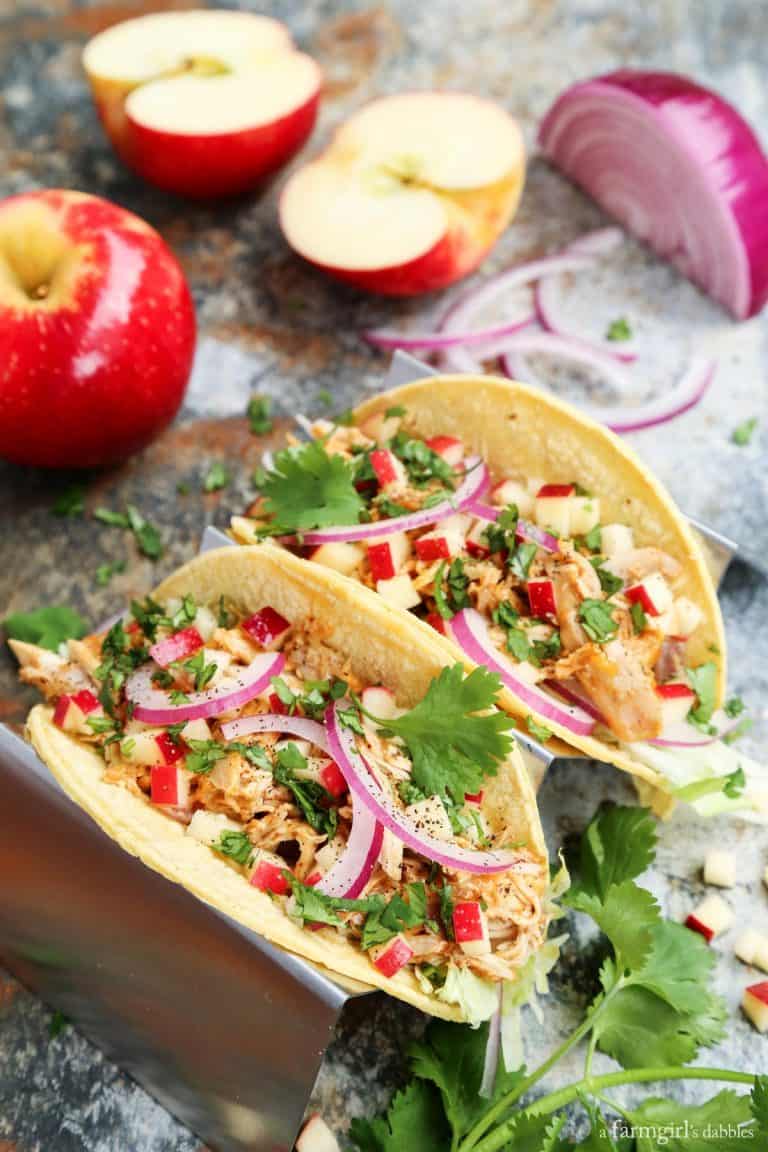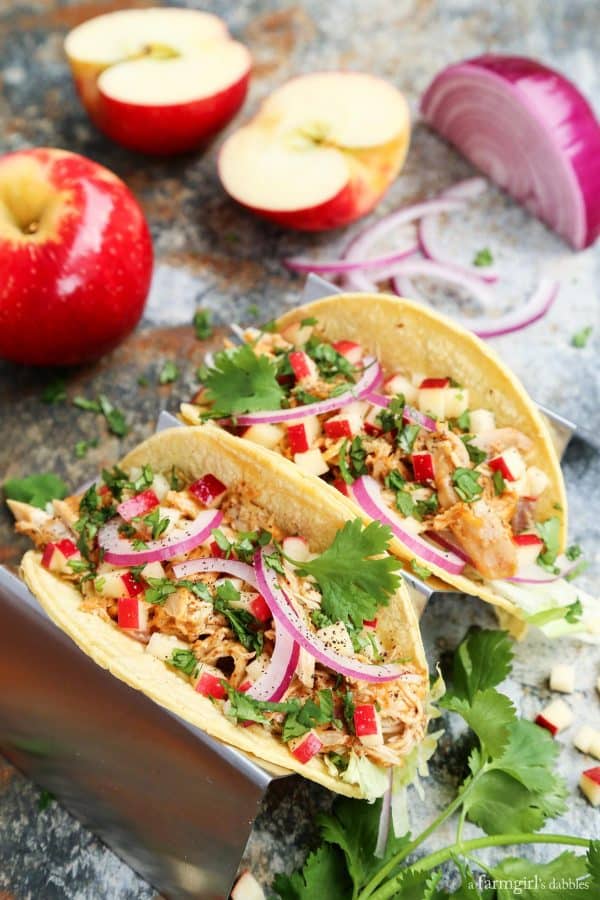 And then I sprinkled in some cinnamon and nutmeg, ever so softly. These autumn-spiced tacos are truly, truly lovely with the small bits of diced fresh apple. The apple gives some great contrast with its crunchy, juicy texture and sweet, tart flavor. All I can think is why have I never done this before?
Autumn-spiced cheddar chicken tacos with apples is where it's at!
Also be sure to check out my Farmers Market Grilled Flatbread Pizza. It's full of beautiful fresh produce…and so easy!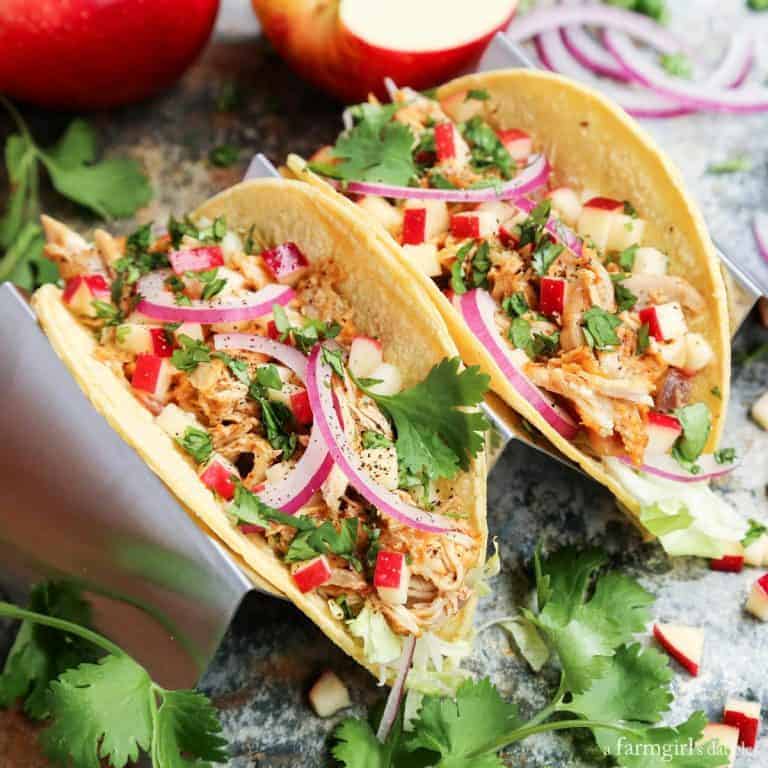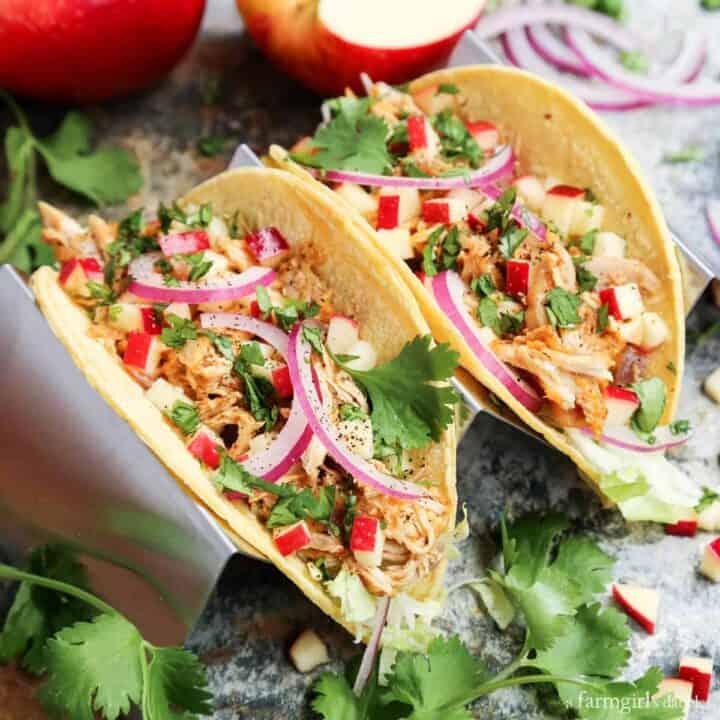 Autumn-Spiced Cheddar Chicken Tacos with Apples
Yield: 6 servings
Prep Time: 20 minutes
Cook Time: 15 minutes
Total Time: 35 minutes
You'll love the fall spices mingling in these tacos. The cheddar cheese gets all melty with the chicken, a wonderful contrast to the crisp apple bits!
Ingredients
1 T. olive oil
half of a small red onion, diced
4 c. shredded rotisserie chicken
2 tsp. cumin
1 tsp. chili powder
3/4 tsp. cinnamon
1/4 tsp. garlic powder
1/8 tsp. nutmeg
1/2 c. water
1 to 2 c. Crystal Farms® Shredded Cheddar Cheese
kosher salt, to taste
freshly ground black pepper, to taste
1 to 2 apples, cored and diced or very thinly sliced
orange or lemon juice
small tortillas
optional condiments:
shredded lettuce
thinly slice red onion
chopped fresh cilantro
taco sauce
pico de gallo
fresh lime wedges, for squeezing over the top
additional Crystal Farms® Shredded Cheddar Cheese
Instructions
In a large skillet over medium heat, warm the olive oil. Add onion and stir to coat. Saute, stirring occasionally, for about 5 minutes or until onion is nicely softened. Do not let the onion brown. Fold in chicken. Sprinkle with cumin, chili powder, cinnamon, garlic powder, and nutmeg, and fold to incorporate.
Stir in water and let simmer, stirring occasionally. When water is no longer present, stir in your desired amount of cheese. One cup will give you a silky texture, nicely flavored with cheddar. Two cups will give a bit more of a chewy-cheesy texture, with a more prominent cheddar flavor. Once cheese has melted, taste test and add salt and pepper as desired.
While chicken is simmering, toss diced apples with a teaspoon or two of orange juice, just enough to coat the apple pieces. This will keep the apples from browning, plus add a nice fresh tangy flavor.
Serve with small tortillas, plus any additional condiments that you like.
Notes
from a farmgirl's dabbles
Nutrition Information:
Yield: 6
Serving Size: 1
Amount Per Serving:
Calories: 558
Total Fat: 30g
Saturated Fat: 12g
Trans Fat: 1g
Unsaturated Fat: 14g
Cholesterol: 187mg
Sodium: 1014mg
Carbohydrates: 22g
Fiber: 4g
Sugar: 10g
Protein: 53g
Nutrition information is automatically calculated by Nutritionix. I am not a nutritionist and cannot guarantee accuracy. If your health depends on nutrition information, please calculate again with your own favorite calculator.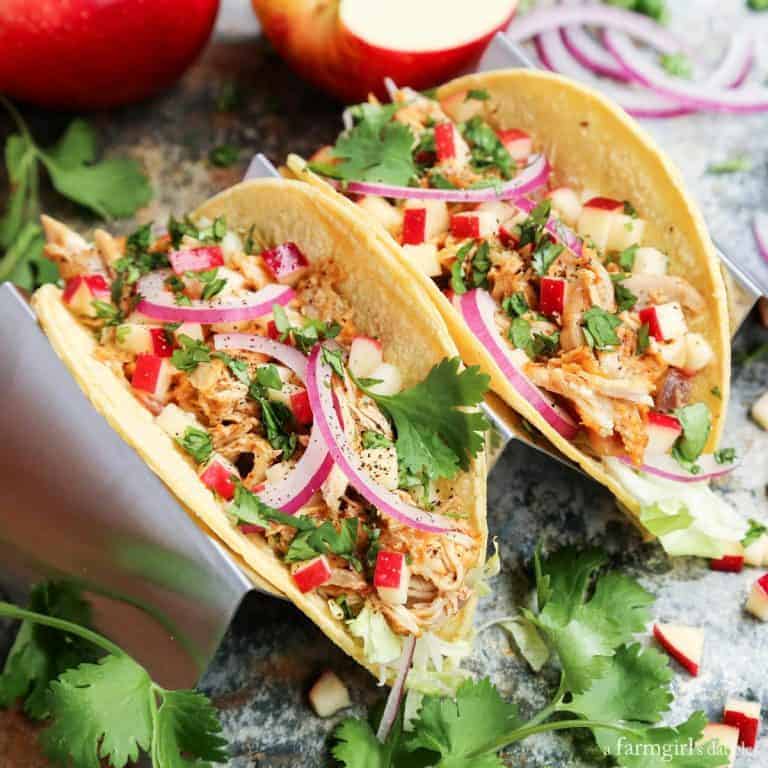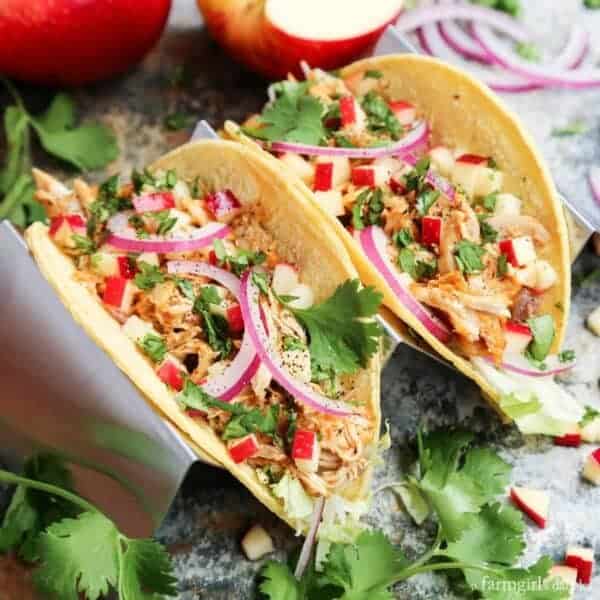 For more Crystal Farms #cheeselove, be sure to check them out on their website. You can also find them on social media on Facebook, Twitter, and Pinterest.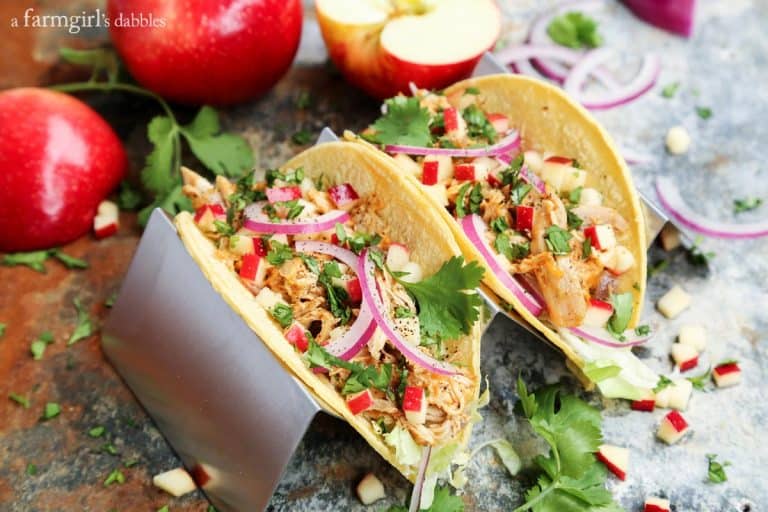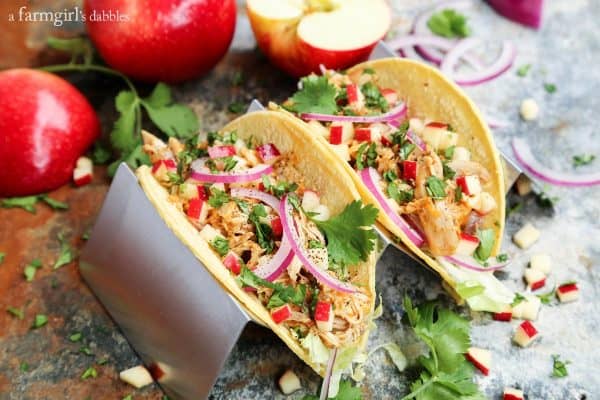 This post was created in partnership with Crystal Farms® Cheese of Wisconsin. All text and opinions are mine. Thank you for supporting the brands that help make this site possible.