Italian Chopped Salad
Italian Chopped Salad – an Italian salad loaded with fresh goodness, plus salami, provolone, pepperoncini, and olives. It's light, yet hearty, and extra flavorful with a zippy Italian vinaigrette!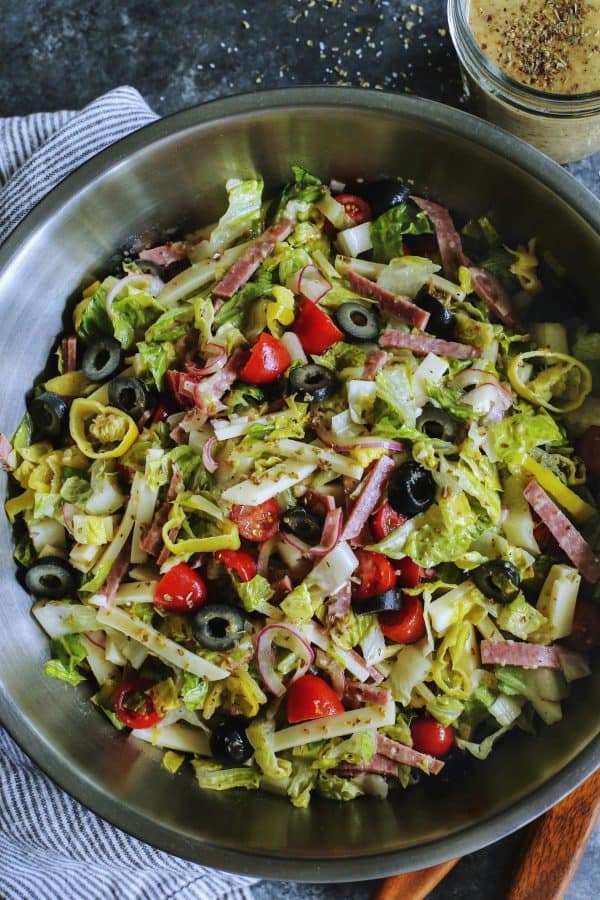 This Italian Chopped Salad, along with a side of toasty homemade cheesy garlic bread, has been gracing our table for quite awhile now. And all credit goes to Netflix.
If it wasn't for Netflix, I would never have gotten to know Nancy Silverton a bit more in depth, on Chef's Table. To follow her paths through Italy and LA, alongside such names as Wolfgang Puck and Julia Child. Nancy even caused Julia to cry over the goodness of a dessert she made on Julia's TV program. That HAS to tell you SOMETHING about what Nancy is capable of!
Nancy makes another (briefer) appearance and is mentioned several times in different episodes in another Netflix show, Somebody Feed Phil. This is one of my family's favorite shows to watch together. Food + travel + the happy, humorous, goofy charm of Phil Rosenthal = the best foodie/traveler entertainment.
So fast forward to last year, very early spring. I was at the library and ran across The Mozza Cookbook, featuring recipes from Nancy's LA restaurant. I slid the book from the shelf, paged through it for all of ten seconds before knowing it must go home with me.
That same night, that cookbook was my bedtime reading material. I flagged a number of pages before setting the book aside and turning out the light. And before closing my eyes, I knew that Nancy's chopped salad recipe was going to be the first one I'd try.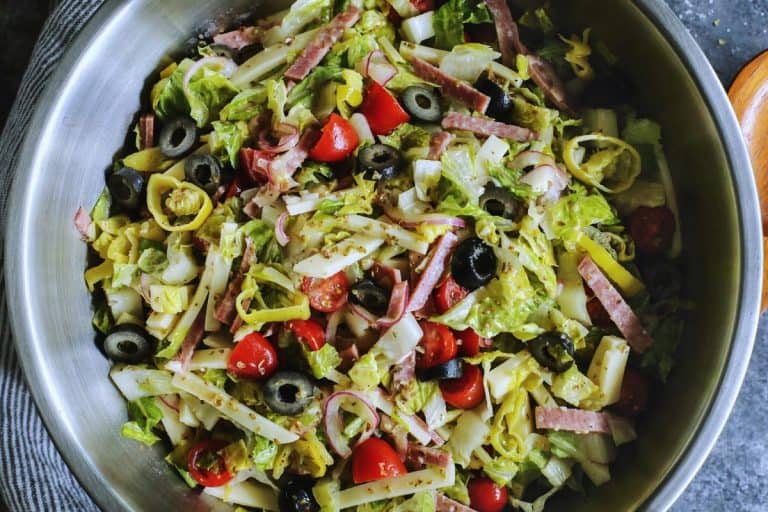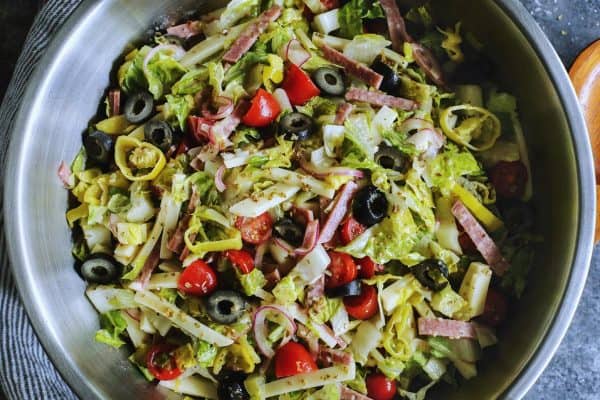 Nancy's Chopped Salad
The rest is history. Over the previous summer I proceeded to make Nancy's Italian salad more than any other salad, tweaking it a bit each time, to better suit our own family's tastes.
Here's the changes I've made:
Nancy uses iceberg lettuce. I use romaine. We always have romaine on hand; it's our lettuce of choice.
She adds a head of chopped radicchio. Our family pretty much nudges radicchio to the side of our salad plates. We're just not fans of the bitterness.
You'll also find chickpeas in the original recipe. Which I love. But the rest of our family does not. So I crossed them off the ingredient list, for the sake of harmony (aka = no whining).
And I added in some black olives. More often than not, I use the plainer, ripe black olives, as this kind pleases more family members. But I also like to use the richer Kalamata variety.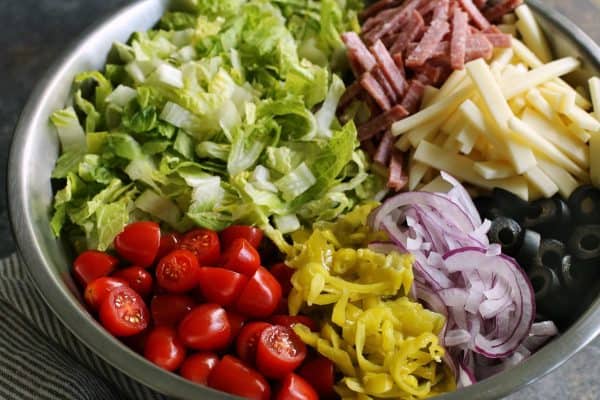 Italian Chopped Salad
I know that the number one reason my family likes this fresh chopped salad so much is because of the strips of salami and provolone cheese.
Maybe it's because these two ingredients make this meal taste like their favorite Jimmy John's sub sandwich, transferred to a salad bowl? Quite possibly.
What I do know for certain, though, is that those ingredients definitely make this Italian salad stand out. And they add heartiness, enough to call this a main course salad. Which is just plain awesome for a cold, refreshing summertime meal.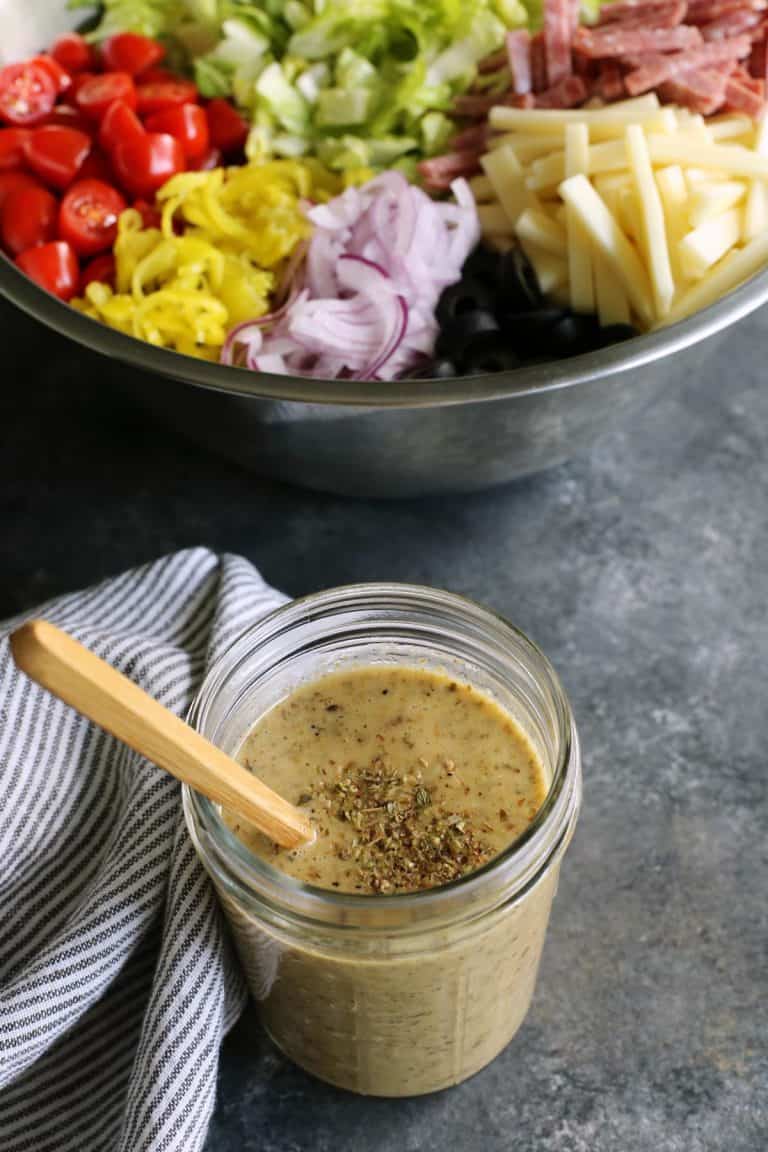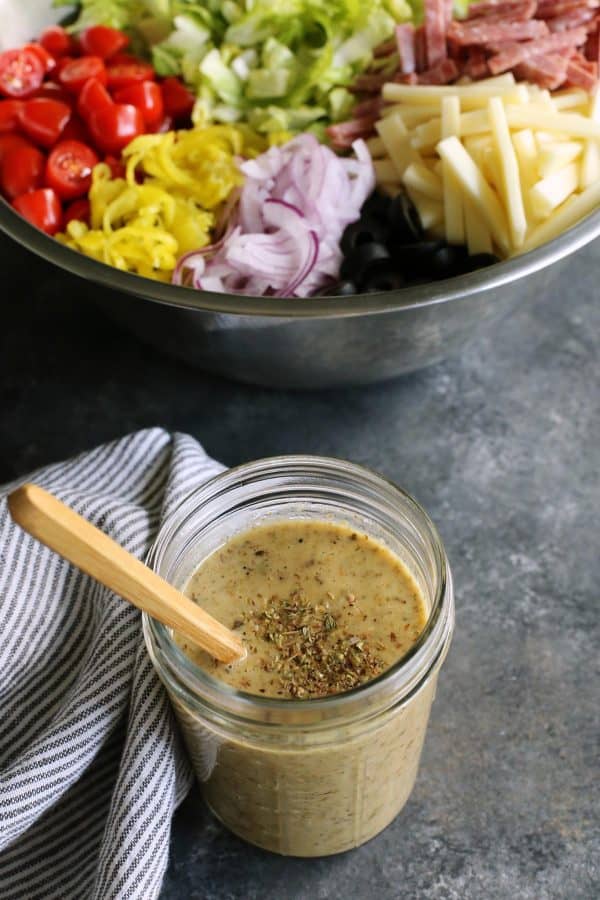 I also played around with Nancy's recipe for the vinaigrette. You didn't honestly expect anything less from me, right?
You can find the Italian Vinaigrette recipe here. We like it so much that we nearly always double the amount, to have it on hand to use whenever we like.
Here are a few more of our favorite salad dressings: my mom's Sweet Onion Coleslaw Dressing, this sunshiny Herby Lemon Vinaigrette, and my creamy Buttermilk Ranch Dressing.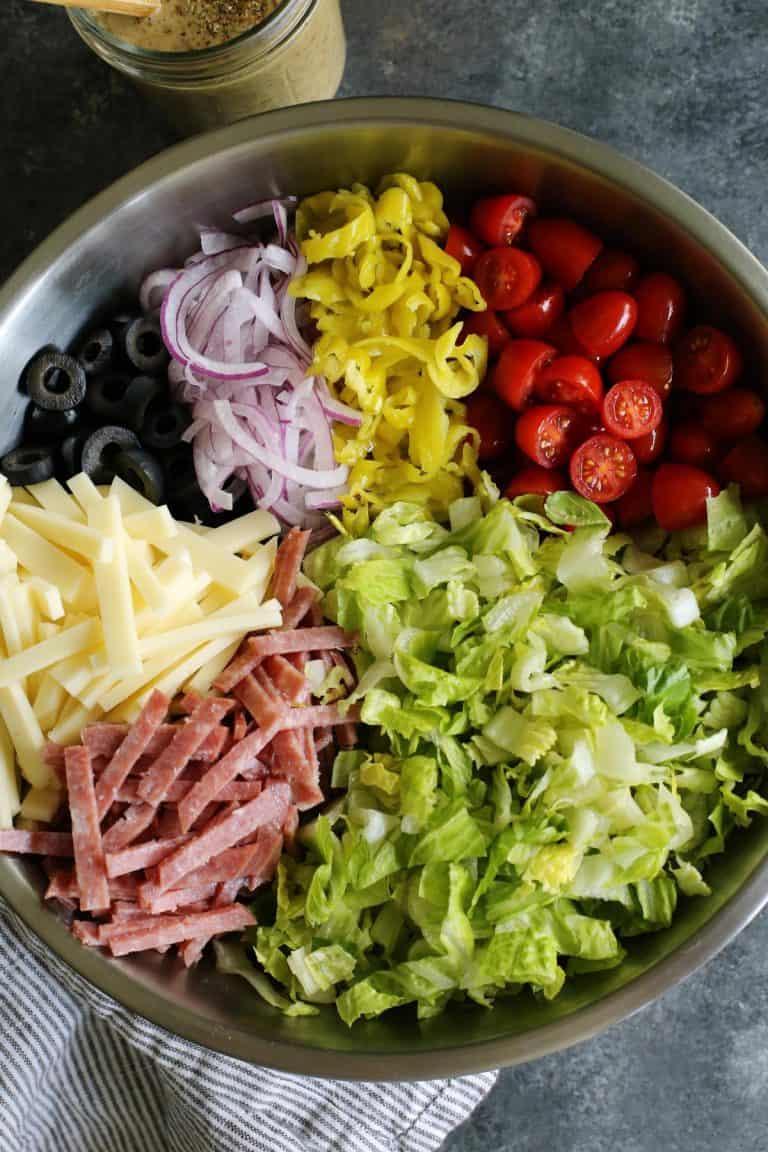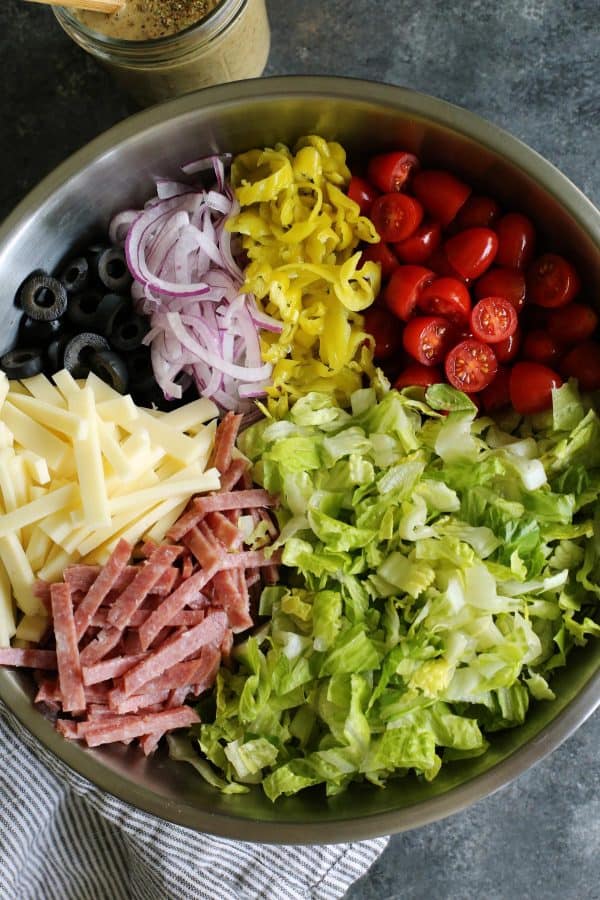 Our girls aren't the biggest fans of the peperoncini in this salad. But they don't go so far as to protest these mild, pickled peppers. I actually think Hatti and Tessa are coming around to more and more pickled flavors in general. (Yay!)
And Blake and I especially like peperoncini. So we're playing the parent card on this one, always including the peppers when we make this Italian chopped salad.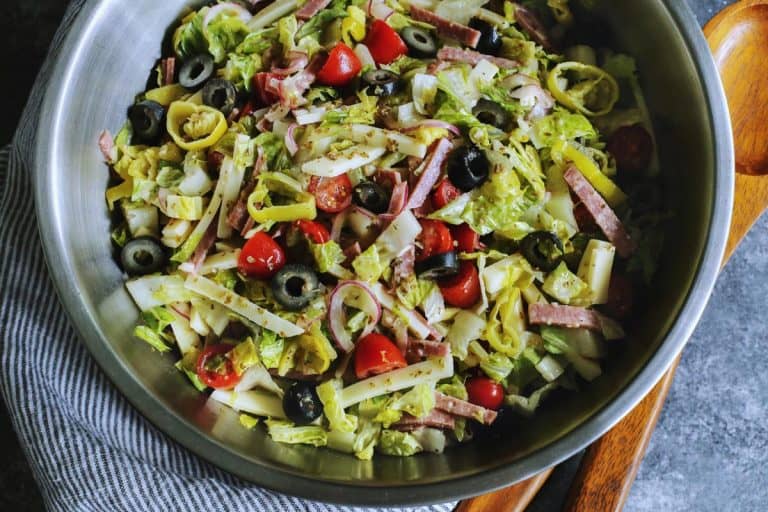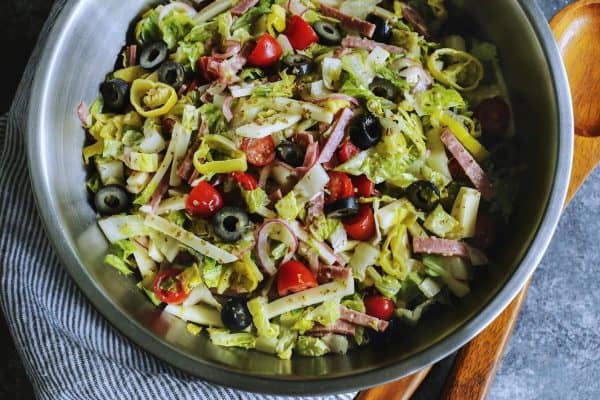 If you're like me, you can never have too many salad recipes on hand. Especially during the summer.
And if you're like me, you never knew you needed Nancy's chopped salad in your life.
Except that now you do know…
Like this salad? Save it to Pinterest!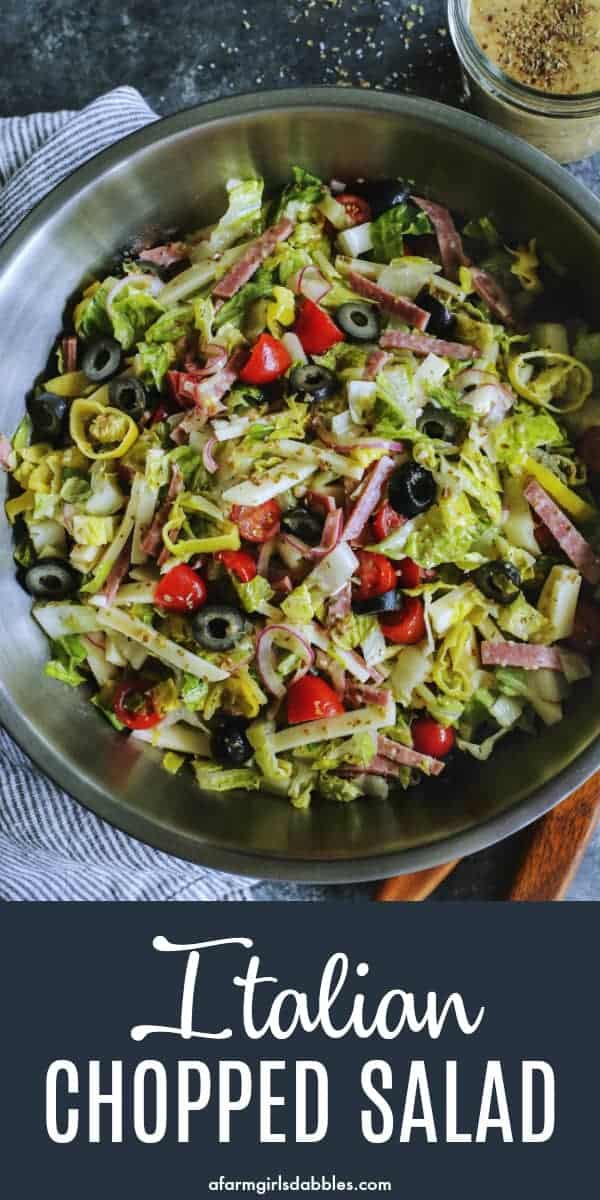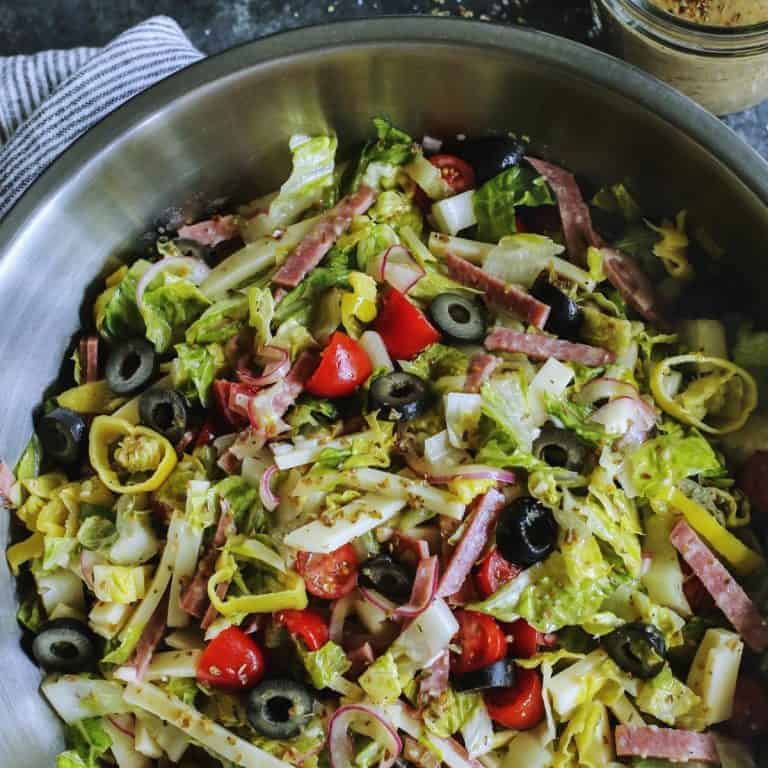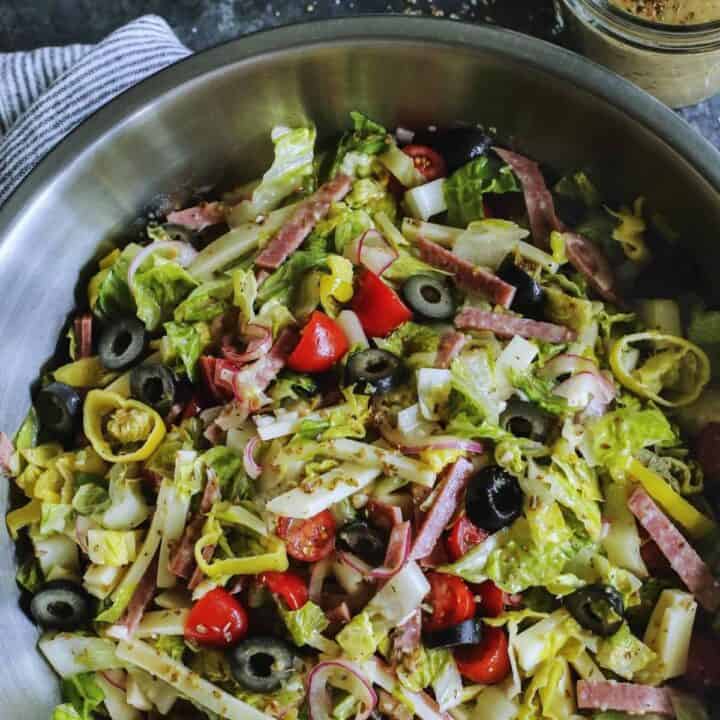 Italian Chopped Salad
Yield: 8 servings
Prep Time: 35 minutes
Total Time: 35 minutes
An Italian salad loaded with fresh goodness, plus salami, provolone, pepperoncini, and olives. It's light, yet hearty, and extra flavorful with a zippy Italian vinaigrette!
Ingredients
2 large heads romaine lettuce
1/2 of a medium red onion, peeled and then sliced into very thin rings - I like to use a mandoline for quick, easy, uniform slices
1/2 c. sliced pepperoncini rings
1/2 c. sliced black olives
1/2 lb. provolone, sliced 1/8" thick and then cut into 1/4" ribbons
1/2 lb. good quality salami, sliced 1/8" thick and then cut into 1/4" ribbons
12 oz. cherry or grape tomatoes, sliced in half
freshly ground black pepper
kosher salt, if needed
Instructions
For the lettuce, I like pieces that are manageable bite-wise. I don't want to also need a knife to eat my salad! So I first cut the romaine vertically two or three times, from the root end (don't cut all the way through the root, to keep the head intact) to the tips of the leaves. Then I make cuts crosswise, into 1/2" to 3/4" ribbons. Discard the root end.
To assemble the salad: In a large bowl (my favorite salad bowl is a large stainless steel one), gently fold together red onion, pepperoncini, black olives, provolone, and salami. Drizzle about 1/2 cup of the Italian Vinaigrette over these ingredients, and then gently fold again.
Add prepared lettuce and tomatoes, gently folding to incorporate. Taste for seasoning and add kosher salt and/or more of the vinaigrette, if desired. Sprinkle freshly ground black pepper over the top and serve immediately.
To prepare in advance:
Up to a day or two ahead of time, prepare Italian Vinaigrette and store in the refrigerator.
Up to a few hours ahead of time, prep all Italian Chopped Salad ingredients. Store lettuce and sliced tomatoes in their own separate covered containers in the refrigerator. Store red onion, pepperoncini, black olives, provolone, and salami together in a covered container in the refrigerator.
When ready to serve, assemble salad as directed in the Instructions above.
Recommended Products
As an Amazon Associate and member of other affiliate programs, I earn from qualifying purchases.
Nutrition Information:
Yield: 8
Serving Size: 1
Amount Per Serving:
Calories: 275
Total Fat: 18g
Saturated Fat: 8g
Trans Fat: 0g
Unsaturated Fat: 9g
Cholesterol: 50mg
Sodium: 993mg
Carbohydrates: 15g
Fiber: 5g
Sugar: 8g
Protein: 16g