Cheesy Homemade Garlic Bread
This easy Cheesy Homemade Garlic Bread recipe is cheese perfection! Buttery, toasted bread that's soft on the inside and crispy on the outside with just the right amount of garlic bread spread. A simple recipe with big-time results!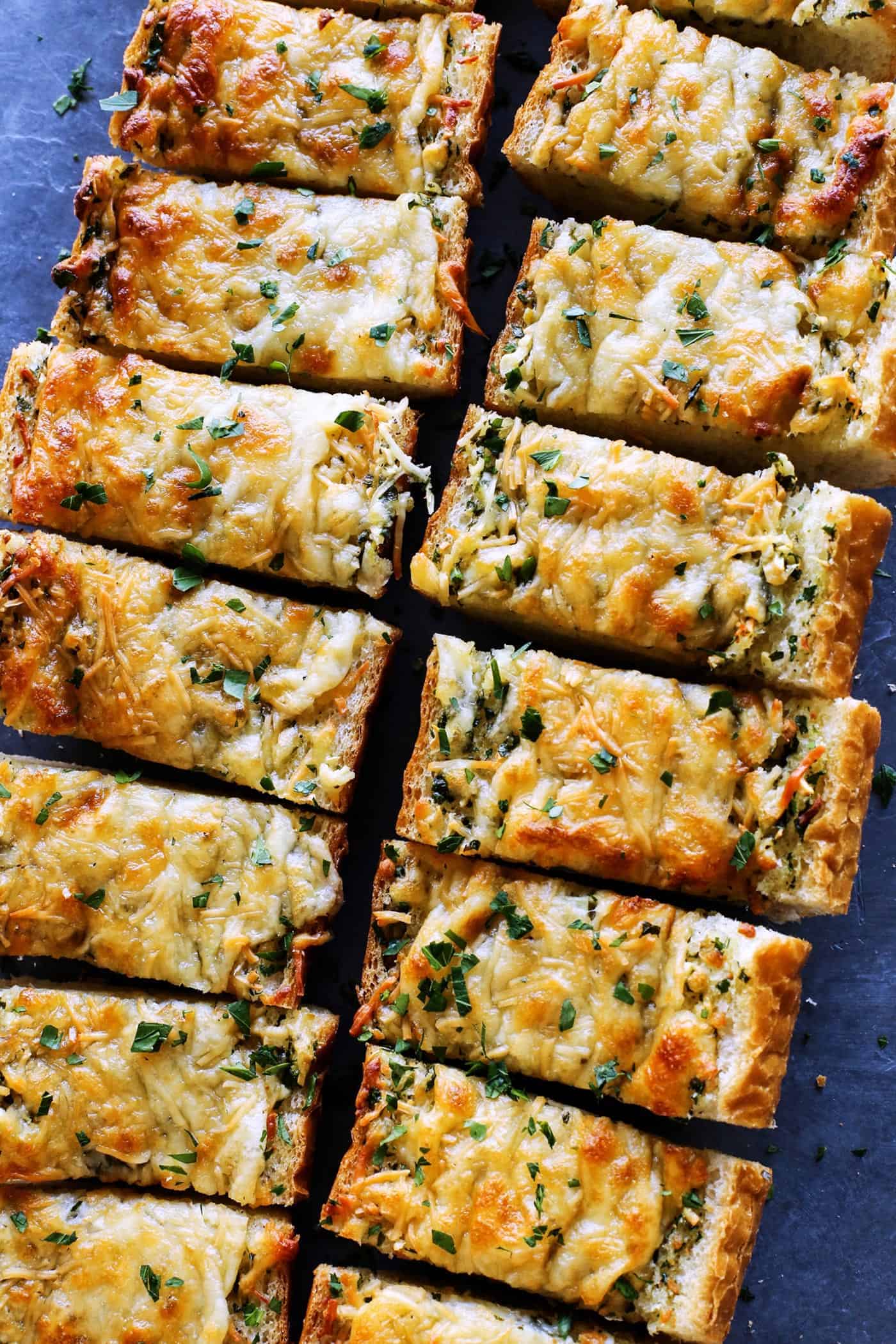 Easy Cheesy Garlic Bread
When it comes to comfort food, I'd bet our kids' monthly allowance on their vote for ANYTHING with cheese. And they LOVE this Cheesy Homemade Garlic Bread!
Some of our favorite cheesy recipes include: Pepperoni Pizza Grilled Cheese, Grilled Mini Sweet Peppers with Goat Cheese (we make this so much!) and this ultra flavorful Chicken Cheesesteak Baked Ziti. Our family loves cheese, so of course we added it to homemade garlic bread.
This garlicky cheese bread goes so well with a steaming pot of Lasagna Soup or Pizza Soup. A thick slice is just perfect for dipping! In fact, these already-wonderful soups are 1,000% more fun when there's a side of soft-on-the-inside, crispy-on-the-outside homemade garlic bread!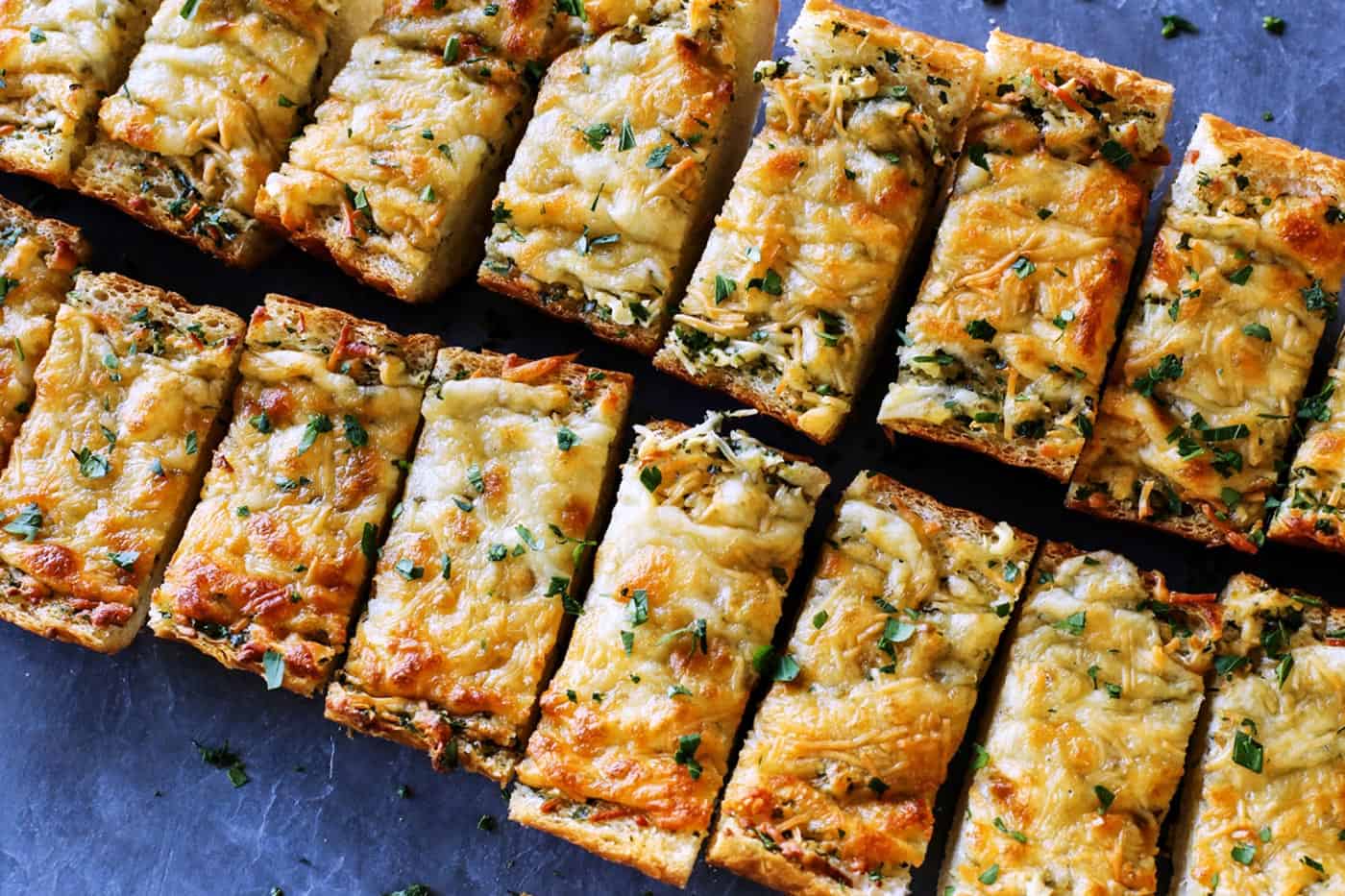 What You'll Need
Making cheesy garlic bread from scratch is super easy. You'll need just six ingredients, plus salt and pepper:
soft French bread loaf
unsalted butter
fresh garlic
fresh parsley
shredded mozzarella
shredded Parmesan
What Kind of Bread to Use
Grab a soft "puffy" French bread loaf from the bakery department at your grocery store. One long loaf should weigh about 1 pound. Two shorter loaves would work just as well.
This bread will give you baked results that are soft on the inside and crispy on the outside. And the soft crumb will soak up the wonderful garlic butter spread in a super delightful way.
For this recipe, stay away from the skinny, chewy baguettes, as they will give you a tougher texture. While I prefer a skinny baguette in many cases, it's just not the best choice for this particular recipe.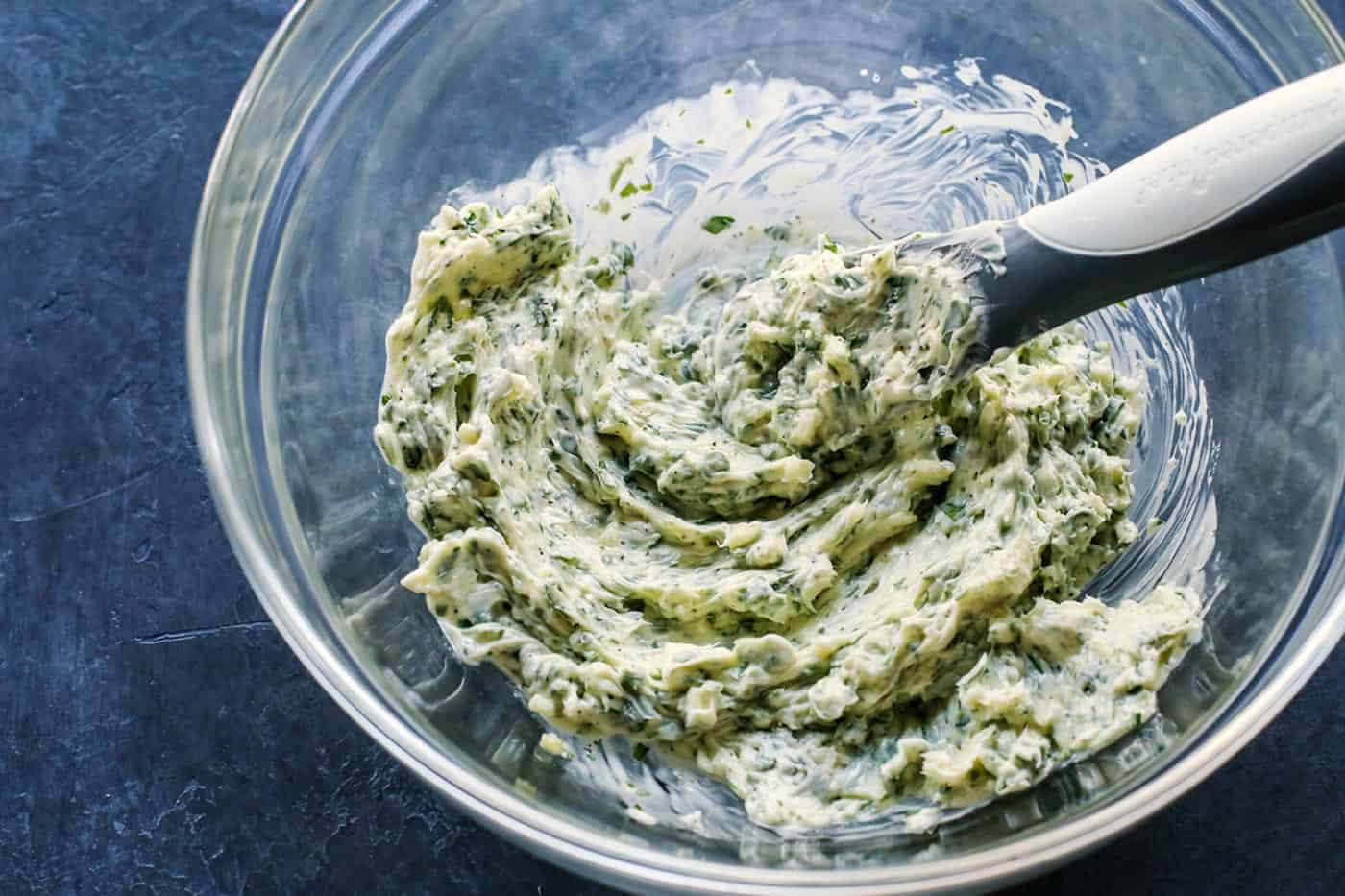 Tips for Success
Use Fresh Garlic
Our girls would probably argue with me on this, and say that the cheese is the most important aspect of this bread. But I believe that the fresh garlic butter mixture is what makes this the best garlic bread recipe.
This garlic bread spread deserves nothing but fresh garlic. No bottled minced garlic. No garlic powder.
Fresh garlic is EVERYTHING!
Use Real Butter
And please, please, pleeeeeeease do not use margarine for this spread. Margarine simply does not have the same rich, decadent flavor as butter.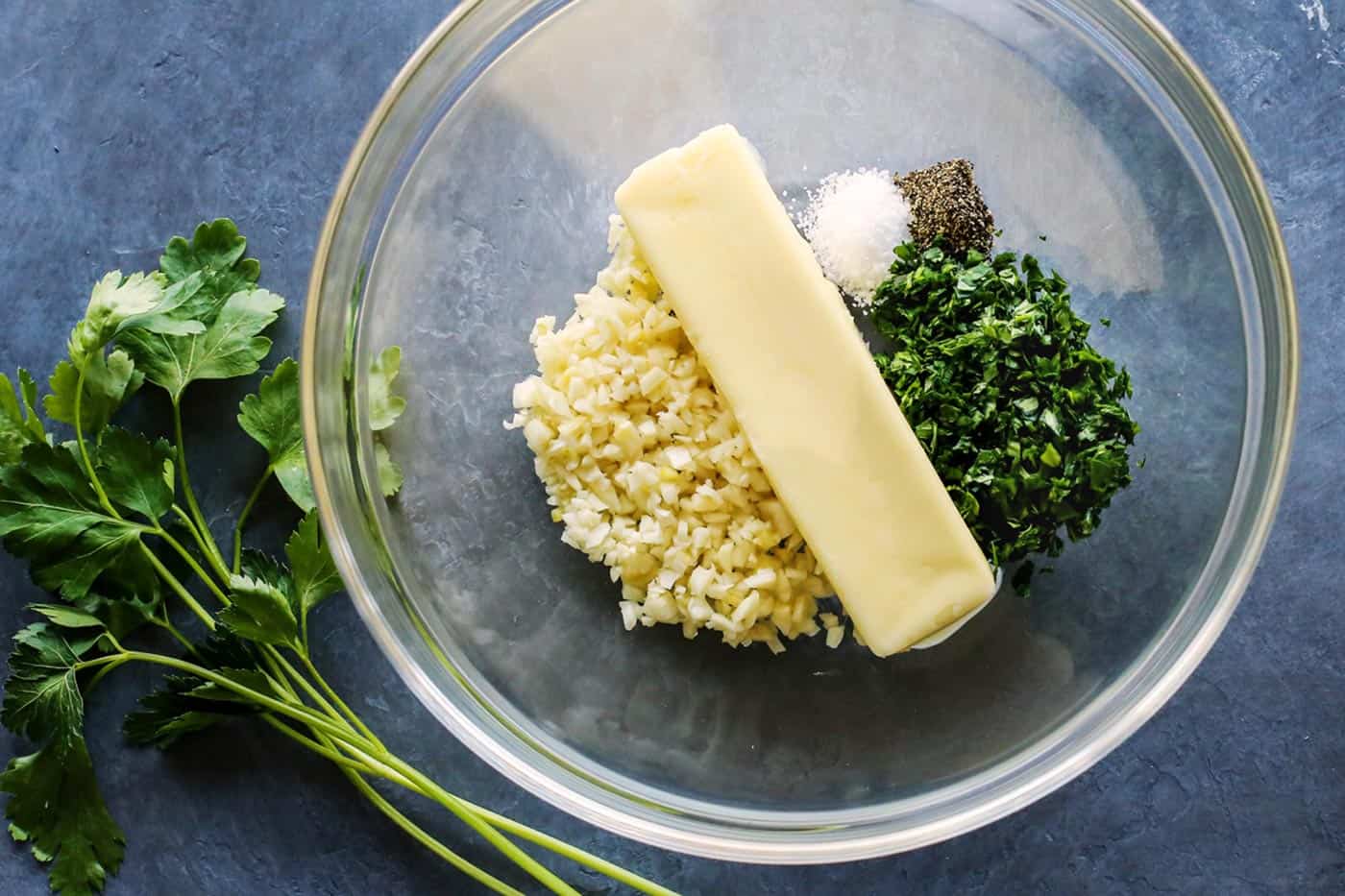 How to Make the Best Garlic Bread
Make the Garlic Spread
This garlic butter is super easy to make. Just combine a stick of softened butter with fresh minced garlic and parsley, plus salt and pepper.
Sometimes I make a double batch. Then I can use it on baked potatoes, or to cook fish in foil packets, or sauté fresh vegetables on the stovetop. Think of it for anything where you already use butter, where some fresh garlic and parsley would add some extra deliciousness.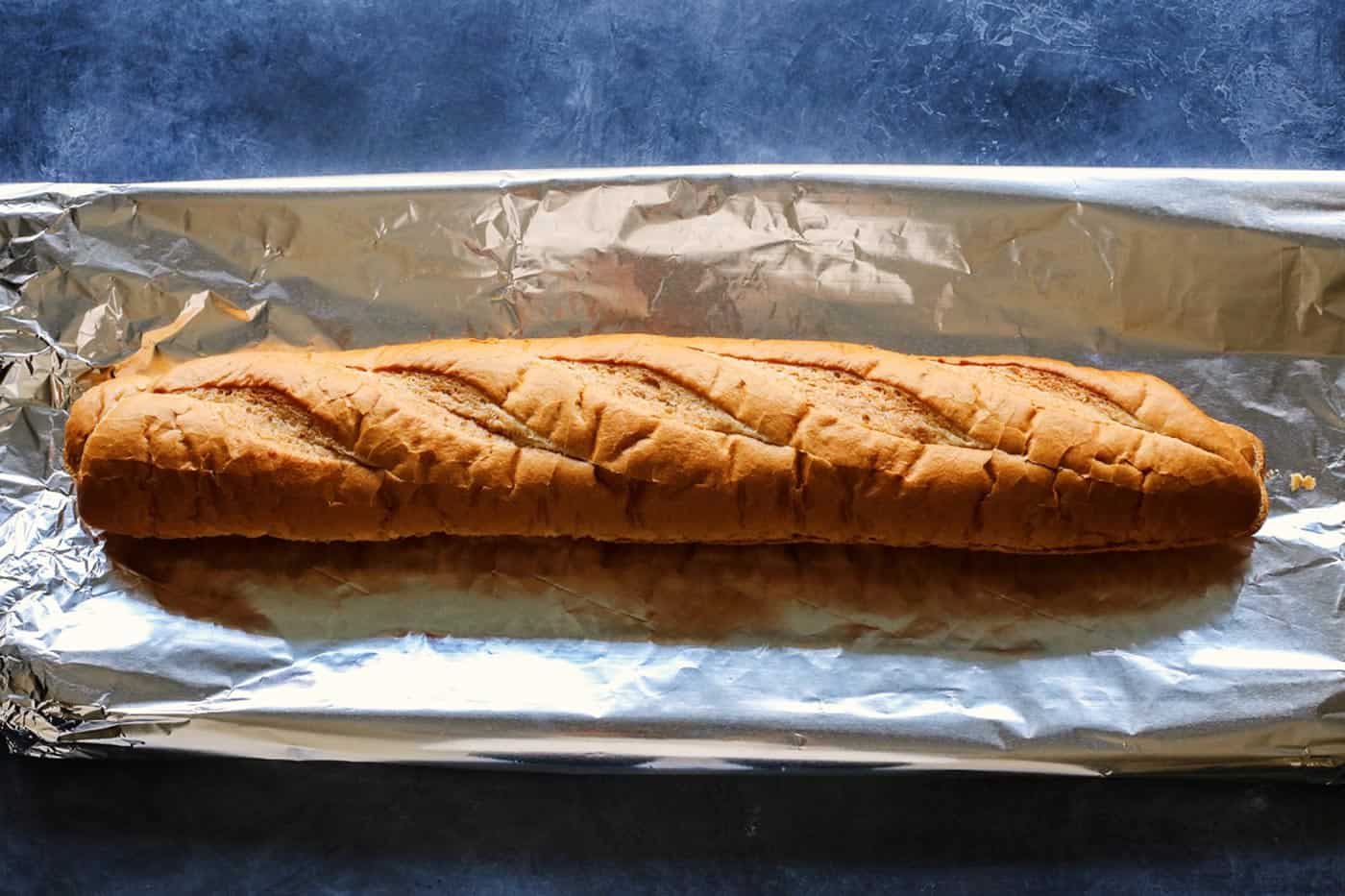 Assemble
Slice the bread loaf in half horizontally (lengthwise) with a long serrated knife. If desired, also slice the loaf in half at mid-length to create two shorter loaves. This is especially recommended if your loaf is longer than the width of your oven's interior.
Then choose how you will bake the bread, from one of these methods:
Line a baking sheet with aluminum foil and place the bread pieces on top.
Tear off a piece of foil that is slightly longer than the bread loaf, and place the bread pieces on top, without using a baking sheet. You can also just slide a baking sheet underneath if you need more stability.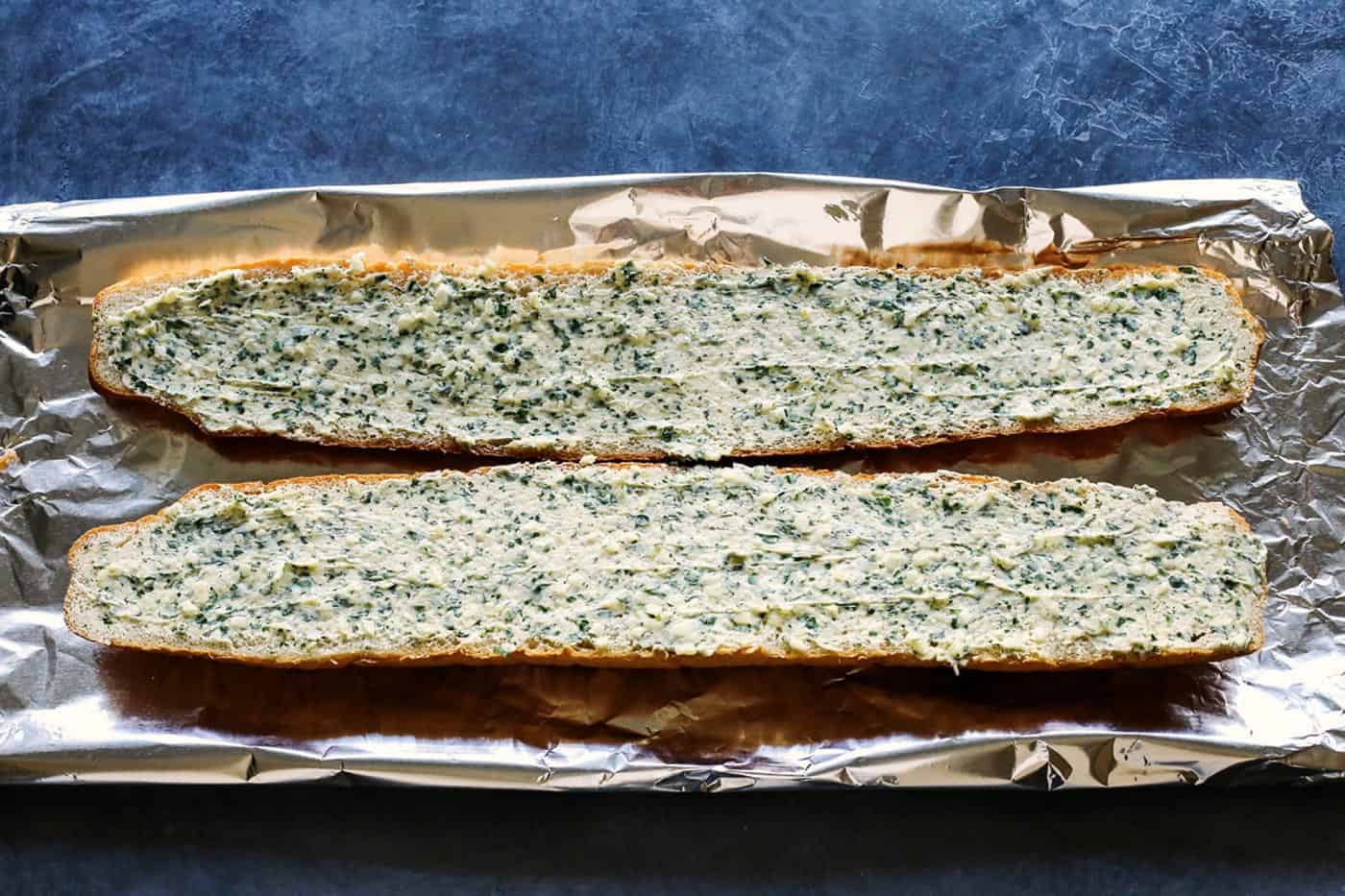 Once your bread pieces are placed on the foil, slather on that beautiful garlic bread spread. All the way to the edges, so the bread toasts up golden and wonderfully crispy.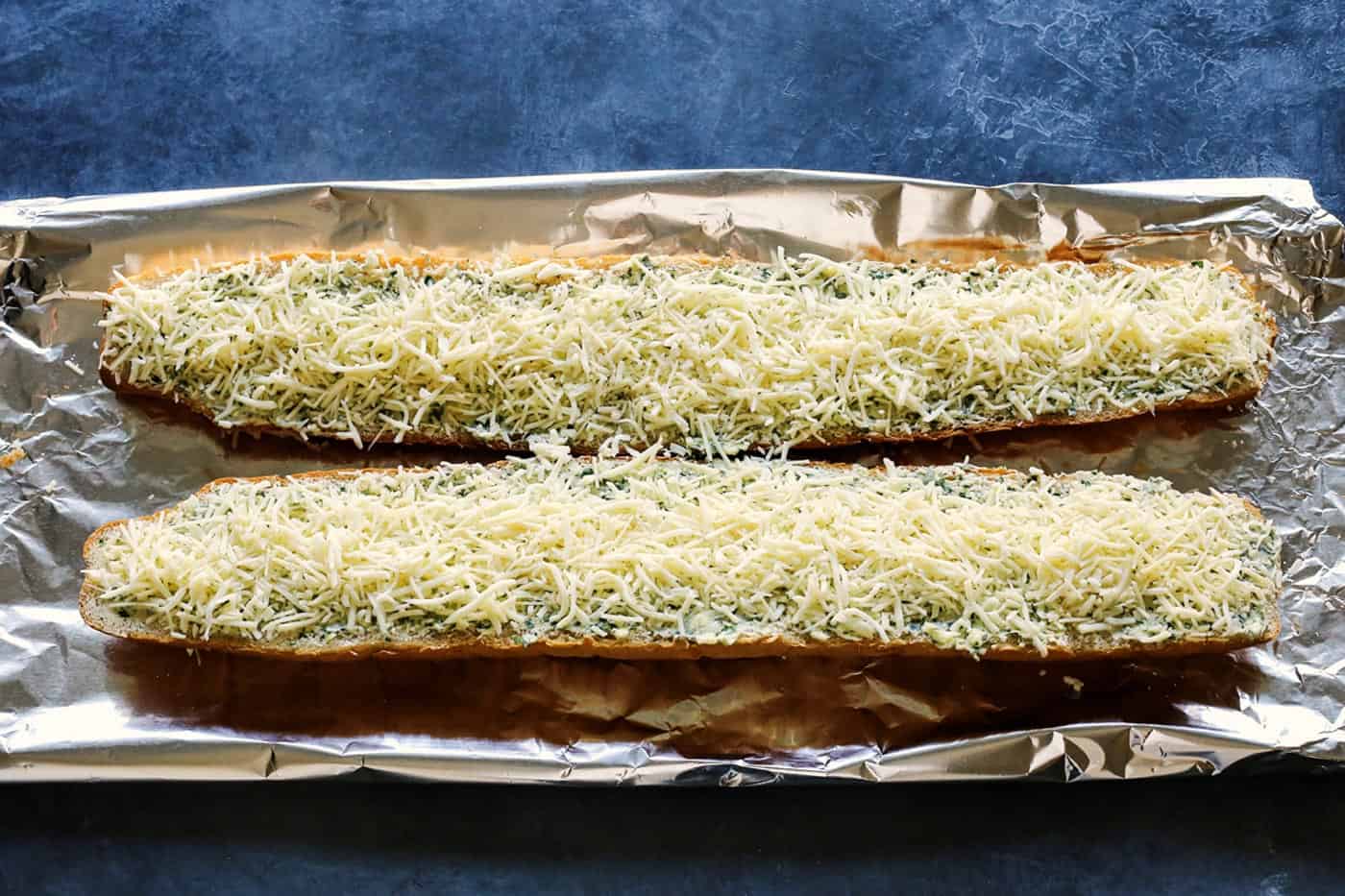 Add the Cheese
Next comes the cheese.
I use both mozzarella and Parmesan, pre-shredded.
If you can find shredded whole-milk mozzarella, definitely use that. It's more creamy and meltable than the more usual part-skim variety.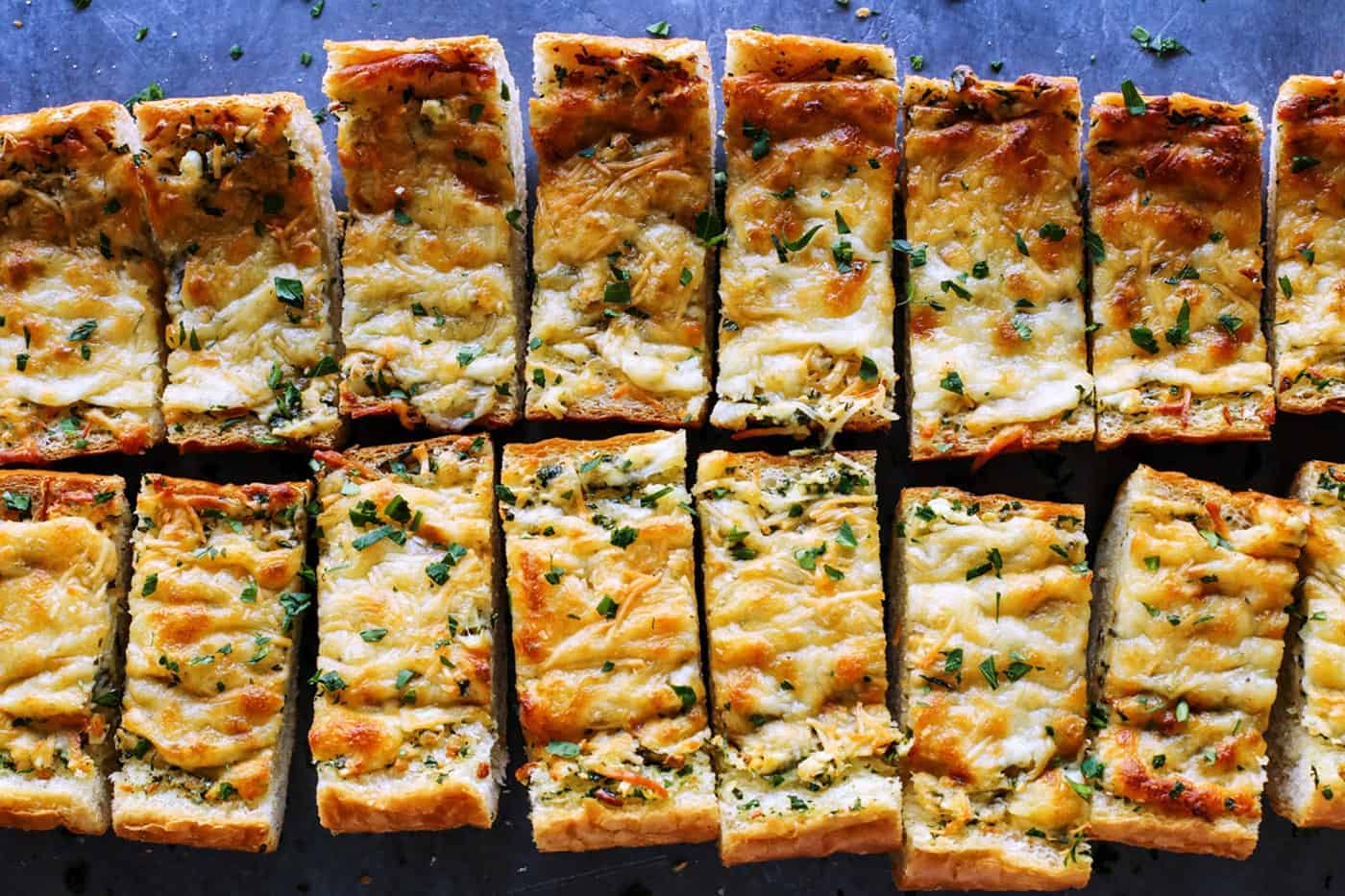 Bake in the Oven
Then into the oven it goes!
After about 20 minutes, the cheese will be all melty. The garlic will be softened and fragrant. And the butter will have made its way further down into the bread.
Do a Quick Broil
To finish up, take the bread to the next level with a little broiler action. The broiler will blister the cheese a bit, further toast up the edges, and add an extra boost of overall heat to the bread.
Just be sure to keep a watchful eye on the broiling. Take care to not over-broil, as you don't want burnt cheesy bread. And too much broiling will take away the gooey factor of the cheese.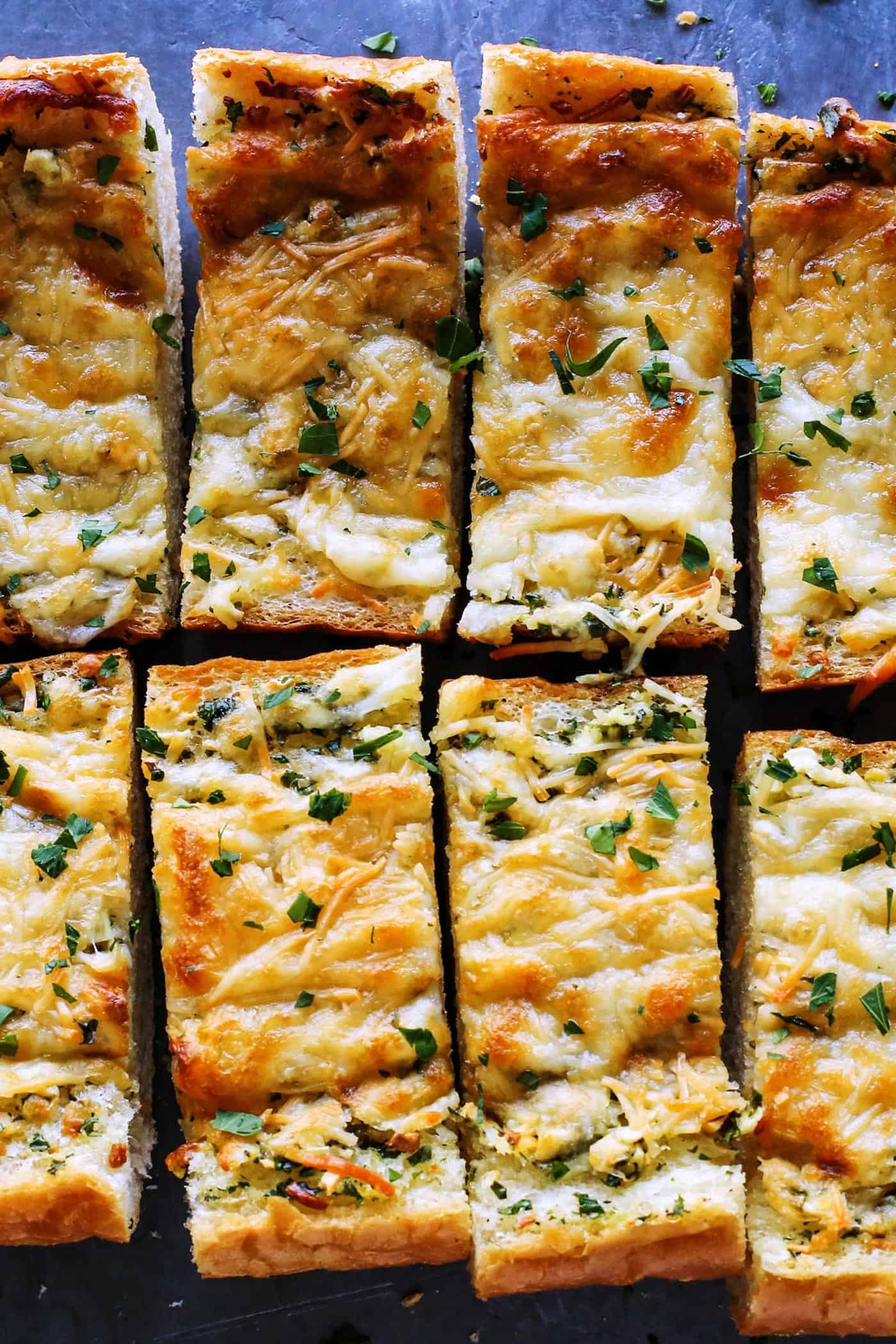 Why Wrap Garlic Bread in Foil?
Everybody has preferences. Some like super soft garlic bread. Others like a soft interior with a crispy exterior. Here's how to accomplish either one:
Wrap the bread in foil for the softest texture. If you like soft bread on both the inside and the outside, use this method.
Do not wrap the bread in foil if you prefer soft, tender bread on the inside with a crispy exterior. Personally, this is my favorite. I love that awesome contrast of soft and crispy, all in the same bite!
Serving Suggestions
I already mentioned Lasagna Soup and Pizza Soup at the beginning of this post, but I also have a few more ideas for you. You just can't go wrong with any of these recipes!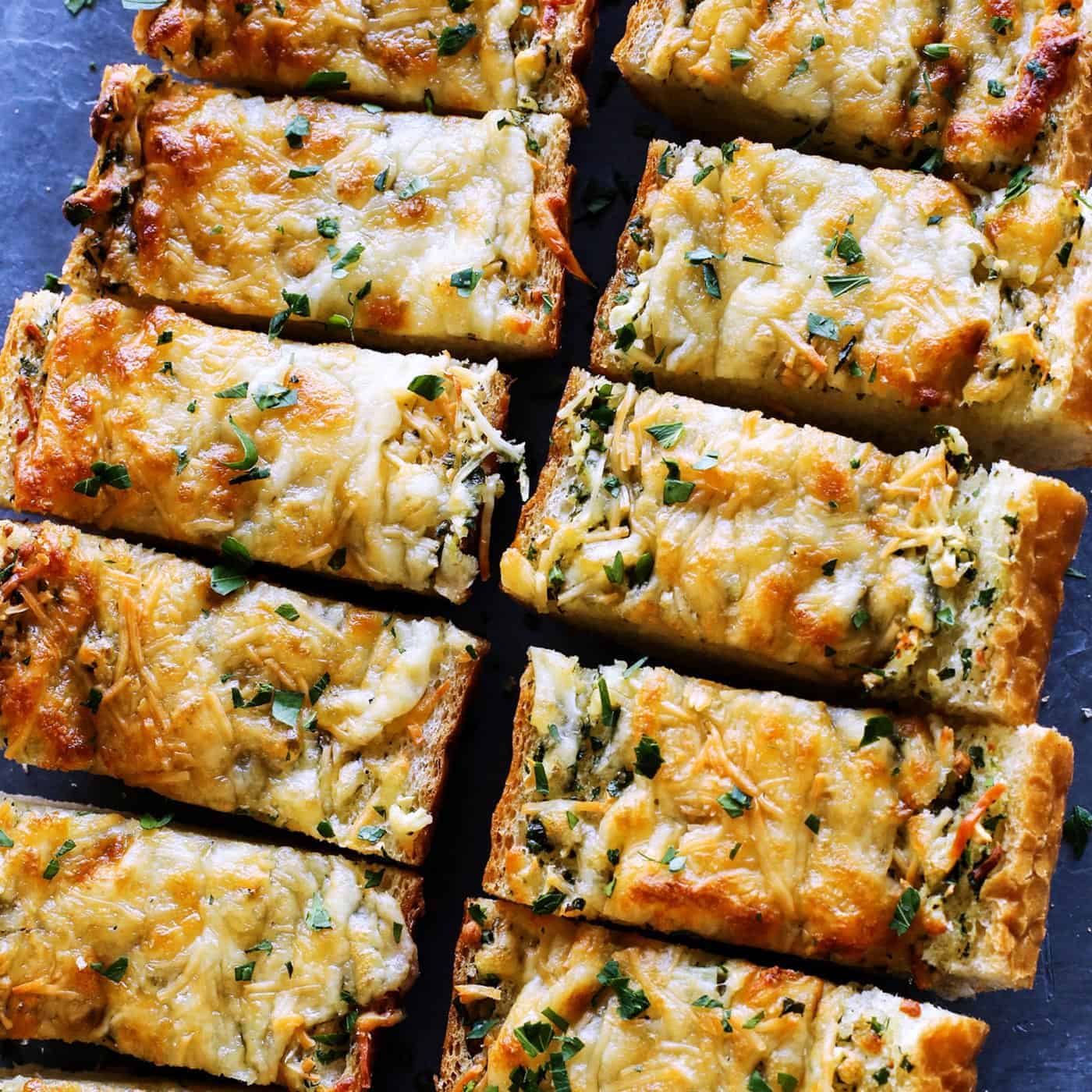 Want to Make Some Ahead and Freeze It?
I'm always in favor of storing food away in the freezer for an easy meal in the future. And this recipe works awesome!
For a 1-pound loaf, I often cut the loaf into 2 or 3 equal lengths. Then I bake one length for our current meal and stick the other one or two in the freezer for later.
Here's what I do with garlic bread I plan to freeze:
Follow the recipe through spreading the garlic butter spread onto the bread.
Place bread pieces you want to freeze on a baking sheet. Freeze for 1 hour.
Wrap each of the halves separately in plastic wrap, followed by foil. Then place in a plastic baggie. (Save the original bread bag and use that!)
Freeze for up to 3 months.
When ready to use, remove foil and plastic wrap and place bread pieces on a foil-lined baking sheet. Let rest on counter while oven preheats to 400° Fahrenheit.
Top with shredded mozzarella and Parmesan.
Bake according to original recipe instructions.
Like this recipe? Save it to Pinterest!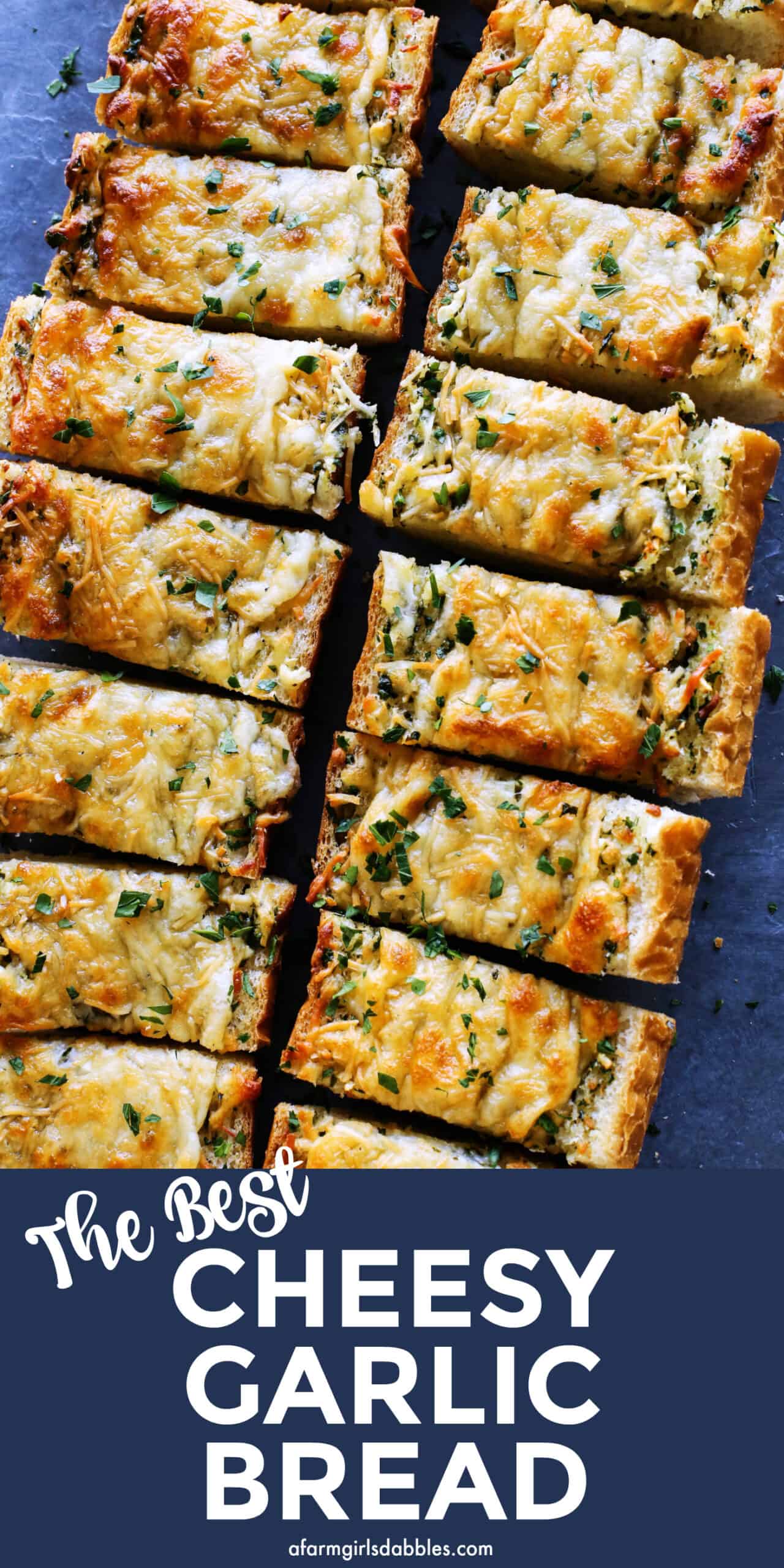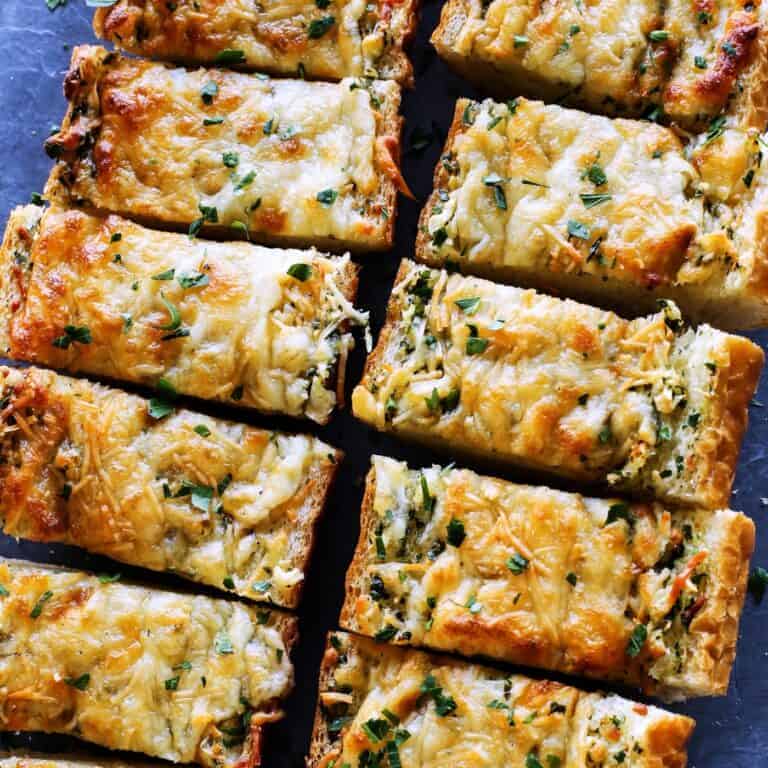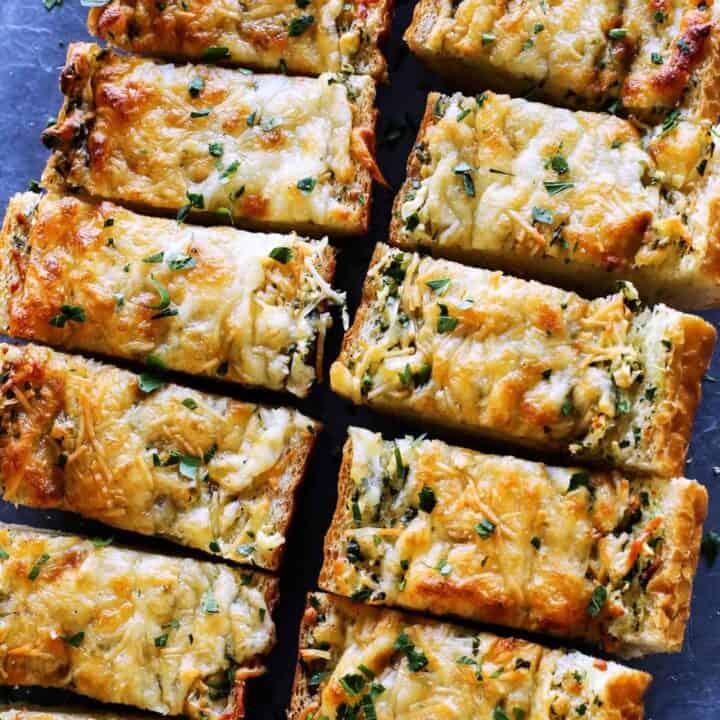 Cheesy Garlic Bread
Yield: 12 servings
Prep Time: 10 minutes
Cook Time: 20 minutes
Total Time: 30 minutes
An easy recipe with big-time results! This buttery toasted bread is soft on the inside and crispy on the outside. Absolute perfection!
Ingredients
1 16-ounce loaf soft French or Italian bread, sliced in half horizontally
1/2 c. unsalted butter, softened
6 large cloves garlic, minced
3 T. finely chopped fresh parsley, divided
1/4 tsp. kosher salt
1/4 tsp. black pepper
6 oz. (about 1-1/2 cups) shredded mozzarella cheese - use shredded whole milk mozzarella if you can find it!
2 oz. (about 1/2 cup) shredded Parmesan cheese
Instructions
Preheat oven to 400° F. Line a large baking sheet with foil - or simply use a long piece of foil set on a baking sheet for stability. Place bread halves on foil, cut sides up.
In a small bowl, combine butter, garlic, 2 tablespoons of the parsley, salt, and pepper. Evenly spread this mixture over cut sides of both bread halves. Be sure to spread right up to the edges, for ultimate buttery crispiness. Top with mozzarella and Parmesan.
*For bread that is soft-on-the-inside and crispy-on-the-outside, bake UNCOVERED for about 20 minutes, or until cheese is melted to your liking. Broil for a minute or two for a more golden and crispy topping. *For bread that is soft on the inside and outside, bake COVERED for about 20 minutes. Simply tent the foil over the bread halves to create a loose packet, taking care to keep the foil away from the cheese.
Slice into desired sized pieces and sprinkle with remaining tablespoon of parsley. Serve hot.
Notes
from a farmgirl's dabbles
Nutrition Information:
Yield: 12
Serving Size: 1
Amount Per Serving:
Calories: 226
Total Fat: 13g
Saturated Fat: 7g
Trans Fat: 0g
Unsaturated Fat: 5g
Cholesterol: 34mg
Sodium: 377mg
Carbohydrates: 20g
Fiber: 1g
Sugar: 1g
Protein: 7g
Nutrition information is automatically calculated by Nutritionix. I am not a nutritionist and cannot guarantee accuracy. If your health depends on nutrition information, please calculate again with your own favorite calculator.