Lasagna Stuffed Peppers
Lasagna Stuffed Peppers – I'm shaking up the traditional lasagna package with these cheesy baked bell peppers. This dish is hearty, pretty, and so fun to serve!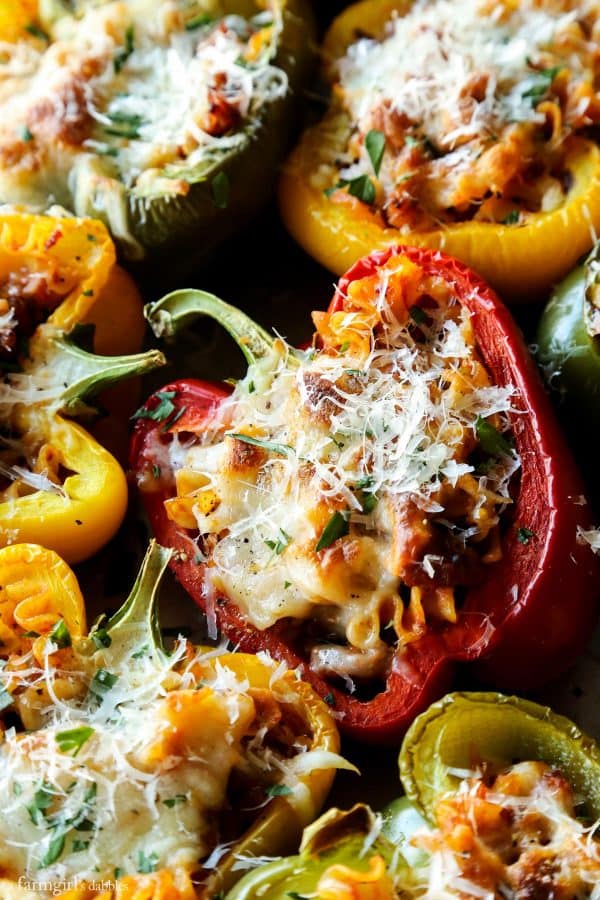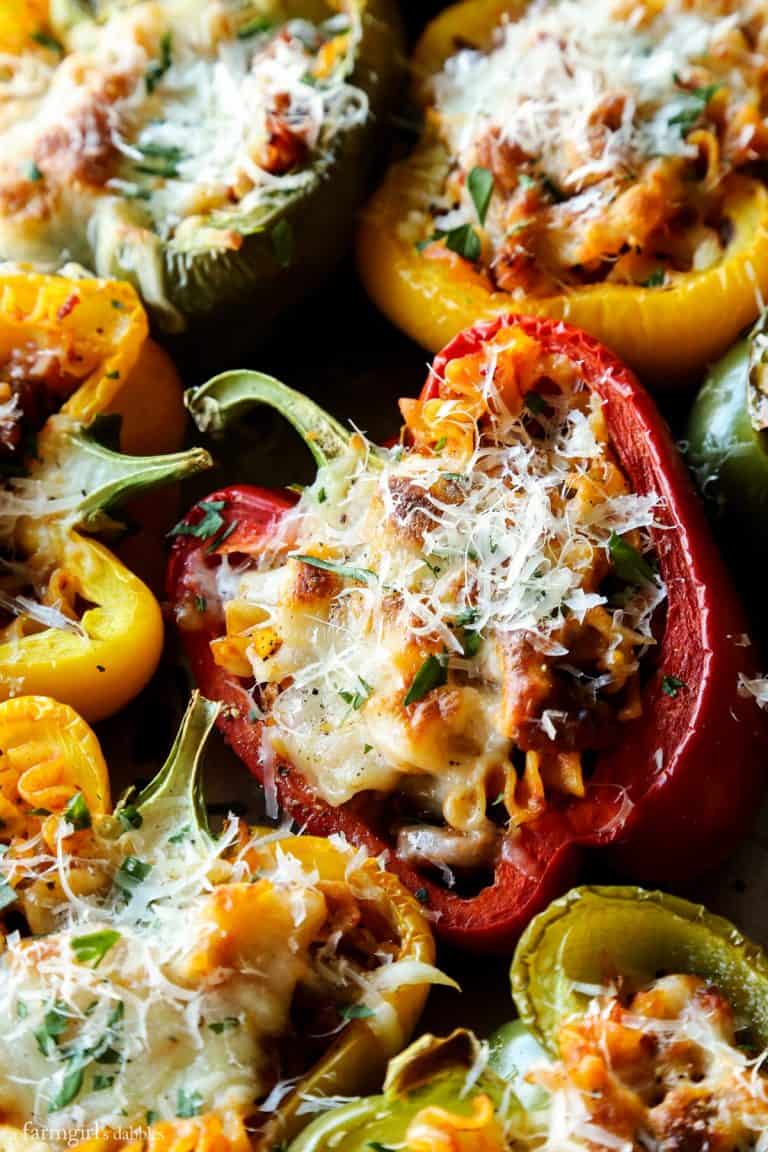 You know me. I like to shake up the traditional lasagna package by featuring those crave-worthy flavors in a variety of forms:
Lasagna Soup: it's pretty deliciously famous > have you tried it yet?!
And now I'm sharing with you this incredibly tasty recipe for Lasagna Stuffed Peppers. This dish is hearty, fun to serve, and so very pretty. It's an excellent main dish alongside a fresh green salad!
* This is a sponsored post, created in partnership with the American Dairy Association Mideast (ADA Mideast).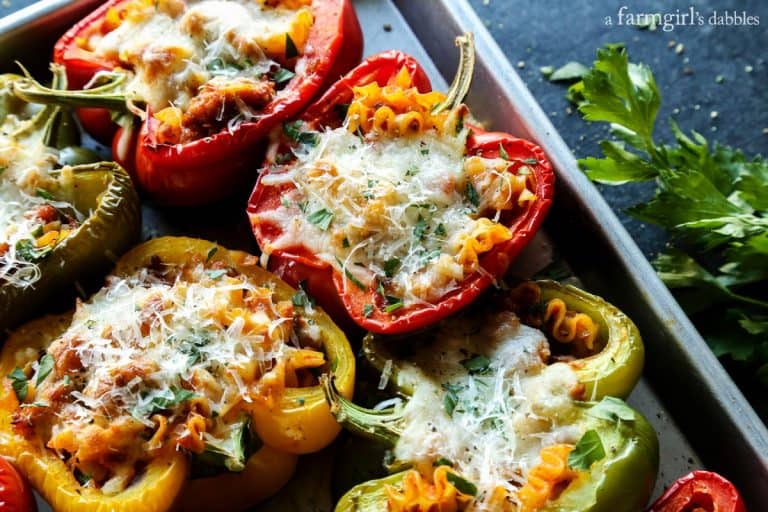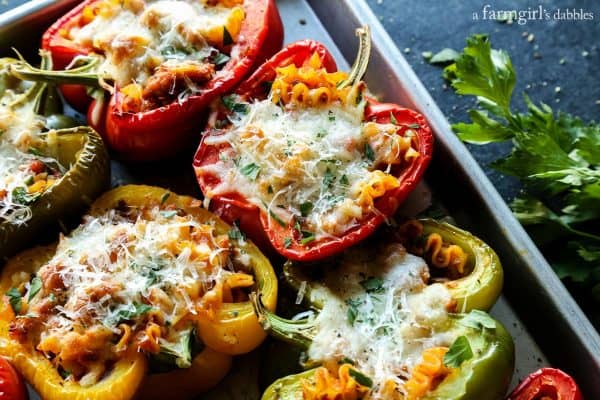 The holiday season is always an especially wonderful time of year to gather friends and family to share a meal. With Christmas music on, lights twinkling from the tree, and a platter of sweets tempting us with every pass by the buffet, these moments are filled with sparkly comfort.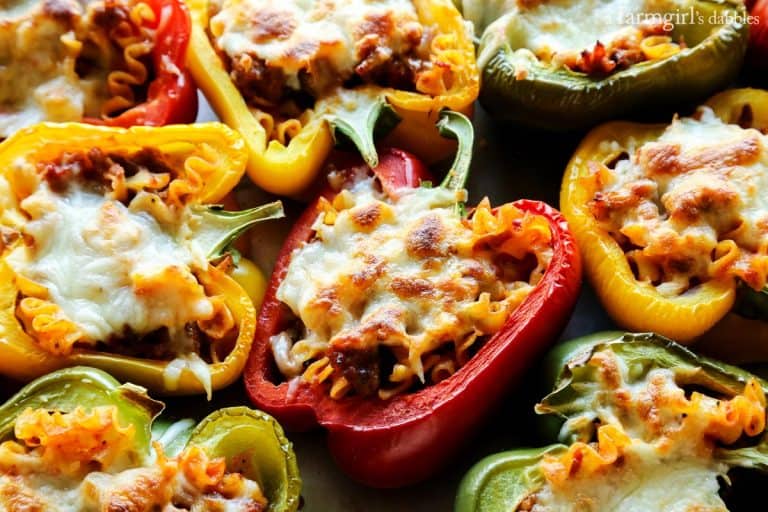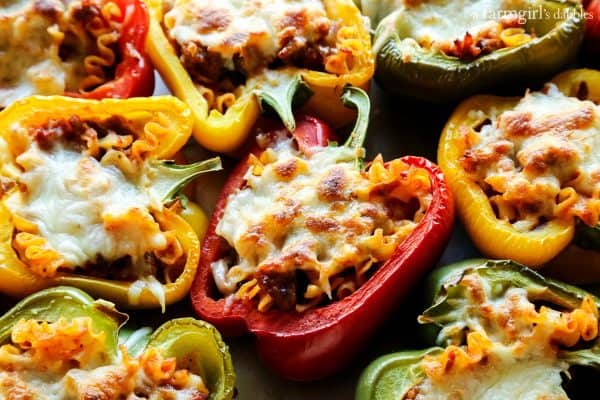 Dairy foods play a big part in my family's everyday life. We serve milk at nearly every meal. And a variety of cheeses and yogurts are always at the ready for meals and snacks.
Did you know?
Milk is rich in high-quality protein and essential nutrients, and nutritionists recommend three 8-ounce servings a day. This equals about a gallon each week. But 46 million Americans – including 12 million children – only get on average 1 gallon of milk ALL YEAR.
Milk is the No. 1 nutritious product requested by food bank clients, but it is rarely donated. You can help families in-need, with a donation any time of year, plus the annual Great American Milk Drive. This event delivers thousands of gallons of milk to families who would otherwise go without. For more information, visit MilkLife.com/give.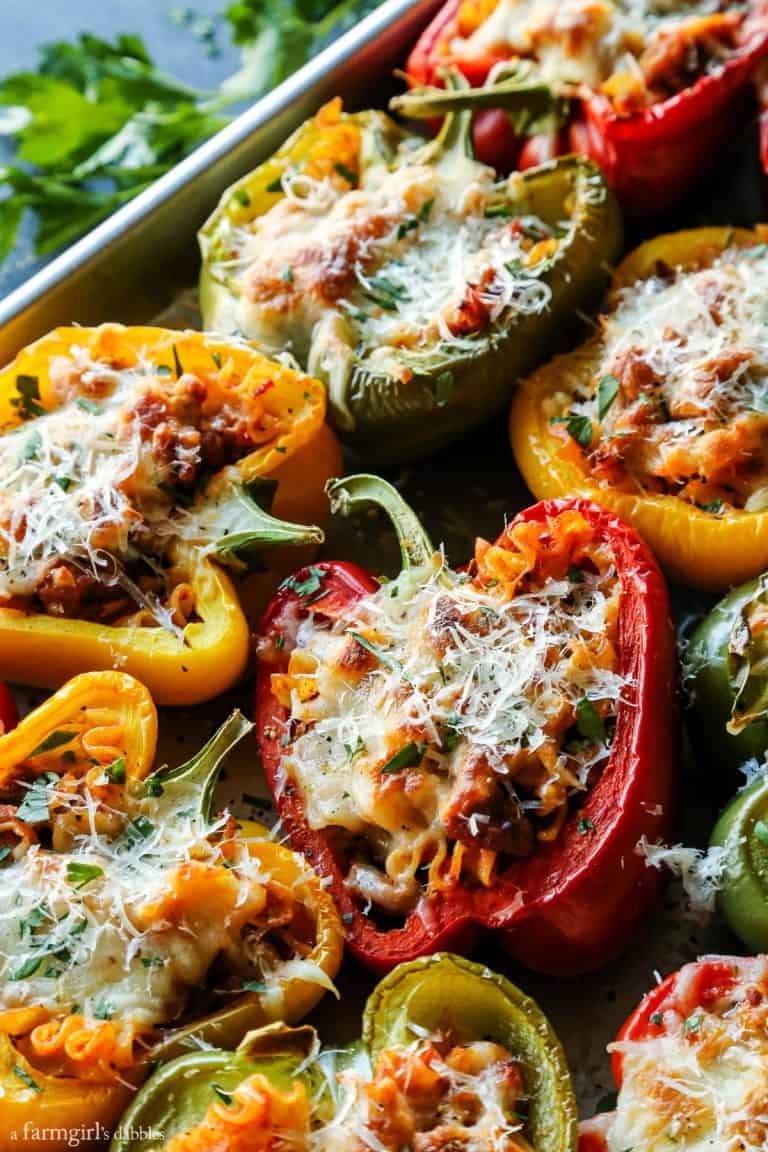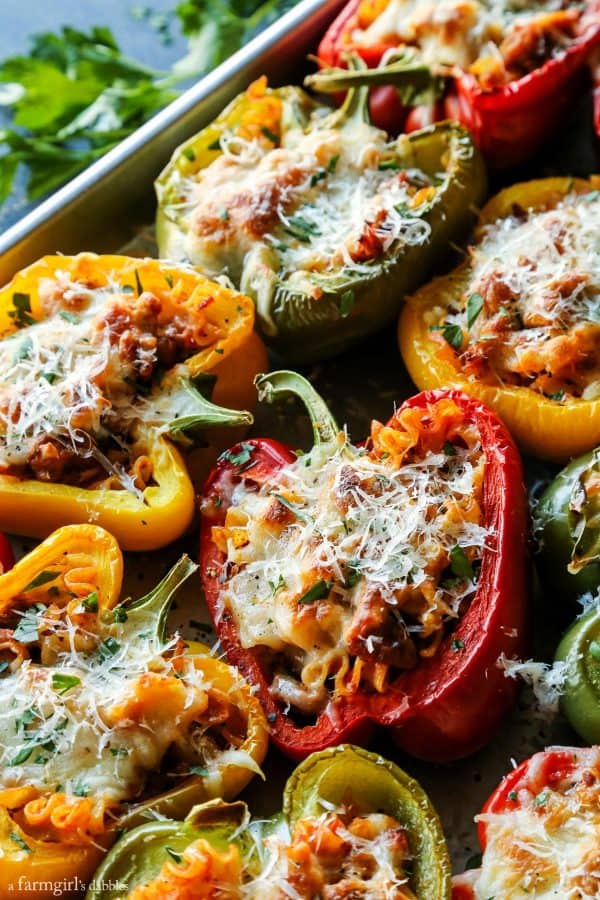 Cheesy Lasagna Stuffed Peppers
There's just something about cheese that makes everyone happy. When melted, all gooey and chewy from the oven, its delicious playfulness is hard to resist.
There are three different kinds of cheese that play fantastically together in these stuffed peppers: mozzarella, Parmesan, and ricotta.
At the base: There's ricotta and Parmesan. These two cheeses combined add a contrasting, creamy element to the boldness of the lasagna mixture's marinara and Italian sausage.
In the center + over the top: Mozzarella is then layered with the lasagna mixture in the center. And then more is sprinkled over the top, ready for its moment under the broiler to show off its blistered beauty.
Over the top, right before serving: Finally, right before serving, a small wedge of Parmesan is grated over the top. It's the perfect finish!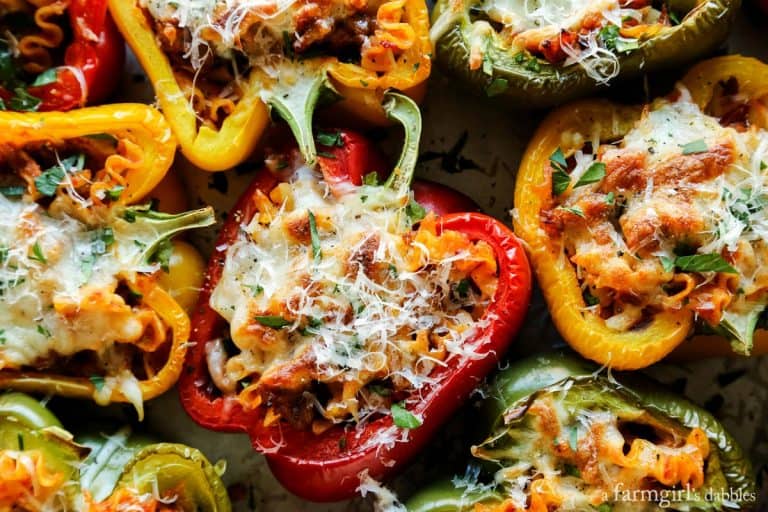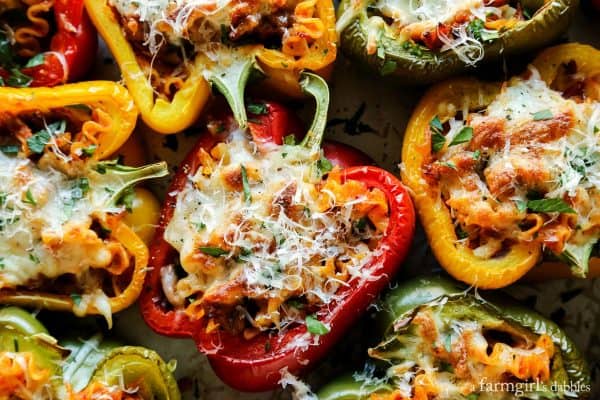 These peppers might seem just a little bit fancy. But they're just as welcome for a weeknight meal as they are for a holiday gathering.
Make these once, and I know you'll be making them forever.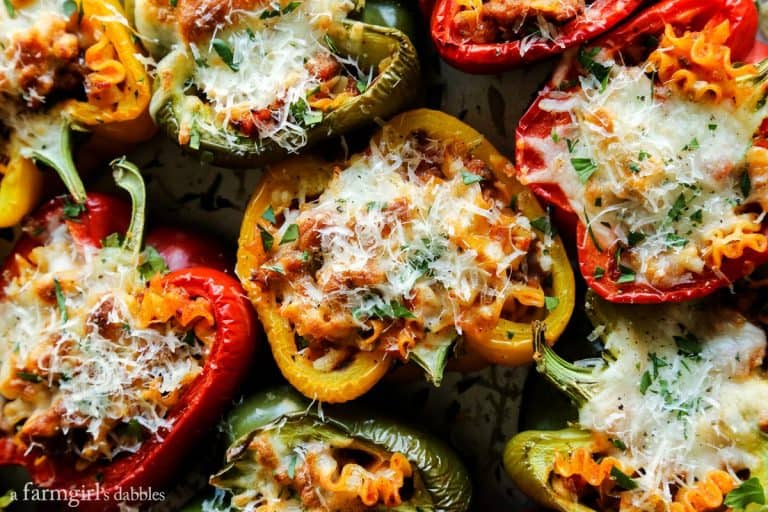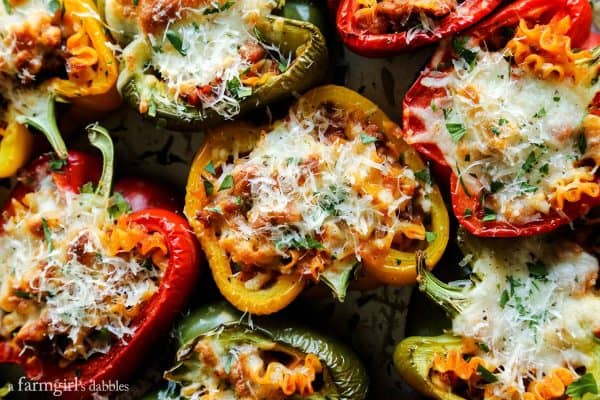 Like this recipe? Pin it!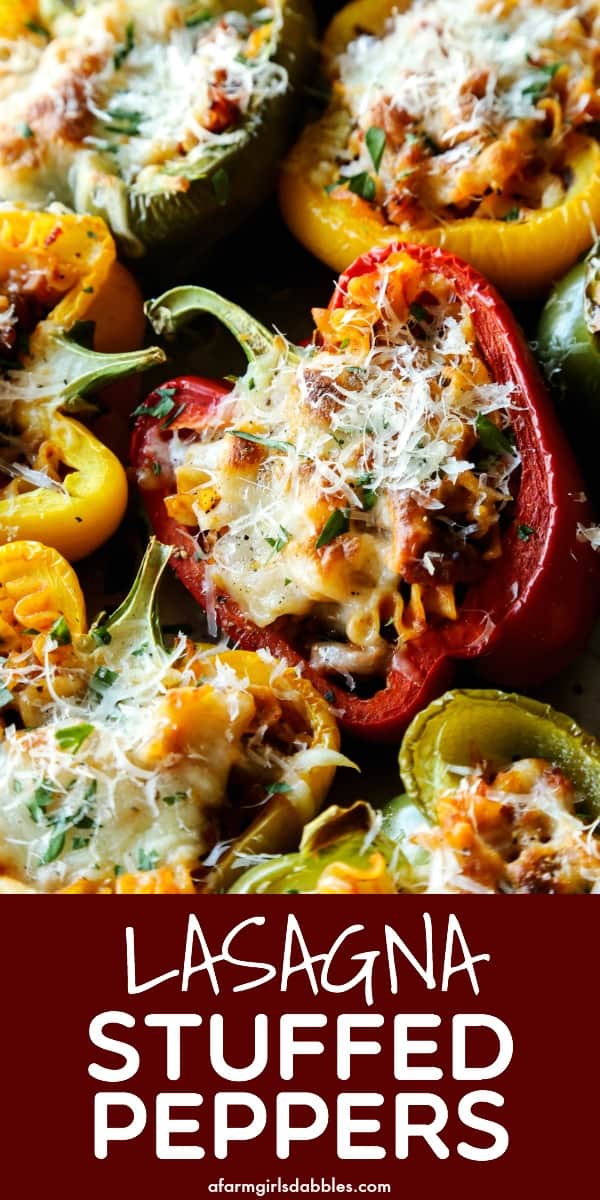 Here are a few more cheesy recipes you might like: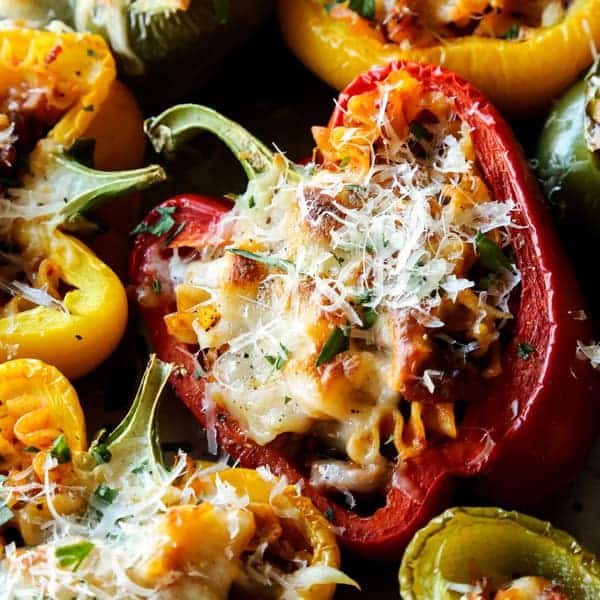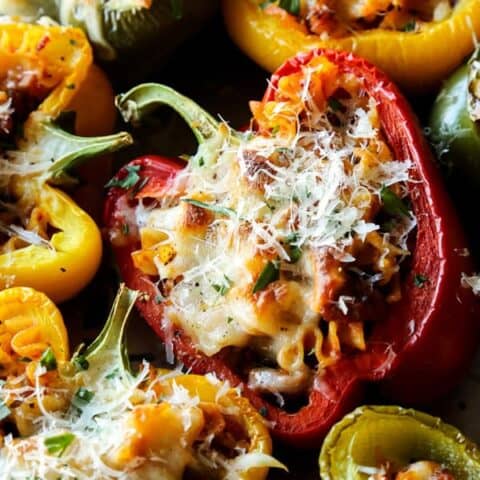 Lasagna Stuffed Peppers
Yield: 8 servings (2 pepper halves per serving)
Prep Time: 20 minutes
Cook Time: 55 minutes
Total Time: 1 hour 15 minutes
I'm shaking up the traditional lasagna package with these cheesy baked bell peppers. This dish is hearty, pretty, and so fun to serve!
Ingredients
8 large bell peppers, sliced in half through the stem, seeds and ribs removed
6 oz. mafalda pasta (small lasagna noodles)
16 oz. mild Italian sausage
1 small onion, diced
2 large garlic cloves, minced
2 c. your favorite marinara sauce (I recommend Trader Joe's Arrabiata Sauce, which has a little kick to it)
1 tsp. dried Italian herb mix
1/4 tsp. black pepper, divided
12 oz. shredded mozzarella cheese, divided
8 oz. ricotta cheese
1/2 c. grated Parmesan cheese
1/2 tsp. kosher salt
1 to 2 oz. Parmesan cheese wedge
chopped fresh parsley
Instructions
Preheat oven to 350° F.
Place halved peppers on a large rimmed pan, cut side up. Roast for 30 minutes, or just until nicely softened. Remove from oven. Leave oven at 350° F.
While peppers are roasting, cook mafalda pasta in salted water to just al dente. Drain and set aside.
Also, heat a large skillet over medium heat. Add sausage and let it brown, breaking it up into bite-size pieces with a spatula. When sausage is about half-way browned, add onion and garlic. Once sausage is browned and onion is softened, drain any excess oil from pan. Stir in marinara sauce, Italian herb mix, and 1/8 teaspoon of the black pepper. Fold in cooked pasta. Once thoroughly heated, turn off heat.
In a small bowl, combine ricotta cheese, grated Parmesan, kosher salt, and remaining 1/8 teaspoon black pepper.
Divide ricotta cheese mixture evenly into the bottoms of each of the roasted pepper halves, spreading just a bit. Top ricotta mixture with a layer of pasta/marinara mixture. Aim to use about half of the mixture, snuggling it into the nooks and crannies of the peppers. Then divide 4 ounces of the shredded mozzarella cheese over the top of the pasta/marinara mixture. Divide remaining pasta/marina mixture over the mozzarella cheese. Top with remaining 2 cups of mozzarella, dividing evenly among all the pepper halves. Tent very loosely with a large piece of foil, taking care to not let the foil touch the cheese - this will help any exposed noodles to not get hard and crunchy. Bake for 20 minutes. Remove foil and place baking sheet about 8" under broiler and broil until cheese is bubbly and golden and a bit blistered. Remove peppers from oven and let rest 5 minutes before serving. With a zester/grater, grate fresh Parmesan cheese over the top and sprinkle with chopped fresh parsley, if desired.
Notes
from a farmgirl's dabbles
Recommended Products
As an Amazon Associate and member of other affiliate programs, I earn from qualifying purchases.
Nutrition Information:
Yield: 8
Serving Size: 1
Amount Per Serving:
Calories: 503
Total Fat: 32g
Saturated Fat: 15g
Trans Fat: 0g
Unsaturated Fat: 17g
Cholesterol: 86mg
Sodium: 1410mg
Carbohydrates: 23g
Fiber: 3g
Sugar: 9g
Protein: 31g
.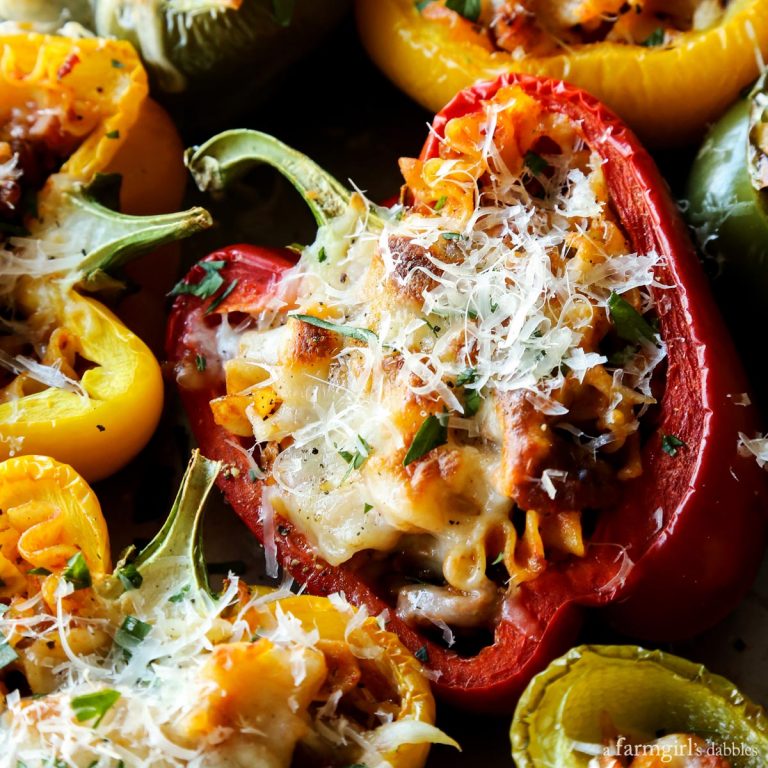 .


I traveled to Cleveland, Ohio as a guest of ADA Mideast to meet up with Ohio and West Virginia dairy farm families. These dairy farms raise more than 275,000 dairy cows on about 2,500 dairy farms. This averages around 645 million gallons of milk each year.
Want to learn more about Ohio and West Virginia dairy farmers? To follow their milk journey from farm to fridge, visit Drink-Milk.com.
Thank you to the American Dairy Association Mideast for sponsoring this post.