Slow Cooker Lasagna Soup with Chicken and Mushrooms
This Slow Cooker Lasagna Soup with Chicken and Mushrooms is a fun rendition of the very popular Lasagna Soup I originally shared with you a few years ago!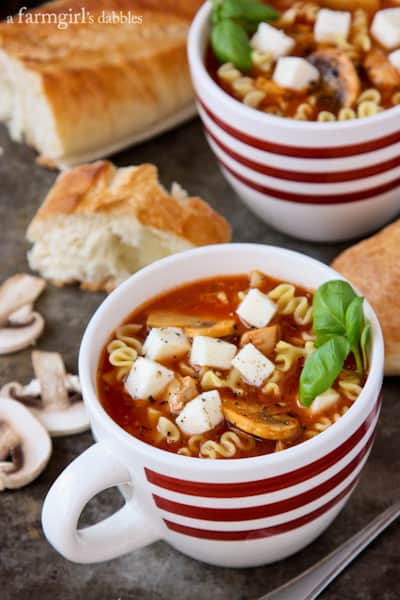 Finally.
After fielding many requests for a slow cooker version of the original Lasagna Soup recipe I shared with you a few years ago, I have one ready for you. I started working on this late last winter, and then lost my soul to the warm weather months and didn't pick it up again until this winter.
This Slow Cooker Lasagna Soup with Chicken and Mushrooms incorporates a number of changes and/or substitutions that you've been asking about… Can I use something besides Italian sausage? Would chicken work? Do you really use three cups of chopped onions, or is that a typo? What if I don't like ricotta cheese? But mostly… Can I make this in a slow cooker?
Yes.
Yes, you can. And here's how…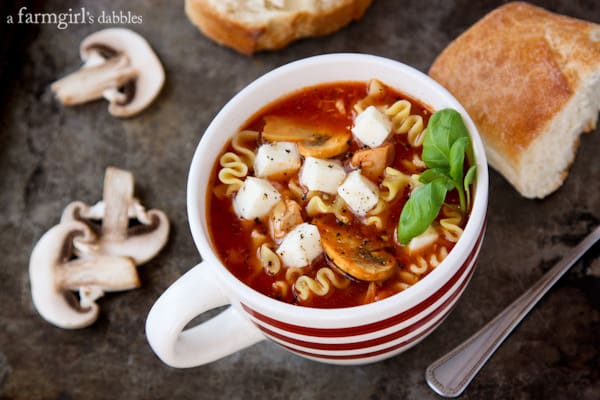 Even though I completely adore the Italian sausage used in the original recipe, I knew that the next version needed to incorporate a substitute. And that meant needing to add in quite a bit more flavor, because the sausage gives the soup an extra punch that makes it irresistible to me. You'll find an increase in dried herbs and spices, plus sun-dried tomatoes and a good dose of fresh sliced mushrooms. I could eat sun-dried tomatoes and mushrooms for almost every meal of every day, and find their presence always lovely in both flavor and texture. Looking for lasagna soup that's completely vegetarian? Check out my friend Heidi's version.
And, if you were wondering…three cups of chopped onions is correct. I know it seems like alot, but the recipe makes a large batch. The soup is not strong in onion flavor. It's just good and flavorful, and I'm sure the onions play a big part there.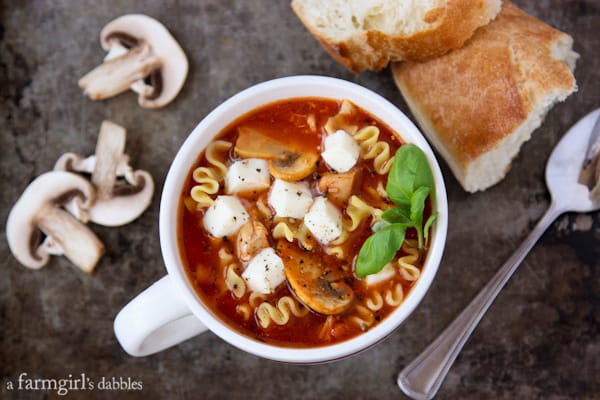 The main thing to remember about the noodles, whether you're making the original stovetop version of this soup, or this new slow cooker version, is to not add the noodles to the soup until you are ready to serve it. Cook the noodles separately and then add them to individual bowls, with hot soup ladled over the top. This will keep the noodles in al dente form, especially if you have any leftovers. If the noodles are incorporated into the soup and then stored as leftovers, the noodles will break down and get mushy. It's really not desirable at all.
The other major change I incorporated was switching out the original version's awesome "cheesy yum", a mixture of ricotta and Parmesan. A dollop is added to each individual bowl of soup, yielding a super flavorful cheesy concoction that layers on more wonderful lasagna flavor. I love it. But our youngest daughter, plus a number of other readers, voiced how they don't like ricotta…and they wondered if there was a substitute, something equally fun and cheesy. So this slow cooker version suggests adding cubes of fresh mozzarella instead, a favorite ingredient of the Chicken Tortilla Soup my family loves. Once the mozzarella gets cozied up in the warm bowl of soup, it gets all gooey and chewy. For all you ricotta naysayers, this mozzarella plus a bit of freshly shaved Parmesan surely does the trick!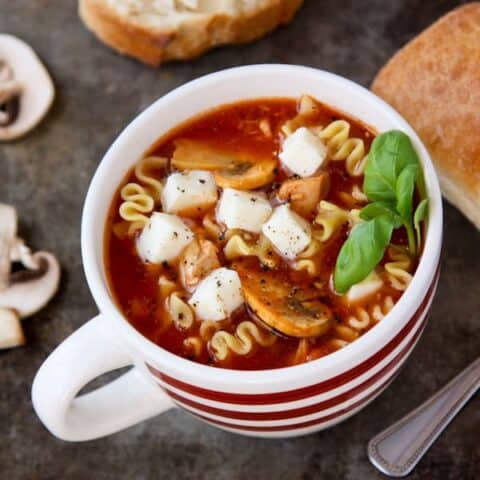 Slow Cooker Lasagna Soup with Chicken and Mushrooms
Yield: 10 to 12 servings
Prep Time: 20 minutes
Cook Time: 4 hours
Total Time: 4 hours 20 minutes
This Slow Cooker Lasagna Soup with Chicken and Mushrooms is a fun rendition of the very popular Lasagna Soup I originally shared with you a few years ago!
Ingredients
for the lasagna soup:
3 lbs. boneless skinless chicken breasts and/or thighs, with breasts cut into 2" to 3" pieces
3 c. chopped onions
16 oz. sliced mushrooms
1 c. chopped sun-dried tomatoes
4 large garlic cloves, minced
2 tsp. dried oregano
1 tsp. dried parsley
1 tsp. dried thyme
1/2 tsp. paprika
1/4 tsp. crushed red pepper flakes
1/4 tsp. cayenne
2 bay leaves
6 c. chicken stock
1 28-oz. can diced tomatoes
1 28-oz. can tomato sauce
2 to 3 T. tomato paste, to taste
1 to 3 T. brown sugar, to taste
kosher salt and black pepper, to taste
to finish the soup:
8 oz. mafalda or fusilli pasta
1/2 c. finely chopped fresh basil leaves
fresh mozzarella, cut into 1/2" cubes (or substitute "Cheesy Yum" from original Lasagna Soup recipe)
additional salt and freshly ground black pepper, to taste
freshly shaved Parmesan, optional
Instructions
* Please note that this recipe makes a large batch of soup. You will need a large slow cooker. My Cuisinart Multicooker has a 7-quart capacity and gets pretty full, with this soup recipe totaling about 5 quarts.
Add chicken pieces to slow cooker. Then add lasagna soup ingredients, onions through salt and pepper. Stir gently to incorporate, cover, and cook on low for 4 to 5 hours, until chicken is cooked and tender. Remove chicken pieces to a cutting board and chop into bite sized pieces, or use two forks to shred. Return chicken back to slow cooker. Taste and then season with additional kosher salt and black pepper if needed.
About 20 minutes prior to serving, cook the pasta in a pot on the stovetop. Add pasta to a pot of boiling water with 1 tablespoon of salt added. Cook just until al dente. Do not overcook. Drain, return pasta to pot, and cover to keep warm.
To serve, ladle hot soup into bowls. Stir in some of the pasta and fresh basil. Top with fresh mozzarella cubes. Finish with freshly ground black pepper and fresh Parmesan, if desired. Serve with warm fresh bread.
Notes
from a farmgirl's dabbles
Nutrition Information:
Yield: 12
Serving Size: 1
Amount Per Serving:
Calories: 434
Total Fat: 11g
Saturated Fat: 4g
Trans Fat: 0g
Unsaturated Fat: 6g
Cholesterol: 122mg
Sodium: 932mg
Carbohydrates: 36g
Fiber: 6g
Sugar: 15g
Protein: 49g
Nutrition information is automatically calculated by Nutritionix. I am not a nutritionist and cannot guarantee accuracy. If your health depends on nutrition information, please calculate again with your own favorite calculator.