Lemon Chicken Tortellini Soup with Dill
My family has fallen for this Lemon Chicken Tortellini Soup with Dill. What's not to like about soft cheesy puffs of pasta swimming in a warm, bright lemony broth?!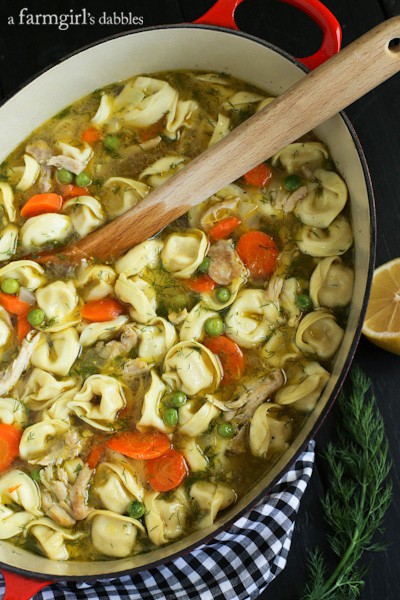 Our youngest daughter could be forever happily satisfied with meals consisting only of a grilled cheese sandwich, a cheese roll-up (cheese melted in a rolled up tortilla), and pastas with melted butter and a sprinkle of Parmesan. I expect that's pretty similar to alot of kids' meal requests. So when I was craving a big pot of soup this past week (brrrrrrr…it's been cold!), I aimed to please this sweet kid, first and foremost. Blake and I will gladly welcome most any bowl of soup, but it takes a little more effort to find one that Tessa will ask for a second helping of.
Number one, I knew this new soup recipe needed to include pasta. And one stuffed with cheese surely couldn't be a bad idea. Then I just kept adding ingredients that Tessa likes…chicken, peas, carrots. And lemon. Oh, how our girl loves a lemon's sweet and tart qualities. This Lemon Chicken Tortellini Soup with Dill is all about our Tessa. Well, not really the dill part. That's all about me. ;)
[rss-cut]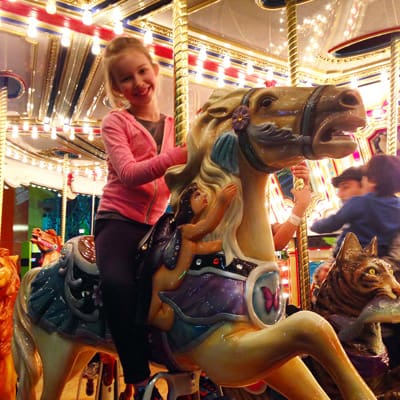 This past weekend was filled with all kinds of good stuff. Not that our oldest daughter's basketball schedule the past few months hasn't been good, too, but it has somewhat monopolized our weekends, leaving little time or desire to do much else. With no tournament last weekend, we were free to make some other plans.
Friday evening we headed to the Mall of America and let the girls ride at Nickelodeon Universe for awhile, using up soon-to-expire wristbands. There were lots of families there, all with the same idea to escape winter for awhile with an evening of warm indoor fun.
I wonder if our Tessa will ever tire of riding the carousel. She wants to be a cowgirl with her own pinto when she grows up, so it only makes sense. If you caught some of my Instagram photos last spring/summer/fall, you know that Tessa took riding lessons. She was in heaven, loving every single minute spent with dark-maned Rio. Didn't even flinch when Ms. Jenny, her wonderful instructor, demonstrated how to clean up after Rio with a shovel and how to clean out his packed hooves. Tessa took right to it, so proud to be caring for this beautiful gentle animal. I imagine she was dreaming she was riding Rio as the carousel circled, tinkly music playing overhead.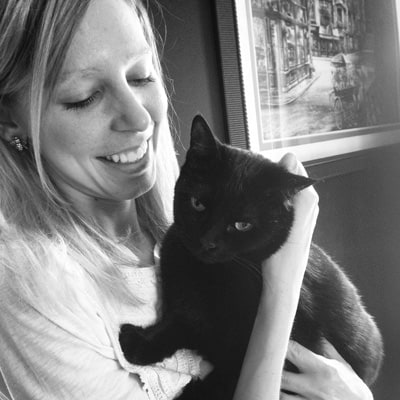 Saturday morning had me brunching with girlfriends, local food bloggers. Amanda hosted, along with her sweet black-as-the-night feline, Grace. It was an intimate little gathering, with Melissa, Stephanie, Laurie, and myself gathered in Amanda's kitchen, where, if you stretch your neck out her third floor screen door, you can catch a glimpse of the majestic Cathedral of St. Paul.
We talked blogging (mostly social media), simplifying (it seems that Laurie and I are dealing with way too many kids' toys), and wallpaper and tile and lights and faucets (Melissa and her husband are building the #thefauxhouse), while noshing on light and crispy buckwheat waffles topped with yogurt and homemade jam, plus irresistible double-smoked, thick-cut bacon from Hagberg's (bacon so good that Melissa has now professed her newfound love for bacon!). It was a most lovely way to kick off a Saturday.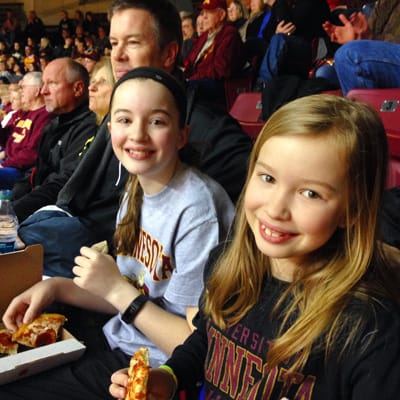 Then my family headed to Williams Arena, where we attended our first Gopher women's basketball game. What a game! The Gophers pulled out a win in a double overtime, 91-88. It was loud and crazy and so much fun!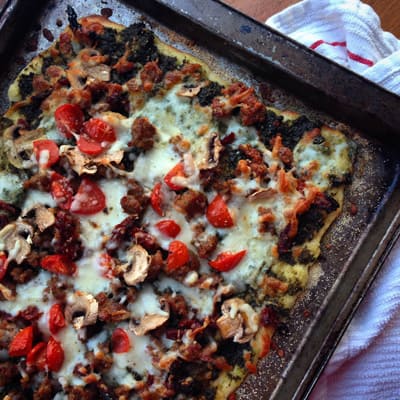 Sunday was much more quiet, with church and a short stop at Kowalski's to pick up a few groceries. The girls chose our menu for the evening: homemade pizzas and chocolate banana malts with a swirl of chocolate magic shell bits. So yum!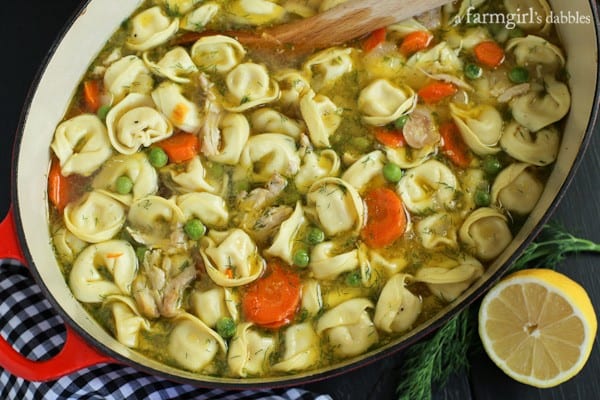 Enough with the weekend. Back to the soup!
This lemon chicken tortellini soup was a huge hit with every single one of us. Most importantly, Tessa approved whole heartedly, asking for a second bowl. All the flavors work so well together. The soft puffs of cheesy tortellini are just the perfect match for bites of tender shredded chicken thighs, swimming in a warm, bright lemony broth. I held back on adding more dill to the pot, as our girls are not too keen on a strong dose of it. So I kept some extra on the side for my own additional sprinkling. If you really like dill, this would be an excellent soup to go crazy with it.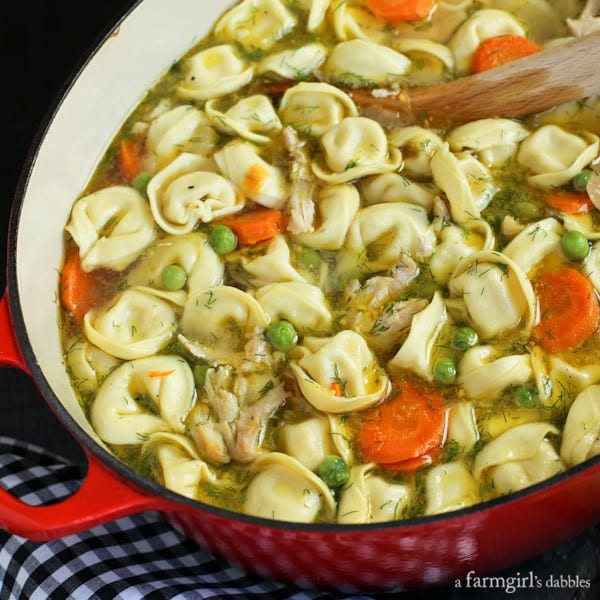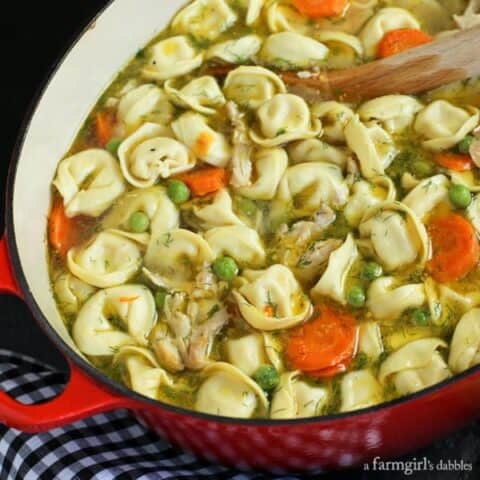 Lemon Chicken Tortellini Soup with Dill
Yield: 12 to 15 servings
Prep Time: 20 minutes
Cook Time: 1 hour 5 minutes
Total Time: 1 hour 25 minutes
My family has fallen for this Lemon Chicken Tortellini Soup with Dill. What's not to like about soft cheesy puffs of pasta swimming in a warm, bright lemony broth?!
Ingredients
2 T. olive oil
1.75 lbs. skinless, boneless chicken thighs
kosher salt
freshly ground black pepper
2 T. unsalted butter
6 large carrots, peeled and thinly sliced diagonally
1 large yellow onion, diced
4 cloves garlic, minced
10 c. low sodium chicken stock
20 oz. tortellini pasta with cheese
2 c. frozen peas
juice and zest of 1 lemon
1 T. chopped fresh dill (Add more if you really like dill!)
Instructions
*** Note that this recipe is quite large and you will need a good sized pot to make this soup. This recipe is great for serving a large group meal. However, if you desire less, simply divide the recipe in half.
Heat a very large pot (I used a 6-3/4 quart oval Le Creuset French Oven) over medium to medium-high heat. Add olive oil. Once olive oil is hot, add whole chicken thighs, seasoned on both sides with salt and pepper. Cook chicken for 20 to 25 minutes total, turning periodically to cook evenly and thoroughly, until chicken is no longer pink in the middle. Transfer chicken to a plate. Once it has cooled a bit, shred the chicken on a cutting board, using two forks. Set aside.
Using the same large pot, turn heat down just a bit to medium. Add butter to drippings in pot. Once melted, add carrots and onion. Stir occasionally, cooking until softened a bit, about 8 minutes. Then stir in the garlic and cook for 2 more minutes. Add chicken stock and bring to a boil. Turn heat down to low, cover the pot, and simmer for 20 minutes.
If you are planning to eat all the soup in one sitting, add all of the tortellini now. If you plan to have leftovers, only add as much tortellini as you think you will eat. Otherwise the noodles soak up the broth, get mushy, and break down from sitting in the refrigerator overnight. Alternatively, you could cook the tortellini separately according to the package directions, drain, and reserve them. And then just add the cooked tortellini to the warmed soup before serving.
Add peas and shredded chicken. Cover the pot and simmer for about 8 minutes, or until tortellini is tender. Stir in lemon juice and zest. Taste and season with additional salt and pepper. Stir in dill and serve immediately.
Notes
from a farmgirl's dabbles
Nutrition Information:
Yield: 15
Serving Size: 1
Amount Per Serving:
Calories: 290
Total Fat: 11g
Saturated Fat: 4g
Trans Fat: 0g
Unsaturated Fat: 6g
Cholesterol: 86mg
Sodium: 704mg
Carbohydrates: 27g
Fiber: 3g
Sugar: 5g
Protein: 22g
Nutrition information is automatically calculated by Nutritionix. I am not a nutritionist and cannot guarantee accuracy. If your health depends on nutrition information, please calculate again with your own favorite calculator.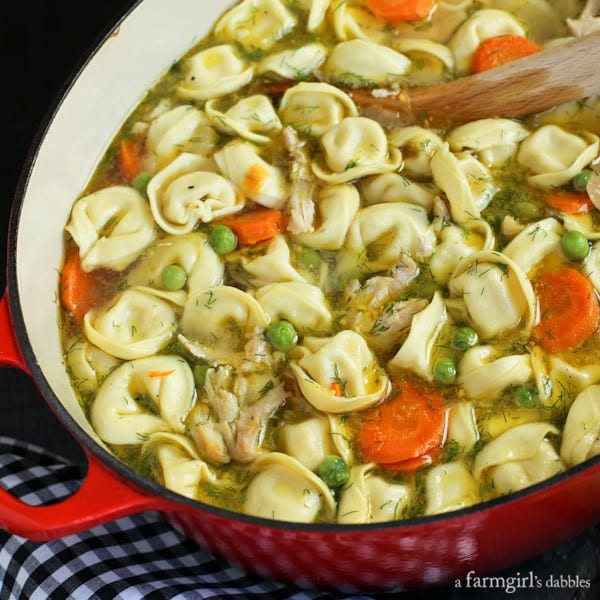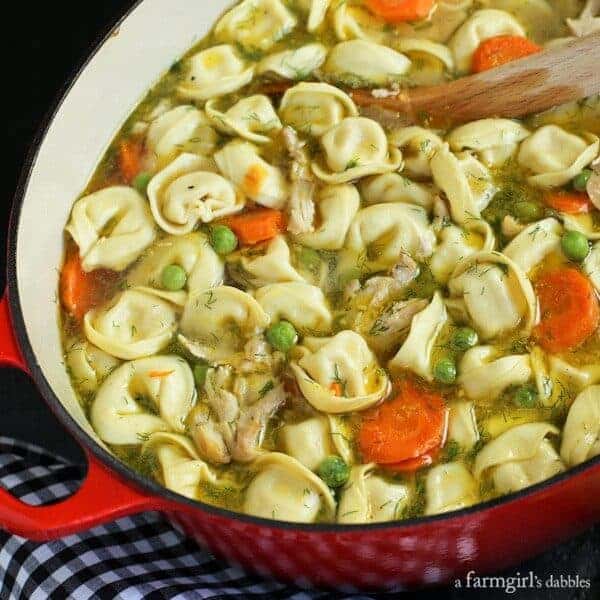 Disclosure: This post contains an affiliate link.