Italian Chicken Sausage Soup with White Beans
Is winter leaving you chilled? Set a pot of this Italian Chicken Sausage Soup with White Beans on the stove and let it warm you up.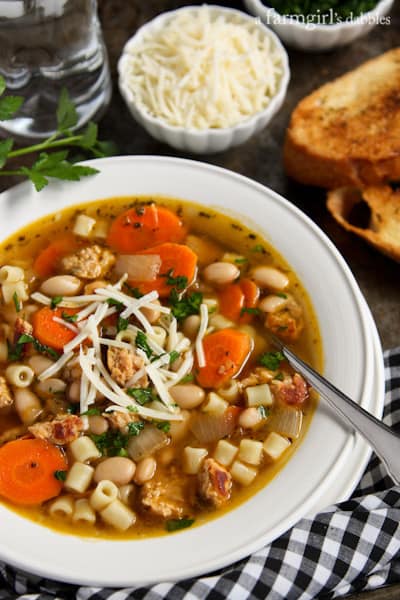 Homemade Italian Sausage Soup
Winter came early this year to the Midwest, and it's not messing around. It feels like some kind of cruel joke to already have had several snowfalls and a couple weeks of donning our fleece hats, gloves, and warm-your-toes Sorels – especially knowing that it's not even Thanksgiving yet. After enduring the wrath of last year's extremely cold temps, I'm just not ready to go through this all again so soon!
But, adapt, we will. We'll let the fireplace and long hot baths dispel our chills, after shoveling the driveway and sledding down hills. There'll be pots of coffee. And small hands wrapped around mugs of hot chocolate brimming with marshmallows, too many to count.
And soup. There will be many bowls of steaming, fragrant, delicious soup. Won't you join me in toasting some buttery garlic bread and putting a pot of this Italian Chicken Sausage Soup with White Beans on the stove?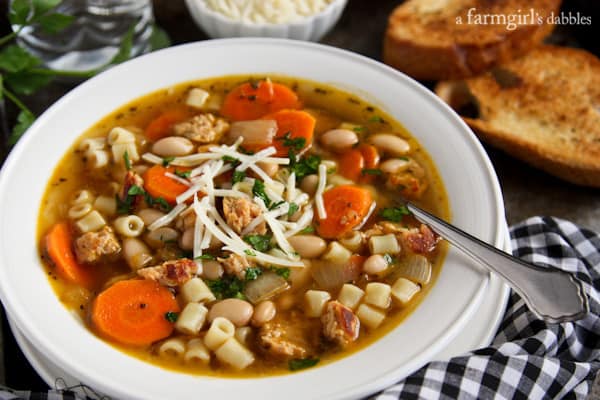 My goal when creating this recipe was to end up with a beautiful pot of Italian wedding-esque soup. A soup so irresistible that my husband would return to the simmering pot without thinking, to ladle second and third helpings into his bowl. He's a soup man, through and through.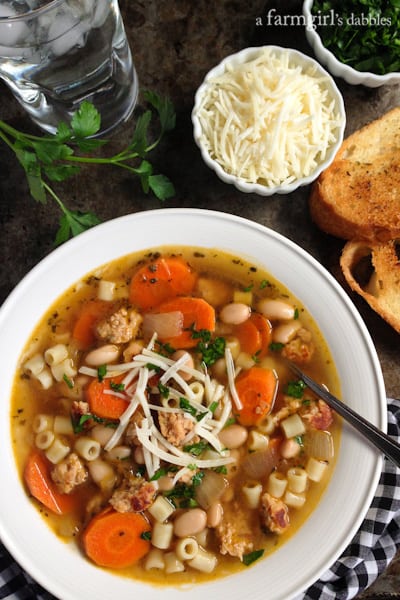 I knew I had accomplished what I had set out to achieve, just a few spoonfuls in. Blake looked up from his bowl of chicken sausage soup and said, "This is good. This is really good."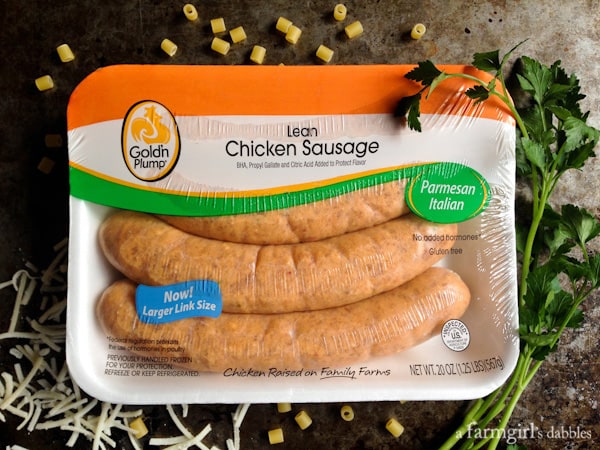 This soup gets most of its texture and flavor from Gold'n Plump Parmesan Italian Chicken Sausage. The chicken sausage is wonderfully flavored with Italian herbs and Parmesan cheese. It's super lean and incredibly versatile. After browning the chicken sausage, there wasn't any amount of fat left in the pan. Perfect for this nourishing pot of soup.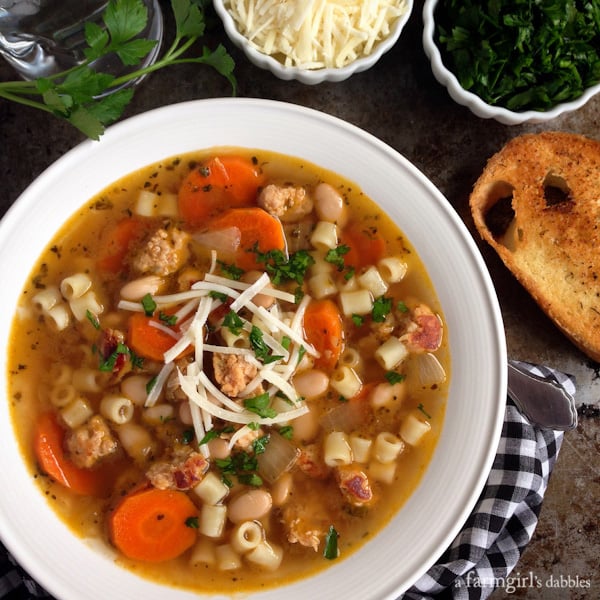 I love big carrot coin slices in chicken soup. It reminds me of Mom's homemade chicken noodle soup, the best in the world. Add to the carrots some white beans and fun little tubes of ditalini pasta, and you have yourself one delicious pot of hearty and healthy Italian chicken sausage soup.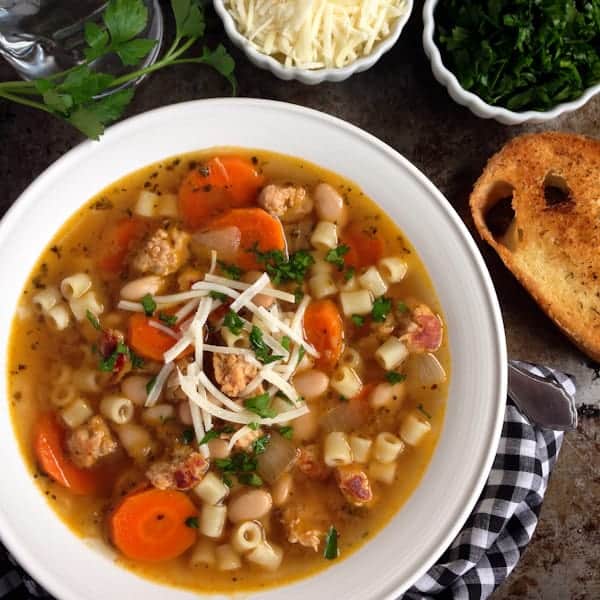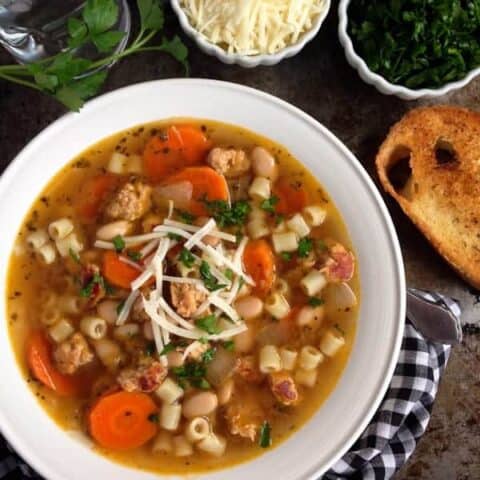 Italian Chicken Sausage Soup with White Beans
Yield: 12
Prep Time: 20 minutes
Cook Time: 30 minutes
Total Time: 50 minutes
Is winter leaving you chilled? Set a pot of this Italian Chicken Sausage Soup on the stove and let it warm you up.
Ingredients
2 T. olive oil
2 T. unsalted butter
1 large yellow onion, chopped
2 c. thinly slice carrots
4 large garlic cloves, minced
1-1/2 c. white wine
2 qts. low sodium chicken stock
1 15-oz. can white beans (navy, Great Northern, or cannellini), rinsed and drained
1/2 tsp. white pepper
2 bay leaves
1 tsp. dried thyme
1 tsp. dried oregano
1 tsp. dried basil
1 to 2 T. soy sauce
1/2 to 1 tsp. kosher salt
1/3 c. chopped fresh parsley
1/2 c. freshly grated Parmesan cheese
Instructions
Cook ditalini in salted water just until al dente, according to package directions. Drain and set aside.
While pasta is cooking, heat olive oil over medium to medium-high heat in a large pot with a thick bottom. With a sharp knife, slice the chicken sausages lengthwise down one side; remove casings and discard. Add chicken meat to pot, breaking it up into smaller bite-size pieces, stirring every couple minutes. Once chicken is cooked through and nicely browned, remove it from the pot to a plate and set aside.
To the same pot, over medium heat, add the butter and let it melt. Add the onion and carrots, stir, and sauté for 5 to 10 minutes. Stir regularly until onion and carrots are just softened. Add garlic and sauté for 2 more minutes. Pour in the wine and chicken stock, and bring to a boil.
Lower heat to a simmer and stir in beans, white pepper, bay leaves, thyme, oregano, and basil. Then stir in the soy sauce and kosher salt, starting with the lesser amounts. You can always add more later if the soup needs more salt. Add cooked chicken sausage, cover the pot, and let simmer over medium-low heat for 30 minutes. Taste for flavor, adding more soy sauce and/or salt and pepper if needed.
To serve, place a large spoon of cooked ditalini pasta in the bottom of a bowl. Pour hot soup over the pasta. Garnish with fresh parsley and Parmesan cheese. If you think you will eat all the soup in one meal, just add the pasta to the pot of soup and let it warm up a couple minutes before serving. Keeping the pasta separate ensures that it will not get overcooked and mushy.
Nutrition Information:
Yield: 12
Serving Size: 1
Amount Per Serving:
Calories: 377
Total Fat: 17g
Saturated Fat: 8g
Trans Fat: 0g
Unsaturated Fat: 7g
Cholesterol: 47mg
Sodium: 1267mg
Carbohydrates: 30g
Fiber: 4g
Sugar: 2g
Protein: 19g
Nutrition information is automatically calculated by Nutritionix. I am not a nutritionist and cannot guarantee accuracy. If your health depends on nutrition information, please calculate again with your own favorite calculator.

Connect with Gold'n Plump on their website, Facebook, Twitter, and Pinterest.
This post is sponsored by Gold'n Plump, a local chicken brand based out of St. Cloud, Minnesota. The brand's Good Chicken Mission centers on providing truly all natural products that are highly trimmed of fat and free of unwanted solutions. GNP Company, the company behind the Gold'n Plump brand, employs about 1,600 people and partners with nearly 350 family farmers in Minnesota and Wisconsin. I am partnering with them this year to bring you delicious new chicken recipes from our kitchen and backyard grills. Thank you for supporting the brands that I carefully choose to work with, that help make this site possible! All opinions are 100% my own, as always.