Italian Turkey Tortellini Soup
Made with cheese tortellini and leftover turkey, this Italian Turkey Tortellini Soup is full of warm and cozy comfort. It's a satisfying and easy weeknight dinner, as well as a beautiful weekend meal with friends. Serve with crusty bread for dipping, for a heartier meal.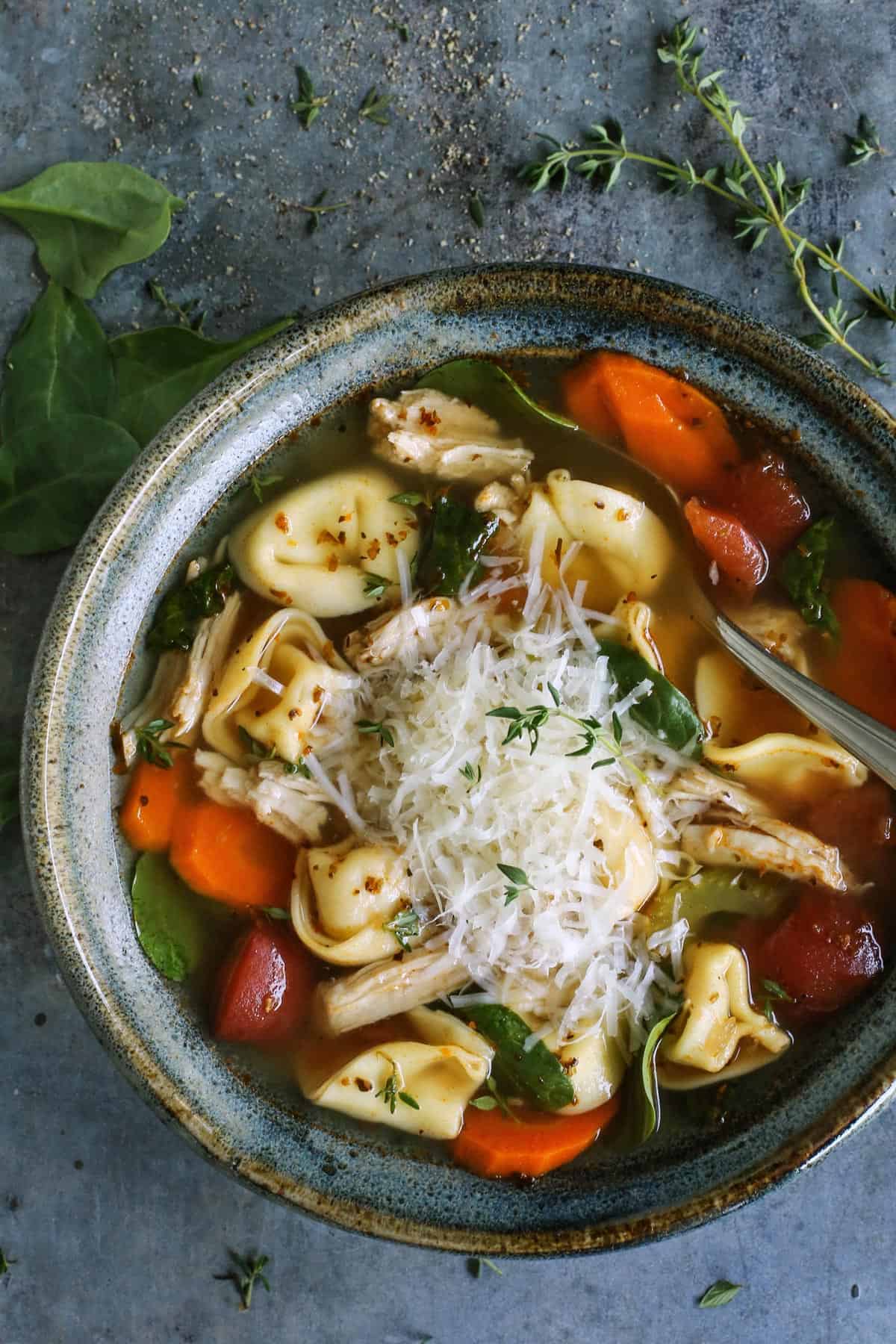 Easy Leftover Turkey Soup
This Italian Turkey Tortellini Soup is a favorite in my house. Because, hey, pillowy pastas stuffed with cheese. Who can resist?! We make this soup throughout the year, but it's an especially delicious way to reinvent those awesome Thanksgiving leftovers!
This flavorful soup is kid-friendly, filled with good-for-you ingredients, and loaded with all kinds of freshness. It makes for an easy, satisfying weeknight meal for the family – as well as a beautiful weekend meal with friends, when served with crusty French bread and a glass of white wine. No matter when you serve it, this soup is warm and cozy comfort, through and through.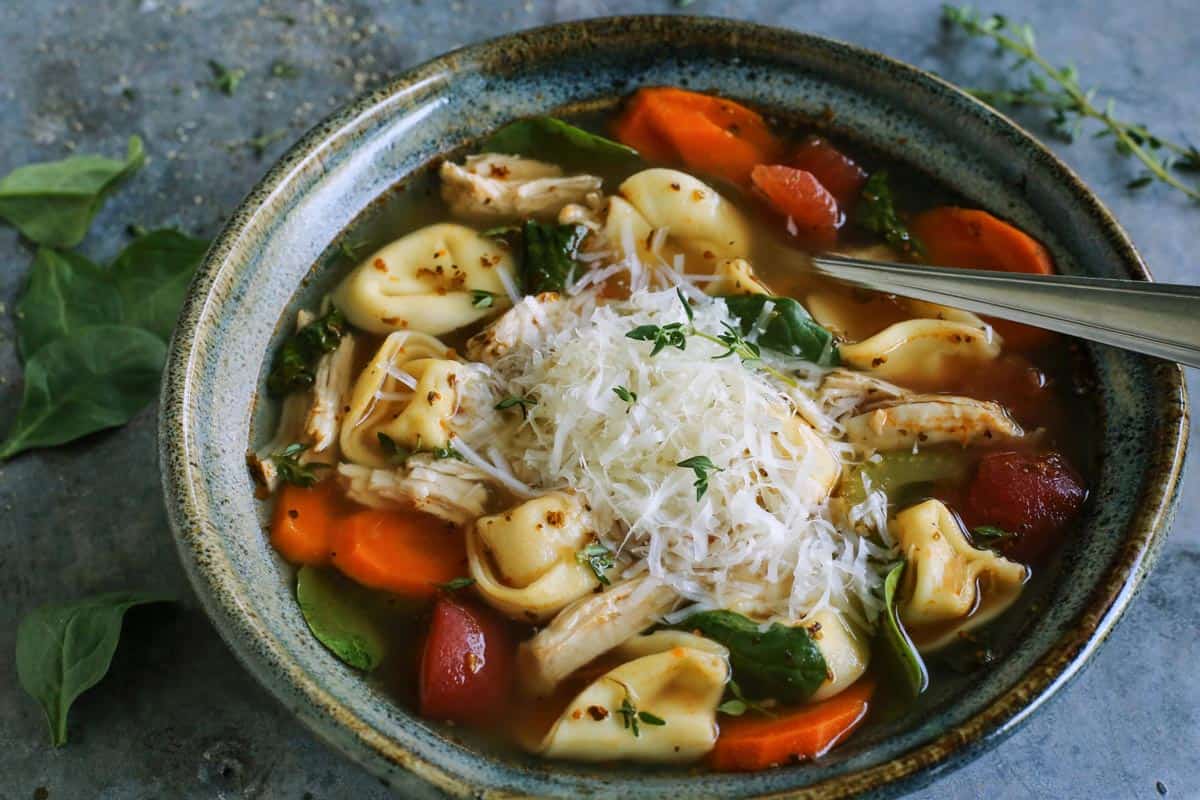 One thing I love about this turkey soup recipe is how easy it is to adjust, based on either your likes and dislikes, or simply what you have in the kitchen.
Our girls especially like carrots, so I like to amp up the quantity for them. You'll also find celery, garlic, spinach, and fresh thyme. Diced tomatoes from a can round out the veggies, nice and easy. You can easily add in more or fewer veggies as desired, and adjust flavors to your liking.
We often make this leftover turkey soup after Thanksgiving, but I've also made it throughout the year, usually after Blake smokes a turkey. If you don't have leftover turkey, that's okay! You can easily buy a turkey breast and cook it up just for this soup.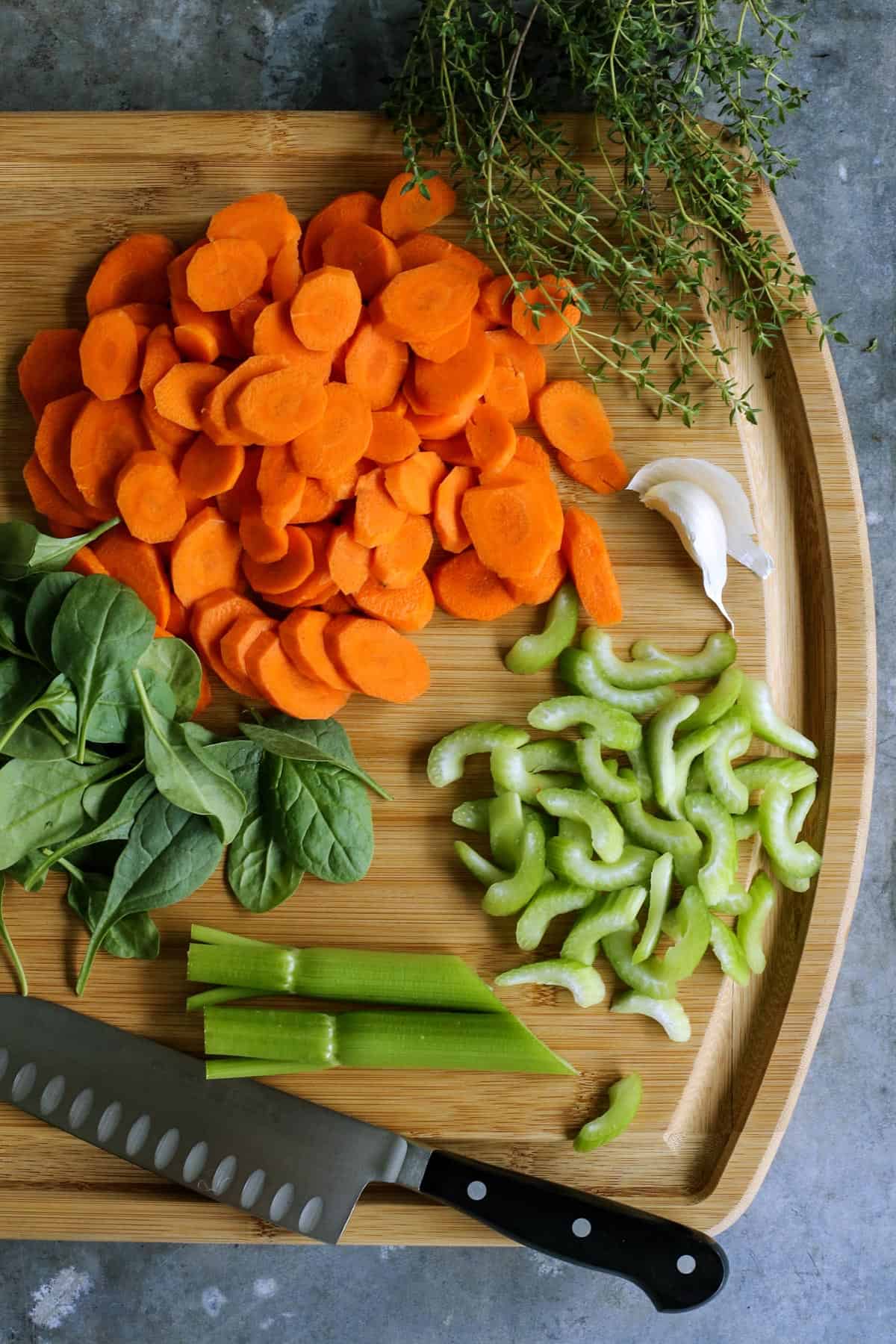 What You'll Need
This easy tortellini soup is made with wholesome, nourishing ingredients and Italian herbs.
Turkey broth – This is a great opportunity to use your own homemade turkey broth but you can also buy turkey or chicken broth at the store.
Carrots & celery – Thinly slice the carrots and celery. You'll need about 2 large carrots and 2 ribs of celery.
Diced tomatoes – Look for a can with Italian seasonings for the best flavor.
Cooked turkey – You can either dice or shred the cooked turkey.
Garlic
Italian herb mix – This dried mix adds the flavor that we love from our favorite Italian dishes.
Salt and pepper
Baby spinach – This wilts down in the soup, a great way to get spinach-haters (aka my daughters) to eat spinach!
Tortellini – I prefer refrigerated tortellini over dried versions. This refrigerated three-cheese tortellini (affiliate link) is one that my family relies on.
Parmesan – Freshly grated parmesan cheese is a beautiful and extra tasty way to finish off this soup!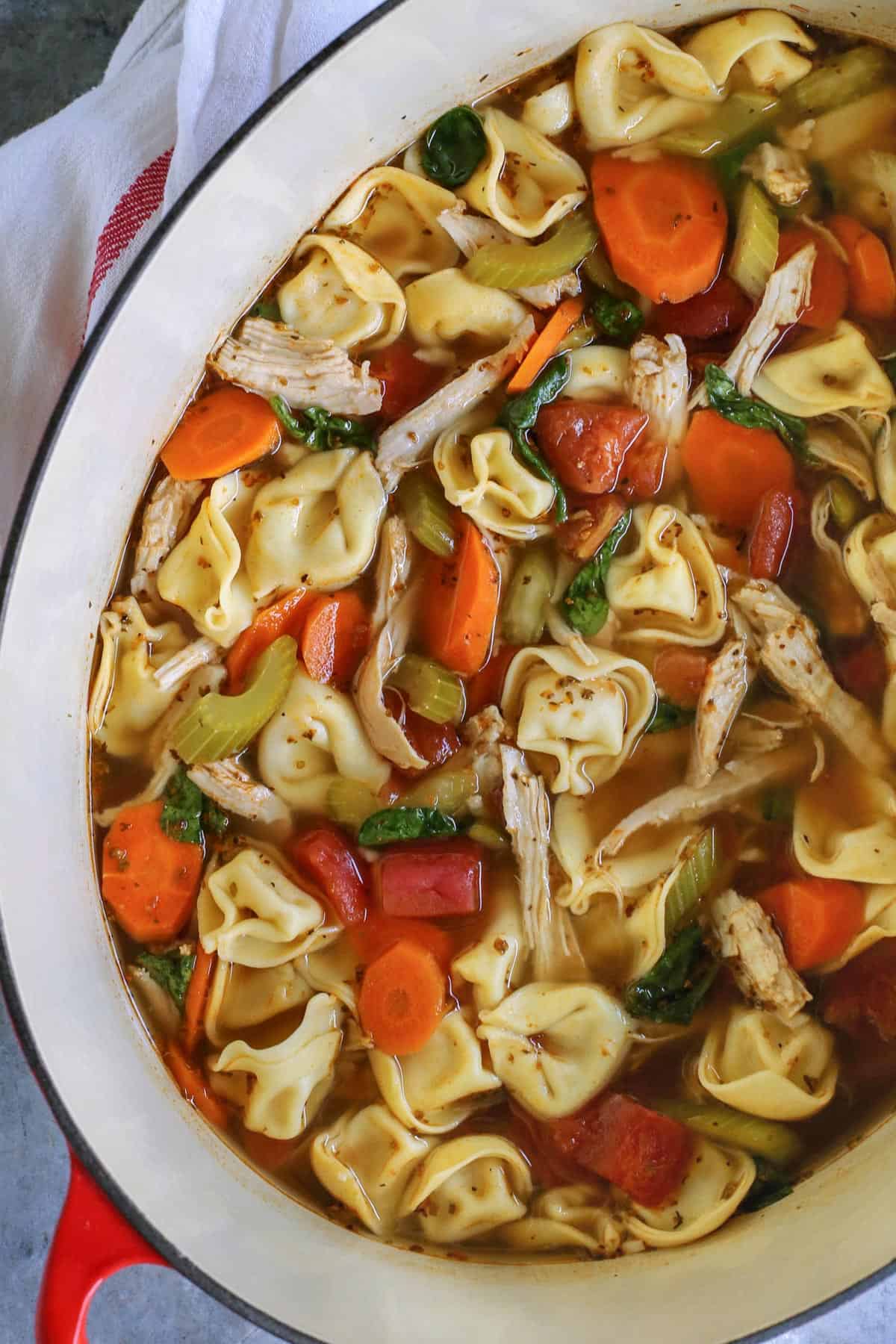 How to Make Italian Turkey Tortellini Soup
This leftover turkey soup comes together quickly. Just 30 minutes or so of simmering on the stovetop and dinner is ready!
Simmer the ingredients. Bring the broth to a simmer and then add in the carrots, celery, and garlic. Simmer for 5 minutes, then add in the tomatoes, turkey, Italian herb mix, and black pepper. Simmer for 10 minutes.
Add the tortellini. Turn up the heat and stir in the tortellini. Cook for 3 minutes and then add the spinach. Cook until the tortellini is done, tender and pillowy.
Serve. Ladle into bowls and top with some freshly grated parmesan.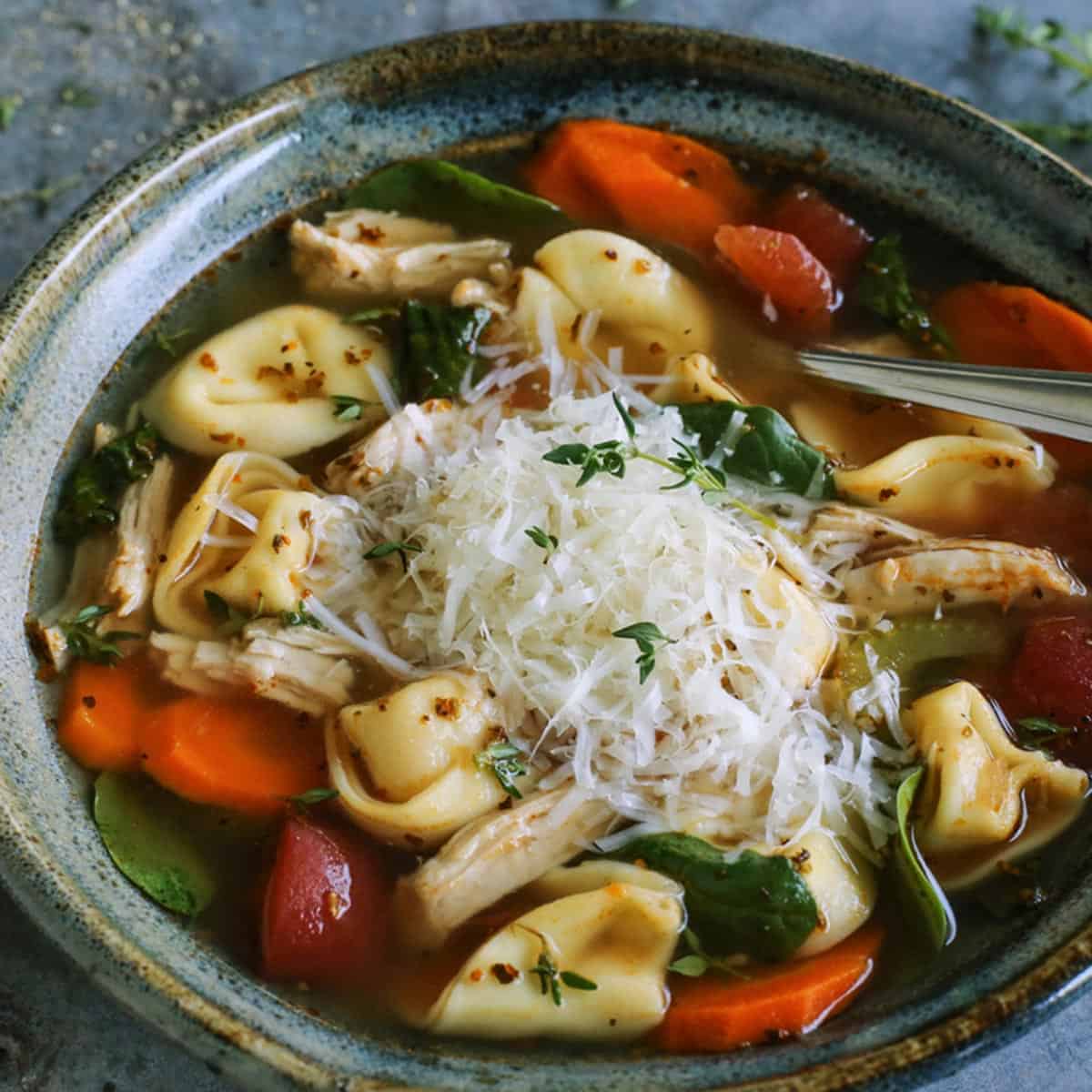 Tips for Success
This recipe is simple and straightforward, but here are a few things to keep in mind for the best flavor.
Add salt to taste. Many of the ingredients (the broth, turkey, tomatoes, etc.) will already have some salt, so always taste test before adding more. You may or may not need it.
Add more flavor. Depending on your broth and turkey, if you are looking for a bit more flavor depth you could always add a little Turkey Better Than Bouillon.
Try using smoked turkey. If you really want to dial this recipe up a notch, try making this tortellini soup with smoked turkey. It infuses wonderful flavor!
Always use refrigerated tortellini. You should use fresh, refrigerated tortellini in this soup for the best results. We stick with your basic 3 cheese tortellini but you can try out different varieties, like spinach and cheese.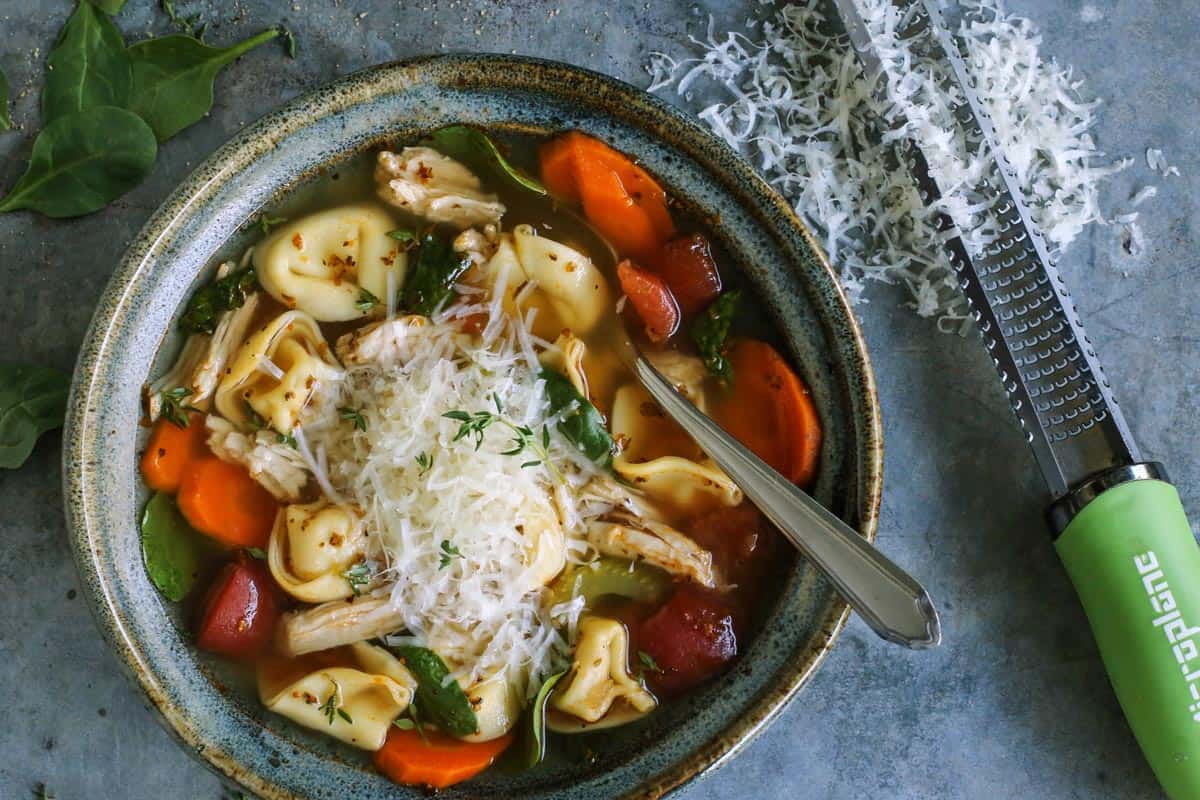 Serving Suggestions
This flavorful, comforting soup is especially wonderful on a chilly day. We like to serve it with a healthy grating of fresh Parmesan cheese for a fun and delicious finish. Some warm, crusty bread is also welcome – it's great for dipping into the broth. Our kids love it. And it definitely rounds out the meal when serving this to friends – in which case I'd also offer a glass of white wine. Instant dinner party!
How to Store, Reheat & Freeze
How to store leftovers. Leftover tortellini soup can be stored in the fridge for up to 3 days. Note that the tortellini will absorb liquid so the texture will become softer.
How to reheat. Reheat the soup on the stovetop or in the microwave until warmed through. I do not recommend allowing extra time to simmer as the tortellini has already cooked, and will continue cooking.
Can I freeze this? Yes but I recommend freezing it without the tortellini. The tortellini will continue to absorb liquid and may become mushy, especially as it thaws and is then reheated. For the best texture, freeze the soup without the tortellini and add it when you're reheating it.
More Thanksgiving Turkey Recipes:
Like this turkey soup recipe? Save it to Pinterest!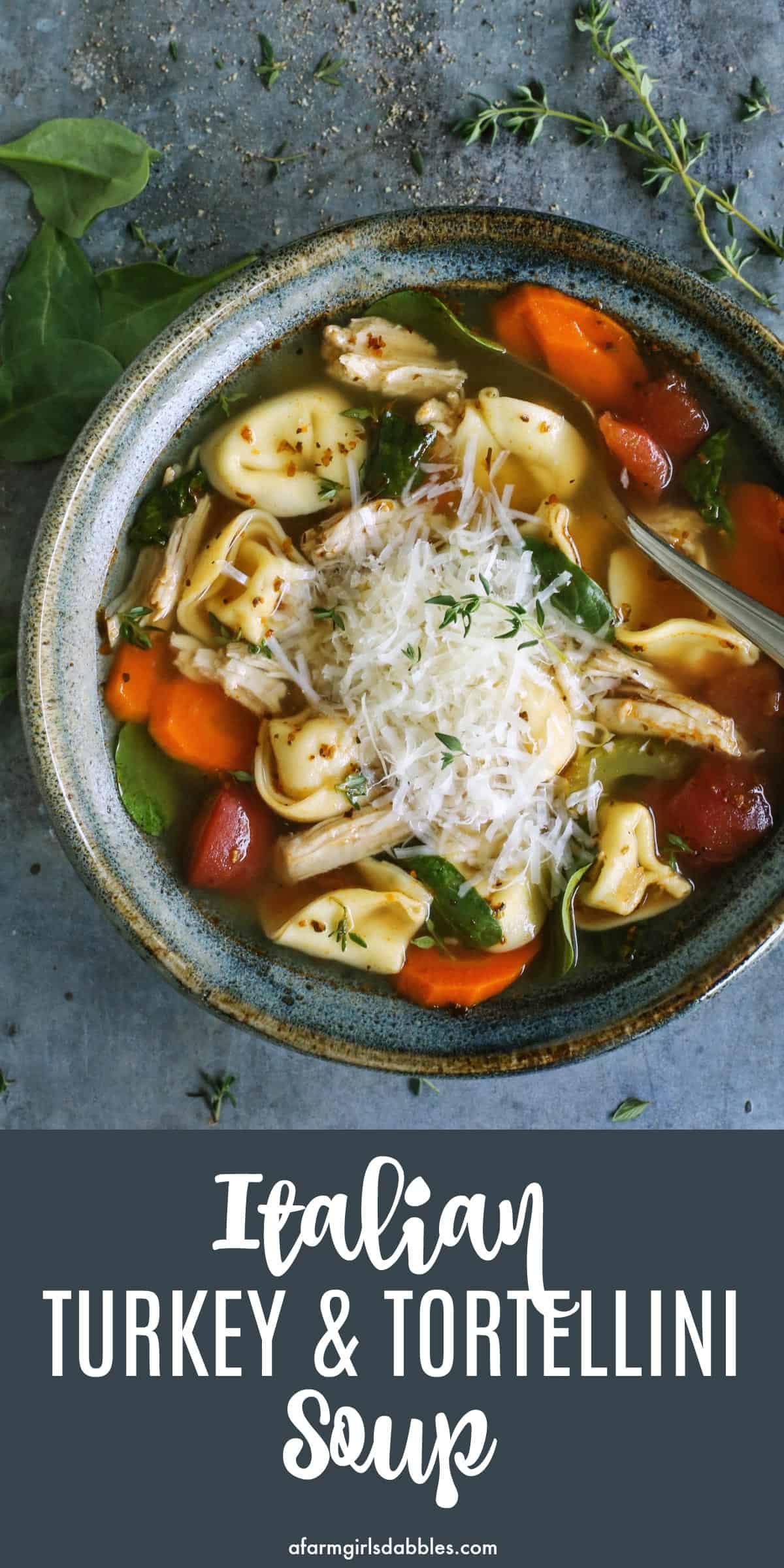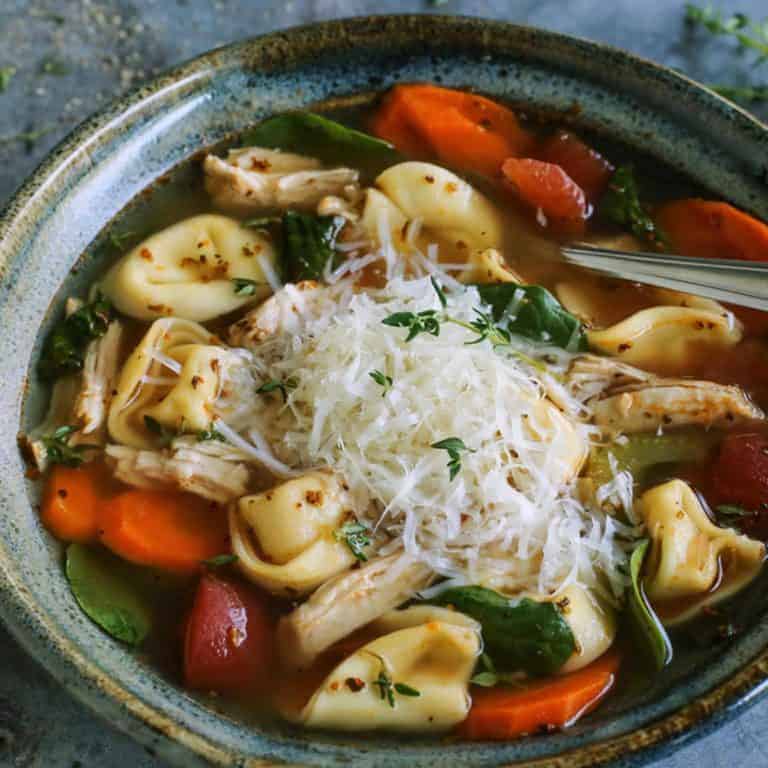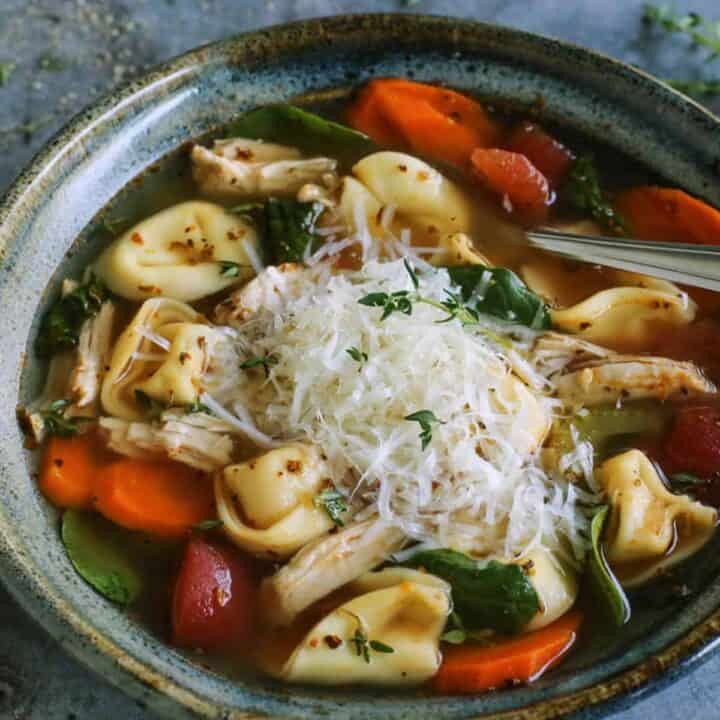 Italian Turkey Tortellini Soup
Yield: 8 servings
Prep Time: 15 minutes
Cook Time: 25 minutes
Total Time: 40 minutes
Made with leftover turkey and cheese tortellini, this Italian Turkey Tortellini Soup is full of warm and cozy comfort. It's a satisfying and easy weeknight dinner but just as appropriate for a beautiful weekend meal with friends. Serve with crusty French bread for an easy and complete meal any night.
Ingredients
8 cups low sodium turkey broth or chicken broth
1 cup thinly sliced carrots (about 2 large)
1/2 cup thinly sliced celery (about 2 ribs)
1 can (14.5 oz.) diced tomatoes with Italian seasonings
2 cups diced or shredded cooked turkey
1 large clove garlic, minced
1.5 teaspoon dried Italian herb mix
1/2 teaspoon black pepper
1/2 teaspoon kosher salt, or to taste
2 cups fresh baby spinach leaves
1 package (9 oz.) refrigerated three-cheese tortellini
1/4 cup freshly grated Parmesan cheese
Instructions
In a medium saucepan over medium heat, bring turkey broth to a simmer. Add carrots, celery, and garlic, and simmer for 5 minutes.
Stir in tomatoes, turkey, Italian herb mix, black pepper, and simmer 10 more minutes. Taste test, and then add desired amount of kosher salt - as different broths, tomatoes, and turkey will have varying amounts of salt. Depending on your broth, if you are looking for a bit more flavor depth you could always add a little Turkey Better Than Bouillon.
Turn heat up just a bit. Stir in tortellini and cook for 3 minutes. Stir in spinach and cook until tortellini is done.
Serve immediately, garnishing individual servings with freshly grated Parmesan (I recommend this grater) - such a wonderfully tasty finishing touch!
Recommended Products
As an Amazon Associate and member of other affiliate programs, I earn from qualifying purchases.
Nutrition Information:
Yield: 8
Serving Size: 1
Amount Per Serving:
Calories: 161
Total Fat: 8g
Saturated Fat: 3g
Trans Fat: 0g
Unsaturated Fat: 3g
Cholesterol: 55mg
Sodium: 1418mg
Carbohydrates: 7g
Fiber: 3g
Sugar: 3g
Protein: 17g
Nutrition information is automatically calculated by Nutritionix. I am not a nutritionist and cannot guarantee accuracy. If your health depends on nutrition information, please calculate again with your own favorite calculator.

Thanksgiving Turkey 101
For those of you serving turkey for Thanksgiving, the National Turkey Federation is here to help. Find their Thanksgiving Turkey 101, full of great tips for gathering your friends and family around the table to enjoy some tender, juicy turkey.
You'll find the best info for:
knowing how much turkey to purchase
thawing a frozen turkey properly (and speedily, if needed!)
stuffing a turkey
checking its temperature to know when it's done – this instant read thermometer works GREAT!
Why turkey?
Turkey is naturally low in fat and provides immune-boosting nutrients like iron, zinc and potassium.
It is naturally high in B vitamins, which help your body produce energy.
And it's packed with lean protein to keep people feeling full longer. A single serving of turkey provides 50 percent of your daily value of lean protein.

Find more turkey recipes + cooking tips for your Thanksgiving table and beyond at ServeTurkey.org.
And follow @ServeTurkey on Facebook, Twitter, Instagram, and Pinterest. Join in on the conversation with the hashtag #TryTurkey. I especially like to keep up with the National Turkey Federation leading up to Thanksgiving, as this is when they are preparing to send the National Thanksgiving Turkey to the White House for a pardon by the President of the United States. This year the turkey is coming from a farm in North Carolina. Two years ago, the turkey came from right here in Minnesota – read about how our family met the Presidential Turkey Flock!
This post is sponsored by the National Turkey Federation. All opinions are 100% my own. Originally published in 2019, updated in 2021.