Pork Chops with Andouille & Pecan Stuffing
This post may contain Amazon or other affiliate links. As an Amazon Associate I earn from qualifying purchases.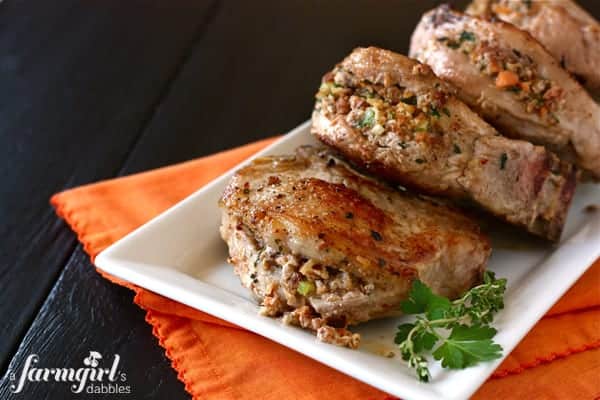 More than 10 years have passed since the last time we made these Pork Chops with Andouille & Pecan Stuffing. And it's not because we didn't like them. No, Blake and I have talked about them many times over the years. They are memorable, and I especially think about them when Easter rolls around, since that's when we made them for our parents so long ago. The thing is…I lost part of the recipe over the years and just kept hoping it would show up at some point.
But come this lovely spring like none other on record here in the Midwest, I was done waiting. I knew it was time to recreate the recipe.
I wanted to start off on the right foot with the pork chops and andouille. So I stopped at our local Hagberg's Country Market, known for its exceptional meats. It has the feel of a small hometown store, with jingle bells that announce your entrance and friendly folks behind the counter who'll ask you about your day. They sent me on my way with some thick beautiful chops, a ring of spicy andouille, and a "have a nice day". Yes, Sir, I do believe I will!
This recipe is kinda fun to put together. I like cutting the slits in the chops and filling them with stuffing. And there's just nothing like a pork chop seared in a hot cast iron skillet. I love the textures of the stuffing's sausage and pecans, tucked inside the perfectly crusted pork chops. It's an incredibly tasty dish and, paired with some simple green veggies, makes for an impressive meal in a rather small amount of time. You can bet it won't take another 10 years for us to make these again!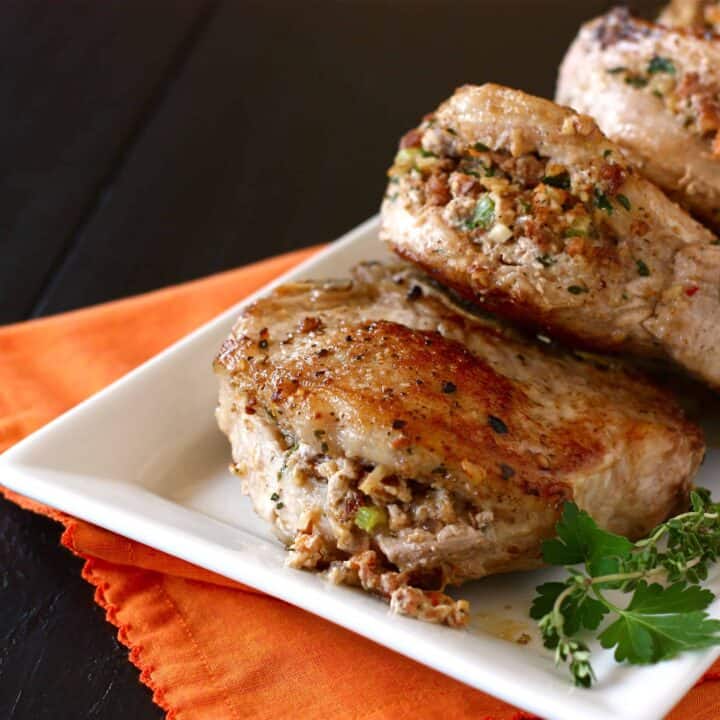 Pork Chops with Andouille & Pecan Stuffing
Yield: 4 stuffed pork chops
Prep Time: 20 minutes
Cook Time: 19 minutes
Total Time: 39 minutes
It's an incredibly tasty dish and, paired with some simple green veggies, makes for an impressive meal in a rather small amount of time.
Ingredients
3 T. extra-virgin olive oil, divided
3 oz. andouille or other spicy sausage, finely chopped
1/2 c. finely chopped onion
1/4 c. finely chopped celery
1/4 c. finely chopped carrot
2 large garlic cloves, minced
1/3 c. finely chopped pecans
2 T. dry bread crumbs
1 T. chopped fresh thyme
1 T. finely chopped fresh flat-leaf parsley
pinch of cayenne pepper
1/2 tsp. kosher salt, or to taste, plus additional for sprinkling the stuffed chops
1/4 tsp. freshly ground black pepper, plus additional for sprinkling the stuffed chops
4 pork rib chops that are 1'' thick
Instructions
Heat 1 tablespoon of the oil in a large cast iron skillet (or other heavy oven-safe skillet) over medium heat. Add the andouille and brown for 2 minutes. Stir well and add the onion, celery, and carrots, and cook for 2 more minutes. Add garlic. Stir and cook until onion is translucent and softened.
Scrape into a medium bowl and then add the pecans, bread crumbs, thyme, parsley, cayenne, salt, and pepper. Mix well.
Preheat oven to 350° F.
With a sharp knife, cut a deep wide pocket in each chop. Divide the stuffing evenly between the 4 chops and pack into each pocket. Sprinkle both sides of chops with a little kosher salt and freshly ground black pepper.
Heat the same cast iron skillet again over medium high heat. Add the remaining 2 tablespoons of oil. When the oil is hot and shimmering, add the chops. Sauté until browned, 4 minutes per side.
Then immediately transfer the whole skillet with the chops to the oven. Bake for 7 minutes. This should yield an internal pork chop temperature of about 140° F. Pull the skillet out of the oven and let rest on the stove top for a bit, until the temperature rises to 145° F.
Notes
I wish I knew where this recipe came from! I adapted what I had of a partial copy of a recipe, with no source info on it. And I can't find anything online that resembles it.
Nutrition Information:
Yield: 4
Serving Size: 1
Amount Per Serving:
Calories: 533
Total Fat: 41g
Saturated Fat: 11g
Trans Fat: 0g
Unsaturated Fat: 29g
Cholesterol: 86mg
Sodium: 681mg
Carbohydrates: 10g
Fiber: 2g
Sugar: 3g
Protein: 30g
Nutrition information is automatically calculated by Nutritionix. I am not a nutritionist and cannot guarantee accuracy. If your health depends on nutrition information, please calculate again with your own favorite calculator.
We participate in the Amazon Services LLC Associates Program, an affiliate advertising program designed to provide a means for us to earn fees by linking to Amazon.com and affiliated sites. See our
disclosure policy
for more info.