Mustard Pork Loin Roast
This post may contain Amazon or other affiliate links. As an Amazon Associate I earn from qualifying purchases.
Mustard Pork Loin Roast is wonderfully tender and flavored with an ultra tasty mustard sauce. This recipe is easy enough for a weeknight meal and definitely pretty enough to serve for holidays and special occasions!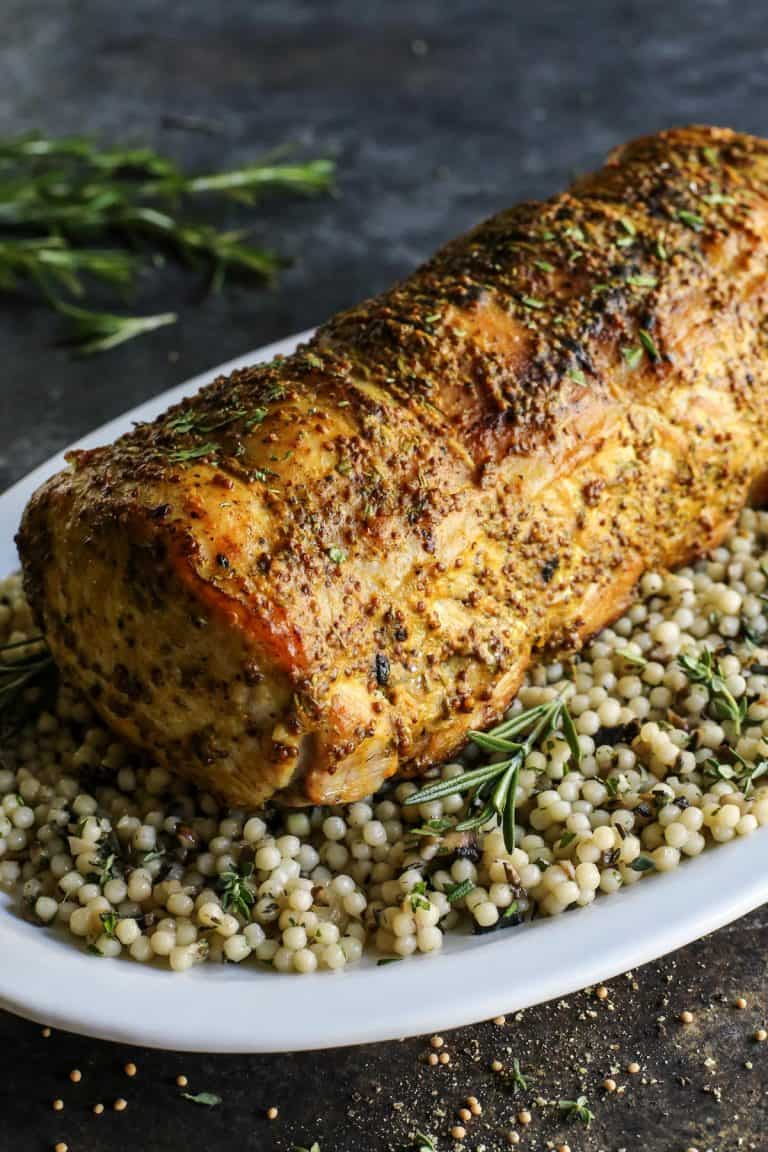 Mustard, Mustard, oh how we've grown to love thee.
I started laying it on thick with my family earlier this year, using more and more mustard. Homemade mustard-y barbecue sauces. Fresh, vibrant salad dressings with an extra dose of Dijon. Spicy whole grain mustards spread thick inside sandwiches. And extra mustard-y potato salads.
Because once I learned that our kids actually really like the flavor of mustard, even though they still scrunch up their little noses and tell me otherwise, I was let loose in the kitchen like a kid at the pool on a 90-degree day.
This Mustard Pork Loin Roast is easy enough for a weeknight meal and definitely pretty enough to serve for holidays and special occasions. It's tender and flavorful, exceptional all the way around. Mustard, for the pork loin win!
Save this recipe to Pinterest!
* This is a sponsored post, created in partnership with the Minnesota Pork Board.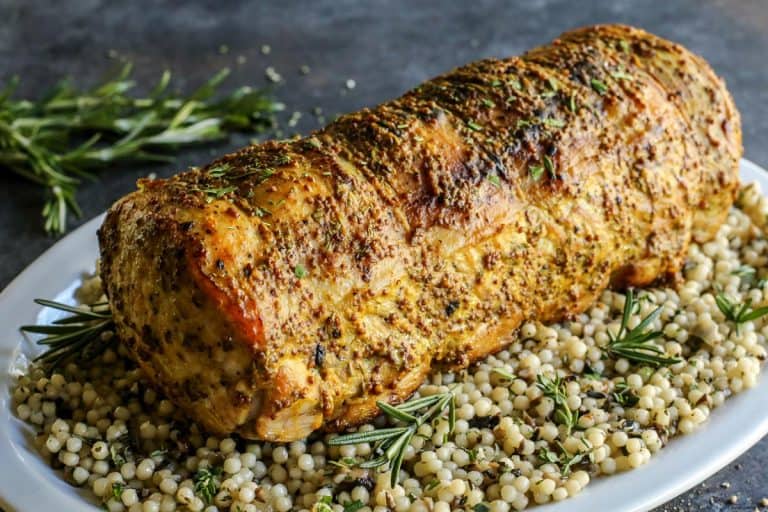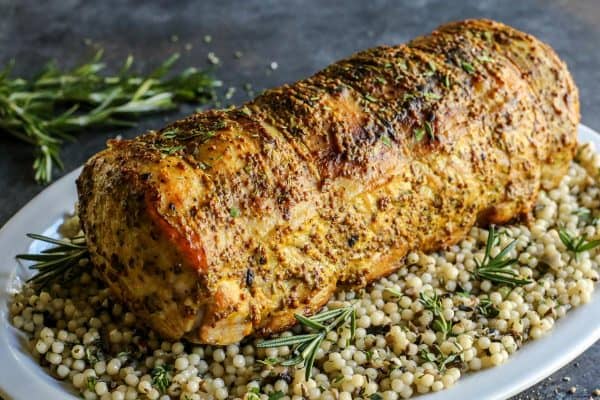 October is National Pork Month – and our state of Minnesota has much to be proud of when it comes to pork. Minnesota ranks 2nd in value and number of market pigs raised, with more than 3,000 hardworking pig farms. Mighty impressive.
To learn more about Minnesota pig farming – from sustainability, to animal care, to how this business and lifestyle contributes to our state's economy – visit the Minnesota Pork Board.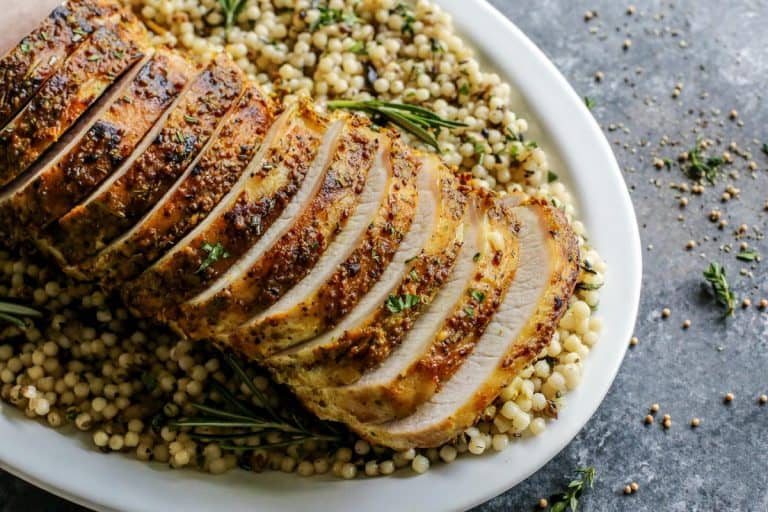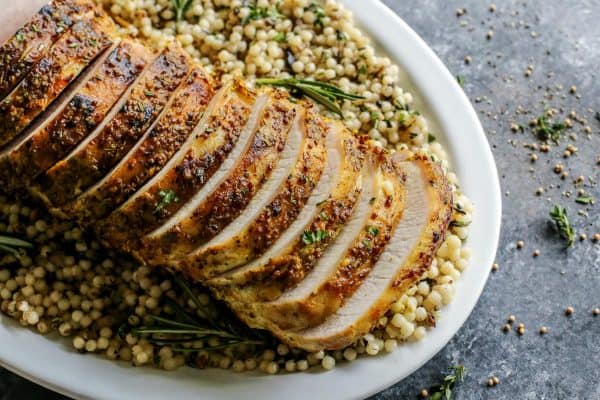 Is Pork Loin and Pork Tenderloin the same?
First, just to be clear, I want to make sure we're on the same page before diving into this recipe. I'm talking about pork loin here, not pork tenderloin. While they are both mild, lean cuts of pork, they are very different things. The loin and tenderloin are cut from different parts of the animal and look quite different.
PORK LOIN is considerably larger in size and available as a boneless roast or bone-in roast. This tender cut is often referred to as pork loin roast, and when sold in its whole form can weigh nine to ten pounds, or more. It is wide enough to cut steak-like pieces from it. Many people will purchase a whole loin and then divide it into two or three portions, freezing whatever is not used right away. The pork loin has a signature fat cap that, when cooked properly, will melt into and add more flavor to the roast. You'll find that most recipes will call for slow-roasting or grilling for this pork cut.
PORK TENDERLOIN is a long, thin cut of meat that is the muscle that runs along the backbone. This cut is sold whole and usually weighs about one pound. Most pork tenderloin recipes will have you cooking this cut quickly over fairly high heat. This is one of our family's favorite cuts for a quick and easy meal from the grill.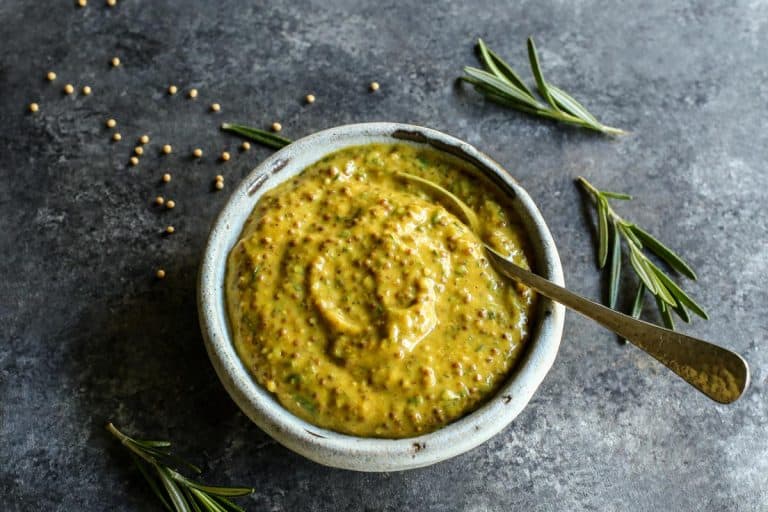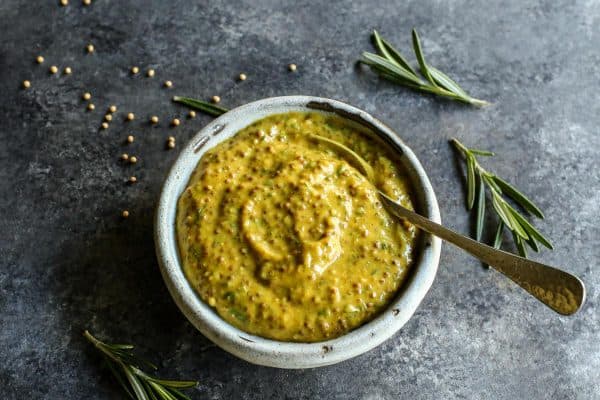 Pork Loin Recipes, always welcome here!
Pork loin is mild and capable of taking on so many different flavors. I always aim to overstep my bounds just a bit when it comes to adding flavor, to ensure a tasty finished dish. In my first testings for this recipe, my family kept saying, "More mustard, please!"
So that's what they got.
For this pork loin roast recipe, I use three different kinds of mustard:
Stone ground mustard
Dijon mustard
Yellow mustard
There's also minced fresh rosemary, plus a lovely touch of sweet curry and honey.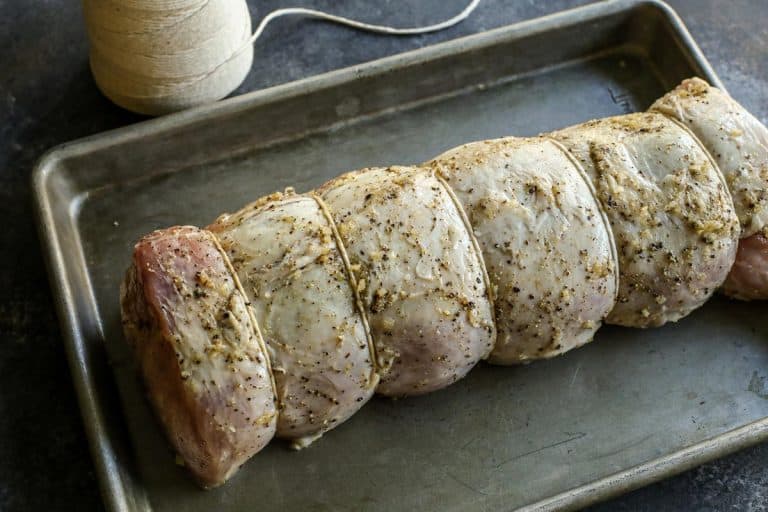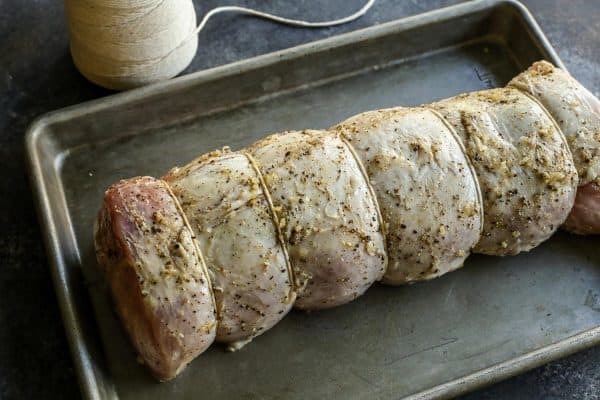 I've always felt a bit intimidated when I've come across recipes that use cooking string to tie up cuts of meat. How about you?
But never fear.
I did a little research and found a couple of well illustrated tying tutorials. But in the end, all I did was cut separate pieces of cooking string to bind the pork loin, positioning the knots on the underside (the opposite side of the fat cap). This will help the pork loin keep its structure and cook evenly. Easy peasy.
After tying up the pork, slather a simple garlic paste over every inch of it.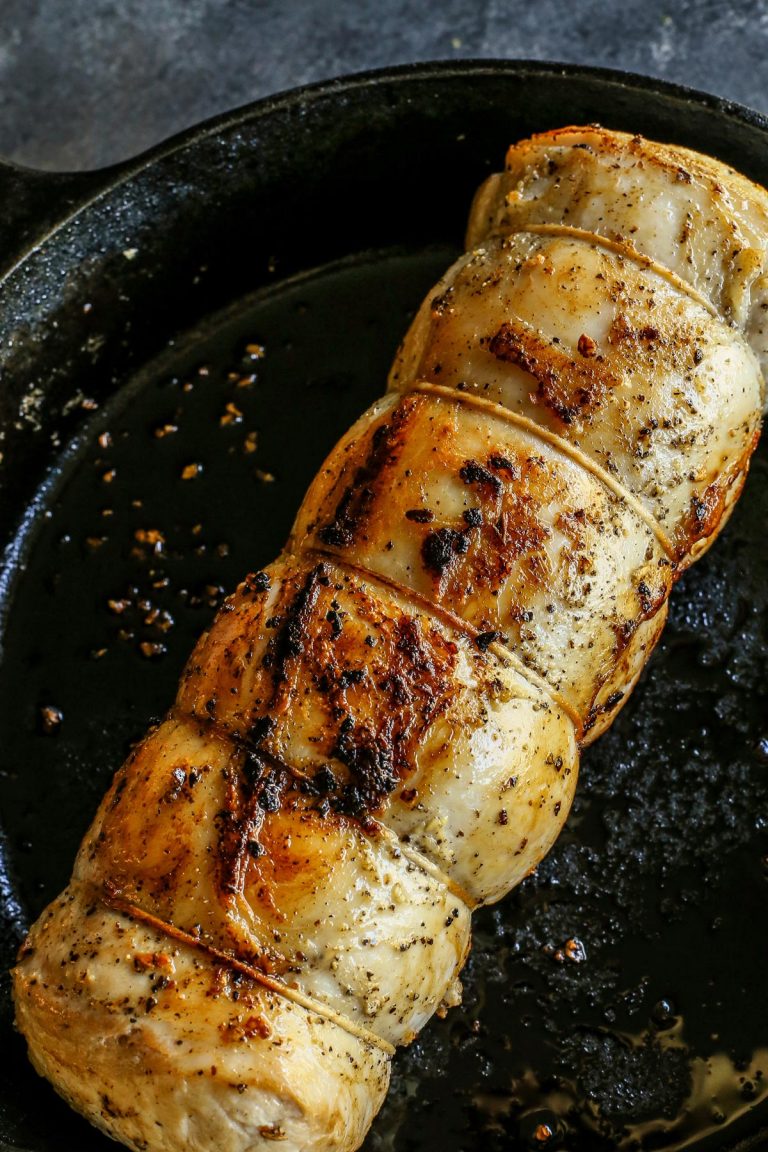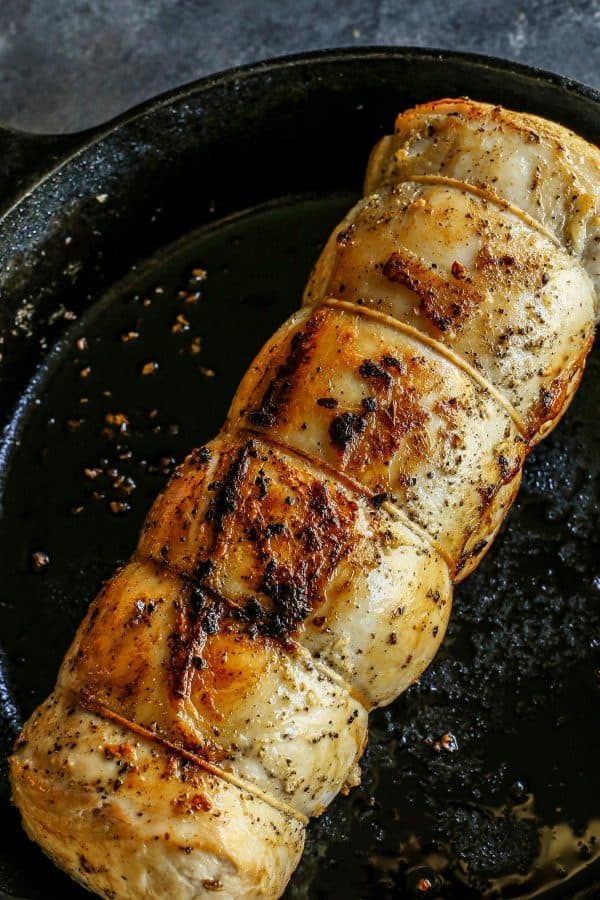 How to cook pork loin
I believe in a good sear, to lock in flavor and add texture to the exterior of meats.
So let the pork loin sizzle and crackle in a super hot skillet, until a nice crust forms.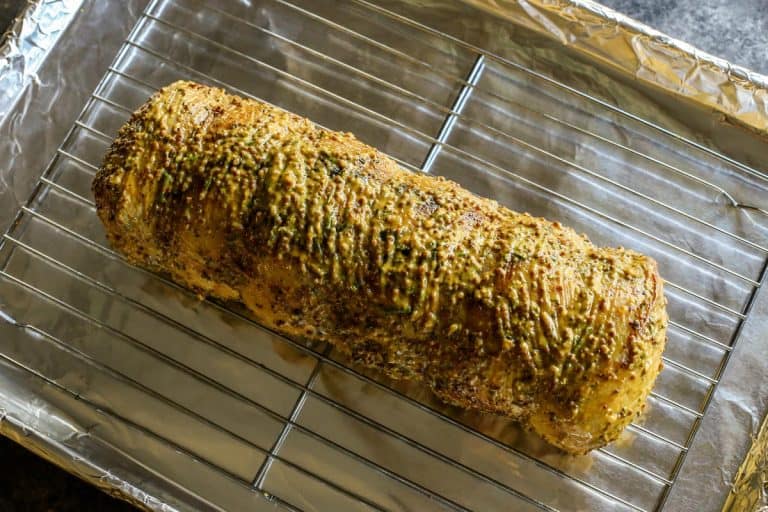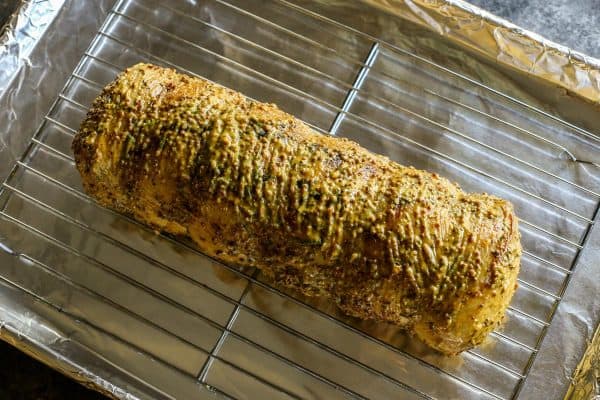 The next step is to place the seared pork loin onto a rack inside a roasting pan.
Now we don't have a roasting pan. So I lined a rimmed pan with aluminum foil, for easy clean-up. And then I set a cooling rack inside the pan. This method works just fine.
And then it's mustard time.
With a brush or spoon, slather on that mustard sauce. Every last bit. Don't be shy!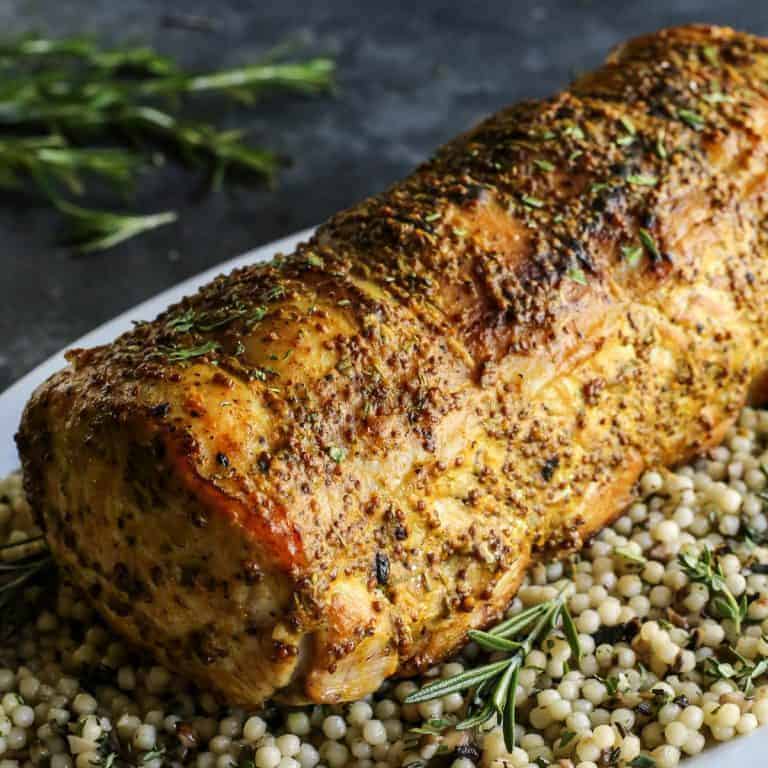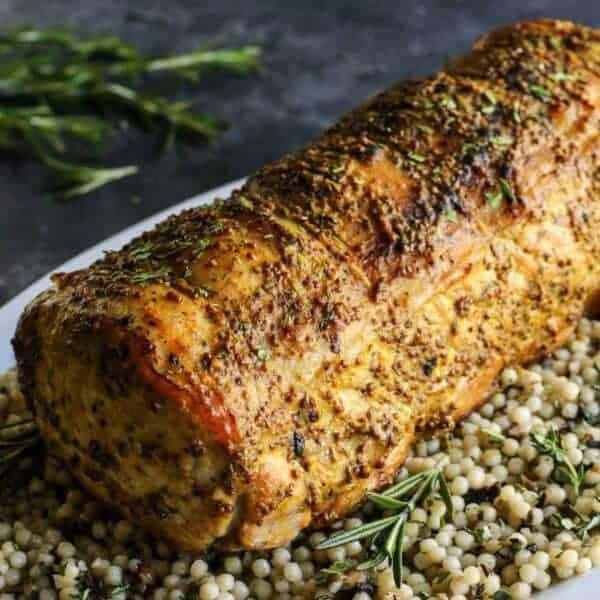 Then comes the slow roasting.
To ensure that the mustard sauce doesn't brown too much, start off by covering the pan with a loose tent of foil. Then partway through cooking, remove the foil and let the mustard-y exterior get all browned and beautiful.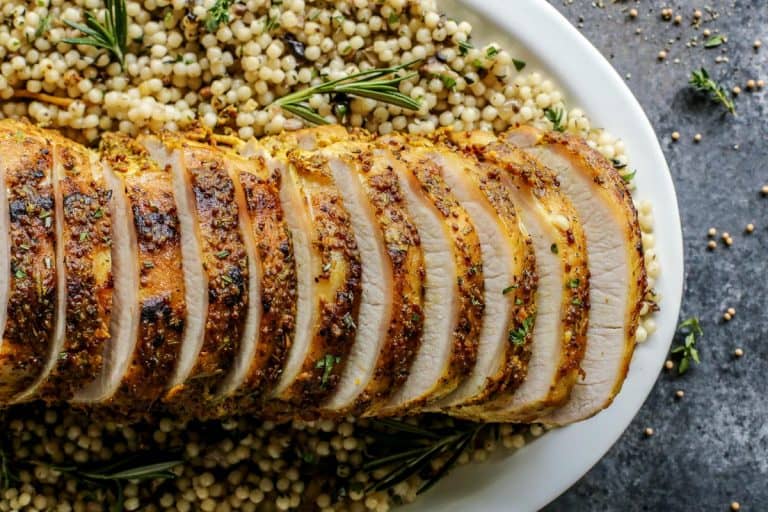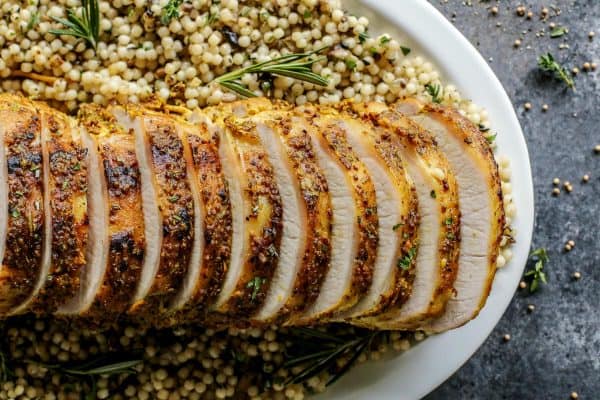 How long to cook pork loin
The best pork is not overcooked. Pork is perfect – and safe! – when it has a lovely pink coloring in the center and registers 145 degrees F.
Whenever I make this pork loin roast recipe, I use a pork loin that weighs right around 3-1/2 pounds. It's the perfect amount for the quantity of mustard sauce, and fits nicely snug in a 12″ cast iron skillet.
For this size of roast, covering it with foil for part of the cooking time, it takes 50 to 60 minutes in the oven to reach 145 degrees F.
If you make this pork loin roast, I'd love to hear what you think of it. Please come back and let me know!
Like this recipe? Pin it!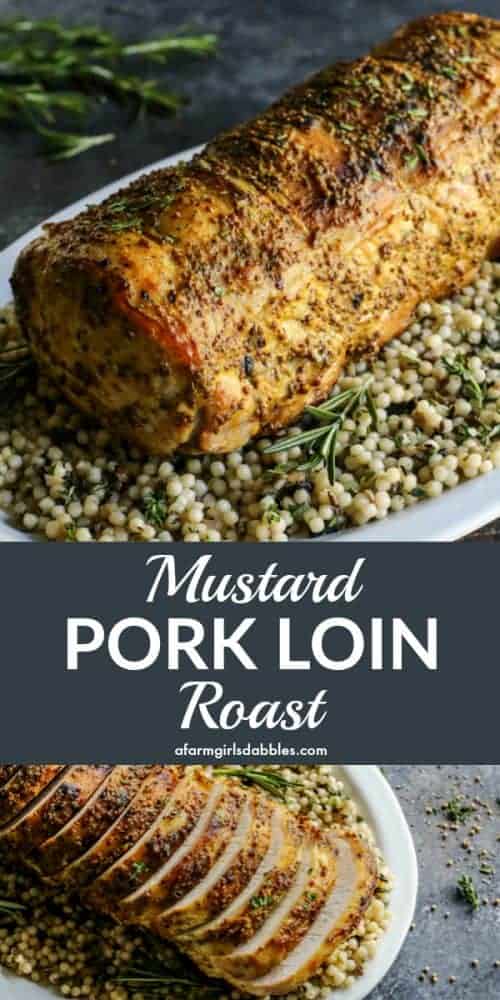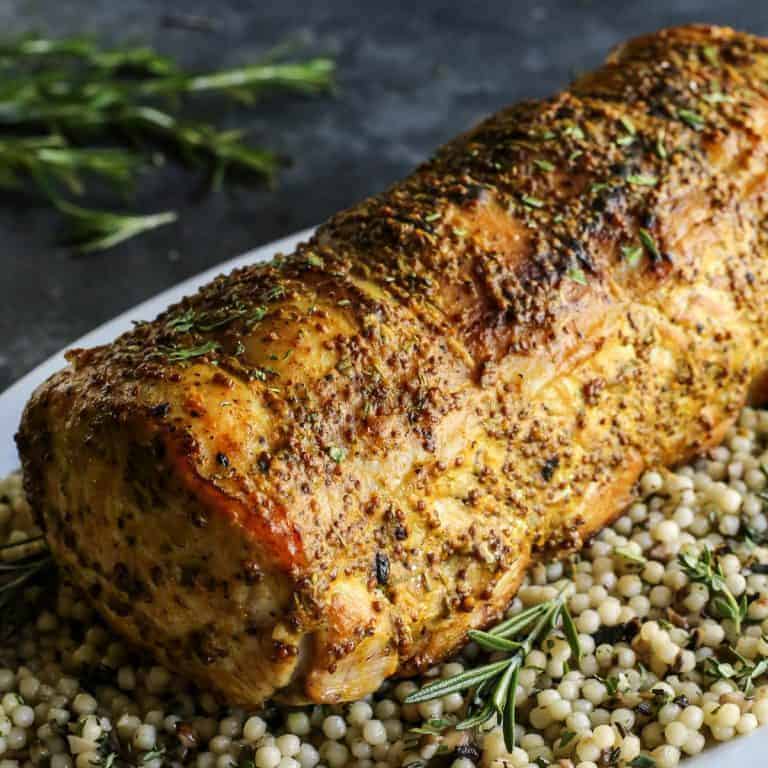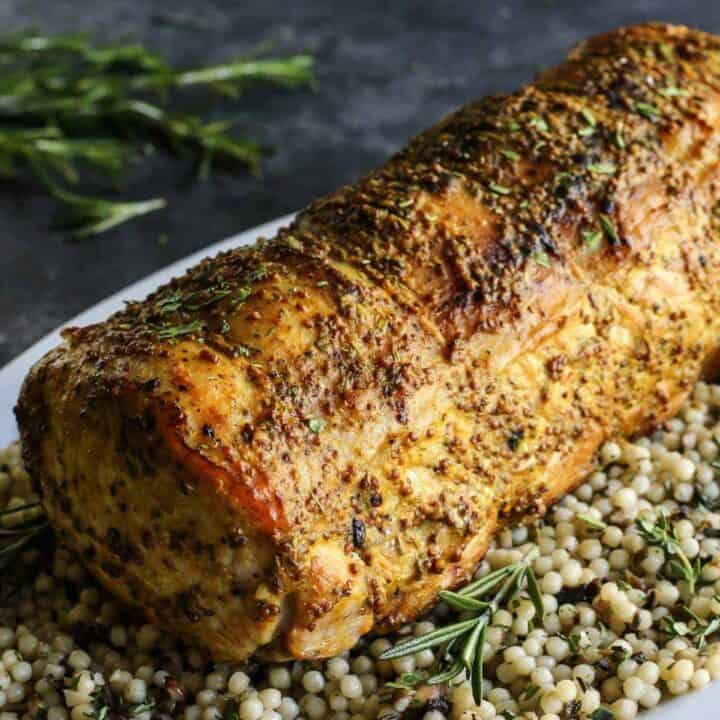 Mustard Pork Loin Roast
Yield: 8 servings
Prep Time: 30 minutes
Cook Time: 1 hour 15 minutes
Total Time: 1 hour 45 minutes
This pork loin is wonderfully tender and flavored with an ultra tasty mustard sauce. It's easy enough for a weeknight meal and definitely pretty enough to serve for holidays and special occasions!
Ingredients
for the mustard sauce:
for the pork loin roast:
1   3-1/2 lb. boneless pork loin roast (not pork tenderloin)
4 large cloves garlic, minced
2 tsp. kosher salt
1/2 tsp. freshly ground black pepper
2 t. canola oil
minced fresh rosemary and parsley, optional garnish
Instructions
for the mustard sauce: In a small bowl, combine all mustard sauce ingredients. Set aside.
for the pork loin roast: Pat the pork loin dry using paper towels. With kitchen string, tie up the pork loin every 2 inches. Reference the photo from this post that shows how this should look.
Create a simple garlic paste by sprinkling the salt over the minced garlic, right on the cutting board. Angle the knife blade (I like to use a knife with a larger blade, such as a Santoku knife or chef's knife.) so it's laying almost flat on the cutting board, pressing and scraping the garlic and salt together. The garlic pieces will start to soften and smash, and combine with the salt to form a paste. Keep pressing and scraping until you have a smooth paste. Sprinkle pepper over the paste, and then press and scrape a few more times to incorporate. Rub this mixture over all sides of the pork loin. Set aside at room temperature.
Preheat oven to 350° F.
Place 12" cast iron skillet or stainless steel straight-sided skillet on stovetop and heat to medium-high. Add canola oil and heat until shimmering. Carefully add pork loin, fat cap side down. Sear until deep golden brown and when it releases easily from the skillet, about 4 to 5 minutes per side. Once all four sides have browned, transfer pork loin with the fat cap facing up to a rack set inside a roasting pan. If you do not have one of these, simply place a cooling rack inside a large rimmed pan. I like to line my rimmed pan with aluminum foil for easy clean up.
Brush seared pork loin on all sides with mustard sauce, using all of the sauce for a 3-1/2 pound pork loin. Tent a large piece of aluminum foil (I like these extra large, heavy duty rolls) loosely over the pork loin, keeping the foil from touching the pork. Cook for 35 minutes. Remove foil tent and cook for another 15 to 20 minutes or so, or until an instant-read thermometer inserted into the thickest part of the pork reads 145° F. I start checking the temperature after the pork has cooked for 10 minutes without the foil tent. Do not over cook. Remove pork loin from oven and let rest 3 minutes. Remove kitchen string and slice pork loin crosswise into 1/2-inch slices. Serve hot, sprinkled with minced fresh rosemary and parsley if desired.
Notes
Mustard sauce can be made a day or two in advance of cooking the pork loin; simply keep it refrigerated.
The pork loin can be tied up, rubbed with garlic paste, and refrigerated one day prior to cooking. Remove from the refrigerator 30 minutes prior to preheating the skillet and oven.
Refrigerate any leftover pork in an airtight container for up to 4 days. Or freeze for another meal or two later on.
from a farmgirl's dabbles
Nutrition Information:
Yield: 8
Serving Size: 1
Amount Per Serving:
Calories: 271
Total Fat: 14g
Saturated Fat: 4g
Trans Fat: 0g
Unsaturated Fat: 8g
Cholesterol: 104mg
Sodium: 640mg
Carbohydrates: 1g
Fiber: 0g
Sugar: 1g
Protein: 33g
Nutrition information is automatically calculated by Nutritionix. I am not a nutritionist and cannot guarantee accuracy. If your health depends on nutrition information, please calculate again with your own favorite calculator.
A few more flavorful pork loin recipes for you!

Connect with the Minnesota Pork Board on their website and social media channels: Facebook, Twitter, Instagram, and Pinterest.
This post is sponsored by the Minnesota Pork Board. I am honored to partner with them over the upcoming year to bring you delicious new pork recipes from our kitchen and backyard grills. All opinions are 100% my own, as always. Thank you for supporting the brands that help make this site possible.
We participate in the Amazon Services LLC Associates Program, an affiliate advertising program designed to provide a means for us to earn fees by linking to Amazon.com and affiliated sites. See our
disclosure policy
for more info.