Baked Pork Chops and Stuffing
This post may contain Amazon or other affiliate links. As an Amazon Associate I earn from qualifying purchases.
This easy Baked Pork Chops and Stuffing recipe has been a longtime family favorite! Fork-tender pork chops covered in a flavorful stuffing and gravy. So good!
Looking for more pork recipes? Try these grilled pork chops or this pork loin recipe.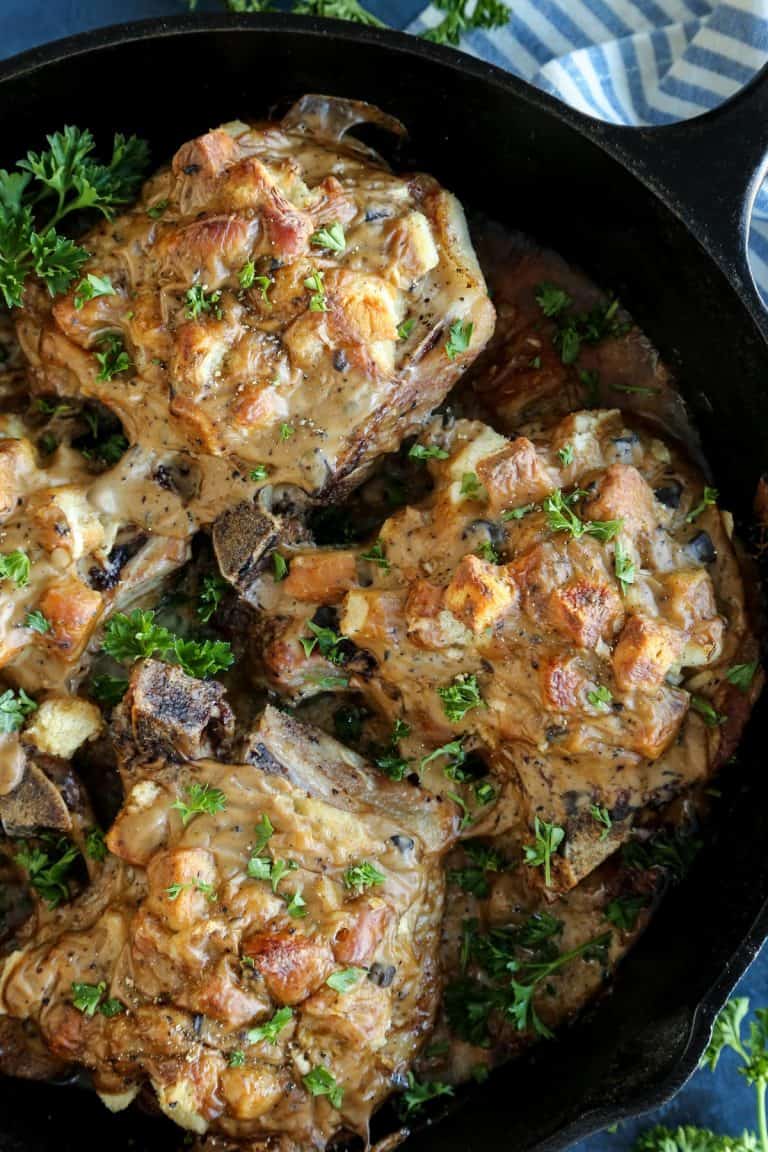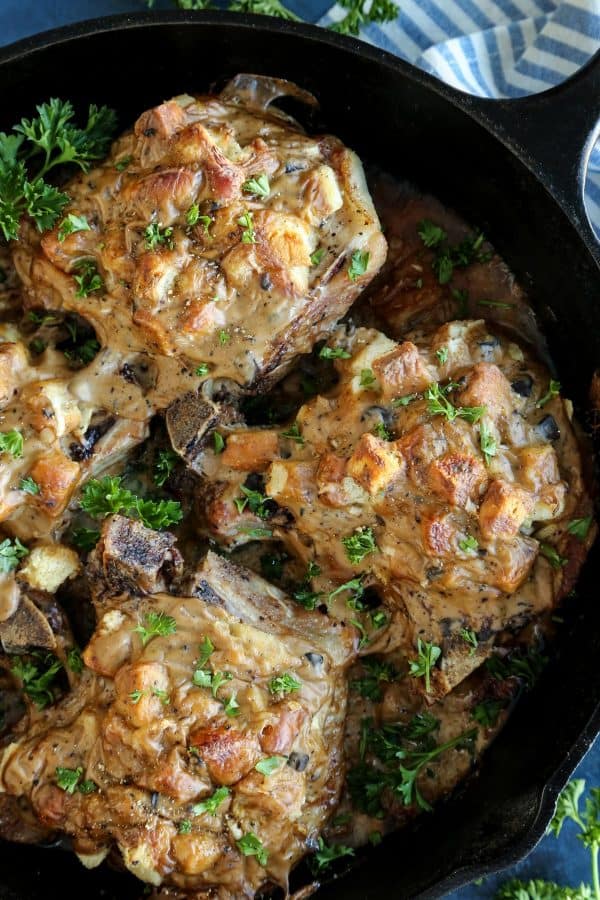 Our Favorite Stuffed Pork Chops Recipe
Many years ago, Dad called me and didn't waste any time getting to his point.
He asked if I had ever thought about sharing the Baked Pork Chops and Stuffing recipe on a farmgirl's dabbles. The recipe came from one of my mom's best girlfriends, and has become a favorite meal for my dad. He thought that others ought to be able to enjoy it, too.
I told him I couldn't agree more. And I loved that he made a recipe request for the blog. :)
So here it is.
This recipe was a favorite of mine growing up, and now my own family adores it, too. The pork chops bake up super tender, with a flavorful stuffing and gravy on top. I hope you give this a try!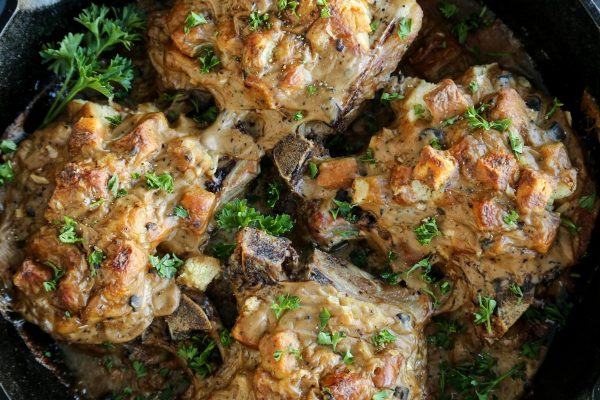 The Origin of this Pork Chops Recipe
This recipe comes from my mom's longtime friend, Candy. Mom and Candy went to grade school and high school together, and remain dear friends to this day.
My mom remembers eating this dish of baked pork chops and stuffing for the first time when she went to stay with Candy back in the 70's.
Candy lived a few hours away from our farm in South Dakota, just over the border into Minnesota. My sisters and I were small, and we stayed home with Dad while she was away. Mom laughs about how things have changed over the years. Back then, Dad took Mom to a nearby bus depot, where she rode the bus those few hours to be with Candy. We are so much more mobile these days, hopping in our cars to drive a few hours to anywhere.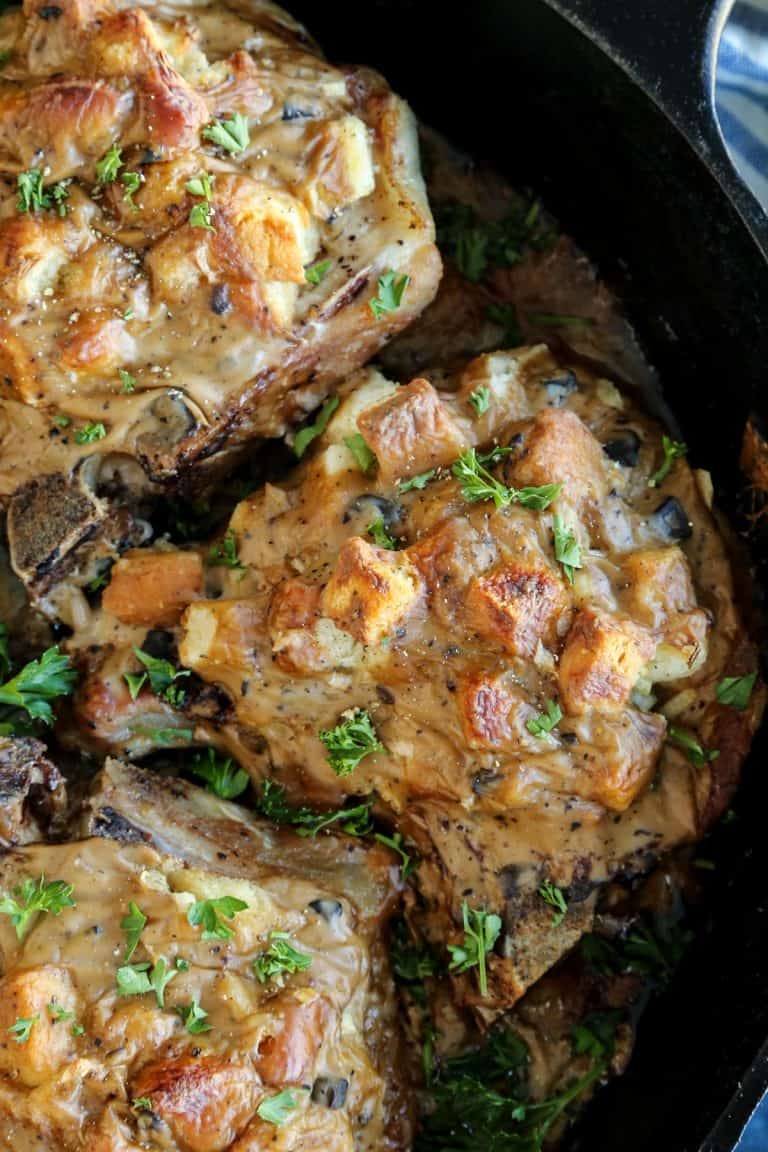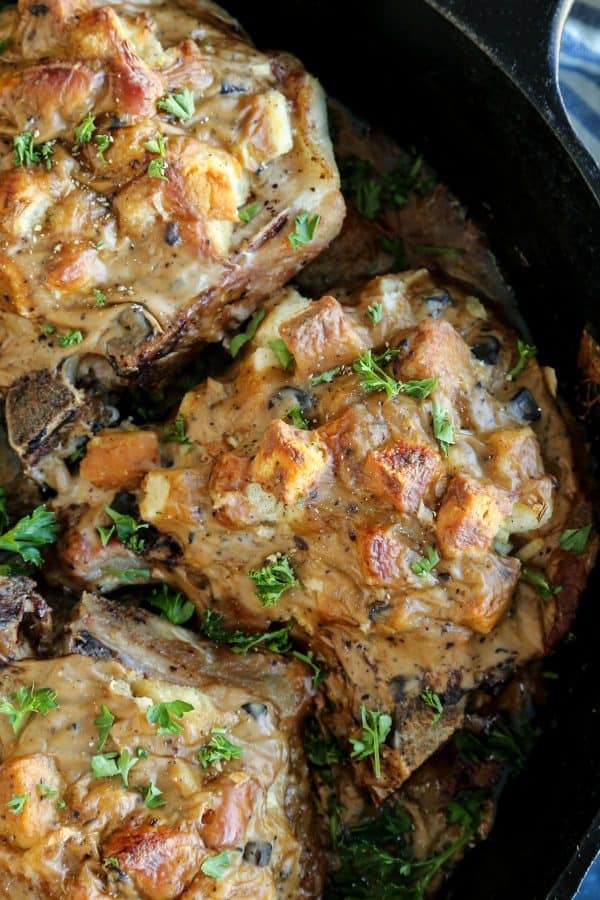 Recipe Ingredients
So what goes into this pork chops recipe? Here's what you'll need. See the recipe card at the bottom of this post for specific amounts.
4 bone-in pork chops
Kosher Salt & Black Pepper
Canola Oil
Bread Cubes – For the stuffing. I like using a soft French bread.
Onion – I usually use a yellow onion
Water
Butter
Dried Sage
Cream of Mushroom Soup
Soy Sauce
The dish is an unexpected winner, as the ingredients list surely does not proclaim any kind of fanciness. I'm talking about cream of mushroom soup here. I use less and less of it as the years go by, always trying to come up with different ways to impart creaminess. But this is one of those recipes that I don't mess with. It's just plain perfect.
How to Make Stuffed Baked Pork Chops
This baked pork chops and stuffing recipe bakes up so super tender, you can eat it with just a fork. And it's nothing short of fabulous tasting. It's also super simple to make, a great weeknight meal. Here's how:
Can I Make these Baked Pork Chops in Advance?
And it can easily be prepared ahead of time, perfect for entertaining. This dish makes for a beautiful no-fuss main entree for guests, fitting for any holiday or special dinner.
You can make it a few hours ahead or even the night before. Simply follow the steps in the recipe card but don't bake the pork chops. Instead cover and refrigerate them in the baking dish you plan to use.
Take the dish out of the fridge about an hour before cooking time to let it warm up a bit and preheat your oven. Then place the pork chops in the oven and bake until done. You may need to add a bit of baking time since the pork chops were cold.
What is the Temp of Cooked Pork Chops?
Pork chops are done when they have reached an internal temperature of 145F. You can test them by using an instant read thermometer. You should also give them at least a 3 minute rest time once they are done cooking.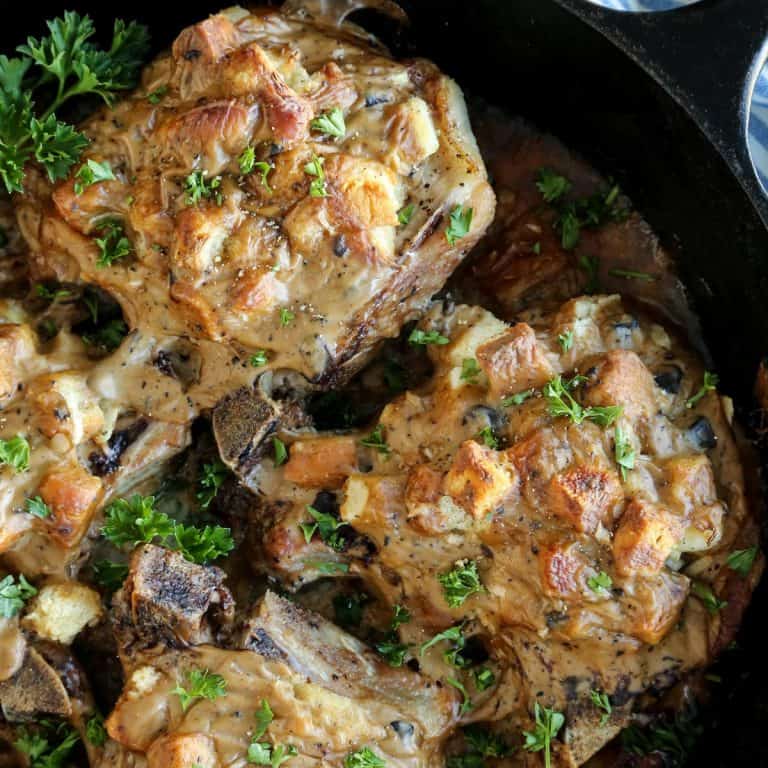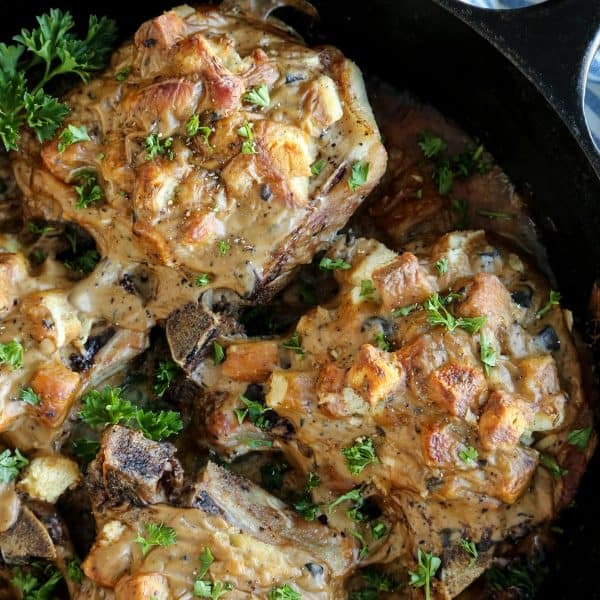 What Goes with Stuffed Pork Chops?
I love serving these with a simple baked potato, and maybe even some cheesy homemade garlic bread on the side if I'm really feeling the comfort food vibe! If you would like to add a salad to your dinner, try a grilled Romaine salad. It's beautiful and delicious.
I hope you like it as much as my family does. And if you do, be sure to come back and thank my dad!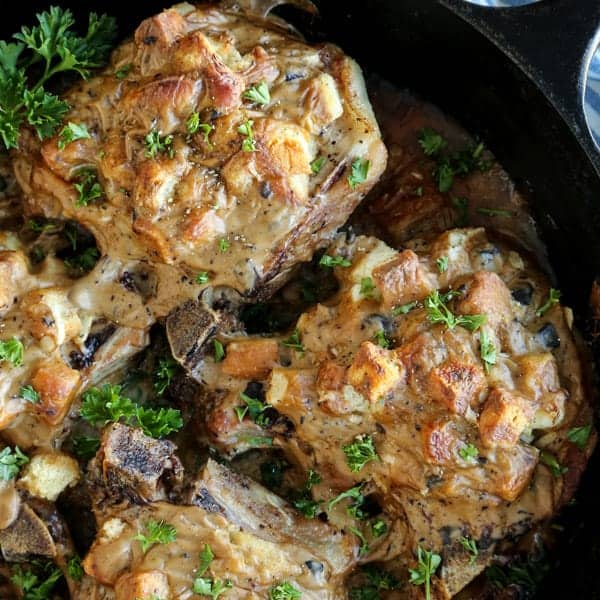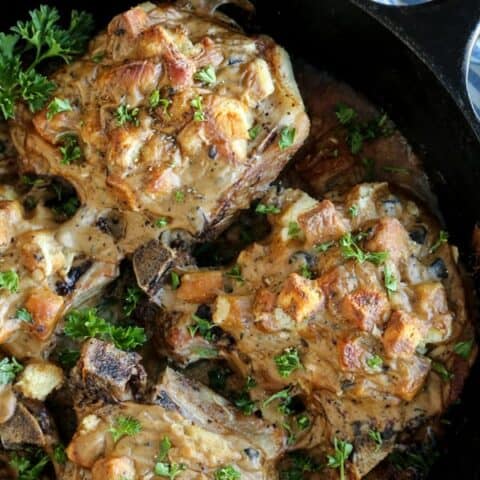 Baked Pork Chops and Stuffing
Yield: 4 servings
Prep Time: 20 minutes
Cook Time: 1 hour 40 minutes
Total Time: 2 hours
This easy recipe has been a longtime family favorite, with fork-tender pork chops covered in a super flavorful stuffing and gravy.
Ingredients
4 bone-in pork chops, about 1/2" to 3/4" thick and 1-1/2 lbs. in total weight
kosher salt
freshly ground black pepper
1 T. canola oil
4 c. soft bread cubes, about 1/2'' in size
2 T. finely chopped onion
1/4 + 1/3 c. water, divided
1/4 c. unsalted butter, melted
1/4 tsp. dried sage
1 can (10.75-oz.) less sodium cream of mushroom soup
2 tsp. soy sauce
Instructions
Preheat oven to 350° F.
Sprinkle pork chops lightly with salt and pepper. Heat oil in a large skillet over medium-high heat. Add pork chops and brown both sides. Do not cook completely. Transfer browned pork chops to an oven safe baking pan or large cast iron skillet.
In a medium bowl, fold together bread crumbs, onion, butter, 1/4 cup of the water, and sage. Place a mound of stuffing on each chop.
In another medium bowl, blend cream of mushroom soup, remaining 1/3 cup of water, and soy sauce. Pour evenly over the stuffing. Sprinkle with freshly ground black pepper. Bake for 1-1/2 to 2 hours, or until pork chops are very tender. Bake thinner (1/2") pork chops for a minimum of 1-1/2 hours, and add time for thicker pork chops. If using especially thick pork chops, I would recommend at least 2 hours of bake time, plus covering the dish for the first 30 minutes in the oven. The goal is to have fork-tender pork chops, and thicker chops will definitely take longer to get tender.
Notes
from the recipe box of my mom's good friend Candy Moberg
This can be prepared a few hours before baking time, or even the night before. Simply prepare the dish entirely, except for baking it. Cover and refrigerate. Take the dish out of the refrigerator an hour before serving time and preheat oven. Baking time may be a bit longer since it was refrigerated, but it also depends on the size of the pork chops, etc.
Recommended Products
As an Amazon Associate and member of other affiliate programs, I earn from qualifying purchases.
Nutrition Information:
Yield: 4
Serving Size: 1
Amount Per Serving:
Calories: 1157
Total Fat: 39g
Saturated Fat: 15g
Trans Fat: 0g
Unsaturated Fat: 19g
Cholesterol: 165mg
Sodium: 1661mg
Carbohydrates: 154g
Fiber: 17g
Sugar: 32g
Protein: 59g
Here are a few more comfort dishes you might like:
Like this pork chops recipe? Pin it!

This post was previously published November 2012. Photographs and some of the text were updated February 2018.
We participate in the Amazon Services LLC Associates Program, an affiliate advertising program designed to provide a means for us to earn fees by linking to Amazon.com and affiliated sites. See our
disclosure policy
for more info.