Extra Peppery Chicken Meatball Stroganoff
This Extra Peppery Chicken Meatball Stroganoff is comfort through and through, with a rich and creamy homemade gravy that coats every last noodle and meatball.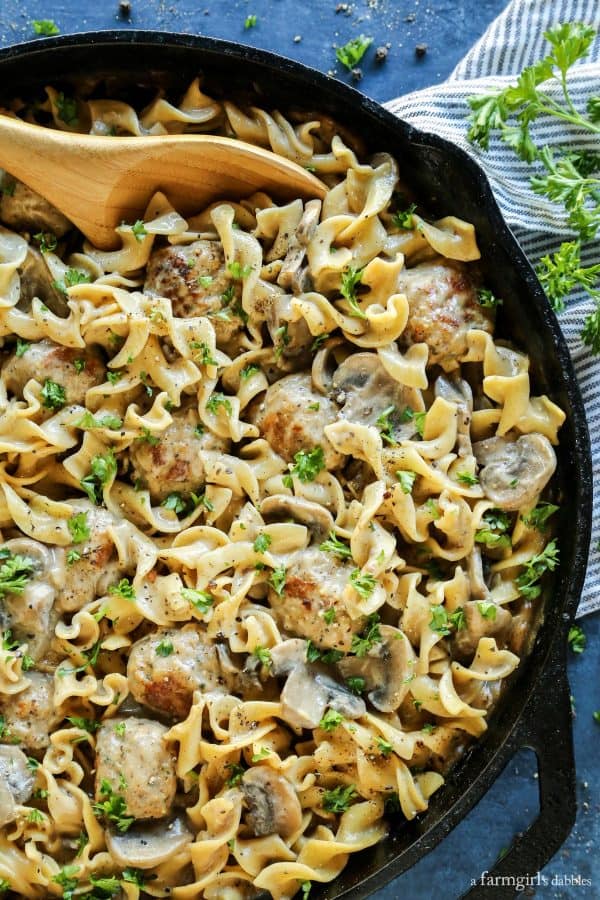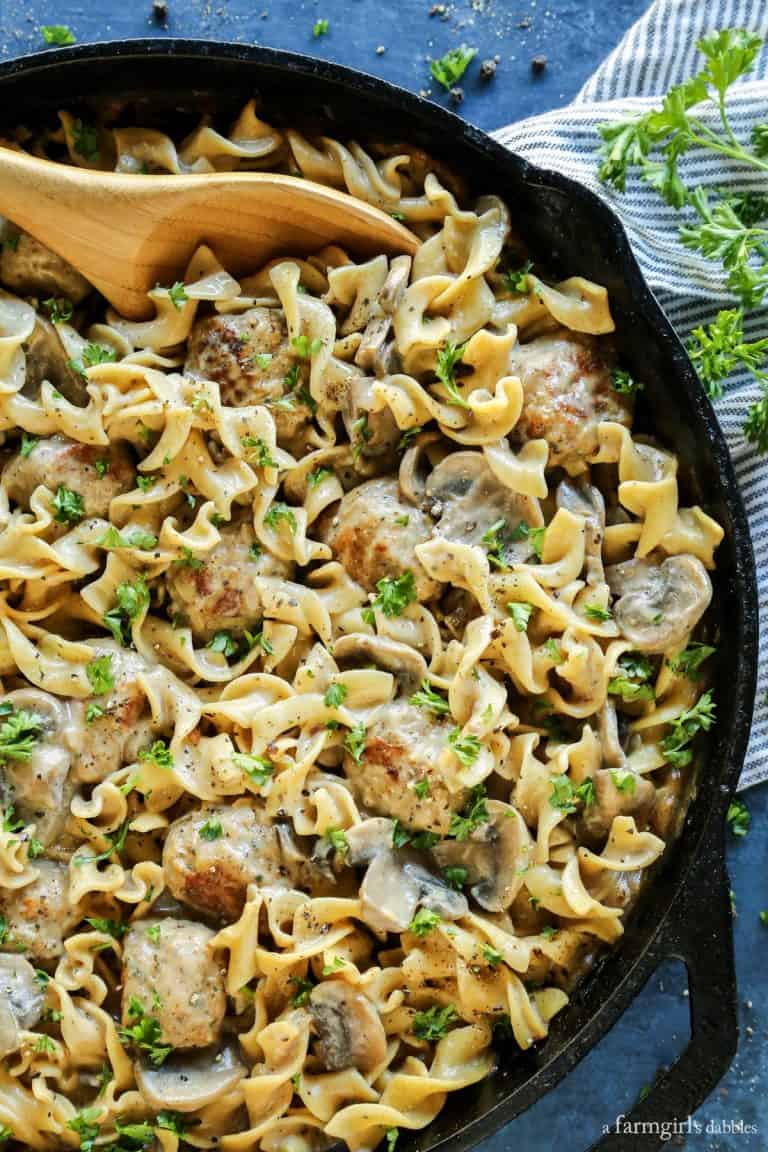 Remember Hamburger Helper? That creamy, tasty comfort dish from a box that came together quick and easy during your college years? Well…this is not that.
This Extra Peppery Chicken Meatball Stroganoff has all the comfort and flavor qualities you still crave from that boxed meal, but in easy homemade fashion. My family goes crazy whenever this skillet comes off the stove top. I'm betting you'll love it, too!
* This is a sponsored post, created in partnership with Gold'n Plump®.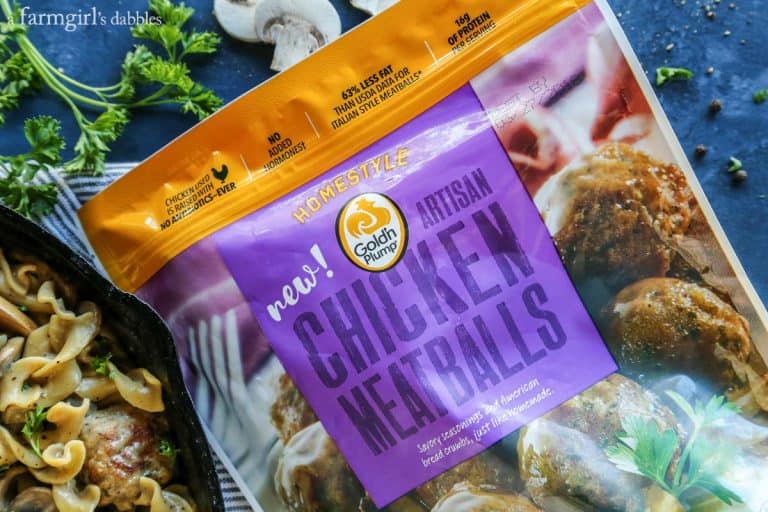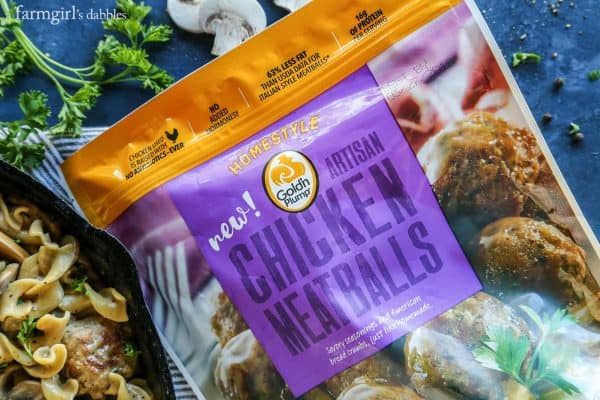 I'm always looking for ways to add lean protein to our meals. And during the school year, especially when both of our girls are in basketball and we're extra busy running to and fro, I'm grateful for Gold'n Plump chicken meatballs waiting in our freezer.
These meatballs are fully cooked and sold frozen in re-sealable, zip-top bags…where I can use the whole bag, or simply take out a few meatballs at a time to make a meal for one or two. With two flavors to choose from – Homestyle or Pesto Italian – these meatballs adapt to fit into so many of our favorite meal plans.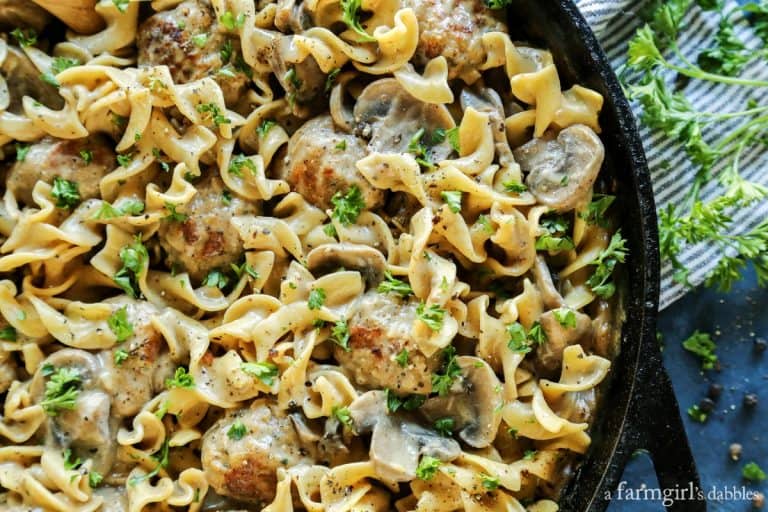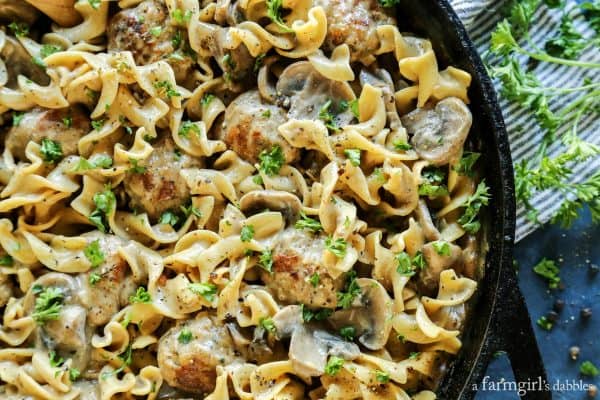 If I asked our youngest daughter ever day what I should make for supper, she'd probably reply "noodles" at least 80% of the time. And if I asked her how she'd like them, she'd reply either "creamy" or "cheesy".
So this is one of my answers to Tessa's creamy noodles request, with a little touch of my own selfish doing >>> I make it extra peppery. The older I get, the more black pepper I add to most every dish. I think this spice is highly underutilized and underappreciated…and I'm here to love on it every chance I can get!
I can remember when both of our daughters would complain about my cracking fresh peppercorns over our meals, a bit heavy-handed, I admit. But I never quit my cracking, betting that they'd come around. And now I haven't heard a complaint in at least a couple years. We are officially a black pepper loving family. :)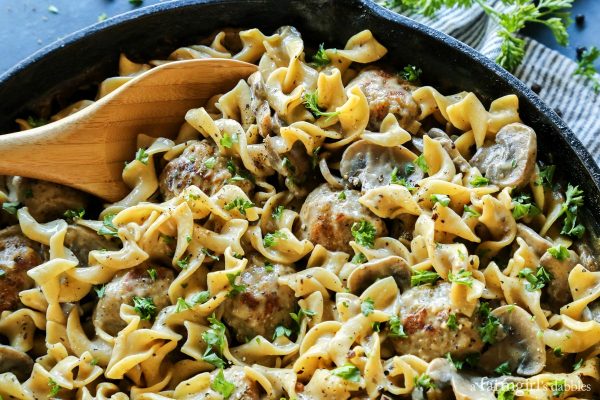 This extra peppery chicken meatball stroganoff is comfort through and through, with a rich and creamy homemade gravy that coats every last noodle and meatball.
If you don't want to add all the black pepper that my recipe includes, I'm fine with that – this dish will still be amazing, I promise. And if you add more black pepper, an extra big high five to you!!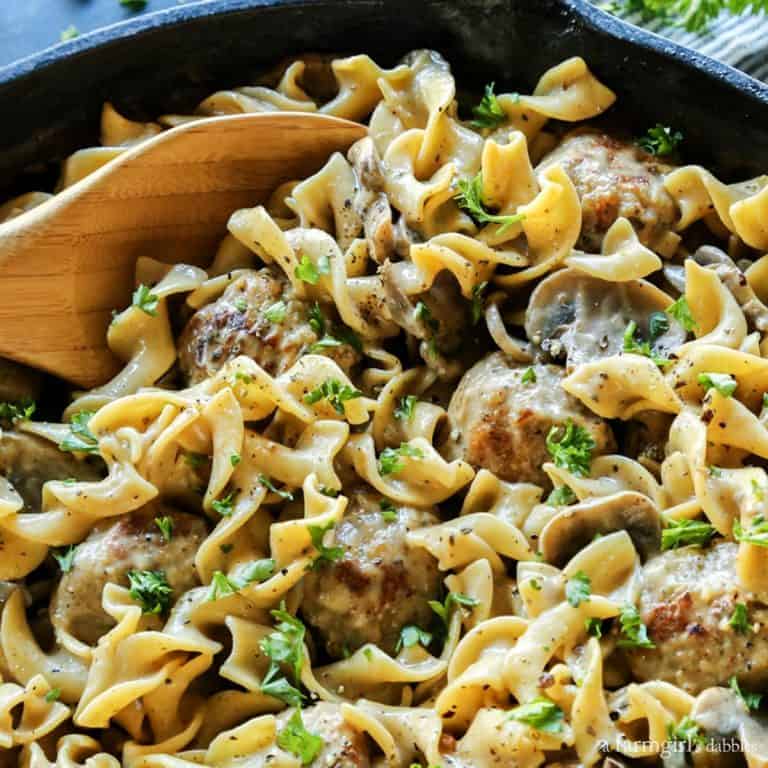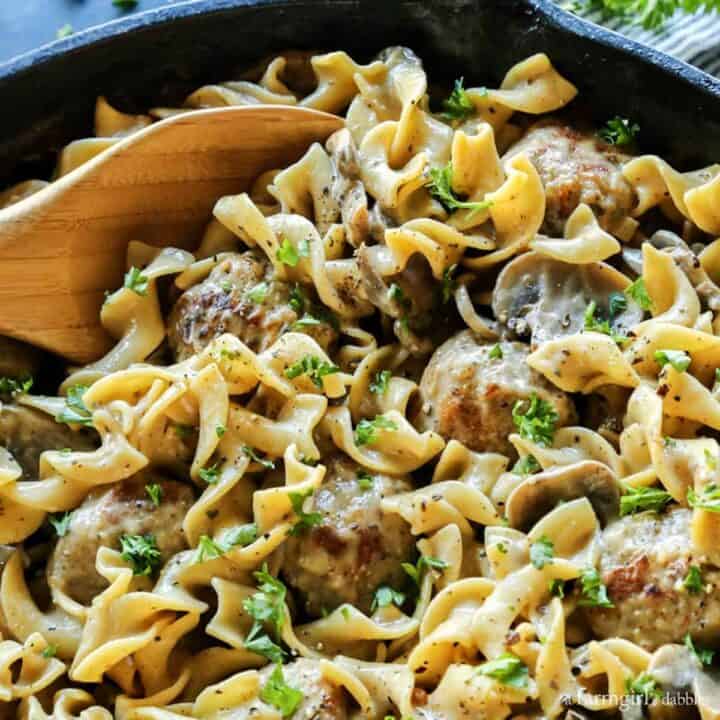 Extra Peppery Chicken Meatball Stroganoff
Yield: 5 servings
Prep Time: 15 minutes
Cook Time: 50 minutes
Total Time: 1 hour 5 minutes
This Extra Peppery Chicken Meatball Stroganoff is comfort through and through, with a rich and creamy homemade gravy that coats every last noodle and meatball.
Ingredients
1 T. + 1 tsp. olive oil, divided
1 (18-oz.) package Gold'n Plump® Chicken Meatballs – Homestyle
4 T. unsalted butter, divided
1 c. finely chopped yellow onion
16 oz. fresh button mushrooms, sliced
2 large garlic cloves, minced
1/3 c. all-purpose flour
2 T. soy sauce
1/2 tsp. Worcestershire sauce
1 c. whole milk
2 c. low sodium chicken broth
1/2 c. sour cream
1 tsp. dried mustard
kosher salt, if desired
1 tsp. finely ground black pepper
1 tsp. very coarsely ground black pepper
8 oz. wide egg noodles, cooked to al dente in a pot of salted water
3 T. freshly chopped parsley
Instructions
Heat a large cast iron skillet (mine is 12" in diameter) or a large skillet with tall sides over medium heat. Add 1 tsp. of the olive oil to the warmed pan, and then add the meatballs. Using a tongs, turn meatballs every minute or two to brown all sides, cooking about 10 to 12 minutes total. The meatballs are already fully cooked, so it's just a matter of getting them nicely browned for extra flavor and texture. Remove browned meatballs to a plate.
Using the same skillet, over medium heat, add remaining tablespoon of the olive oil and one tablespoon of the butter. Once butter has melted, stir in onions, mushrooms, and garlic. Cook until onions are transparent and mushrooms are nicely softened, about 6 to 10 minutes.
Now slide everything in the skillet to one side. Add the remaining three tablespoons of the butter to other side of skillet. When butter is melted, sprinkle flour over the butter, whisking all the while - a flat whisk works awesome here! Draw as much butter as you can into the flour. Cook for 4 to 5 minutes, until the mixture is bubbling and slightly browned.
Stir in soy sauce and Worcestershire sauce to create a very thick mixture. Cook for 1 minute. Then slowly add milk while you whisk and scrape the bottom of the pan, smoothing out the mixture with the whisk. Once this mixture is smoothed out, whisk in broth to fully incorporate. Then bring the mushroom mixture into the milk mixture. Stir to incorporate. Cook until thickened, about 15 to 20 minutes. Then stir in sour cream and dried mustard. Taste test the gravy to see if more salt is needed - if so, add it now. Then season with finely ground black pepper and very coarsely ground black pepper. Add chicken meatballs to gravy, folding to incorporate. Cook for 5 to 10 minutes, to heat meatballs and gravy thoroughly, folding every few minutes.
Serve over cooked egg noodles. Garnish with fresh chopped parsley.
Notes
from a farmgirl's dabbles
Nutrition Information:
Yield: 5
Serving Size: 1
Amount Per Serving:
Calories: 415
Total Fat: 23g
Saturated Fat: 11g
Trans Fat: 0g
Unsaturated Fat: 10g
Cholesterol: 77mg
Sodium: 683mg
Carbohydrates: 39g
Fiber: 4g
Sugar: 8g
Protein: 18g
Nutrition information is automatically calculated by Nutritionix. I am not a nutritionist and cannot guarantee accuracy. If your health depends on nutrition information, please calculate again with your own favorite calculator.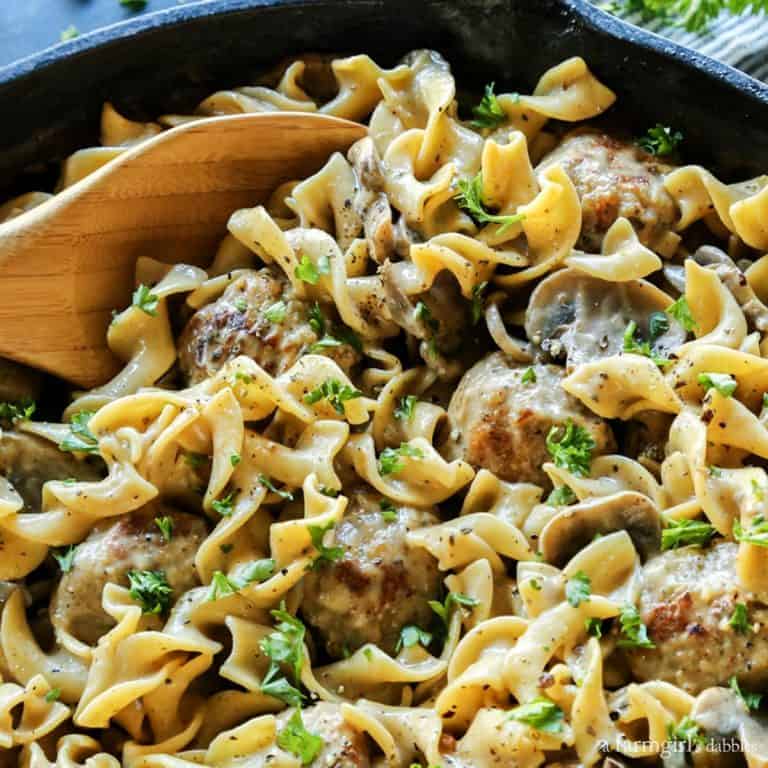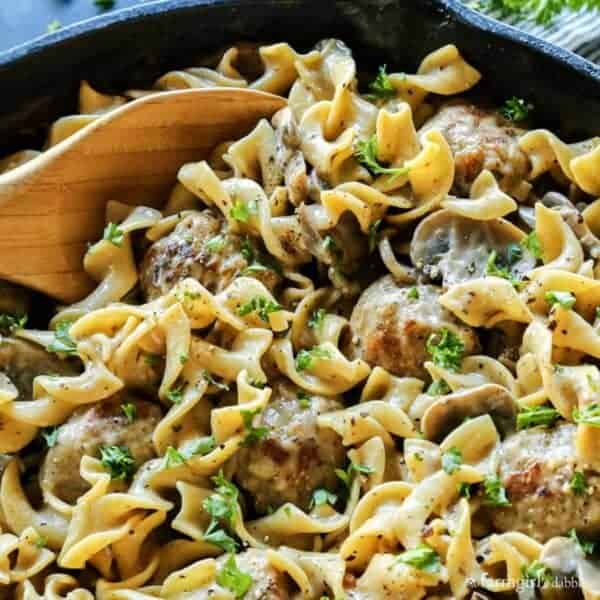 .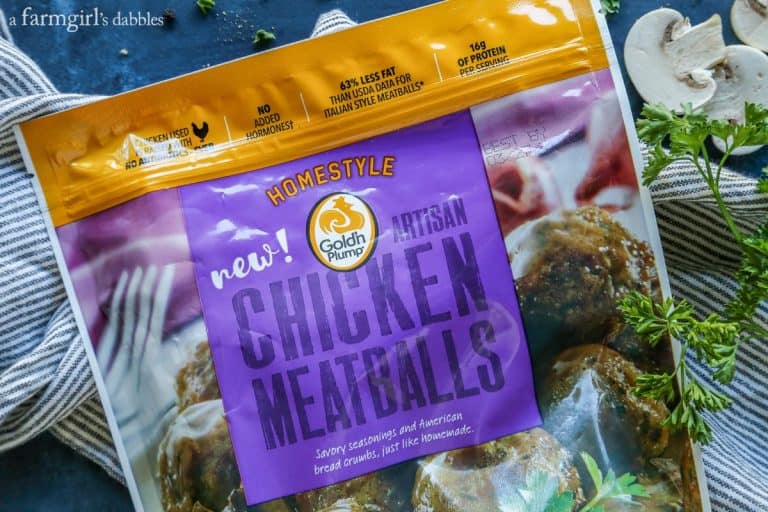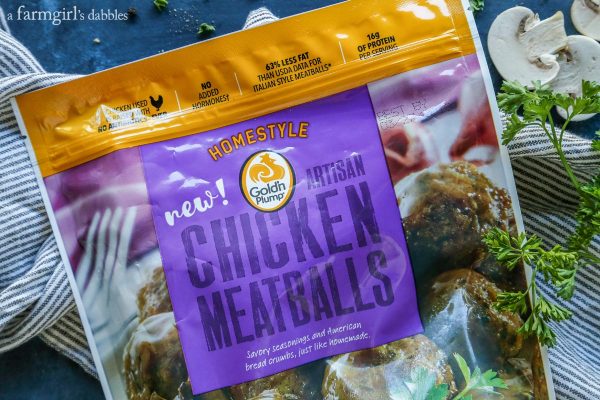 .
Here are a few more Gold'n Plump chicken meatball recipes you might like:
Pesto Meatball Flatbread from Garnish with Lemon
Honey Chipotle Slow Cooker Meatballs from With Salt and Wit
Meatball Stuffed Shells from Gold'n Plump
Swedish Meatballs from Gold'n Plump
.

At Gold'n Plump, good chicken is their mission. The brand is proud to offer the best tasting chicken, raised on family farms in Minnesota and Wisconsin. Gold'n Plump chicken meatballs are made of coarse-ground 100 percent quality boneless skinless thigh meat raised with No Antibiotics-Ever and only real ingredients, with no fillers or artificial flavors.
Connect with Gold'n Plump on their website and social media channels: Facebook, Twitter, and Pinterest.
This post is sponsored by Gold'n Plump. I am honored to partner with them again this year to bring you delicious new chicken recipes from our kitchen and backyard grills. All opinions are 100% my own, as always. Thank you for supporting the brands that help make this site possible.