Creamy Garlic Pasta Nests with Pesto Chicken Meatballs
This Creamy Garlic Pasta Nests with Pesto Chicken Meatballs dish is amazingly easy and delicious, perfect for either a weeknight meal or a special dinner.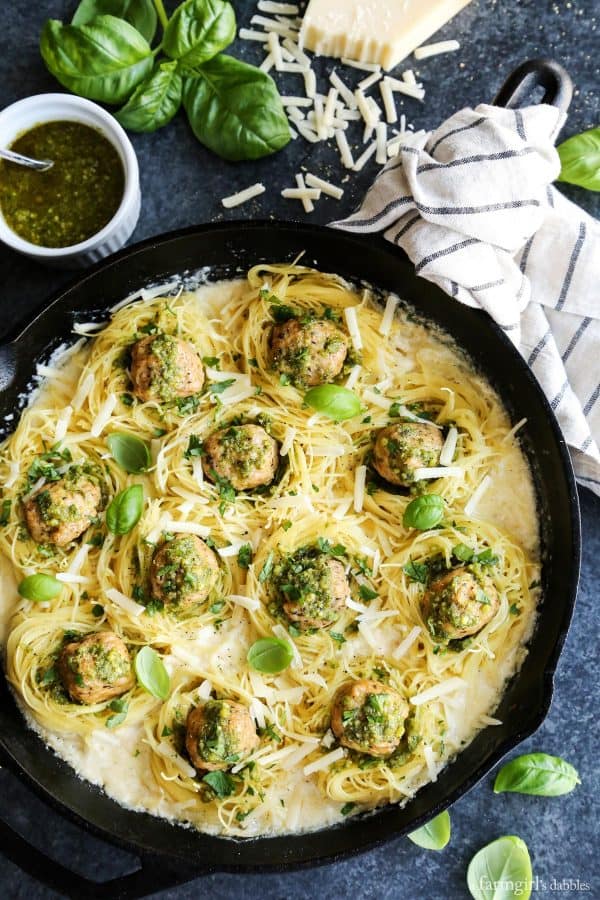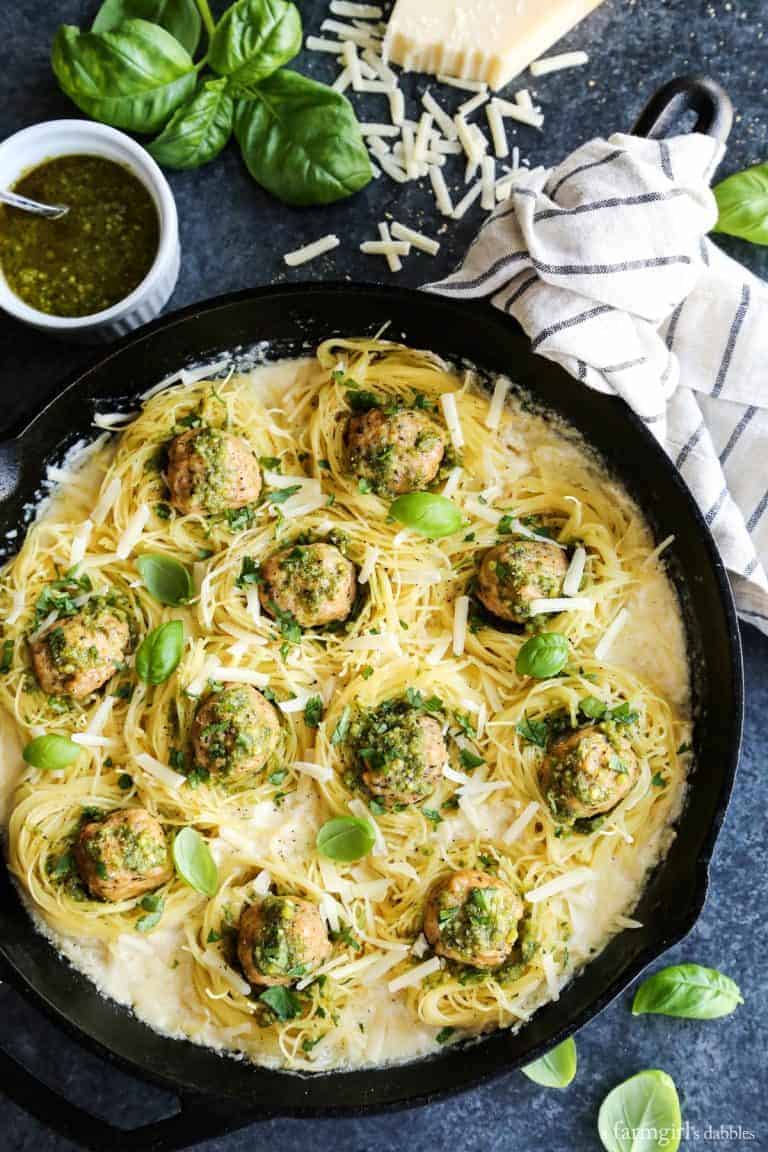 Sometimes the only thing we need for inspiration is a little different perspective.
That's how this Creamy Garlic Pasta Nests with Pesto Chicken Meatballs dish came about. Our youngest daughter was grocery shopping with me, and while we were in the pasta section, her eyes caught sight of a package of angel hair pasta nests. The pasta sat a couple shelves below my eye level, yet perfectly in line with Tessa's vision line. She was intrigued and asked if we could try them.
Tessa would eat pasta in any form, any day, several times a day, if only we'd let her. But I had to agree. Those pasta nests looked like fun, especially since they were made of one of my own pasta favorites —> angel hair. Tessa placed a package of the pasta nests in our cart, and then the idea hit me. I knew just what I wanted to do with them, and it involved nestling tasty chicken meatballs in pasta nests swimming in a garlicky cream sauce.
You are going to absolutely LOVE this recipe!!
* This is a sponsored post, created in partnership with Gold'n Plump®.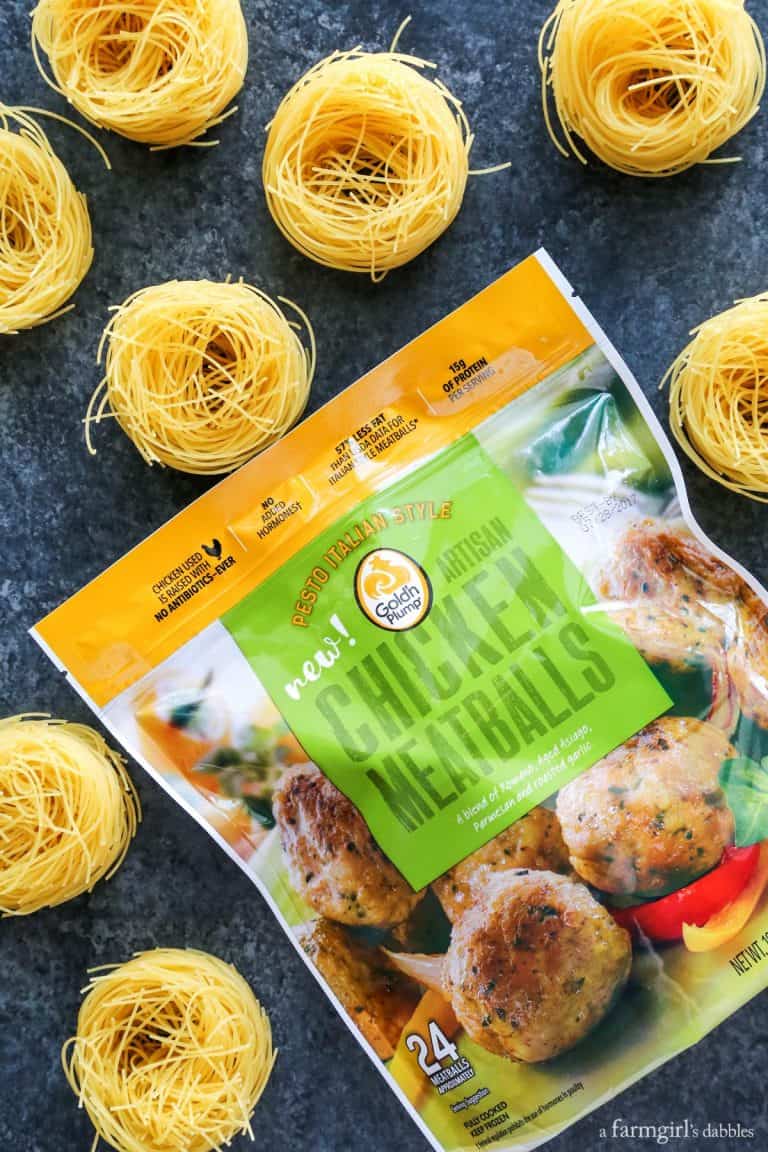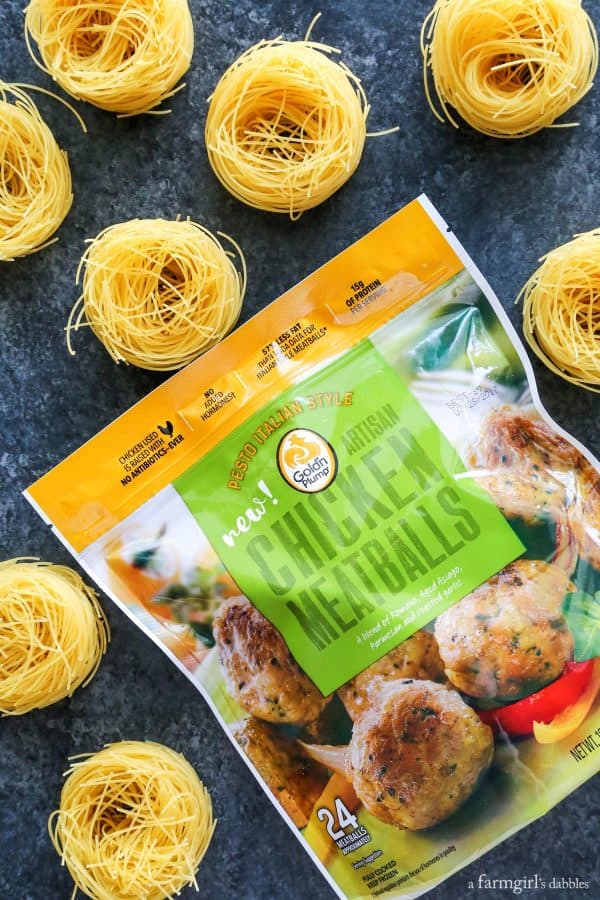 I've been partnering with Gold'n Plump for four years now. Local to Minnesota, this chicken brand is one that I'm proud to feature both here on a farmgirl's dabbles and on my family's dinner table.
When Gold'n Plump recently shared with me their line-up of new products, I got excited. Very excited! I knew these products would appeal to our own weekly meal planning, and also to those of you who are always searching for quick and easy ways to put tasty protein on your family's table. With this creamy garlic pasta nests recipe, I'm using fully cooked Gold'n Plump chicken meatballs. Stay tuned this year for more new recipes from our kitchen and backyard grills featuring other new convenient, delicious chicken products!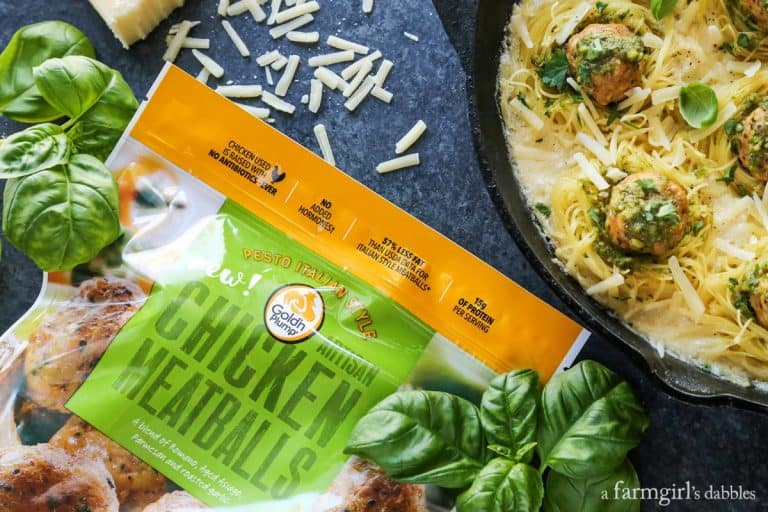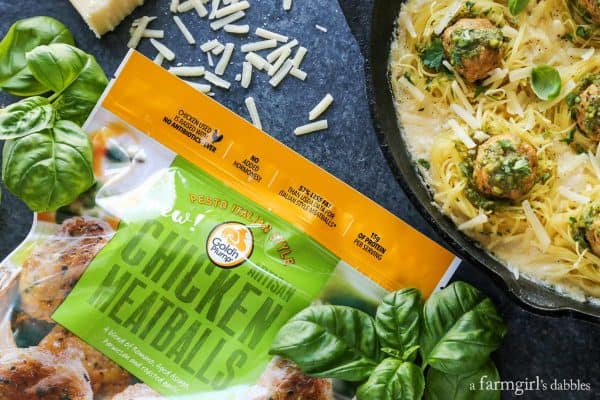 Gold'n Plump chicken meatballs come in two different varieties:
Homestyle, with a blend of savory seasonings and bread crumbs for a just like "homemade" experience.
Pesto Italian, with a flavorful blend of Romano, aged Asiago, Parmesan and roasted garlic.
The meatballs come fully cooked, making it a snap to put together a weeknight meal. And any leftovers make for quick lunches the next day. Our girls love the opportunity to make a meatball sandwich to slip into their school lunch totes. Really, who wouldn't?!
As a mom, I especially like that these chicken meatballs are a fun and delicious way to add protein to our meals, with no preservatives, no fillers, and no artificial flavors. And the chicken used is raised with No Antibiotics-Ever.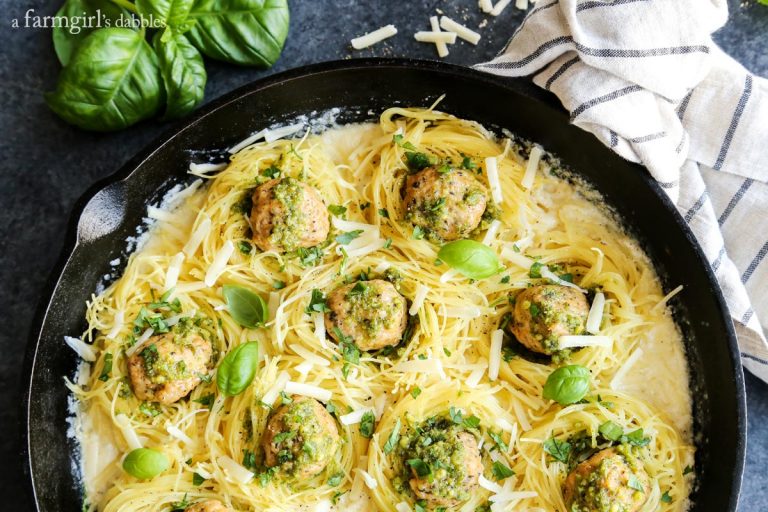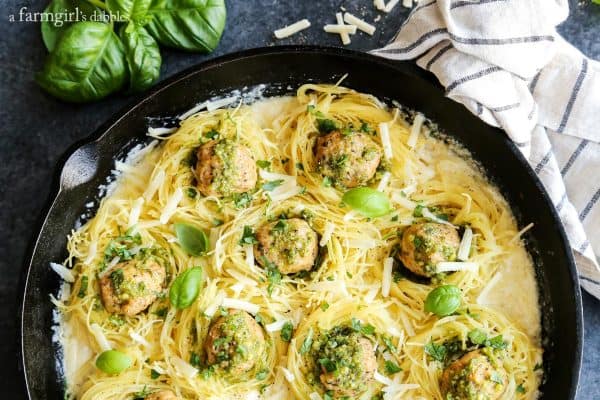 I was giddy to set this dish before my family. Without a doubt, I knew they'd love it.
If you like alfredo-style pasta dishes, you simply must give this recipe a try. This is the ultimate quick way to indulge in that creamy garlicky goodness. I used the Pesto Italian flavored meatballs and then added some extra pesto goodness, fresh and bright. This pasta dish is comfort and deliciousness, to the max. Easy enough for a weeknight, amazing enough for a special dinner.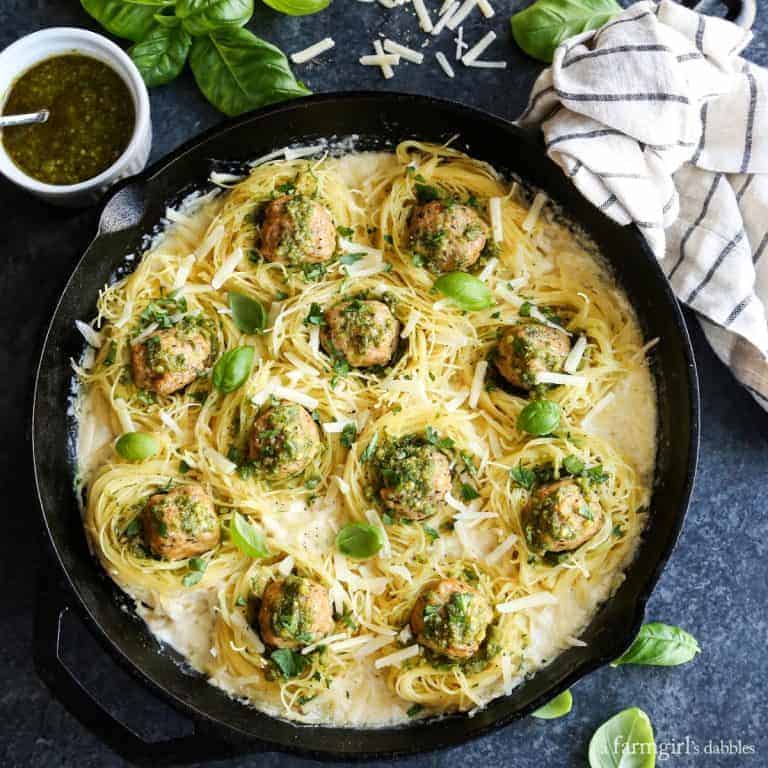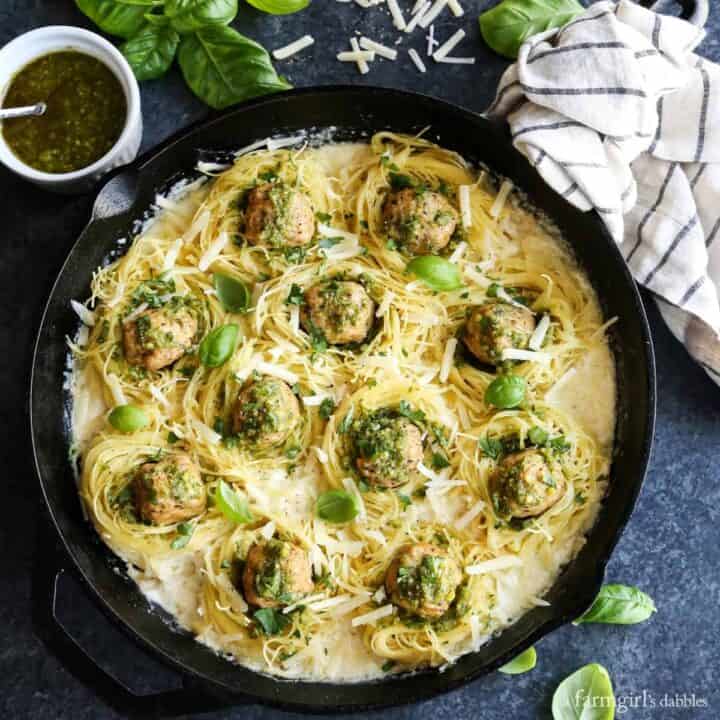 Creamy Garlic Pasta Nests with Pesto Chicken Meatballs
Yield: about 5 servings
Cook Time: 25 minutes
Total Time: 25 minutes
This Creamy Garlic Pasta Nests with Pesto Chicken Meatballs dish is amazingly easy and delicious, perfect for either a weeknight meal or a special dinner.
Ingredients
11 individual meatballs from one package Gold'n Plump® Chicken Meatballs – Pesto Italian, thawed
1 16-oz. package angel hair nests (this is what I use, which has 11 nests per package)
4 T. unsalted butter
6 large cloves garlic, minced
1-1/2 c. heavy cream
1/2 tsp. kosher salt
1 c. grated Parmesan
1/4 c. pesto
freshly ground black pepper
shredded Parmesan, for garnish, if desired
1 T. minced fresh parsley, for garnish, if desired
small fresh basil leaves, for garnish, if desired
Instructions
Preheat oven to 350° F.
Lightly spray a rimmed baking sheet with cooking spray and set aside.
Bring a medium-large pot of salted water to a boil. Add all pasta nests and then turn heat down so the water is only gently bubbling, and cook for 2 minutes, just until al dente. Using a slotted spoon, quickly remove pasta nests from water, draining away as much water as you can, and place them on prepared rimmed baking sheet. Set aside. Do not discard pasta water.
Heat 12″ cast iron skillet or other 12″ oven-safe skillet over medium to medium-low heat. Add butter. Once melted, add garlic, stirring to coat. Sauté for about 3 minutes, stirring regularly, until garlic is softened. If garlic starts to brown, turn heat down a bit. Stir in cream and kosher salt. When mixture starts to bubble, let simmer for 2 minutes longer, stirring every now and then. Add 2 tablespoons of the reserved pasta water, and then whisk in grated Parmesan until smooth. Taste test and add a bit more salt, if needed. Remove skillet from heat. Nestle each of the cooked pasta nests into the cream sauce. Add 1 teaspoon of pesto to the centers of each pasta nest, spreading out the pesto into the pasta a bit. Press a chicken meatball into the center of each pasta nest and then add a bit more pesto to the top of each meatball. Cover skillet with foil, aiming to not let the foil touch the meatballs, and place in oven. Bake for 20 to 25 minutes, or until cream sauce is bubbling lightly. Sprinkle each pasta nest with a bit of freshly ground black pepper, plus freshly shredded Parmesan, minced parsley, and basil leaves, if desired. Serve hot.
Nutrition Information:
Yield: 5
Serving Size: 1
Amount Per Serving:
Calories: 1018
Total Fat: 81g
Saturated Fat: 39g
Trans Fat: 2g
Unsaturated Fat: 36g
Cholesterol: 231mg
Sodium: 1294mg
Carbohydrates: 44g
Fiber: 3g
Sugar: 6g
Protein: 32g
Nutrition information is automatically calculated by Nutritionix. I am not a nutritionist and cannot guarantee accuracy. If your health depends on nutrition information, please calculate again with your own favorite calculator.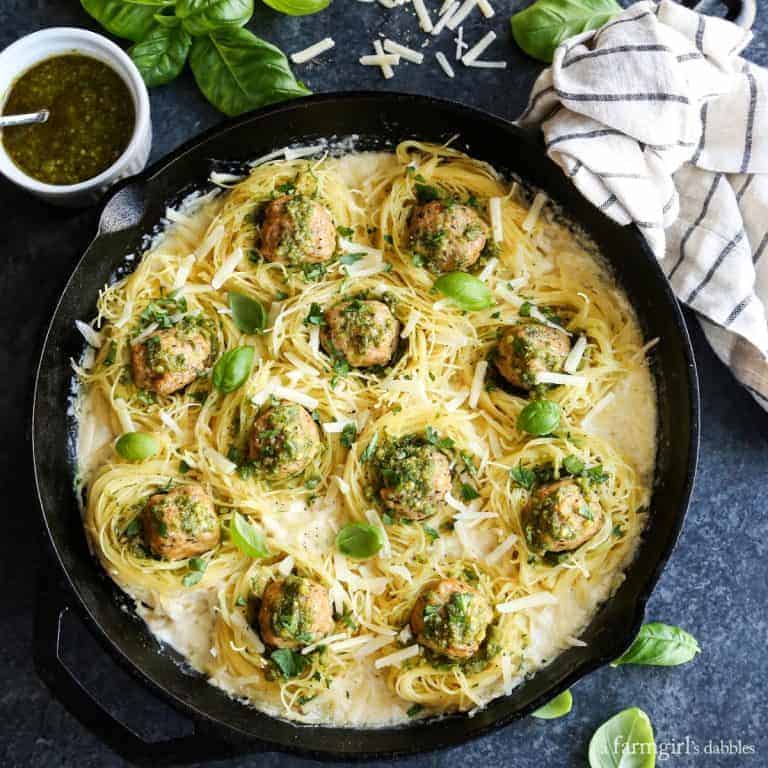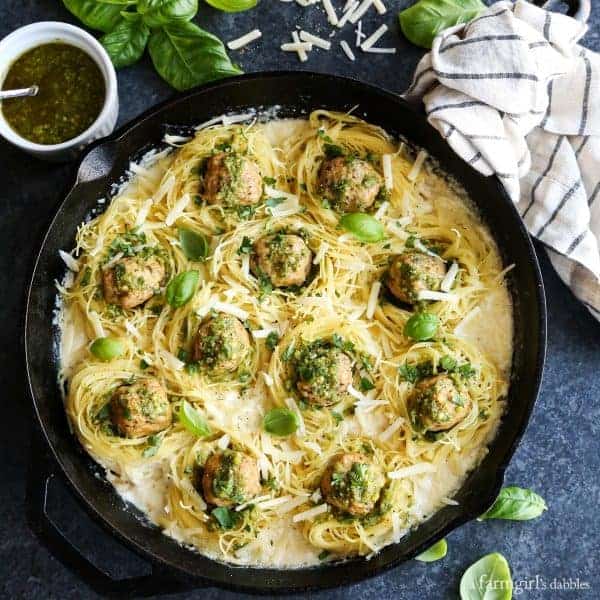 This post is sponsored by Gold'n Plump, a local chicken brand based out of St. Cloud, Minnesota. I am honored to be partnering with them again this year to bring you delicious new chicken recipes from our kitchen and backyard grills. All opinions are 100% my own, as always. Thank you for supporting the brands that help make this site possible!