Yeast Donuts with Fresh Raspberry Glaze
This recipe for homemade Yeast Donuts with Fresh Raspberry Glaze are so delicious! These donuts are fried until golden and then dunked into the glaze for the best sweet dessert.
If you love raspberry desserts you should also try my Heart Shaped Brownies with Fresh Raspberry Buttercream and my Raspberry Rhubarb Skillet Coffee Cake.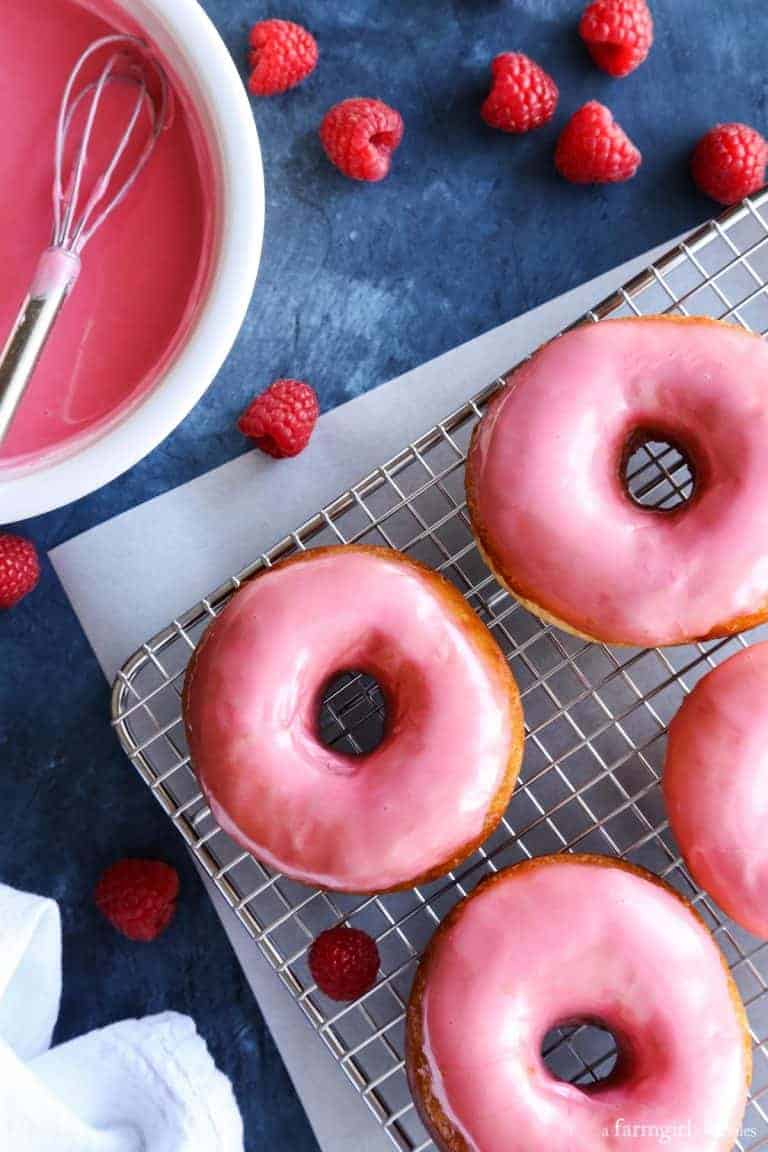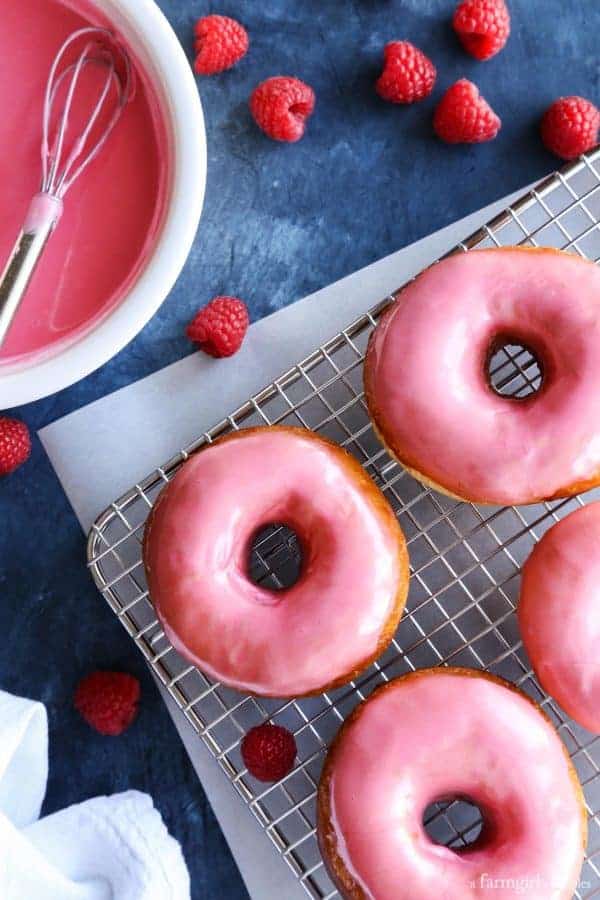 Fresh Donuts Are One Of My Favorite Sweet Treats
I never used to "love" donuts. But with so many extraordinary local offerings these days, I have become hooked. My current favorite donut shops in the Twin Cities are Angel Food, Bogart's, and Glam Doll. I absolutely love it when I have an early morning flight out of MSP and can stop by Angel Food's airport bakery (Terminal 1, Concourse E) to watch the bakers cranking out artful donuts while I sit at the counter with a hot cup of coffee and a just-made donut. My last donut there was lemon meringue, filled with an ultra light and fluffy lemon buttercream and topped with a beautifully toasted meringue. I dream about eating another one of those donuts.
Donuts.
I'm such a goner.
For many years, I've wanted to make my own yeast donuts at home. But I've been apprehensive to try. With a trip to Nashville and a visit to the White Lily kitchen, though, I gained enough confidence to put on my big girl apron and give homemade donuts a try.
Check out my homemade Yeast Donuts with Fresh Raspberry Glaze. They are so much delicious fun!
* This is a sponsored post, created in partnership with White Lily®.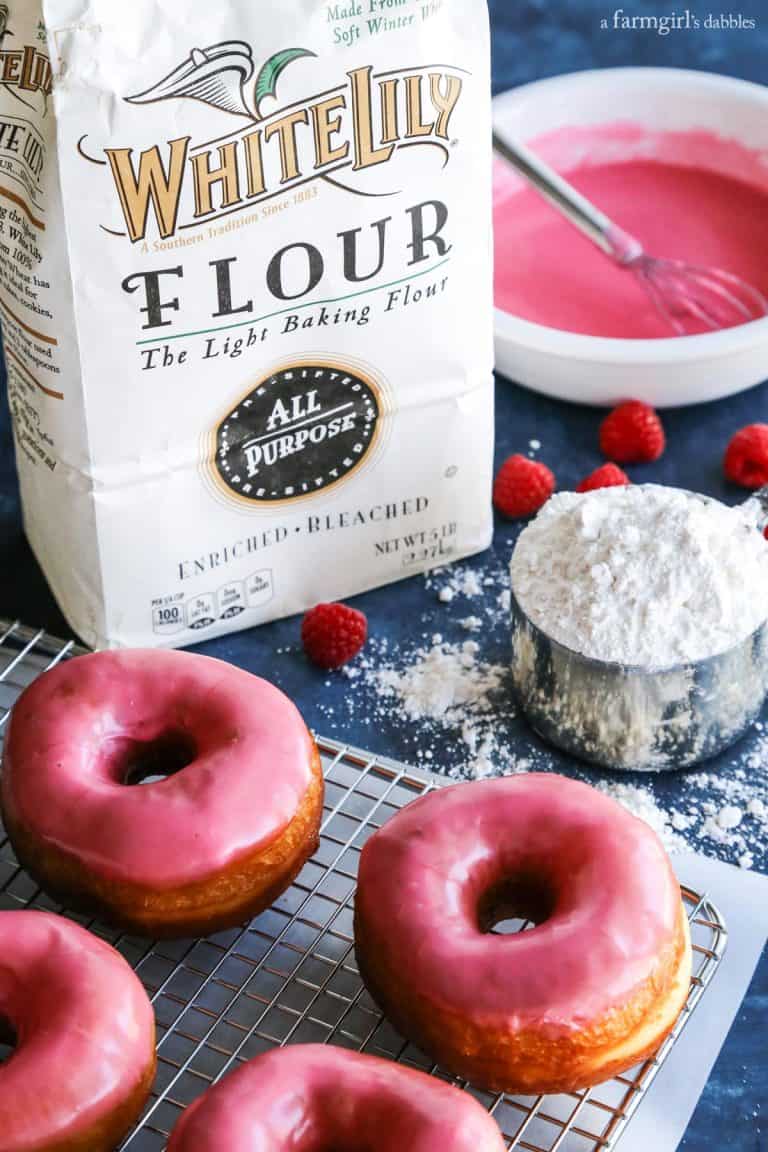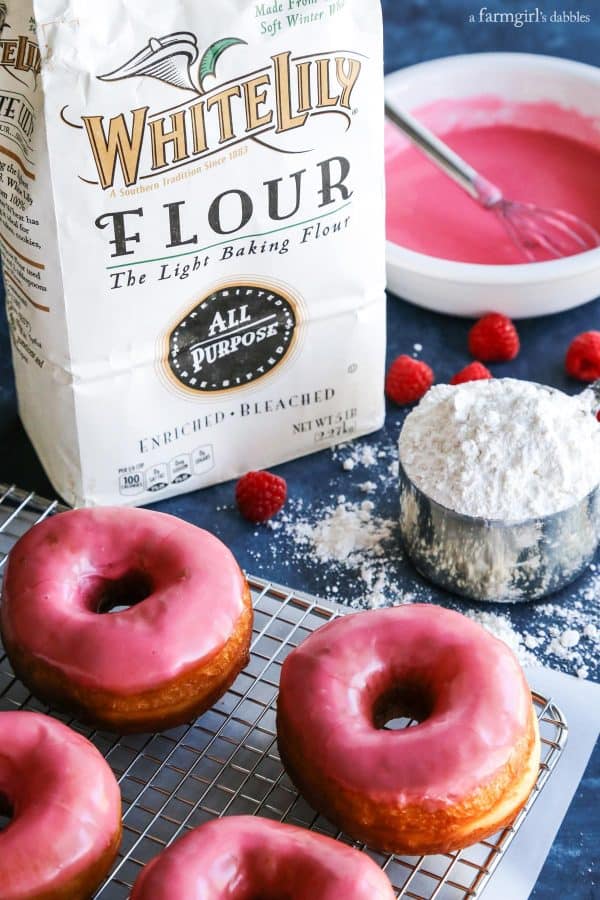 What Type Of Flour Is Best For Making Yeast Donuts?
Ever since my first introduction to White Lily at a baking retreat in Nashville (almost 4 years ago now), I've been enamored with their flours. If you want to wow your family and friends with tender, flaky homemade biscuits, White Lily Self-Rising Flour is where you need to start – no ifs, ands, or buts. And for all-around baking versatility, be sure to keep White Lily All-Purpose Flour on hand. These flours are milled from 100% soft red winter wheat, perfect for creating baked goods with a light and fluffy texture. I used the all-purpose flour to make these donuts.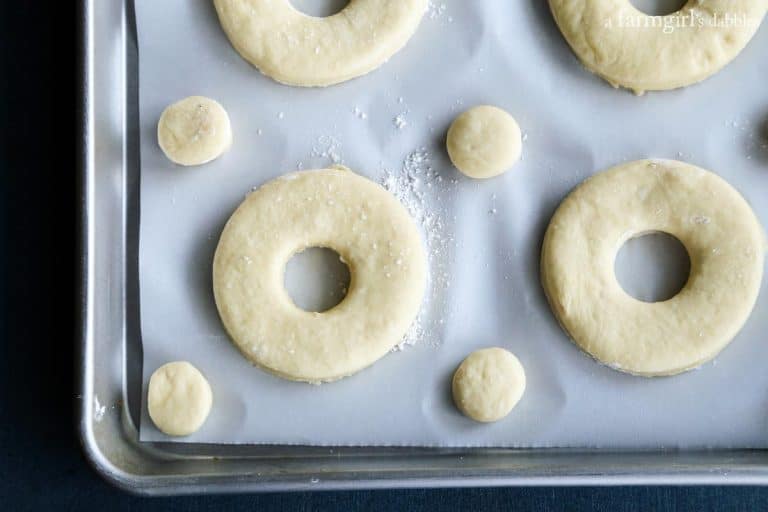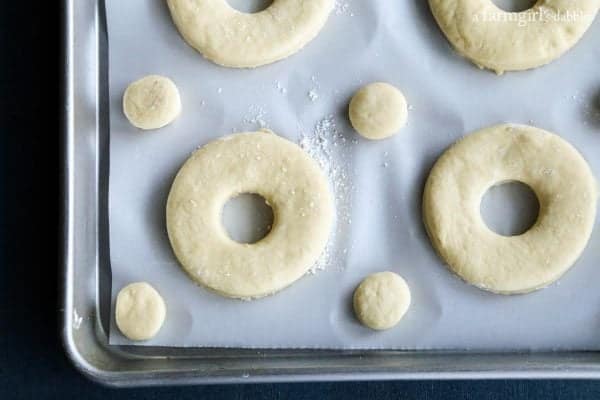 Even though I went through quite a lot of yeast and a whole bag of flour getting this donuts recipe exactly how I wanted it, I had loads of fun. And I have Linda to thank.
I recently spent a day with Linda Carman from the White Lily test kitchen. She is the one who originally taught me how to make the best homemade biscuits ever.
And here again, Linda's baking expertise helped to relax my anxiety of using yeast, laying the foundation for my own donut making at home. She helped me to see that yeast should not be intimidating, and should definitely not stop me from making my own fresh homemade donuts!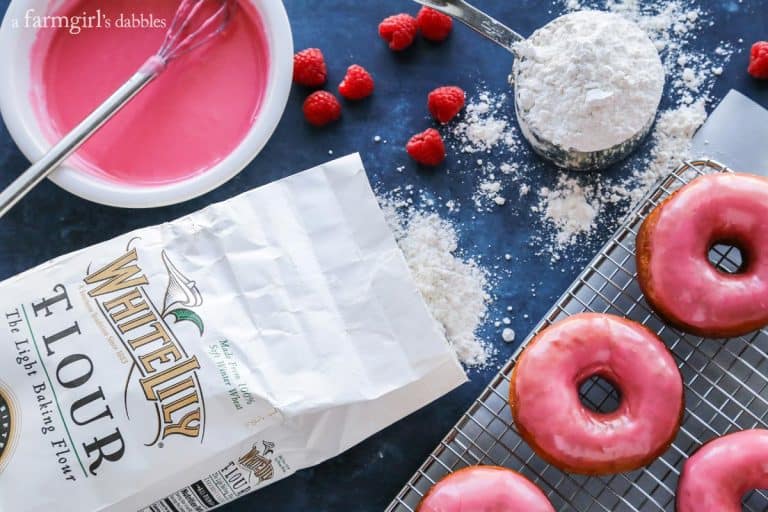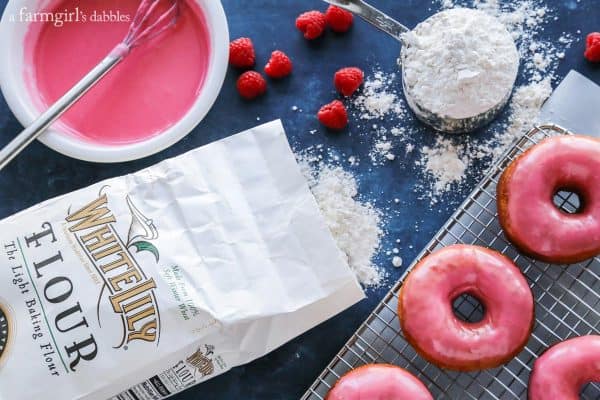 I want to be upfront with you. Even though I am now confident and comfortable with making donuts on my own, this is still a bit of a project. But. It's a fun project with an extremely delicious reward!
How Long Does It Take To Make Yeast Donuts?
If you've never made yeast donuts, make sure to read through the recipe in its entirety and have everything you need first, including both ingredients and equipment. You will also need a few uninterrupted hours for your donut making.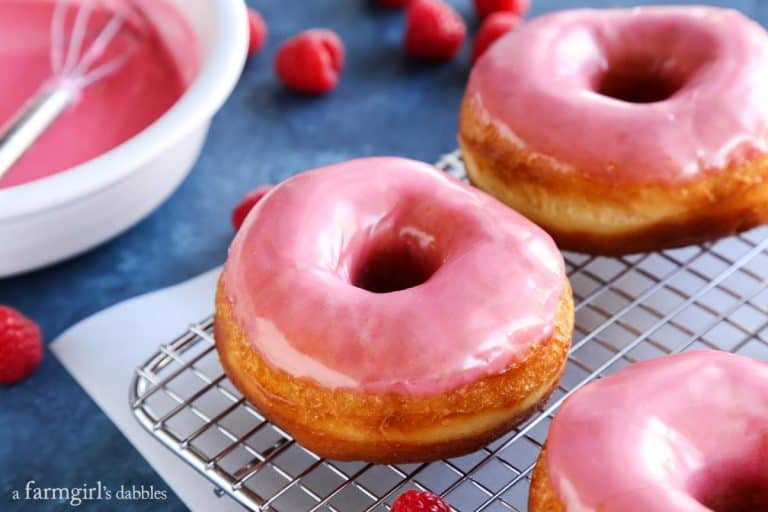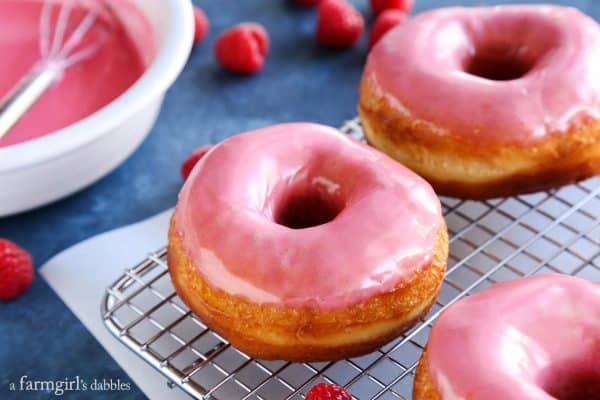 I'm still just a bit amazed. I made those beautiful donuts.
I MADE THOSE DONUTS!!!!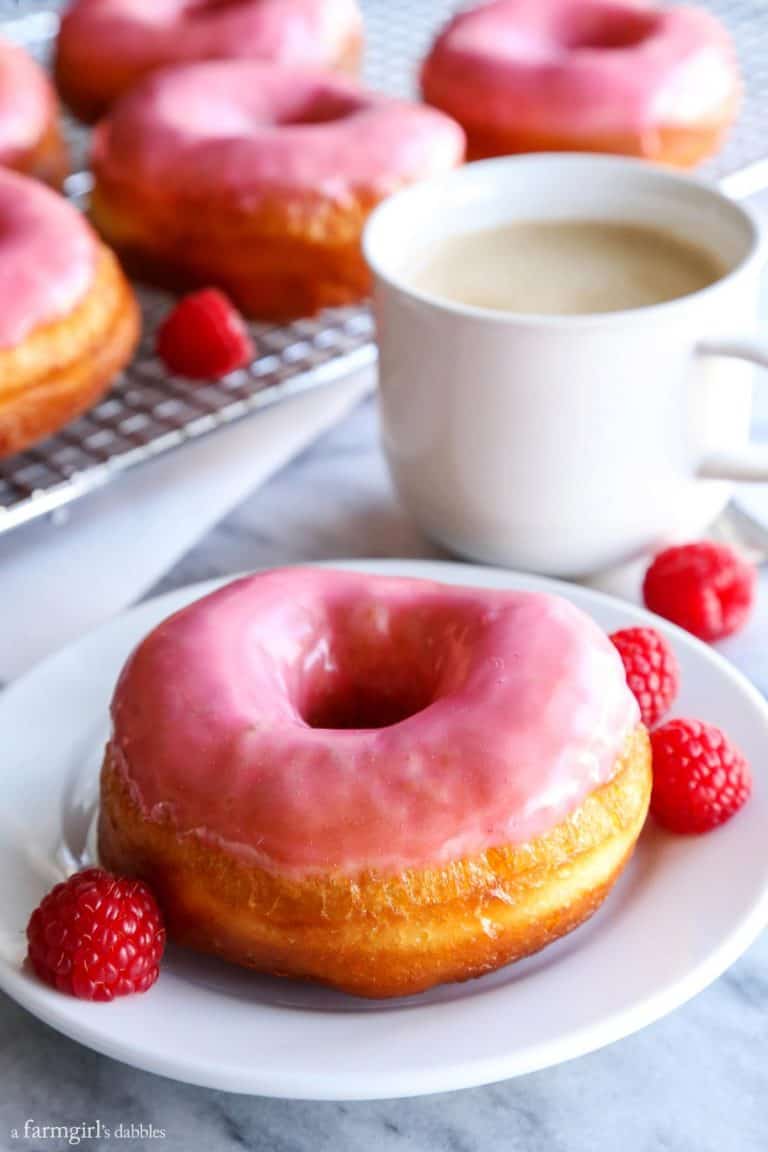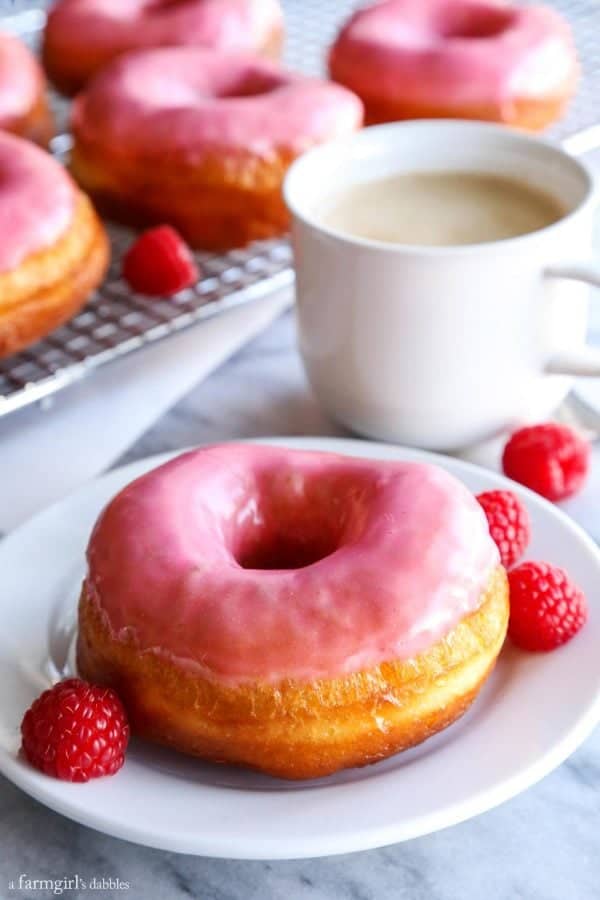 What Other Flavors Can I Add To These Yeast Donuts?
The fresh raspberry glaze is pretty in pink, fitting for Valentine's Day next week. But you can finish these yeast donuts off however you like. A simple coating of cinnamon sugar has been the biggest hit with my family so far. I want to try a chocolate glaze next. Because we all know that simply could never be a regretful donut experience.
Happy, happy donut making to you!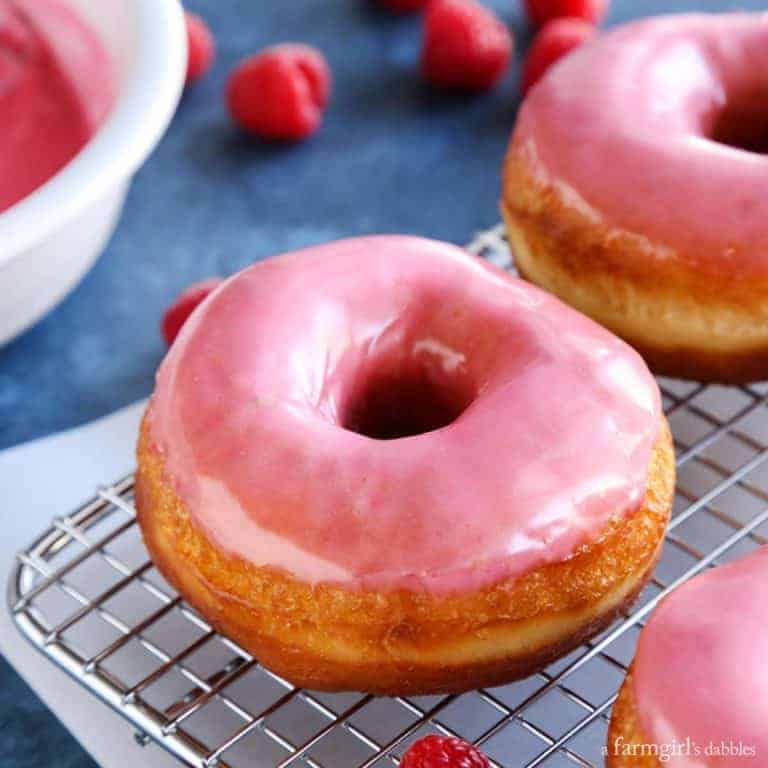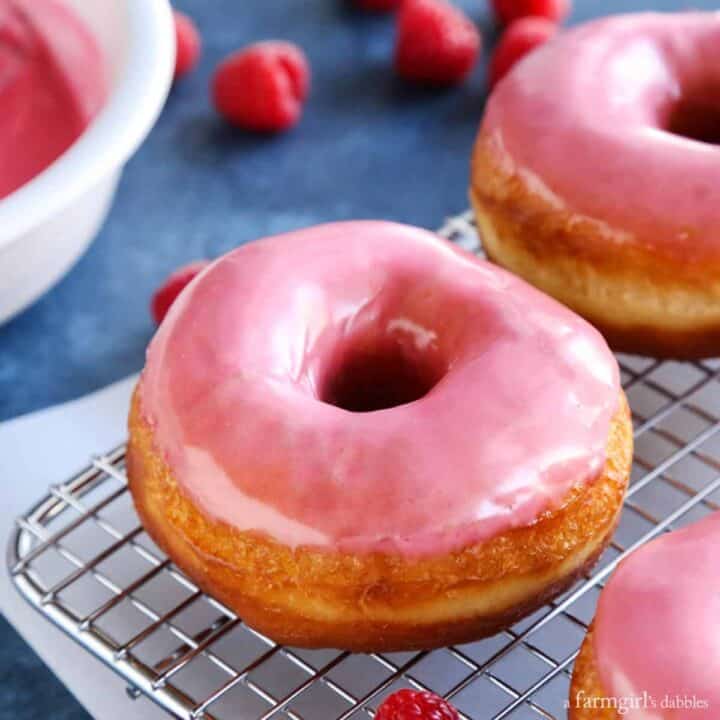 Yeast Donuts with Fresh Raspberry Glaze
Yield: 12 donuts
Prep Time: 45 minutes
Cook Time: 1 hour 45 minutes
Total Time: 2 hours 30 minutes
This recipe for homemade Yeast Donuts with Fresh Raspberry Glaze are so delicious! These donuts are fried until golden and then dunked into the glaze for the best sweet dessert.
Ingredients
For the yeast donuts:
1 c. whole milk, warmed to 110°F
1 T. active dry yeast
1/3 c. sugar
2 large eggs
6 T. unsalted butter, melted gently and slightly cooled
1 T. pure vanilla extract
1 tsp. kosher salt
4.25 c. White Lily® All-Purpose Flour, plus more for flouring the kneading and rolling surface
neutral oil
for the fresh raspberry glaze:
6 oz. fresh raspberries
1 T. freshly squeezed lemon juice
3 T. water
2 T. sugar
1/2 tsp. pure vanilla extract
1.5 to 2 c. powdered sugar
Instructions
Note: Get the most enjoyment from eating the donuts on the same day they are made, with optimal enjoyment from eating them while they are still a bit warm. Do not plan to make these a day prior to eating them - you will be disappointed.
beforehand preparation:
Line two large baking pans with parchment paper. I like to use these pans - I use them ALL the time!
Place a cooling rack over a third baking pan.
Prepare fresh raspberry glaze through Step 1 (see below) and set aside.
for the yeast doughnuts:
Pour warmed milk (I warm the milk in 5 to 10-second intervals in microwave, testing temperature after each heating) into bowl of stand mixer and then sprinkle yeast evenly over the top of the milk. Let it sit for 1 minute and then give it a small, gentle stir. Let mixture sit for about 5 more minutes, until silky/foamy. If the yeast remains granular and does not get silky/foamy, discard mixture and start over.
Preheat oven to 200° F.
Fit stand mixer with dough hook and then beat sugar, eggs, butter, vanilla, and salt into yeast mixture on low speed, just until combined. Add 2 cups of the flour and mix, just until combined. Then add the remaining 2-1/4 cups of flour, beating on low speed until combined, and then on medium-high speed until the dough pulls away from the sides of bowl. This takes almost 5 minutes of beating time with my mixer. The dough should be thick, yet soft and somewhat sticky. If your dough is too wet, add 1 to 2 tablespoons of flour more. But really try to not add too much more flour, as this will take away from the tenderness of the dough.
Transfer dough to a lightly floured surface and gently knead until smooth and elastic, about 2 minutes. Pull in a little extra flour as needed. I find it very helpful, almost essential, to use a flexible dough scraper to scrape all the dough out of the bowl (with the curved edge) and to aid in scraping the dough from the kneading surface (with the flat edge) - I almost use the scraper like my second hand. I HIGHLY recommend that you have one of these before starting this recipe. I have grown to love this tool when working with any yeast doughs. Lightly spray a large bowl with non-stick cooking spray and transfer dough to the bowl, turning the dough to coat evenly. Cover bowl with plastic wrap. Turn oven heat off and place bowl of dough in lightly warmed oven. Let dough rise until it doubles in size, about 1 hour. To test if the dough is ready, poke one finger about 1" deep into the top of the dough. If the indent stays, the dough is ready. If the indent fills in with surrounding dough, the dough needs more time to rise.
Again, preheat oven to 200° F.
Remove bowl from oven and punch down dough to release air bubbles. Remove dough from bowl and turn it out onto a lightly floured surface. Punch down again, if needed. Then roll dough out to a 1/2" thickness with a lightly floured rolling pin. Use a donut cutter or two circle cookie cutters (large cutter should be about 3-1/2" in diameter) to cut out donuts, dipping the cutters in flour after each cut. You will need to re-roll dough scraps to cut a total of 12 donuts.
Transfer cut dough to prepared parchment-lined baking pans with a thin metal spatula, 6 donuts and their holes per baking sheet. I found that it worked best for me to transfer the donut and its hole, intact, from the rolled dough surface to the prepared pan, and then remove the hole from the center. Reserve the holes, adding them to the pans with the donuts. Cover each pan gently with a lightweight kitchen towel. Turn oven heat off, place towel-covered dough in oven, and leave oven door ajar. Let dough rest in warmed oven for 30 minutes.
While dough is resting in the warmed oven, prepare oil for frying. I use an electric deep fryer, but any heavy-bottomed pot or Dutch oven will work. Either way, be sure to use a reliable cooking thermometer to measure the heat of the oil. I found that the attached thermometer on our deep fryer was no longer very accurate (we received the fryer when we were married over 17 years ago), so I learned to rely on my cooking thermometer instead. Add a neutral oil to fryer or pot, to a depth of almost 3".
Heat to 375°F. This will take quite awhile, and the oil will be very hot. Be careful.
Also while dough is resting and oil is heating, finish making the fresh raspberry glaze, continuing on with Step 2 (see below). Set glaze aside.
When oil is heated, add two to three donuts at a time and cook for 1 minute per side. Carefully remove with a metal spatula or metal slotted spoon and place on prepared rack sitting on a baking sheet. The method I like best is to cook two donuts at a time, and when the second set of two donuts is removed from the fryer, I dip the first set of two donuts into the glaze. To achieve a smooth looking glaze, it works best to dip the donuts while they are still very warm. If you want to mix things up, roll the doughnuts in cinnamon sugar - my family loves this! This was also an easy way to finish off the donut holes - by simply placing all the holes in a small bowl, shaking cinnamon sugar over them, and rolling the bowl to evenly coat all the holes.
for the fresh raspberry glaze:
In a small to medium-sized saucepan over medium heat, stir together raspberries, lemon juice, water, and sugar. When mixture starts to bubble, smash raspberries with the back side of a wooden spoon. Turn heat down a bit to medium-low and let mixture cook for 2 minutes, stirring once or twice.
Remove pan from heat and stir in vanilla. Line a colander with a double layer of cheese cloth and place over a large bowl. Pour raspberry mixture over cheese cloth. Pull up sides of cheese cloth to form a bundle of raspberry mixture. Then gently press on the bundle with the back side of a large wooden spoon to extract the juices, letting the juices drain into the bowl below. Take care to not pierce and break the cheese cloth. Keep pressing until you have a little more than 1/4 cup of bright red raspberry juice. Set juice aside. Discard the cheese cloth bundle.
To create the glaze, in a small bowl that's wide enough to dip a donut in, whisk together 1/4 cup of prepared raspberry juice with 1/2 cup of powdered sugar until smooth. Whisk in another 1/2 cup of powdered sugar, and then another, to equal 1-1/2 cups total. Add up to 1/2 cup more of powdered sugar to reach your desired consistency. I found that I liked the glaze somewhere between fluid and thickened. I know that's not much of a measure, but if when you dip your first donut you don't like the consistency, simply add a bit more juice to thin, or a bit more powdered sugar to thicken. I also think it helps to whisk the glaze before dipping if the glaze has been sitting for awhile.
Notes
Note: Get the most enjoyment from eating the donuts on the same day they are made, with optimal enjoyment from eating them while they are still a bit warm. Do not plan to make these a day prior to eating them - you will be disappointed.
Recipe adapted from Mark Bittman. Yeast baking tips incorporated from my time with Linda Carman of White Lily.
Nutrition Information:
Yield: 12
Serving Size: 1
Amount Per Serving:
Calories: 243
Total Fat: 9g
Saturated Fat: 4g
Trans Fat: 0g
Unsaturated Fat: 4g
Cholesterol: 48mg
Sodium: 217mg
Carbohydrates: 40g
Fiber: 1g
Sugar: 38g
Protein: 2g
Nutrition information is automatically calculated by Nutritionix. I am not a nutritionist and cannot guarantee accuracy. If your health depends on nutrition information, please calculate again with your own favorite calculator.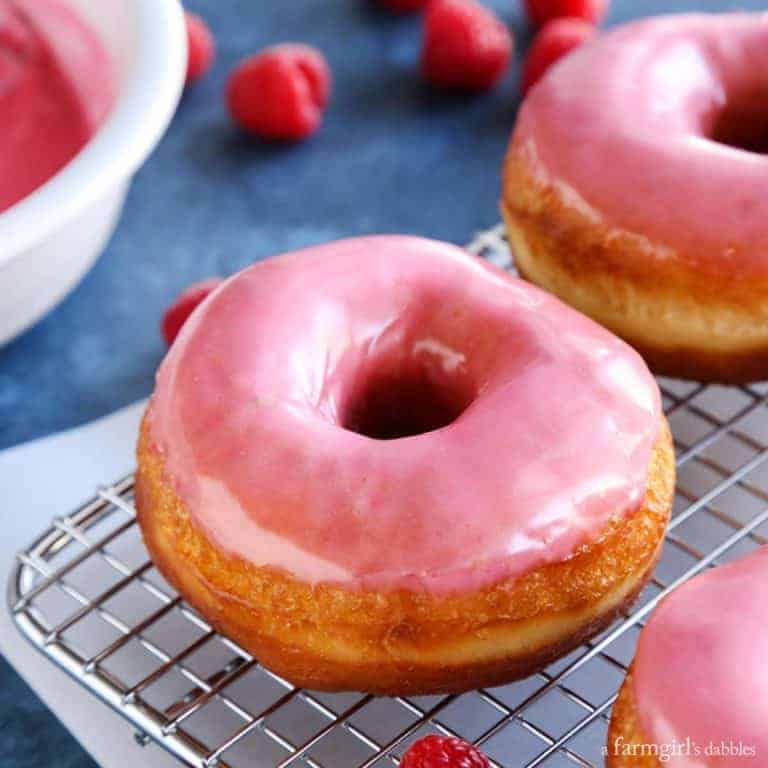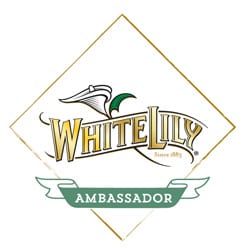 Where To Buy White Lily Flour
To find White Lily flour in a store near you, visit this page. You can also find White Lily online at smucker.com and amazon.com.
This post is sponsored by White Lily Flour. I am proud to be partnering with them again this year, bringing you delicious (and weren't these donuts FUN?!) recipes from our kitchen using their beautiful flours. All opinions are 100% my own. Thank you for supporting the brands that help make this site possible. There are Amazon affiliate links in this post.