Cheesy Baked Gnocchi with Tomatoes and Sausage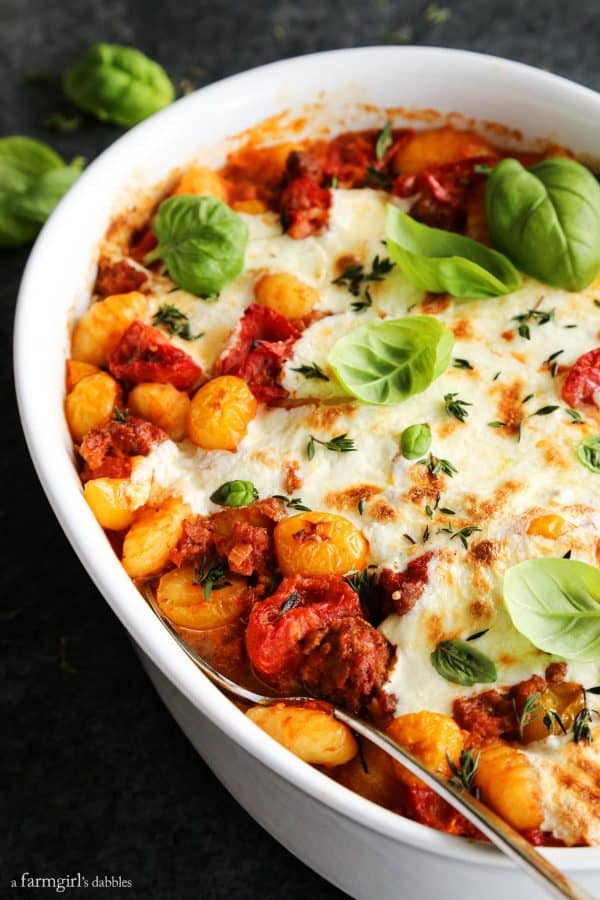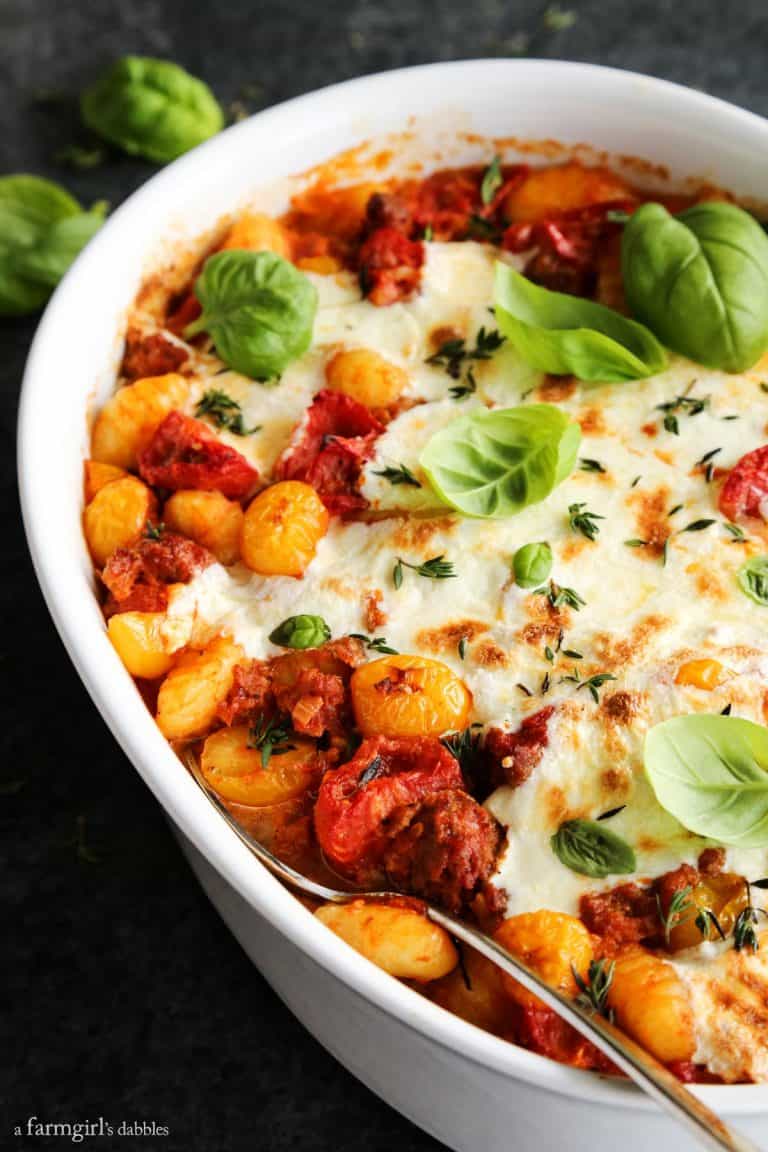 This Cheesy Baked Gnocchi with Tomatoes and Sausage is a hearty, simple dish, perfect for a weeknight or a special meal.

Any time our oldest daughter orders from a restaurant menu that includes a gnocchi dish, you can bet that gnocchi will end up right in front of her. I can foretell her order before it leaves her lips.
I never grew up eating gnocchi. Heck, I didn't even know what it was until I moved out on my own. But with the help of our daughter's love of these lovely little potato dumplings, I've been making up for lost time.
At home, we most like to pan-fry gnocchi in butter, and then serve it simply with a sprinkling of flaky salt and a grating of Parmesan Cheese, fresh from the wedge. But I decided to change things up this time around, and made a hearty, extra-cheesy dish that could be popped in the oven. This Cheesy Baked Gnocchi with Tomatoes and Sausage is comfort through and through. And it comes to you Hatti-approved.
* This is a sponsored post, created in partnership with Red Gold®.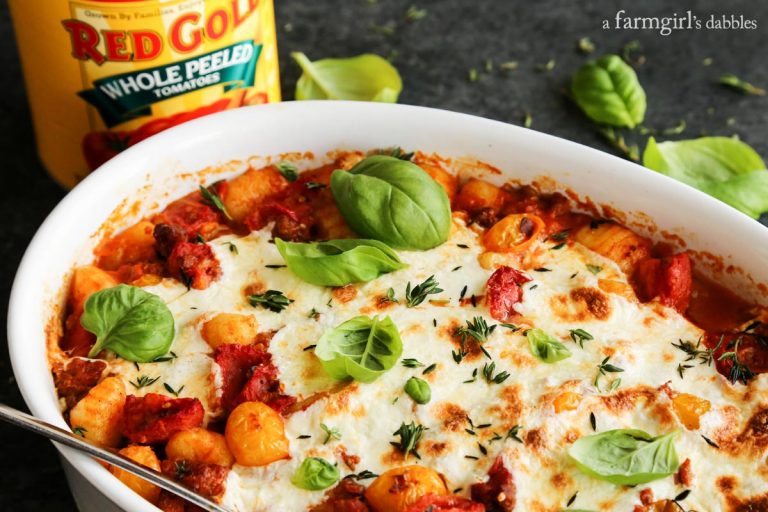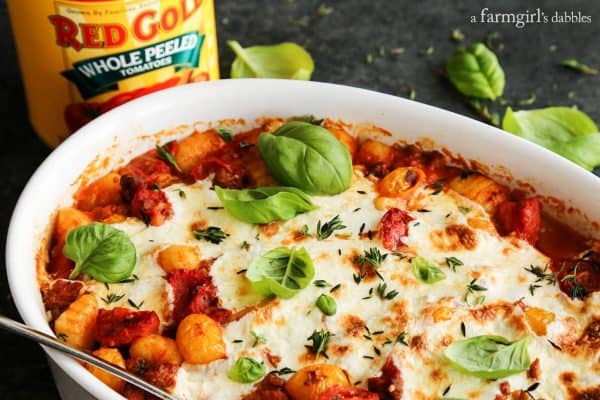 The rich, flavorful tomato flavor in this dish comes from Red Gold Tomatoes.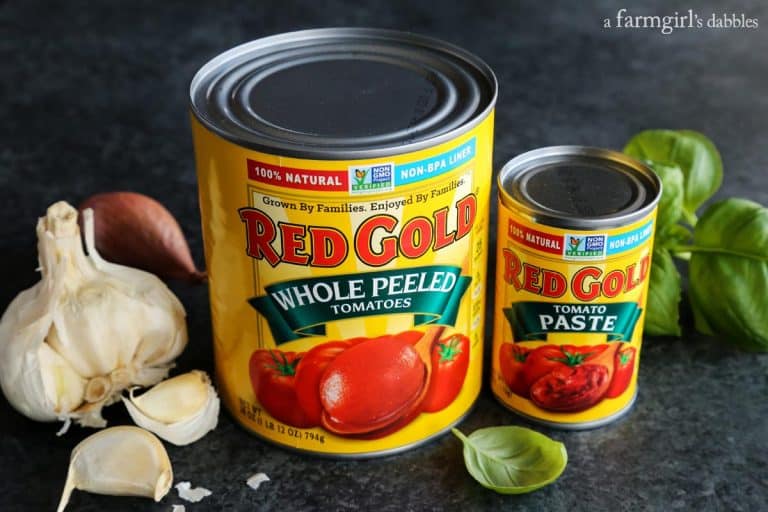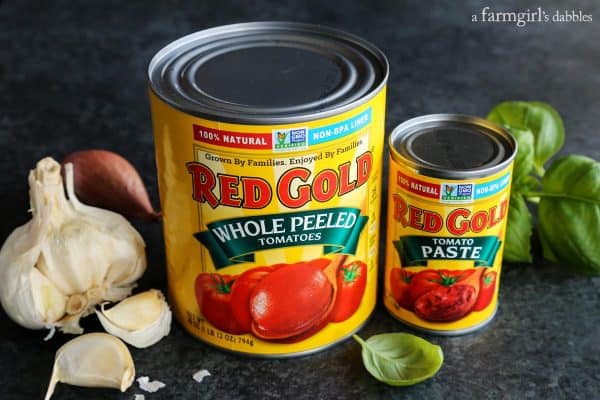 Red Gold offers a large variety of tomato products, from sauces to diced options to ketchups to salsas…and so much more. In this recipe, I used their Whole Peeled Tomatoes for chunky texture and their Tomato Paste for rich pumped-up tomato flavor.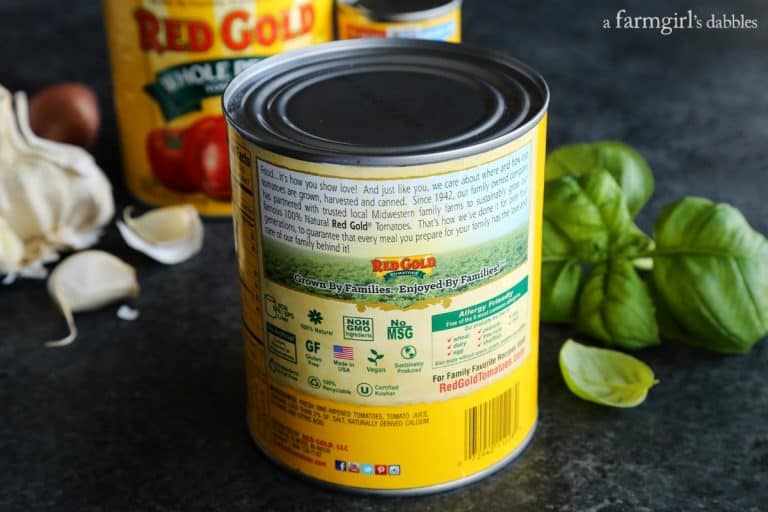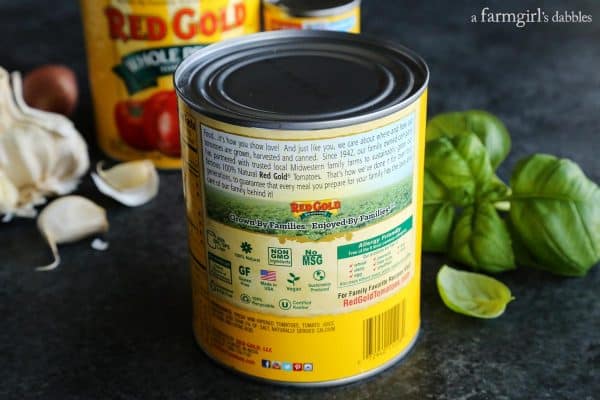 Red Gold tomatoes aren't just family owned, they're also family grown…for over four generations. Sustainably grown on Midwest family farms, these tomatoes are the highest-quality, freshest, best-tasting tomatoes. You'll find the entire backside of the can label devoted to all the things Red Gold cares so deeply about, for their own families and yours.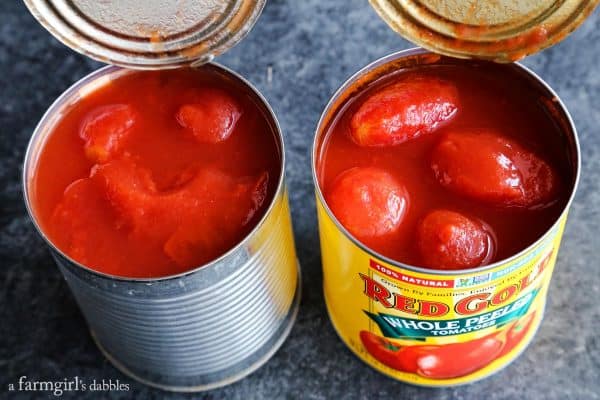 I took the Red Gold Challenge last year, comparing Red Gold Whole Peeled Tomatoes with another major brand's. The results left no doubt in my mind about which tomatoes I wanted to use in my own cooking. With every can of Red Gold tomatoes that I continue to open, I am met with the same excellence: vibrant red, firm tomatoes, with a natural garden-fresh flavor.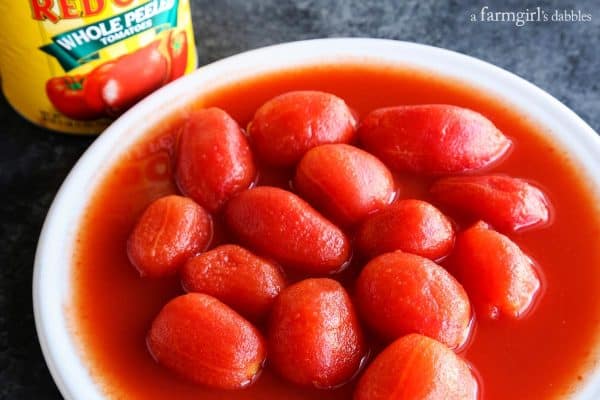 I opened a can of Red Gold Whole Peeled Tomatoes and poured them out onto a plate. Do you see how they are intact, plump and firm?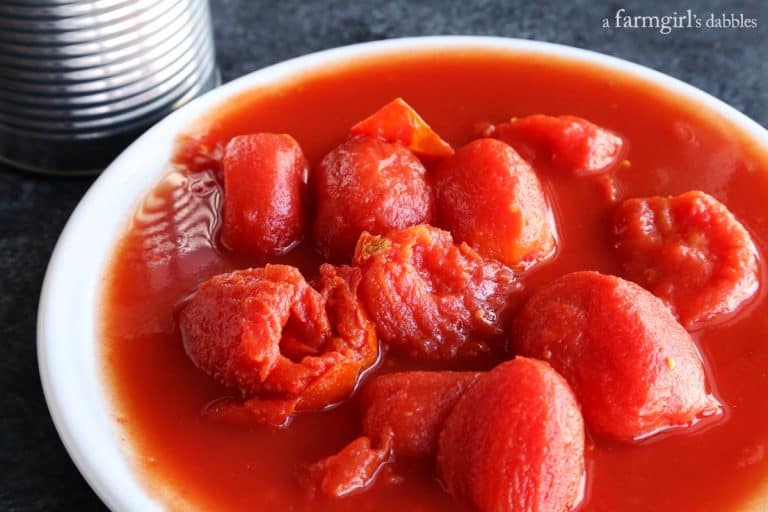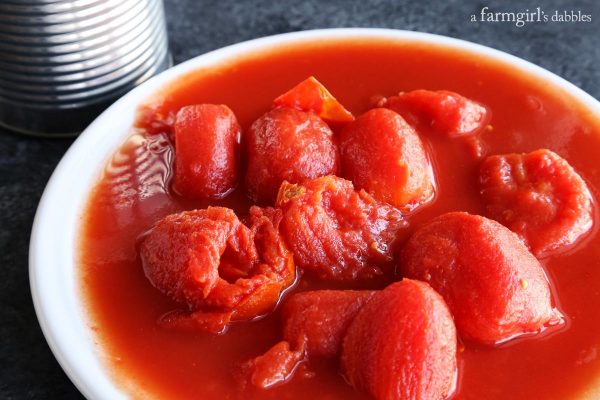 Then I opened up a can of whole peel tomatoes from another leading brand that I found on the store shelf. It's not hard to see that almost half of the tomatoes are mushy and torn, with pieces of peel still clinging to the tomatoes or swimming in the juice.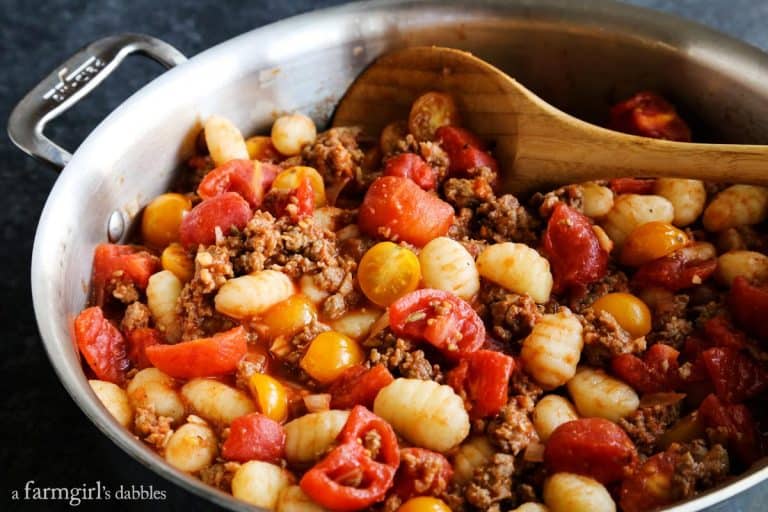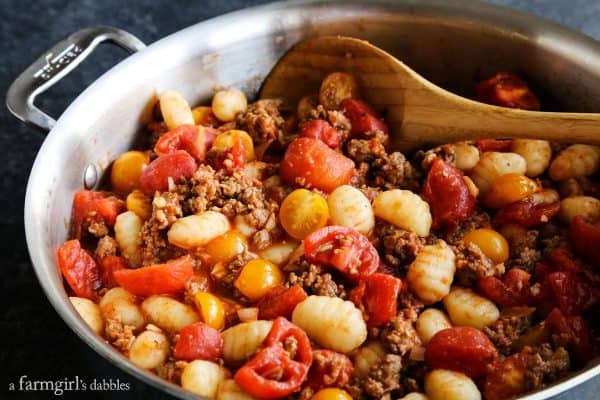 In this recipe for cheesy baked gnocchi with tomatoes and sausage, I wanted to show off those beautiful Red Gold attributes. I sliced whole peeled tomatoes into 6 pieces each, adding bite-size pieces of rich tomatoes to the dish. This gave the dish a much different texture than using tomato sauce or even the smaller diced tomatoes. And my family loved it!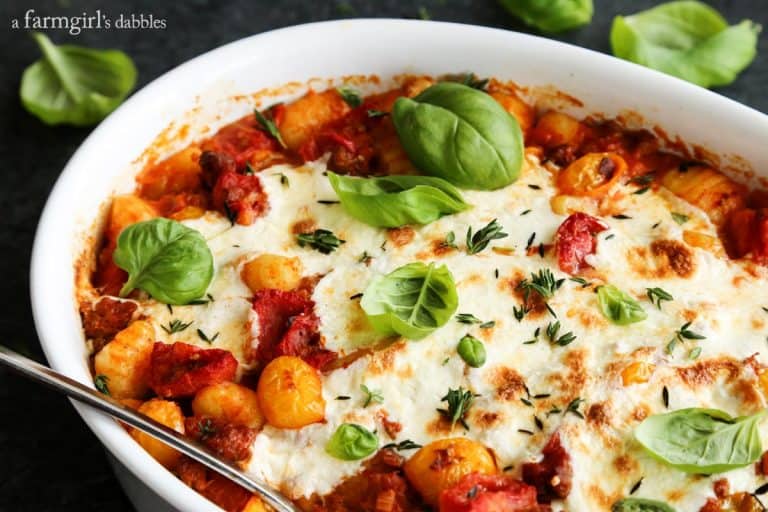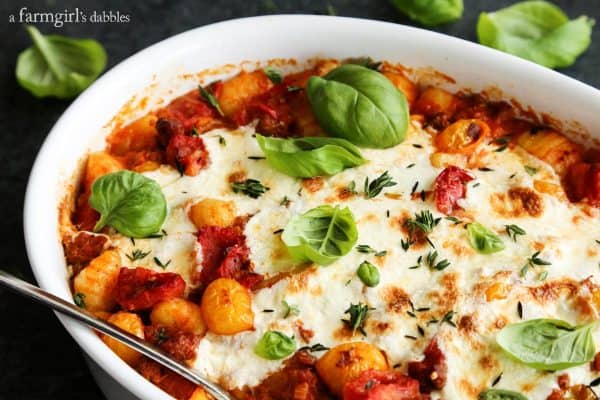 Another thing they loved? (Besides the gnocchi, of course.) That ooey-gooey melted mozzarella. I don't even try to resist its temptation.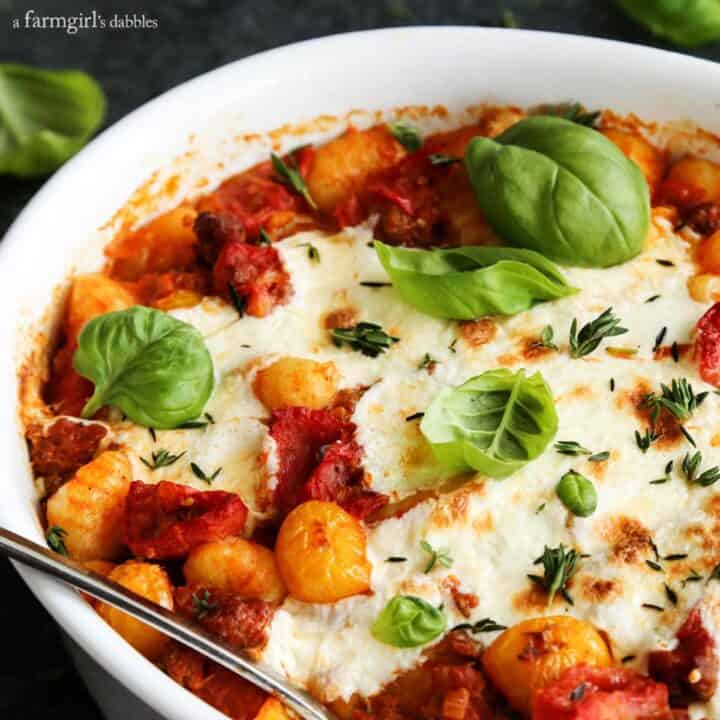 Cheesy Baked Gnocchi with Tomatoes and Sausage
Yield: 6 servings
Prep Time: 15 minutes
Cook Time: 45 minutes
Total Time: 1 hour
This Cheesy Baked Gnocchi with Tomatoes and Sausage is a hearty, simple dish, perfect for a weeknight or a special meal.
Ingredients
1 lb. package gnocchi
1 lb. Italian sausage
1 large shallot, diced
3 large garlic cloves, minced
3 T. Red Gold® Tomato Paste
1/2 tsp. kosher salt
1/4 tsp. freshly ground black pepper
1 28-oz. can Red Gold® Whole Peeled Tomatoes, each tomato sliced in half lengthwise, and then sliced cross-ways 3 times (you will have 6 pieces per whole tomato), with juice
1 c. halved yellow cherry tomatoes
1/2 tsp. sugar
1/4 c. chopped fresh basil
1 T. fresh thyme leaves
1 T. heavy cream
12 oz. fresh mozzarella, torn into pieces
Instructions
Preheat oven to 400° F.
Spray an oven-safe baking dish with non-stick spray and set aside.
Cook gnocchi according to package directions in salted water, just until al dente. Drain and set aside.
While gnocchi is cooking, prepare the tomato/sausage sauce. In a large skillet over medium to medium-high heat, cook sausage, breaking it into bite-size pieces with a wooden spoon or spatula. After sausage is broken up, add diced shallot. Stir regularly until sausage is almost completely browned. Then add garlic and cook for another minute or two, or until sausage is done. Stir in tomato paste, salt, and black pepper, and cook for another minute or two, until tomato paste is fragrant. Add sliced peeled tomatoes and their juice, cherry tomatoes, and sugar, stirring to combine. Bring sauce to a simmer and cook for about 6 to 8 minutes, stirring occasionally. Remove skillet from heat. Stir in heavy cream, basil, thyme, and cooked gnocchi.
Spread half of the gnocchi mixture onto the bottom of prepared dish. Top with slightly less than half of the torn mozzarella. Top with remaining gnocchi mixture, followed by remaining mozzarella. Cook for 15 to 20 minutes, or until gnocchi mixture is bubbling and cheese is melted. Then place dish under broiler for a few minutes to brown the cheese.
Remove from oven, sprinkle with additional fresh herbs if desired, and serve hot.
Notes
from a farmgirl's dabbles
Nutrition Information:
Yield: 6
Serving Size: 1
Amount Per Serving:
Calories: 671
Total Fat: 33g
Saturated Fat: 15g
Trans Fat: 0g
Unsaturated Fat: 20g
Cholesterol: 104mg
Sodium: 1143mg
Carbohydrates: 61g
Fiber: 5g
Sugar: 23g
Protein: 32g
Nutrition information is automatically calculated by Nutritionix. I am not a nutritionist and cannot guarantee accuracy. If your health depends on nutrition information, please calculate again with your own favorite calculator.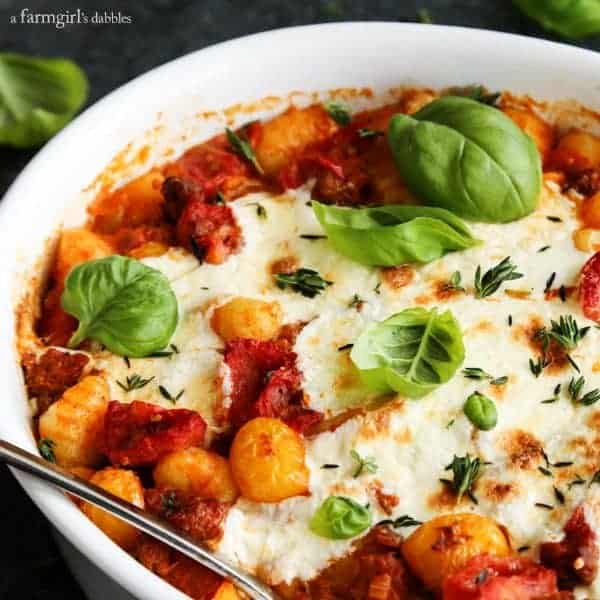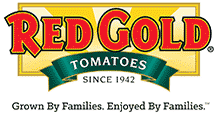 For more deliciousness with Red Gold tomatoes, here are a few more recipes featured on a farmgirl's dabbles:
Be sure to check out Red Gold on their website. You can also find them on social media on Facebook, Twitter, Instagram, and Pinterest.
This post is sponsored by Red Gold. I am happy to be partnering with them again this year, bringing you delicious recipes bursting with fresh, rich tomato flavor. All opinions are 100% my own. Thank you for supporting the brands that help make this site possible.