Cheesy Pizza Soup
This Cheesy Pizza Soup is loaded with Italian sausage, pepperoni, mushrooms, tomato and cheese – all of your favorite pizza toppings in a warm, hearty soup!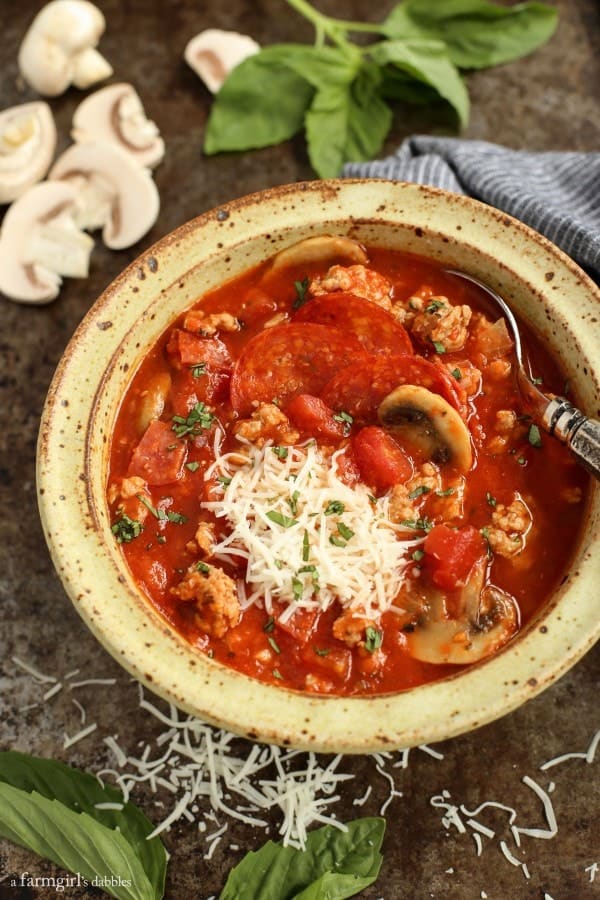 As soon as the words "pizza" leave my mouth, any day of the week, for breakfast, lunch, or dinner, there is always positive feedback. And that's putting it lightly. I mean there are cheers and high-fives, like I just came up with the greatest idea in the world. What is it about pizza that makes us love it so much?!
That's a rather easy question to answer, I guess. A layer of baked dough, followed by a rich, flavorful tomato sauce, toppings of our choice, and CHEESE. Add cheese to most any dish, and it's a winner.
This Cheesy Pizza Soup recipe gets high marks at our table. Its tomato flavor is beautifully robust, and the Italian sausage and pepperoni add a spicy kick that keeps us coming back for a second bowl, every single time. And there's cheese, of course. What would pizza soup be without cheese?!
* This post is sponsored by Red Gold Tomatoes.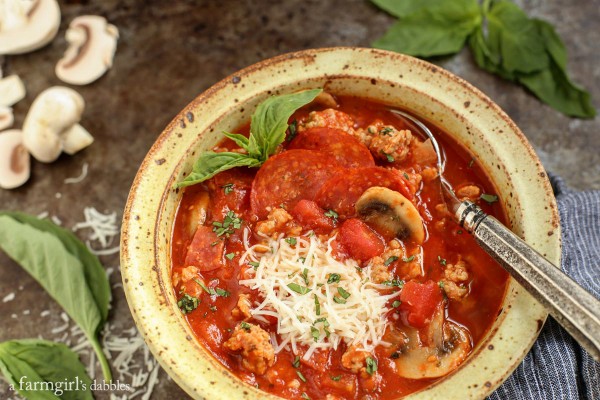 To enjoy a tomato based soup to the fullest, really great tomatoes simply must be used.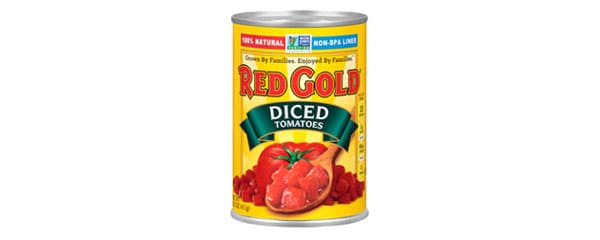 (image source: Red Gold Tomatoes)
Take a look in our pantry; you're sure to find Red Gold Tomatoes in there. I've been buying them for years. These are the tomatoes you want to use in this cheesy pizza soup.
I was incredibly bummed when I had to turn down an invitation last fall to travel to Indiana and visit the Red Gold family during their tomato harvest. Coming from a farm family myself, you already know how I like to shine my light on local farms and companies in the Midwest. I would have loved the opportunity to see behind the scenes of this family-owned, family-run tomato company.
This year, I'm super excited to be partnering with Red Gold Tomatoes to bring you a few new recipes, bursting with fresh tomato flavor. These are beautiful tomatoes, folks. Be sure to read on, to find out my results in a little side-by-side tomato cutting with another brand's tomatoes.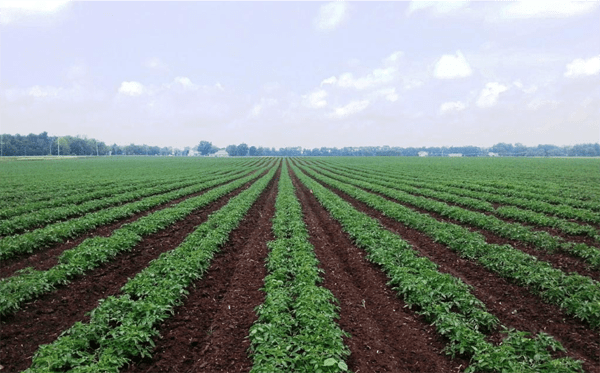 (image source: Red Gold Tomatoes)
For four generations, the Red Gold family has been working with local farm families in the Midwest to grow some pretty fantastic tomatoes. This company started out with a father and daughter team that has grown into a full time operation with over 50 family farm partnerships across three states; Indiana, Michigan and Ohio. Some of these growers have been with Red Gold for over 30 years!
Red Gold is obsessive about producing the best tomatoes in the most sustainable and environmentally conscious way. They grow Roma tomatoes with the optimum combination of heartiness, texture, sweetness, color, and consistency, and are NON GMO Project Verified. During the canning process, tomatoes are selected by hand, and then washed and sorted multiple times. The results are obvious. Just take a look at my findings in the Red Gold Challenge…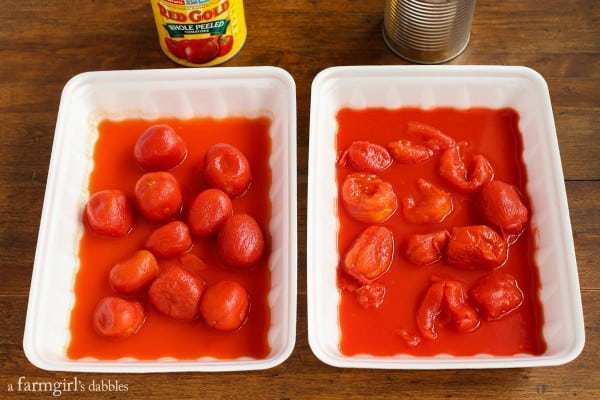 When I agreed to take the Red Gold Challenge, to compare Red Gold's tomatoes side-by-side with another major brand's, let's just say that I wasn't completely enthused. Really, how could two brands of tomatoes be that different, was what I was thinking. But I was quickly – very quickly – proven wrong.
From the moment I opened the two cans, just peering into their tops, I knew this was going to be good.
I was given very precise directions for this challenge, with multiple steps, to judge these two cans of whole peeled tomatoes. I was to rate each step using their numeral grading system, writing down my scores for the tomato color, uniformity, integrity, visible peel and seeds, color and consistency of the juice, and the intensity and flavor attributes of each tomato brand.
Just look at the two trays of tomatoes above. I was shocked at the difference, and even called Blake into the kitchen to take a look.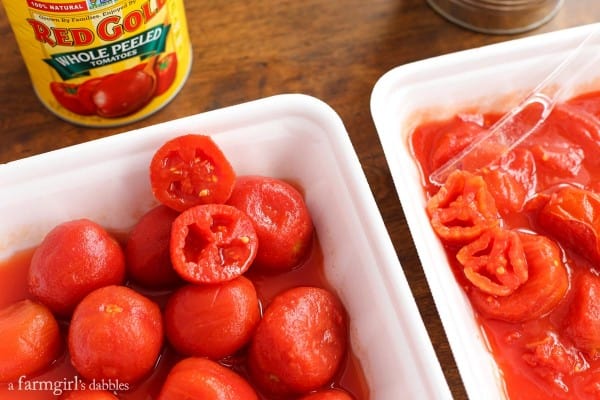 The Red Gold Challenge had me slicing open the whole tomatoes, scrutinizing the color, texture, and flavor. There really was no comparison. Red Gold's were much (MUCH!) more firm, with a more intense color of red, and a more natural garden-fresh tomato flavor.
I was amazed at the very obvious difference in quality. Know that you'll now find even more of Red Gold's tomato products in our pantry in the future!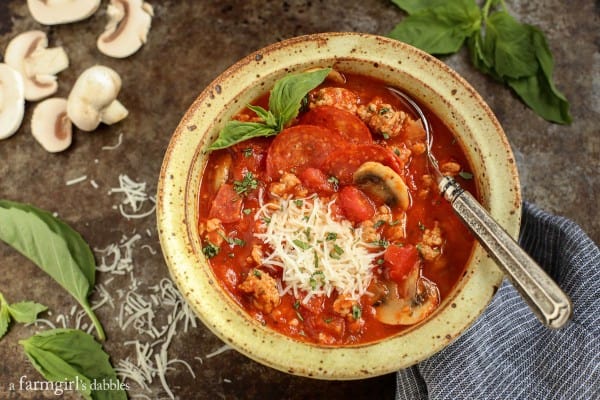 Red Gold has a great selection of recipes on their site, but what struck me as my first must-try was their cheesy pizza soup.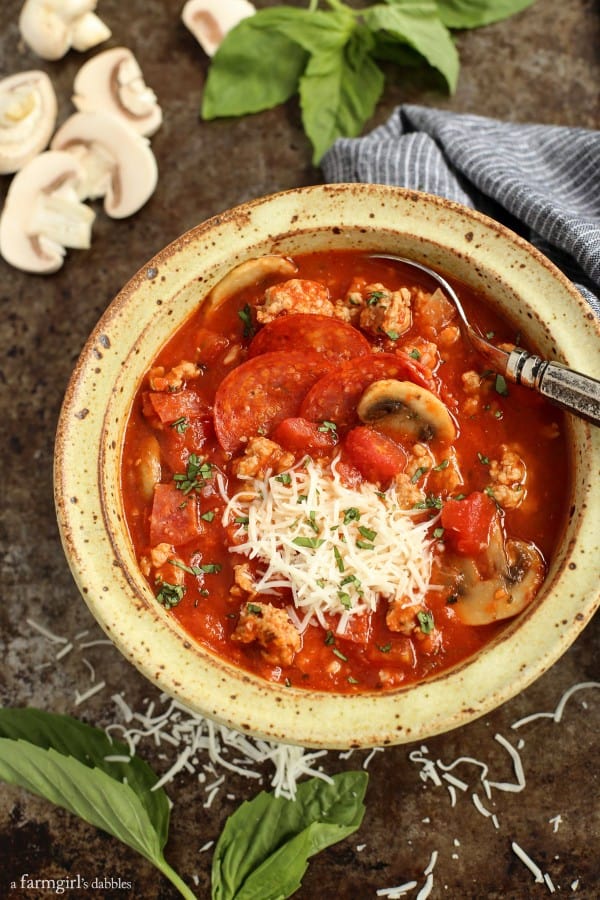 My version is just slightly adapted from Red Gold's, and it's completely delicious. Blake was at home working on the day I first made this, and kept coming into the kitchen, waiting for me to finish up with my work so he could ladle some steaming hot soup into his bowl. The house smells terrific when this soup is on the stove, I couldn't blame him!
This Cheesy Pizza Soup is lusciously tomato flavored; and we all love Italian sausage and pepperoni on our pizza, so that combination scores high in our family. If you already love my recipe for Lasagna Soup, I'm betting you'll like this Cheesy Pizza Soup, too. They are similar, yet different. Both incredibly yummy, and both made better with Red Gold Tomatoes.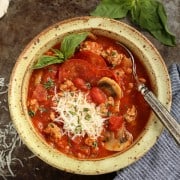 Cheesy Pizza Soup
Yield: 6 to 8 servings
Cook Time:35 minutes
Ingredients:
1/2 lb. Italian sausage
1 large onion, finely chopped
8 oz. fresh button mushrooms, sliced
3 large garlic cloves, minced
1 c. water
2  15-oz. cans Red Gold® Crushed Tomatoes, or 1  28-oz. can Red Gold® Crushed Tomatoes
1  14.5-oz. can Red Gold® Petite Diced Tomatoes with Green Chilies
1 tsp. dried basil
1 tsp. dried oregano
1/2 tsp. dried thyme
1/2 tsp. dried rosemary
4 oz. sliced pepperoni, chopped
1/4 c. grated Parmesan cheese
1 c. shredded mozzarella cheese
chopped fresh basil
Directions:
In a large saucepan over medium to medium-high heat, sauté sausage and onion, stirring occasionally. When the pink color in the sausage has almost disappeared, fold in the mushrooms and garlic. Cook for 5 more minutes, stirring occasionally until mushrooms are softened. Add water, crushed tomatoes, diced tomatoes, dried basil, dried oregano, dried thyme, dried rosemary, and pepperoni. Bring to a boil and then immediately reduce heat and simmer for 20 minutes, stirring occasionally. Before serving, stir in Parmesan cheese. Garnish with mozzarella cheese and fresh basil.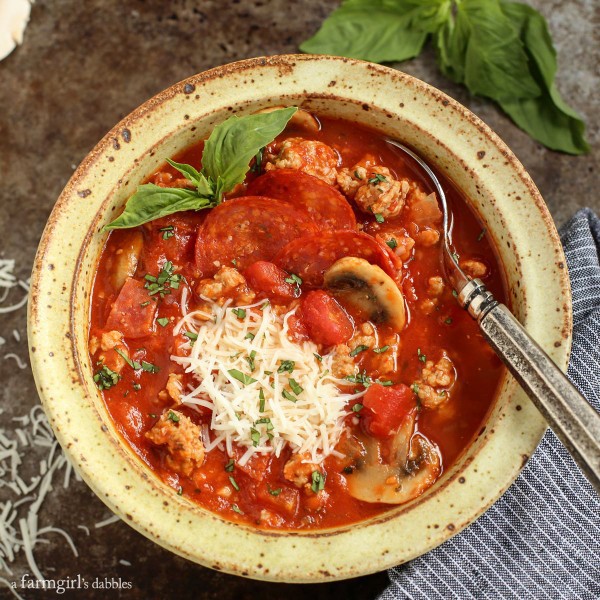 This post is sponsored by Red Gold Tomatoes. I am happy to be partnering with them this year, bringing you delicious recipes bursting with fresh, rich tomato flavor. All opinions are 100% my own. Thank you for supporting the brands that help make this site possible.
We participate in the Amazon Services LLC Associates Program, an affiliate advertising program designed to provide a means for us to earn fees by linking to Amazon.com and affiliated sites. See our disclosure policy for more info.