Pizza Soup
Pizza Soup is loaded with Italian sausage, pepperoni, and cheese, in a rich tomato broth. All your favorite pizza flavors in a warm and hearty soup! A quick and easy recipe!
Do you love the idea of turning classic Italian dishes into cozy soups? Then you're going to love my Lasagna Soup recipe!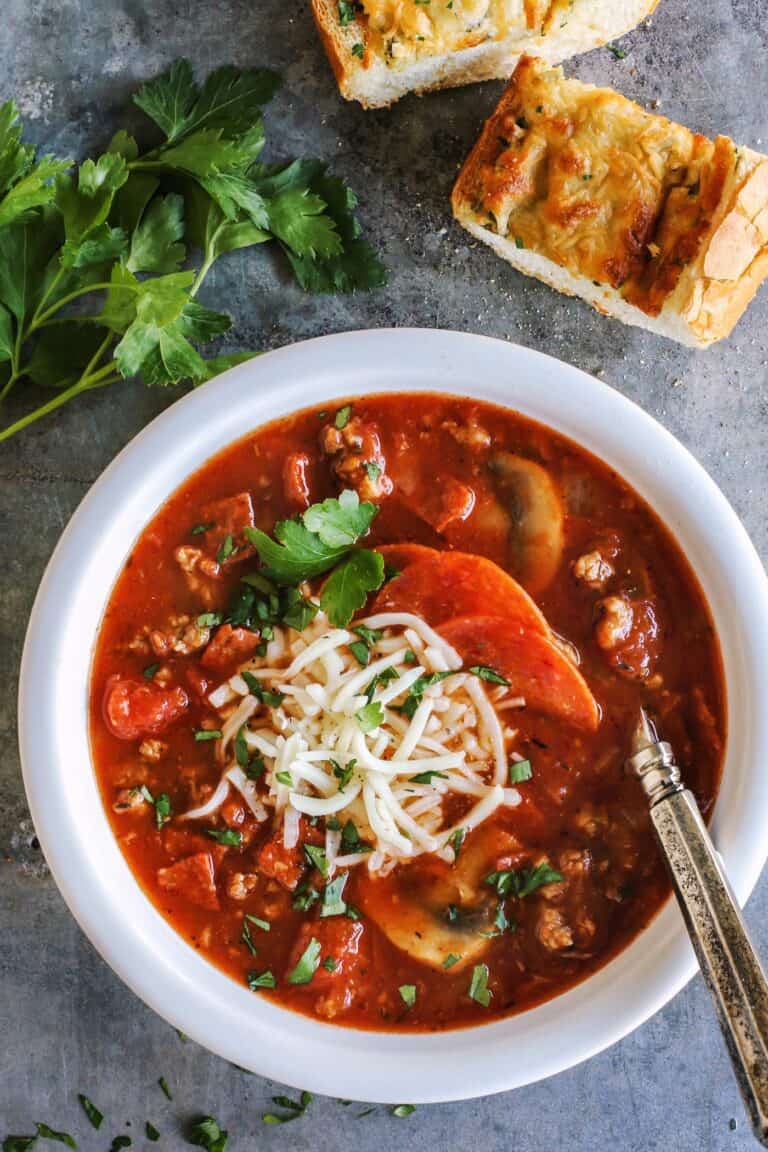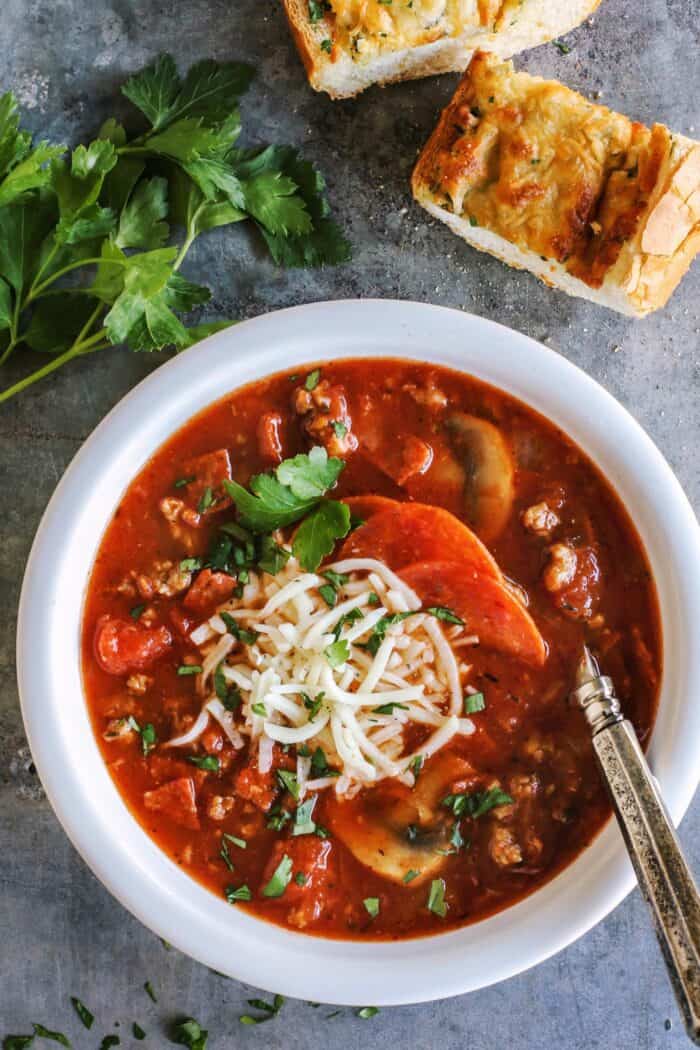 Pizza Soup is Pure Comfort Food
As I was writing this post last week, every time I looked out the window, it was a different scene. Sunny, then clouded-over and ominous, nearly dark as night. Calm, then so blustery that our neighbor's American flag was nearly blown horizontal. And then the numerous 5-minute episodes of rain, snow, and sleet that alternated for most of the day. It was a mess!
And then Easter yesterday – it snowed. All. Day. Long. What happened to our springtime weather?!
Lucky for all of us, I have a number of quick soup recipes to turn to for comfort. Easy pantry recipes are some of the very best recipes, and this Pizza Soup is no slouch. It's one of my husband's favorite soups of all time.
If you already love my recipe for Lasagna Soup, I'm betting you'll also like this pizza soup. They're similar, yet different.
This soup is robust, with tomato-rich flavor, Italian sausage, and pepperoni. It has a little bit of a kick that keeps you coming back for a second bowl, every single time. We serve our favorite homemade cheesy garlic bread on the side, a wonderful tool for mopping up all that glorious soup!
* This post is sponsored by Red Gold Tomatoes.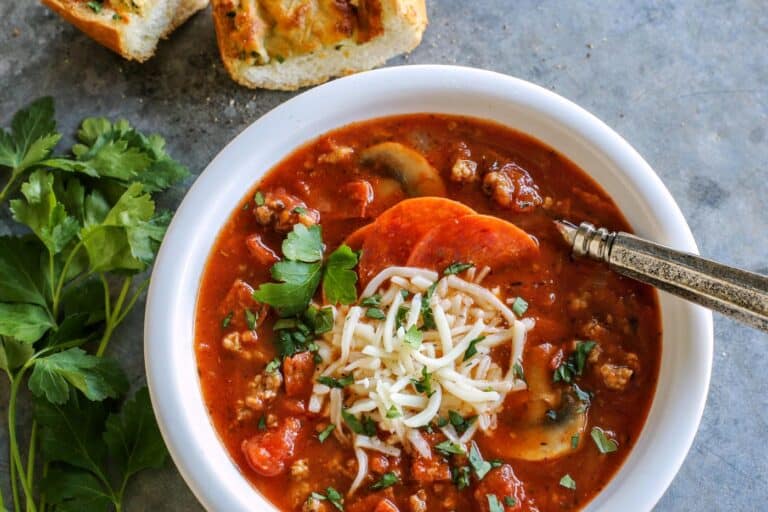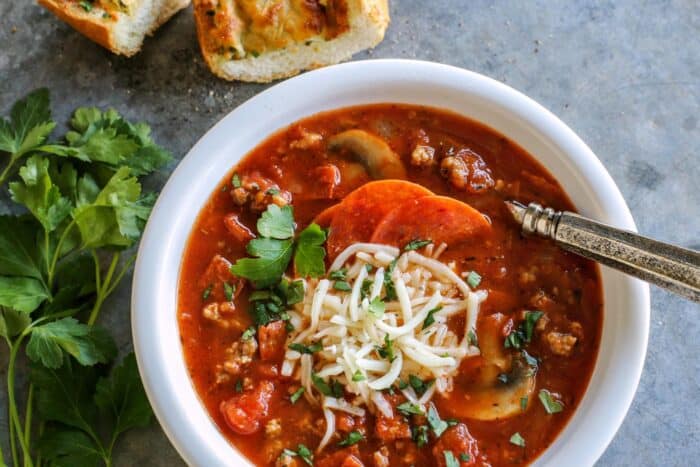 Pizza Soup Ingredients:
To enjoy a tomato-based soup to the fullest, really great tomatoes simply must be used. That's why you'll find canned tomatoes from Red Gold in my pantry and in my recipes. I truly believe they're the best. (Read to the end of this post for my review.)
Here are the ingredients for this easy pantry soup recipe:
Italian sausage
diced yellow onion
sliced fresh or canned mushrooms
minced garlic
water (This flavorful soup doesn't even need canned broth!)
canned crushed tomatoes (Use Red Gold if you can find it!)
canned diced tomatoes with green chilies (Again: Red Gold!)
dried herbs: basil, oregano, thyme, and rosemary (or your favorite Italian blend)
chopped pepperoni
grated Parmesan
shredded Mozzarella
chopped freshly parsley of basil, optional garnish
How to Make Pizza Soup
This is an incredibly easy soup to make. You can have it on the table in about 40 minutes. Grab a large saucepan or smaller soup pot, and let's make some soup!
Sauté sausage and onion in a large saucepan over medium-high heat.
Fold in mushrooms and garlic and cook to soften.
Add water, crushed tomatoes, diced tomatoes, dried herbs, and pepperoni. Bring to a boil, then simmer for 20 minutes.
Stir in Parmesan.
Top individual bowls of soup with mozzarella cheese. Garnish with fresh basil and/or parsley, if desired.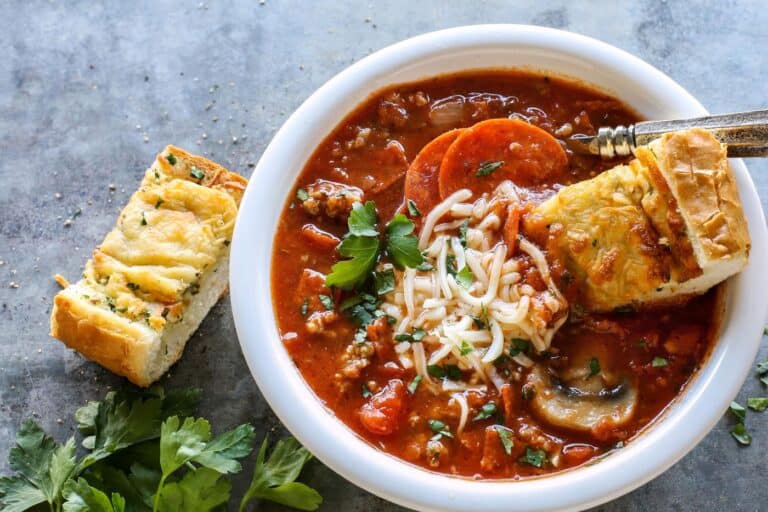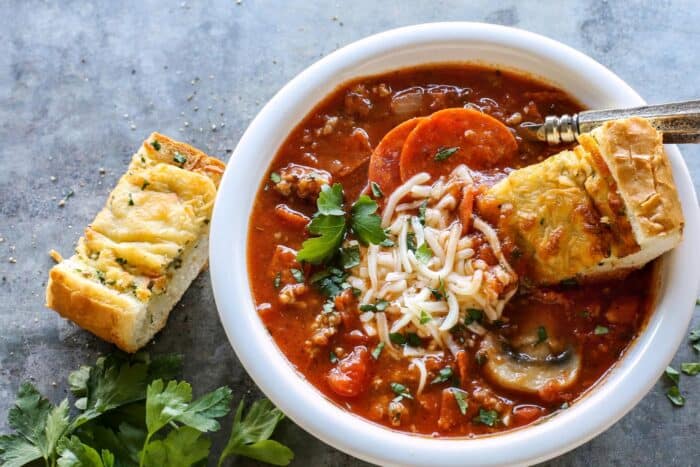 What to Serve with Pizza Soup
If you like to eat a soup and salad combo, be sure to check out my Italian Chopped Salad. It's full of tasty goodies and dressed with a zippy Italian vinaigrette. PERFECT with this soup meal!
Grilled Romaine Salad would also be a great choice, as well as this Greek Chopped Salad.
And if you missed the mention at the beginning of this post, I want to make sure you know about this Cheesy Garlic Bread recipe. It's soft and tender on the inside, with delightfully crispy edges. My family goes crazy for it!
Like this easy soup? Save it to Pinterest!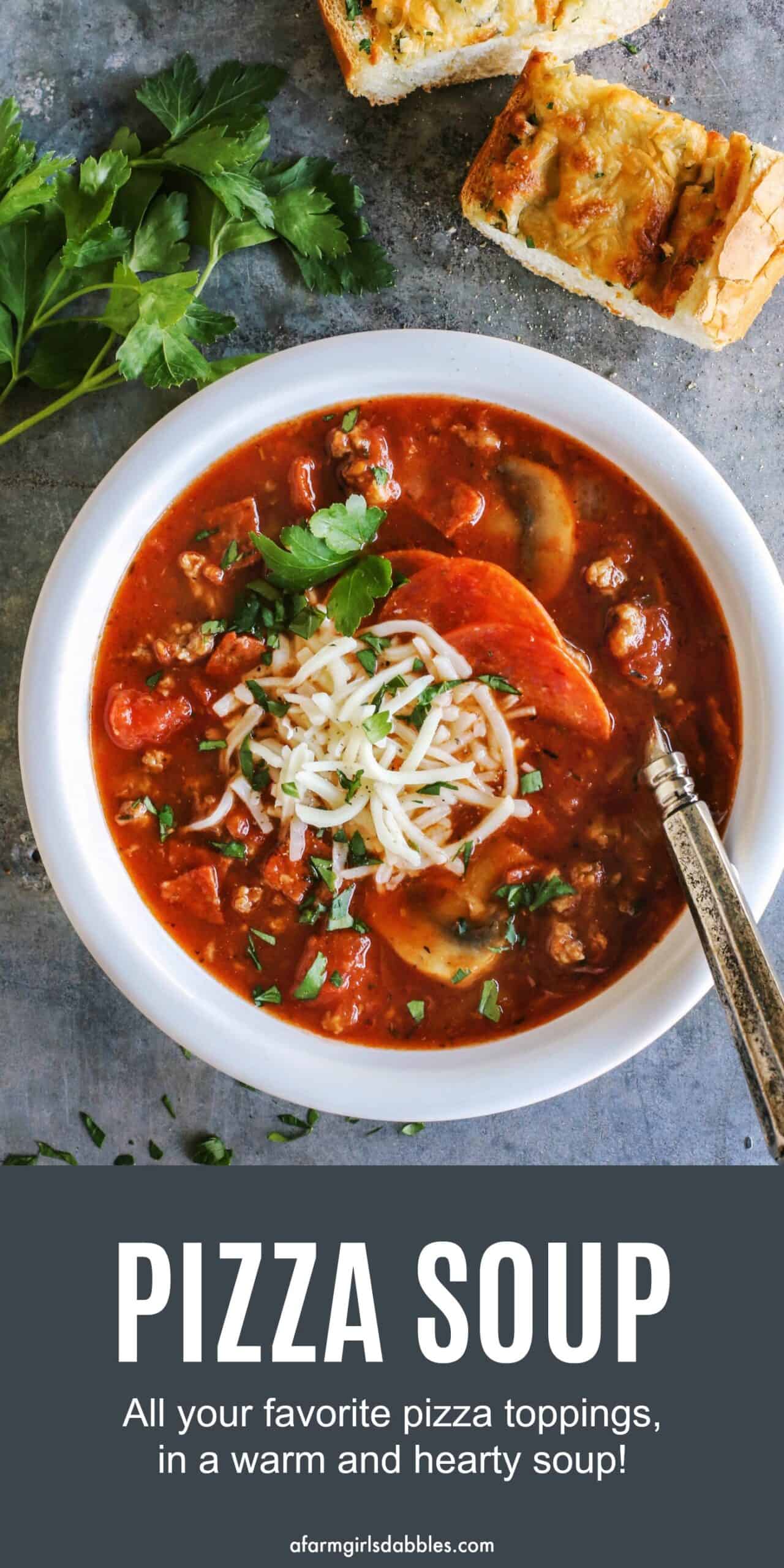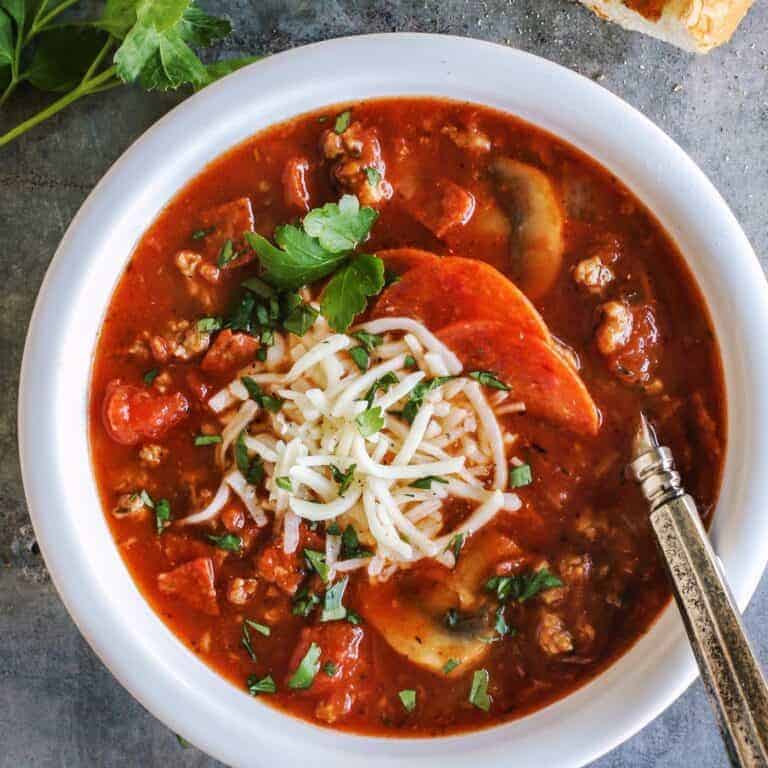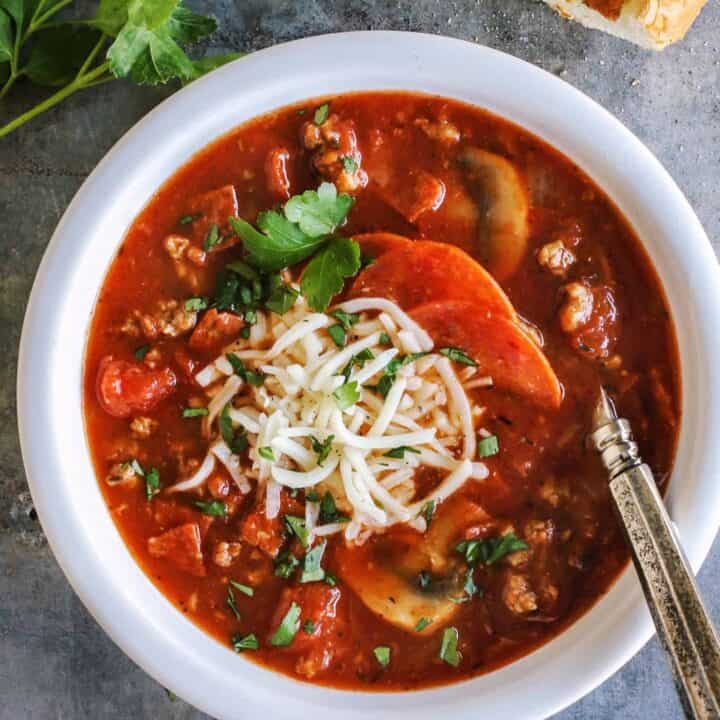 Pizza Soup
Yield: 6 servings
Prep Time: 5 minutes
Cook Time: 35 minutes
Total Time: 40 minutes
Pizza Soup is loaded with Italian sausage, pepperoni, and cheese, in a rich tomato broth. All your favorite pizza toppings in a warm and hearty soup!
Ingredients
1/2 lb. Italian sausage
1 large yellow onion, finely chopped
8 oz. fresh button mushrooms, sliced (or substitute canned mushrooms)
3 large garlic cloves, minced
1 c. water
2 15-oz. cans Red Gold® Crushed Tomatoes, or 1 28-oz. can Red Gold® Crushed Tomatoes
1 14.5-oz. can Red Gold® Petite Diced Tomatoes with Green Chilies
1 tsp. dried basil
1 tsp. dried oregano
1/2 tsp. dried thyme
1/2 tsp. dried rosemary
4 oz. sliced pepperoni, chopped
1/4 c. grated Parmesan cheese
1 c. shredded mozzarella cheese
chopped fresh basil and/or Italian parsley, optional garnish
Instructions
In a large saucepan over medium to medium-high heat, sauté sausage and onion, stirring occasionally.
When the pink color in the sausage has almost disappeared, fold in the mushrooms and garlic. Cook for 5 more minutes, stirring occasionally until mushrooms are softened.
Add water, crushed tomatoes, diced tomatoes, dried basil, dried oregano, dried thyme, dried rosemary, and pepperoni. Bring to a boil and then immediately reduce heat and simmer for 20 minutes, stirring occasionally.
Before serving, stir in Parmesan cheese. Top with mozzarella cheese. Garnish with fresh basil and/or parsley, if desired.
Nutrition Information:
Yield: 6
Serving Size: 1
Amount Per Serving:
Calories: 398
Total Fat: 24g
Saturated Fat: 10g
Trans Fat: 0g
Unsaturated Fat: 14g
Cholesterol: 52mg
Sodium: 1276mg
Carbohydrates: 29g
Fiber: 7g
Sugar: 15g
Protein: 21g
Nutrition information is automatically calculated by Nutritionix. I am not a nutritionist and cannot guarantee accuracy. If your health depends on nutrition information, please calculate again with your own favorite calculator.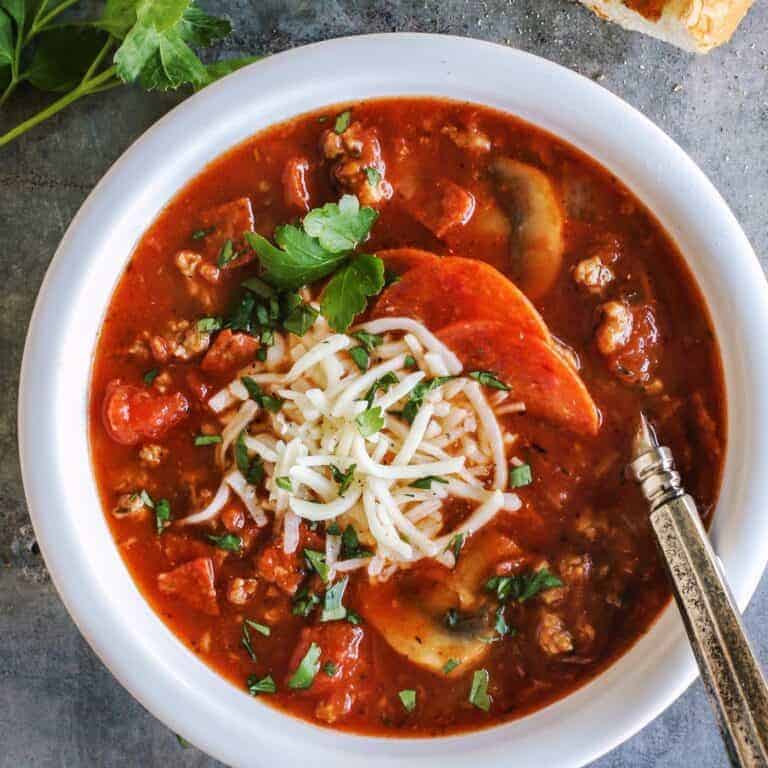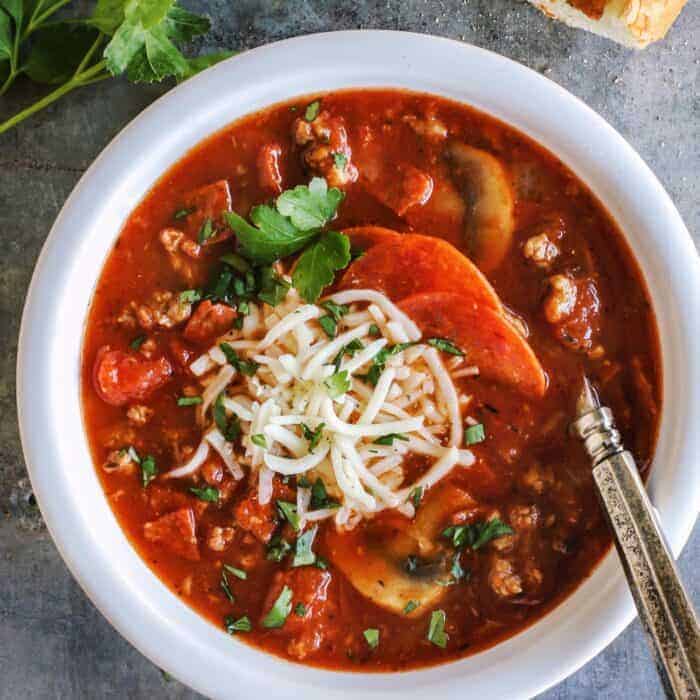 The Best Canned Tomatoes


For four generations, the Red Gold family has been working with local farm families in the Midwest to grow some pretty fantastic tomatoes. This company started out with a father and daughter team that has grown into a full time operation with over 50 family farm partnerships across three states; Indiana, Michigan and Ohio. Some of these growers have been with Red Gold for over 30 years!
Take a look in our pantry; you're sure to find Red Gold Tomatoes in there. I've been buying them for years. These are the tomatoes you want to use in this cheesy pizza soup.
Red Gold is obsessive about producing the best tomatoes in the most sustainable and environmentally conscious way. They grow Roma tomatoes with the optimum combination of heartiness, texture, sweetness, color, and consistency, and are NON GMO Project Verified. During the canning process, tomatoes are selected by hand, and then washed and sorted multiple times. The results are obvious. Just take a look at my findings in the Red Gold Challenge…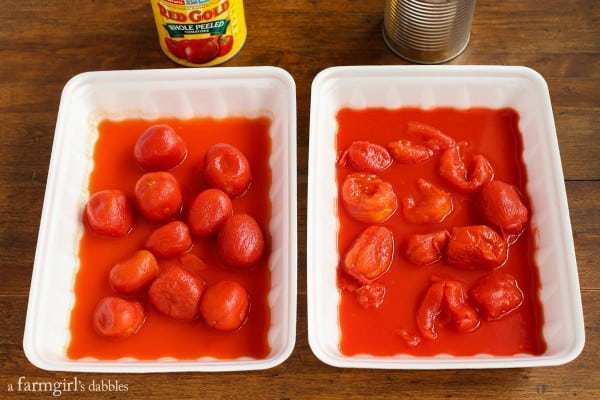 The Red Gold Tomato Challenge
When I agreed to take the Red Gold Challenge, to compare Red Gold's tomatoes side-by-side with another major brand's, let's just say that I wasn't completely enthused. I questioned how two brands of tomatoes could be that different. But I was quickly – very quickly – proven wrong.
From the moment I opened the two cans, just peering into their tops, I knew this was going to be a good lesson for me.
I was given very precise directions for this challenge, with multiple steps, to judge these two cans of whole peeled tomatoes. I was to rate each step using their numeral grading system, writing down my scores for the tomato color, uniformity, integrity, visible peel and seeds, color and consistency of the juice, and the intensity and flavor attributes of each tomato brand.
Just look at the two trays of tomatoes above. The difference shocked me, and I called Blake into the kitchen to take a look.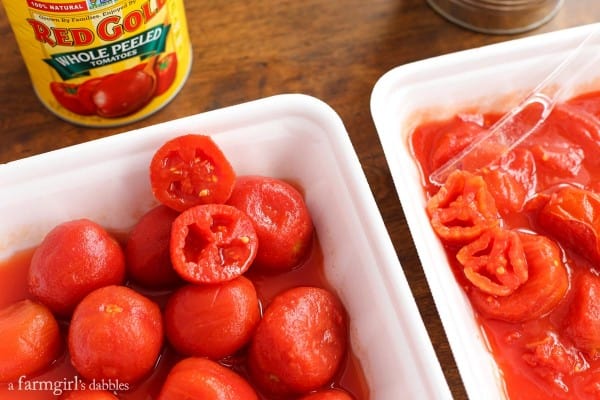 The Red Gold Challenge had me slicing open the whole tomatoes, scrutinizing the color, texture, and flavor. There really was no comparison. Red Gold's were much (MUCH!) more firm, with a more intense color of red, and a more natural garden-fresh tomato flavor.
I was amazed at the very obvious difference in quality. Know that you'll now find even more of Red Gold's tomato products in our pantry in the future!!
This post was originally published in 2016, and sponsored by Red Gold Tomatoes. I updated some of the photos and text in 2020. All opinions are 100% my own. Thank you for supporting the brands that help make this site possible.